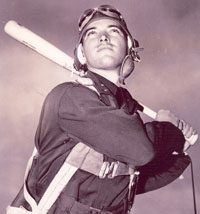 Billy Southworth Jr.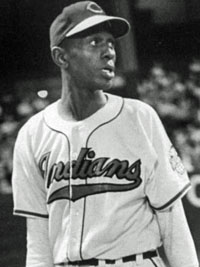 Satchel Paige
December 12, 1940: Billy Southworth Jr. became the first professional baseball player to enlist in the armed forces prior to World War II. He had played the 1940 season for the Wilmington Blue Rocks of the Interstate League and the Toronto Maple Leafs of the International League. The son of

St. Louis Cardi­nals

manager Billy Southworth, Billy Jr. became a decorated bomber pilot in the U.S. Army Fair Forces during the war. Rising to the rank of major, he died on February 15th at the age of 27 after his B29 crashed on a training flight off the coast of Flushing, New York.


May 13, 1942: Jim Tobin of the

Boston Braves

be

­

came the first - and to date the only - pitcher to hit three HRs in one game since the 19th century. Tobin accomplished the feat in a game at Braves Field against the

Chicago Cubs

. The first two roundtrippers came with the bases empty while the last one drove home a base-runner in the 8th to give the

Braves

a 6-4 lead. Tobin surrendered a run in the 9th but held on for the 6-5 victory. Jim ended his nine-year major league career with 17 HRs and a .230 batting average.


October 10, 1948: Satchel Paige of the

Cleveland Indians

entered the 5th game of the World Series against the

Boston Braves

in the 7th inning with one out and runners on 1st and 3rd. The 42-year-old right

­

hander retired P

Boston Braves

on a sacrifice fly, then got

Boston Braves

to ground out. Satch thus became the first African-American to pitch in a World Series. NOTE:

Brooklyn

P Dan Bankhead entered the 1947 World Series as a pinch-runner.


October 11, 1949: Don Newcombe of the

Brooklyn Dodgers

became the first African-American pitcher to start a World Series game. He battled the Yank

­

ees' Allie Reynolds through eight scoreless innings before allowing a HR to Tommy Henrich in the bottom of the 9th to lose 1-0.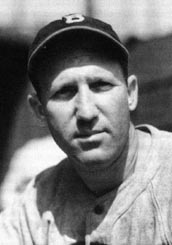 Jim Tobin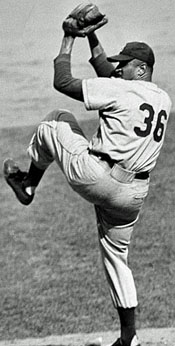 Don Newcombe