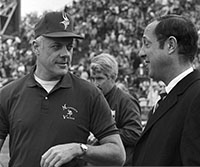 Bud Grant with Pete Rozelle before the game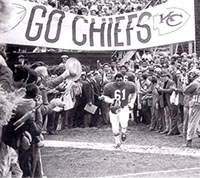 Curley Culp introduced.

Willie Lanier introduced.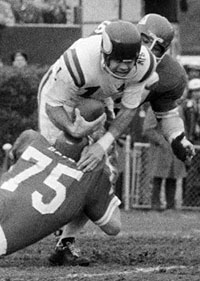 Jerry Mays sacks Joe Kapp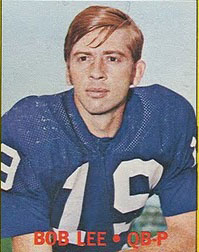 Hank Stram nattily dressed on sideline as usual.

Robert Holmes carries as Ed Budde blocks Alan Page.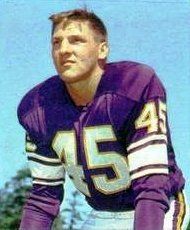 Ed Sharockman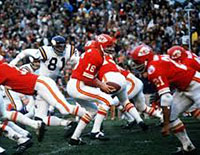 Len Dawson hands off to Mike Garrett as Carl Eller storms through.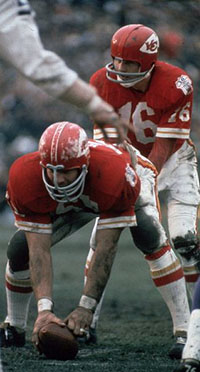 Dawson waits for snap from E. J. Holub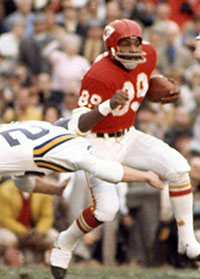 Otis Taylor tackled by Paul Krause.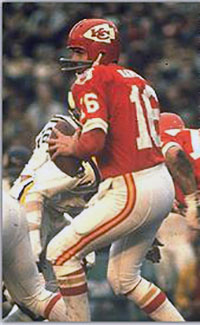 Dawson looks for a receiver.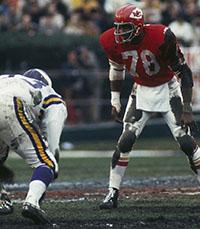 Bobby Bell lines up opposite Ron Yary.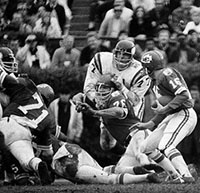 Mo Moorman blocks for Dawson.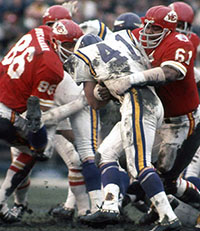 Culp stops Dave Osborn for no gain in Q2.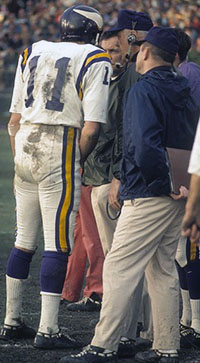 Joe Kapp consults with coaching staff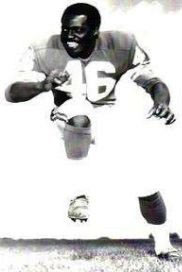 Earsell Mackbee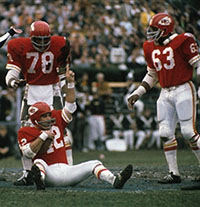 Johnny Robinson after recovering fumble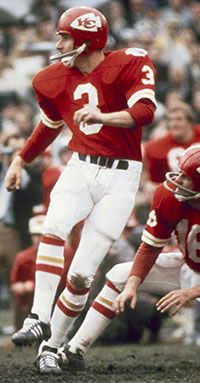 Stenerud watches his FG.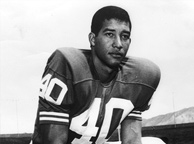 Charlie West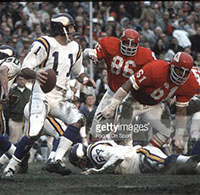 Kapp looks for a receiver.

Buck Buchanan after Kapp.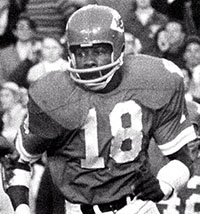 Emmitt Thomas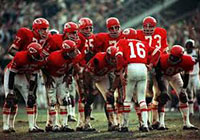 Dawson calls the play.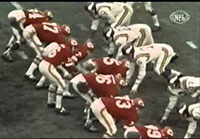 Dawson barks signals in Q2.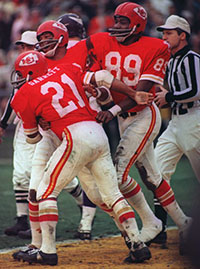 Chiefs celebrate Garrett's TD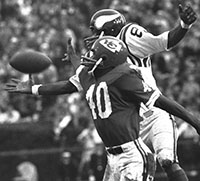 Jim Marsalis breaks up pass intended for John Henderson
The
Chiefs
were pleasantly surprised when they arrived at their locker room.
Owner Lamar Hunt had ordered an addition to their jerseys. It was a patch honoring the ten-year anniversary of the American Football League, which would cease to exist after this game.

Hank Stram: It was incredible to see the reaction of those great players. They were so proud to wear that patch because they cared about the league. They wanted to be first-class. They were like a bunch of kids eating ice cream cones. Most of them had played in the days the NFL looked down its nose at the AFL.

Hunt's team was confident and keyed up.

LB

E.J. Holub

recalled:

We talked among ourselves to really think about what we were doing. Be emotional but not

too

emotional. In our first Super Bowl against

Green Bay

, we were blithering idiots. We respected the

Vikings

, but we had confidence because of Hank and his innovations and that rollout pocket. And, of course, with our kicking game - Jan Stenerud and Jerrel Wilson. Buck Buchanan

:

We had big defensive games against the

Raiders

and the Jets to get to the Super Bowl, and we were so much bigger than the

Vikings

. We were all relaxed and confident.

Len Dawson ate a candy bar while reviewing the game plan in front of his locker.

Dawson had a rough night after a tough week. I didn't sleep two hours all Sat­urday night. I got sick and had a bad touch of diarrhea. I didn't call a doctor. I wouldn't call a doctor at 3 o'clock in the morning.

The

Vikings

were also confident in an ignorance-is-bliss sort of way. After all, they had dominated the NFL, which all the pundits branded the better league. Coach Bud Grant summarized his offense thus: We line up in basic formations and take it right to you. He added, Defense wins football games. Offense sells tickets. The statistics backed up his contention. His D-unit allowed the fewest yards, 2720, in the NFL by 364y. But Kansas City was a hard team to prepare for in only one week. The KC offense employed 18 different sets and had roughly 300 plays they could run from those sets. True, the

Purple People Eaters

pressured QBs, garner­ing 49 sacks. But that helped mask the deficiencies of the secondary, whose CBs had to play off receivers because they weren't good man-to-man covers.

Vikings

DT

Carl Eller

recalled:

We were kind of parochial in the way we ap­proached the game. We tried to stay away from the hoopla. We respected the Chiefs because they were the AFL champions, but we were going to come back and redeem the National Football League. We had never played the Chiefs. The AFL and the style of play - the emphasis was a little different, particularly with us coming from the NFL's Central Division, which was running and ball control. I don't think we underestimated that they would be a challenge, but I thought we were certainly capable of meeting it. I felt like we were a better team.


Green Bay

LB

Gale Gillingham

thought the

Vikings

weren't as "old school" as many writers portrayed them.

I think that they probably were the first team

(in the NFL)

to switch over to a more open offense. They could score points. They were running the West Coast offense before people heard about it. They threw to their backs a great deal. They threw a lot of short passes and always had receivers who could go deep. Chiefs

S

Johnny Robinson

summarized the

Minnesota

offense like this:

It's wasn't any big secret. They beat everybody they played doing the same thing. They weren't going to trick anybody - I don't think they

wanted

to trick anybody. It was, "Here's what we're gonna do. We're not gonna run a halfback reverse pass when we can just kick your teeth in."
Quarter 1
Minnesota

won the toss and elected to receive.
Jan Stenerud kicked into the EZ for a touchback.

Get it up in the air! yelled Stram on the sidelines before the kickoff, his every word being recorded by the portable mike he wore under his coat at the behest of NFL Films.

Not surprisingly, the

Vikings

started with a running play - Dave Osborn over LT for 2y. But then Joe Kapp threw a pass to Osborn in the left flat for 10y and a first down at the 32. After Bob Brown gained 3 around LE, Kapp connected with TE John Beasley down the middle for 26y to the KC 39. But that's as far as the

Vikes

could get. Kapp repeated the same two plays from the start of the drive. Osborn gained 1 at LT followed by a flare pass to Brown in the right flat but Jerry Mays dropped him for a yard loss. When Joe's pass went off Beasley's fingertips, Bob Lee punted out of bounds at the KC 17.

Never employing a shift or putting a man in motion the entire game, the

Vikings

' offense was easy for the

Chiefs

to defend, especially after facing much more varied attacks in the AFL. LB

Jim Lynch

:

Our whole influence was Bambi

(WR

Lance Alworth

)

and the

Chargers

and the things Sid Gillman was doing, like the

Raiders

and the Jets, when you got an arm like Namath; that was our culture. The NFL was different. Their culture was the

Green Bay Packers

. Theirs was, "Look, we're gonna line up and we're gonna run the

Green Bay

sweep. And you'd better stop us, 'cause here we come."

One strategy

KC

used that paid off was playing an odd-man line with either one of the tackles, 270-lb

Buck Buchanan

or 265-lb

Curley Culp

, playing on the nose of C

Mick Tingelhoff

, who was only 235.

Chiefs

backup QB

Tom Flores

recalled,

With all due respect to Mick, he was not used to it. Our defensive line just overpowered their offensive line. Tingelhoff

couldn't get away from the nose tackle to block MLB

Willie Lanier

.

Chiefs

DE

Jerry Mays

said their triple-stack defense was vulnerable if the

Vikings

ran to the weak side.

But they never varied from their game plan all game. They kept running into our strength. It never changed. Strong side, strong side - all game long.

Minnesota

offensive coordinator

Jerry Burns

:

I don't know if we were thoroughly prepared offensively or defensively. ... We had a tough time running against them. We didn't get the job done from an offensive standpoint. Our actual game plan was pretty basic. If we made a substitution, it was to put in an extra tight end in a short-yardage play or inside the 10.

Chiefs Huddle in Q1.

The Chiefs also started with a run, then a pass. Following FB Robert Holmes' 3y run over LT, Len Dawson threw a pass in the left flat to RB Mike Garrett. The 1965 Heisman Trophy winner out of USC scampered to the 37.

Dawson recalled: Once I hit the field, I was able to put all that other stuff (the gambling investigation) out of my mind. Also, I was fortunate that I started well. My first completion went for a first down. Had it been the other way around, it might have been different.

Another Holmes 3y run and a 4y gain by Garrett made it 3rd-and-3 at the 44. Len threw a quick "hitch pass" to SE Frank Pitts who broke CB Ed Sharockman's tackle and ran for a 1st down at the

Viking

36.

Garrett takes a handoff around RE.

Later, when

Dawson

came to the sidelines,

Stram

told his QB to throw the quick hitch to

Pitts

out of the double wing more often.

He can't cover that thing. Throw it any time.

Not wanting the

Purple People Eaters

to get to

Dawson

, who had a bad knee,

Stram

had concocted a game plan that consisted of three-step drops and a moving pocket. He also double-teamed ends

Marshall

and

Eller

to keep their hands down so

Dawson

had clear passing lanes to the outside.

But the

Vikings

rose up and stalled the drive. First, LB Roy Winston sacked Dawson for a loss of 8. Then DE Alan Page tackled Garrett for a 3y loss on a draw play. When Page knocked down Dawson's pass intended for Garrett, Stenerud came in to try a 48y FG that sailed true for a Super Bowl record for longest distance. Chiefs 3

Vikings

0 (6:52 left in the period)

Jan Stenerud kicks his first FG.

Stenerud

:

It was a windy, blustery day. Pretty cool. I was awful in pregame warm-up, but I still felt OK. Stram

:

When I sent Jan in for the first field goal from 48 yards, guys on the

Minnesota

bench were punching themselves. "Look at that. The guy's crazy!" Jan kicked the ball like it had helium in it. ... When he kicked it, it looked like it would never come down. The

Vikings

were stunned. Dawson

:

I looked over to

Minnesota

's sideline, and they looked like they were in shock - their kicker did not have that range. What that meant to them was, "We can't let these guys past midfield." ... I felt good when we scored our first three points. We were concerned about how good their defense was. But after the first series, we knew we could move the ball.

After another touchback, Brown gained 3 up the middle, but Mays sacked Kapp for a loss of 6.

Stram afterwards: We thought we had to keep Kapp in the pocket and prevent him from moving side to side. He's much more dangerous when he gets that movement.

Brown swept LE for 10 but that wasn't enough to keep possession. So Lee boomed a 45-yarder that Willie Mitchell fair caught. But

Minnesota

got a break when KC was penalized 15y for roughing the kicker. Playing 1st-and-10 at his 42, Kapp continued the strategy of passing to the backs, hitting two straight for just 1y each to Brown and Osborn as the fleet Chiefs defense came up quickly to make sure tackles.

Chiefs

S

Johnny Robinson

: (LB)

Bobby Bell could outrun me. He was a 4.4 guy. We had Willie Lanier, another Hall of Fame linebacker. He and Bobby played their best game and just tore the

Vikings

apart.

The third straight completion, this one to WR John Henderson, gained only 6 of the 8 needed thanks to CB Jim Marsalis's tackle. That brought Lee back in again. This boot was even better than his previous one, traveling 50y into the EZ.

Grant explained afterward why he didn't try a FG from the Chiefs 39. The wind was against us, and Fred Cox's leg is not as strong as Stenerud's.


Operating from a bewildering series of formations, Dawson threw to Pitts over the middle for 20, then to WR Otis Taylor for the first time for a gain of 9. Garrett's 3y run made it 1st-and-10 at the 49. After Garrett gained 5, Dawson tried a draw to Holmes but Page, playing a great game, downed him for a loss of 5.
END OF Q1: CHIEFS 3

VIKINGS

0

Dawson throws downfield.
Quarter 2
Dawson's pass to Pitts fell incomplete, but Sharockman was called for pass interference to place the ball on the

Minnesota

31. Lenny went back to Taylor for a quick 7.

Stram: That stuff in front is like stealin'. We gotta do more of it.

Dawson throws a hitch pass.

But Winston dumped Holmes for a 1y loss to bring up 3rd-and-4. Dawson tried his first long pass to Otis, but CB Earsell Mackbee broke it up. So KC settled for Stenerud's 32y FG. Chiefs 6

Vikings

0 (13:20)

Stenerud: I'm always concerned about every kick until it goes through. But the only bad spot I had to kick from was on the second field goal. Then I was lucky. I didn't lose my footing.

Stenerud's kick against the wind traveled to the 13 from where Charlie West returned it to the 32. After MG Curley Culp stuffed Osborn for no gain, Kapp threw to Henderson, who gained 16 before fumbling. S Johnny Robinson picked up the pigskin at the 48 and returned it 2y.

Robinson

:

I never practiced for the Super Bowl. I tore my ribs loose in the championship game against

Oakland

. ... With no extra week before the Super Bowl, I went to see the orthopedic people with the

New Orleans Saints

. They said, "You can't play.' They then took me to a thoracic surgeon, and I told the guy, "If you can deaden this pain, I can play. No one else has played safety in 10 years for this team, and here's the biggest game. What can we do?" He injected me from the ribs all the way to my spine with this Novocain. He used a whole bottle. On that Saturday, it was the first time I had been in a locker room all week, first time I'd even talked about playing. ... I went out on the field in a warm-up for about 30 minutes before the game. The surgeon met me at the game and deadened it again. I looked like a pincushion. ... Hank got that surgeon a sideline pass, and he sat right on the end of the bench. I went and sat right next to him every time I came off the field in case my ribs came loose and punctured my lungs.

But the Chiefs quickly returned the turnover favor. That man Page tackled Garrett for a 1y loss. Then Dawson tried a deep pass to Taylor but roving S Paul Krause intercepted at the 7.
Once again, the

Vikings

ran the ball on the first play of a possession, Osborn gaining 3. Then Kapp fired deep to Washington, but CB Emmitt Thomas broke it up. A delay of game penalty made it 3rd-and-12. Joe tried to hit WR Bob Grim for the 1st down but misfired. So Lee launched his third punt of the day to the

Minnesota

44.
Enjoying excellent field position, the Chiefs started with some dipsy-do as Pitts took a reverse around RE for 19 before Mackbee made the tackle.

The reverse caught the

Vikings

off guard, particularly CB

Sharockman

, given the task of covering

Pitts

who, at 6'3", was three inches taller.

Pitts

:

He was getting frustrated. I could tell just by the look on his face. Once downfield I put a block on him, and he swung me off. He was trying to fling me to the ground, and he couldn't. He knew he was missing coverage on me. Stram

on calling reverses:

That was because Jim Marshall and Carl Eller were so damn fast that we wanted to make sure we had them going the other way. ... We didn't put in anything new specifically, but we used something I don't think they had seen. It was Frank Pitts's reverse play. I don't think they saw it in the films we exchanged because we didn't use it in those games.
Dawson

:

One part of the game plan that worked very well was the end-around. Frank Pitts's speed and the fact they were a team that would really flow with the first direction of the backs made it work. David Hill, our right tackle, did a heck of a job of faking out Carl Eller like it would be a run the other way and then cutting him. He's the key guy on the blocks. And we had the guards pulling around and always went on a quick count. Eller took the bait on the fake by the tackle going down the field and peeling back, and Hill was able to make a block. That gave them something else to worry about.

Before the next snap,

Minnesota

was penalized 5y for offside. Dawson couldn't find a receiver and was tackled by DT Gary Larsen for no gain. Suddenly turning conservative, Dawson gave the ball to Hayes two straight times for a total gain of only 3. So Mr. Automatic Stenerud booted a 25y FG. Chiefs 9

Vikings

0 (7:52)

Carl Eller: People didn't attempt many 50-yard field goals in those days, and we didn't expect that anyone would attempt a field goal from more than 40 yards out against us in the Super Bowl. Then Jan Stenerud kicked one from 48 yards to start the scoring. The Chiefs didn't progress very well against our defense, but they came away with three scores through Stenerud's leg. That was very disappointing. We thought, "Wow, what have we got to do to stop these guys?"

Disaster struck the

Vikings

on the kickoff. West ran up and tried to catch the short kick on the run at the 11 but muffed it, and Remi Prudhomme recovered for KC at the 19.
With a chance to really take control of the game, the Chiefs went backward when Marshall sacked Dawson. On 2nd-and-18, Hayes took the ball on a draw play for 13. Needing to convert the 3rd-and-5 or settle for another FG, Dawson dropped back and fired to RE Taylor for 10 to the 4.

L: Dawson hands to Hayes; R: Dawson fakes to Hayes before throwing to Taylor.

Stram on the sideline: They can't cover that in a million years.

But the

Vikes

dug in, and Marshall downed Garrett for a loss of 1. Dawson kept for no gain. On 3rd-and-goal from the 5, Dawson called a trap play to Garrett who ran through a big hole at LG created by Ed Budde into the EZ. Stenerud converted. Chiefs 16

Vikings

0 (5:34)

Stram

sent in a sub with the play call for the TD:

65 Toss Power Trap

. It would become one of the most famous calls of all time because NFL Films included the audio in its highlights of the game. When the offense came off the field, a laughing

Stram

bragged,

I told ya that baby was there! Yes sir, boys!

Never before had fans heard a coach rejoicing on the sidelines like that.

Stram

:

On the 65 Toss Power Trap, that was the only time we ran that play all year long.

Minnesota

's Alan Page was a great player. Quick. Sharp. Alert. In a short-yardage situation, they would put him in the gap between the center and the left guard. If the backs were split, it looked like there might be an outside play to Page's right. Then he'd have to get in the gap between the guard and the tackle. If he saw the tackle

(

Jim Tyrer

)

pull, he was going to run like hell. It worked just like you draw it up on paper. When Page came through, he was open to the inside-out trap block

(by RG

Mo Moorman

)

. It also took a good block by the TE

(

Fred Arbanas

)

on the middle linebacker, and we got that.
Dawson

:

I called most of the plays, but here comes Gloster Richardson into the huddle with a play from Hank Stram. He said, "The coach wants 65 Toss Power Trap." I said, "Are you sure? We haven't worked that play, even in practice, for weeks." Richardson said, "He said 65 Toss Power Trap." I said, "You better be right." I called it, and it was a perfect play. Our TE, Fred Arbanas, made not one, but two blocks on the LB and the S. ... With that 16-0 lead, it was virtually over. We had 'em. Garrett

:

I was surprised when Len called the play. It's the type that you look awful foolish on if it doesn't work. I know we used it a couple of times against

Oakland

, and that

(

Raiders

DT)

Keating was just standing there and just beat on my head.

The reeling

Vikings

tried to get something going offensively. West got a good return this time, traveling 27y to the 32. Kapp then threw his first down-the-field pass on 1st down for a gain of 27 to Henderson. But an incompletion to RB Oscar Reed, an 8y sack by DT Buck Buchanan, and another incompletion, this one to Henderson, caused Bud Grant to send in Fred Cox for a desperate 56y FG try that fell short. RB Warren McVea fielded it at the 7 and ran it back to the 24.
With 3:20 on the clock, KC had time to add to their lead. McVea stayed in the game and ran the ball three straight plays for -1, 2, and 9 to move the chains to the 34. Pitts ran another reverse around RE for 11. Knowing they could not allow another score before halftime, the

Vikes

bowed their backs. Dawson hit Taylor for a quick 3, and Hayes gained another 3 up the middle. LB Wally Hilgenberg broke up the 3rd down pass to McVea to force a punt. Jerrel Wilson's first punt of the afternoon was nullified by illegal procedure. So he booted again for 44y to the

Minnesota

10.
With only 23 seconds left, Kapp tried a long pass to Washington - incomplete. Joe then sneaked for 2 to end the half.
END OF Q2: CHIEFS 16

VIKINGS

0

Chiefs

RT

Dave Hill

had done an excellent job on

Carl Eller

during the first half. But

Dave

complained about the

Vikings

' tactics.

Eller was trying to hurt Lenny. He pounded on him after Lenny handed the ball off one time, and Eller knew Lenny didn't have it. That was a cheap shot, and we let him know it. Another time, Alan Page punched Lenny when Lenny was down. That's high school stuff and, frankly, I'm ashamed of them for doing that.

The

Chiefs

dressing room was surprisingly quiet. The players quietly rested. Dawson recalled after the game:

We knew we had only 30 minutes left. We said to ourselves if we could keep our composure we could win.


Just before the team took the field for the second half,

Stram

called them together. He reminded them of how long and hard they worked to reach the Super Bowl and how badly they wanted to win.

Thirty minutes more and we're world champions. Play control ball. Go get 'em!

On the other side,

Bud Grant

and his staff didn't make any adjustments but merely exhorted his team to play better.

Jack Patera

, who coached the

Viking

defense, said after the game,

We were aware of all their sets. All we could do was try to help the defense recognize them and hope for the best. ... Against the teams we play in the NFL, we have a file that tells us their preferences and what they do best. Here's the Kansas City file.

He held up a set of play cards.

I can't tell you what they do best, because they do so many things and do all of them well.

Kapp afterward:

At the half, we felt we could come back. We have made the big play all year. That's what got us here.




Director of Pageantry

Tommy Walker

hoped his halftime show would make people forget about the embarrassing pregame performance. His centerpiece was

Al Hirt

, the New Orleans trumpeter who was a part owner of the

Saints

.

Give us the Super Bowl, and you get me free

,

Al

had said when New Orleans was bidding for the game.

Al

played "Bourbon Street" flawlessly. Then opera star and New Orleans native

Marguerite Piazza

sang "Basin Street Blues."

Newsday

described her performance as "mangled." The finale was a reenactment of the Battle of New Orleans. As men dressed as British and American soldiers came onto the field, cannons boomed from all four directions. A man portraying General Andrew Jackson rode a horse onto the field as the PA announcer explained what was happening. Unlike the real battle, the British swept to victory this time - another embarrassment for

Walker

. The whole spectacle tore up the spongy field even more.