1968: Super Bowl III - New York Jets vs
Baltimore Colts
This series covers the history of the NFL through the prism of its yearly championship games.
Note: The gray boxes contain asides that provide interesting material but could be skipped
without losing the continuity of the article.
John Mackey


Weeb Ewbank


Carroll Rosenbloom


Al DeRogatis and Curt Gowdy


George Ratterman and Charlie Jones


George Sauer Jr.


Jim Turner

Jimmy Orr

Louis Chestnut

, Executive Sports Editor of the

Charleston (SC) News and Courier

, wrote this in his column of Sunday, January 12, 1969 - the morning of Super Bowl III.

I don't know why I can't get all charged up over the Super Bowl. Maybe I'm just sick of football by now. Maybe I just feel the game is anticlimactic. Maybe it's because I am of the opinion any one of five or six NFL teams could whip Namath and the Jets on any given day. Maybe it's because Johnny U. is not playing and, in the twilight of his career, he won't have too many more chances. Maybe it's because Namath is playing and I don't particularly like to see evil exploited.
At any rate, I am the first to admit the game has more glamor for the fan than the two previous Green Bay romps. And I will also admit the reason for the glamor is old garbage mouth Namath. Of course, there is castoff Earl Morrall to stir the imagina­tion but let's face it - if Morrall were going against, say Dawson, or Lamonica, or Hadl, from whence would come the glamor?
Namath, with his facial hairs, his white llama rug, his mink coats, his busting a sportswriter in the mouth, his downgrading of Morrall, his curls dancing out from beneath his helmet, is news. ... Fully half the sellout crowd of 78,000 in Miami's Orange Bowl today will be hoping the Baltimore front four will grab Namath's legs, make a wish, and split him up the middle.

Baltimore

coach

Don Shula

's concern about the game came through in his remarks to the press Saturday.

Everything we've done so far is nothing if we don't win this one. We've had too many disappointments, too many frustrations of recent years. We just couldn't stand another. We're overdue to take it all. That sounds like a coach playing not to lose, especially after Namath's audacious guarantee.
Arthur Daley wrote in the New York Times: The

Colts

are convinced they are the best there is and they are determined not to fluff so matchless an opportunity for proving it. Agreeing with them in this self-esteem is the bookmaking gentry, whose opening price es­tablished the National Football League champions as 17 points better than the Jets. But the Jets have Joe Namath and they always will have a scoring hope so long as he can remain vertical enough to throw the ball. But never in his young life has he faced as fero­cious and as smothering a defense as the

Colts

can mount. ... Namath alone has brought the element of uncertainty and excitement to a game that might be regarded as a prosaic romp for the

Colts

otherwise. He will attract a record television audience, a loudmouthed antihero like Cassius Clay, who also drew those hoping to see him get his block knocked off.

Before dawn, workers were busily preparing the Miami beachfront home of

Carroll Rosenbloom

, owner of the

Colts

, for a victory party.

As soon as the

Colts

took care of the AFL nuisances, Rosenbloom and hundreds of friends would celebrate under a big tent with magnums of French champagne. They would dance to a 10-piece orchestra dressed in tuxedos. Such a gala would be only fitting for a team that would soon be acclaimed as the greatest of all time.

Rosenbloom

bragged at the NFL party several nights earlier that he had bet a quarter of a million dollars on his team.

Baltimore

TE

John Mackey

recalled:

We had the wrong attitude. We started to believe we were 19-point favorites. We announced our victory party the Wednesday before the game and cut up the shares at the pregame meeting. Can you believe that?

Jets head coach Weeb Ewbank, who coached the

Colts

from 1954-62 and now had won championships in both the NFL and AFL, recalled years later: I'll never forget Carroll telling me before the game about his party. I told him I appreciated the invitation, but I was hoping I'd have my own victory party to attend that evening.

Ten years later,

Rosenbloom

drowned while swimming at his property in Golden Beach FL in the NE corner of Miami-Dade County. By that time, he had been majority owner of the

Los Angeles Rams

for seven years.

An NBC Television crew was also busy Super Bowl morning.

They were marking camera positions in the

Baltimore

locker room with pieces of tape for the postgame presentation of the championship trophy by NFL Commissioner Pete Rozelle. One piece marked the precise spot where triumphant-coach Don Shula would be interviewed. The

Colts

' dressing room was also stocked with an ample supply of champagne.

A man called local radio and television stations and, claiming he was associated with the Black Power movement, warned that 500 pounds of plastic explosive was hidden in the stadium. More than 100 uniformed police and firemen, FBI agents, and county bomb squad experts searched for 90 minutes but found nothing. The scare delayed the opening of the Orange Bowl gates.

After CBS, the network of the NFL, and NBC, the AFL's TV partner, both telecast the first Super Bowl, the two networks alternated the coverage year-by-year. Since CBS had done SB II, it was NBC's turn for III.
NBC paid $2.5M for television and radio rights. Curt Gowdy would do the TV play-by-play with Al DeRogatis and Kyle Rote the color commentators and Jim Simpson reporting from the field. The radio crew was Charlie Jones on play-by-play with George Ratterman and Pat Summerall providing expert analysis.
Each winning player was expected to receive $15,000 and each loser $7,500. Another $1M would go into the player pension funds and another million would go to the two competing franchises and the league and commissioner's offices.
All tickets for the Orange Bowl had been sold and scalpers were reportedly asking as high as $100 for ducats.



Namath

had a surprise before the game. Five hours before the 3:05 EST kickoff and just a few minutes after his wakeup call,

Joe

heard a knock at his door in the

Jets

hotel in Fort Lauderdale. The bellboy handed him a dozen red roses. The card read,

To Joseph, From Lou Michaels and the

Baltimore Colts

.

The brash QB just laughed.

(Another version of the story has the roses being delivered to the room shortly after the game started and

Namath

discovering them when he came back from the game.)

The Jets were generally relaxed and confident before the game.

Namath lay on a training table an hour before kickoff clad only in a jockstrap having his fragile knees taped. Ewbank came over and told him, I don't think we should try any sweeps. Their linebackers are so good at pursuit. Joe, who would call his own plays, never opened his eyes and said nothing.
WR George Sauer Jr. seemed relaxed also. He lay on his back, holding up his ankles. I'm pretending I'm a frog layin' on its back.
K Jim Turner threw up in one of the toilets.
Broadway Joe told his mates, Chicken ain't nothin' but a bird, and this ain't nothin' but another football game. Let's go out and win.
Ewbank relayed to his team the invitation that Carroll Rosenbloom had extended to the Jets coach to the

Baltimore

victory party that evening. Let's have a victory party of our own, Weeb told them. He also said, One more thing. When we win, don't pick me up and ruin my other hip. I'll walk.
The players and coaches made sure that DB Randy Beverly was calm. A free agent who had been playing semi-pro ball two years earlier, Randy confessed to teammates the day before the game that he was scared. I don't want to look like a clown.

A sign hung in the Colts locker room: Can Joe Namath Do What He Says?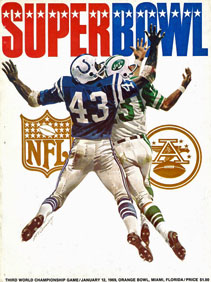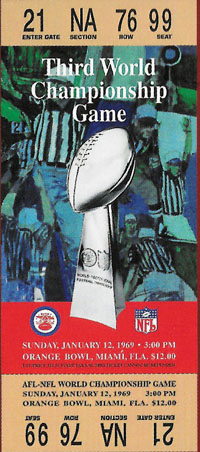 The forecast of rain with temperature in the 70's turned out to be half right. The temperature did reach the 70s.

Rain fell for several hours Saturday night, but the field was covered. Sunday morning started with a drizzle, but the sun quickly dispersed the clouds. However, a tricky 18mph wind blew from the north. Curt Gowdy told TV viewers, It's going to be very gusty today. It's blowing across the field, and we may have some swirling currents that can do some peculiar things with passes, punts, and kickoffs.
The Jets had played in Miami every season since the Dolphins joined the AFL in 1966. But the

Colts

didn't have that advantage.
K Lou Michaels and his holder Bobby Boyd practiced FG attempts in both directions, trying to gauge the unpredictable gusts, particularly at the open end of the stadium.

Throughout warmups, Lou could feel the stare of his older brother Walt, the Jets defensive coordinator.

QBs Morrall and Unitas put extra zip on their passes to compensate for the wind.

During the pregame show, Gowdy and DeRogatis talked about the possibility that Unitas might play.
Gowdy: Don't forget about Unitas today because he was throwing fairly well in practice. His arm has improved, and you never know what will happen. Johnny U., who many consider the greatest QB who ever lived, could still be a factor in this game.
DeRogatis: The interesting thing is that in this great classic, the great John Unitas will not be starting. But John is ready, and no one will be surprised if John gets into this game.

The Jets noticed the confidence bordering on cockiness that

Baltimore

displayed when they took the field for pregame warmups. To a man, the

Colts

looked upon the game as a necessary three hours they had to put in before being proclaimed the greatest team ever. The Jets, on the other hand, felt disrespected by both the

Colts

and the media.

Jim Turner

years later:

People didn't believe in us because they didn't believe in the AFL. ... I still recall the disdain the

Colts

showed for us in pregame warm-ups ... They weren't wearing pads or helmets. And, except for some Jets fans who were in the stands, I had that feeling everyone was against us. Why waste time pulling for a team that is going to be obliterated, right?

The Jets were not impressed with the physiques of the

Colts

. C Bill Curry noticed the same thing when he was traded from

Green Bay

to

Baltimore

in 1967. After playing the monstrous Chiefs and, to a lesser extent, the Raiders, the New Yorkers would not be in awe of the

Colts

physically.
Namath had been greeted by a mixture of cheers and boos when he appeared on the field unlike Johnny U., who had received the biggest ovation. Joe walked over to his fellow team captain Johnny Sample. Hey man, don't worry. In three hours we'll be the world champions. It's in the bag.

Namath admitted later that, despite his exterior cool, he started to truly understand what was at stake during pregame warmups when he saw the famous Johnny Unitas and his teammates on the other end of the field.

The

Colts

noticed the unevenness of the Orange Bowl field. The grass was thick on the west end but was more sandy on the east side. Also, the white yard stripes were gullies that made footing uneven.

A half hour before kickoff, referee Tommy Bell signaled both benches to send out their captains for the toss of the coin.

Because Namath was warming up, Ewbank sent his defensive captain, Johnny Sample. He was met at midfield by Bell and one of his friends from his days on the

Colts

, Lenny Lyles. You don't have to introduce us, Sample told Bell. As the visiting team, the Jets called the toss. Sample called heads with the coin in the air. Heads it is, said Bell. Sample elected to receive and, before departing, said to Lyles, The first one goes to us.

The

Colts

took some comfort from the fact that

Bell

was an NFL referee. It wasn't that they expected him to help them in any overt way. But he had a reputation for not allowing a game to get out of control. As in all Super Bowls before the merger, the officiating crew was split 50-50 between the two leagues.

When the

Colts

returned to the field after warmups, the crowd gave the NFL champs a sustained ovation despite the fact that Miami was an AFL city.

Just before kickoff, Curt Gowdy turned to his TV broadcast partner, and asked, How do you see this game? Al DeRogatis replied, If the Jets gain a hundred yards on the ground, they'll win. Gowdy later recalled, It's one of the best calls in the history of sports television.

Numerous dignitaries from outside the football world attended Super Bowl III: President-elect

Richard Nixon

and Vice-President-elect

Spiro Agnew

(a devout

Colt

fan); Senator

Edward Kennedy

of Massachusetts and his father, former Ambassador

Joseph P. Kennedy

; Senator

William Eastland

of Mississippi; astronauts

Frank Borman

,

Bill Anders

, and

Jim Lovell

; and comedians

Bob Hope

and

Jackie Gleason

.

Quarter 1
Walt Michaels kicked off to Earl Christy a yard deep in the EZ. He returned to the 22. When the Jets came to the line for the first play, they shifted into an unbalanced line to the right. Namath handed to FB Matt Snell who darted over LT to the 26 where DE Ordell Braase made the stop.

Namath hands to Snell the first of 30 times.

The shift to an unbalanced line on the first play was Namath's way to telling the Colts they would have to adjust to him, not vice-versa. He didn't use the shift again all afternoon.
Afterward Snell explained the Jets' running plan for the game: Their defensive line likes to hit and slide off the block. They have great pursuit, so we didn't want to try to run anything that would delay hitting the hole.

On 2nd-and-6, Snell ran through a big hole at LT to the 34 for a first down. The tackler, S Rick Volk, was injured on the play and left the game. Ocie Austin replaced him.

Snell was surprised by the call on the second play. It wasn't in our game plan. Joe called the play at the line of scrimmage. We never ran sweeps and stuff like that, but it broke wide open.
A physical, hard-hitting S, Volk was almost the equivalent of a fourth LB. He left the field because his helmet cracked into Snell's as both men tried to get low - the irresistible force from Ohio State (Snell) meeting the immovable object from Michigan. Rick lay prone briefly, stunned by the hit. Fortunately, the play ended near the Colts bench. So teammates helped him to the sidelines before the next snap. The concussion Volk undoubtedly suffered (though not detected at the time) clouded his ability to read plays and react quickly when he returned to the game later. He took another blow to the head on an onside kick near the end of the game.

Staying on the ground, Namath pitched to HB Emerson Boozer who tried RE but was thrown for a 3y loss by LB Don Shinnick and DT Billy Ray Smith. On the next snap, Namath took several quick steps back and tossed to Snell in the right flat to the 40. Facing 3rd-and-4, Namath tried a draw play but DT Fred Miller dropped Snell at the 38. So Curly Johnson with a 43.8y average during the season dropped back to punt while Tim Brown replaced Volk as the returner. Brown ran the kick back 2y to the 20, but the Colts were offside. The Jets took the penalty even though they were still a half-yard short of a first down. That cost them a few yards because Brown returned the second punt to the 27.

Namath hands to Snell as Winston Hill blocks Ordell Braase inside.

The Colts started off like double-digit favorites with first downs on each of the first two plays. Running the first four plays that offensive coordinator Don McCafferty had scripted, QB Earl Morrall dumped the ball to TE John Mackey in the left flat, and the 225 lb bruiser (who actually weighed more than that) raced to the 46. Then HB Tom Matte skirted RE to the Jets 44 before LLB Ralph Baker made the tackle.

Morrall pitches out to Matte.

One of the Jets' major objectives on defense was stopping Mackey. And here their defensive captain, Grantham, had blown the coverage. After that first play, the Jets usually double-teamed him and he caught only two more passes the rest of the game.

FB Jerry Hill ran behind two TEs on the right side, slipping a tackle in the backfield by DE Verlon Biggs to make it to the 37. Then tackles Paul Rochester and John Elliott jammed up Matte after just a 1y gain.

Watching film,

Morrall

had been most impressed with

Elliott

among the

NY

D-linemen. He compared his pursuit ability with that of the

Packers

' All-Pro T

Henry Jordan

.

His preparation had also taught

Earl

that

NY

relied on its LBs to help against passing by getting deep to help out the safeties. So he keyed on the movement of MLB

Al Atkinson

. If

Al

moved left on the snap,

Earl

would throw right and vice-versa.

The

Colts

also ran draw plays and fake draws to keep

Atkinson

from dropping deep too fast.

Earl

had a reputation as an adept play-caller who followed the game plan well.

On his first 3rd down snap, Morrall again ran Hill behind the two TEs on the right for a 1st down at the 31. But on the next play, DE Gerry Philbin dropped Hill for a 3y loss. Behind the chains for the first time, Morrall threw incomplete on an out pattern to the left to FL Willie Richardson. But Earl connected on his next pass to TE Tom Mitchell, an

Oakland

castoff, at the 19 where he was downed immediately. 1st down Colts!

At this point,

Colts

WR

Alex Hawkins

was thinking that his prediction that

Baltimore

might score 50 points looked good.

Some

Colts

sensed unease, if not fear, in the

Jets

. On the sideline,

Ewbank

was yelling,

Keep your poise.

His former team was looking better in person than they did on film.




Defensive captain

Sample

yelled at his teammates in the huddle.

If we don't start doing something, we might as well walk out of here right now.

DE

Gerry Philbin

was even more animated.

Hit somebody, damn it! We're getting embarrassed out here

. He then proceeded to lead by example.

Next came a play that started a deceleration of the Colts' momentum. Morrall called a short, quick pass to Richardson in the slot to the right. On the snap, Willie ran a diagonal pattern to the right. As he cocked to throw, Earl saw S Jim Hudson rushing up on Richardson. So he held up the throw. At that moment, Philbin flushed Morrall out of the pocket and Earl, running right, saw Richardson running down the sideline and unloaded. But the intended receiver broke to his left where he saw a wide hole. When he saw the ball, he tried to turn around but could get only a hand on it. Then LB Larry Grantham's red-dog caused a hurried throw that fell short of a diving Mitchell. On 3rd down, in Morrall's words, the Jets came up with a perfect defensive call. Every receiver was covered. Matt e was out in the flat and he had a LB with him. I thought I might be able to get the ball to Tom. But before I could unload, I was smothered. Philbin and Biggs did the smothering. Morrall squirmed away to get to the 18 and avoid a long loss. So the FG unit came in, but Michaels' kick from the 27 with the wind sailed wide right. The good news for the Colts was that they ran 5 1/2 minutes off the clock. The bad news was that they had no points to show for it.

Morrall ducks under Verlon Biggs and squirms back to line of scrimmage.

The Jet defense left the field with renewed confidence and resolve. Grantham recalled that the botched FG pepped us up good. Matt Snell sensed some steam going out of the Colts, and Morrall had the same feeling.
Earl in his autobiography: Looking back, I realize that our failure to score in this drive was very significant. It gave the Jets an emotional lift. It bolstered their confidence.

Namath threw incomplete to Snell in the right flat before hitting Pete Lammons for a 4y gain to the 22 before Lenny Lyles dropped the TE in his tracks. With LB Dennis Gaubatz blitzing up the middle, Namath converted the 3rd-and-8 by hitting RHB Bill Mathis at the 35.

During the week,

Ewbank

said,

We want them to blitz. Joe reads the blitz real well. Shula

years later:

We blitzed a lot. The blitz had been successful against everybody. Nobody had figured it out. Namath was the only guy to be able to beat our blitz that year. Kyle Rote

commented on the telecast of the game:

You watch Gaubatz calling the defensive signals and Namath calling the offensive signals and what a battle of wits is going on. Gaubatz, of course, trying to conceal the Red Dog ... Namath trying to automatic. Bobby Boyd

, surveying the scene from his S position, was startled that

Namath

was calling the same checkoffs at the line of scrimmage that the

Colts

used. At one point,

Joe

looked over at the

Baltimore

sideline and saw

Unitas

mouthing the audible words along with him.

Boyd

:

Weeb had coached in Baltimore, so they had the same exact system we had. Their check-offs were the same as ours.
Boyd

told his secondary coach what he had discovered, but

Chuck Noll

brushed it off.

Oh no, you can't trust that. Noll

may have suspected that many of

Joe

's audibles were fake, which indeed was the case. The

Jets

went into the game with three "live" colors that preceded a play call - red, white, and blue. The

Colts

were used to NFL teams using only one live color. If

Namath

yelled "green,"

Baltimore

would shift the defense prematurely.

Joe

would read the defense and then call a live color and the actual play he wanted to run. He also varied the snap count to keep the

Colts

' front four from getting a good jump.

On the next snap, FL Don Maynard took off down the right sideline and got a step on SS Jerry Logan. But with both backs in to give the QB the extra time he needed, Namath's pass flew a few inches beyond Don's outstretched hands - a big opportunity missed by the Jets. The ball traveled 55y in the air.

Namath throws over Bubba Smith as Dave Herman tries to block him.

The

Colts

didn't know that

Maynard

was not at full speed because of a lingering hamstring pull from early December. But the near miss on the long pass caused them to rotate their zone to

Don

's side the rest of the game. That left RCB

Lenny Lyles

all alone on

George Sauer

.

Sauer

:

Some writer later said that was the most important incomplete pass in Super Bowl history, which it was.

In preparation for the game,

Ewbank

told

Sauer

:

Find the dead spots in the zone, hook up, and Joe will hit you. Namath

agreed:

That play was important. Maynard was open. He got behind their bomb-proof secondary. He put the fear of God in them the rest of the game.


The fly pattern to

Maynard

mirrored what

Ewbank

had done in 1958 when he coached the

Colts

against the

Giants

in the NFL Championship Game. At that time, he instructed QB

Johnny Unitas

to throw deep early to

Lenny Moore

. That caused

NY

D-coordinator

Tom Landry

to assign double coverage to

Moore

. That left WR

Raymond Berry

, a possession receiver like

Sauer

, in single coverage on the weak side.

On 2nd down, Joe again threw quickly to avoid the rush and hit George Sauer on a slant-in from the left to the 41. But on the next play, both Gaubatz and his fellow LB Don Shinnick blitzed, causing a misconnection with Sauer. So Johnson punted to Brown, who took the ball at the 21 and darted left where the wall was set up. Snell had to make the stop at the 42, a 21y return.
Morrall called a play meant to take advantage of the fact that the Jet LBs liked to help out in the secondary. He sent Orr and Richardson fairly deep and held Mackey back, as if he were going to block. MLB Atkinson took the bait and dropped back. So John broke into the space Al vacated. Earl threw to the reliable TE, but he dropped the ball with no Jet within 5y of him.

Morrall: I have seen John Mackey catch passes off his shoe tops, and leap in the air like a high-jumper to grab them. I have seen him take the ball while his body is going through snake-like contortions. If ever there was a receiver who was worthy of the tag "glue-fingered," it is Mackey. When Mackey dropped that ball, it was like seeing Al Kaline flub an easy fly ball in right field ... Those things don't happen.

Hill took the RT path again to gain 3. Then came another pass, a long one to Richardson at the 20, but Johnny Sample batted the ball away. David Lee came in for his first punt of the afternoon. It fell short at the 20 but took a big hop down to the 3.
Snell smashed through RG to the 8. Then Matt again on a draw slanting right to the 12 to bring up 3rd-and-1/2. Namath threw a quick out to Sauer who caught it for the first down. But when Lyles hit him right after he caught it, he fumbled and LB Ron Porter recovered at the 12.
END Q1: JETS 0 COLTS 0

Gaubatz and Lenny Lyles go after Snell on yet another of his runs to the left

The difference in the attitude of the teams was noticeable from the stands.

Willie West

, a former

Jets

and

Dolphins

DB who lived in Miami observed both teams from his seat in the Orange Bowl.

Baltimore

had a tough time handling the Jets. I think they were shell-shocked, actually. You could see from the start of the game how their body language was. As the game proceeded, the Jets were doing so well, and all of a sudden

Baltimore

realized, "We are going to have to play this game; we can't just show up and win." It was very evident to me as a player watching from the stands to see those dynamics.

Baltimore

was shocked the Jets were right there with them from the outset. To me, it was clear they were overconfident. You could see it in the pregame warm-ups, even.

Quarter 2
Despite all that happened in Q1, the Colts were in a great position to score as Q2 began. Matte took a pitch and meandered around LE to the 6. Morrall wrote this about the next play. If the game had a turning point, I'm sure it was the next play. Earl described the play like this. Shula sent in Tom Mitchell, our six-foot-two, 235-pound TE. Often during the season we had used Mitchell in short yardage situations like this one. He's big and strong and able to shield away defenders with his body. We went into a double wing and put Mitchell wide to the left. Randy Beverly would be covering him. Tom Matte and Jerry Hill were to decoy. Matte, also set to the left, was to slant left, taking the safety with him. Hill was to draw off the right LB. Mitchell was to run a quick slant-in, the idea being to get inside Beverly. Then I was to throw low, to Mitchell's belly, so he could clutch the ball to his body and fall to the ground in the end zone. As I called out the signals, I could see that the Jet line had shifted to the right, and Al Atkinson, the MLB, had moved a step or two to the left. I knew this meant he would be flying to the left, opposite to the direction Mitchell would be traveling. "Beautiful," I thought, "just beautiful." It went great. Matte cleared his man out. So did Hill. And Mitchell threw a perfect fake at Beverly and then slipped inside him. I threw - hard. Mitchell had his arms open and waiting. The throw was right on target. Then suddenly the ball veered off course. Atkinson had tipped it, bending its path upward slightly so that it struck Mitchell on the shoulder. And then it caromed high into the air, straight up, just like a foul tip. Ironically, Beverly, the man who had been so thoroughly feinted out of position, became the hero. He turned, went back a step or two, and was under the ball when it came down to make an end-zone interception.

Beverly

recalled:

As far as the media and the fans and everyone, we had already lost the game before it started. We looked at it as if, What do we have to lose? We watched film for two weeks. ... We were a little angry because people thought we were going to get beaten so badly. ... The coaches put together a game plan for us that really worked. Everything we saw on film we saw on the field. There were no surprises. Morrall

:

I couldn't believe our luck could be so bad. "What's happening?" I thought to myself as I came off the field. "What do we have to do?" And as I stood on the sidelines watching Namath call plays, I could see that the Jets were fired up. The crowd could, too, and their allegiance had shifted. ... I hard hardly heard the fans before, but now the stands seemed to be in ceaseless tumult, one roar blending with the next, and you could feel the electricity, and I'm sure all this worked to exhilarate the Jets. Colts

LG

Glenn Ressler

felt the anxiety mounting within the team.

We would move the ball downfield and then make a mistake. It was frustrating. We're working our butts off and then making mistakes.


On the opposite side of the field, K

Jim Turner

sensed what was happening.

That

(

Beverly

's INT)

was the play that swung the momentum in our direction.
NY

G

Randy Rasmussen

also sensed the change in the crowd. He felt that the

Jets

fans had kept quiet in the beginning because their team was such a decided underdog. One

Baltimore

fan sitting behind the

Jets

' wives called the

Colts

the "Big Boys" and the

Jets

the "Little Boys." But as the game progressed and their heroes were not only holding their own but leading, the

NY

supporters became more vocal.

Starting from the 20 and continuing to employ a disciplined, conservative, "NFL-style" game plan, the "undisciplined" Namath called four straight runs by Snell ("19 Straight" and its variations, "19-Option" and "19-Cutback") to the left behind G Bob Talamini, T Winston Hill, and HB Emerson Boozer.

Before the game, Boozer and Snell made a pact. Whichever one carried the ball, the other would block for him. On one play that called for Snell to carry, Boozer told him, Follow me. I'm splitting Shinnick down the middle.

The first play gained only a yard. But then Matt roared through a big hole to the 28 where Shinnick tackled him. On 3rd-and-2, Snell turned the corner to the 33 for the Jets' third 1st down of the afternoon. Then that same play resulted in a 13y gain to the 46. At this point, Mathis replaced Snell who seemed not only tired but shaken up as he was given oxygen.

Ewbank

wanted to help his defense by employing a basic offensive game plan that would extend possessions by running the ball and throwing short passes. Looking at films of the first two Super Bowls,

Weeb

felt the AFL teams lost their poise when a big play like a turnover went against them. So he preached to his team,

Keep our poise and execute.

The

Jets

had decided from their film study that the right side of the

Colts

defense was more vulnerable to the run. RDE

Ordell Braase

was 36, ROLB

Don Shinnick

, 33, and RCB

Lenny Lyles

, 32.

Snell

:

It was a hot, sunny day, and that made it easier for Winston

(

Hill

, 35 lbs heavier than

Ordell

)

to overpower Braase. Braase pretty much faded out. Once that worked, we could fake me running off-tackle and throw to Sauer. Hill

would drive into

Ordell

, but sometimes he would let

Braase

determine the direction of the play. If the DE went inside,

Hill

would push him in that direction, relying on

Snell

to made the cut to the outside. And vice-versa, push

Braase

outside and let

Matt

run inside.

Years later,

Hill

deflected praise onto others:

I did what I did all season. When we played

Baltimore

in the Super Bowl, I didn't believe in trying to play above my head. I played to my potential. I don't think Matt Snell, Emerson Boozer, or Dave Herman has ever received enough credit for what they did that day. Dave Herman was giving away 30, 40 pounds to Bubba Smith, and he was playing a new position against a superstar. I was playing against a guy

(

Braase

)

who was 36 years old.

Namath calls signals from his slouched over stance.

On most plays, Namath was calling audibles when he was under C after seeing the Colts' alignment. He also noticed that the secondary often telegraphed its coverages. But on the next snap, Joe threw into double coverage at the left sideline for Sauer and was fortunate that Shinnick, the NFL's all-time INT leader among LBs, couldn't hold onto the ball. Then, with LLB Mike Curtis roaring in, Namath dumped to Mathis in the vacant right flat. Bill hot-footed it to the Colt 48 before Bubba Smith caught up with him. On 3rd-and-4, Sauer ran a button hook and caught Namath's bullet at the 34 for the first down. A quick out to Sauer put the pigskin on the 23 where Volk, back in the game, made the stop. 1st down Jets. Following a crossbuck by Boozer to the strong side that gained 2, Namath flipped a swing pass to Snell who reached the 9 to make it 1st-and-goal. Matt again, this time at RT to 4. The Colts rushed in their goal-line defense that featured a tight, five-man front. In the huddle, Namath called for 19-Straight again and added, We'll go on the first sound. With his team lined up, Joe paused behind C John Schmitt, then got into his slouched stance and yelled Now! Snell took the handoff, slid around LE, and just beat Gaubatz to the goal line to complete the 12-play 80y drive.

Snell scores first TD of game.

As he ran, Snell felt like he was moving in slow motion. He wondered if he would ever reach the goal line. Nearing the stripe, he lowered his head and pushed past Gaubatz into the Colts blue EZ just before Lyles arrived. But the effort aggravated an old knee injury. After Matt reached the sideline, the trainer taped the outside of Snell's pant leg to take pressure off the knee.

Turner continued his flawless season of PATs. Never before had an AFL team led in a Super Bowl, and the Colts trailed in a game for the first time since November. Jets 7 Colts 0 (9:03)

Namath: It was just standard stuff, game-plan stuff. Their zone was rotating to our right usually, and I felt that I could work the ball to Sauer. I wasn't throwing that well, but he was making some great catches.
The Colts' defense was frustrated that such a simple game plan was working against them. Jets C John Schmitt: I could hear them cursing themselves in their huddle. They were mad as hell that we were moving.
One of the reasons for the Colts' frustration was that they knew from the Jets' formation which type of running play they would run depending on where Snell and Boozer were lined up behind Namath. Yet they still couldn't stop them consistently.

Jets defense: 86 Verlon Biggs, 51 Ralph Baker, 80 John Elliott,

72 Paul Rochester, and 81 Gerry Philbin

Preston Pearson took Johnson's kick on the 2 and returned to the 28. Morrall rolled right and threw a long pass that sailed high over the head of Richardson. Earl then threw quickly with a rusher in his face to Matte in the left flat. Tom escaped a tackler and rambled to the NY 42. Next, Hill pushed through RT to the 38. Matte took a handoff and tried to cut back at RE but could get back only to the line of scrimmage. Let Morrall describe what happened next. I called a short pass with Orr the primary receiver. I was about to let go when I spotted Mackey in the clear. "This is where we get even," I thought. I went to Mackey and I think I may have hurried the throw. It was off to the right, but John made a terrific play, turning, sort of pirouetting, to come back and get his hands on it. Johnny Sample was playing my eyes, and he left Willie Richardson on the outside and came flying over to Mackey. Poor John. Because I had thrown to the right, he never really got a chance to put the ball away, and when Sample crashed into him from the blind side, the ball spurted away. ... It was another big play, another missed opportunity.

Sample couldn't resist talking to Mackey. Big boy, you're going to have a tough time out here today. You may run over rinky-dinky backs in the NFL, but you don't do it over here.
I'll be back, Mackey retorted.

Michaels came out for a FG try from the 46. The boot was long enough but off to the right. More frustration for the Colts' offense.
Mixing his plays nicely, Namath directed another time-consuming drive. First, Boozer fought for a yard to the 21. Namath pump faked, then threw off his back foot over the head of Lyles into the outstretched hands of Sauer to the Colt 44.

Namath told friends in the off-season: After a couple of years together, Sauer and I have an automatic play going. Any time that safety comes up and blitzes, Sauer breaks inside. It isn't called in the huddle. The time I hit him deep to the outside, we had agreed that on the next Colt blitz, he would fake in and then fly.
Ewbank: It is just a slight thing. With two great athletes, it works.


Snell moved through LT yet again for 34. That tied the Super Bowl record of yards in a game at 62. A measurement showed the ball a foot short of a first down. Snell took care of that and broke the record with a dive up the middle to the 37. Keeping the threat of the bomb in the Colts' minds, Joe threw long down the right sideline to Maynard, but the ball sailed high over his head. Next, Namath threw as he moved back to Bake Turner, but the ball hit the ground short of the receiver. On 3rd down, Gaubatz finally got to Namath who squirmed to the 33. Jim Turner, who set an AFL record of 34 FGs during the season, tried one from the 41 that was wide left.
So Baltimore took over at the 20, and Morrall hit Richardson on the right sideline at the 26 1/2 in front of Sample. Then Matte electrified the Colts fans by turning the corner around RE and sprinting all the way to the 16 where Bill Baird corralled him. Tom didn't appreciate Sample giving him a knee in the back as the play ended. He leaped to his feet and started for his former teammate. You're a dirty player! Johnny grabbed Tom's jersey. You ain't nothin'! You oughta be ashamed of yourself. Anybody who can't score when he's this far out in front shouldn't even be wearing a uniform. Other players separated the two. Matte came out for a breather.

Matte breaks loose on his 58y run.

Super Bowl III would turn out to be the most productive game of

Matte

's career. He led the

Colts

with 116y on 11 carries for 10.6ypc, the highest in the game. If it weren't for fellow

Buckeye

Snell

's even better day (by 5y),

Tom

would have set the Super Bowl rushing record. Oddly both runners wore #41 in the pros.

Hill met strong resistance as he gained a yard. Then Morrall threw down the middle for Richardson, but Sample, playing the game of his life, cut inside of Willie to intercept as he fell to the turf at the 2. When Sample got up, he tapped the ball on Richardson's helmet and said, Is this what you're looking for? Then Johnny handed him the pigskin.

Sample would have been amped playing his former team under any circumstances, but he had also been irked by comments by Richardson during the week to the effect that the Jets secondary had not faced an AFL receiving corps as good as the Colts' unit.
Morrall on the INT: I blew it. I threw behind him.
Some Colts were hoping Shula would go to Unitas. Gaubatz: Unitas was ready to play. But they didn't let him. I liked Earl, but when I found out they wouldn't let John start, I thought, "Oh, man."
Logan: John should have come on in the first quarter. Earl had a great season, but he was having a bad day.
Gaubatz also thought the coaches should have replaced RLB Shinnick with the younger Ron Porter. Shinnick was great against the pass, but he couldn't stop the run. Porter could.

Snell ran up the middle to the 4, then carried again to the 7 as the Colts called their first timeout. When Matt gained nothing on 3rd down,

Baltimore

stopped the clock again with 1:04 left. The Colts sent a ten-man rush at Johnson who barely got the punt away to Brown, who fair caught the ball at the 39. But the play was nullified by offsetting penalties - illegal procedure on New York and roughing the kicker on

Baltimore

. Curly's second punt went to Brown at the 46, but he could get back only to the 42 with 45 seconds remaining.
Hill took a pass in the flat but couldn't quite get out of bounds at the 41. So Shula used his final timeout. After talking to Don, Morrall called a play named "438 Flea Flicker" that should have produced the tying TD. He handed to Matte running right. Avoiding LB Grantham, Tom turned and threw back to Earl who grabbed the ball at waist level and, with Elliott charging at him, spotted Hill down the middle. Morrall: He had plenty of room so I just sort of arched the ball instead of throwing hard. It floated - giving Jim Hudson, the Jets' safety, enough time to race over and make an interception. Hudson returned 7y to the 20. Morrall hadn't see Jimmy Orr, who, thanks to a blown coverage, was wide open down the left side.

The last play that the Jets defense practiced in the last practice before the game had been 438 Flea Flicker because they had seen the Colts use it on film. Backup QB Babe Parilli threw a TD pass.
Orr afterward: I was open from here to Tampa. I did everything but shoot up a flare. Much later, Jimmy recalled: We scored on that very same play in Atlanta ... in the second game of the season. Now when it was called in the Super Bowl, the zone defense came to me. The cornerback came up. So when the corner rolls up, I go straight down the field. So he was expecting the safety to come over and catch me. Well, the safety went with Matte when he got the ball. So at one point, looking at the film I was 37y away from the closest Jets player.
Morrall: The gun went off ending the half. I ran for the locker room. I felt miserable. If I had just run with the ball, I could have gotten us into FG position. And then Boyd told me about Orr being wide open. I felt worse.
Lou Michaels: Earl wanted to win so bad he got away from winning. I think Morrall was overexcited. Did Namath's disparaging remarks about him contribute to that feeling?
The irony of the situation was that, going into the game, pundits thought it would be the Jets who would have to resort to trick plays, not the Colts.

The half ended before the Jets could run a play.


Baltimore

had been held scoreless in the first half for the first time all season. New York had held the ball for 18 minutes to only 12 for the Colts.
END OF 1ST HALF: JETS 7 COLTS 0

Matte

years later:

To me, the failed flea-flicker in the second quarter cost us the game. Jimmy Orr was in the end zone waving his arms, and Earl didn't see him. We had done that play a number of times during the season, and you threw the ball to the deepest guy. ... Orr supposedly blended in with the band

(the

Colts

Marching Back was seated behind the end zone in their blue uniforms)

. Jets

DT

Gerry Philbin

agreed with

Matte

.

It certainly took a lot of wind out of their sails, that's for sure. You got a guy waving his arms in the end zone, and the QB doesn't see him. That has to be disappointing. Had

Baltimore

scored on that play, I believe they'd have been pumped up, and we'd have been deflated heading into the locker room. Then who knows? It could've been a totally different story in the second half. Alex Hawkins

wrote in his autobiography:

Whether the disparaging remarks previously levied at Morrall by Namath came into the picture, I have no way of knowing, but some recollection of his past with four different teams must have flashed through his mind. Jimmy Orr's and my own worst fear had been realized: Earl Morrall had awakened. Morrall

two years later:

I've wished thousands of times to do that game over again because what went wrong was my fault.


Lou Michaels


Bobby Boyd


Bill Curry


Lenny Lyles


Pregame Parade


Johnny Sample


Don Shula


Earl Christy


Namath passes over Bubba Smith, who would be stymied all day.


Ordell Braase


Rick Volk


Dennis Gaubatz tried to get to Snell


Fred Miller


Earl Morrall


Namath turns to handoff.


Emerson Boozer


One of few times Bubba Smith got close to Namath.


Earl Morrall passes as Sam Ball blocks John Elliott


Morrall tosses pass as Philbin comes up from behind.


Lou Michaels misses 27y FG.


Snell takes handoff.


Namath goes back to pass.


Namath comes back for draw play or pass.


Namath throws Q2 pass.


Sauer catches buttonhook in front of Lyles.


Snell just beats Gaubatz to goal line.


Lyles too late to stop Snell from scoring.


Preston Pearson


Turner misses FG.


Sample tackles Richardson.

Jets huddle in EZ after Sample INT

Curly Johnson punts from EZ.



Four views of Hudson's INT of flea-flicker.





Frustrated Colts leave field at halftime
<! END OF COLUMN ONE>