With
Florida State
set to play in the Chick-fil-A Bowl in Atlanta, it's appropriate to go back in time to the first Peach Bowl, the forerunner of the Chick-fil-A Bowl, when
FSU
placed
LSU
. The game matched two head coaches who had been assistants on
Paul Dietzel
's staff in Baton Rouge in the 1950s.
The independent Seminoles finished the regular season 8-2.
The losses were to Florida in Tallahassee, 9-3, when the Gator D held Bill Peterson's aerial circus to 17 fewer points than they would score in any other game that season. The other loss also came at home to Virginia Tech 40-22.
The key victories were 24-14 at Maryland in the season opener, 48-7 at North Carolina State, and 40-20 over Houston in Jacksonville. The last game was a big upset over a Cougar team that had beaten Tulsa 100-6, accumulating 762y.
Junior QB Bill Cappleman (Dunedin FL) had the best statistical season of any FSU QB to that point: 162-for-287 for 2,410y and 25 TD. His main target, All-American receiver Ron Sellers, broke the national record for career pass yardage.
LSU won 7 and lost 3.
The Tigers' defeats came at Miami 30-0, to Archie Manning and Ole Miss 27-24, and to Alabama, as usual, 16-7.
Charlie McClendon's season included victories over four Southwest Conference foes: Texas A&M (13-12), at Rice (21-7), Baylor (48-16), and TCU (10-7), in addition to traditional foes Kentucky (13-3), Mississippi State (20-16), and at Tulane (34-10).
A junior QB also led the Tigers, lefty Mike Hillman from Lockport LA.
35,545 fans turned out on a cold, rainy night (42º with wind gusting to 25 mph) in Fulton County Stadium to watch a game that caused the UPI reporter to ask in his lead: "What is the Peach Bowl going to do for an encore? The first annual Peach Bowl was a dilly ..."
LSU fumbled the opening kickoff, and FSU led 7-0 after only 15 seconds on a 37y run by Tom Bailey (Miami) and the PAT by Grant Guthrie.
After LSU turned the ball over on each of its first four possessions, the Noles struck again on the first play of Q2. Cappleman hit Bill Gunter for a 75y TD. The failed EP left the score 13-0.
The Tigers finally came to life when Craig Burns returned a punt 39y to paydirt. Mark Lumpkin's kick made it 13-7. Afterwards, Peterson said, "We had them in a hole early, but we could have played a better first half. That punt return turned it around." McClendon agreed that Burns' score "gave us momentum."
Later in the period, Lumpkin booted a 32y FG to make it 13-10 at the half.
The Tigers dominated Q3 with 14 unanswered points. TE Bob Hamlett (Bossier City) caught an 11y score from Hillman to climax the first possession of the second half. Then the southpaw threw another 11y TD, this one to Bill Stober (Rockford OH).
FSU answered with 14 of their own in Q4 to regain the lead. After being held to only one catch in the first three periods, Sellers caught two TD passes from Cappleman, one from the 2 to culminate a 72y drive and the other from the 4 after the Bengals fumbled away another kickoff. After failing on a 2-point pass after the first TD, Cappleman hit 6'4" 235 lb Chip Glass to make it 27-24 with six minutes left.
LSU began a drive from its 39 but faced 3rd-and-19 at the FSU 37 when Hillman drilled one down the middle that E Tommy Morel (New Orleans) took away from three defenders for 20y – just enough to move the chains. "That Morel, in that last drive, made one of the greatest clutch catches – in a crowd – that I ever said," McClendon said.
Maurice LeBlanc, an often-injured second-team RB who led all rushers with 97y in 14 carries, toted the pigskin to the 14. Hillman kept for 11, then LeBlanc carried it across for the go-ahead tally with 2:39 left. Lumpkin's kick made it a 4-point game, 31-27.
LSU survived a scare when CB Barton Frye (Baton Rouge) tipped a pass away from Sellers in the last seconds.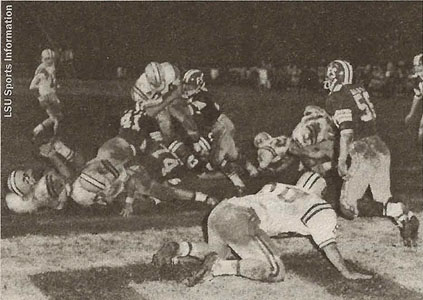 Peach Bowl Action
Hillman, not Cappleman, won the outstanding offensive player award while DE Buddy Millican (Baton Rouge) took defensive honors.
"Actually, we beat them at their own game," McClendon opbserved. Hillman finished 16-29 for 229 while Cappleman was 21-41 for 221 with 1 INT. Morel had more yards, 103, on six catches than Sellers' 75 on 8 receptions.
McClendon, as always, praised his D. "We mixed our defense in the second half. Our pass rush was effective and that was the difference." Peterson agreed, "Cappleman was thrown for losses more in this game than at any other time."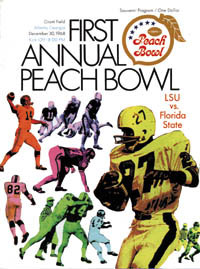 Bill Peterson (L) and Charles McClendon on LSU staff 1958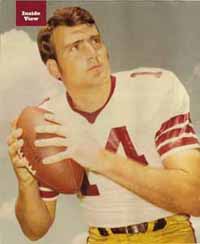 Bill Cappleman

Ron Sellers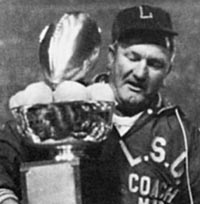 McClendon with Peach Bowl trophy