Emile Fournet


Donnie Daye


Earl Gros


Jim Corbett

LSU's Season

LSU began the 1959 campaign ranked #1 in the nation in the AP Poll. Who could blame the 60 voters who put the "hat" on the Tigers? Paul Dietzel lost only four players from the three platoons of his undefeated 1958 team.
White Team
LE Billy Hendrix
LG Larry Kahlden
FB Red Brodnax
Go Team
FB-K Tommy Davis (Only a junior in eligibility but, after serving two years in the Army during the Korean War, the 25-year-old decided to turn pro)
Chinese Bandits
No one
The replacements for the 1959 White Team were:
LE Scotty McLain - promoted from Go Team
LG Emile Fournet - promoted from Chinese Bandits
FB Donnie Daye - promoted from Go Team
The replacements on the Go Team were:
Sophomore Wendell Harris replaced Daye
Sophomore Earl Gros replaced Davis
Another newcomer, Jimmy Bond, replaced McLain at LE.
Finally, Roy Winston, a promising sophomore, replaced Fournet on the Chinese Bandits.
The Tigers roared through their first six games, allowing only six points and shutting out four foes to extend their winning streak to 18 games, longest in the nation.
That set up the titanic #1-vs-#3 confrontation in Tiger Stadium against the undefeated

Ole Miss Rebels

on Halloween Night. In the most famous game in LSU history, Billy Cannon took a punt 89y in Q4 to defeat the

Rebs

7-3.
Having seemingly cleared the biggest hurdle in their quest for a second straight national championship, the Tigers traveled to Knoxville to take on a 4-1-1

Tennessee

team. The visitors dominated the game, outgaining the

Vols

334-112. But a 54y INT return - the first TD scored against the Bengals all season - followed soon after by a 29y drive after a fumble recovery put

UT

ahead 14-7. The

Vols

returned the favor in Q4 when LSU recovered a muffed punt at the 2. After the quick TD, Cannon hit RT for the two-point conversion only to be ruled short by the linesman. The upset dropped the Tigers to #3.

Cannon: I will go to my grave believing I went across into the end zone ... We lost our chance for the national championship. We were not number one again. We were fifty guys, coming back tired, disgusted, not pointing fingers but upset about the mistakes we'd made. I think on that trip home, the fire burned out.

The Tigers won their remaining two games but, in Cannon's words, they were flat, anti-climactic, hollow victories.

Having gone to the Sugar Bowl the year before, the LSU players looked forward to a new venue for their '59 bowl game.

As soon as LSU dispatched Tulane in the annual finale November 21, the Sugar Bowl offered the Tigers an official invitation.
Reportedly, the Sugar Bowl also invited Ole Miss, but the

Rebels

couldn't formally accept until after their game with 2-6

Mississippi State

the following Saturday.
LSU put off any decision until a meeting of players at 6:30 PM Monday. LSU was rumored to be considering an offer from the newly-founded Bluebonnet Bowl at Houston TX. However, that fell through when TCU, an LSU victim during the regular season, accepted an invitation after their final game.
The Baton Rouge Morning Advocate published this Monday morning: Although nothing has come from LSU on the subject, the word is that LSU doesn't want a rematch with the

Rebels

and, secondly, the players aren't keen about the New Orleans junket. The 85-mile trip from Baton Rouge to New Orleans isn't much of a holiday for the players, or at least that's the way off-records reports have it. And then too, many of the players feel that almost six weeks of remaining in training and a breakup of the holiday vacation is sacrificing too much for a bowl date.
Cannon's authorized biography Billy Cannon: A Long, Long Run by Charles N. deGravelles (2015) contains this passage: Coach Dietzel and athletic director Jim Corbett called the team together, so the players were told, to vote on whether or not to accept the invitation. "Corbett knew we didn't want to go," Billy recalled, "and he knew if he tried to force us to go, it would be a wasted trip. We weren't dummies. We'd played the game defensively as well as we could," Billy said of the regular-season Ole Miss game, "and had gotten lucky and won the game offensively."
Billy called the vote a charade. Corbett was really pushing us, telling us how great the game would be for LSU. We ended up voting on the proposal three times. The first time we voted no. Then Corbett offered us ten tickets each that they would sell for us," a financial incentive for the players, "and when we voted no a second time, they let all the red-shirts ... vote. I stood up and said, "Coach, why don't we go to another bowl game," and he said "No, we're going to the Sugar Bowl game or we're going to no game at all." I sat down and shut up. The third time, Max Fugler and I didn't bother to participate, and it passed by three or four votes.
Dietzel's autobiography Call Me Coach: A Life in College Football (2008) contains this passage: At the end of the season, the Sugar Bowl Committee "double banked" us. They invited Ole Miss to the bowl and then publicly announced that they were daring LSU to accept the challenge and replay the

Rebels

. The players and coaches all wanted to go to a different bowl, but because of tremendous political pressure, LSU accepted the challenge to play Ole Miss in the Sugar Bowl. An old saying among coaches is "Never replay a team you've already beaten in the same year." That adage would be drummed into my mind forever. I would never allow myself to repeat that mistake again.
LSU 1959

| | |
| --- | --- |
| Opponent | Score |
| Rice | 26-3 |
| TCU | 10-0 |
| Baylor | 22-0 |
| Miami (FL) | 27-3 |
| @Kentucky | 9-0 |
| @Florida | 9-0 |
| Ole Miss | 7-3 |
| @Tennessee | 13-14 |
| Mississippi State | 27-0 |
| Tulane | 14-6 |

Paul Dietzel

Johnny Vaught

Ole Miss 1959

| | |
| --- | --- |
| Opponent | Score |
| @Houston | 16-0 |
| | 16-0 |
| Memphis State | 43-0 |
| @Vanderbilt | 33-0 |
| Tulane | 53-7 |
| Arkansas | 28-0 |
| @LSU | 3-7 |
| Chattanooga | 13-6 |
| @Tennessee | 37-7 |
| @Mississippi State | 42-0 |
The Opponent
The

Rebels

easily beat their instate archrivals 42-0 and gleefully accepted an opportunity to get a shot at the only team that beat them during the season. The game would be the first rematch in Sugar Bowl history.
Ole Miss boasted an ever better defensive record than LSU - just 27 points surrendered vs. 29 for the Tigers.
While the

Rebels

didn't play as strong a schedule as the Bayou Bengals, Ole Miss's final margin of 284 points against just those 29 for the opponents showed the strength of the team many called Johnny Vaught's best in his 13 years in Oxford. Johnny approached the Sugar Bowl clash with exactly 100 victories to his credit.
Comparative scores did not bode well for LSU:


LSU 9 @

Kentucky

0
Ole Miss 16 @

Kentucky

0
@

Tennessee

14 LSU 13
Ole Miss 37 @

Tennessee

7
@LSU 27

Mississippi State

0
Ole Miss 42 @

Mississippi State

0
@LSU 14 Tulane 6
@Ole Miss 53 Tulane 7

Lawrence Wells in Ole Miss Football (1980): By 1959, Johnny Vaught had established a dynasty at Ole Miss. Tom Swayze's recruiting program had become a well-tuned machine functioning at peak efficiency. Talent was evident two and three men deep at nearly every position. Senior QB Bobby Franklin ... directed an attack that featured 205-pound FB Charlie Flowers ..., and HBs Bobby Crespino and Cowboy Woodruff. ... An excellent kicking game was provided by specialist Bobby Khayat.

An All-SEC selection in 1958,

Franklin

had been badly injured in the

Kentucky

game and did not play against

LSU

in Baton Rouge.

Jake Gibbs

had played well in his place, leading the SEC in total offense and landing a spot on several all-conference teams.

And that passage says nothing about the

Rebels

' stifling defense, which had held LSU's offense scoreless in Baton Rouge October 31.
Vaught's beautiful offense centered around the QB-FB duo. It featured variations in motion with flankers that kept the defense guessing. He liked QBs who could throw the sprintout pass as well as the traditional dropback pass. QB Jake Gibbs summarized the approach this way: Coach Vaught's system was to force the defense to react to him, not the other way around. He used a lot of motion to break up their formations and make them weak at the corners on one play and in the middle the next. We always tried to keep the element of surprise on our side.

Preparation
LSU came out of the grueling season with injuries to key players.
HB Wendell Harris broke his arm in the Tulane game and would not play in the bowl game. QB Warren Rabb hadn't played at all against

Mississippi State

and Tulane because of a knee injury in the

Tennessee

game and would be, at best, in "tender condition" for Ole Miss. Also, starting HB Johnny Robinson broke his right hand in practice nine days before the Sugar Bowl. The cast was removed two days before the game, and Dietzel announced that Johnny would start in his usual RHB spot on the White team.
Dietzel made one other change in his lineup, replacing C John Langan on the White Team with Max Fugler. Langan switched to the Chinese Bandits.
The Sugar Bowl would be the final game in purple and gold for 19 seniors who had arguably participated in the finest three years of football in LSU history.
Captain Lynn LeBlanc summarized the mode of the Tigers to reporters. They're tough and we know it, but we aren't scared.
Some of the Tigers were a bit miffed over the reaction of the fans to the rematch. Many of the Bengal faithful feared that the

Rebels

would abandon the conservative game plan they followed in Baton Rouge and show that they were indeed the superior team. However, Dietzel's men, at least to the press, confidently figured that they had held Mississippi without a TD for two years and would have a good chance to do it again.
Bookmakers rated Ole Miss a seven-point favorite, marking the first time all season that LSU was cast in an underdog role.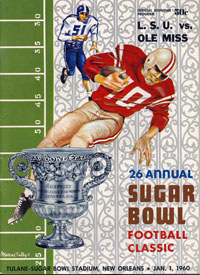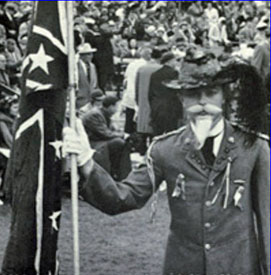 The Game
The weather forecast of occasional rain and gusty winds came to pass for the 1 PM kickoff. Temperature was 49° at kickoff.
Rain the night before left the field wet everywhere and muddy in places.
The overcast diminished the splendor of the telecast for the small percentage of viewers watching on color televisions across the nation.
A capacity crowd of 81,500 gathered for the 26th annual Sugar Bowl game.
First Quarter

Billy Cannon returned the kickoff 8y to the 23. But LSU could not make a first down, and Cannon's punt rolled dead of the

Rebs

44.
Going to the air immediately, Bobby Franklin hit Charlie Flowers for a 12y gain. Flowers made consistent gains for a first down at the LSU 24. Going back to the aerial game, Franklin shot a long pass that Warren Rabb intercepted on the LSU 5, where he slipped down.
Later in the period, Ole Miss started a drive after a Tiger punt from the 39 and pushed to the 16 in six plays as the period ended with 4th-and-5.
Ole Miss 0 LSU 0


L: Charlie Flowers eludes Hart Bourque as Tommy Lott pursues.

R: Larry Grantham clobbers Warren Rabb.

Second Quarter

On the first play, Bob Khayat tried a 33y FG from the left hashmark into a 14 mph wind. It sailed wide right.
A short time later, the

Rebs

were back in business at their 41. Emile Fournet dropped HB George Blair for a 7y loss. But Franklin got that back quickly with a 24y pass to E Jerry Daniels for a first down at the LSU 32. Flowers gained 9, then 3 for a first down at the 20. After Charlie gained 1, Franklin rolled out around RE for 8. On 3rd-and-1, Flowers banged into the line but gained little. A measurement showed the ball a foot short. So the All-American FB tried again but hit a solid wall of Tigers and went nowhere. For the third game in a row, LSU had stopped the

Rebels

on 4th down inside their own 15.
On the first play, Cannon bumped into Rabb and lost 5y. Once again stymied by the stalwart

Reb

defense, Cannon punted to Blair, who made a fair catch on the 45.
The Chinese Bandits took the field and caused havoc immediately. Mel Branch and Tommy Lott threw new QB Jake Gibbs for a loss. Then the Ole Miss QB tried a long pass which Darryl Jenkins intercepted on the 10 and returned to the 25.

Jake Gibbs passes as Tommy Neck and Roy Winston close in.

The Bandits stayed in on offense but went three and out. Gaynell Kinchen got off a bad punt that went out of bounds on the 45.
LSU got a big break that could have been bigger when Roy Winston snagged Blair's fumble in midair with open field ahead of him but stumbled and fell to the muddy turf.
Scooter Purvis gained what would be LSU's only first down rushing for the day. But the drive quickly stalled, and Cannon punted out of bounds on the Ole Miss 37 with 1:10 to go in the half.
Gibbs carried on the first play and fought for extra yardage. The Tigers became overeager in piling into him and drew a 15y personal foul penalty to the LSU 43. After backup HB Jerry Hall caught a pass for no gain, Ole Miss suddenly broke the scoreless tie. HB Cowboy Woodruff came back in after one down with a play from Vaught. Flanked out, he split the two deep Tiger defenders and, angling left, pulled in a perfect pass from Gibbs at the 10 and ran in untouched with Cannon in vain pursuit. Just like that, Ole Miss penetrated the LSU goal line for the first time since 1957. Watch video of the TD pass.
Franklin booted the PAT twice, the first try being negated by an illegal procedure penalty.
Ole Miss 7 LSU 0 (0:38)


After the game, LSU assistant coach George Terry explained the scoring play with a piece of chalk on the blackboard. They just got four men deep on three defenders. They sent a man down and out on each side, Woodruff up the middle and another man as a flare. We only had three men deep and each had a man covered, but Gibbs hit the open man. We just didn't rush hard enough on the play. They shouldn't have had that much time to get four men deep. They tried the same play five or six times in the game, and it never did work again.

In the remaining time, Rabb fumbled and Ole Miss recovered. But the

Rebs

could run only one play before the half ended.
HALFTIME SCORE: OLE MISS 7 LSU 0

Darryl Jenkins tries to elude Larry Grantham.

Third Quarter

Charlie Flowers slips away from Scotter Purvis while Cowboy Woodruff looks on.

Fourth Quarter

Starting from their 25 where Cannon's punt rolled dead, the

Rebels

drove with power and precision to their third TD. The yardage was gained mostly on the ground against the White Team. Flowers started with a 12y smash. Then, on 3rd-and-1, Blair skirted RE to the LSU 45. Dietzel sent in the Chinese Bandits at that point. LSU nearly got a big break when E Mel Branch hit Franklin hard as he tried to pass and batted the pigskin into the air. A couple of Tigers stretched out for the ball with plenty of open space in front of them, but it fell to the ground. Undeterred, Franklin connected with Dewey Partridge on the next play for 19y to the 26. Then he tossed to Flowers who rambled to the 8. Blair gathered in a swing pass in the right flat and squirmed over the goal with a Tiger hanging on. Khayat again booted the PAT. Ole Miss 21 LSU 0 (9:17)
The Bandits tried their hand at offense starting from the 28 after the kickoff. Matherne connected twice with E Scotty McLain to give LSU its first penetration of enemy territory for the afternoon. Cannon punched out 4y to the 34. But the angry

Rebels

pushed the Bengals back to their 42 where the ball went over on downs.
The Tigers continued to fight hard and kept Ole Miss from threatening the rest of the game.
FINAL SCORE: OLE MISS 21 LSU 0


Warren Rabb


Bob Khayat


Jerry Daniels


Mel Branch


Gaynell "Gus" Kinchen


Bobby Crespino


Bobby Franklin looks for a receiver.


Durel Matherne


Cannon snares a pass.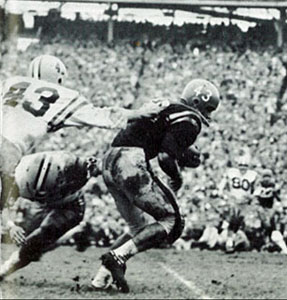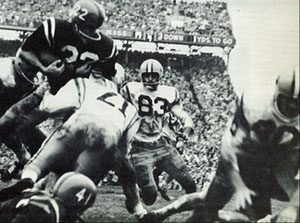 L: Dewey Partridge snares pass as Merle Shexnaildre reaches in.
R: George Blair stopped by Tommy Neck as Scotty McClain comes in.
The coaches met at midfield and exchanged congratulations.
Dietzel: You really poured it on. You have a mighty fine football team.
Vaught: Yes, but you didn't have full services of three mighty fine football players - Johnny Robinson, Wendell Harris, and Warren Rabb.
Dietzel: No excuses. You have a great football team.
The statistics testify to Ole Miss's domination.
First downs:

Ole Miss

19 LSU 6
Rushing:

Ole Miss

140 LSU -15
Passing:

Ole Miss

15-27-2/223 LSU 9-25-1/89
Fumbles lost:

Ole Miss

2 LSU 0
Penalties:

Ole Miss

7-65 LSU 4-30
Punting average:

Ole Miss

6-37.5 LSU 12-34.1
Cannon netted all of 8y on six carries.
LSU set a dubious record with its fifth loss in six Sugar Bowl appearances.
Postgame
Ole Miss
Vaught: The condition of the field today was not as bad as it was when we played in Baton Rouge. There was water on the field then. Today the field was muddy. ... Our attack is built on the option outside and to throw. In the first meeting, we couldn't throw as much as we would have liked.
This is the greatest

Ole Miss

team I have coached.
On QB Franklin: To me, it was his greatest game.
The boys wanted the other one as bad as this one.

Mary Ann Mobley, Miss America of 1959 and an

Ole Miss

grad, greeted Vaught. I am mighty proud of you, she said as she hugged him. Before he could say a word, Mrs. Vaught rushed over, put her arms around him, and gave him a hug and a kiss.
LSU
Dietzel shook his head in bewilderment. Vaught just prepared his team better than I did for the game. I'll take full responsibility for anything that happened out there today. We have no excuses. They were that much better. ... I was very proud of our boys. They fought to the hilt.
I don't think there were any mistakes on the part of individual boys on pass defense. I think I coached them to defend wwrong.

Ole Miss

must have completed passes for 800 or 900 yards. We'd hold and hold and hold and then they would complete a pass on us on that clutch down. They completed a lot of passes in the clutch.
AD Jim Corbett, who had practically forced the Tigers to play the game, said, LSU in no way regrets playing this game here today. We're just sorry we didn't win.
Rabb: We gave 'em another chance, and, boy, did they make the best of it. Losing to a team as good as

Ole Miss

isn't bad, but losing by that kind of score is tough to take.
Cannon: There aren't any excuses when you lose 21-0. We just got kicked good and proper by a better team today. Asked the difference between the Sugar Bowl and the Halloween game, Cannon replied, The score.
Many Tigers agreed that the TD pass with less than a minute to play in the first half was the turning point. Fugler: That took a lot of starch out of us. ...

Ole Miss

was a better ball club today than when we played them earlier. But we just made too many crucial errors.
LSU trainer Marty Broussard said the Tigers were not physically beaten in the first half. We've played just as hard in a lot hotter weather. Please make it plain that we're making no excuses.
In his autobiography,
Dietzel
wrote this about the 1960 Sugar Bowl:
Our team was not easily motivated for the game. Why should they be, since they had already beaten the

Rebels

? I don't think our players ever developed a real interest in the game. ... From the beginning, I felt that it was a mistake to replay

Ole Miss

. As it turned out, agreeing to play in the Sugar Bowl was a serious failure on my part. But I also thought it was wrong for some folks at LSU to insist that we play in that game. We quickly found out that we were not ready to face

Ole Miss

again, but they were more than ready for us. It was a sour note to end a fine year. When all was said and done, LSU concluded its 1959 seaon ranked number four. Rebuilding time had arrived again.
Years later,
Max Fugler
had a similar recollection.
It cost us not having Tommy Davis in 1959. ... We could have used him. We could have come back and kicked the field goal against

Tennessee

to win. We lost that game and ended up having to play

Ole Miss

in the Sugar Bowl, and that was a letdown. Nobody wanted to play that game again. If you beat

Ole Miss

once, you're lucky. When you beat somebody in the regular season, you don't ever want to play them again.
Right after the game,
Cannon
signed a contract with the
Houston Oilers
of the fledgling American Football League under the goal posts. It would turn out that
Billy
had secretly signed a contract with
Pete Rozelle
of the
Los Angeles Rams
of the NFL while in New York for the Heisman Trophy award. The
Rams
immediately threatened legal action.
Cannon
would later return the two checks he received from the
Rams
, one for a $10,000 signing bonus and the other for $30,000 for three years. Since the contract with
Los Angeles
had never been signed by the NFL commissioner,
Billy
played in the AFL for his entire pro career.
Three other
Tigers
also signed pro contracts after the game:
Max Fugler
with the
San Francisco 49ers
and
Lynn LeBlanc
and
Duane Leopard
with the
Los Angeles Chargers
of the AFL.
Johnny Robinson
was reported to be negotiating with the
Dallas Texans
of the new league.
Eight Tigers on the '59 team played pro football: Mel Branch, Billy Cannon, Earl Gros, Wendell Harris, Tommy Neck, Warren Rabb, Johnny Robinson, and Roy Winston.
Ole Miss boasted an incredible 15 future pros on its roster: DB George Blair, DB Billy Brewer, E Johnny Brewer, E Bobby Crespino, P Doug Elmore, FB Charlie Flowers, DB Bobby Franklin, LB Larry Grantham, K Allen Green, G Charlie Kempinska, G Bob Khayat, LB Ken Kirk, LB Jackie Simpson, TE Ralph Smith, and G Marvin Terrell
LSU BOWL GAMES