For the second straight year, the Tigers traveled down Airline Highway to appear in the Sugar Bowl. The opponent in the third annual New Year's Day classic would be the Santa Clara Broncos from the San Francisco Bay Area.

LSU's Season

Spurred by their new mascot, a Royal Bengal Tiger named "Mike" after trainer Mike Chambers, LSU won the Southeastern Conference Championship with a 6-0 conference record and finished 9-0-1 overall.
The tie came in the second game at Texas 6-6. Bernie Moore's charges won all their other games by at least 12 points.
The Tigers' rock-ribbed defense, led by two-time All-American and AP first team All-SEC E Gaynell "Gus" Tinsley and All-SEC G Wardell "Rube" Leisk, gave up only 34 points all year.
The Tigers' 281 points - greatly inflated by 93 against Southwestern Louisiana (today's ULL) - led the nation.
One ranking system, the 1932 brainchild of Paul Williamson, a New Orleans geologist, rated the Tigers #1 in the nation. (In recent years, Jeff Sagarin's computer system retroactively put LSU in the top spot also.)
LSU ranked #2 behind Minnesota in the brand new AP poll, which conducted its final vote before the bowl games. Since the Big Ten prohibited its teams from playing post-season games, the Tigers had no chance to leapfrog Minnesota in those polls that revoted or recalculated after January 1.

1936 LSU Forward Wall

(L-R): John Mihalic, Paul Carroll, Oscar Matlock, Moose Stewart, Wardell Leisk, Eddie Gatto, Gus Tinsley


Coach Bernie Moore in later years as SEC Commissioner




LSU 1936

| | |
| --- | --- |
| Opponent | Score |
| Rice | 20-7 |
| @Texas | 6-6 |
| Georgia | 47-7 |
| Ole Miss | 13-0 |
| @Arkansas | 19-7 |
| @Vanderbilt | 19-0 |
| Mississippi State | 12-0 |
| @Auburn | 19-6 |
| Southwestern Louisiana | 93-0 |
| Tulane | 33-0 |




Santa Clara 1936

| | |
| --- | --- |
| Opponent | Score |
| Stanford | 13-0 |
| Portland | 27-0 |
| San Francisco | 15-7 |
| San Jose State | 20-0 |
| | 12-0 |
| St. Mary's | 19-0 |
| Loyola (Los Angeles) | 13-6 |
| TCU | 0-9 |

The Opponent

The Broncos of first-year coach Lawrence "Buck" Shaw finished the season ranked #6 in the AP standings. His squad won seven of eight games, all against West Coast teams except one. The common opponent with LSU was Auburn, whom the Tigers defeated by 13 and the Broncs by 12. The only loss came in the last game against TCU and its QB "Slingin' Sammy" Baugh, the same team that had defeated LSU in the 1936 Sugar Bowl.
Shaw's defense went LSU's one better by yielding only 22 points.
On offense, they used the "Notre Dame system" (sometimes called "The Notre Dame Box"). In this single wing approach, the QB had to be the best blocker on the team. In spring practice with his new team, "Silver Fox" Shaw discovered that rising senior FB Nello Don "Flash" Falaschi was the greatest blocker on the squad. So he moved him to QB where he would get to run and pass as well as block.
Buck selected 5'8" 185 lb G Chuck Pavelko to take Falaschi's place at FB.
The Broncs' line was anchored by All-Pacific-Coast G Dick Bassi and 220 lb T Lee Artoe.

Falaschi (four years), Bassi (six), Artoe (seven), T Bob McGee (one), and C Phil Dougherty (one) would play in the National Football League and the All-America Football Conference. Falaschi was elected to the College Football Hall of Fame in 1971, one year before Coach Shaw.

Preparation

Some oddsmakers established the Tigers as 5 to 1 favorites, thereby enraging both the Broncos as well as the West Coast media, who promised that Santa Clara would give a good account of themselves.
All signs pointed to a defensive struggle between two opponents "boasting rugged lines and husky, hard-blocking backs."
Shaw took his team to Houston for two days of training December 29-30 before boarding a train to Bay St. Louis MS where they would conduct a light workout and spend New Year's Eve at St. Stanislaus College to avoid the New Year's Eve revelry in the Big Easy. The head football coach at SSC, "Wop" Glover, "Tulane's great HB who stole a Rose Bowl show from the Trojans a few years ago, greeted the Broncs on their arrival."
When Shaw stepped off the train from Houston and peered into the low-hanging clouds at Bay St. Louis, he grinned. "We've had the same kind of weather from California to Louisiana." According to the AP writer, "Clouds lessened the hopes of Louisiana State, prepared to base their offensive on the kicking and passing of Pat Coffee, sharp-shooting blond-haired fullback."
Moore kept his boys in Baton Rouge until the morning of the game. The night before, he sent them to a movie, then told the press:

We are ready. We have no injuries and will have no alibis. We are going to do our best and, if we lose, Santa Clara will just be the better team. A slippery ball would hurt our chances, for we have counted heavily on our passing attack to open up that big Santa Clara line.

Moore planned to use Bill Crass, "noted 'mudhorse' FB," in the event of a soggy field. The front that passed through on New Year's Eve and brought needed rain to end the unseasonably muggy weather ushered in cool, clear weather.
A record crowd of 38,483 saw the teams battle on "the rain-softened turf" of Tulane Stadium where LSU thumped the Green Wave 31-0 November 30.


Coach Buck Shaw


"Flash" Falaschi


Chuck Pavelko

Starting Lineups

Santa Clara

Pos.

LSU

Norman Finney

(sr)

LE

Gaynell Tinsley (sr)

Robert McGee

(sr)

LT

Clarence Strange (sr)

Dick Bassi

(sr)

LG

Marvin Baldwin (sr)

Phil Dougherty

(jr)

C

Marvin Stewart (sr)

Lionel Rodgers

(sr)

RG

Wardell Leisk (sr)

Lee Artoe

RT

Paul Carroll (jr)

Frank Smith

(sr)

RE

Bernie Dumas (jr)

Nello Falaschi

QB

Bill May (sr)

Don De Rosa

(sr)

LH

Guy Milner (so)

Manuel Gomez

RH

Arthur Morton (jr)

Chuck Pavelko

FB

Pat Coffee (sr)

The Game

The Broncos scored two quick TDs in the initial period on the sluggish Tigers, who perhaps underestimated their opponent.

Falaschi ran back "Cotton" Milner's kickoff 24y to the 41.
After an exchange of punts, Santa Clara began its second possession on the LSU 44. After misfiring on a long pass, HB Don De Rosa, unable to find an open receiver, started around Tinsley's end, reversed his field, shed E Bernie Dumas in the backfield, and ran to the 32.
Crass knocked down DeRosa's pass. So Falaschi "called his favorite scoring play." Pavelko took the snap, hit into the line but handed the ball to Flash. He raced back in a wide arc and threw 21y to Mexican HB Manuel Gomez who outran "Slick" Morton into the checkered end zone.

The second TD was set up by a great punt.

Pavelko booted the pigskin 51y out of bounds on the 1. Crass tried to reciprocate but got the ball out only to the 28.
Falaschi sneaked for 4, then Bruno Pellegrini made 2 at "Mr. Strange's tackle." Tinsley got what today would be called a "sack," tackling Falaschi for a 7y loss.
On fourth down, Pellegrini fired a 30y TD to E Norman Finney. Pelligrini kicked his second PAT with four minutes remaining in the opening period.
LSU went 25 minutes before recording its initial first down. As you can surmise, the

Bronco

forward wall was winning the battle in the trenches.

The Tigers finally got on the board in the last minute of the half.

With

Santa Clara

threatening to score again, Rock Reed changed the momentum when he intercepted Tommy Gilbert's pass and raced 26y to the LSU 40, nearly breaking loose before Leo Artoe brought him down.
Crass passed to Mihalic for 12y over the middle. Then Tinsley showed the Californians why he was an All-American.
Gaynell twisted to take Crass's 23y pass in the right flat. The terminal reversed his field, shook off several tacklers, picked up his interference, and raced 27 more to pay dirt.
Guy Milner's kick made the score 14-7 at the break.

Shaw had prepared for the wet conditions to give his team a fresh start for the second half. He arranged with the coaches at sister Jesuit college Loyola of New Orleans to supply his men with fresh shoes to replace their mud-caked pairs. Shaw also had his squad change into their dry practice uniforms for the final 30 minutes


Joe "Rock" Reed


Gaynell Tinsley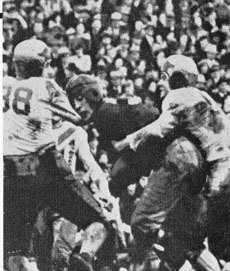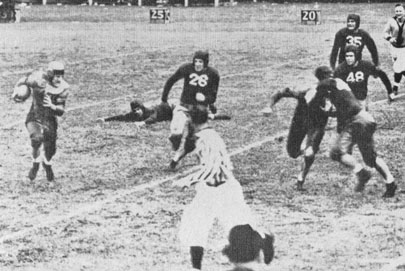 L: Arthur Morton of LSU brings down
Bronco
Donald DeRosa. R: Pinky Rohm gallops around E and almost breaks loose for a TD.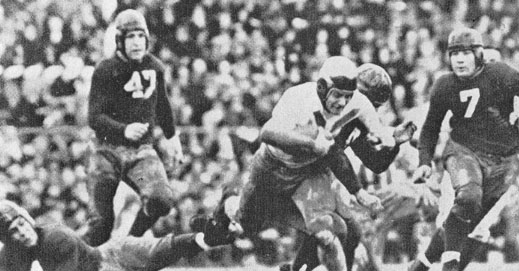 LSU's Guy "Cotton" Milner is tripped by Manuel Gomez with Charley Pavelko (7) in hot pursuit.
Santa Clara
extended its lead back to 14 on an unusual play three minutes into Q3.
LSU received the kickoff with hopes of building on the momentum from the end of the first half. But a wild exchange of turnovers followed.
First, Pat Coffee fumbled, and Dick Bassi recovered on the Tiger 32. Then Morton intercepted one of DeRosa's tosses meant for E "Mississippi" Smith from Picayune. However, Coffee turned the ball over again with an errant throw that Gomez intercepted and ran back 35y before Morton nailed him at the 15.
Pavelko hit RT for 3, and Flash sneaked for 8 and a first down.
After three plays went nowhere, Mississippi took the ball on an end around on 4th-and-goal at the 4. When pinched by two tacklers, Smith tossed the ball into the air. Falaschi leaped, grabbed the pigskin, and nose-dived over the goal line. Afterwards, the Broncos insisted it was a well-rehearsed pass, not a fumble.
With Pelligrini out of the game, Falaschi passed to Smith for the PAT to make it 21-7.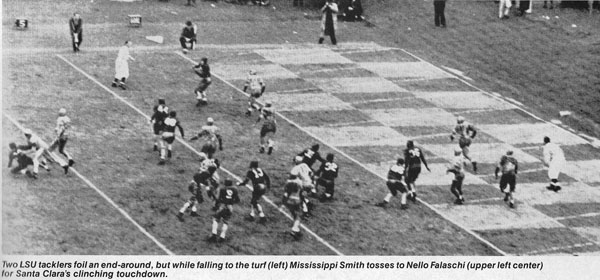 LSU tacked on a TD in the final period when The Bronco second stringers got careless.
After Santa Clara was penalized for unnecessary roughness to its 10, Jules Perrin, strongly rushed by Dumas, shanked a punt out on the 20.
Milner rambled over RG for 6 only to fumble backwards, LSU recovering for a loss of 3. Moments later, with the ball on the 16, Crass passed to Reed on the 9, and he outran Perrin to pay dirt. Milner added the EP to close the scoring at 21-14.

Santa Clara fans tore down one of the goal posts to celebrate their upset victory. Having battled police when they tried a similar celebration at Kezar Stadium in San Francisco, they offered to pay for the goal posts beforehand, but Sugar Bowl officials told them to help themselves.
Recap
Moore didn't offer the wet field as an excuse. We just met a better ball club today than ours, that's all. Everyone on that Santa Clara team was good.
Shaw praised his warriors. I thought our boys - all of them - played their best game of the season. Our team certainly surprised me with its great blocking and precision passing.
Years later, Shaw would recall: That was a day I'll never forget. LSU was supposed to have the greatest team in its history, and we were such underdogs that hardly any odds were posted.
Amazingly, the same two schools would square off in the 1938 Sugar Bowl. But that's a story for another day.
Reference: "Santa Clara Shocks LSU 21-14," Harry Borba, San Francisco Examiner, January 2, 1937
Seven of the 1936 Bayou Bengals would play pro football: Backs Pat Coffee (two years), Bill Crass (one), Bill May (two), and Joe "Rock" Reed (two), and linemen Ben Friend (one), Leisk (one), and Tinsley (three). Tinsley would be inducted into the College Football Hall of Fame in 1956, two years after Coach Moore.
LSU BOWL GAMES