June 30, 2014 issue

Jeff Luhnow

SigMejdal

A. J. Hinch

Dallas Keuchel

Carlos Beltran

Ken Giles

Luke Gregerson

Justin Verlander

Rich Hill

Kenta Maeda

Farhan Zaidi

Yasmani Grandal

Charlie Culberson


Chris Taylor homers in Game 1.

Joc Pederson after HR in Game 2

George Springer after his 11th inning HR in Game 2

Jose Altuve smashes HR in Game 5.

Dodger fans wave blue towels.


Yu Darvish

Alex Bregman scores in 1st inning.

Yuriel Grandal gesture to Yu Dervish in Game 3

Darvish leaves mound after 1st.

Justin Turner

Cody Bellinger

Yasiel Puig

Marwin Gonzalez smacks a double in 2nd.


Springer homers in 2nd.

Josh Reddick

Brandon Morrow

Logan Forsythe

Austin Barnes

Enrique "Kiké" Hernandez

Clayton Kershaw pitches in 3rd.

Lance McCullers leaves mound in 3rd.

Brett Peacock

Francisco Liriano

Chris Devenski

Evan Gattis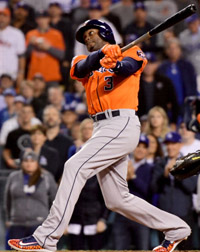 Cameron Maybin



Ethier after RBI single in 6th

Corey Seager breaks his bat in 6th.



Correa and Gurriel celebrate final out of 6th.

Kenley Jansen pitches 7th.

Alex Wood

Charlie Morton bats in 9th.

Chase Utley

Morton reacts to final out.

Altuve's after final out

Morton and McCann after last out

Bregman celebrates with Altuve.

Hinch with World Series trophy

Justin Verlander with his fiancee, actress Kate Upton


Josh Reddick enjoys champagne bath.

Springer at Victory Parade.
"YOUR 2017 WORLD SERIES CHAMPS"
That phrase adorned the cover of the June 30, 2014, issue of Sports Illustrated. The team in question was the

Houston Astros

.
The article, entitled "Astro-Matic Baseball:

Houston

's Grand Experiment," focused on the job facing Jeff Luhnow when he left the

Cardinals

' front office to become the general manager of the

Astros

in December 2011. Luhnow hired Sig Mejdal away from the

Cardinals

to be his "director of decision sciences."
The

Astros

had deteriorated since playing in the 2005 World Series. Luhnow explained in the 2014 article: You look at how other organizations have done it, they've tried to maintain a .500 level as they prepare to be good in the future. That path is probably necessary in some markets. But it takes 10 years. Our fans have already been on this decline, from 2006 to 2011. It's not like we're starting fresh. Would it be the right strategy for somebody else who had a great farm system and up-and-coming players already at the big league level? No. But for us, it was.
Mejdal and his team of four analyzed every piece of information they could get about every MLB player and future prospects. They developed "a numerical projection which roughly translates into how many runs a player can be expected to produce compared with what the team is likely to have to pay him ..."
Their work paid dividends. By 2014, when the article was written, the

Astros

farm system was ranked as one of the best.
After winning an average of just 54 games for the 2011-12-13 seasons - 2013 being the year the club switched to the AL West from the NL Central in baseball's reorganization,

Houston

began to move up the standings.
Hiring A. J. Hinch as manager for the 2014 season also improved the club and led to a playoff appearance the following year.

| | | | | |
| --- | --- | --- | --- | --- |
| Year | W | L | Finish | Comment |
| 2014 | 70 | 92 | 4th | |
| 2015 | 86 | 76 | 2nd | Made playoffs as wild card; lost LDS in five games. |
| 2016 | 84 | 78 | 3rd | |
| 2017 | 101 | 61 | 1st | Won AL pennant. |
Synopsis of how the

Astros

' 2017 roster was built.
Pos.
Player
Age
How Acquired
C
Brian McCann
33
Traded by the

Yankees

11/16
1B
Yuli Gurriel
33
Brought up from farm system 2016
2B
Jose Altuve
27
Brought up from farm system 2011
SS
Carlos Correa
22
Brought up from farm system 2015
3B
Alex Bregman
23
Brought up from farm system 2016
LF
Marwin Gonzalez
28
Traded by the

Red Sox

02/11
CF
George Springer
27
Brought up from farm system 2014
RF
Josh Reddick
30
Signed as a free agent 11/16
DH
Carlos Beltran
40
Signed as a free agent 12/16
SP
Dallas Keuchel
29
Brought up from farm system 2012
SP
Mike Fiers
32
Traded by the

Brewers

07/15
SP
Charlie Morton
33
Signed as a free agent 11/16
SP
Brad Peacock
29
Traded by the

A's

02/13
SP
Justin Verlander
34
Traded by the

Tigers

08/31/17
CL
Ken Giles
26
Traded by the

Phillies

12/15
RP
Luke Gregerson
33
Signed as a free agent 12/14
RP
Chris Devenski
26
Traded by the

White Sox

08/12
The entire infield plus the slugging CF were products of Luhnow's farm system as was ace starter Dallas Keuchel.
Three everyday players plus a key starting P were acquired in the 2016-17 off-season.
After a five-day stay in 2nd place the second week of the season, the Astros took over first place in the AL West April 14 and never looked back, coasting to the division title - their first in 16 years - by a whopping 21 games.
Yet their 101-61 record was second to the

Indians

' 102-60 mark. That meant that

Cleveland

would have home-field advantage in the ALCS.
However, the

Yankees

, winners of the wild card game over the

Minnesota Twins

, took care of that problem by upsetting the

Indians

in five games while the

Astros

dispatched the

Red Sox

in four.
It took seven games, but the

Astros

eliminated the upstarts from the Big Apple.

Houston

's four victories, all at home, came by scores of 2-1 (behind Keuchel), 2-1 (Justin Verlander), 7-1 (Verlander again), and 4-0 (Charlie Morton).
The undisputed leader of the Astros was the AL MVP, 2B Jose Altuve.
The seven-year veteran, all of 5'6" tall and 165 lb, led the AL in hits for the fourth straight year with 204.
He also won the batting championship for the second year in a row and the third time in four seasons with a .346 average, 16 points ahead of runner-up Avisail Garcia of the

White Sox

.
But no one man ever wins a pennant.
The balance in the

Houston

lineup is illustrated by the fact that utility man Marwin Gonzalez was the RBI leader with 90 but three other players had 80+ RBIs as well: CF George Springer (85), SS Carlos Correa (84), RF Josh Reddick (82), and 2B Altuve (81). It's a rare club that gets 165 RBIs from its double-play combo. No wonder the

Astros

led the majors in runs/game (5.53), batting average, slugging percentage, and on-base percentage.
40-year-old Carlos Beltran, the DH, was one of five players in baseball history with at least 2,700 hits, 400 HRs, 300 steals, and multiple Gold Gloves. Yet this was only his second World Series. He lost with the

Cardinals

in 2013.
The staff ace, Dallas Keuchel, was plagued by a pinched nerve in his neck and spent multiple stints on the Disabled List. The southpaw still finished with 14 wins, tying Charlie Morton for tops on the staff. Brad Peacock went 13-2 and finished two behind Morton's 163 Ks for tops on the staff.
Ken Giles saved 34 games. Two other righthanded relievers appeared in more than 60 games: Chris Devenski (62 games with 2.68 ERA) and Luke Gregerson (65/4.57).
Luhnow topped off the pitching staff for the stretch run to overtake

Cleveland

for the #1 seed and for the postseason by acquiring Justin Verlander from the

Tigers

literally seconds before the August 31 midnight trading deadline. All Verlander did was win all five of his starts in September with a 1.06 ERA. Then he gained victories in two games against the

Red Sox

in the ALDS and another two games against the

Yankees

, allowing just four earned runs over 24 2/3 innings.
Seven-time All-Star Brian McCann had helped the staff with the wisdom amassed in his nine years behind the plate for the

Braves

and three more with the

Yankees

.
The
Astros
had extra incentive entering the postseason.
In late August, Hurricane Harvey dumped upwards of 50 inches of rain on the Houston area, causing catastrophic flooding. 46 people died and 30,000-40,000 homes were destroyed. 35,000 people evacuated to emergency shelters.
The

Astros

had to play an entire series against the

Texas Rangers

at Tropicana Field, home of the

Tampa Bay Rays

, before they could return to Minute Maid Park in downtown Houston.
The

Astros

embraced the slogan "Houston Strong," wearing the patch on their jerseys the rest of the season. As an organization and as individuals, they pitched in financially and with volunteer hours to help the community.
The team's success in the postseason would give hope and cheer to the entire area, which faced a gigantic rebuilding process that would last far beyond the World Series.
The Los Angeles Dodgers had enjoyed more overall success during the recent decades than the Astros but had endured a longer World Series drought.
The

Dodgers

hadn't won the NL pennant since 1988 when they went on to upset the mighty

Oakland A's

in five games in the Fall Classic. But they ended that futile streak in their 60th season after moving from Brooklyn.

LA

had reached the NLCS in 2016 only to lose to

Cubs

in six games.
But they came back with a vengeance in '17. Not only did they make the postseason for the fifth straight year, but they won 104 games, the most in the majors.
From June 6 through August 25, the

Dodgers

went on an incredible 55-11 run to leave their rivals in the NL West in the dust by 21 games. No one expected them to maintain that pace. Still, what happened next surprised everyone.
They proceeded to lose 16 of their next 17, dropping their lead over the

Arizona Diamondbacks

to just nine games.
A 12-6 run righted the ship, and they won the division by 11 games.
Then they swept the wild card

Dbacks

in the NLDS and got revenge against the

Cubs

in five games.
The Dodgers' strength was pitching - #1 in the NL in ERA.
The undisputed ace was southpaw Clayton Kershaw, universally acclaimed as one of the top three hurlers in all of baseball. He finished with a remarkable 18-4 record to lead the NL in wins. He also topped the league in ERA (2.31). For the seventh time in his career, he registered over 200 Ks (202, to be exact).
Two other lefties joined Kershaw in the rotation. Alex Wood had a career year, his 16-3 mark giving him the league-leading winning % of .842. His 2.72 ERA was a personal best. 37-year-old Rich Hill tied his own best mark with 12 wins .
Righty Kenta Maeda added 13 victories in his second season in the majors after a career in his native Japan.
GM Farhan Zaidi had made it one of his major goals to re-sign closer Kenley Jansen after he became a free agent at the end of the 2016 season after seven years with the club. He rewarded the

Dodgers

with 41 saves, tops in the league, and a 1.32 ERA.

Like

Houston

's

Luhnow

,

Zaidi

had read the book

Moneyball

while in college. He went to work for the star of that book,

Oakland

GM

Billy Beane

, who called him "absolutely brilliant."

Like the

Astros

, the

Dodgers

enhanced their pitching staff for the postseason by trading for the

Rangers

' righthanded starter Yu Darvish on the July 31 deadline. He won four and lost three down the stretch and gained a victory in both the NLDS against

Arizona

and the NLCS against the

Cubs

.
Los Angeles deployed a strong lineup one through seven.
The 113th World Series was the eighth pitting two 100-win teams and the first since 1970 (
Orioles
vs
Reds
).
The New York Times called it "A Matchup With No Underdog."
Hall of Fame P and TV analyst Jim Palmer thought the bullpens could be the difference in the Series. Led by Jansen, the

Dodgers

' relievers held the

Cubs

scoreless through 17 innings of the NLCS. The

Astros

' bullpen had a 5.93 ERA against the

Yankees

.
Each team boasted a starting pitcher who had won the MVP Award, Kershaw and Verlander. The latter also was voted the MVP of the ALCS.
Once again,
Joe Buck
led Fox's telecast crew with
John Smoltz
providing analysis and
Tom Verducci
and
Ken Rosenthal
reporting from the field. ESPN handled the radio broadcast with
Dan Shulman
and
Aaron Boone
behind the microphones.
Fox worried that the Series ratings would drop after the
Cubs
historic victory in 2016. The big-market
Dodgers
vs the big-market
Astros
clash produced the five most-watched programs on TV for Games 1-5, but overall viewership dropped 19% from the
Cubs
-
Indians
in 2016.
Series Results
Tuesday, October 24 @ Los Angeles:

Dodgers

3

Astros

1
WP: Clayton Kershaw; LP: Dallas Keuchel
Wednesday, October 25 @ Los Angeles:

Astros

7

Dodgers

6 (11 innings)
WP: Chris Devenski; LP: Brandon McCarthy
Friday, October 27 @ Houston:

Astros

5

Dodgers

3
WP: Lance McCullers; LP: Yu Darvish

Saturday, October 28 @ Houston:

Dodgers

6

Astros

2
WP: Tony Watson; LP: Ken Giles
Sunday, October 29 @ Houston:

Astros

13

Dodgers

12 (10 innings)
WP: Joe Musgrove; LP: Kenley Jansen
Tuesday, October 31 @ Los Angeles:

Dodgers

3

Astros

1
WP: Watson; LP: Justin Verlander
The Series lived up to its billing as pitting two evenly-matched teams as neither led by more than one game through the first six.
Kershaw was brilliant in Game One, outdueling Kuechel with Jansen getting his fourth save of the postseason.
But the next night Jansen blew the save in the 9th, and the

Astros

won in 11.
In Houston, the home team jumped on Yu Darvish for 4 in the 2nd to forge a Game 3 lead that the

Dodgers

couldn't overcome.

According to an anonymous

Houston

player after the Series, the

Astros

often knew what

Darvish

was about to throw by the way he brought the ball into his glove in the set position. (He pitches exclusively out of the stretch.)

In Game 4, it was the

Houston

closer's turn to implode. The

Dodgers

scored five in the 9th off Ken Giles to break a 1-1 tie and even the Series again.
Next came one of the wildest games in World Series history, an instant class. The

Astros

won a 13-12 slugfest in the 10th after the

Dodgers

again rallied in the 9th, this time for three runs off Chris Devenski. Neither Keuchel nor Kershaw made it to the 5th inning this time.
Game 6 reverted to form, with the pitchers in control and Jansen saving

LA

's 3-1 triumph.
A record 24 HRs were hit in the Series with one game still to play.

20 of the

Astros

' 29 runs in the Series scored on HRs.
Each manager had a challenge to decide on his Game 7 starter.
Dodger

skipper Dave Roberts went with Darvish despite his trainwreck in Game 3.
Hinch chose Lance McCullers, a hero of the ALCS with four shutout innings to close out the Game 7 victory over the

Yankees

. Lance had started Game 3 against Darvish, giving up three runs in 5 1/3 innings to get credit for the victory.

McCullers spoke about the underlying theme of the last two months following Hurricane Harvey. It kind of became something that where we rallied around. We still have pictures hanging in our lockers. It's still something we think about, because people here are hard-working people, and they went through something that a lot of people can't understand. A lot of people lost everything. So for us to be able to just play baseball for a couple of hours and for those people to be able to have a little bit of joy, to get away from what they were having to go through is pretty special, to be able to give that to them.

Both managers would be prepared to go to the bullpen at the least sign of trouble. In do-or-die Game 6, Roberts had pulled starter Rich Hill after 4 2/3 innings despite the fact that he gave up only one run. He then used Kenta Maeda, a starter all season, to pitch the 7th to get the game to Jansen.

Kershaw showered quickly after Game 6 so he could hustle home and sleep. I'll be ready to go from pitch one, whatever they need from me ...

Hinch had been praised for the "creativity" he had shown in using his staff during the postseason. McCullers' long save in ALCS Game 7 was a case in point. Then in Game 3 of the Series, he returned Lance to his accustomed role of starter but went to another starter, Peacock, for 3 2/3 scoreless innings to seal the 5-3 win.

2017 marked the third straight year that the average length of a major-league start declined.

Hinch: We're playing in one of the most epic World Series in history, and I think our players have appreciation for that.
Dodger Stadium - Game 7
Houston Lineup

| | |
| --- | --- |
| George Springer | CF |
| Alex Bregman | 3B |
| Jose Altuve | 2B |
| Carlos Correa | SS |
| Yuli Gurriel | 1B |
| Brian McCann | C |
| Marwin Gonzalez | LF |
| Josh Reddick | RF |
| Lance McCullers | P |

Los Angeles Lineup

| | |
| --- | --- |
| Chris Taylor | CF |
| Corey Seager | SS |
| Justin Turner | 3B |
| Cody Bellinger | 1B |
| Yasiel Puig | RF |
| Joc Pederson | LF |
| Logan Forsythe | 2B |
| Austin Barnes | C |
| Yu Darvish | P |
The first Game 7 ever at Dodger Stadium took place on a clear, 69° SoCal evening. 54,124 watched one of the most exciting Series ever end with a dull game.
LAPD Quartet sings National Anthem.
Rick Monday, Don Newcombe, Sandy Koufax, and Steve Garvey
after throwing out first pitches.
Dodger
greats
Don Newcombe
(91) and
Sandy Koufax
(81) threw out first balls to
Steve Garvey
and
Rick Monday
.
Actors Ken Jeong and Rob Lowe wave Dodger flags before the game.
Others visible in the picture are MLB Chief Baseball Officer Joe Torre (brown suit next to Jeong), Astros owner Jim Crane (checkered coat between the two blonds), and Hall of Famer Dave Winfield (far right)
1st inning
George Springer (.375 for the Series) had reached base in eight of his last nine plate appearances and hit a HR in games 4, 5, and 6. He rapped the third pitch, a slider spun into the middle of the plate, on a low line just inside the LF line for a double.

After going 0-for-4 with four Ks in Game One, Springer caught fire in Game Two. He hit nine leadoff HRs during the regular season.

Alex Bregman (.221) hit the first pitch to the right side to get the runner to 3rd. He got more than that. 1B Cody Bellinger went wide of the bag to snag the ball. Then he turned and threw behind Darvish covering 1st into the dugout to score Springer and send Bregman to 2nd.

Bregman hits to the right side.

On the third pitch to Jose Altuve (.324), Bregman took off for 3rd. The slider went into the dirt, and C Austin Barnes didn't bother to throw. Altuve also hit the next pitch to the right side. Bellinger fielded the ball behind the bag, started to throw home, but decided to take the easy out as Bregman crossed the plate with an unearned run.
The rare SS hitting cleanup, Carlos Correa fell into an 0-2 hole. Then he hit another bouncer to the right side. Bellinger fielded the ball in the base line wide of 1st and tossed to Darvish for the out as Altuve took 2nd.

Correa had extra incentive to perform well in the postseason for his native Puerto Rico, which had also been devastated by two hurricanes in September.

The

Dodger

fans en masse started booing the next hitter, 1B Yuli Gurriel (.250), as he walked to the plate.

Gurriel, who defected from Cuba in February 2016, crushed a second-inning HR off Darvish in Game 3. After Yuli returned to the dugout, TV cameras caught him making a slanted-eyes gesture toward the mound. Afterwards, Gurriel spoke to the press through a translator. In Cuba we call everybody who is from Asia "Chino." We don't call them Japanese, Chinese, Korean. We call them "Chino." He added that the reaction to his gesture caught him by surprise. I didn't know he was going to feel that offended. I feel bad and apologize if he got offended over there. It was not my intention.
Reporters got Darvish's take on the incident as well. Of course, Houston has Asian fans and Japanese fans. When he's acting like that, he's disrespecting all the people around the world. It's not OK. Afterwards, Darvish sent out a tweet calling on his readers to put our effort into learning rather than to accuse him.

Yuli Gurriel faces Yu Darvish.

Once in the batter's box, Yuli tipped his helmet to Darvish. However, the chorus of boos continued the entire AB. Home plate umpire Mark Wegner called two straight pitches strikes that the electronic strike zone on the TV screen showed were outside.

The

Astros

couldn't complain about

Wegner

's strike zone because their starter,

McCullers

, liked to throw sliders on the outside corner.

Then the next two were too far out to get the strike call. Gurriel made Darvish work by fouling off eight pitches before flying to RF on the 13th delivery. During the AB, Clayton Kershaw started stretching in the bullpen.


Astros

2

Dodgers

0

Bregman: As soon as Springer doubled, I said it's my job to move him over. And then I knew Darvish would throw a slider to Altuve on 1-1, and I was able to steal third. And then Altuve put together another great at-bat and hit a ground ball to the right side. It was huge. We punched them in the mouth.

Five minutes after the start of Game 7, a Lumberton TX police officer pulled over a car going 65 mph in a 50 mph zone. He let the driver off with a warning.

She was just rushing home to watch the

Astros

.

Like

Houston

,

Los Angeles

led off with their CF. And Chris Taylor (.259), like Springer, stroked a double, lining a 2-0 pitch to the RCF wall.

It was the 27th time Taylor had reached base in the postseason.

Lance McCullers tried to attack the hole in the swing of lefthanded-hitting SS Corey Seager (.217), down and in. He got him to swing over one in that spot on a full-count delivery.

McCullers was so confident in his curve ball that he never threw it while warming up for games. Also, he had thrown 24 straight curves to close out Game 7 of the ALCS.

Justin Turner (.130 with only two RBIs) fell into a 1-2 before McCullers lost control of a fastball that moved inside and struck Turner on the arm.
Rookie sensation Cody Bellinger had not had a good Series - .167 with 5 RBIs and 14 Ks. Like the previous batters, Bellinger swung over McCullers' curve at or below the knees, including strike three.

It was the third straight game that Seager and Bellinger struck out in their first ABs.

Yasiel Puig had also been a disappointment - .167, 2 RBIs. With the crowd chanting "Let's go, Puig!" Yasiel didn't swing at bad pitches (as had done during the Series) to run the count to 3-1. Then another riding fastball plunked him to load the bases.

Puig

would learn after the game that his home was burglarized while he was at

Dodger

Stadium.

The

Dodgers

faced a crucial situation in the very first inning. Could Joc Pederson (.357) come through? McCullers started the lefty with a fastball on the outside corner. Then Joc swung over that tempting curve ball. He got good wood on a low fastball but grounded straight to Altuve to leave them loaded.

2nd inning
John Smoltz told the TV audience that this was a crucial inning for Darvish. Since he would be third-up in the bottom of the frame, Roberts might pinch-hit for Yu if he didn't work well in the 2nd.
C Brian McCann (.227) walked on a 3-2 pitch.
LF Marwin Gonzalez (.143), another lefthanded hitter, cracked a fastball into RCF for a double, McCann lumbering to 3rd.
With Brandon Morrow hurrying to get ready in the

Dodger

bullpen, RF Josh Reddick (.175) chopped to 2B. With the infield in halfway, McCann stayed at 3rd.
With the P coming up, Darvish could wiggle out of the jam. But McCullers was considered a "good-hitting P." Batting from the left side, Lance swung hard at the 1-0 pitch and fouled it back. Then he bounced to Forsythe, who looked home but decided to take the out at 1st.

McCullers: I can hit. I can swing it. I knew I needed to get the run in because we had the same situation in Game 6 and didn't get anything out of it. So for me, it was important to get that run in.

McCann scores on groundout.

With another run at 3B, Darvish fell behind Springer 2-0 but got a low strike call on the next pitch. After another ball, George almost came out of his shoes swinging through a hanging curve. With the crowd standing and clapping for the 3rd out, Springer smashed a low 96 mph fastball into the LCF bleachers 438' from home plate to clear the bases.

The packed crowd watching on the big screen in Minute Maid Park in Houston went wild.

Crowd at Minute Maid Park in Houston

Roberts finally brought in Morrow a batter too late.

Morrow became the second pitcher, the other being Darold Knowles in 1973, to appear in all seven games of a World Series.

Bregman struck out on three swings.


Astros

5

Dodgers

0
2B Logan Forsythe (.267) lined a 1-0 fastball into LF for a single as Kershaw threw in the bullpen.
Austin Barnes (.211) worked the count to 2-2 before bouncing to the left of Bregman, who dove and snared the ball, got up, and threw out the C at 1st.
With a runner on 2nd, Roberts chose utility man Kiké Hernandez (.231) to bat for Morrow. He became McCullers' third hit-batsman when another tailing 3-1 fastball just clipped his jersey.
Taylor smashed the first pitch on a line right to Correa, who tossed to Altuve to double up Forsythe and end the threat.

Altuve after doubling Forsythe at 2nd
3rd inning
The crowd perked up at the site of Kershaw coming in from the bullpen to keep the

Astros

from extending their lead. This move would pay off for Roberts.

It was Clayton's first relief appearance of the year.

Altuve flied to Taylor in CF.
Correa did likewise to RF.
Amid boos, Gurriel took a 3-2 fastball at the knees.
After throwing 38 pitches in the first two innings, McCullers needed a 1-2-3 3rd but didn't get it.
Seager whacked a 1-2 pitch to RCF but Springer covered a lot of ground to get the ball back in. After rounding 1st hard, Corey had to dive back to the bag to beat the relay throw. The

Dodgers

now had the leadoff man on in all three innings.

Seager singles.

McCullers' first pitch to Turner matched his last one to him in the 1st - another fastball high and tight for his fourth HP - a dubious Fall Classic record.
Pitching coach Brent Strom visited the mound as Brett Peacock began warming in a hurry in the RCF bullpen.
Bellinger had been trying to pull everything. As a result, he had been swinging at bad pitches. He fanned on a 2-2 pitch to extend his World Series record to 16 Ks.
With Peacock ready, Hinch went to the bullpen. McCullers' zero command of his fastball ended his stint early.

Game 7 thus became the first in which neither starter lasted three innings. McCullers said after the game that he knew he "didn't have much," but he gutted it out as long as he could.
Like McCullers, Peacock, a starter during the season, got a long save in Game 3, going 3 2/3 innings without allowing a run.

Puig got a rise from the crowd with a high fly to CF, but he threw his bat down as he saw Springer getting under it short of the warning track.

Yasiel Puig frustrated after flying out.

Seager took a chance by tagging and heading for 3rd but made it.
Pederson now had his second chance to drive in a run with two outs and break

LA

's 0-for-6 streak with runners in scoring position. After another mound visit from Strom, Peacock continued firing 93-94 mph fastballs. But with the count 2-2, he threw a curve that dropped under Pederson's swing. McCann blocked the ball in the dirt and threw to 1st to retire the side. The

Dodgers

had now left six men on base in three innings.
4th inning
Kershaw fanned McCann on three pitches.
Seager fielded Gonzalez's first-pitch smash deep in the hole but his throw had no chance to get the batter.
Several pitches into Reddick's AB, a wild pitch sent Gonzalez to 2nd.
Josh swung late on a high fastball and hit a soft liner that Seager fielded on the short hop and threw to 1st as the runner held 2nd.
Peacock got his bat on the ball, skying to CF.
The bottom of the

LA

order went down in order.
Bregman threw out Forsythe and caught Barnes's soft pop.
Kershaw fought Peacock for five pitches before whiffing.
5th inning
Kershaw breezed through the top of the

Astros

order.
Springer and Bregman went down swinging.
Altuve popped to Bellinger in foul territory.

The

Dodgers

also sent up their 1-2-3 hitters.
Taylor flew out to Gonzalez in LCF.
Seager broke the string of seven outs in a row by drawing a full-count walk.
Hinch got lefty Francisco Liriano up in the pen.
Turner grounded into the hole between 3B and SS. Bregman dove and got the tip of his glove on it. That diverted the ball to the left of Correa, who appeared to have a chance to get one of the runners if the ball had gone through.
With Bellinger coming up and runners on 1st and 2nd, Hinch called for Liriano. Righty Chris Devenski started throwing.

A starter his entire 13-year career,

Francisco

had been used exclusively in relief by the

Astros

after they acquired him July 31 from the

Blue Jays

.

Bellinger grounded to the left of Altuve, who whirled and threw to Correa for the force at 2nd.
Devenski came in to face Puig despite the fact that Yasiel had homered off him on a changeup in the 9th inning of Game 5 in Houston. With the crowd chanting and clapping, the batter hit the sixth pitch off his hands on a soft line to Gurriel.

6th inning
Correa reached base for the first time with a grounder just to the right of Seager.
Gurriel hit a chop just to the left of the mound. Kershaw fielded it and threw out the batter as Carlos ran to 2nd.
The runner moved up another base when McCann grounded through the normal 2B spot. Playing in short RF, Forsythe had to run to his right and throw on the run back to 1st.
Roberts signaled Gonzalez to 1st with an intentional walk, then brought the infield to the mound.
After the consultation, the

Dodger

manager also sent Evan Gattis, pinch-hitting for Reddick to 1st to load the bases.
The strategy worked as Cameron Maybin, batting for Devenski, hit a fastball off his hands to Turner in foul territory.

Charlie Morton, another starter, took the hill. Maybin stayed in the game in CF, Springer moving to RF.

Morton had been plagued by injuries during his nine previous seasons with nine trips to the DL and multiple surgeries. 2017 was his first healthy year. As a result, he won 14 games, four more than any other season, and struck out a personal high 163 batters.
This was Charlie's second Game 7 after hurling five scoreless innings in the ALCS finale.

Pederson hit the new hurler's first pitch, a Texas Leaguer into CF.
Could the

Dodgers

finally capitalize on their fourth leadoff man reaching base?
With Kershaw possibly batting in the inning, Kenley Jansen started throwing in the

LA

bullpen.
Forsythe drew a 3-2 base on balls, a 97mph fastball just off the outside corner.
Morton got ahead of Barnes 0-2 before getting him on a pop to SS.
Andre Ethier, batting for Kershaw, ended his club's 0-for-10 streak with runners on base by hitting a grounder between 1B-2B into RF. Forsythe stopped at 2nd.

Andre Ethier hits RBI single.

Could the top of the

LA

order keep the train moving? The answer was no.
Morton bore down and fanned Taylor on a sinking changeup.
Seager broke his bat in half hitting a fastball on his hand. Correa grabbed the dribbler and threw to 1st to retire the side.

Morton admitted after the game that he was amped up and overthrowing when he took the mound. I came into the game, and I was trying to throw the ball as hard as I could. I knew we had more arms left in the bullpen, so I was just giving it everything I had straight out of the bullpen, and I think that was my issue. Maybe I needed to actually make some pitches instead of just throwing hard. So I settled down after that first inning. Just got back into pitching like I know how.

Astros

5

Dodgers

1
7th inning
Closer Jansen came to the hill after Kershaw gave Roberts exactly what he needed - four scoreless innings.
Springer led off for the 3rd time. He hit a liner to LCF that Taylor caught on the dead run as he slid down to avoid running into Pederson.
It took seven pitches, but Kenley struck out Bregman on a high hard one.
Altuve drew a walk, then stole second.
But Correa left him stranded by popping to Seager in short CF.
Morton returned to the mound to face the 3-4-5 hitters. No problem.
Turner blooped a fastball off his hands to Gurriel.
Part of the crowd chanted "Cody" to encourage Bellinger, but it did no good. Bellinger took a curve ball on the outside corner for strike three.
Puig rolled to Correa.
8th inning
9th inning
After the last out, the 1,000 or so
Houston
fans behind the
Astros
' dugout on the 1B side chanted "Hou-ston! Hou-ston!"
Altuve
shouted,
We did this for them!
A. J. Hinch
's thoughts went to his dad, who died of a heart attack right before
A. J.
played his first game at
Stanford
.
My dad was my first thought when we made the last out of the World Series. He was the whole reason I loved baseball. I get my work ethic from him. I get my stubbornnes from him; my love for the game came through his eyes originally. He was my best and toughest coach. He was my buddy that I talked baseball with all the time. He never saw me play in college or professional, certainly not manage, but he's been close to me the whole time.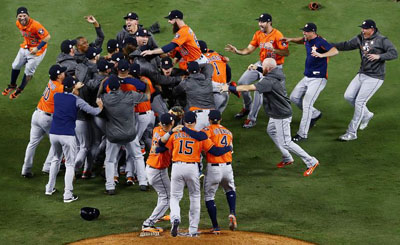 Astros
with trophy as Hinch speaks to crowd.
Post-game
To no one's surprise, the MVP award, named for the legendary Willie Mays for the first time, went to George Springer. He hit .379 with five HRs with seven RBIs.
Astros Clubhouse
Hinch said from the podium after receiving the trophy: You know what, Houston? We're a championship city. This team loves playing Houston, and we're going to love bringing this World Series trophy back to Houston. We take great pride in being there for Houston at that time (Harvey). Obviously they responded by falling in love with this team. Our September was incredible, October was even better and November, we're pretty good.
Luhnow thanked owner Jim Crane for his support. We had some rough years, but we stuck to our plan. We knew we had a plan that could get us here, and we got it.
Crane said simply, This one's for Houston.
Springer: The wildness of this series, the wackiness of this series, the emotional ups and downs, being able to play in this is something that I will never, ever forget, even if this is the only time I will ever get here. ... This is a dream come true. We're coming home a champion, Houston."
Morton: I can't even describe that feeling. That's what we as baseball players have dreamed of all our lives. And it just happened for me ... for us. ... We held down a reallyl tough lineup. For my teammates, for the city of Houston, it's just unbelievable.
Altuve was happy he fielded the grounder for the final out. I caught the last out for the

Houston Astros

to become a world champion. It was a groundball to me. I threw to first, and I think it was the happiest moment of my life in baseball. I always believed that we can make it. ... So I thank God for the opportunity to become World Series champions.
McCullers: Man, we wore that patch, and we wore it proudlly. The people of Houston were never far from our minds.
Bregman: Since I was five years old, I've dreamed of being a World Series champion. We worked so hard for this. We're the best team in the world. And you know what? We're going to come back for more next year.

Paul Molitor

of the

Twins

, who beat out

Hinch

for AL Manager of the Year, praised the

Astros

skipper.

I think the creativity that A.J. showed in the postseason and the World Series was remarkable. I think you just have to try to know your guys, know what they can do. Every manager will tell you he tries to put his people in the best position he can to be successful. But you have to be open-minded about the best ways to use everybody on your staff at any given time.
Dodgers
Clubhouse
Roberts: Obviously this one hurts. And like I told the guys, when you put everuthing, every ounce of your being into something, and you come up short, it hurts. And it's supposed to hurt. Still, Dave had many positive memories of the 2017 season. The players, the coaches, we have one common goal. There's a lot of trust that had to be forged that guys believe in one another. ... It's really fun for me to kind of look back and see how all these different parts of an organization have come together as one. And it's not easy. It's not easy. But they've done it.
Darvish through a translator: To be honest, since coming to the major leagues, my passion toward baseball had started to decrease. I was really concerned about that, especially in the last three years. [The 

Dodgers

] gave me goals. They gave me the goal of not wanting to lose until the end. Then my goal became to perform well in the World Series. ... Everyone has really awful days. When I have an awful day, what I think about is how for every awful day I've had, I've had a great day, and I've added another wonderful person to my life. When I think like that, it's easier. But what I did today affected everyone on the

Dodgers

, so I don't know if that's going to work. Now a free agent, he indicated he wanted to remain with the

Dodgers

for 2018.

Unaware of

Darvish

's problem of tipping his pitchers, a number of writers, especially in Texas, questioned whether

Darvish

deserved a large salary for 2018.

Mac Engel

of the Fort Worth

Star-Telegram

, was especially scathing.

Yu's performance in the World Series ... bordered on cowardly. Seldom do you see a guy so good turn into a caterpillar. ... Dave Roberts should never have gone with Darvish for Game 7. ... Darvish was simply out of his element. ... Now he goes into free agency as the best available starting pitcher on the market. If the

Texas Rangers

make any attempt to re-sign him, even if it's for free, GM Jon Daniels should be fired on the spot.

Kershaw: I talked to Doc (Roberts) before the game and we went over different scenarios. I knew if Yu had a short start there was a chance to get in the game early. But the plan was for me to have the final nine outs with Kenley. But it went the other way.
Bellinger: It's going to hurt. But we can't let it linger for too long. We've got a good young team with a lot of superstars. No doubt in our minds we'll be back.
Taylor echoed the same theme. I think this is going to give us fuel, if you want to say that.
Houston scheduled a downtown parade for the Friday after the game to celebrate the Astros' championship.
The Houston Independent School District closed all schools and offices for the occasion.
Rarely has a city gone from such lows to such highs in such a short period of time.
David Blair spoke for many: I attended my first game when I was 3, so I've been waiting for 53 years for this World Series victory. As soon as I saw the last out, I drove to Academy to buy a World Series hat. There were already hundreds of people in the store doing the same thing so I came back at 7:00 a.m. and got my hat to wear to work. After everything my family has been through with Harvey, I can finally say that I am happy.
Another parade-goer, Linda Birchhall said this: I was a casual fan of the Astro but now I am a total fan. The city just needed a lifter upper and this is what it did. This is a "we" moment. This win brought this city together.