Ned Yost

James Shields

Yordano Ventura

Jason Vargas

Tim Lincecum

Ryan Vogelsong

Sergio Romo

Royals fans before Game 7.

Crowd before Game 7

Jeremy Guthrie

Gregor Blanco

Tim Hudson

Alcides Escobar

Nori Aoki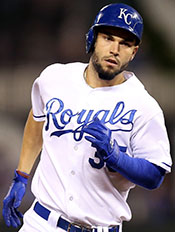 Eric Hosmer

Hunter Pence raps single in 2nd.

Brandon Belt

Brandon Crawford

Juan Perez

Billy Butler

Gordon doubles in 2nd.

Mike Moustakas

Gordon safe at 3rd on fly to left in 2nd.

Salvador Perez plunked by Hudson.

Omar Infante

Gordon celebrates with Moustakas after scoring in 2nd.

Jeremy Affeldt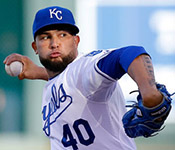 Kelvin Herrera

Morse celebrates after RBI single in 4th.

Pence races to 3rd on Morse's hit.

Crawford turns DP in 4th.

Pablo Sandoval fires to 1st.

Madison Bumgarner jogs in from bullpen.

Wade Davis

Lorenzo Cain after popping out in 8th.

Greg Holland

Gordon heads to 3rd in 9th.

Posey and Bumgarner rejoice as Perez heads to dugout.

Yost salutes the crowd after the game.

Bochy hugs Bumgarner.

Hudson and trophy sprayed.

Alex Gordon talks to reporters.

Fiery celebration in San Francisco.

The
Kansas City Royals
named
Ned Yost
their manager on May 13, 2010, despite the fact that he had been fired by the
Milwaukee Brewers
near the end of the 2008 season.
Ned cut his teeth as a coach with the

Atlanta Braves

from 1991-2002 under manager Bobby Cox and GM John Schuerholz.
The knock on Yost as a manager was that his teams played inconsistently. His handling of the bullpen, lineup strategies, and bench management were blamed. His in-game decisions were ridiculed so often that it became popular to refer to any managerial move that didn't work out as being "Yosted."
He had revitalized the

Brewers

franchise when he took the reins for the 2003 season. They went from losing records to championship contender in the NL Central.
He was voted Manager of the Year in 2007 despite the fact that his team squandered a large lead in the division and again missed the playoffs.
He was fired with only 12 games remaining in the regular season after

Milwaukee

lost 11 of their last 14 games to fall out of the wild card position. 3B coach Dale Sveum took over and led the

Brewers

back to the wild card spot on the last day of the season for the franchise's first trip to the postseason since 1982 when they made it to the World Series.
When Yost became the Royals' skipper, the franchise had not made the playoffs since winning the World Series in 1985.
LF Alex Gordon was the batting star on the team that finished ninth in the AL in runs scored.
He led the club in runs (87), RBI (74), HR (19), and Slugging % (.432).
CF Lorenzo Cain topped the lineup in average (.301). He also had a great ALCS against the

Orioles

, going 8-for-15 (.533).
Eric Hosmer also caught fire in the postseason. The first-sacker hit .400 in both the ALDS and ALCS. He drove in seven with two HRs.

The Royals ranked seventh in the AL in ERA (3.51)
Righthanders James Shields and Yordano Ventura tied for the team lead in wins with 14. They also posted almost identical ERAs, 3.21 and 3.20 respectively.
35-year-old Jeremy Guthrie won 13 games, and southpaw Jason Vargas added 11.
The closer par excellence was Greg Holland with 46, second in the AL to

Seattle

's Fernando Rodney. Holland had saved two of the three victories over the

Angels

and all four ALCS triumphs. He suffered only three blown saves all season.
The San Francisco Giants, World Series champions in 2010 and 2012, continued their streak of even-year success.
Like the

Royals

, the Giants finished 2nd in the West Division, six games behind the

Dodgers

. They roared out to a 10-game lead by June 8 but went 45-53 the rest of the way to limp into the playoffs.
Manager Bruce Bochy had to use his top pitcher, Madison Bumgarner (18-10, 2.98), in the Wild Card game, and he responded with an 8-0 shutout over the

Pirates

.
SF then took on

Washington

, the team with the most wins in the NL at 96. The only game the

Nationals

won in the NLDS was the game that Bumgarner pitched. The Giants won each of the other three games by one run: 3-2, 2-1, and 3-2. Neither team scored more than four runs in any game.
That brought the Giants head to head with the

St. Louis Cardinals

, who defeated Clayton Kershaw twice in eliminating

Los Angeles

in four, erasing a 6-1 deficit in Game One.
But

St. Louis

had no magic in the NLCS, bowing in five games. Bumgarner threw another shutout in the opener, 3-0. He also pitched eight innings in the clincher.
Bochy entered his fourth World Series as a manager, including one with the

Padres

in '98.
Like the Royals again, the Giants didn't finish in the top four of their league in either ERA or runs.
They were fifth in runs (665) and tied for seventh in ERA (3.50).
The link between the runs scored and the ERA of the pitching staff was C Buster Posey, the team leader in HR (22), RBI (89) and BA (.311).
Two other top hitters were 3B Pablo Sandoval (.279, 73 RBI, 16 HR) and RF Hunter Pence (.277, 74 RBI, 20 HR).
After Bumgarner, the rest of the starting staff made you wonder how on earth the Giants won the pennant. The next three starters were righthanders in their 30s. Tim Lincecum (30) won 12 but had a 4.74 ERA. Tim Hudson (38) went only 9-13 (3.57 ERA). Ryan Vogelsong won 12 and lost 9 (4.00 ERA).
Sergio Romo led the club with 23 saves. But down the stretch, Santiago Casilla became the closer, ending with 18. Romo became the 8th-inning setup man.
Despite their lack of World Series experience, the Royals opened as slight favorites (5/6) to win the series.
Some pundits tied the Giants' chances to those of their ace, 25-year-old Madison Bumgarner. Frisco needed him to win the first and fifth games for them to take their third championship in the last five years.
Despite throwing 249 innings in the regular season and postseason, the southpaw said, I feel the best I've felt all year for the last probably two months. I feel really good.
SF manager Bruce Bochy laughed when asked if he had asked Madison how he felt. The skipper said his ace would probably feel insulted by the question.
He's one of those performers you can count on when he gets the ball, said C Buster Posey. His stuff so far has been really sharp this postseason. It doesn't look like he's tired.
Bumgarner had started once in both the 2010 and 2012 Series against

Texas

and

Detroit

respectively. You couldn't ask for much more from a pitcher.


| Year | IP | H | R | ER | K | BB |
| --- | --- | --- | --- | --- | --- | --- |
| 2010 | 8 | 3 | 0 | 0 | 6 | 2 |
| 2012 | 7 | 2 | 0 | 0 | 8 | 2 |
| Totals | 15 | 5 | 0 | 0 | 14 | 4 |
Fox again telecast the Series with
Joe Buck
calling the action alongside color analysts
Harold Reynolds
and
Tom Verducci
. Field reporters were
Ken Rosenthal
and
Eric Andrews
.
Reynolds
replaced longtime Fox analyst
Tim McCarver
, who retired after the '13 Fall Classic. The Series started on a Tuesday instead of a Wednesday for the first time since 1990. The ratings would be the second lowest in baseball history (after the 2012 series).
Series Results
Tuesday, October 21 @ Kansas City: Giants 7

Royals

1
WP: Madison Bumgarner; LP: James Shields
Wednesday, October 22 @ Kansas City:

Royals

7 Giants 2
WP: Mike Adams; LP: Jason Motte
Friday, October 24 @ San Francisco:

Royals

3 Giants 2
WP: Lance Lynn; LP: Matt Harrison

Saturday, October 25 @ San Francisco: Giants 11

Royals

4
WP: Yusmeiro Petit; LP: Brandon Finnegan
Sunday, October 26 @ San Francisco: Giants 5

Royals

0
WP: Madison Bumgarner; LP: James Shields
Tuesday, October 28 @ Kansas City:

Royals

10 Giants 0
WP: Yordano Ventura; LP: Jake Peavy
Bumgarner did what the Giants needed him to do.
He pitched seven innings of three-hit ball in Game 1 although his consecutive scoreless innings streak in World Series games ended at 21 2/3 on a HR by Salvador Perez.
Madison threw a 117-pitch four-hit shutout in Game 5. He had to protect a tight two-run lead after four innings until the Giants piled on three in the bottom of the 8th. Bochy was second-guessed for allowing him to pitch the 9th.
Could he pitch in relief in Game 7 if needed? I've already talked to Madison and he says, "Listen, if you need me, in fact, I'm good to go. I'm ready to go," said Bochy before Game 6. So for certain he would be available for Game 7.
The

Royals

had profited in Game 6 from being back home and able to put DH Billy Butler back in the lineup. It's just a big comfort level having him back in there, Yost said. Billy is a big presence in that lineup offensively for us. Right in the middle of the lineup, he's been a proven run producer.

Kansas City

had scored 18 runs in the three Series games at home but only 7 in the three in San Francisco.
The Giants hoped to end a World Series streak in which the visiting team had not won Game 7 since 1979 when the Pirates topped the Orioles.
Each manager decided to go with a veteran righthander for Game 7 - 35-year-old Jeremy Guthrie for the

Royals

and Tim Hudson, age 39, for the Giants. Guthrie will be backed up with everybody we got, said Yost.

Hudson

became the oldest pitcher to start a Game 7 by 15 days over

Roger Clemens

(

Yankees

, 2001).

Tim

had been bothered by a sore right hip the latter part of the season. His record on June 12 was 7-2. He went 2-12 the rest of the way.

Jeremy had pitched five innings in Game 3, allowing two runs on four hits. Tim, appearing in his first World Series but a veteran of twelve starts in the postseason starting in 2000 with

Oakland

, had been Guthrie's opponent in Game 3, lasting 5 2/3 innings with three runs on four hits.
Both managers promised quick hooks if their starters showed the slightest signs of faltering.

The World Series had finally made a celebrity of

KC

manager

Ned Yost. In September, I could go anywhere in this town and maybe get recognized by one out of 30 people. I can't go anywhere in this town now without being recognized by everybody, which is kind of strange and different for me. Even when we were in San Francisco - I guess being on TV every night for a month it's been different - I was shocked at how many people would stop me on the street walking down to get a cup of coffee to take pictures.

The '14 team also made the

Royals

relevant in Kansas City again.

This team is too young to understand how special it is or what they've done

, said

Bret Saberhagen

, the star hurler on the '85 World Champions.

I know I didn't understand

(in '85)

. We didn't understand. We were too young back then. But what we did in 1985 will always resonate with this city.

Several hours before game time, Bochy met with his pitching coach, Dave Righetti, and other members of the staff to map out a worst-case scenario for the evening. What if he had to pull Hudson early? They decided that Jeremy Affeldt would be the first reliever to come in to get out of a jam. Hopefully, the southpaw could pitch long enough to get to Bumgarner, who would come in only to start an inning. Madison would be the bridge to Romo and Casilla. Bochy would be happy if MadBum gave him two or three innings.
San Francisco Lineup

| | |
| --- | --- |
| Gregor Blanco | CF |
| Joe Panik | 2B |
| Buster Posey | C |
| Pablo Sandoval | 3B |
| Hunter Pence | RF |
| Brandon Belt | 1B |
| Mike Morse | DH |
| Brandon Crawford | SS |
| Juan Perez | LF |

Kansas City Lineup

| | |
| --- | --- |
| Alcides Escobar | SS |
| Nori Aoki | RF |
| Lorenzo Cain | CF |
| Eric Hosmer | 1B |
| Billy Butler | DH |
| Alex Gordon | LF |
| Salvador Perez | C |
| Mike Moustakas | 3B |
| Omar Infante | 2B |
Game time temperature was 55° but dropped a little as the night went on. A 5 mph breeze blew toward RF. Attendance was 40,535 in the baseball-only stadium.
1st inning
Jeremy Guthrie started CF Gregor Blanco (only .182 in the Series) with three straight changeups, then got an easy fly to CF Lorenzo Cain.
Rookie Joe Panik (.246) bounced out 3-1.
C Buster Posey was hitting .262 as the man that

KC

vowed would not beat them. He had 17 hits in the post-season, all singles. Buster shattered his bat and hit a grounder wide of 3B. Mike Moustakas made an all-out dive, scurried to his feet, and threw out the batter.

Posey breaks his bat grounding out.

Tim Hudson had been dealing with a sore right hip the second half of the season. Determined the keep the ball down, he got SS Alcides Escobar to line hard to LF Juan Perez.
RF Nori Aoki worked a full-count walk.
CF Lorenzo Cain hit a grounder to Sandoval who got the runner at 2B, but the

Royals

' CF was too fleet for the double play.
1B Eric Hosmer (.377 for the post-season with 20 hits) was a notorious first-ball fastball hitter. He swung through the first delivery on his way to taking one down the middle on a 1-2 fastball.
2nd inning
3rd inning
4th inning
5th inning
Blanco hit a liner to LF that Gordon, a former Gold Glover, caught over his head on the run.
Madison Bumgarner began tossing in the SF bullpen.
Panik whiffed on a sinking changeup from the fireballer.
Looking frustrated with his 4-for-24 Series mark, Posey took a called third strike on the inside corner.
Bumgarner took the ball with the expectation that he would finish the game.

Yost had said before the game: Bumgarner's a great starting pitcher. We'll see what kind of reliever he is.

Infante smacked a 93mph fastball on one hop to Pence in RF.
Escobar showed bunt on a low curve as Sandoval came in at 3B to the grass. Then the batter bunted in front of the plate and was out 1-4 to send the potential tying run to 2nd.
The Fox announcers wondered why Yost took the bat out of righty Escobar's hands to bring up lefty Aoki, who was 0-for-16 against Bumgarner. Nori hit a liner just inside the LF line but Perez, positioned over that way, caught it on the run.
Cain struck out.

C Posey expected Bumgarner would throw three innings, then turn the game over to setup man Sergio Romo and closer Santiago Casilla, who had thrown just four pitches the entire Series.
6th inning
For the third time, Sandoval led off an inning by reaching base, this time lining a high outside fastball into LF.
Could Pence continue his streak of following Sandoval with a single? No. He hit the first delivery into a 6-4-3 DP.
The twin killing loomed large when Belt singled to RF on a 99mph fastball.
Morse took strike three to finish a solid three-inning outing by Herrera.
Having set an NL record with 48 2/3 innings of pitched in one post-season, Bumgarner mowed down the

Royals

4-5-6 hitters.
Hosmer popped to SS.
Butler skied to CF.
Blanco also caught Gordon's fly.
7th inning
Righthander Wade Davis took the hill and retired the Giants in order.
Crawford fanned on a pitch in the dirt.
Perez also went down swinging.
Blanco, down to .148, grounded to the right of Escobar, who speared the ball on the short hop and threw on the run for the out.
Pitching like a machine, Madison mowed down the

Royals

.
Perez - fly to RF.
Moustakas - grounder to 3B.
Infante - strikeout swinging.
8th inning
The

KC

bullpen continued their fine work of keeping the Giants from getting an insurance run.
Panek looked at strike three on the outside corner.
Posey went to 0-for-4 with a groundout to 2nd.
Sandoval wasn't leading off but continued on a tear by doubling past the diving Moustakas into the LF corner.
Infante threw out Pence.
With nobody up in the bullpen, Bumgarner kept rolling.
Escobar tried to stop his swing on a pitch up in his eyes but was called out by 1B umpire Eric Cooper.
Yost continued to show faith in lefthanded-hitting Aoki without success, Crawford to Belt.
Madison retired his 11th straight batter when Cain popped to 2nd.

Giants GM Brian Sabean and some of his assistants made his way down from a press level box to the visitors' clubhouse. There he saw workers hanging plastic sheets over the lockers to protect them from the champagne celebration. Unlike his former boss, George Steinbrenner, in 2001, Sabean wasn't superstitious and didn't order the preparations stopped until the last out was recorded. His entourage watched the rest of the game on a TV in a side room.
9th inning
KC

closer Greg Holland took over in the 9th, not to save the championship but keep his club a run behind.
Infante threw out Belt.
Morse, whose RBI single put the Giants ahead in the 4th, swung a low outside slider.
Crawford swung through a 3-2 pitch.
The Giants closer, Santiago Casilla, who hadn't allowed a run in his last 17 post-season appearances, went to work in the bullpen.
But even after 52 pitches on two days' rest, Bumgarner took the mound for his fifth inning of work.
With the crowd on its feet chanting "Let's go,

Royals

!," he fell behind Hosmer 2-0, then got a favorable call on the outside corner for strike one. Eric soon whiffed on a 92mph heater.
Madison now faced his toughest matchup - Billy Butler, who could handle the inside pitch. No problem. He fouled to Belt.
Alex Gordon represented the

Royals

' last hope. He lined the second pitch to the right of CF Blanco, who made the decision to let the ball drop but too late. The short hop got by him and rolled to the wall. Then Perez, racing over from LF, fumbled the ball trying to pick it up. Gordon ended up on 3rd in what the scorer ruled a single and a two-base error on the CF.
Just like that,

KC

had the tying run on 3rd as the pandemonium reigned.

Gordon singles to LCF.

Gordon's hit broke a string of 14 retired in a row by Bumgarner.
Gordon: When it got by him (Blanco), I had a smile on my face. I thought maybe I could score, but he (Perez) got to it quickly enough. I just put my head down and ran, almost fell around second base, was just waiting for Jirsch (3B coach Mike Jirschele) to give me the signal. It was a good hold. He had the ball in plenty of time
Blanco said he had two competing options in mind as he charged toward the ball: catch it or hold Gordon to a single. It's not an easy situation to be in, to try to go for that ball, but at the same time I realized that I couldn't dive for it. But it was too late. The ball passed me by. It gave me a really bad hop, and I couldn't handle it.
Perez on fumbling the ball at the wall: I was kind of rushing a little bit. I had time to get the ball in. I should have taken my time to get the ball and throw it in. And I grabbed it and missed it, and I said to myself, "He might send him home," so I was making sure I made a good throw to Crawford so he can get the ball, and after that he would do the rest.
Bumgarner: I didn't see it (the error), but I was starting to get a little nervous. He (Gordon) can run a little bit, and this is a big outfield. So I was just wanting someone to get it and get it in, which they did in plenty of time. But it was a little nerve-wracking.
Bochy still made no move to bring in his closer. In fact, he decided that not only would Madison face Perez, a righthanded hitter, but he would also stay, if necessary, to face the next man, Moustakas, a lefty.

Perez stepped in with a chance to tie the game with a hit.

Madison

knew from the scouting reports that the

Royals

hitters liked to drive outside pitches the opposite. Also, they were aggressive and eager to play the hero, even expanding the strike zone to do so rather than a take a way. So throughout the Series, he had pitched them inside and, when ahead in the count, try to lure them to swing at a bad pitch. So his plan was to throw

Perez

nothing but fastballs

a little bit higher than high

.

First pitch - swing and miss on a high 92mph fastball.
Second pitch - laid off another high hard one.
Third pitch - swung through another shoulder-high fastball.
Fourth pitch - too high to be tempting. 2-and-2.
Fifth pitch - fouled back another 92mph heater.
Sixth pitch, his 68th of the game - popped up to Sandoval in foul territory.

The official scorers initially awarded the victory to Bumgarner. But an hour after the game, they switched and gave the win to Affeldt, the pitcher of record when the Giants took the lead, and a save to Madison.

FINAL SCORE: GIANTS 3

ROYALS

2
Bumgarner with championsihp trophy.
Post-game
The MVP award could only go to Madison Bumgarner, who also won the award in the NLCS. His final numbers for one of the greatest pitching performances in World Series history looked like this:
Record: 2-0 Saves: 1 IP: 21.0 H: 9 R: 1 ER: 1 K: 17 BB: 1 ERA: 0.43
Giants Clubhouse
Bochy: I'm numb through all this. You're so blessed or fortunate to get in the World Series and get to one; it just doesn't happen very often. I'm amazed at what these guys did.
On his MVP: Truly incredible what he did throughout the postseason. I told him I can't believe what he accomplished through all of this. He's such a humble guy and we rode him pretty good. ... He kept telling me, "I'm ready to go." He said, "Just put me in anytime," and it couldn't have worked out better. It's historic what this kid has done. Really, truly amazing.
On free-agent-to-be 3B Pablo Sandoval (who had been the MVP of the '12 World Series): Great players have a way of rising to the occasion. He did that. You could see a difference in Pablo once the postseason started. His focus, this 3B play was as good as I've seen from any third baseman.
After saying throughout the postseason that his arm felt fine, Bumgarner admitted after the game, I can't lie to you anymore. I'm a little bit tired. Asked if he had an innings number in mind when he took the hill, Madison replied, Innings? I wasn't thinking about innings or pitch count. I was just thinking about getting outs, getting outs until I couldn't get them anymore and we needed someone else. Fortunately I was able to get some quick innings, and I was able to stay in there.
Hudson responded to a question about whether the Giants qualified as a "dynasty." Even if there wasn't a title this year, how could you not describe it as one? Getting to the World Series three out of the last five years is truly amazing.
Asked the same question, GM Brian Sabean replied that it was not for me to answer. Did he even care? I care for our fans. I care for the organization. That'd be a nice thing to be said. But you do these jobs, you put teams together, and you don't think, "I'm putting a dynasty together," or "Boy, I'm a failure" if I haven't been a general manager for a dynasty. Somebody else figures that out.

Sabean

ran the scouting department for the

Yankees

from 1986-92. As

Tom Verducci

wrote in

Sports Illustrated

(10-14-2014),

He saw how George Steinbrenner kept his staff on a competitive edge. At any moment he might call upon you for an opinion or a solution which meant you had to be prepared at all times. Winning was stressed at every level of the minors, so everyone learned how to deal with pressure. Sabean

liked to refer to the

Giants

as the "

Yankees

of the West."

Posey on the dynasty question: In this day and age? If it's not, it's as close as you're going to get. The catcher was asked if there was any conversation in the dugout about how long Bumgarner would stay on the mound. Not much of anything. I think everybody could see how good he was. They weren't putting great swings on him.
Royals Clubhouse
Yost: To end up losing the ballgame by 90 feet is tough. ... Madison Bumgarner, what can you say about him? MVP. That's a no brainer.
On trying to score against Bumgarner: Yeah, it was hopeless.
Ned admitted that he was hoping for a second that Gordon would try for the plate in the 9th.
3B coach Mike Jirschele on holding up Gordon in the 9th: Even though there's two outs, if he's going to be out by a mile, I'm not just going to give them that last out. Once they got that ball to Crawford, I saw we had no shot. To me, right there, if we have a chance to score him, and I feel it's going to take a perfect throw to get him, I'll send him and take a chance. i just felt that there was no chance that he was going to score.
DH Billy Butler: It hurts really bad right now. But I'm proud to have been a part of it, especially being here from square one. We'll get 'em next time.
The celebration in downtown San Francisco after the Giants' victory turned violent in some areas. Three people were injured, two by gunfire and one in a stabbing. Police officers were hut by bottles thrown by revelers, and police made arrests.