Ron Washington

Jon Daniels and Nolan Ryan

Colby Lewis

Derek Holland

Ryan Braun

Dave Duncan

Kyle Lohse

Jake Westbrook

Fernando Salas

Albert Pujols hits one of his three HRs in Game 3.

David Freese hits the game winning HR in Game 6.

Chris Carpenter toils in Game 7.

Elvis Andrus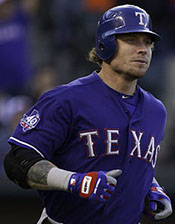 Josh Hamilton

Michael Young

Adrian Beltre

Nelson Cruz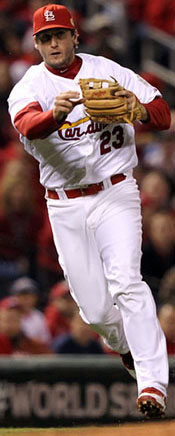 Freese retires Cruz in the 1st.

Matt Harrison

Ryan Theriot

Lance Berkman

Mike Napoli

David Murphy

Rafael Furcal

Skip Schumaker

Rafael Furcal out at 2nd in the 2nd as Ian Kinsler turns the double play.

Freese grabs Hamilton's foul fly in 5th.

Scott Feldman

Yadier Molina after bases-loaded walk in 5th.

Craig saves a HR in 6th.

Molina, Carpenter, and Freese as Chris is taken out in top of 7th.

Arthur Rhodes pitches in 7th.

Yorvit Torrealba

Octavio Dotel exults after final out of 7th

Mike Adams

Pujols's last AB in Cardinal uniform in 7th.

Mike Gonzalez

Lance Lynn after striking out Beltre to end the 8th.

Nick Punto

Alexi Ogando

Jason Motte

La Russa and Pujols celebrate.

John Mozeliak (L) and Bill DeWitt

Counting their eleven seasons as the
Washington Nationals
, the
Texas Rangers
franchise had yet to win the American League pennant in their 49 previous seasons entering the 2010 season.
In fact, the

Rangers

had made the playoffs only three times, the last being 1999.
But they broke through in 2010 in Ron Washington's fourth year as manager by beating the

Tampa Bay Rays

in five games in the Division Series and upsetting the

Yankees

in six.
Unfortunately, the

San Francisco Giants

burst their bubble by taking the World Series in five games.
Working under Texas CEO and President Nolan Ryan, 33-year-old GM Jon Daniels, who earned the Executive of the Year Award for 2010, added players in 2011 that he hoped would send the Rangers back to the World Series and win it this time.
Yorvit Torrealba came from the

Padres

to replace Matt Treanor behind the plate.
Mike Napoli, acquired in a trade with the

Angels

, contributed at both C and 1B.
Michael Young moved from 3B to DH after Vladimir Guerrero signed with the

Orioles

.
That made room at the hot corner for Adrian Beltre, signed as a free agent after a year with the

Red Sox

. Beltre tied with 2B Ian Kinsler for most HRs on the team in '11 with 32 and led the club with 105 RBIs..
Endy Chavez took over CF, replacing Julio Borbon.
Most of all, the starting rotation improved with the promotion of southpaw Derek Holland, Matt Harrison, and Alexi Ogando from the bullpen.
Add returning starters C.J. Wilson and Colby Lewis, and you have a starting five who each won at least 13 games, with Wilson and Holland topping the group with 16 apiece.
The result was five more wins (96) than the year before and another AL West title.

Texas

again eliminated the

Rays

in the ALDS, this time in four games, before taking the

Tigers

in six to make the Fall Classic for the second straight year.
In the Senior Circuit, the Milwaukee Brewers were the surprising victors in the Central Division.
The Cardinals had been written off as the pennant race entered the stretch run.
Like the Rangers, the Cardinals benefited from some wise additions to the their roster.
Chief among them was 35-year-old Lance Berkman, a Redbird nemesis during his 11 years with

Houston

. He hit .301 and drove in 94 in 145 games to earn the NL Comeback Player of the Year award after a poor season with the

Astros

and Yankees in 2010 when he hit on one leg because of a knee injury.

In his recounting of the 2011 season, One Last Strike, La Russa said this about Berkman: We knew he was an offensive force, but we didn't really appreciate his solid defensive play until we witnessed it day in and day out ... From the very beginning of spring training, guys just seemed to gravitate toward him. ... He seemed to have a switch that not a lot of fun players have - turning it on, he could go from clubhouse comedian to cold-blooded competitor instantly and effectively.

Albert Pujols wasn't exactly an addition, but he returned when the club picked up his $16 million option for one year. The 31-year-old 1B hit .299 and led the team with 99 RBIs.
The pitching staff suffered a severe setback when Adam Wainwright, a 20-game winner in 2010, underwent Tommy John surgery on his right elbow and missed the entire season.

La Russa recalled that, after Wainwright's injury, the sports media began to write our obituary for the season. That put a huge chip on our shoulder. Our team took being counted out personally, and the character of the group started to show itself.

36-year-old Chris Carpenter assumed the mantle of #1 starter. But he didn't get his first win until May 10 and at one point was 2-9. But he pitched strongly down the stretch to finish 11-9. He led the league in starts with 34 and innings pitched with 237.
The slack from Wainwright's absence was picked up by Kyle Lohse, who contributed 14 wins, and Jake Westbrook, who added 12 more.
When 2010 closer Ryan Franklin (27 saves) experienced difficulties early in the '11 season, Fernando Salas stepped in and saved 24 games. However, by September manager Tony La Russa turned to fireballing Jason Motte, who closed nine games from August 28 on.
Two deals right before the August 1 trading deadline brought players who contributed to the stretch run. St. Louis sent its best trading chip, five-tool OF Colby Rasmus, along with several second-line hurlers to

Toronto

for starting P Edwin Jackson and relievers Octavio Dotel and southpaw Marc Rzepcynski.

La Russa: Shoring up the bullpen with Octavio Dotel and then later signing another veteran, Arthur Rhodes, proved a key to our success. ... Their sense of urgency was heightened by where they were in their career. Neither of them had won a ring before. ... These guys were great in the clubhouse, and they were also very hungry.

La Russa fielded a veteran team, with five starters over the age of 30 and two more 28. They held together through adversity and kept plugging.

La Russa wrote that GM John Mozeliak really hit a grand slam. Each player we added had a well-deserved reputation as a tough competitor and a good teammate.

That experience paid dividends in post-season play as the Redbirds upset the

Phillies

in five games before gaining revenge on the

Brewers

.
The Cardinals enjoyed home-field advantage for the World Series because the NL won the 2011 All-Star game.
Commissioner Bud Selig had put that rule into place for the 2003 season.
Ironically, it was a HR by Prince Fielder of

Milwaukee

off

Rangers

P C. J. Wilson that supplied the winning margin in the Midsummer Classic.
Series Results
Wednesday, October 19 @ St. Louis: Cardinals 3

Rangers

2
WP: Chris Carpenter; LP: C.J. Wilson
Thursday, October 20 @ St. Louis:

Rangers

2 Cardinals 1
WP: Mike Adams; LP: Jason Motte
Saturday, October 22 @ Arlington: Cardinals 16

Rangers

7
WP: Lance Lynn; LP: Matt Harrison

Sunday, October 23 @ Arlington:

Rangers

4 Cardinals 0
WP: Derek Holland; LP: Edwin Jackson
Monday, October 24 @ Arlington:

Rangers

4 Cardinals 2
WP: Darren Oliver; LP: Octavio Dotel
Thursday, October 27 @ St. Louis: Cardinals 10

Rangers

9 (11 inn.)
WP: Jake Westbrook; LP: Mark Lowe
The 2011 World Series will always be remembered for its sixth game, one of the greatest in Fall Classic history.
This is the best game I've ever been a part of, ever seen, said Cardinals OF Skip Schumaker afterward. SS Daniel Descalso agreed. I've never seen a baseball game like that before. ... That's got to be one for the record books.
Over a span of 4 hours, 33 minutes, the teams were tied five times and the lead changed hands six times.
The Cardinals were down to their final strike twice but still won despite committing three errors, leaving 11 men on base, and going 3-of-12 with runners in scoring position.
But the

Rangers

made two miscues of their own, left 12 men on, and went 4-of-15 with runners in scoring position.
Trailing 7-4 with six outs left, the Cards scored one in the 8th and two in the 9th to send the game into extra innings.
When

Texas

plated two in the 10th, the Redbirds matched it in their at-bat.
The game ended dramatically in the bottom of the 10th with a HR by 3B David Freese, who had grown up in St. Louis. Freese had also hit the tying two-out two-run triple in the bottom of the 9th.

Freese

was less than a year removed from surgery on both ankles that were injured in an automobile accident. He started his rehab just before Christmas 2010. He said at the time:

This season is very important. It's absolutely the most important year of my baseball career.

Acquired from

San Diego

in 2007 for outfielder

Jim Edmonds

,

David

had come to spring training with the

Cardinals

three times only to have each season derailed or abbreviated by injury.

Even after starting the 2011 season fully healthy, he missed 50 games because of a broken hand.
The teams had to get ready for the ultimate game.
The

Rangers

had to climb out of their despair at being so close to the championship.
St. Louis had to come back to earth after their elation. OF Allen Craig said after Game 6, "We feel like we're playing with house money."
The Cardinals' task was perhaps easier than the

Rangers

' because (a) they were playing at home and (b) they were starting their ace, 36-year-old Chris Carpenter, albeit on only three days rest. And he was able to do that because of a stroke of good luck. Rain Wednesday had postponed Game 6 to Thursday.
La Russa said he called Duncan the morning after Game 6 to talk about the Game 7 starter. "How about the alternatives?" asked Tony. Dave replied, "Are you kidding? It's Carpenter." Then he hung up.
Carpenter had won the final game of the regular season to clinch the wild-card spot, beaten the

Phillies

in the decisive Game 5 of the NLDS, the

Brewers

in Game 3 of the NLCS, and the

Rangers

in the opening game of the Series. He also pitched well in Game 5, giving up only two runs in the loss. His tally in six post-season starts at home for St. Louis? 6-0, 2.03 ERA.
Another factor in favor of the the Redbirds was that the home team had won the last eight seventh games.
However,

Texas

had not lost consecutive games in over two months.
Washington chose Matt Harrison as his starter. He was the losing pitcher in Game 3 after giving up five runs (three earned) on six hits in 3 2/3 innings. But it wasn't all his fault as he was the victim of some ugly

Ranger

defense.
On the injury front, Cards LF Matt Holliday would not play due to a sprained wrist he suffered in Game 6. On the other side, Mike Napoli and Nelson Cruz, both injured in Game 6, would start.
Both managers admitted they were nervous in the interview room before Game 7.
Before Game 7, reporters asked the Rangers about the carry over from the excruciating loss the night before.
P Mike Adams: Maybe a little bit. Last night was tough. That one hurt. That was a big loss. We had opportunities and it was rough.

P Scott Feldman: The part that was difficult was being that close (Game 6) and trying to sleep. ... It was just a bad feeling.
La Russa chose not to have a pregame meeting. Instead, he and his coaches circulated among the players emphasizing "put away Game 6" to each.

La Russa recalled: That night during batting practice, as the guys stretched and threw to loosen up, we detected no Game 6 hangover. Based on how the guys were taking their swings and going about the drills, I saw that they'd done what we'd asked of them and were fixating on Game 7. I didn't know what was going to happen, but we were ready to play.
Fox telecast the World Series for the 12th straight year.
Joe Buck did the play-by-play with Tim McCarver providing commentary and Ken Rosenthal reporting from field level.
Ratings were up from 2010 when the

Rangers

played the

Giants

but were not at the level of 2009 when teams from two large Northeast cities played, the

Yankees

and

Phillies

.
Texas Lineup

| | |
| --- | --- |
| Ian Kinsler | 2B |
| Elvis Andrus | SS |
| Josh Hamilton | CF |
| Michael Young | 1B |
| Adrian Beltre | 3B |
| Nelson Cruz | RF |
| Mike Napoli | C |
| David Murphy | LF |
| Matt Harrison | P |

St. Louis Lineup

| | |
| --- | --- |
| Ryan Theriot | 2B |
| Allen Craig | LF |
| Albert Pujols | 1B |
| Lance Berkman | RF |
| David Freese | 3B |
| Yadier Molina | C |
| Rafael Furcal | SS |
| Skip Schumaker | CF |
| Chris Carpenter | P |
A record crowd of 47,399 gathered on a cool (50 degrees and falling) evening to watch the first Game 7 in nine years.
1st inning
The

Rangers

started aggressively at bat and on the base paths to put the previous night behind them.
2B Ian Kinsler rapped the second pitch, a high fastball, into LF for a single.
But on the first pitch to SS Elvis Andrus, Kinsler started to steal but slipped and was thrown out easily by Yadier Molina as he tried to get back to 1st.
The pickoff loomed larger when Andrus walked on a 3-1 pitch.
With the runner on the move, Josh Hamilton, hitting only .240 in the Series, rapped a hit past Pujols into the RF corner for a run-scoring double.
Michael Young had been up with men on base in the 1st inning of Game 6 but struck out. This time, he fisted a fastball down the RF line for another double, sending Hamilton home.
For the first time, Carp got a first pitch strike. Adrian Beltre (.333, with two HRs, one off Carpenter) struck out on two more pitches.
Nelson Cruz pulled a groin muscle the night before but played without treatment. He bounced to 3B David Freese, who came in and threw on the run to easily retire the cautiously-running batter.


Rangers

2 Cardinals 0

La Russa on his pitcher at the middle of the 1st: He came in looking grumpy, and I took that as a good sign.
After the game, Carpenter said: I came out, and my command wasn't great to begin with. But I thought I made some pretty good pitches also, and they hit them. But I felt good. I made some adjustments. I continued to make pitches and do what I needed to do.

With extra determination because he had been left off the

Texas

post-season roster the year before, Matt Harrison needed to start strong and did so.
La Russa, managing his first World Series Game 7 of his 33-year career, started Ryan Theriot at 2B for the first time since Game 3 and put him first in the lineup because he hit .321 against lefties.
Theriot grounded to his counterpart, Kinsler.
Alan Craig homered in Game 6 against southpaw Derek Holland. This time he skied a 1-1 pitch to Hamilton.

Craig gave his reaction to learning that Matt Holliday would not play, opening LF to him. I felt great about it. It's the opportunity of a lifetime to be in the lineup and get to play in the seventh game of the World Series. ... I was giddy all day. I couldn't stop smiling.

Albert Pujols, who had tied a World Series record with three HRs in Game 3, drew a walk.
The crowd gave a strong ovation to Lance Berkman, who tied Game 6 with a two-out hit in the bottom of the 10th. Batting right-handed, his weaker side for power, he also walked.
The crowd went wild as Game 6 hero David Freese approached the plate while pitching coach Mike Maddux went to the mound to talk to Harrison. Pitching Freese inside, the southpaw ran the count full. With the runners off with the pitch, David rifled a too-high changeup on a line to the LCF wall to tie the game. It was his third double of the Series.

La Russa on Freese's at-bat: Noting that they were trying to pound him inside, David looked for and got a pitch on the inner half of the edge and with a nice compact stroke doubled into the left-center-field alley.

C. J. Wilson started loosening in the

Texas

bullpen.
C Yadier Molina whacked a high drive to CF that Hamilton caught on the warning track.


Rangers

2 Cardinals 2

Freese doubles home two runs in the 1st.
2nd inning
Which pitcher would settle down and put goose eggs on the scoreboard?
Joe Buck told the TV audience that C Mike Napoli (.375, 10 RBIs, 2 HRs) was "on his way to be the MVP of the Series." He continued hot with a liner between SS and 3B.
LF David Murphy (.214) chopped the ball just to the right of the mound. Carpenter grabbed it and threw to SS for the force at 2nd.
Harrison, batting in the NL park, bunted beautifully down the 1B line and was retired 3-4.
Struggling to find his good stuff, Carpenter walked Kinsler on four pitches.
Pitching coach Dave Duncan talked to his pitcher and produced immediate results.

La Russa: Carp was still struggling with his location, but after a visit from Dunc, he seemed to settle in.

On the second pitch, Molina fired to 1st and seemed to have Kinsler picked off, but Pujols tried to tag before he had the ball. When it rolled away, Murphy moved to 3rd on Albert's error.
But with a chance to put his team back in the lead, Andrus bounced to the mound.
No one knew it at the time, but the

Rangers

would not get two men on base at the same time again the rest of the evening.
La Russa moved SS Rafael Furcal (3-for-25) from the leadoff spot to 7th. After falling behind 0-2, Furcal grounded a 3-2 delivery up the middle for a base hit.
CF Skip Schumacher (.375 over his last 16 games and .471 in post-season) grounded into a 6-4-3 double play.
Carpenter fanned.
3rd inning
4th inning
Getting ahead of the hitters, Carpenter zipped through his first 1-2-3 inning of the evening.
Napoli whiffed on three straight curves.
Murphy rolled out 3-1.
Harrison became Carp's fourth K victim.
Freese grounded to short.
Molina lined a single into CF.
Scott Feldman got up in the

Rangers

' bullpen.
Furcal lined a single to RF, Molina stopping at 2nd out of respect for Cruz's arm.
Mike Maddux made his second visit to the mound.
Shoemaker broke his bat as he grounded to 1B, the top of the bat landing to Young's right rear.
With runners on 2nd and 3rd, Carpenter popped to Cruz.
5th inning
Kinsler reached base for the third time when he smote the first pitch just to the left of the drawn-in 3B.
Expecting a steal or hit-and-run, Carpenter threw to 1st multiple times. With the visiting fans chanting "Let's go,

Rangers

!" Andrus turned to bunt several times before laying one down and being thrown out 1-4.
With the count 2-0 against Hamilton, Carp got a key strike call from umpire Jerry Layne on a pitch that was outside. Hamilton then hit a foul pop that Freese caught at the railing of the 3B dugout.
With the count 1-2 on Young, the fans stood and twirled their white towels. Inspired, Carpenter buzzed a fast ball past the hitter to end the threat.
Righthander Scott Feldman took over the pitching duties.
Theriot, who couldn't sleep after Game 6 even before he found out he was starting in Game 7, battled through seven pitches before grounding the eighth to SS.
Craig drew a base on balls.
After getting ahead 0-2, Feldman threw an inside fastball that grazed Pujols' jersey.
Wilson got up again in the bullpen.
Berkman, one of the heroes of Game 6, grounded a 2-0 pitch wide of 1st and was thrown out 3-1 as the runners advanced.
With 1B open, the

Rangers

walked Freese intentionally. Even before ball four, the crowd started changing "Molina! Molina!"
Given a chance to considerably increase his team's chance of winning with a hit, Yadier got ahead 3-0, then took two strikes. But the next delivery sailed outside to force in a run. Foxtrax showed the pitch on the corner - a break for St. Louis.
Washington came out and called for Wilson to face switch-hitting Furcal.

Texas

fans had reason to be nervous since C.J. had set a record for most walks in a postseason. His first pitch clipped Furcal on the hip. Another runner trotted home.
Schumacher fanned on three pitches.
Cardinals 5

Rangers

2

La Russa: You start to believe that something is in the air when your clubs gets a walk, a hit by pitch, an intentional walk, a bases-loaded walk, and another hit by pitch to bring in another run. ... That inning also showed how much we had improved our strike-zone discipline. ... That was something we'd been talking about and working on since spring training ...

6th inning
How many more innings could Carpenter go?
He had no trouble with the 5-6-7 hitters, retiring them in order on ten pitches.
Beltre hit an 0-2 delivery back to the mound.
Cruz, with a record-tying eight HRs in the post-season, got hold of a fastball that came in higher and more inside than intended. As Card fans held their breath, Craig leaped and caught the ball over the top of the LCF fence.

Dave McKay, the coach in charge of the Cardinal outfielders, said after the game: That was a great play. I said from the beginning, if he (Craig) plays every day, he'll be one of the better outfielders. He's a smart guy. He knows how to play hitters. He picks it up. He's a great athlete. And he throws really well from the outfield because he doesn't hold back.

Napoli lined to Berkman.
La Russa sent out Nick Punto to bat for Carpenter.

La Russa: I caught Carp as he came off the mound and said, "Great job," and shook his hand. That's the usual signal to let a pitcher know that he's done. I then told Dunc that I thought Carp had had enough. In each of those last two outs, the hitter had gotten the center of the barrel on the ball. What Carp had given us was outstanding. He'd done his job. Dunc agreed. However, Yadi, having seen all that go on, came over and said, "No, no. I've got a lot to work with." ... Based on what Yadi had said, Dunc and I rethought our plan. I decided that Carp could go out there and buy us some outs, reduce the number that the bullpen was going to have to get. ... Carp is a pitcher who gets stronger late into games ... I'd never changed my mind before. That's how much I trusted those two guys - Carp and Yadi.

Tony called Punto back.
Wilson retired Carpenter 4-3.
Theriot lined to CF.
In the lineup only because Holliday was hurt, Craig had walked and score, homered, and saved a run with his catch in the top of the 6th. This time, he struck out.

7th inning
Trying to reward his manager's faith in him, Carpenter hung an 0-2 curve that Murphy lined down the RF line on one hop into the stands for a ground rule double.
When left-handed Endy Chavez was announced as the pinch hitter for Wilson, La Russa summoned southpaw Arthur Rhodes to the hill. Right-hander Octavio Dotel continued to throw in the bullpen as Carpenter received a grand ovation from the crowd.

La Russa: When I went out to get him (Carp), I said, "Good adjustment on three days. You did more than we could have asked for. Now get your pom-poms and cheer us on to victory."

Washington then switched to right-handed Yorvit Torrealba to replace Chavez.
After being released by the

Rangers

in August, Rhodes had extra motivation to do well. He got Torealba to fly to CF.
La Russa brought in Dotel to face the red-hot Kinsler. Dotel had been with 12 major league teams - a record.
With Freese back for a change, Kinsler tried to bunt the 0-1 pitch but fouled it. Then he whiffed on a 94-mph fast ball.
Continuing to fog the ball 90+ mph, Dotel got Andrus to fly to CF.

La Russa: I can't stress enough how important it was that those two (Rhodes and Dotel) got those three outs without that runner scoring from second. With the score 5-2, that third run in would have meant that anytime they got a runner on after that, the hitter coming to bat would be the tying run.

Righty Mike Adams took the mound.
As cameras flashed, Pujols came up for what could be his last AB as a Cardinal. With the crowd standing, he ingloriously struck out.

It was his last bat for the

Cardinals

as he signed a 10-year deal with the

Angels

in the off-season.

Berkman hit a dribbler past the pitcher. Running as hard as he could at age 35, Lance beat Andrus's throw.
Given a chance to wreak more havoc, Freese walked on a full-count as Berkman headed to 2nd. It was the 41st walk the

Rangers

had given in the Series, the most in World Series history.
Lefty Mike Gonzalez started throwing in the

Texas

pen.
Molina grounded a single up the middle. Berkman, showing speed he didn't know he had, scored easily as Hamilton's throw went up the 1B line.
Hitting from the left side, Furcal hit a dribbler for a 3-1 out as the runners moved up.
Gonzalez came on to face Schumaker.
With a chance to ice the game, Skip watched three straight strikes.
Cardinals 6

Rangers

2
8th inning
Lance Lynn, who gave up three runs in 1 2/3 innings in Game 6, took the mound.

La Russa: In that situation, looking for those next few outs, I had to consider something I thought about in every game: What did that pitcher's last good outing look like? And what did his last bad outing look like? In Game 6, Lance had been roughed up a bit by those back-to-back home runs. In other games, though, I'd see that he had that ability to turn the page. We had other guys to back Lynn up if he got into any kind of trouble, but I trusted that he was the best option ...

Firing 90+mph fastballs, he jammed Hamilton, who hit a weak grounder to 2nd.
Young fouled to Pujols.
Lance ended an impressive inning by fogging a 95-mph hard one past Beltre.
Nick Punto hit for Lynn as closer Jason Motte got ready for the 9th.
Punto flied to CF.
Gonzalez got Theriot looking.
While pitching to Craig, Gonzalez turned an ankle on a pitch and had to be relieved. Alexi Ogando came in and finished off the strikeout with one pitch as a "mist" started to fall.
9th inning
Punto stayed in the game at 2nd, Daniel Descalso took over at 3rd, and John Jay went to LF.

La Russa: The changes I made in the ninth, putting our best defensive team out there and our closer on the hill even with a four-run lead, also gave those guys ... a role in our eventual victory.

With Motte topping 95 regularly and the crowd cheering on every pitch, Cruz popped to LF.
Napoli grounded to Descalso.

La Russa: I was still observing closely. Only when we got to two outs did I think, Some of a gun, we're going to do this.

Murphy flew to Craig, and the Cardinals had their 11th World Series championship, second most to the

Yankees

' 27.
FINAL: CARDINALS 6

RANGERS

2

La Russa: As soon as I saw the eventual final out's fly-ball trajectory, I knew the game was over and we'd done it. Suddenly, I couldn't breathe and I felt myself rising. I was in the grip of a crushing bear hug, and I saw Berk's grinning face. He set me down and took off running. His doing that meant a lot to me. I had liked him immediately, and as the season progressed and we got to know each other, he told me that, as an opposing player, he'd gotten to the point that he wanted to punch me. "You never smiled, and you always looked like you wanted to come out and kick all our asses." As the season went on, he told me that his perception of me from the outside was radically different from what he'd experienced on the inside.
Cards celebrate after final out.
Post-game
The MVP award went to - who else? - David Freese. That made him the sixth player in history to win the award for both the League Championship Series and World Series in the same season.
Cardinals Clubhouse
Tony La Russa: Unbelievable, amazing, incredible. It's hard to believe it actually happened. The teams we played in the playoffs were all great teams. ... This is what you dream about ... When you're a young kid, you think about winning the World Series. And it's always in Game 7. It's truly a dream come true. It's hard to imagine that it actually happened.
Cardinals Chairman Bill DeWitt summarized the season: This is one of the great runs in baseball history.
GM John Mozeliak, who was lauded for not giving up on the team in late July and making key trades to help the stretch run: There are certain things you go through during a season. There are levels of frustration and happiness. One thing about this team, it never quit. There were so many times you might have wanted to count this team out. And it kept changing.
Chris Carpenter: I didn't know how long they were going to let me go. I was just trying to get one out at a time. Asked to explain why the team was able to win, he answered: We've got great character, that's why. The personalities in our clubhouse are unbelievable. I'll never forget them. I'll never forget this.
Albert Pujols: Sitting at first base with three outs left and thinking about all the things that we went through this year, just how special this group of guys that we have is - to do that and bring another championship to the city of St. Louis is just amazing. ... We had a 5 percent chance (to reach the playoffs) with 35 games left in the season. We knew we had to play great. The first five months of the season were pretty bad. But it doesn't matter. We're world champions.
When asked what Tony La Russa brought to the championship effort, David Freese replied, Everything. ... It's a dream come true. Every step of the way has been incredible. We really had to work hard for this. We believed. We wanted it. But we stayed humble. We had to fight our way into the playoffs, but once you get in, it gives you a special feeling. We just kept our heads down and worked hard. ... This is why you keep battling. You get injured. You do stupid stuff. You try to stay on path. The character of guys on this team is second to none.
He also said he never got comfortable even with a 6-2 lead. You're playing the

Texas Rangers

. Not until the last out. ... There is some luck involved, but we did enough things right to win. ... I still can't believe that we actually did this.
Allen Craig: It took a lifetime of work to get here and to be able to celebrate and experience it with this group of guys. ... The whole experience was awesome. Hitting a home run was awesome, and I've never robbed a home run like that. I was glad to do it in the seventh game of the World Series. It's all about making the best of your opportunities. You can't let opportunities slip.
Lance Berkman: We didn't do anything heroic tonight to win it. We showed up, were tough, and the game went our way.
Skip Schumaker: I believed it on the day we clinched in Houston. I knew there was a reason. My dad was retiring that night. It was the anniversary of my grandfather's death. It was a weird night. It kept going and kept going. For me personally, it was strong. I knew there was a reason for this season. I didn't tell anyone but my wife. But things kept happening. There is a reason for everything.
Hitting coach Mark McGwire on participating in another Series: I got to do this as a young kid. Now, to do it as a coach, it's even more special because I understand what this game's really all about. When I was a young kid, I just played. Now I can pass on the knowledge I drew as a young player, and it's really cool.
Rangers Clubhouse
Ron Washington: Sometimes, when opportunity is in your presence, you certainly can't let it get away because sometimes it takes a while before it comes back. You know, if there's one thing that happened in this World Series that I'll look back on, it's being so close, just having one pitch to be made and one out to be gotten, and it could have been a different story. But you know, when you're a champion, you keep fighting, and St. Louis fought, came back, and got us yesterday and they beat us tonight.
On his team: I felt like they are champions, although we didn't get the World Series trophy. Those guys committed themselves to get here this year and win this. A lot of times it's nothing but talk, but it wasn't talk in that

Texas Rangers

clubhouse. We just didn't get it done. We got beat by a good club. ... There's not going to be anything in the back of my mind. I did what I thought was best for us.
GM Jon Daniels: Disappointing end to a hell of a run. I knew the character of these guys ... but things didn't work out.
The Rangers praised Carpenter:
Ron Washington: You've got to tip your hat to Carpenter. We pressured him. He bent, but he didn't break.
Adrian Beltre: He's always been a good pitcher. He knows how to keep hitters off balance. We got to him in the first inning, but he bounced back and silenced our bats.
Josh Hamilton: He wasn't overpowering. He did a good job mixing his pitches up. Hats off to him and give him a lot of credit for coming back on three days' (rest) and getting after it like he did, especially after the first inning.
David Murphy: He knows how to pitch. He always competes. When he gets runners on base, he gets that much tougher.
Hamilton praised his teammate, Mike Napoli: Napoli, whatever he was asked to do, whether it was DH, first base, or catch, he did it. And he hit. And that's tough. But you know what? He had a great year.
On losing the World Series again: It sucks. We advanced a little further than we did last year, but we came up a little short. ... We've got a special group of guys here ... I was happy to come to the field every day, and it was a joy to come here. It really is like a family.
Murphy admitted he couldn't completely shake off Game 6. It's hard not to think about last night. But in the end, they beat us, regardless of what happened last night. They still had to come out and earn it, and they did. I don't think anybody was thinking that it was over (after Game 6). You can look back on that now that the Series is complete. But coming to the park today, nobody was dwelling on last night. We came out expecting to win tonight. There was only one course to take. To think about how bad this feels and then to prepare all off-season and mentally stay hungry and come back next year and be that team that's celebrating.

Asked to compare this year's defeat to the one in 2010 against the

Giants

, Michael Young answered: It's more disappointing. I think that's pretty obvious. We were closer. ... (The loss) will sit with us for a little bit, but we'll put it behind us. He added: The last two nights have been difficult, but I'm proud of our effort as a team. I loved suiting up with these guys all season long, and I loved suiting up with them the last two nights.
Elvis Andrus: I think it is tougher than last year, hurt a little deeper this year because of the situation. We were so close to winning it, so close, but, like I always say, things happen for a reason.