Jarrod Washburn

Ramon Ortiz

Kevin Appier

Rally Monkey


Jason Schmidt

Russ Ortiz

Robb Nen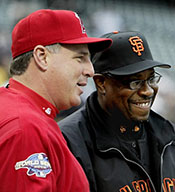 Mike Scioscia and Dusty Baker

Joe Buck and Tim McCarver

Barry Bonds and Rally Monkey

John Lackey

Livan Hernandez

Angels fans with their ThunderStix

Kenny Lofton

Bengie Molina throws our Aurilia after dropping strike 3.

Jeff Kent

David Eckstein

Barry Bonds approaches the plate.

Benito Santiago

J. T. Snow

Reggie Sanders

David Bell

Troy Glaus

Brad Fullmer

Scott Spiezio

Bengie Molina

Adam Kennedy

Pedro Feliz

Salmon hit by pitch.

Chad Zerbe

Kirk Rueter

Brendan Donnelly

Bonds after futile AB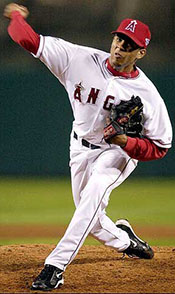 Francisco Rodriguez

Tsuyoshi Shinjo

Percival after last out

Scioscia at awards ceremony

Anderson, hero of Game 7

Peter McGovern and Baker after game

Salmon and Scioscia display World Series trophy at Anaheim celebration
The Los Angeles Angels began play as an AL expansion franchise in 1961.
41 seasons later, the franchise still had not won its first American League pennant.
After competing as the California Angels from 1965-96, the club became the Anaheim Angels.
During all that time, the Angels won the AL West just three times.
The '79 team lost to the

Orioles

in four games in the ALCS.
Three years later, the Angels blew a 2-0 ALCS lead to the

Brewers

.
The '86 ALCS was the real heartbreaker. Leading three-games-to-one, California was one strike away from the World Series when Dave Henderson hit a two-run HR to give the

Red Sox

a 6-5 lead. The Angels tied the game in the bottom of the 9th only to lose in the 11th. Given new life,

Boston

won the last two games at home.
Entering the '02 season, no one pegged the Angels as contenders in the AL West.
The offseason acquisitions added no players of substance to the team that finished 3rd in '01 with a 75-87 record, 41 games out of 1st.
Manager Mike Scioscia had not impressed anyone during his two years at the helm.
But shaking off a 6-14 start, the worst in franchise history, the Angels carved out a 99-63 record in '02.
They led the AL in batting average (.282) and were second in ERA (3.69 to

Oakland

's 3.68).
They finished four games behind the

Athletics

but earned the franchise's first ever wild card playoff berth.
Anaheim knocked off the four-time defending AL champion

Yankees

in four games in the first round.
Then the Angels rolled over the

Minnesota Twins

in five games to finally reach the World Series.
The Angels were a team of overachievers and unlikely heroes.
Members of the mound staff also reached career highs.
27-year-old righthander Jarrod Washburn won 18 and struck out 139 with a 3.15 ERA - all the highest of his five-year ML stay.
Ramon Ortiz, a journeyman at age 29, had a career year that he would never duplicate: 15 wins, 162K, and 3.15 ERA.
34-year-old Kevin Appier contributed 14 wins in his 14th big league season.
The Angels closer since '96, Troy Percival saved 40 of 44 opportunities.

Angels' fans attributed their heroes' success, in part, to the Rally Monkey. On June 6, 2000, the video board operators showed a clip from "Ace Ventura: Pet Detective." The snippet showed Ace's monkey jumping up and down and screeching. With the Angels down in the bottom of the 9th, the operators showed the monkey again with the phrase "Rally Monkey" above it. When the home team rallied to win, a legend was born.
The Monkey worked overtime in '02 when the Angels staged 18 comebacks after trailing in the 7th inning or later. By that time, the star of the video was a real monkey in an Angels jersey.
The San Francisco Giants were picked to finish 2nd in the NL West behind the World Champion Arizona Diamondbacks, and that's what they did.
Dusty Baker's crew won 25 of their last 33 and the final eight in a row to achieve a playoff berth.
Like the Angels, the

Giants

parlayed their wild card spot into a National League championship.

SF

took three-of-five from

Atlanta

, then dispatched the

Cardinals

four-games-to-one to earn the franchise's first Fall Classic berth since the fated Earthquake Series of 1989.
Barry Bonds couldn't duplicate his incredible '01 season: 73 HRs, 137 RBI, and 177 BB.
His '02 numbers paled only in comparison to the previous season: 46 HR, 110 RBI, and 198 BB. The last stat broke Barry's own walks record set the season before.
What didn't pale was Bonds's .370 batting average, which, like his 198 walks (68 intentional), led the NL.
Barry's .582 on-base % broke Ted Williams' .553 set in his .406 season of 1941.
Bonds finally made it to the World Series in his 17th ML season.

Barry

told reporters before Game One:

This is a dream come true. I finally made it to the game. I just feel right now we got through our ghosts of the past, the

Braves

, who've haunted me for years. That was a big key for me.

He was referring to

Atlanta

eliminating his

Pirates

in both 1991 and '92 after the

Reds

had done so in '90.
But one man cannot win a pennant alone.
2B Jeff Kent added to his resumé as one of the best-hitting 2Bs in MLB history with 37 HR, 108 RBI, .313 BA.

Manager Baker made a fateful decision in June when he swapped Kent and Bonds in the order, with Jeff batting 3rd in front of Bonds. The change kick-started Kent into his sixth consecutive 100-RBI season.

Slick-fielding 34-year-old 1B J. T. Snow revived his career after a subpar 2001.
2001: 70 hits, .246 average, 34 RBI
2002: 104 hits, .246 average, 53 RBI
A free agent from the

Dbacks

'01 titlists added clout to the

Giants

' lineup. RF Reggie Sanders smacked 23 HRs and drove in 85.
CF Kenny Lofton provided a spark at the top of the lineup after his acquisition from the

White Sox

July 28.
While Frisco ranked 3rd in the NL in runs, their pitching staff ranked 2nd in ERA (3.54).
While no starter won more than 14 games, all five members of the rotation won at least 12 games.
6'5" righty Jason Schmidt, finally back at full strength after shoulder surgery in 2000, won six of his last seven decisions to finish 13-8.
Another righthander, Russ Ortiz, won his last six starts to raise his final mark to 14-10.
Closer Robb Nen, who joined the

Giants

in '98 after closing for the World Series champion

Marlins

the year before, racked up 43 saves in 51 opportunities.
The Angels rated a slight favorite over the Giants.
Dusty Baker had been a mentor to Mike Scioscia, nine years his junior, when they played for the

Dodgers

from 1980-83.

Scioscia told the press as the Series started: I know how hard his club has played, how hard Dusty has worked, and I know what we've done on our side. I think it's just an incredible accomplishment to get this far, and when you have a guy on the other side who I respect as much as anybody I've ever met, it's going to be fun and going to be a challenge.

Slumps by two of their top hitters in the playoffs concerned the

Giants

. Kent had no HRs and just one RBI in 38 at-bats. Sanders went 5-for-34 with one RBI and was benched for Game 5 against

St. Louis

.
Fox broadcast the Series for the third straight year.
Joe Buck did the play-by-play with Tim McCarver providing commentary.
Steve Lyons served as field reporter.
Series Results
Saturday, October 19 @ Anaheim:

Giants

4 Angels 3
WP: Jason Schmidt; LP: Jarrod Washburn
Sunday, October 20 @ Anaheim: Angels 11

Giants

10
WP: Francisco Rodriguez; LP: Felix Rodriguez
Tuesday, October 22 @ San Francisco: Angels 10

Giants

4
WP: Ramon Ortiz; LP: Livan Hernandez

Wednesday, October 23 @ San Francisco:

Giants

4 Angels 3
WP: Tim Worrell; LP: Francisco Rodriguez
Thursday, October 24 @ San Francisco:

Giants

16 Angels 4
WP: Chad Zerbe; LP: Washburn
Saturday, October 26 @ Anaheim: Angels 6

Giants

5
WP: Brendan Donnelly; LP: Worrell
Three of the first five games resulted in four double-digit run totals by the two teams.
The Angels won an 11-10 slugfest in Game 2.
Anaheim scored 10 more runs in Game 3.
The

Giants

clobbered the Angels 16-4 in Game 5.
The result was an average of over 3 1/2 hours per game.
To boot, the all-California matchup has received record low ratings 25% below 2001's ratings, with the drop steepest in the Eastern time zone.
San Francisco
were three innings away from winning the Series.
They led 5-0 in the bottom of the 7th of Game 6.
But the Rally Monkey went to work, and the Angels scored three in the 7th and three in the 8th to pull out the 6-5 victory.
The most famous incident of the 2002 World Series occurred in Game 5 and didn't take place inside the field of play. With two runners on,
Barry Bonds
smashed a long fly off the RCF wall at Pacific Bell Park.
Dusty Baker
's three-year-old son
Darren
, serving as
Giants
batboy, ran out to pick of the bat without waiting for the play to end. As the first runner,
J. T. Snow
, crossed home plate, he picked up the little guy and carried him out of harm's way as
David Bell
scored also.
Watch video ...
The pitching matchup for the finale would not come close to equaling the Roger Clemens vs Curt Schilling battle of 2001's Game 7.
Mike Scioscia chose rookie John Lackey for Game 7.
Ramon Ortiz, the winning hurler in Game 3, had been scheduled to start, but tendinitis in his right wrist made the Angels back off of him.
Lackey was 9-4 with a 3.66 ERA in 18 starts after being called up from AAA in mid-summer. He started and won an ALCS game against

Minnesota

but this would be his first World Series start after hurling 2 1/3 innings in the Game 2 slugfest.
Baker would go with Livan Hernandez, the loser in Game 3 when he gave up five hits and six runs (five earned) in 3 2/3 innings.
Hernandez's line for 2002 was 12-16, 4.38 ERA in 33 starts. Pitching for the Marlins, he won the 1997 NCLS and World Series MVP awards for beating

Atlanta

twice, then

Cleveland

twice. His defeat in Game 3 against the Angels was his first in postseson play after six wins.

Peter Magowan

, the

Giants

' managing partner, dreaded the thought of losing Game 7 after coming so close to winning the Series in Game 6.

It would be pretty hard to take, especially when they'll have to think about Game 6, how close we were, eight outs away. I was counting the outs; eight outs to go and nobody on base.
San Francisco Lineup

| | |
| --- | --- |
| Kenny Lofton | CF |
| Rich Aurilia | SS |
| Jeff Kent | 2B |
| Barry Bonds | LF |
| Benito Santiago | C |
| J. T. Snow | 1B |
| Reggie Sanders | RF |
| David Bell | 3B |
| Pedro Feliz | DH |

Anaheim Lineup

| | |
| --- | --- |
| David Eckstein | SS |
| Darin Erstad | CF |
| Tim Salmon | RF |
| Garret Anderson | LF |
| Troy Glaus | 3B |
| Brad Fullmer | DH |
| Scott Spiezio | 1B |
| Bengie Molina | C |
| Adam Kennedy | 2B |
44,598 gathered on a cool, clear Southern California evening at Edison Field in Anaheim. They beat their ThunderStix throughout the game.
The home team had won the last seven 7th games. Would the Angels extend that streak or would the

Giants

win their first championship in San Francisco?
The last three Game 7's saw the winning run score on the last play. Would this one go down to the wire?
Would Lackey become the first rookie P to win a Game 7 in 93 years?

Before the game, Benjie Molina met with his twin brother Jose (called "Cheo"), who caught Lackey in the minors. His inside fastball worked as a cutter, Cheo told me, so you should use it to your advantage against lefties.
"And use the changeup," he said, "even though it's not a great pitch for him."
1st inning
2nd inning
LF Barry Bonds, hitting an even .500 (7-for-14) in the Series, lined to SS Eckstein playing where the 2B would normally stand.

After hitting just one postseason HR coming into 2002, Bonds had eight roundtrippers. Suspicions about how he generated such power would be confirmed in the years to come.

C Benito Santiago grounded a single under the glove of a lunging Eckstein into CF.
With Santiago running on a 3-2 pitch, J. T. Snow (8-for-23 with a HR in Game 1) lined a single into RCF to put runners at 1st and 3rd. J. T. could have gone to 2nd because no one was covering the bag.

Snow

grew up rooting for the

California Angels

while his father

Jack

played WR for the

Los Angeles Rams

.

RF Reggie Sanders had not shaken his postseason slump (.250 in World Series with 18 Ks overall, 9 in Series). Facing another full count, Lackey and threw a slider that broke low and outside. But Sanders got enough of the bat on the ball to pull a fly to LF that scored Santiago.
3B David Bell fanned.


Giants

1 Angels 0

Baker had a conversation with Jerry Crawford between innings, undoubtedly about Jerry's strike zone and Livan's reaction to it.

3B Troy Glaus became Hernandez's first strikeout victim.
DH Brad Fullmer hit a liner to LCF that Lofton tracked down.
Scott Spiezio, one of Game 6's heroes with a two-out 3-run HR in the 7th to start the Angels' comeback, walked on a low 3-2 curve.
An outstanding defensive C, Bengie Molina had only four hits in the Series. But he stroked a hanging 2-1 curve to the wall in LCF for a run-scoring double.
Adam Kennedy, a lefthand-hitting 2B, flew to CF.


Giants

1 Angels 1

3rd inning
Pedro Feliz was a surprise DH for Game 7.

Although Feliz was a righthand batter, Baker liked Pedro's chances against Lackey's style of pitching. Dusty also wanted to keep lefthand-hitting Tom Goodwin on the bench in case he wanted to pinch-hit him for Sanders at a crucial spot in the game.

Feliz bounced to 3rd.
Lofton grounded to Spiezio unassisted.
Aurilia flew to LF.
Eckstein lined a single on one hop to Bonds.
Asked to bunt in this situation in the 1st, Erstad hit away and lined an outside fastball into LF to put runners on 1st and 2nd.

Surprisingly, no one started throwing in the

Giants

bullpen.

Batting out of an uncomfortable-looking crouch, Salmon was hit by a 2-2 fast ball tailing up and in.

The trainer checked

Salmon

's right hand, which the pitch hit as the

SF

bullpen finally stirred. Lefty

Chad Zerbe

and righty

Jay Witasick

started loosening.

With a chance to break open the game with the bases loaded and none out, Anderson ripped a high 1-1 fastball into the RF corner to clear the bases. Sanders fumbled the ball at the wall as a fan pounded him on the back with a ThunderStix (The fan was ejected from the stadium.)

Anderson after the game: I just wanted to get in a situation where I was gonna be able to hit my pitch. Just look for something out over the plate and not try to do too much. He made a mistake over the plate and he paid for it.

Glaus was walked intentionally, giving more time for relievers to warm up.
Baker brought in Zerbe to face the lefthanded hitting Fullmer.

Chad

had given

Baker

four innings of four-hit relief in Game 2, allowing only one earned run in the 11-10

Giant

victory.

Hernandez

:

I felt good. I threw good in the bullpen. I don't have an excuse. Anaheim beat me.

Fullmer grounded to Aurilia, who threw to 2nd for the first out. But the throw to 1st was too late. Runners at 1st and 3rd with one down.
A switch-hitter, Spiezio moved to the right side, from which he hit .368 during the season. Bell grabbed a high chop as he crossed the foul line just behind the 3B bag and threw on the run to Santiago, who put the tag on Anderson.
Molina grounded out 4-3.
Angels 4

Giants

1
4th inning
Kent took a tailing fast ball on the inside corner for strike three.
Bonds took a 2-0 fastball right down the middle. Then he hit the next delivery to the right of 3B Glaus playing behind the 2B bag. Troy made a diving stop but had no chance to make the play at 1st.
Santiago lined a single to CF, Bonds stopping at 2nd.
Just that quick the tying run came to the plate in the person of Snow. But Jack lined to CF.
Known as a low fastball hitter, Sanders swung through two high hard ones. Then he skied to Salmon to end the threat.
Southpaw Kirk Rueter, a starter throughout the season, took the hill and worked a 1-2-3 inning.
Kennedy fought back from 0-2 to run the count full, then whiffed on a high fastball.
Eckstein lined to Bonds.
Erstad fanned on a curve that broke far outside.
5th inning
Bell drove a 3-2 pitch into LCF. Erstad came on and made a diving catch.

Erstad makes diving catch on Bell's liner.

Lackey blew two fastballs by Feliz, then got him on a low curve.
Lofton coaxed a full-count walk.

Pitching coach Bud Black visited the mound as Brendan Donnelly got up in the pen.

Aurilia had hit six postseason homers. But not this time as he flied to Salmon.
Lackey had given the Angels the five innings that Scioscia wanted.

Black met Lackey as he came to the dugout and told his pitcher to go change his shirt. "The boys will take it from here." He was referring to the Angels' bullpen, which compiled the lowest ERA in the majors.

Salmon rolled to SS.
Anderson did the same to Snow.
Glaus walked.
Fullmer went out 1-3.
6th inning
Brendan Donnelly, the winning pitcher in Game 6, came in to face the heart of the

Giants

' order. Like most relief pitchers, he threw every pitch from the stretch.

The 31-year-old rookie had been released by six teams and played in two independent leagues. He was a replacement player in 1995 and, because of that, the players' association kept his name off the Angels' licensed World Series memorabilia.

Kent pounded a two-hopper at Glaus.
Batting for the third time with the bases empty, Bonds popped to SS.
Santiago walked on a full count.
Snow smacked a liner that one-hopped the RF wall. Santiago stopped at 3rd on the double.
Tom Goodwin batted for Sanders as Black visited Donnelly.
Donnelly got ahead of the pinch-hitter 1-2 as the din increased. After two fouls, Goodwin fanned.

Benjie Molina: Cheo kept me relaxed. "One inning at a time," he said when I came into the dugout. "Get each pitcher through one inning." He sounded just like Pai (their father).

Goodwin stayed in the lineup in RF and immediately caught the first out off the bat of Spiezio.
Molina crashed his second double of the evening, this one high off the RCF wall.

Witasick hurriedly started throwing in the bullpen.

Kennedy grounded to 2nd, the runner taking 3rd.
Kent saved a run by making a diving catch of Eckstein's low liner.

7th inning
Donnelly continued on the hill as Francisco Rodriguez and Scott Schoeneweis threw in the Angels bullpen.
Bell hit the ball as far as you can to LF and not have it go over the fence. Anderson caught the ball a foot from the fence.
Feliz's woes continued with a three-pitch strikeout.
Then Lofton repeated Bell's frustration, this time to RCF into the glove of Erstad.
Rueter continued to frustrate the Angels' desire for an insurance run and add fuel to the fire for those who criticized Baker for starting Hernandez instead of Kirk.
Erstad chopped to Kent.
Salmon started to 1st on the 3-2 pitch that he thought was low, but Crawford called him out.
Lofton went back and caught Anderson's fly.
8th inning
Alex Ochoa took over in RF while hard-throwing rookie righthander Francisco Rodriguez took over the pitching chores.

Rodriguez, age 20, had been added to the roster just in time for postseason play. He appeared in five games, pitching 5 2/3 scoreless innings.

The

Giants

would dearly love to get two on for Bonds. But Aurilia struck out on a low outside slider.
Kent also whiffed.
So Bonds, who hit a long HR off a Rodriguez changeup in Game 6, came to the plate for the fourth time with no one on base. Barry walked for the 27th time in the postseason with 13 in the Series.
Santiago completed Francisco's strikeout-the-side inning.

Benjie told his brother between innings, "I don't want to cry on TV. So when we win, don't come to me because you'll make me cry."
"Okay," he said. "Three more outs."
"I'm serious man. Don't come to me."

The Game 6 losing P, Tim Worrell, came in to pitch for the visitors.
He started by fanning Glaus.
Snow made a great diving stop on Fullmer's hard grounder just inside the 1B line. Worrell took the toss for the 2nd out.
Spiezio popped to Bell.
9th inning
Scioscia brought in his 40-save closer, Troy Percival, who was 6-for-6 in the postseason.
Troy fell behind Snow 2-0 but fought back to 2-2 before surrendering J. T.'s third hit, a single to RF.
Kennedy took Goodwin's bouncer and threw to Eckstein for the forceout.
With Bell at the plate, Goodwin took 2nd on defensive indifference. A 3-1 walk brought the tying run to the plate as Black trotted to the mound.
The first Japanese position player ever to appear in a World Series game, Tsuyoshi Shinjo, a high fastball hitter, replaced Feliz and immediately dug himself an 0-2 hole, Percival's first heater registering 98 mph, the hardest he had thrown all month. Three pitches later, he flailed at an outside fastball.
Lofton hit the first pitch high in the air to RCF. Pandemonium broke out when the ball settled in Erstad's glove.
FINAL SCORE: ANGELS 4

GIANTS

1

Erstad on catching the final out: I wasn't shaking, but I wasn't breathing either. I said to myself, this is the toughest catch I'll ever make in my life. Just use two hands, like my dad always taught me. I didn't even feel it hit my glove. I heard the crowd cheering, so I must have caught it. There's no feeling like this in the world.
Bengie Molina: The ball dropped safely into Erstad's glove. Oh my goodness. I hurled my mitt into the air, ripped off my mask, and bolted to the mound. Erstad was racing in, holding the ball over his head. I leaped onto Percival as everyone from the dugout swarmed us, jumping and screaming and hugging. in the jostling, I fell to the ground and suddenly found myself on my knees as if in prayer, my eyes closed and my arms in the air, thanking God. This was beyond dreams. Beyond anything.
When I opened my eyes, there was Cheo.
"I told you," I said, climbing to my feet to hug him. We held on to each other and cried.

Molina and Glaus jump on Percival


Postgame
The MVP award went to Troy Glaus, who smacked three HRs and eight RBIs during the Series, including the winning double in Game 6.
The first Series between two wild card teams set offensive records.
Most runs scored (85, eclipsing the record of 82 by the

Yankees

and

Pirates

in 1960)
Most total bases (231, six more than 1960)
Most extra-base hits (45)
Most home runs by one team (14 by the

Giants

, two more than the 1956

Yankees

)
Most home runs by the two teams (21, four more than the

Yankees

and

Dodgers

in three different World Series)
Angels Clubhouse
Scioscia on Lackey: This guy is not going to rattle. He's not going to be intimidated.
On the MVP: Troy Glaus stepped up and did what big-game players do in series like this. The hits he got for us were just incredible.
Lackey insisted he wasn't nervous about starting Game 7. I've been pitching in big games for a few months now. If you don't want to go out there with a little pressure and pitching in big games, you shouldn't be around. ... This is awesome. It doesn't get any better than this.
Asked how he could be so cool under pressure, he replied: It might have something to do with where I come from. I come from a kind of slower pace, not too big a town. We don't get too fired up about much. Just kind of go out, work hand, and handle your business.
Pitching coach Black on Lackey: You can't discount experience, but a lot of times, youthful aggressiveness pays off.
On the pitchers used in Game 7: Lackey, Donnelly and Rodriguez weren't here the first half of the season. But tonight, you saw what talented young players can do.
Donnelly on his circuitous route to the big leagues: A lot of guys take different roads. Mine's just one story. Everybody has a story. We all feel a sense of accomplishment. I'm nothing special.
MVP Glaus: These fans have been waiting a long, long time. And I know we're all happy to be part of the team to bring it to them. ... At this point, I don't know how I'm feeling except ecstatic. Referring to his award, he said: We play for the big trophy with the pennants on it, not for these. No one guy on this team has gotten us to this point or carried us through this point. It's been a team effort all the way through, 25 guys. Asked about his team's multiple comebacks in the Series, Troy said, Actually, we've had that way of thinking all year. No matter what we came up against, we were going to play hard and leave it all out there, and that's what we did here.
Salmon held a white cowboy hat that belonged to the late Angels' owner, Gene Autry. I asked Mrs. Autry for one of Gene's hats. I had it in my locker, but I brought it into the dugout when things looked safe. When was that? The ninth inning. ... He's up there pulling strings for us.
Spiezio: Everybody said this team couldn't do it and kept bringing up history that had nothing to do with us. We proved them wrong. It's amazing to believe that we won it.
Erstad: I tell you, since I was a little kid, I always wanted to win a World Series. Not just get there, but win it. I can't imagine a better story than this team winning it.
Anderson: I can't believe it, man. It's been a long year - a testament to the guys who never gave up. ... I still can't believe the ringing in my ears right now.
Percival: Unbelievable for us, for our fans. This team has worked as hard as any team ever. We deserve it. ... I tell you what, Barry Bonds is the best hitter I've ever seen. But we threw nine clutch hitters at them. We had nine guys who wouldn't quit.
Giants Clubhouse
Many of the

Giants

were devastated and said Not now when asked to talk about the game.
Baker went around the clubhouse congratulating each player on a fine season. Facing the press, Dusty deferred questions about whether he would return to the

Giants

. It's a difficult time right now. Your heart is heavy. You stomach is empty. You know, your head and your brains feel full right now. It's a very difficult time.
On Lackey: We didn't really have him on the ropes that much. I kept watching his pitch count. I knew they were going to go to that bullpen soon. We were hoping we could get to the bullpen earlier than we did.

Baker

never managed another game for the

Giants

. He moved to the

Cubs

for the '03 season in time to lead them to the NLCS and the famous "

Bartman

Game" against the

Marlins

.

GM Brian Sabean: I'm heartsick that some of these folks may not have a chance to do this again. They played as hard as they could ... but they came up against a team that had a lot going for them.
Peter Magowan, the

Giants

' managing partner, told Baker, Thank you. Thank you for a good job. Then Peter said he will always remember Game 6. It's a game that can break your heart. It broke mine. To come as close as we did is hard to take. I'll remember last night, I think, as long as I'm in baseball unless we win the World Series some day. If we win the World Series one day, I'll forget about last night that night.
Bonds: They outplayed us. They deserve it. They're world champs. They just battle. They come back. They take advantage of mistakes, and they're a good contact-hitting team. One through nine. They play to the end. On his first World Series: I enjoyed it. I did. I'm not going to lie. It was a good time. I was more ready for it than ever. Unfortunately, I'm on the short end of the stick. But I tip my hat to them. Those guys played very well. Luck on their side and good baseball. ... You can't be mad for doing your best. You can be disappointed, but somebody has to win. Barry bristled at the suggestion that he hadn't had a good night in the biggest game of his career. I went 1 for 3 with a walk; that's a good day. Am I supposed to go 3 for 3 with three homers? What do you want from me?
Kent: We went up against a team - and this is going to sound like a stupid word - of destiny. It seemed like everything just went their way, and we couldn't cue it up.

His contract up,

Kent

signed a two-year deal with the

Astros

before finishing his career with the

Dodgers

from 2005-08.

Aurilia: We lost Game 6. They beat us in Game 7.
L: Angels' victory parade through Disneyland
R: Ad in sports pages of the
Los Angeles Times
two days after the World Series
References:
Unforgettable! The

Giants

' Spectacular 2002 pennant-winning season
,
San Francisco Chronicle
(2002)
Molina: The Story of the Father Who Raised an Unlikely Baseball Dynasty
,
Bengie Molina
with
Joan Ryan
(2015)
Next in this series:
2011
Rangers
@
Cardinals