1972 - Game 7: Oakland Athletics @
Cincinnati Reds
Bob Howsam

Mike Epstein and Reggie Jackson in phony show of friendship


Billy North


Charlie O. Finley and his mustachioed manager Dick Williams


Joe Cronin


Bowie Kuhn


George Hendrick

Tony Perez

The 1972 season was tainted by the first players' strike in MLB history.

The strike began April 1 and lasted until the 13th.
Baseball resumed when the owners and players settled on a $500,000 in­crease in pension fund payments. Owners agreed to add salary arbitration to the Collective Bargaining Agreement.
The 86 games that were lost during the strike were never played because the owners refused to pay players for the time they were on strike. Teams lost anywhere from six to nine games.

Pennant Races

Sparky Anderson's Reds won their second pennant in three seasons as GM Bob Howsam improved the ball club significantly since 1970.

Five of the eight starters on the '70 squad returned, although two switched positions. Johnny Bench continued behind the plate and led the team with 40 HRs and 125 RBIs. Bobby Tolan patrolled CF while Pete Rose moved from RF to LF and led the team with a .307 BA. Dave Concepcion anchored the INF at SS. Tony Perez transferred from 3B to 1B.
The team leader in runs with 122, Joe Morgan upgraded 2B as did Cesar Ge­ronimo in RF. Denis Menke held down the hot corner.

Cincinnati

finished 2nd in the NL in runs with 707, just one behind the

Astros

.
No one stood out on the pitching staff which finished 3rd in the league in ERA. Gary Nolan compiled a sparkling 1.99 ERA and led the club in wins 15, one more than portsider Ross Grimsley. Jack Billingham contributed 12 victories. Anderson, known as "Captain Hook" for the frequency with which he went to his bullpen, used Clay Carroll for 64 games (37 saves) and Pedro Borbon for 62.
The

Reds

bested the defending World Series champion

Pirates

in a tight five­game league championship series that ended with a wild pitch by Bob Moose in the bottom of the 9th.

Morgan severely injured his heel in Game Four. With a novocaine injection in it for the deciding game, he got through Game Five with no balls hit his way and no hits to run out. Joe then had several days to heal be­fore starting the World Series. The future Hall of Famer would not get a hit in the first five games of the Fall Classic.

The

Oakland A's

, who had lost to the

Orioles

in the ALCS in '71, upended the

Detro­it Tigers,

the East victors, to cop the franchise's first pennant since 1931 when they were the

Philadelphia Athletics

.

Dick Williams' balanced squad finished 2nd - to two different teams - in both runs scored and runs allowed.
Led by Mike Epstein (26 HRs) and Reggie Jackson (25), the A's topped the Junior Circuit in circuit clouts. LF Joe Rudi (19), C Dave Duncan (19), and 3B Sal Bando (15) all registered double-digit HR counts.
Four players drove in 70+ runs: Bando (77), Rudi (75), Jackson (75), and Ep­stein (70).
Bert Campaneris stole more bases, 52, than anyone else in the AL and played a solid SS.
Catfish Hunter led the staff with 21 wins against only 7 losses and a sterling 2.04 ERA. Southpaw Ken Holtzman contributed 19 victories while Blue Moon Odom added 15.
Rollie Fingers was Old Reliable out of the bullpen with 11 wins and 21 saves.

The two teams couldn't have been more different.

Sparky Anderson ran a tight ship from the moment he took over the club in 1970.

His mother taught him that facial hair was uncouth. So all the

Reds

were clean shaven. They wore traditional uniforms with black shoes.
Sparky insisted his players speak and dress like professionals. They car­ried themselves with a businesslike demeanor. Each player wore his uni­form exactly like every other guy on the team, even during practice.
Years later, Johnny Bench summarized the players' feelings about An­derson. Sparky made it enjoyable to play. ... He had a mutual love and re­spect for the way we loved the game and the way we went about it. ... We respected Sparky so much that we wanted to play for him. I think it was a situation where we had so many egos we could have gone the other way. You need to have someone in control. Sparky was that man.

By contrast, Dick Williams' A's were constantly described as "colorful," "fei­sty," even "combative."

Williams had actually run the

Red Sox

(1967-69, including a World Se­ries appearance the first year) like the former Marine that he was, and he wore the crew cut to match.
But he adapted to the new situation in Oakland. After unsuccessfully convincing Reggie Jackson to shave his mustache, Dick grew one of his own and tolerated long hair and had no problem with the white shoes the A's wore.

Jackson showed up at spring training in 1972 with a full mustache and promised to grow a beard before Opening Day. A's owner Charlie Fin­ley instructed Williams to tell Jackson to shave, but Reggie told his manager to shove it. Attempting to use reverse pyschology on the individualistic A's star, Finley talked other players into growing mus­taches, the idea being that Jackson would get rid of his once he wasn't the only one bucking the system. But it didn't work. When the mustaches became popular with the fans, Finley decided to capitalize on the fuzz buzz by offering players $300 if they grew a mustache by Father's Day. In that era before free agency and salary arbitration, cash for a 'stache was too good to pass up. Even Williams ended up with a lip rug, and the Athletics became "The Mustache Gang."

The A's were hardly a happy family. Players feuded with each other - Jackson got into clubhouse fisfights with both Epstein and Billy North - and with Williams, in part because of the skipper's acerbic, needling style. But they were unified in one respect: none liked their parsimonious owner,

Hunter recalled: On some teams, you might look into a corner of the clubhouse and think, that son of a bitch is loafing, that son of a bitch isn't carrying his load. On every club probably some players think that about others. But on the Athletics, you didn't just think it, man. You said it.
Captain Sal Bando on the team's least-liked player: At times on this club you need someone to speak up. When no one else is willing, it's Reggie who has the guts to say what has to be said. I admire him for that.

But amid all the flamboyance and distractions, Williams stressed the basics of baseball just like his counterpart, Anderson. One Athletics front office person recalls: The thing that sticks in my mind about Dick Williams is the word "fundamentals." I remember the first spring training. That's all he talked about - making the basic plays and playing fundamental baseball. It didn't go over right away here. The opinion was just because it worked in Boston, didn't mean it was going to work here. But we won over 100 games that first year and, although we lost in the playoffs to the

Ori­oles

, we felt like we were on the verge of something big. I think he played a major part in that.
Reggie Jackson echoed that theme. He came to us at a very good time in our development and certainly for me as a young player full of talent ... We were young and needed to understand how to go about winning and take the final step to become a great team. He was very important in that. He demanded excellence.

The

Athletics

received good news and bad news heading into the World Series.

The good news: SS Bert Campaneris, who had been suspended for the final three games of the ALCS by league President Joe Cronin after throwing a bat at

Detroit

P Larrein LaGrow. Commissioner Bowie Kuhn reinstated Bert for the World Series but suspended him for the first seven days of the 1973 sea­son. I have decided that suspending him during the World Series would unfairly penalize his innocent teammates and would impair the ability of the Oakland club to perform at its best in the Series.
However, slugger Reggie Jackson would not be able to play because of an injured leg sustained when he slid into home safely on the front end of a de­layed double steal in the 5th game of the ALCS. George Hendrick and Angel Mangual would alternate in CF for the A's.

Tenace

recalled:

After that series against

Detroit

we went into the World Series one very relaxed ball club. We'd been drained. We figured that nothing could be as nerve-wracking as those games. ...

Cincinnati

had a great team, no doubt about it. ... But we knew we had the good pitching and that we'd have a chance if we could stay close.
Fingers

agreed.

The

Reds

were a great team, but I felt the pressure was all on them. They were expected to win. Nobody expected anuthing from us, but we knew we were good.

Many writers wondered if the Series could top the two great league championship series, both of which went the full five games, with the finale being decided by one run.

Las Vegas established the

Reds

as favorites by 7-5 or 3-2 depending on which book you chose.
Anderson didn't shy away from making a prediction. Cincinnati and

Pittsburgh

are the two best teams in baseball. We beat the

Pirates

in the playoffs. That sort of makes the World Series anticlimactic.
One

Red

who looked forward to the Series as a chance for redemption was Tony Perez. He hit only .056 in the '70 Classic against the

Orioles

with one harmless single.

Dick Williams and Sparky Anderson listen to umpire Nestor

Chylak go over the ground rules before Game One


Gene Tenace


Vida Blue


Gene Tenace hits a Series HR.


John "Blue Moon" Odom


Jack Billingham

Series Results

Saturday, October 14 @ Cincinnati: Athletics 3

Reds

2
WP: Ken Holtzman; LP: Gary Nolan
Sunday, October 15 @ Cincinnati: Athletics 2

Reds

1
WP: Catfish Hunter; LP: Ross Grimsley

Wednesday, October 18 @ Oakland:

Reds

1 Athletics 0
WP: Jack Billingham; LP: Blue Moon Odom
Thursday, October 19 @ Oakland: Athletics 3

Reds

2
WP: Rollie Fingers; LP: Clay Carroll
Friday, October 20 @ Oakland:

Reds

5 Athletics 4
WP: Grimsley; LP: Fingers
Saturday, October 21 @ Cincinnati:

Reds

8 Athletics 1
WP: Grimsley; LP: Vida Blue

The A's jumped out to a 3-to-1 lead in games.

The first four games saw pitching reminiscent of the Dead Ball Era with a com­bined run total of 8-6 in favor of the A's.
The unexpected hero for Oakland was C Gene Tenace, who clouted four HRs in the first five games to tie a Series record. He drove in seven runs, including all three in the one-run victory in the opening contest. He had never hit two HRs in a game in the majors but became the first man to do so in his first two World Series ABs.

Tenace

's performance surprised everyone, including himself - especially after he went 1 for 17 (.059) in the ALCS.

He hadn't started playing regularly until August when

Williams

benched regular C

Dave Duncan

.

Tenace

:

Duncan hadn't been hitting too well, and it seemed to be affecting his defensive play. So Dick Williams ... put me behind the plate. We got going again after that and moved back into first place and stayed there. I guess Dick didn't want to break up the combina­tion, and he stuck with me for the rest of the year. ... I'd been sitting around all year not doing much of anything. Under those circumstances, ... it's easy to become frustrated and lose interest. But I was lucky. I was rooming with Sal Bando. He wouldn't let me become depressed. He kept telling me day after day to keep ready, to stay in shape and be mentally alert. Williams

later explained the move:

I just had a hunch. Tenace hadn't had a good series against

Detroit

. He only got one hit. But that hit knocked in the winning run in the fifth game, so I thought he might be a good guy to have in the lineup.


Before Game Six, a woman standing in line outside Riverfront Stadium heard a man say,

If Tenace hits another homer, he won't walk out of this ballpark.

The woman told police, who arrested the man. He had a loaded gun and a bottle of booze. Word reached the

A's

clubhouse, but, at the request of

Gene

's father, no one told

Tenace

until after the game.

Game 7: Sunday, October 22 @ Riverfront Stadium, Cincinnati

Williams tapped his young righthander Johnny Lee "Blue Moon" Odom to get his pitching back on track. Odom had lost Game 3 despite pitching very well. The talented but inconsistent righthander had gone 15-6 with a 2.92 ERA. Sparky chose Jack Billingham, who had not allowed an earned run in his two outings earlier in Series.
Anderson, who had been so cocksure before the Series, had predicted the Series would go seven games even after his team fell behind 2-0 and 3-1 in games. Without Reggie Jackson, it's a tribute to them that this thing is going seven games, said Sparky. Reggie, someone who didn't lack confidence him­self, had said while swinging a bat aimlessly beside the batting cage before Game 6, If I could play, we wouldn't be here now.
Anderson: This is the

Cincinnati Reds

baseball team. I was embarrassed before, but I'm not now. We started to look like ourselves Friday [Game 5]. We're attack­ing the ball good, and I guess we convinced Mr. Hunter we can hit a little.
The

Cincinnati

manager promised his team would continue to be aggressive on the base paths. We can't just steal a base anytime we want to, but we feel pretty sure we can run the ballgame now. ... I said as soon as we started hitting a little bit, we'd run, run, run on them until they wouldn't know what was going on. The

Reds

had stolen 11 bases in the Series, including six in their victories in Games 5 and 6.
So the Athletics skipper made a lineup change. He inserted Dave Duncan, his best defensive backstop. But he wanted to keep Tenace in the lineup because he was one of the few A's who were hitting well. So Gene moved to 1B, which he had played seven times during the season. That put regular first-sacker Mike Epstein and his 0-16 batting mark on the bench.

I had to go for defense

,

Williams

said later.

The

Reds

were running wild on the bases. Tenace couldn't throw anybody out.

Williams: It's a question of our hitters hitting. I know I'll get a well-pitched game. It all boils down ton one game. This is fun. Dick said he wouldn't hesitate to use any of his pitchers. They can rest in the off-season.
Finley: We haven't done anything the easy way all year. We did it the hard way. I guess that means seven games.
A's fans hoped the streak continued of the visiting team winning Game 7.

1965:

Dodgers

over

Twins

1967:

Cardinals

over

Red Sox

1968:

Tigers

over

Cardinals

1971:

Pirates

over

Orioles
Oakland Lineup

| | |
| --- | --- |
| Bert Campaneris | SS |
| Angel Mangual | CF |
| Joe Rudi | LF |
| Gene Tenace | 1B |
| Sal Bando | 3B |
| Matty Alou | RF |
| Dave Duncan | C |
| Dick Green | 2B |
| Blue Moon Odom | P |

Cincinnati Lineup

| | |
| --- | --- |
| Pete Rose | LF |
| Joe Morgan | 2B |
| Bobby Tolan | CF |
| Johnny Bench | C |
| Tony Perez | 1B |
| Denis Menke | 3B |
| Cesar Geronimo | RF |
| Dave Concepcion | SS |
| Jack Billingham | P |

Bert Campaneris


Angel Mangual


Joe Rudi making a great catch in Game One of the '72 Series


Sal Bando


Pete Rose


Joe Morgan


Bobby Tolan


Matty Alou


Dave Duncan


Dick Green


Johnny Bench


Denis Menke


Cesar Geronimo


Dave Concepcion


Catfish Hunter


Hal McRae


Pedro Borbon


Allan Lewis


Clay Carroll


Mike Hegan


George Foster


Ted Uhlaender


Tom Hall


Rollie Fingers


Joe Hague


Darrel Chaney

Rain fell for a half hour during the morning but stopped a half hour before game time.

The attendance of 56,040 (including 4,296 standees) was the largest baseball crowd ever in Cincinnati.
This was the first series that sold out, all seven games, in advance.
The

Reds

fans, imitating what the A's partisans had done in Games 3, 4, and 5, waved pennants to create a football-like atmosphere. Signs dotted the stands.

The Oakland manager recalled: As I walked to the stadium [for Game 7], all I could think about was that Game Seven would be a time to work my butt off. A time to pay attention to detail like never before, every tiny detail, leaving nothing unturned in those nine innings, allowing for no excuses that could haunt a man for the rest of his career. Perhaps this is why, after going to the mound 26 times in the previous six games, I went to the mound 16 times in this final game. I wanted a face-to-face with my pitchers before every tough pitch, every tricky situation. I must have lost 10 pounds from all the walking. The current World Series rule that a manager must take out his pitcher on his second visit to him in one inning - the same as in the regular season - should be called the Dick Williams Rule ...

1st inning

Campy Campaneris popped the first pitch off his fists to Cesar Geronimo in RF.
Angel Mangual (3-for-6 with the winning hit in Game 4) lined the ball to RCF where Bobby Tolan misjudged the ball. The CF came in, then leaped high, and the ball went off his glove to the wall. Mangual ended up on 3rd on the error.
The right side of the

Reds

infield came in but left side stayed halfway.
Up came Joe Rudi, one of the heroes of Game One when he made a game-saving catch against the LF wall in the 9th inning.

Rudi had become one of the best outfielders in baseball thanks to the tutelage of Joe DiMaggio, the Bay Area native who worked as a coach for the A's. He taught me how to turn and go for balls hit over my head, said pupil Joe.

Billingham, working off the stretch, threw Joe Rudi four straight breaking balls. On the 2-2 pitch, Joe flew to Pete Rose in medium LF. Mangual tagged up, started for home, but went back to 3rd.
Gene Tenace grounded to 3B but the ball hit a seam and took a high hop over Denis Menke's head into LF to score Man­gual. It was Gene's 8th RBI and the first time in the Series the A's had scored in their initial at-bat.

Tenace

, years later:

Looking back on it now, I have to say this: when you're hot, you're hot. In the first inning of that game, we had a man on third with two out, and I hit a ground ball down to third. It hit the seam on the carpet and bounced over Denis Menke's head and scored the run. ... Everything seemed to be going my way. No matter what they threw up at me, I was right on it, and when I needed a bit of luck, I got lucky. Did the

Reds

start pitching me differently? I'll tell you the truth - I never paid any attention. I was swinging the bat so good it didn't make any difference. I was just locked in, that's all. I was feeling great, seeing the ball good, had my timing just right, and was confident. ... It was a completely reverse cycle from the championship series, where, after going hitless in the first few games, I began to press. Menke

on the bad hop single:

I just had a feeling it was going to do it. One ball in a thousand will do that.
Morgan

:

The ball bounced off the lip between the dirt and turf. They just moved Denny in a step. If they don't, he has reaction time and probably makes the play okay.

Sal Bando (6-for-22 with no RBI) struck out swinging.
A's 1

Reds

0
Rose, hitting left against John Odom, bounced the ball high over the mound. 2B Dick Green threw across his body to 1st, but Rose just beat the throw. Both Tenace and Odom berated 1B umpire Jim Honochick, and Dick Williams raced out to calm down his two players to keep them from being thrown out of the game.
Joe Morgan (2-for-21 with 5 walks) squawked to Chris Pelekoudas about his 0-1 strike call. Then he grounded the sinker to Campaneris, who stepped on 2nd and threw to 1st for the DP.
Tolan had 7 hits and 6 RBI for the Series. Odom fell behind 3-0 but fought back to get Bobby to ground out Tenace-to-Odom.

2nd inning

Matty Alou had played well in the stretch run but was only 1-for-21 in the Series, which is why Willliams dropped him to the six hole. He made a half-swing bunt attempt, but the ball bounced high off the artificial turf over Billingham's head to SS Dave Concepcion who threw to 1st for the out.
Dave Duncan walked on four pitches.
Dick Green bounced a single between SS and 3B, Duncan holding at 2nd.

Green

, a superior fielder but a weak hitter, was part of Finley's rotating 2B experiment. The idea was to pinch hit for the 2B every time he came to bat.

Williams

on the strategy:

I never liked it, but I went along with it because Charlie was the owner.

But when

Tenace

ended up at 2B late in a playoff game against

Detroit

and dropped the ball on a potential double play to allow the

Tigers

to come from behind,

Dick

balked at doing it any more.

Odom bunted foul twice on curve balls. Then he took the next one but C Johnny Bench threw behind Duncan at 2nd and caught him in a rundown, 2-6-5-4-1. Green took 2nd. Blue Moon then fouled to Bench behind the plate.
Bench lined right to SS Campaneris.
Tony Perez (.429 with nine hits to lead all batters) hit a changeup high to LF. Rudi went to the wall, then came in a few steps to snare it.
Menke had only two hits in the Series but contributed defensively with several fine plays. He grounded to his counterpart, Bando.


3rd inning

Campy again hit the first pitch to Menke crossing behind the mound and was thrown out. 1B Coach Jerry Adair, Campaneris, and Williams again accosted Honochick.
Mangual hit a looper that Morgan grabbed behind 2nd.
Menke took Rudi's hot smash and threw to 1st.
Geronimo grounded right over the 3B bag to Bando, who threw the batter out.
In a battle of number 13s, Concepcion skied a 3-1 changeup to LF.
Billingham whiffed on a curve ball.

4th inning

Tenace, batting cleanup for the first time in the Series, threw two breaking balls inside for strikes, then struck him out on a outside curve.
Menke made another fine play, snaring Bando's ball on the short hop.
Alou, the only regular on either side who hadn't struck out in the Series, stepped in as the sun broke through the clouds. Morgan cut off Matty's smash and threw him out.
Rose barreled a liner to RCF that Mangual snared over his head.
Morgan, who led the majors in walks with 115, drew a free pass.


Cincy

had stolen 11 bases on Tenace. Morgan had 58 thefts during the season. Odom made five throws to 1st before delivering to the plate. On the 6th, Morgan went back in standing, and Tenace shoved him off the base to no avail. After another throw, Tolan went to the on-deck circle to put resin on his bat and give Joe a chance to catch his breath. Finally, Odom threw a ball. After another throw to 1st, Morgan took off, but Duncan threw him out 2-6. With a new sheriff in town, the

Reds

didn't try another steal the rest of the game. Tolan finally walked on a full count changeup.
Would Odom pay as much attention to Bobby (42 steals in '72) as he did to Joe? Would MLB HR champion Bench get fast balls? After enduring several throws to 1st, Johnny took a HR cut on an inside slider and fouled to Bando near the dugout.


5th inning

With an outstanding curve, Billingham breezed.
Duncan struck out on three pitches.
Green banged a grounder that Menke knocked down near the foul line. Denis threw off line to 1st but Perez tagged the runner as he went by.
Odom struck out on another bender.

Perez lined a standup double into the LF corner.
The A's bullpen got busy. Ken Holtzman joined Catfish Hunter, who had warm­ed up briefly earlier.
Menke checked his swing on a 3-2 curve, but the ball caught the outside corner.
Geronimo walked on four pitches.
With Billingham on deck, Pedro Borbon began throwing for

Cincinnati

.
After throwing a strike to Concepcion, Blue Moon fell behind 2-1. Williams yanked him in favor of Hunter.
Catfish finished the walk to the

Reds

SS to load the bases. The walk was charged to Odom.
Anderson chose Hal McRae to pinch hit for Billingham rather than a lefthanded batter. Hal was 4-for-9 in the Series. He hit the first pitch high and deep to CF to send home the tying run. The fans threw streamers onto the field in LF.

Sparky said afterwards, I thought it was gone.
Catfish recalled: I knew McRae well; he hit a lot like Rudi, sprayed it around. He liked to go the opposite way. I had to keep the ball tight; inside, he wouldn't be able to take me deep. So much for that theory. McRae belted my first pitch 400 feet to deepest center field. All I could think of was, "Not now, not a grand slam in the World Series." But Mangual, back to the wall, made the catch.

Rose picked on the first delivery and drove it to the wall in RCF where Mangual pulled it down.
A's 1

Reds

1

Hunter: Nobody said a word in the dugout.

6th inning

Borbon took the hill for the sixth time in seven games.
Campaneris had not gotten a hit in his last 21 ABs but singled up the middle to put the AL's leading thief on 1st.
Mangual bunted up the 1B line to Perez, who threw to Morgan as the go-ahead run raced to 2nd.
Clay Carroll got up in the

Cincy

pen.
Rudi bounced the first pitch to Morgan, Campaneris taking 3rd.
Anderson came out to talk to his pitcher.
Apparently Sparky didn't tell Borbon to pitch around Tenace with 1st base open. So Pedro challenged the A's hottest hitter with a fastball. Gene came through with a line double into the LF corner for his 9th RBI of the Series.
Allan Lewis replaced Tenace as a pinch runner.

After stealing 116 bags for the A's single-A team in 1966, Lewis became the first in a string of pinch-running specialists employed by Finley. The "Panamanian Express" (Guess who gave him that nickname? Hint: It wasn't Williams.) appeared in only 24 games in '72, coming to the plate just ten times. He stole eight bases in eleven tries. I don't know if Lewis even owned a glove, said Williams years later.
Dick also recalled: Tenace got mad at me when I yanked him for a pinch runner after his double, but you didn't think we'd get through this game without at least one fight, did you? He screamed at me, but I screamed back, finally telling him there had been a serious threat to his life. I asked him how much fun would it be to celebrate a world championship from the inside of a pine box? "Oh," he said.

With Borbon, known for his sinker, unable to keep the ball down, Bando dou­bled over Tolan's head to the CF wall as Lewis scored easily - Sal's first RBI. Bobby hurt his hamstring again on the play, bringing out the trainer along with the manager. After going all the way back to the dugout, Tolan stayed in the game after the trainer heavily bandaged his legs.
In the meantime, Carroll took over the pitching chores. Clay set a record in '72 with 37 saves and led the NL with 65 appearances.
Alou received an intentional walk.
Duncan grounded into the hole but the ball bounced away from Concepcion for an error to load the sacks.
With a chance to break the game wide open, Green went down swinging.
A's 3

Reds

1
Mike Hegan went in at 1st, replacing Tenace.
Hunter continued on the hill and got Morgan to pop to SS, Campy making an over-the-shoulder catch.

Rose after the game: You know something that hurt us, and nobody said much about? That Campaneris catching all those soft pops in shallow left. Some of those fall in against some shortstops.

Tolan struck out on a changeup.
Bench hit a grounder to Campaneris, playing deep as usual. Bert ran in, took his time, and threw errantly to 1st. Hegan claimed he made the tag, but Hono­chick didn't agree although the replay showed the tag was made. It was Cam­py's first miscue of the Series.
Perez walked on a 3-2 curve that broke way outside.
Williams walked to the mound. Would he bring in Rollie Fingers? No.
With Menke at the dish, a wld pitch sent the runners to 2nd and 3rd. After falling behind 3-1, Catfish bore down and got Denis to pop to Alou in short RF.

7th inning

Geronimo moved to CF, and George Foster manned RF. Southpaw Ross Grimsley, who won two of the three

Reds

victories in the Series, threw in the bullpen.
Considered a good-hitting pitcher, Hunter walked on four pitches.
Campaneris sacrified, 1-4.
Mangual went out 5-3, the runner holding 2nd.
Anderson brought in his fourth hurler, Grimsley, and had him intentionally walk Rudi.
The A's skipper stayed with the lefthanded hitting Hegan, who whiffed on an off-speed delivery.
Hunter mowed down the 7-8-9 hitters as Holtzman and Fingers worked in the pen.
Geronimo and Concepcion struck out on seven pitches.
Ted Ohlaender, hitting for Grimsley, flew to LF.

8th inning

Tom "The Blade" Hall became

Cincinnati

's fifth P. 10-1 with a 2.61 ERA in the regular season, the 150 lb righty had thrown 6 1/3 scoreless innings against Oakland.
Bando ran the count full before missing a breaking pitch.
Alou bounced back to the mound
Duncan became the

Reds

' 8th K victim.


This is the inning! Now is the time to do it! Morgan

called out as the

Cincy

starters reached the dugout.

The crowd roared to greet Rose, who had hit the first pitch he saw from Hunter over the fence in Game 5. Pete didn't disappoint, grounding a single to CF.
Williams called on Holtzman to face Morgan.

Hunter

:

I finished the sixth and seventh innings, but Williams had seen enough. Every ball the

Reds

hit looked like it'd been launched by NASA. "I know you're getting guys out, Cat," Dick said. "But you're damn near scaring me to death. I gotta make a change."
Joe

recalled the moment:

When I got into the batter's box, I felt both calm and alert. Nothing was going to stop me from getting done what I had to do. Because I had not hit well in the Series, I saw that I was not being played to pull - even though I was a pull hitter. They were playing me off to the left side. I also noticed that they were not holding Pete at first - perhaps because he was no real threat to steal but also be­cause his run was unimportant. Then the pitches that came to me from Ken Holtzman, a left-hander, seemed to slow down, I saw them perfectly.

Joe pulled the second pitch down the RF line for a double. Rose, who had to jump over the diving Hegan, raced to 3rd.

Morgan: From the second I hit it, I was thinking triple. I saw the right-fielder shifted far over into right-center. I saw the open space between him and the ball, and the ball kicking around far from him down the line. I was the tying run and I was going to make sure I was at third with none out when that play ended. All of that was great except that Alex Grammas, the third-base coach, and Pete were not thinking along with me. What bothers me to this day is that I know the A's were not worrying about Pete Rose - he wasn't the trying run. I was. So Pete should have been able to score easily. Instead, when I rounded second and was halfway to third, I looked up and saw Pete standing there and Alex waving at me to stop and go back. This could have been the most embarrassing moment in my career, but it wasn't. The A's, because they were worried about me and not Pete, let the outfield throw go all the way through to third base, thereby giving me a chance, ten feet from third, to safely retreat to second.

When Julian Javier was announced in place of Foster, Rollie Fingers was summoned to the rubber.

Fingers said after the game: I was tired. I didn't feel right in the bullpen. My arm had no zip in it. I honestly had very little left, at least that's how I felt. I didn't think I could go too far. But you always have to find out on the mound. I knew I had to do it right there. Forget everything that ever happened before.

Anderson countered with lefthand hitting Joe Hague, who blooped the first pitch into short LF where Campaneris snared it with no advance by the runners.
Williams came out and ordered an intentional walk to Bench. This contradicted baseball wisdom that dictated not putting the potential winning run on base.

The

A's

had fooled

Bench

in a similar situation in Game 3. With the count 3-2 on

Johnny

in the 8th,

Williams

went to the mound to confer with

Fingers

.

Dick

gestured toward 1B, he pointed to 1B as if indicating an intentional ball four. When play resumed,

Tenace

stood up with his right arm out for an intentional pass. But as

Rollie

went into his windup,

Gene

jumped down behind the plate and took a pitch on the outside corner for strike three.

Fingers

:

We had never practiced that. Hell, I had never even thought of it. ... Bench has always said that was the most embarrassing thing that every happened to him, so I don't mention it when I see him. Watch the play ...

But this was Game 7. As

Williams

explained in his autobiography,

You could almost hear the groan from Oakland fans behind our dugout combined with the cheers of

Reds

fans. I had just put the go-ahead run on base, breaking all unwritten Series rules. But nobody understood. We had decided before the Series that no matter what happened, the future Hall of Famer Bench wasn't going to beat us. I couldn't live with myself if he did.

That brought up the

Reds

' second best RBI man, Perez, another future Hall of Famer like Bench. Tony laced a curve to Alou in RF. Rose scored and Morgan moved to 3rd.

Williams explained afterwards why he went against "the book." I will not let John Bench beat me with his bat. With his legs, yes, but not with his bat. I know I've said I would never walk the winning run on base intentinally, and I meant it. Bench is the only exception. No one else. I consider Perez the double play threat. I gambled and won. I'm always gambling. I gambled when I made out the lineup today.
Anderson in the locker room later: I wanted John to hit, but I knew I'd only get one of 'em (Bench or Perez). You know John'd get one run in with a fly or something. He (Williams) gambled everything, and he won. But he was right by doing it, absolutely right. If you're going to run baseball games by stopping to look at the book or check notes or reports or something, you're in trouble. You got to have it right here (pointing to his head) and quick. Wil­liams got away with it, but that's what the whole game is about - getting away with things.

Williams visited the mound again, perhaps to talk about what to do if Bench tried to steal.
Fingers threw Menke three straight curves before a fastball was fouled off for a 2-2 count. Hegan moved back to stop holding Bench, who took off on the next pitch, ball three, and easily stole second as the A's made no throw.

So now the A's had not only put the winning run on but allowed it to steal second. Williams: We had a play on if Morgan tried to run too far off 3rd. Otherwise, I don't want anybody throwing the ball around in that spot. I want Rollie to get that batter out.

Menke now faced the same situation as in the 6th inning - 2nd and 3rd and two out. But he hit a short fly to LF to leave the 19th and 20th runs on base in his at-bats in the seven games.
A's 3

Reds

2

9th inning

Hague stayed in the game in RF.
Hall struck out his third man, Green.
Fingers bounded out 5-3.
Campaneris took some time before stepping in to give Rollie time to sit down in the dugout. Then Bert gave his P additional rest by singling to CF.
Mangual lined to CF Geronimo.

Cincy

faced the same situation as in Game 5 of the NLCS - down one going into the bottom of the 9th. In that instance, they scored two. But they'd have to rally from the 7-8-9 spots in the order this time.
Fingers pounded Geronimo with fast balls before getting a popup to SS on a curve.
Green tossed out Concepcion.
Darrel Chaney, a switch-hitter, batted for Hall. A breaking pitch plunked Darrel.

Just a terrible pitch, said Rollie. I held on to a slider too long.

That set up a Cinderella ending as hometown hero Pete Rose walked to the plate.
With lefty Vida Blue firing in the bullpen, Williams visited Fingers but left him in.

Williams after the game: I went to the mound to take out Rollie. But my catcher, Dave Duncan, told me, "He's throwing the tar out of the ball. Leave him in." Fingers also pleaded with his manager. Dick, I can get him. As Williams recalled in his autobiography, His words were like fine music. I'd gone to calm him down, and instead he'd calmed me down. Despite more groans from behind our dugout, I left him in.

With the crowd on its feet, Rose lashed the first pitch to the warning track in LF. but Rudi, considered by many the best-fielding LF in the game, gathered it in with ease.

Fingers: I must have jumped 15 feet in the air. Rose is the toughest man in their lineup. He hit a fastball, tailing away, but I was pretty sure it wasn't go­ing to make the wall.
Williams: We were world champions. I had reached it. My mountain. My every night-of-my-life dream. I could describe to you the pile on the pitching mound, the hugs and tears and screams next to the dugout to the roof of the dugout, where I hugged Norma while Charlie hugged his wife, Shirley, and together the four of us danced in a light rain. I could tell you how I cried. Unashamedly cried out of exhaustion for the 43 years I had poured into reaching this one moment. I could tell you all that, but it wouldn't begin to describe the feeling.

FINAL: A's 3

Reds

2


L: Duncan embraces Fingers as Bando rushes in. R: Williams and rest of A's join the celebration.

Thus did the

Athletics

franchise win its first championship since 1930 in Philadelphia.

Future Hall of Famers in the 1972 World Series

Athletics

: Manager

Dick Williams

,

Rollie Fingers

,

Catfish Hunter

,

Reggie Jackson

Reds

: Manager

Sparky Anderson

,

Johnny Bench

,

Joe Morgan

,

Tony Perez
Postgame
A's Clubhouse
Fingers rushed in yelling, Where's the champagne? Vida Blue, who had verbally blasted his manager and owner because he wanted to be a starter, not a relief pitcher, shouted, Where's my check?
The green bottles began popping as players laughed and sprayed each other. Owner Charles O. Finley wept.

Hunter

recalled the scene in his 1988 autobiography:

I'd never seen Mr. Finley so happy. "My first two or three years the barbs bothered me," he yelled to no one in particular. "But not anymore." Sal and I grabbed the World Series trophy, holding on for dear life, cherishing a victory over a team nobody thought we could beat. ...
"Mr. Finley," we yelled over the din, "we'd like to get miniatures of this if we could."
"Miniatures?" asked Finley. "

Miniatures?

Hell, no. Everybody gets the same size." And we did. The trophy is in my living room today. To this day, beating the

Reds

' butts in that Series remains one of the true highlights of my career. The long-haired, mustachioed men from Oakland who weren't supposed to be in the same class with

Cincinnati

, had proved a point. It's not how you look, or what you say, it's how you

play.

Greenie went nine! Greenie went nine! chanted a group of players in honor of 2B Green, who usually played only a few innings before being removed for a pinchhitter.
Williams: Our pitching was dominant. We contained them early in the first two games to get the big jump, and John did it again today long enough for us to get enough runs to win.
On moving Tenace to 1B: I had to try to find some way to slow down those three speedsters at the top of their lineup, and I had to scrape up some bat power somewhere. Sensitive to criticism that he overmanaged (an AP reporter wrote that Williams virtually wore out a pair of spikes in the World Series going back and forth to the mound), Dick said, Me overmanage? How did we make out? ... We're not lucky, we're just fortunate. And we just happen to have some of the best ball players playing this game.
Tenace on being taken out for a pinch-runner. Yeah, I was a little upset when he pulled me. I can score from second as good as anybody. But it's useless to argue with a great manager like him. ... I can't put my finger on why I did so well. I went up to the plate feeling good right from the beginning. I was relaxed, I saw the ball good. I swung and, luckily, they fell in. Am I bewildered by all of this? No, but I sure appreciate it.
An anonymous Athletic, one of many who didn't like his owner, muttered, You have to wonder. There's a guy who does nothing but trample on people and do everything the wrong way, but everything turns out just right for him.
Anderson, ever gracious even in defeat, came into the champagne-flooded A's clubhouse to extend personal congratulations. You've got a world championship club, he told Williams, and you beat a championship club, too.

Dick Williams recalled how an unexpected person drank too much champagne during the celebration. I was sober, as most celebrating baseball players barely drink a cupful of the champagne you see them pouring on their heads. Not enough time, not enough room, not enough champagne. However, this was not the case with my son Rick, age 16 at the time. He stole one of two bottles of champagne off my desk and shortly thereafter got sick. If the people of Oakland wondered why our plane arrived later than scheduled that evening, it's because we had to hold the team bus while my son threw up on the wheels and then in the back commode. We also had to delay the takeoff of our flight so he could get his head out of the plane's toilet.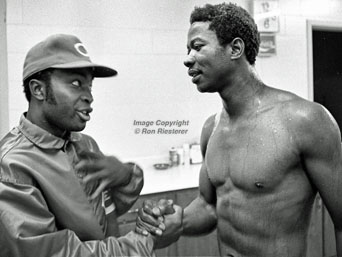 L: A's celebrate their championship. R: Joe Morgan congratulates Blue Moon Odom.
Reds Clubhouse
Anderson lamented his club's lack of clutch hitting. Like today, men on second and third, nobody out. We got just one run out of it. We did it through the series. We lost four games by a run, and they didn't score more than three in any of them. We just didn't score any runs - not like we can. You've got to give their pitchers credit, but we can hit better than that. ... We could have had eight more runs. We just couldn't get a big hit, and they did. My guys don't need to be hanging their heads, though, and they know it. Sparky called Fingers one of the best relievers in the game. He doesn't have to take a back seat to anybody. On Tenace's bad hop RBI single in the first inning: I guess that showed they were supposed to win.
Pitching coach Larry Shepard on the lack of success against Tenace: Every pitch he hit was a pitcher's mistake. They were told to throw him breaking balls low and away. Every one he killed us with was inside or hanging right in front of him.
Bench had an interesting tale to tell. Saturday night, I went out to dinner with Reggie Jackson. I told him, if a situation arose and Rollie Fingers was the pitcher, I'd remember that he got me twice and that I owed him one. As I came to the plate, I saw Reggie in the A's dugout smiling and shaking his head to tell me, "Here's the situation." But I never got a chance to take advantage of it. ... Somebody told me that their scouting report said not to let Bench beat 'em in a situation like that. When I went up there, I really couldn't figure out what their thinking would be. I found out. Williams put me on. He took some chances, gambled, and won.
A dejected Tolan had no excuses for either his three-base error or the ball that Bando hit over his head. Season's over. I'm tired. I'm going to rest. I've got nothing else to say.
Morgan praised Tenace. He won the series for them, he and their pitching staff. None of their other seven guys in the lineup hurt us with their bats. Nobody swung a bat for him - he swung it himself. He deserves all the credit. I'm a little disappointed that our pitchers let him do all the damage to us. One guy isn't supposed to hurt you as much as he did us. Joe credited Odom with playing a big role in the A's Game 7 win. We were all keyed up and had the momentum. We were ready to go, but he kept us off balance all the way, and that stopped us. ... Joe took some of the blame for the

Reds

' defeat. I didn't do my job, I didn't get on base for the first three games, and that's why we didn't win. If I'd got on base the first three games like I did the last two, we would have won easily.

Morgan was haunted by his 8th-inning double-that-should-have-been-a-triple 21 years later. There were no recriminations afterwards, no need for anyone to remind anyone else of anything. The season was over and in the course of seasons, those plays - in midsummer weekday games or in the Series - happen. And you go on. But I still get sick thinking about what might have been. I don't know how many games, how many pennant races I've been through, but none promised more joy and delivered more pain than this one.

Rose on his game-ending out: Just a little guy hitting a long ball to the opposite field.
Sitting alone at his locker, facing a special stand on which TV interviews would have been conducted had

Cincinnati

been victorious, Carroll refused to cite Oakland as baseball's best team. I sure don't. We've got a whole lot of teams in the National League who have more power, but they (Athletics) do have a great pitching staff. It seems like they had the guys who wanted to win.
The seven-game attendance totaled 363,148 (average of 51,878).
Each winning player received $20,705 from the entire post-season revenue pool.
Each

Redleg

took home $15,080.
Tenace became the Hometown Hero 100 miles east of Cincinnati. I ended up as MVP for the Series and got a car from Sport Magazine. After it was over, I went back to Lucasville, and I guess I was the biggest man in town for a while. They gave me a day there. Even named a ball field after me. Gene Tenace Field in Lucasville, Ohio.
L: World Series Trophy; R: Oakland celebrates its World Championship.
Several Athletics didn't show up for the victory parade that drew 150,000 people. They harbored bitter feelings about the way owner Finley had treated them.
Also, Williams recalled the team's visit to the White House. Charlie got mad because ... President Nixon wanted to pose for photos with me, not Charlie. He put Charlie in the corner of the Oval Office and then turned his back on him and talked to me ... Charlie wanted us to pay him a little reverence at this point, and I can understand. After all, not only had he built the team, but after the win he gave us each a full-size World Series trophy and a wonderful diamond ring ... and even gave each wife a World Series charm with a diamond on it. By the way, the rings carried the unique motto S + S = S. Charlie told us that meant "Sweat plus Sacrifice equals Success." Several players said they thought it meant "Shit plus Shit equals more Shit."
1972 World Champion Oakland Athletics
References: The October Heroes: Great World Series Games Remembered by the Men Who Played Them, Donald Honig (1979)
Catfish: My Life in Baseball, Jim "Catfish" Hunter with Armen Keteyian (1988)
No More Mr. Nice Guy: A Life of Hardball, Dick Williams and Bill Plaschke (1990)
The World Series, David S. Neft & Richard M. Cohen (1990)
Joe Morgan: A Life in Baseball, Joe Morgan and David Falkner (1993)
They Call Me Sparky, Sparky Anderson with Dan Ewald (1998)
Champions: The Story of the First Two Oakland A's Dynasties - and the Building of the Third,
Glenn Dickey (2002)
The Seventh Game, Barry Levenson (2004)