LSU Post-Season Play 1987 – Part 4
The
Tigers
' loss to
Oklahoma State
in the 1987 College World Series put them in an elimination game against
Arkansas
(51-15-1), which was a member of the Southwest Conference. The
Razor­backs
won the South I Regional at Huntsville AL to make it to Omaha.
Coach
Skip Bertman
chose southpaw
Gregg Patterson
(10-2) to start the 4:10 PM game. He had just been taken by the
Chicago Cubs
in the fifth round of the Major League draft.
Norm DeBriyn
, in his 18th year as
Arkansas
coach, went with his ace left-hander
John Cebuhar
(11-1).
Bertman scripted a game plan for his team, much like football coaches. He wanted his hitters to be patient and take pitch after pitch from Cebuhar in the early innings. Skip said afterwards, "If anything, our kids were too fired up in the dugout today. It's a good thing the NCAA wasn't drug testing today because the kids might have blown the meter out on adrenalin. They were so fired up they might have been overkeyed."
The LSU skipper crafted the game plan in conjunction with his senior co-captain, Craig Faulkner, who caught Cebuhar the previous summer in a college league in Kansas. Skip explained, "We knew Arkansas didn't have a 'stopper' who could come out of the bullpen and shut us down. We knew that Cebuhar had completed only two games in 16 starts. Craig told us that he had trouble getting his breaking pitch over and that he had a good fastball."
Neither team scored until the top of the fifth when the Razorbacks pushed across two runs. The rally started when C Andy Skeels drew a walk. After 2B Kelly Zane sacrificed the runner to second, 1B Troy Eklund belted an RBI double over the head of RF Jack Voigt. SS Mike Sisco then slapped a single through the right side to sent Eklund across the plate.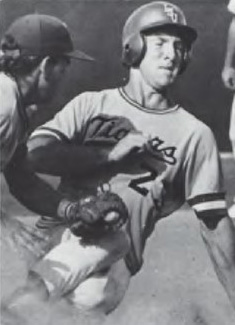 L-R: Gregg Patterson, Craig Faulkner, Rob Hartwig, Mike Papajohn
Arkansas threatened again in the sixth before an unusual double play derailed the rally. LF Dan Campbell lashed a leadoff single. He then broke for second on Patterson's 1-2 pitch to DH Andy Bobb, who smacked a line drive to LF Rob Hartwig. By the time Hartwig made the catch, Campbell was already around second on his way to third. He was easily doubled up at first base.
Patterson seemed to find his rhythm at that point and shutout the Hogs the rest of the way. "When they scored the two runs and the inning following that, I might have lost a little concentration. I don't know. I was real rocky in my windup."
LSU's patience at the plate finally paid off in the bottom of the seventh. CF Mike Papajohn drew a leadoff walk and was balked to second with Hartwig at the plate. After Hartwig tapped to the mound, 2B Andy Galy walked on a 3-2 pitch. That brought up SS Dave Cunningham, who tied the game with a double to left-center field.
When Cunningham stole third with CF Voight at bat, DeBriyn replaced Cebuhar with Bob Ed­wards. That proved to be a big mistake. Voight turned on an inside curveball and drove it over the right field wall against a 17mph wind to put LSU in front 4-2.
"I was just having trouble covering the whole plate," said Voight. "I told a lot of people after the regional that I'd go in the cage and take a three-day crash diet of breaking balls. It's really worked. ... Edwards got it up a little big, and luckily I've got some strong wrists."
Patterson mowed down the Razorbacks in the eighth and ninth to complete a four-hitter. In the meantime, LSU added an insurance run in the eighth. Papajohn rapped a one-out single off reliever Keith Helton, then promptly stole second. Galy drove a 1-2 pitch into right field for an RBI double.
L-R: Andy Galy, Stan Loewer, Pete Bush, Barry Manuel
Two days later, the Tigers met Stanford in another losers bracket contest that would prove to be one of the most exciting but gut-wrenching games in LSU baseball history.
Stanford jumped in front with two runs in the bottom of the second off LSU starter Stan Loewer. C Doug Robbins singled with one out, and DH Mark Machtolf drilled a triple into the right-field corner. Bertman brought his infield to the edge of the grass, but 2B Frank Carey lashed a one-hopper past 1B Pete Bush to bring in the second run.
LSU cut the deficit in half with a run in the top of the third. LF Rob Hartwig beat out an infield hit, then stole second. He moved to third on Galy's grounder, then scored on Cunningham's single through the left side.
The Tigers tied the game in the fourth. Stanford SS David Esquer made a diving stop of RF Jack Voigt's shot in the hole but couldn't complete the play at first. With C Jack Faulkner at the plate, Voigt took off for second and would have been an easy out except 2B Frank Carey couldn't handle Rob­bins' bad throw, and Voigt continued to third. He scored from there on Faulkner's sacrifice fly.
Neither team scored again, and the game went into extra innings. Loewer shut down the Cardinal in the third, fourth, and fifth. Then lefty Mark Guthrie did the same in the sixth and seventh. Closer Barry Manuel struggled with his control but wiggled out of a jam in the ninth with the potential winning run in scoring position.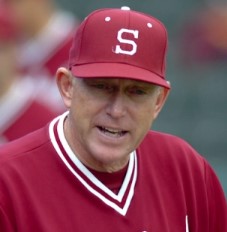 L-R: Mark Marquess, Ben McDonald, Ed Sprague
Stanford reliever Rob Wassenaar shut down LSU in the last four innings before running into trou­ble with one out in the tenth. After LF Rob Hartwig slapped a one-out single, Wassenaar walked Galy and Cunningham to load the bases.
In came Steve Chitren, who took a giant step toward getting out of the inning when he fanned Voigt for the second out. But not so fast, my friend. Faulkner lined an 0-1 pitch into the left-field corner to clear the bases and give the Tigers a 5-2 lead.
"It looked like we were going to win this game," said Coach Bertman afterward. "We had Dan Kite prepared for tomorrow and Gregg Patterson for Sunday."
Manuel
retired
Frank Carey
on a groundout to start the bottom of the tenth. Then the hard-throwing right-hander walked leadoff man
Ruben Amaro
on a 3-2 pitch. When he missed on a 3-1 fastball to CF
Toi Cook
(who would play defensie back for the
New Orleans Saints
), the tying run came to the plate.
"Barry does get out of the strike zone a lot," said Bertman. "He was helped out by Cook the first time (when he struck out). But Amaro wouldn't do that. He only had 20 strikeouts in 293 at bats. And he took two sky-balls, and that hurt us bad." Amaro would play eight seasons in the major leagues.
Stanford coach Mark Marquess agreed that Amaro's walk was a confidence builder for his team. "I thought Amaro's at-bat was crucial. He (Manuel) wasn't real wild. Ruben made himself a tough out."
Bertman brought in 6'7" freshman righthander Ben McDonald to face 3B Ed Sprague, a right­handed batter who led Stanford with 15 home runs and would have a long major league career.
"There wasn't any thought in my mind that we were going to lose this game," McDonald said.
After getting a strike, Ben plunked Sprague to load the bases and bring the potential winning run to the plate in the person of RF Paul Carey, a lefthanded hitter who was Frank's brother.
With the count 1-1, Carey got hold of a fastball on the outside corner and drove it over the left-field fence for the first grand slam given up by the Tigers all season and a dramatic 6-5 victory to end LSU's season.
"Coach Bertman had me in there to throw strikes," McDonald said. "I threw it right where I wanted it–on the outside corner. I didn't know he had hit that many home runs to left until after the game. Had I known, we wouldn't have worked the outside. I wasn't sure it was going to get out, but I saw (LF) Hart­wig couldn't go back anymore. I can't explain how I felt. Dead, I guess."
Paul Carey: "I had a feeling it was out. I got it up in the wind and kept hoping it would go out. I've hit some big homers, but this is the biggest. I can't describe the feeling. My adrenaline was pumping so much, I can't remember what I was thinking."
Bertman told the press, "It's a tough loss especially for Ben McDonald and Barry Manuel. If you stay close in a baseball game, something good can happen. But I don't think this season will be mar­red because a guy hits a ball 370 feet.".
LSU finished the season with 57 victories, the most in a season in school history to that point, and only 13 losses.
Stanford
won the 1987 College World Series, defeating
Texas
9-3 and
Oklahoma State
9-5.
The Tigers would make it back to Omaha in 1989.