LSU Post-Season Play 1987 – Part 3
The Tigers traveled to Omaha for the second straight year after winning the South II Regional in New Orleans. Their first opponent in the double-elimination tournament was Florida State.
Coach Skip Bertman went with his ace, southpaw Gregg Patterson (record?). FSU coach Mike Martin chose Richie Lewis (15-2, 3.03 ERA), a 5'7" right-hander known for his fiery competitiveness and electric fastball. Lewis had beaten the Tigers 2-1 in February at the Busch Challenge in the Superdome. He limited LSU to four hits over nine innings but issued 13 walks as LSU stranded 14 base runners.
"That was his first outing," said Martin, "and I'm sure he was trying to light up some (speed) guns. That was an incredible game. The leadoff guy was on in every inning."
"The only thing that bothers me," said Bertman, "is we're facing Richie Lewis. His hits/innings pitched ratio is extraordinary. He's a competitive pitcher and a great fielder. He does a good job holding base runners. He's one of those guys that can control a ballgame. I know Gregg Patterson will pitch well, but it's very possible that Lewis could shut us down." Both predictions proved true.
Florida State racked up 227 stolen bases during he season. Patterson said, "I know the like to run a lot, and that might work to my advantage because I'm left-handed. That takes away from anyone's running game. A lot of times, they'll probably go on the first move."
L-R: Gregg Patterson, Richie Lewis, Mike Papajohn
The Tigers set the tone in the bottom of the first when 2B Lewis Alicea led off with a single but was caught stealing when C Jack Faulkner called for a pitchout.
Both starting pitchers were magnificent. The Tigers broke through in the top of the fifth when 3B Richie Vasquez, who had doubled in the second to no avail, led off with a single and took second when Lewis was charged with a balk. After DH Joe Lewis took a called third strike, CF Mike Papa­john punched a single down the right-field line to drive home Vasquez.
The 1-0 lead held up into the bottom of the ninth. LSU was one out from victory until FSU C Barry Blackwell turned on a 2-1 pitch and drove it over the left-field wall for a solo home run.
"I didn't want to see Blackwell get a fastball at that time," said Bertman. Patterson "made a mistake, and the kid really crushed it."
Patterson said he knew the ball was gone "as soon as I threw it. I threw a fastball right where he wanted it. It hurt, but the game was tied. I had to keep on pitching."
L-R: Barry Blackwell, Pete Bush, Terry Belle
The game went into extra innings. Bertman said, "The team came right back into the dugout, blew it off, and said, 'Let's get some more.'" True to their word, the Tigers exploded for five runs in the top of the tenth.
With Richie Lewis still on the mound, 1B Pete Bush fouled off three two-strike pitches before draw­ing a leadoff walk. The Tigers got a big break when Vasquez hit a line drive that appeared to be catchable. But CF Ronald Lewis slipped as he went for the ball, which hit his bare hand and fell for a two-base error.
With runners on second and third, DH Terry Belle struck out. Then Papajohn laid down a bunt to the right of the pitcher's mound. P Lewis charged the ball, but it rolled under his barehand to score Bush from third with Papajohn reaching first on the error.
Richie Lewis said, "I couldn't get in front of the ball, I tried to backhand it, and I missed it."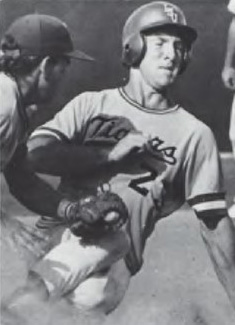 L-R: Rob Hartwig, Andy Galy, Jack Voigt, Barry Manuel
LF Rob Hartwig bounced a one-hopper to the mound. Vasquez as caught in a rundown as Hartwig continued to second base.
2B Andy Galy, hitting .410 with runners in scoring position, came to the plate with two out and drilled Lewis' first pitch into center field to score both runners to extend the lead to 4-1.
"I had a good feeling he (Lewis) would go with the fastball to get ahead in the count," said Galy. "He'd been going with the cure, and I just happened to guess right."
But the Tigers weren't finished. SS Dave Cunningham walked on four pitches before RF Jack Voigt belted his third hit of the game, a two-run triple to center to make it 6-1.
The Seminoles scored a run in the bottom of the 10th, but reliever Barry Manuel got the final two outs to move the Tigers into the winners' bracket.
Coach Martin said it might have been the first time all season that Florida State didn't have a sto­len base. "That's a credit to Patterson."
Three days later, the
Tigers
faced
Oklahoma State
.
LSU starter Dan Kite, a sophomore right-hander from Glenshaw PA, had been brilliant in postsea­son play. He threw a five-hitter to beat Kentucky 5-1 in the SEC Tournament. Six days later, he set down UNO 14-1 in the South II Regional.
Gary Ward
's
Cowboys
(57-11), making an unprecedented seventh straight CWS appearance, beat
Arizona State
in the first round 8-3. Led by the nation's premier hitter, 3B
Robin Ventura
, who extend­ed his NCAA-record hitting streak to 57 games against
ASU
,
OSU
boasted an impressive .354 team batting average.
"They don't swing at bad pitches," explained Bertman. "They don't strike out that much. They're very disciplined hitters."
The
Tigers
scored a run in each of the first two innings off
OSU
senior right-hander
Jimmy Long
. Leadoff batter
Galy
lined a single to center field but was erased on a forceout at second on
Cunning­ham
's grounder.
Cunningham
stole second during
Voigt
's at-bat, which ended in a strikeout. C
Craig Faulkner
's two-out single put the
Tigers
ahead.
Faulkner's performance was inspiring. He was hospitalized the night before the game with food poisoning and was fed intravenously. He wasn't released until two hours before the game. "I'm better but a little weak," Faulkner said. "I don't have any strength at all. I haven't had anything to eat for 24 hours, and I can feel it."
In the bottom of the second, Terry Belle poked a leadoff single to right field and advanced a base on Papajohn's sacrifice. Hartwig hit a sinking liner that landed in front of RF Benny Castillo and bounced away for a double that scored Belle.
After a 70-minute rain delay, Kite returned to the mound after 9 PM. "I had everything going for me," he said afterward. "Then when I went back out there I couldn't find the strike zone."
Kite walked the first two batters in the top of the third. A single drove in the first run. Then Ventura walked to reload the bases. Jim Ifland's sacrifice fly tied the game 2-2.
The
Tigers
bounced back with four runs in their half of the third. After
Cunningham
was hit by a pitch,
Voigt
doubled to left to send
Long
to the showers. Reliever
Steve Lienhard
walked
Faulkner
to load the bases.
Bush
followed with a two-run double into the left field corner to make it 4-2
LSU
.
OSU
Coach
Gary Ward
brought in his third pitcher of the inning, sidearming senior right-hander
Marv Rock­man
.
Belle
greeted him with a single that drove in two runs to make it 6-2.
The
Cowboys
had runners at the corners with two outs when the tarpaulin was brought out for the second time. When the rain persisted, the game was suspended until the next morning.
That night,
Kite
provided
Oklahoma State
with some bulletin-board material. He told reporters, "I was trying to challenge them. Sure, they've hit 135 homers. But from looking at the films, I could see they aren't a good fastball-hitting team."
The quote, which appeared in the next day's edition of the
Omaha World-Herald
, reached the
Cowboys
. "I don't know why that statement came out," said 1B
Jimmy Barragan
. "We're a good fastball-hitting team."
L-R: Dan Kite, Robin Ventura, Ben McDonald
When play resumed, Stan Loewer was on the mound for the Tigers. He struck out the ninth-place hitter, Mick Ward, but 2B Brad Beanblossom pushed an RBI single into right field. LF Ray Ortiz then swatted an off-speed pitch into right-center field, plating two runs to cut LSU's lead to 6-5.
Ventura hit a grounder that took a bad hop off SS Cunningham's glove into left field to score the typing run. The play was ruled an error, leaving Ventura 0-for-2.
The Tigers retook the lead in the bottom of the fourth when Cunningham led off against Rockman with a double and eventually scored on a ground out by Faulkner.
But LSU would not score again as Rockman pitched seven full innings, allowing only three hits and that one run.
Meanwhile, the
Cowboys
scored two runs off
Ben McDonald
to eke out the 8-7 victory. They had runners in scoring position in every inning except the eighth.
Ventura
extended his record hitting streak to 58 games in the sixth when he ripped a double down the right field line, scoring
Beamblos­som
, who had reached first on an infield single. That erased
LSU
's 7-6 lead.
Barragan
, who objected to
Kite
's characterization of the
Cowboys
as "not a good fastball-hitting team," led off the seventh against
McDonald
and crashed a l-2 pitch for a towering home run that came down just inside the right-field foul pole. His 21st homer of the season proved to be the winning blow.
Jack Voigt felt the Tigers might have lost their competitive edge overnight. "I think they had a little bit more fire in their eyes than we did. ... They came out, and we weren't ready to play right away." He had this evaluation of winning pitcher Rockman. "It wasn't that he was so tough. He mixed his break­ing balls well and kept them away. By the time we figured to start going to right field, it was a little too late."
Bertman
cited to
Rockman
's performance as the key to
OSU
's victory. "
Rockman
dominated the game. ... He threw an awful lot of strikes. He was really in command. He threw three different pitches through the strike zone at different angles."
LSU faced Arkansas in an elimination game the next day at 4:10 PM.
To be continued ...