The
Toronto Blue Jays
led the World Series three games to two with a chance to clinch their second championship in a row with a victory at home. They led 5-1 heading into the 7th inning only to have the
Phillies
rally for five runs to take a 6-5 lead.
Philly
wiggled out of a bases loaded jam in the bottom of the 8th when
Larry Anderson
, their third pitcher of the inning, got
Pat Borders
to pop out.
After his club failed to add to their lead in the top of the 9th, manager
Jim Fregosi
brought in his closer,
Mitch Williams
, to preserve the lead. The southpaw saved a career-high 43 games in 49 opportunities. But many of those saves were far from simple. He had a tremendous fastball but often had trouble controlling it. He walked 44 in 62 innings and gave up 56 hits. He earned the nickname "Wild Thing" after the character played by
Charlie Sheen
in the comedy movie
Major League
.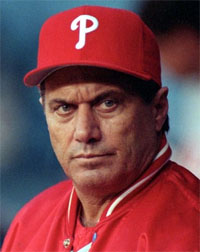 L-R: Larry Anderson, Pat Borders, Jim Fregosi, Mitch Williams
True to form,
Williams
walked
Rickey Henderson
on four straight pitches. With the greatest base stealer in baseball history on first,
Williams
couldn't devote 100% of his attention to the batters.
Jerry Howarth
, a
Blue Jays
radio broadcaster: "Going to the bottom of the ninth inning, the
Phillies
open their bullpen door out there in right field and when
Mitch Williams
came out,
Rickey
[
Henderson
], from what they tell me, went right down the dugout bench, his palms [up], he said, 'Give me five, give me five. He's going to walk me on four pitches. We're going to win this thing.'"
Pat Gillick
,
Toronto
General Manager: "I was sitting with one of our scouts,
Moose Johnson
. I said to him that if
Henderson
gets on we'll tie this thing."
However,
Henderson
did not try to steal second.
Devon White
worked the count to 3-and-2 before whacking a fly to deep LCF that
Milt Thompson
flagged down.
Paul Molitor
then lined a single to CF, sending
Henderson
to 2nd.
Molitor, who had hit a solo home run in the 5th inning, said that White's long at-bat helped him. "I remember watching Devon's at-bat and thinking, 'Man, you're going to get a chance to live that boyhood dream to hit a home run to win the World Series.' And then I remember thinking, 'Don't let your mind go there. Just try to have a good at-bat and hit the ball.' The odds of me going up there and hitting another home run weren't good. But I knew that I was hitting pretty good, so the odds of me going up there and keeping the inning alive and giving the other guys a chance were there. If White had hit the first pitch, I'd have gone up there trying to hit a home run and it would've been a 6-4-3. White's the only guy who didn't get a hit in the inning, but he dialed me down a notch, so I just took a simple approach."
L-R: Rickey Henderson, Devon White, Milt Thompson, Paul Molitor
That brought cleanup hitter
Joe Carter
to the plate. Although his batting average was only .254,
Joe
led the
Blue Jays
in RBIs with 121 and in home runs with 33. '93 was the seventh year in the last eight in which he had driven in 100+ runs and the other year, '88, he knocked home 98.
Carter: "When I come to the plate, I'm like, 'Boy, it always comes down to this.' I could hear people screaming, 'Let's go, B! Come on, Joe!' Everybody's watching. My idea was to go up there with a game plan: I'm not gonna swing until I get a strike. I was gonna take. Some people become anxious and swing at a bad pitch, the first pitch. I hadn't faced Mitch in five or six years. He was really new to me, but that was my game plan. I didn't mind hitting deep in the count; it didn't bother me."
Molitor: "I remember being surprisingly relaxed talking to John Kruk at first base and saying, 'Man, this is so unbelievably fun to be in this game.' And I remember him just saying, 'I'm not having any fun at all.' So I'm taking a good lead because I'm not sure if Rickey is going to try to steal third, and if he does, I've got to be ready to steal second. I'm out there far enough that I could get a pretty good look at the signs, and I was trying to see what they were going to throw to Joe."
With the count 2-and-1,
Williams
threw a curveball.
Carter
took a monster swing but missed the ball by a foot or more.
Carter: "I wasn't thinking home run at the time. First pitch I take, ball. Next pitch, ball two. So now I'm really relaxed. OK, he's going to throw me a fastball down the middle; he has to throw me a strike. Next pitch is a fastball right down the middle of the plate. Now I've seen three pitches, it's two-and-one. Now I'm ready to swing the bat. Base hit will score Rickey and get Molitor to third. Next pitch he throws a breaking ball and I lose it. The second baseman, Mickey Morandini, had moved right behind second base because I was a dead-pull hitter. When Mitch let go of the ball, the background was Morandini's jersey, so the ball was moving in and out of shadows. I lost it and it dropped on me."
"The swing that Carter took on the 2-1 pitch might have been the ugliest second-strike swing I have ever seen," said journalist Bob Elliott.
Carter: "I said, "OK, I really gotta concentrate." Luckily for me, Morandini moved back over to the first-base side. Now at two-and-two I'm telling myself, 'OK, he's gonna throw the breaking ball because he made me look bad on it.' I gotta look breaking ball, even though that goes against the rules of baseball — you're never supposed to look for the breaking ball. I get in there and he shakes off the first sign the catcher gives him. Had to put down curveball and he shook him off. Is he trying to bait me? I said, 'Joe, stick to your plan, he's going to throw the breaking ball. Stay back, wait and put the ball in play."
Molitor: "Williams shook off the sign and I remember thinking, 'Oh man, I think he just shook off the slider and is coming with a fastball. I've got to get a bit more of a lead.'"
Williams
had been told to keep the ball up and away and "don't miss down and in." But pitchers don't always put the ball where they want.
Mitch
threw a knee-high fastball right into
Carter
's wheelhouse.
Joe
swatted a liner down the LF line that barely cleared the wall, but that was enough for him to join
Bill Mazeroski
of the 1960
Pirates
as the only players to hit a walk-off homer to end a World Series.
Carter
hopped and jumped around the bases, unable to contain his glee.
Blue Jays
' radio announcer
Tom Cheek
proclaimed, "Touch 'em all,
Joe
. You'll never hit a bigger home run in your life!"
Watch Carter's at-bat and the subsequent celebration ...
L-R: Rickey Henderson, Devon White, Milt Thompson, Paul Molitor
Carter: "I hit a fastball that he kind of cut. I didn't know it was a fastball, because it went down and in like a slider. Because I was thinking breaking ball, I was able to keep the ball fair.When I made contact, I looked up, and I couldn't see the ball. I knew I hit it good, but I didn't know if I hit it high enough to get out. That's what all the jumping was as I was going to first base. I was trying to see what the elevation of the ball was and help it out of the park. To see Pete Incaviglia stop at the wall and give up on it and to see it go out was like an out-of-body experience."
Williams: "I'd faced Carter before. He was 0-for-4 off me lifetime. I knew how to pitch him. I knew he was a down-and-in hitter. The pitch I threw was a mistake. It was supposed to be up and away. I knew it was gone. I gave it the courtesy double-look back, and I just kept walking. Remember it like it was yesterday."
Toronto
players and coaches flew out of the dugout and mobbed
Carter
as he reached home plate, nearly crushing him in a dog pile. His teammates hoisted him onto their shoulders.
L-R: Carter's home run swing, exultation around the bases, and carried off.
Blue Jays
bullpen coach
John Sullivan
caught the home run ball. He said someone from the Baseball Hall of Fame asked him if he had seen the ball, and he fibbed and said no.
Carter
: "When I came back from doing all my interviews, I came down into the clubhouse and
John Sullivan
says, 'Hey, I got something you may want.' It was the baseball. My wife was there, and I said, 'You've been by my side all these years,' and I gave the ball to her."
Despite hitting the Series winner,
Carter
was nosed out for World Series MVP by his teammate,
Molitor
.
Williams
received death threats immediately after his final pitch. People went to his house to throw eggs, rocks, and whatever else they could put their hands on. Police had to come to keep the peace.
A few days later,
Carter
returned to his house. "Someone had cut my grass real low and put the No. 29 in my grass. They had it painted blue and white. Then they had this big ol' sign across my garage door that said, 'The fat lady doesn't sing until
Joe Carter
swings.' I open my garage, and all these blue and white balloons come out. My neighbors had done that. Streamers everywhere. That was quite a treat. And then about an hour later, I gotta pick up all the stuff."