The
Cardinals
led the Series three games to two.
The pitching duel between
KC
's
Danny Leibrandt
and
St. Louis
's
Danny Cox
moved along scoreless until the
Cards
broke through in the top of the 8th when a two-out bloop single by PH
Brian Harper
scored
Pendleton
from 2nd.
Ken Dayley
mowed down the
Royals
in the bottom of the inning, striking out two, including
Royals
' star 3B
George Brett
.
After the
Cards
failed to plate an insurance run in the top of the 9th,
Dayley
returned to the mound for the bottom of the inning. But when
KC
manager
Dick Howser
sent right­hand-hitting
Darryl Motley
up to hit for RF
Pat Sheridan
,
Herzog
brought in
Worrell
to close the Series and extend the 1985
Cardinals
streak to 89-0 when leading after eight innings.
Pinch hitter
Jorge Orta
chopped a ball between 1st and 2nd.
Clark
fielded it and tossed back to
Worrell
covering the bag. Although
Orta
was out by at least a foot, 1B umpire
Don Denkinger
ruled safe, provoking a loud protest from the
Cardinals
and
Herzog
.
Two views of the first play of the bottom of the 9th. Notice how umpire Denkinger is looking at Todd Worrell's glove and not at the base as Jorge Orta steps on it.
When play resumed, 1B
Steve Balboni
lifted a high foul that came down just in front of the 1B dugout.
Clark
ran over, looked twice at
Porter
, then apparently couldn't pick up the ball again and it dropped right in front of the
Royals
dugout. Given new life,
Balboni
lined a single to LF,
Orta
taking 2nd.
C
Jeff Sundberg
bunted, but
Worrell
make a clutch throw to get the runner at 3rd. With PH
Hal McRae
at bat, a pitch got past C
Darrell Porter
to put men on 2nd and 3rd anyway. So
Herzog
ordered a free pass for
McRae
.
With the bases loaded, PH
Dane Iorg
, a former
Cardinal
, blooped a single off his fists to RF that scored the tying and winning runs.
The next night, the
Royals
blasted the
Cards
11-0 to become the first team to lose the first two games of the Series at home and win.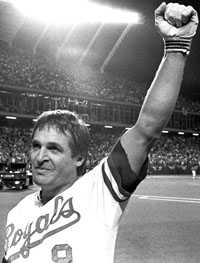 L-R: Steve Balboni, Jeff Sundberg, Hal McRae, Dane Iorg
Years later,
St. Louis
2B
Tommy Herr
still recalled the 9th inning of Game 6: "The bottom of the ninth was such a nightmare.
Ken Dayley
had finished up in the 8th.
Dayley
was an extremely hot pitcher. He had blown the
Dodgers
away to get us into the World Series ... But
Whitey
was afraid of
Hal McRae
and his ability to pinch-hit, and because of that, he wanted to bring in
Todd Worrell
, the right hander. And that's not taking anything away from
Todd
, because he had pitched very well too, but when I look back on it, I always wonder, "What would have happened if we had just left
Kenny
in there?" ... The inning started with
Jorge Orta
hitting a little topper halfway between the pitcher and first baseman.
Jack
made the play and tossed to
Todd
, and
Orta
was clearly out. I had a perfect view of it. And
Denkinger
blows the call. ... I went over and got right in
Denkinger
's face. It was just unbelievable. ... The important out of an inning is the leadoff out. If we get that out, we win the ball game. I'm convinced of that. Not only don't we get the call, but the emotional upheaval it created - we were just screaming at this guy - it kind of got us off what we needed to do to finish that game out. After that there were a series of things.
Steve Balboni
hit a pop-up down the 1B line that
Jack
kind of misjudged around the dugout steps. ... We get a mix-up on the catcher getting crossed up, and it was a passed ball, and then
Iorg
hit a jamshot into right to win the game.
"Obviously, we were a devastated team after that. We felt like we had gotten ripped off. And it was just too much to bounce back from.
Whitey
was incredulous. He was really upset at
Denkinger
, really fired up. We all kind of felt we had one taken away from us."