The
Reds
led the Series three games to two and led Game Six 6-3 in the top of the 8th. So
Cincinnati
manager
Sparky Anderson
did something he rarely did. He let reliever
Pedro Borbon
bat for himself. Southpaw
Roger Moret
had just replaced
Sox
starter
Luis Tiant
after
Cesar Geronimo
belted a solo homer.
Sparky
figured he would hold off on using his two young relievers, lefty
Will McEnaney
and righty
Rawly Eastwick
, although they both were throwing in the
Reds
pen.
Moret
set down the three batters he faced to stop the bleeding. As the
Sox
trotted in, the crowd tried to inspire them, but their cheers were lukewarm at best. You couldn't blame a fan base that hadn't enjoyed a World Series victory since 1918 for feeling that fate had dealt them a losing hand yet again.
Borbon
began his third inning of work facing CF
Fred Lynn
.
Pedro
started him with his best pitch, a fast sinker, but the American League Rookie of the Year drilled it back to the box where it caromed off
Borbon
's right shin to the 3B foul line.
That brought 3B
Rico Petrocelli
to the plate. Contemplating retirement, the 11-year veteran knew that this might be the last at-bat of his career. The crowd encouraged one of their favorites with chants of "
Rico
,
Rico
,
Rico
!"
Petro
fought back from a 1-2 hole to work the count full. In the
Cincy
dugout,
Anderson
was pacing, hands in his back pocket. He had taken a chance by not pinch-hitting for
Borbon
and almost couldn't bring himself to watch. After fouling off two deliveries,
Rico
took a high pitch to put runners on first and second.
L-R: Sparky Anderson, Fred Lynn, Rawly Eastwick
Sparky
had seen enough. So "
Captain Hook
" called for
Eastwick
to face right-handed hitting RF
Dwight Evans
.
Rawly
had completed a sensational rookie season during which he tied for the NL lead in saves with 22. His momentum carried into the Series. He had been the winning pitcher in both Game Two and Game Three, threw three scoreless innings in Game Four, and saved Game Five. If he could save the clincher, he would easily win the Series MVP Award. In fact, the ballots were already being collected in the press box.
Eastwick pitched with complete confidence. "I never have a negative thought," he proclaimed. "This radiates to the hitter. He can feel it when you know you're going to get him out."
Evans
had hit a game-tying homer off
Eastwick
in Game Three, but this time he went down swinging as the fans groaned.
In the
Red Sox
dugout, manager
Darrell Johnson
told reserve outfielders
Bernie Carbo
and
Juan Beniquez
to each grab a bat. He ordered the left-hand hitting
Carbo
to the on-deck circle to pinch hit for
Moret
if #8 hitter, SS
Rick Burleson
, didn't hit into a double play. If
Anderson
played the percentage, as
Johnson
expected,
Sparky
would bring in
McEnaney
to face
Carbo
, at which point the
Bosox
skipper would switch to
Beniquez
, a right-hander.
Since the fifth inning, Carbo had been swinging a weighted back and stretching in the clubhouse. The pinch hitting specialist had homered in Game Three off another right­handed reliever, Clay Carroll.
Bernie didn't expect to hit because he assumed Anderson would bring in southpaw McEnaney. Surely Sparky would not repeat his mistake of Game Three when he let Carroll pitch to Carbo.
L-R: Rico Petrocelli, Dwight Evans, Will McEnaney
SS
Rick Burleson
smacked a fastball toward the Green Monster in LF, but it died into the glove of
George Foster
.
"Pinch-hitting for
Moret
:
Bernie Carbo
," barked the Fenway Park PA.
Carbo
hesitated in the on-deck circle, expecting
Anderson
to pop out of the dugout at any moment. He waited so long that home plate umpire
Satch Davidson
told him, 'Come on, get in here. Time to hit!" When
Bernie
stepped into the batter's box, he told his former teammate, C
Johnny Bench
, "Wow! I'm gonna hit."
Anderson
didn't come out because he decided that right-handed pull hitter
Beniquez
might hit one off or over the Green Monster against southpaw
McEnaney
.
Carbo
had been the #1 draft pick of the
Reds
in 1965, one round ahead of
Bench
. While languishing in the minor leagues,
Bernie
struggled to overcome short attention span and the effects of a dysfunctional home headed by an abusive, alcoholic father. A fun-loving kid on the outside, the young prospect had a bad temper and had been an alcoholic himself by the age of 16. He played for
Sparky Anderson
in AAA and came to regard him as a father.
Carbo
credited
Sparky
with helping him to grow up as well as coaching him to become a better ballplayer.
Carbo
made the
Reds
during
Sparky
's first year at the helm. He hit .310 with 21 HRs and 63 RBIs to earn the
Sporting News
NL Rookie of the Year Award.
But it went downhill from there, starting with a holdout the following spring that failed and caused him to finally report out of shape mentally and physically. He went berserk when GM
Bob Howsam
refused to renegotiate his contract.
Bernie
began to beat and choke
Howsam
until others yanked him away.
Carbo
was shipped to
St. Louis
, where he had two so-so years. The
Cards
then traded him to the
Red Sox
in 1974.
Bernie
fit in much better in
Boston
's looser clubhouse than he had wtchers
Bill Lee
and
Rick Wise
(another ex-
Card
) in keeping the
Sox
relaxed down tith the regimented
Reds
and
Cardinals
. He joined kindred free spirits like pihe stretch.
Carbo
hit 15 HRs and drove home 50 runs as a backup outfielder and pinch-hitter.
Bernie
sought out
Anderson
before the first game of the Series. He apologized for his terrible behavior that cut short his career with
Cincinnati
and thanked him for everything he did for him.
Eastwick vs Carbo
The scouting report on
Carbo
said bust him inside with fastballs, then try to get him to chase low and away. He was not a typical lefthanded hitter because his power was mainly to the opposite field. He loved Fenway Park's Green Monster.
First pitch: Moving fastball on the outside corner. Strike one.
Second pitch: Low and inside. 1-1
Reds
2B
Joe Morgan
waved his outfielders to move back.
Third pitch: Another smoking fastball that handcuffed the hitter but was just off the inside corner. 2-1
Fourth pitch:
Bench
called for a cutter on the outside corner.
Rawly
uncorked his best pitch of the evening.
Carbo
swung hard but missed the ball by a foot.
Watching from 1B, Petrocelli winced. There was no way, he thought, that Carbo would catch up with Eastwick's fastball.
Anderson
moved up to the top step of his dugout, hands thrust deep in his pockets again, watching
Carbo
closely. He recalled that "
Bernardo
," as he called him, had always been a dangerous hitter with two strikes. The voice inside
Sparky
that he trusted told him to bring in
McEnaney
. But he stayed put.
Fifth pitch: Late again,
Carbo
got his bat on a low, outside fastball, fouling it into the stands down the 3B line.
Anderson
's voice said,
Make the change. McEnaney will strike him out
. But
Eastwick
was dominating the hitter.
I'll give him one more pitch
.
Sixth pitch:
Rawly
delivered a nasty cutter that dove for the inside corner, right at the hitter's hands. At the last second,
Bernie
chopped down at the ball, nicking it just before it landed in
Bench
's glove. The swing was so late that Umpire
Davidson
started to call "Ball three!," then changed to "Foul ball!"
Carbo
stepped out of the box to catch his breath.
I just took the worst swing in the history of baseball
, he thought.
3B Coach Don Zimmer thought, That was one of the worst swings I've ever seen. Bernie looked like a Little Leaguer.
The two baserunners, Lynn and Petrocelli, tried to remain optimistic. Carbo's swing looked worse with each succeeding pitch.
In the NBC-TV booth, analyst Tony Kubek expressed a more optimistic view. Bernie had fought off a nasty pitch and protected the plate to stay alive.
Seventh pitch:
Bernie
figured that his former minor- and major-league teammate
Bench
would now call for a fastball away. And that's what
Eastwick
threw but belt-high with no movement, right over the middle of the plate.
Bernie
drove the mediocre pitch high and deep into RCF. He started sprinting down the line, watching CF
Geronimo
turn his back to watch the ball soar over the wall and land in the tenth row for a two-out, three-run pinch-homer to tie the game.
Amid the loudest explosion of noise longtime
Red Sox
owner
Tom Yawkey
had ever heard,
Bernie
raced around the bases in a trance. Hands on hips,
Eastwick
started out to RCF in disbelief. As
Carbo
rounded third, he called to
Pete Rose
, "Don't you wish you were this strong,
Pete?
Ain't this fun?"
Rose
couldn't help but smile. "Yeah, this is fun,
Bernie
."
Lynn
and
Petrocelli
greeted the conquering hero at home plate and escorted him to the dugout as
Bernie
thrust his fists into the air in triumph. His teammates swarmed him as he entered the dugout.
In the other dugout,
Anderson
chastised himself for not listening to the voice.
The game remained tied until the bottom of the 12th when
Carlton Fisk
hit one of the most memorable home runs in baseball history to force Game 7.
Fisk
is rightly enshrined in the Hall of
Red Sox
Heroes. But without
Carbo
, the
Sox
lose in six and, who knows?,
Fisk
might not have made the Hall of Fame.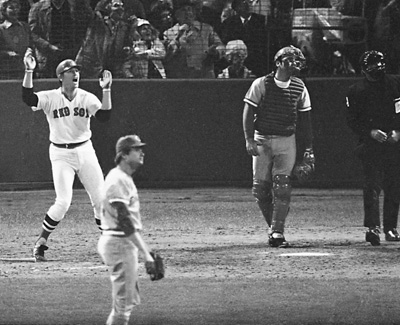 Fisk coaxes his 12th inning home run to stay fair.
Reference:
Game Six:

Cincinnati

, Boston, and the 1975 World Series: The Triumph of America's Pastime
,
Mark Frost
(2009)