The
Dodgers
lead the
Yankees
2-0 heading into the bottom of the 6th inning. Southpaw
Johnny Podres
, who had beaten the
Yanks
8-3 in Game 3, has held the
Bronx Bombers
to just four hits.
Manager
Walt Alston
tells
Podres
as he leaves for the mound, "They got to catch us. We don't have to catch them." Even though it is only the sixth inning,
Alston
makes a defensive switch that proves to be a game-saver for the
Dodgers
.
Junior Gilliam
moves from LF to 2B to replace
Don Zimmer
.
Alston
sends fleet Cuban
Sandy Amoros
out to LF.
Sandy
bats lefthanded but, more importantly as it turns out, throws lefthanded.
Podres
makes
Dodger
fans in the crowd of 62,465 groan by walking the leadoff man,
Billy Martin
, on four pitches.
Alston
has
Clem Labine
and
Don Bessant
working in the bullpen but
stays with his lefty.
Gil McDougald
drops a bunt down the third base line.
Podres
' throw to first is too late. The potential tying runs are just that quickly on base.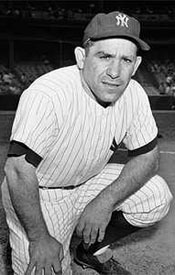 L-R: Johnny Podres, Walter Alston, Sandy Amoros, Yogi Berra
With
Yogi Berra
, the
Yanks
' toughest hitter (with
Mickey Mantle
reduced to pinch hitting because of a leg injury) coming up, SS
PeeWee Reese
comes to the mound.
Reese
asks, "You all right,
Johnny
?"
Podres
nods. Then
Alston
and C
Roy Campanella
arrive.
Walt
asks his catcher, "Has he still got it?"
Campy
tells his pitcher, "Take it easy now
.
" Then to the manager: "He'll be all right
."
In his own words,
Johnny
"threw a pitch that was high out over the plate, a fastball that had something on it, and he (
Berra
) didn't get around too good on the ball, and he sliced it to left field ... At first when the ball went up, I wasn't concerned. In fact, when he hit it, I bent over and picked up the resin bag and said to myself, "Well, there's one out. But then I looked back, and I could see the ball keep slicing toward the line." The crowd has risen to their feet. Would the fly go into the stands for a HR, slice foul into the stands, be held up by a left-to-right wind and drop for a double, or be caught?
Amoros
, playing
Berra
to pull as instructed by the dugout, races fearlessly over from LCF and, at the last moment, sticks out his right gloved hand and spears the ball. Then, just as remarkably, he stops before careen­ing into the low fence. Hearing
Reese
yelling for the ball,
Amoros
turns and throws straight at the chest of
Pee Wee
, who stands just inside the 3B line at the back of the infield dirt. Having taken a peek at the runners while awaiting the throw,
Reese
whirls and fires a strike across the diamond to 1B
Gil Hodges
, who stretches his entire 6'1" height to double
McDougald
by a hair.
Sandy Amoros makes a sensational catch of Yogi Berra's fly. Billy Martin (#1) has to return to 2nd.
A few feet further left and
Berra
's fly would have landed foul in the stands. A few feet further out and it would have landed in the bleachers for a three-run homer.
Asked after the game how he caught the ball,
Amoros
answered in his Cuban accent. "I don't know. I run like hell. ... I kept my eyes on the ball ... never looked anywhere else. It stayed up just long enough to fall into my glove ... I never hit the fence, but I was only this far from it" (holding his hands about 20" apart).
Yankee
2B
Jerry Coleman
, watching from the dugout, recalled: "We just couldn't believe it. In the dugout, we just shook our heads. There's no way he should have made that catch. There was no way he should have been playing
Yogi
so close to the outfield fence. It was a great play, but at the same time it was also a colossal fluke.
"

Podres
: "My juices were really flowing after that."
Johnny
retired the next batter, RF
Hank Bauer
, on a groundout to end the inning.
The
Dodgers
were unable to give
Podres
any more runs in the last three innings. But he didn't need any more. In the 7th,
Mantle
pinch hit with two out and a man on base, but
Johnny
got him on a pop up to
Reese
.
In the 8th,
Amoros
made another fine play, cutting off
Phil Rizzuto
's liner in LCF to hold him to a single. After an out,
Phil
went to 3rd on
McDougald
's bad hop single to bring up
Berra
again. But
Yogi
hit a short fly to RF, and
Hank Bauer
struck out.
When the
Yanks
went down in order in the bottom of the 9th, the
Dodgers
had their first World Series championship in franchise history.
In addition to the celebrations in Brooklyn and across all boroughs of New York City, hun­dreds of joyous Cubans gathered in Amoros's hometown of Havana in the city's Central Park.