1946 World Series - Game 7:
Boston Red Sox
@
St. Louis Cardinals
Southpaw Harry "The Cat" Brecheen had won 15 and lost 15 for St. Louis during the '46 season, his fourth with the Cardinals. While his record was just 15-15, Harry sported a sparkling 2.49 ERA, a hint that his teammates often let him down at the plate. He hurled five shutouts.
Brecheen
outdid himself during the World Series. After
Boston
won the open­er 3-2,
Harry
shut out the potent
Red Sox
lineup 3-0 in Game 2. With
Boston
leading three games-to-two, he came through again in the must-win sixth game 4-1.
The southpaw from Broken Bow OK was listed as 5'10" 160 lb, but the
Red Sox
swore he weighed 150 or less.
Brecheen
's best pitch was his screwball, followed by his curve. He used his middling fastball as a waste pitch to keep hitters off balance. He was the epitome of the "crafty left hander."
Harry
had great success against
Ted Williams
, keeping him off balance with breaking balls down and away and pitches up and in. In nine at-bats in Games 2 and 6,
Ted
was limited to a walk and what he called "one chicken-shit single." In his nationwide syndicated column during the Series, the
Boston
star described
The Cat
's twirling like this: "
Brecheen
's pitches look nice to hit at, but when you try to hit him, the ball just isn't where you think it's going to be."
Ted
made the point that the pitcher always has the advantage over a hitter who hasn't seen him regularly. That was especially true of an unconventional hurler like
The Cat
.
L: Harry Brecheen pitches in Game 2.
R: Enos Slaughter (L) and Red Schoendienst kiss Harry after Game 6.
With wartime travel restrictions ended, the Series returned to its traditional 2-3-2 format, starting in St. Louis. The teams played six straight days with a pre-planned day off after Game 6 if a seventh game was needed.
The hiatus allowed Dyer to envision using Brecheen in relief if necessary in Game 7. But a monkey wrench was thrown into that plan when Harry showed up for the final game feeling terrible. He traced his illness to the aftermath of Game 6. By the time he got to shower after talking to reporters, all the hot water in the outdated clubhouse was gone. He figured the chilly shower weakened his im­mune system. "I had a fever and a cold and my head was about to bust open," he explained after Game 7. He "filled up on aspirin," bundled up despite the warm weather, and huddled in the dugout not expecting to see any action.
L-R: Joe Cronin and Eddie Dyer, Murry Dickson, Wally Moses
Murry Dickson
started Game 7 for the
Redbirds
and pitched well through seven innings, limiting the
Sox
to three hits and one run. Thinking ahead,
Dyer
walked over to where
Brecheen
shivered miserably in the corner of the dugout and asked him how he felt. "My arm feels okay, at least," the
Cat
replied. So
Harry
headed to the bullpen to get ready in case he was needed.
Needing to inject some life into his team with time running out,
Boston
mana­ger
Joe Cronin
turned to his bench. First, he sent up
Glenn "Rip" Russell
to hit for C
Hal Wagner
, a .208 right-handed hitter in place of a .230 lefty who was 0-for-13 in the Series. But the hunch worked as
Rip
lined a curveball into center field for a single, the first hit off
Dickson
since the second inning.
Joe's next decision was a no-brainer. George "Catfish" Metkovich hit for P Joe Dobson. The left-handed batter sent a screaming double down the left field line. Cronin, coaching third base, stopped Russell there.
With another lefty, RF
Wally Moses
, due up,
Dyer
came out and called for
Brecheen
.
Dickson angrily went to the locker room, showered, and left the park. He drove around listening to the game on the radio.
The switch started well, as
Wally
whiffed on three pitches. He protested the call on the final curveball, claiming it was low. Then RF
Enos Slaughter
came in fast to catch SS
Johnny Pesky
's low liner and hold the runners on their "re­spectable bases," as
Dizzy Dean
would say. One more out and
The Cat
would add to his two complete game victories a sparkling save and bring back memo­ries of
Grover Cleveland Alexander
's relief stint against the
Yankees
in Game 7 of the 1926 Series.
Old Alex was in attendance at the game.
L-R: Ted Williams, Johnny Pesky, Dom DiMaggio
But if Harry was a thinking man's pitcher, the next batter, CF Dom DiMaggio, was a think­ing man's hitter. That's why they called him the "Little Professor." Years later, he could remember every pitch of the at-bat and what he was thinking.
Brecheen started with a high fastball that home plate umpire Al Barlick called a strike, to Dom's surprise. When he protested, the ump told him to get in there and hit. Next came a curve inside to make the count 1-1. Harry tried two screw­balls in a row, both down and away. Dom bit on neither to make it 3-1.
He stepped out and looked to
Cronin
for a sign. Told to hit away, the professor considered the possibilities. He ruled out a fastball,
The Cat
's weakest pitch. Also, the lefty hadn't been getting his curve over that day. And he didn't want to walk
Dom
with
Williams
up next. So it would be another screwball but not in­side where the hitter could pull it. Only one possibility remained - the same outside screwball as the last two pitches but in the strike zone.
Brecheen
would want
Dom
would try to pull it and hit a weak grounder. So
DiMag
resolved to go with the pitch. Sure enough,
Brecheen
threw a screw­ball that "was just a bit too high" (to use
Harry
's description), and
Dom
smash­ed it off the wall at the 354' mark in right-center field, missing a home run by two feet. Thinking triple,
Dom
ran as hard as he could around first until he felt a hamstring pop. He hobbled into second base with a double as the tying runs scored. The only noise in the stadium came from the
Red Sox
dugout.
The good news for the
Sox
was they tied the score. The bad news was that
Dom
had to leave the game. Backup OF
Leon Culberson
ran for him.
Cronin
had no choice, but the move would have dire consequences.
After a 20-minute delay, the game resumed with Williams stepping in with a chance to drive in the go-ahead run and erase all the negative press he had re­ceived since falling into a slump in mid-September. (Ted had not homered since September 13.) He would go from Goat to Hero.
The Cardinals lost a player as a foul tip off Williams' bat split the third finger of C Joe Garagiola's right hand. Del Rice replaced Joe behind the dish, delay­ing the game a few more minutes, enough time for Ted to analyze the situation and decide Harry would go with his best pitch, the screwball. Instead, Brecheen jammed The Splinter with a fastball. The result was a towering popup close to the right field line that 2B Red Schoendienst caught to retire the side.
The
Cards
broke the tie in the bottom of the 8th on one of the most famous plays in World Series history:
Enos Slaughter
's scoring from first base on
Harry Walker
's double.
Read about Slaughter's mad dash ...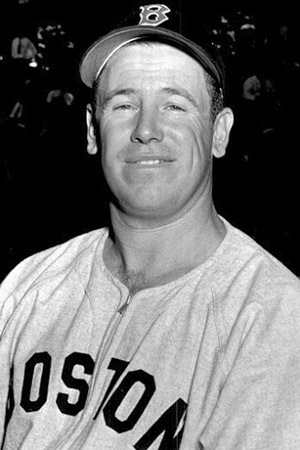 L-R: Rudy York, Bobby Doerr, Tom McBride
Far be it from this exciting series to end quietly.
Cardinal
fans were confident with
Brecheen
on the mound, but they didn't know how sick he was.
1B
Rudy York
bounced a single past 3B
Whitey Kurowski
.
Paul Campbell
ran for
Rudy
. Hitting away, 2B
Bobby Doerr
dropped a single into short left field just past lunging SS
Marty Marion
.
Campbell
, the potential tying run, stopped at second.
The
Cardinals
gathered at the mound. Some looked to their dugout, but
Dyer
made no move. They discussed what to do if the
Red Sox
bunted and decided they'd try to get
Doerr
to keep the go-ahead from getting into scoring position
.
Dyer
said afterward: "When the first two
Red Sox
got hits off him in the ninth, I decided right then and there to let him stay in. He had gotten out of tight spots so many times this season that I sort of figured he might do it again. But if he failed this time, I was going right along with him even if we lost the game."
Following the rules of Baseball 101, 3B
Pinky Higgins
bunted down the third base line but too hard.
Kurowski
threw to
Marion
to force
Doerr
at second. Still, the tying run now stood only 90' from home with only one out.
But
Brecheen
got C
Roy Partee
to foul to 1B
Stan Musial
, who caught the ball after a long run and immediately fired home in case
Campbell
had any thought of trying to score.
So
Red Sox
hopes came down to
Tom McBride
, a backup outfielder who hit .301 in '46 and whose scratch single in the 9th inning tied Game 1. He hit what
Brecheen
called "a good screwball" on the ground to
Schoendienst
. The ball bad hopped enough to roll up
Red
's right arm, but he corralled it and tossed to
Marion
just in time for the force at second.
Brecheen
: "The nicest pitch I think I made all season was the one I threw
Tom McBride
to end the game. It was a screwball, and it broke nicely so that
Tom
couldn't do much with it."
The final play had particular significance for
Schoendienst
, as he explained in his autobiography: "The
Red Sox
mounted a threat, putting two runners on with two outs. The next batter, pinch-hitter
Tom McBride
, hit a slow roller toward me that looked as if it would be an easy chance. Instead, just as I went to field the ball, it took a crazy hop and I blocked the ball with my left shoulder. Luckily I was able to trap it, and flipped the ball to
Marion
covering second for the final out. ... (His girlfriend)
Mary
was sitting in the stands, watching the game with her family. We had talked about getting married, but she still hadn't officially been granted her family's blessing. One of the people at the game was her grandfather,
Patrick O'Reilly
."
Mary
recalled, "He was still not sure about
Red
, until he made that play. After the ball hit him in the chest, then rolled up his arm, and he still made the play and we won the game, then my grandfather said, 'You can marry him now.' He had not been too happy about that 'German' I was going to marry."