1940 World Series Game 7
:
Detroit Tigers
@
Cincinnati Reds
On a sunny but chilly Tuesday at Crosley Field, a disappointing crowd of 26,854 watched two right-handers,
Cincinnati
's
Paul Derringer
and
Detroit
's
Bobo Newsom
, mow down the hitters.
The only run in the first six and a half innings scored in the
Tigers
' third. C
Billy Sullivan
singled off 1B
Frank McCormick
's glove and was sacrified to second by
Newsom
. SS
Dick Bartell
popped to his counterpart,
Billy Myers
. After CF
Barney McCoskey
walked, 2B
Charlie Gehringer
hit a hard smash to 3B
Bill Werber
, who knocked the ball down. Although he had no chance to get
Charlie
,
Bill
threw into the dirt in front of
McCormick
.
Sullivan
scored, and
McCosky
raced to third as the ball deflected 10' off
Frank
. The play was scored a single for
Gehringer
and E5. The
Tigers
couldn't have asked for a better batter with run­ners on first and third than LF
Hank Greenberg
. But
Derringer
bore down and, after falling behind 3-0, whiffed
Hank
on a 3-2 pitch,
Paul
's 23rd of the inning and 43rd of the game.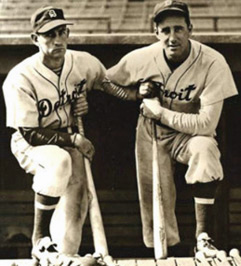 L-R: Paul Derringer, Bobo Newsom, Charlie Gehringer, Hank Greenburg
Pitching his heart out in memory of his father, who died of a heart attack the morning after watching his son win Game One, Newsom held the Reds to four hits in the first six inn­ings, with no runner reaching third. But after the crowd stood up for the 7th inning stretch, they didn't sit down.
CF
Frank McCormick
crashed a double off the left field wall. That started
Alton Benton
and
Tommy Bridges
warming for the
Tigers
. LF
Jimmy Ripple
became the third straight batter (counting
Goodman
to end the 6th) to go for the first pitch, which he smashed high off the screen in front of the right field bleachers. The drive just missed being a homer, and RF
Bruce Campbell
failed in a desperate stab for the catch. But he picked up the ball and threw in to
Bartell
right away.
Dick
admitted later that he assumed
McCormick
would easily score from second, but, with his back to the runner, he didn't realize that
Frank
had waited to see whether the drive would be caught. Many observers, including some of
Bar­tell
's teammates, thought he had a good chance to nail
McCormick
at the plate if he had thrown promptly and accurately.
Gehringer
yelled, "Home, home, home!" but the shortstop couldn't hear him over the cheering crowd. When
Bartell
whirled with the throw from
Campbell
, he saw that
McCormick
had just rounded third, but he still held the ball as
Frank
scored the tying run. (Shades of the 1919 World Series, but no one ever accused
Bartell
of throwing the Series by holding the ball.)
L-R: Frank McCormick, Jimmy Ripple, Dick Bartell, Jimmie Wilson
Detroit
manager
Del Baker
stayed with
Newsom
, whose scoreless innings streak ended at 16, even though the
Reds
had hit him hard the last two innings. The next batter, C
Jimmie Wilson
was 2-for-2, but
Reds
skipper
Bill McKechnie
gave the bunt sign, and
Jimmy
executed perfectly to send
Ripple
to third as 3B
Pinky Higgins
threw to
Gehrin­ger
covering first.
The stands rocked with cheers as
Ernie Lombardi
hobbled on his injured ankle to bat for SS
Eddie Joost
. The cheers turned to boos as
Newsom
walked
Schnozz
intentionally. The
Tigers
knew that, even on one leg,
Ernie
could hit the ball a country mile.
Lonnie Frey
ran for
Lombardi
.
The Reds tried to execute a suicide squeeze on the first pitch, but Myers bunted foul. Ex­pecting another try, Newsom threw three straight pitchouts. Then Billy hit a fly to the center field fence. Ripple scored easily after McCosky's catch, Frey holding first. With a lead now, Derringer hit again and rapped to Higgins, who threw to Gehringer for the force on Frey.
Gehringer
led off the top of the 8th with a single but went no further. Then
Derringer
set down the
Tigers
in order in the 9th to seal the 2-1 victory and
Cincinnati
's first World Series championship since the "tainted" one in 1919.
Newsom
was keenly disappointed and broke down on reaching the dressing room. "It was the hardest game I ever wanted to win," he said with tears in his eyes. "I felt great. Naturally, I didn't feel as good as I should have. I pitched this game for my dad. I hope he knows what I accomplished. I knew in my heart he wanted me to win. This was the one I wanted to win most. It was a tough one to lose, but
Derringer
pitched a swell game and deserves a lot of credit. It's coming to him." As
Bobo
and
Sullivan
were being photo­graphed, the catcher said softly: "
Bobo
, your dad would have liked this one."
Jimmy Ripple
had come to
Cincinnati
from
Brooklyn
August 23 and hit .307 and drove in 20 runs in 32 games with the
Reds
. Despite the fact that his double was the key hit in the winning rally in the 7th, the ball club voted him only a half share of the World Series money. A fan wrote
Jimmy
a note. "I see where the
Reds
voted you in for only a half share in the Series. You surely have earned more, so I am enclosing my $10 to help make it up."