1924 World Series Game 1: New York Giants @ Washington Senators
To say that Washington DC was excited about their Senators' first World Series game would be an understatement. Thousands of fans lined up outside Griffith Stadium the after­noon before the game to buy bleacher tickets for Game One. The World Series was always an attraction, but this one had extra appeal. The immortal Walter Johnson, age 36, would be pitching in his first World Series game in his illustrious 18-year career. The "Big Train"–and his team–was the sentimental favorite across America for everyone but Giants fans. Johnson spearheaded the Senators' pennant push with a 23-7 record and an ERA of 2.72, which led the American League as did the 23 victories. He also topped the league in strike­outs (158) for the twelfth time.
Giants Manager John McGraw, in his fourth straight World Series, countered with 31-year-old southpaw Art Nehf (14-4). At age 51, McGraw was almost twice as old as Sena­tors' 27-year-old player-manager Bucky Harris.
Washington
's appearance in the Fall Classic was a welcome relief after three consecu­tive years of all-New York series. The
Yankees
faced the
Giants
in 1921, 1922, and 1923.
"Close to 40,000," including those in the temporary bleachers in center field, watched a tight, thrilling contest that wasn't settled until the 12th inning. Veteran sportswriter Fred Lieb, President of the Baseball Writers' Association, wrote that "the game deserves a place among World Series classics."
L: President Calvin Coolidge presents
Senators
manager Bucky Harris with first ball of World Series.
C: Walter Johnson; R: Art Nehf
Giants Strike First
The Giants took the lead in the top of the second on CF George "High Pockets" Kelly's home run to deep left field.
The visitors doubled their lead in the fourth on another solo homer into the left field stands, this one from an unexpected source. 1B Bill Terry had shown none of the talent that would eventually land him in the Hall of Fame as he hit only .239 in 77 games with just five homers during the season. "Memphis Bill" would contribute two singles later in the game.
Meanwhile, Nehf was the antithesis of Johnson not only because he was a lefthander but also because he threw a sharp-breaking curve mixed with a slow bender. He shut down the Senators through the first five innings with just one hit, a harmless single.
Goose Goslin is thrown out at first on a nice play by Giants SS Travis Jackson in the second inning.
Senators Cut Lead in Half
The Senators finally scored in the 6th on CF Earl McNeely's bloop double down the left-field line followed by Harris' groundout to short that sent the fleet McNeely to third and RF Sam Rice's slow roller to second. 2-1 Giants
The Giants missed an opportunity to add to their lead in the 7th when 3B Freddie Lind­strom grounded out with runners on second and third.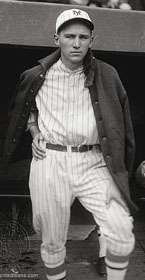 L-R: George Kelly, Bill Terry, Ross Youngs, Freddie Lindstrom
Frisch Saves A Run Or More
A sensational defensive play prevented the Senators from scoring in the bottom of the 7th. With runners on first and second and two out, Johnson slashed a liner toward center that 2B Frankie Frisch leaped and snagged to end the inning.
Giants CF Ross Youngs had been having a terrible day when he stepped to the plate in the 8th with one out and nobody on. He had fanned in all three of his plate appearances. This time, he shot a double down on the left-field line. But later in the inning, he was picked off of third base by C Muddy Ruel to end the threat. Youngs would get another chance at redemption later in the contest.
A great throw kept the Giants from adding to their lead in the top of the 9th. LF Hack Wilson singled to start the inning and was sacrificed to second. Following C Hank Gowdy's strikeout, Nehf singled to right field, but Rice gunned down Wilson trying to score. So the score stayed 2-1 Giants into the bottom of the 9th.
Senators Tie in 9th
The do-or-die inning for the Senators started with 1B Joe Judge taking a called third strike. But 3B Ossie Bluege raised the hopes of Senators fans with a line drive that was too hot for SS Travis Jackson to handle. SS Roger Peckinpaugh then brought the crowd to their feet with a ringing double to left-centerfield that scored Bluege all the way from first to tie the game.
With the game on the line, Nehf bore down and retired C Muddy Ruel and Johnson to send the contest into extra innings.
The Giants left a man on second in their half of the tenth. The Senators went them one better (or worse) when they wasted singles by Harris and Rice with one out.
Each side went down 1-2-3 in the 11th to set up the fateful 12th inning.
L-R: Earl McNeely, Sam Rice, Ossie Bluege, Roger Peckinpaugh
McNeely Helps Giants Get Two in 12th
Johnson walked Gowdy. Then Nehf sent a low liner toward center. McNeely appeared to misjudge the ball, for he waited a moment or two before starting to run in, and the ball dropped in front of him for Nehf's third single of the game. Gowdy had stayed close to first base in case McNeely caught the ball. When it dropped, it appeared tht McNeely had a chance to force Gowdy at second, but the centerfielder compounded his earlier misreading of the ball by throwing it high over Harris' head and almost to the Giant dugout. That allowed Gowdy to get to the third and Nehf to second with none out.
McGraw sent up Jack Bentley to hit for Lindstrom. Pitching carefully, Johnson walked Bentley to load the bases and set up a force play at any base. Speedy Billy Southworth ran for Bentley. The Senators' strategy worked when Frisch grounded to 2B Harris, who nailed Gowdy at home. That set up the deciding at-bats of the afternoon.
Youngs' bad day had continued when he popped out in the 9th. But all his earlier trou­bles were forgotten when he looped a fly to left-center. McNeely again got a slow start on the ball, and he decided to stop and let the ball drop rather than have it bounce past him. Nehf had held up at third, but when the ball dropped, he raced home with the go-ahead run, and Southworth raced to third. CF George Kelly followed with a fly to deep left field that plated Southworth with an insurance run. Wilson lined out to end the inning, but the damage had been done. Giants 4 Senators 2
L-R: Jack Bentley, Billy Southworth, Mule Shirley, Goose Goslin
Senators Fall One Run Short
McGraw made a defensive move that proved to be providential when he moved CF Kelly to second base and put Southworth in center.
The Senators got a break when Jackson botched a pop fly in short center that allowed Mule Shirley, hitting for Johnson, to reach second. Lieb called it, "A schoolboy muff, one of the worst I ever saw in a World Series." After McNeely flied out, Harris singled to cen­ter, scoring Shirley with an unearned run.
Rice also rapped a single to center that sent Harris to third, but Sam foolishly tried to take second when Southworth fumbled the ball only to have Billy scoop up the horsehide and make a fine throw to cut down Rice.
Still, the tying run was on third, and the next batter was the Senators' best hitter (.344), CF Goose Goslin. He smacked a grounder that had base hit written all over it, but 2B Kelly made a great stop, a "miracle play," and threw to first to end the game.
Walter Johnson would have to wait another few days to get a World Series victory.
FINAL SCORE: GIANTS 4 SENATORS 3