Peckinpaugh's Double Evens Series
1924 World Series Game 2:New York Giants @ Washington Senators
After losing Game 1 4-3 with their ace Walter Johnson on the mound, the Senators needed a victory in Game 2 to avoid going to New York down 0-2. Manager Bucky Harris put the game in the hands of Tom Zachary, "the capital's favorite lefthander," who went 15-9 during the season with a 2.75 ERA.
Homers Put Senators Ahead
Washington drew first blood when LF Goose Goslin cracked a two-run homer in the first off Jack Bentley, scoring RF Sam Rice who had singled.
Tom Zachary, "the capital's favorite lefthander," kept the Giants at bay with six score­less innings. Meanwhile, the Senators added to their lead in the fifth on 2B Bucky Harris's homer.
The Giants finally pushed a run across in the 7th. 1B George Kelly walked, and LF Irish Meusel singled to center, sending Kelly to third. He scored when CF Hack Wilson ground­ed into a 5-4-3 double play. 3-1 Senators
L-R: Tom Zachary, Goose Goslin, Jack Bentley
Giants Tie It in 9th
That score held up until the top of the 9th. Working on a four-hitter, Zachary faced the 2-3-4 hitters in John McGraw's lineup. 2B Frankie Frisch walked. After RF Ross Youngs popped to short, Kelly lined a 3-2 pitch to right-centerfield. Running with the pitch, Frisch roared around second and then third and headed home. RF Sam Rice fielded the ball be­fore it reached the fence and threw to the cutoff man, Harris, who wheeled around and fired a bullet to C Muddy Ruel. But the peg was a little high, allowing Frisch a split second more to hook slide into the plate just ahead of Ruel's tag.
Meusel hit a grounder between first and second that Harris scooped up and threw to first to get the batter, allowing Kelly with the potential tying run to take second. Wilson then made up for his double play earlier by smashing a 2-2 pitch between first and second. As Kelly steamed around third, Rice again made a beautiful stop and throw, which seemed to have a chance to end the game. But Ruel juggled the ball for an instant, and that was enough to allow Kelly to dive over him and land on home plate with both hands to tie the score. The big crowd fell silent, stunned that a game that seemed to be theirs was now tied with the go-ahead run on second.
Player-manager Harris called in Firpo Marberry from the bullpen. The 6'1" 190lb right­hander was one of the first relief specialists who today would be called a "closer." He finish­ed 31 of the 50 games he appeared in that season, 15 of which have been retroactively classified as saves.
Marberry struck out SS Travis Jackson on three straight fastballs to keep the score tied heading into the bottom of the ninth.
L-R: George Kelly, Irish Meusel, Hack Wilson, Frankie Frisch
McGraw Makes Fateful Decision
McGraw had no reliever like Marberry. So Bentley returned to the hill for the Giants to face the 5, 6, and 7 hitters in the Washington lineup. Even long before the sabrmetric era that calculates everything, managers knew it was not a good idea to walk the leadoff batter in an inning. But that's what happened. 1B Joe Judge drew a free pass after missing a long hit by a foot. 3B Ossie Bluege bunted the winning run to second. Knowing that the next batter, SS Roger Peckinpaugh, was one of the coolest men in a pinch, Captain Frisch wanted to walk him intentionally, but McGraw shook his head and told Bentley to pitch to him.
That decision cost the Giants the game. After fouling a couple of pitches and letting two more go wide, Peckinpaugh hit a sharp grounder between 3B Freddie Lindstrom and SS Travis Jackson. LF Meusel fielded the ball well and threw home quickly, but Judge scored easily to even the series at a game apiece. FINAL SCORE: SENATORS 4 GIANTS 3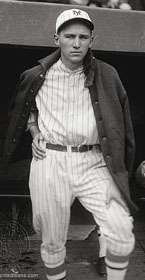 L-R: Joe Judge, Roger Peckinpaugh, Freddie Lindstrom, Travis Jackson