Cicotte Signals the Fix Is In.
1919 World Series Game 1: Chicago White Sox @

Cincinnati Reds
When
White Sox
P
Eddie Cicotte
(pronounced SEE-cot) hit the first batter he faced in the bottom of the first,
Morrie Rath
, right between the shoulder blades, hardly anyone thought anything of it. Even an ace hurler like
Eddie
, who led the major leagues with 29 victories against only seven defeats, might be nervous starting the first game of a World Series even though he had started three games against the
New York Giants
in the 1917 Fall Classic. So it was surprising that a pitcher known for his control–he walked only 49 batters in 306 innings in 1919–would start the game with such an errant delivery.
What only a handful of people knew, though, was that the hit batsman was not a result of jitters. No, it was a predetermined signal to a coterie of gamblers that the fix they had paid handsomely for was in process. Cicotte had found the $10,000 he demanded in his pillow in his hotel room the night before Game 1.
The batter Eddie hit came around to score the game's first run on a single that sent him to third and a sacrifice fly to deep left field.
Cicotte had his best year in the majors in 1917 when he led the American League in wins (28), ERA (1.53), and innings pitched (346 2/3). In the World Series that year, he contribu­ted one win to Chicago's six-game triumph. Yet all White Sox owner Charles Comiskey offered him was a $5,000 contract, much less than pitchers of the same caliber earned on other teams. Eddie's 1918 season was a disappointment after his '17 showing due in part to an ankle injury in early May.
Cicotte was the head of a household of 12, including his wife's parents, Eddie's brother and wife, and a brother-in-law's family.
Rumors that the series was "fixed" had been rampant. So some reporters covering the game were on the lookout for suspicious plays. Two of those reporters were
Giants
ace
Christy Mathewson
, who wrote a daily syndicated column during the World Series.
Chris­ty
had been a player-manager for the
Reds
in 1916 before serving in World War I. Another keen observer was
Hugh Fullerton
of the
Chicago Herald
and
Examiner
. Both men agreed to circle suspicious plays on their scorecards during the series.
Mathewson
noted several questionable plays in his article on Game 1. "In the third inning of today's game,
Hugh Fullerton
said to me, 'Do you think
Cicotte
was right?' I replied, 'No, because if he had his usual stuff the
Reds
would be making more foul tips.'" Then
Matty
cited a play in the bottom of the 4th when the
Reds
broke open the game with five runs. With a man on first and no outs, "
Cicotte
grabbed a hot grounder hit by
Kopf
, but threw it so low to
Risberg
at second base that he could not double
Kopf
." Instead of an inning-ending double play, the
Reds
had a man on first with two outs. The next four batters scalded
Cicotte
for a single, triple, double, and another single to send the
Sox
ace to the showers. He had given up seven hits and six runs, all earned. He walked two batters and struck out only one.
Cincinnati
coasted to a 9-1 victory.
1919 Chicago White Sox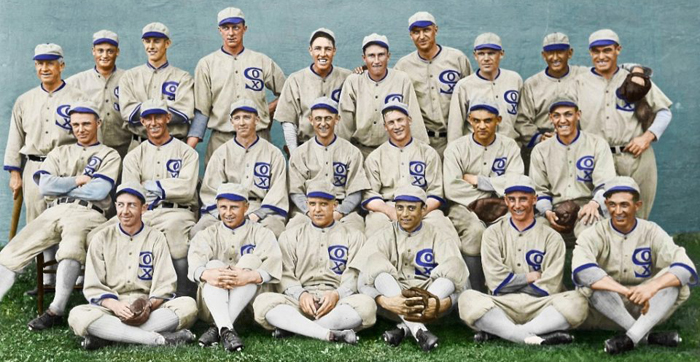 Eddie Cicotte is third from left in the first row.
In an interview after the Series with Baseball Magazine, Cicotte was asked about the fix rumors. He replied: "For my first game I will offer no apologies. It was a very hot day and the heat bothered me considerably. But I thought I could pitch my best ball. I was mistaken as the results showed plainly enough." For the record, the temperature at noon October 1, 1919, in Cincinnati was 83°.