Two Dropped Balls Do in Giants
1912 World Series Game 8:
New York Giants
@
Boston Red Sox
The Series went to an eighth game because of a tie called by darkness.
Situation:
Bottom of the 10th; the
Giants
lead 2-1 after scoring a run in the top of the inning off
Red Sox
ace
Smoky Joe Wood
, who entered in the top of the 8th.
Giants
manager
John McGraw
still has his starter and money pitcher of 12 years,
Christy Mathewson
, on the hill.
Matty was heading to the mound as McGraw came in from the third base coaching box while the teams changed sides. The manager put his hand on his ace's shoulder, but neither man needed to say anything.
2B
Larry Doyle
, the
Giants
captain, jogged in front of
Christy
and shook his fist in an­ticipation of victory.
Matty
told the second sacker, "I'll float my old arm out there right after the ball if I have to in this inning. I'll win the game."
Snodgrass Drops Easy Fly
Boston manager Jake Stahl sent righthand batting Clyde Engel to hit for P Joe Wood. After taking a called strike, Engel swung at the next pitch, another rising fastball, and loft­ed a high fly to left centerfield as the crowd groaned. Clyde fired his bat down in disgust, and 2B Doyle yelled, "That'one of 'em!" loud enough to be heard in the press box. The other voice was Snodgrass's yelling "I got it! I got it!" as he called off LF Red Murray, who some thought had the easier play. Obeying one of McGraw's fundamental rules, "If the centerfielder believed he could catch the ball, he caught the ball," Red took a knee to stay out of Fred's way. Fred settled under the ball and dropped it. Hustling all the way, Engel ended up on second. Normally so cool, Mathewson swung his gloved hand in a small ges­ture of frustration.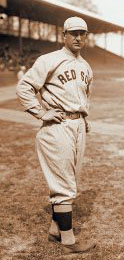 L-R: Smoky Joe Wood, John McGraw, Christy Mathewson, Jake Stahl
In New York, fans following the game on the big boards were puzzled when Engel's name was displayed at second base. One fan called out, "A fellow named Engel hit a double off Matty? That can't be." When E8 was posted on the board, another fan yelled, "Surely it had to be a hard play. They are notoriously difficult scorers in Boston, you know."
New Yorkers follow the action on the "Playograph."
Three thousand miles across the continent, fans congregated outside the
Los Angeles Times
building to obtain telegraph reports of the action in distant Boston. The predominately male audience included a gray-haired woman with a perpetual smile. When asked whom she rooted for, she replied, "I'm for the
Giants
." When a chauvinist guessed that she picked them for their uniforms, the lady set him straight. "No, sir. I root for them because my son plays for them. He's the center fielder. His name is
Fred Snodgrass
."
Snograss Makes Circus Catch
If Fred was moping over his embarrassing blunder, he didn't show it. With the crowd in a frenzy, Harry Hooper twice tried to sacrifice but didn't succeed in laying one down in fair territory. So with two strikes, he smashed a ball to left center field that should have tied the game. But the Boston rightfielder, who had robbed Doyle of a homer in the fifth, was now denied himself on a diving catch by Snodgrass. As Harry remembered years later, "Ninety-nine times out of a hundred no outfielder could possibly come close to that ball. But ... Snod­grass ran like the wind and dang if he didn't catch it. I think he outran the ball. Rob­bed me of a sure triple." Engle ran to third after the catch. Mathewson again waved his glove at Snodgrass, this time to acknowledge a spectacular play.
Participants in the 1912 World Series were still talking about the Snodgrass catch years later.
John McGraw in 1931: "It was so impossible, it was hard to describe."
Tris Speaker, the Red Sox Hall of Fame center fielder, in 1949: "I saw thousands of games, and I never, ever saw a catch like that before or after. It was a like a magic trick."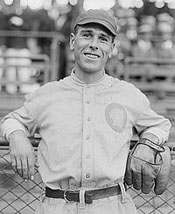 L-R: Clyde Engel, Fred Snodgrass, Harry Hooper, Steve Yerkes
Meyers Muffs Foul Popup
The already-strange inning got even weirder. First, Matty tried to work the corners to 2B Steve Yerkes but walked the .252 hitter on a 3-1 count. Next up was CF Tris Speaker, eager to atone for his misplay in the top of the inning when he tried for a shoestring catch but missed, allowing the go-ahead run to score. He had gone four-for-11 against Mathew­son in the Series for a swell .363 average. Needing a strikeout or popup to keep the tying run at third, Christy got the latter. Here's what happened in Speaker's own words.
It looked as if I was out when I cut one of Matty's fadeaways and lifted a high foul between the plate and first base. The ball was drifting toward first and would have been an easy catch for Merkle. I was going to yell for Meyers to make the catch for I didn't think he could, but before I could open my mouth I heard Matty calling: "Meyers, Meyers."
Meyers chased the ball, but it was going away from him and finally Merkle charged in, but he was too late and couldn't hold the ball. Fred was blamed for not making the catch, and the term "bonehead" was thrown at him again, recalling his failure to touch second base in 1908. I never thought Merkle deserved any blame at all. It was Matty who made the blunder in calling for Meyers to try for the catch.
Speaker Singles in Tying Run
Mathewson had to put aside any thoughts of self-pity because he should have retired the Sox 1-2-3 to preserve the victory. Speaker yelled, "Well, Matty, you just called for the wrong man. Now it's gonna cost you the ball game!" Tris backed up his words by lashing the next pitch, a hanging curve, over 2B Doyle's head on one big hop to Josh Devore in right field. Engle scored the tying run, and Yerkes scampered to third. Speaker took second on the unwise throw-in over the cutoff man's head.
L-R: Tris Speaker, Fred Merkle, Duffy Lewis, Larry Gardner
Gardner Drives Home Series Winner
McGraw ordered an intentional walk to LF Duffy Lewis to set up a forceout at home. That brought 3B Larry Gardner to the plate, he of the two errors in the second inning, sore finger, and five-for-27 batting mark (.185) for the Series. With the infield drawn in, Gardner worked the count to 3-1, then smashed Matty's 27th pitch of the inning and 124th of the game deep into right field. As soon as the ball left the bat, Matty threw up his hands and left the mound. Yerkes tagged up and Engel, now coaching third, got ready to send him home. Devore caught it almost at the fence, but his desperation peg home had no chance. Player-manager Stahl, waiting on deck, threw up his hands to signal Yerkes that he didn't have to slide. C Meyers turned away without trying for the ball as Steve crossed the plate with the run that gave the Red Sox their second World Championship in as many tries.
Across the continent in Los Angeles, someone asked, "Who committed the error on En­gle?" right after the final score was posted. The announcer checked his reports and yelled back, "The centerfielder. Snodgrass." At that moment, one of the spectators fainted. Adie Snod­grass finally came to on her way to the hospital and whispered, "My poor boy."
New York Globe writer Sid Mercer, sitting in the Fenway Park press box with tears stream­ing down his face, dictated his account of the game to a telegraph operator.