Clarke Bets on the Rookie
1909 World Series Game 1
:

Pittsburg Pirates
vs
Detroit Tigers
This article is more about a manager's pivotal decision - actually three pivotal deci­sions - rather than a pivotal play.
When the 1909
Detroit Tigers
grabbed their third straight junior circuit crown, they hoped to finally win the "World's Series" (as it was called then) after two straight losses to the
Cubs
. Their opponent, the
Pittsburg Pirates
, had lost the first Fall Classic in 1903 to the
Red Sox
. The Series would pit two of the greatest players of the era in SS
Hon­us Wagner
of the
Bucs
and
Tiger
RF
Ty Cobb
.
Detroit
manager
Hugh Jennings
was confident his club would finally break through. "The
Tigers
are in better condition than they have been in three years. All the boys are playing at top speed. I would not say how badly we will beat
Pittsburg
, but the outlook is decidedly encouraging. I am not superstitious, but the third time charm looks good to me."
27-year-old
Charles "Babe" Adams
had a fine rookie season in 1909 for the
Pi­rates
, finishing 12-3 with a 1.11 ERA. However, no one considered
Babe
the ace of a staff that boasted a Big Three of
Vic Willis
(22-11, 2.24 ERA),
Howie Camnitz
(25-6, 1.62), and
Lefty Leifield
(19-8, 2.37).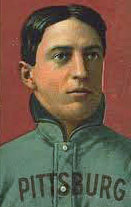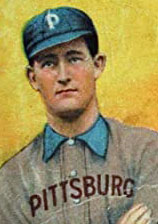 L-R: Vic Willis, Howie Camnitz, Lefty Leifield
Pittsburg
(as the city officially spelled its name from 1891-1911) won the pennant by 6.5 games over the
Cubs
after a 16-game winning streak in early September. So it wasn't that Player-Manager
Fred Clarke
had to use his top starters in the last games to clinch the crown.
Camnitz
was still recovering from an attack of tonsilitis, but otherwise he could have arranged his starters in any order he wished. But
Fred
appreciated the fine work his "young giant"
Babe
had done in the last six weeks of the season, especially his control as
Adams
issued only 23 free passes in 130 inn­ings.
Babe Overcomes Shaky Start
So Adams toed the slab to open the best-of-seven series at Forbes Field. Perhaps intimidated by the overflow crowd of 29,265, Babe started shakily, surrendering a run in the first inning, but settled down to twirl a six-hit 4-1 victory that was sparked by Clarke's game-tying homer in the fourth.
Adams retired the side in order in only three innings but repeatedly wiggled out of trouble, stranding eight. Babe aided his own cause with two fine fielding plays. First, he grabbed Sam Crawford's high bounder in the first and threw out the runner at third. Two innings later, he made a scoop throw on Donie Bush's bunt to nail him by inches at first.
1909 World Series Action
By the time
Babe
took the hill again in Game 5, the Series was tied at two games apiece.
Clarke
inexplicably started
Camnitz
in Game 2, but
Howie
lasted only 2 1/3 innings in the 7-2 loss. Still not going with
Willis
or
Leifield
,
Clarke
chose
Nick Maddox
(13-8, 2.21), who surrendered only one earned run in the 8-6 victory at Ben­nett Park in the Motor City.
Leifield
finally took a turn in Game 4 but gave up all five runs in four innings as the
Tigers
tied the series 5-0.
Adams Wins Again
Back home in Pittsburgh October 13,
Clarke
turned to his
Babe
.
Adams
respond­ed with a complete game 8-4 triumph. He struck out 8 and walked only 1 on a 40° day with a chilling wind sweeping across the field.
Detroit
's six hits included two ho­mers, two two-baggers, and two singles.
Clarke
's second HR of the series, a three-run clout to deep CF, broke a 3-3 tie in the 7th.
Following an odd 2-2-1-1 format, the Series returned to Detroit for Game 6 on Oc­tober 14. The Tigers won 5-4 to force a Game 7.
The National Commission that ruled baseball had determined the site of Game 7 by a coin flip prior to Game 5 that AL President
Ban Johnson
called correctly. They also acceded to
Detroit
's request to move the game back a day to October 16, a Satur­day, in order to boost ticket sales.
Deacon Phillippe
(8-3, 2.32), the 37-year-old veteran who won three games for the
Pirates
in the '03 Series, begged
Clarke
to let him pitch Game 7. But the day off gave
Fred
an opportunity to go with
Adams
again with only two days rest.
Babe Saves His Best for Last
Babe
responded with his best game of the Series. Ignoring the blustery 50° wea­ther, he shut out the
Tigers
8-0 on six hits. He struck out only one but also walked only one. Only in the fourth did
Detroit
produce more than one hit. No runner went further than second base.
Adams took home the princely sum of $3,117 for his efforts. Only $1,853 was his World Series share. The rest came from donations by Pirate fans and his teammates, who kicked in $25 each.
So the
Pirates
won the Classic despite the fact that the Big Three failed to win a game thanks to their first-year hurler.
Babe Adams stat line for the 1909 World Series
| | | | | | | | | | | | |
| --- | --- | --- | --- | --- | --- | --- | --- | --- | --- | --- | --- |
| G | W | L | CG | IP | H | R | ER | ERA | HR | BB | K |
| 3 | 3 | 0 | 3 | 27 | 18 | 5 | 4 | 1.33 | 2 | 6 | 11 |