Rainout Lets Deacon Pitch Game 4
1903 World Series Game 4:
Boston Americans

@

Pittsburg Pirates
31-year-old righthanders Charles "Deacon" Phillippe and Sam Leever were Pitts­burg's top hurlers in 1903. Each won 25 games to account for 55% of the Pirates' 91 wins. So it was no surprise when manager Fred Clarke started Deacon in Game 1 of the 1903 World Series and Sam in Game 2. Each allowed three runs, but the Piratesscored seven runs for Deacon and none for Sam.
Even though Phillippe and Leever won the same number of games, Clarke considered Deacon more reliable as evidenced by the fact that he started him again in Game 3 in Boston with just one day's rest. The move paid off as the Pirates won 4-2.
L-R: Deacon Phillippe, Sam Leever, Fred Clarke, Ed Doheny
Clarke Starts Doheny
The next day was a travel day as the best-of-nine Series shifted to Pittsburgh for the next four games. Who would pitch for the Pirates? Clarke's #3 man for most of the season, southpaw Ed Doheny, started the year 12-6 before he began behaving strangely. His alco­hol consumption increased, and he had several unpleasant run-ins with teammates. He started believing detectives were following him. He left the team with permission at the end of July. After a few weeks of rest at home in Massachusetts, he returned to the club in mid-August. He pitched well, improving his record to 16-8, but another series of mishaps caused him to go home and be placed under the care of a physician.
So Clarke's choices boiled down to Leever on two days rest or 35-year-old veteran Wil­liam "Brickyard" Kennedy, who was only 9-6 during the season.
Mother Nature solved the Pirate skipper's problem. Game 4 was postponed by rain that fell all night and during the day, "rendering the ground unfit for playing purposes." So Phil­lippe started Game 4 – the only pitcher ever to start three of the first four World Series games.
Pittsburg Exposition Park during Game 4 of the 1903 World Series (picryl.com public domain photo)
For a while it looked like Deacon might get another day's rest. The skies were overcast and it showered a bit before the game. Tarpaulins covered the infield but the outfield was in frightful shape. Nevertheless the game started at 3 PM as scheduled.
Phillippe rewarded his manager's confidence with a strong effort, although he noticeably tired in the ninth and almost blew a 5-1 lead.
L-R: Tommy Leach, Ginger Beaumont, Chick Stahl, Honus Wagner
Leach Leads Pirate Offense
3B Tommy Leach was the hitting star for Pittsburg. His single broke the 1-1 tie in the bottom of the 5th when he singled home CF Ginger Beaumont, who tripled over CF Chick Stahl's head. In the 7th, it was Tommy's turn to triple, a hot shot past first that plated two runs. He then scored on SS Honus Wagner's bloop single to stretch the lead to four runs.
Deacon had allowed only four hits through eight innings before skirting the edge of disaster in the 9th. Singles by player-manager Jimmy Collins, CF Stahl, and RF Buck Freeman scored a run and brought the tying run to the plate with no one out. SS Freddy Parent grounded into a force play at 2nd to score Stahl from 3rd.
Clarke Makes Game-Saving Catch
1B Candy LaChance singled, Parent stopping at 2nd. 2B Hobe Ferris rapped another single, Boston's fifth hit of the inning, to load the bases. That set up the play of the day. PH Duke Farrell smashed the ball toward the left-center field gap. Racing "with the speed of a greyhound," Clarke made the catch, saving a base-clearing double or triple. Parent tagged and scored from third to reduce the lead to 5-4. But Deacon bore down and got PH Jack O'Brien to pop out to give the National League champs a 3-1 edge in games.
The Pirate fans hoisted Phillippe on their shoulders and carried him to the clubhouse where he shook hands with admirers for a half hour.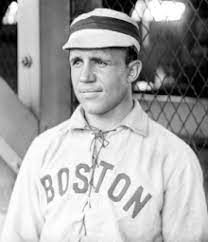 L-R: Jimmy Collins, Buck Freeman, Freddy Parent, Hobe Ferris