Cubs Stave off Elimination
1910 World Series Game 4
:

Philadelphia Athletics
@
Chicago Cubs
The
Cubs
made it to the World Series for the fourth time in five years. Their opponent was the
Philadelphia Athletics
, a young and speedy team assembled with care and cun­ning by
Connie Mack
.
The
A's
took the first two games in Philadelphia, then walloped the
Cubs
12-5 in Game 3 in Chicago.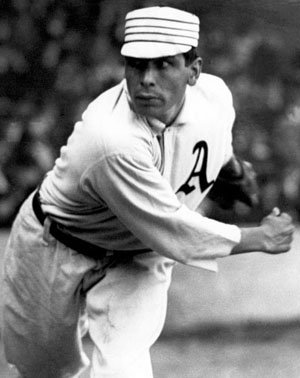 L-R: King Cole, Chief Bender, Frank Schulte, Frank Chance
19,150 fans came to the West Side Grounds on a Saturday afternoon in hopes of seeing their hometown heroes at least avoid a sweep. Cubs player-manager Frank Chance start­ed King Cole, who went 20-4 during the season with a league-leading ERA of 1.80. He pitched well, scattering ten hits and leaving eight runners stranded. But Chief Bender, who defeated the Cubs 4-1 in Game One, took the mound in the bottom of the ninth with a 3-2 lead. The 2-3-4 hitters were due up for Chicago.
Chance Breaks Out of His Slump
RF Frank Schulte, "the hard-hitting German," led off with a double to right centerfield. CF Solly Hofman sacrificed the runner to third. Chance had been panned unmercifully by critics for the Cubs' play in the series. He was only three-for-12 in the Series with no walks. But with a chance to win back the fans' affection, he smashed the second pitch high and far over CF Amos Strunk's head. Schulte scored the tying run easily, and The Peerless Leader slid into third with a triple as the fans stood and cheered and threw their caps into the air.
Bender Preserves Tie
With the winning run on third and only one out, Bender faced 2B Heinie Zimmer­man and 3B Harry Steinfeldt, who were a combined 3-for-25 in the Series. Chief bore down and got both batters on pop ups to send the game into extra innings.
L-R: Amos Strunk, Heinie Zimmerman, Harry Steinfeldt, Mordecai Brown
Cubs' ace P Mordecai Brown, who pitched a scoreless ninth in relief, survived a double by 1B Harry Davis in the top of the tenth to preserve the tie.
Sheckard Drives Home Winning Run
SS Joe Tinker popped out to start the bottom of the inning. But C Jimmy Archer dou­bled to the left centerfield fence. Chance let Brown bat, and he grounded out short to first, sending Archer to third. LF Jimmy Sheckard, 2-for-9 with six walks, sent the fans home happy when he poled the first pitch for a single to center. The big crowd rushed the field and mobbed Sheckard and his teammates as they rushed to the clubhouse.
Chicago's euphoria didn't last long. The
A's
won 7-2 the next day to take the Series.
L-R: Harry Davis, Joe Tinker, Jimmy Archer, Jimmy Sheckard