Grant Delpit
hates milk. Can't stand it. Won't drink it.
But seven years ago, when he was a 5-foot-7, 125-pound high school senior, he chugged it by the gallons.
He simply had to grow.
"I remember going to the doctor,"
Delpit
says, "and the doctor told me I was going to be 5'9". And I wasn't having it. I got in the car, and I was like, 'I don't want to be short, man.' I was going off in the car."
So
Delpit
changed his diet. His dad bought him protein shakes. He drank them. His dad bought him gallons of milk. He drank that, too.
"I guess it worked,"
Delpit
laughs. "I still don't drink milk to this day, though."
He doesn't need to anymore. Now a 6-foot-3 junior safety for
LSU
,
Delpit
's grown into a unanimous All-American, a future first round pick, and the latest star to sport the playmaker's No. 7 for
LSU
.
Ed Orgeron
calls him the best defensive player in college football, a versatile defender who can play on the line of scrimmage, line up over a slot receiver, or stand tall in the center of the secondary as a roving centerfielder.
What truly separates
Delpit
for
Orgeron
, though, is his willingness to do anything for the team. Wherever his coaches tell him to line up - close to the line, where he starred in 2018, or deeper back, where he's been needed in 2019 -
Delpit
just listens.
"
Grant
's a great, great player,"
Orgeron
says. "Great young man, very unselfish. If we put him back in the post all day, he's going to say, 'Coach, I'll play in the post, whatever it takes for the team.'"
That mentality has been a constant in
Delpit
's life from a very young age, when his parents instilled humility in their undersized, over-energized son. Being among the smaller kids on the playground didn't hurt, either.
"I never really was the first one picked," he says. "I was probably always picked towards the middle. I was small."
Delpit
was never the biggest kid, but he always had plenty of energy. Growing up in New Orleans, he used to run up and down the steps of the Superdome during
Saints
' games, uncontainably excited by the sport he fell in love with early in his life.
Hurricane Katrina desplaced
Delpit
and his family to Texas, but he never lost his ties to Louisiana.
"I remember running up and down the stadium at
Saints
games," he says. "It meant a lot to me, growing up in New Orleans. I still claim it to this day."
It's why, after a sophomore year growth spurt, landing an
LSU
offer meant so much to
Delpit
. He didn't start picking up major offers until after signing day of his junior season, but once the first one came in, they never stopped coming.
He still remembers the day
Corey Raymond
called and offered him a scholarship to
LSU
. He was in the car with his dad when
Raymond
's name popped up on his cell phone. From that point going forward, he was a
Tiger
.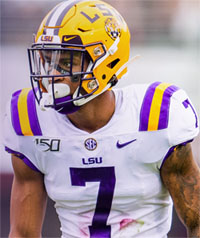 L-R: Grant Delpit, Corey Raymond, Dave Aranda
Once he arrived at
LSU
,
Delpit
found the field immediately, impressing with his versatility. He was so good, in fact, that going into his sophomore season, defensive coordinator
Dave Aranda
created an entirely new position for him.
It was during a beach trip in the summer of 2018 that
Aranda
watched film of former
Steelers
safety
Troy Polamalu
and thought, Wait. Why don't we use
Grant
like this? ...
LSU
needed a new nickel and additional pass rush.
Delpit
could do both.
"The nickel, that position, when it was a corner, could help you when they were throwing it, but it was a detriment at times when they're running it, because the body type wasn't there,"
Aranda
says. "The quarter was just a bigger nickel. You wanted a safety in that spot. That was the reason for looking at the
Steeler
film, trying to find ways to take advantage of a bigger guy in there, the matchups that came with it."
Delpit
shone in those matchups in 2018. He became the first player in college football since 2000 with five sacks, five intercerptions, a forced fumble, and a fumble recovery. He became
LSU
's ninth unanimous All-American, and he became the latest
Tiger
to earn the No. 7 jersey, reserved for the top playmaker on the team.
No longer would he share the No. 9 jersey with
Joe Burrow
.
"
Joe
was wearing No. 9 so good, I had to switch numbers," he jokes.
For
Delpit
, wearing No. 7 has been an honor. He grew up idolizing
Patrick Peterson
and
Tyrann Mathieu
. Now, he trades text messages with him.
"It definitely speaks for itself," he says of wearing the number. "I don't have to talk a lot about that, just let my play do the talking."
His play speaks plenty loud on its own - no matter where he lines up. After playing most of the 2018 season near the line of scrimmage as a quarter,
Delpit
moved back to a more traditional deep safety role for the ealry part of the 2019 season, a move necessitated by
LSU
injuries and personnel.
Delpit
has starred there, too, showing off his elite coverage skills: in 201 coverage snaps through
LSU
's first six games of the 2019 season, he'd held QBs to a 50.0 NFL Passing Rating, tops among SEC safeties. He also led SEC safeties in run stop percentage.
"He can rush, cover, play man-to-man," says
Orgeron
. "It's like having three players. That's how much he means to our defense."
There's only one thing left for
Delpit
to do as a
Tiger
: win a championship. It's why, when he showed up for fall came in 2019, he sported a custom-made DBU shirt with two words on the back: "Championship Mentality."
"We've got to get that mentality of, we're the best," he says. "We've got to play like the best, prepare like the best, practice like the best. That's the championship mentality I was talking about. That's what it's going to take to get there."
Delpit
's always been one to do whatever it takes to get the job done. To get bigger, he'll drink whatever he must. To win football games, he'll play wherever he must. For one of the best safeties to every wear purple and gold, it's that simple.
"I'm trying to do whatever I can do to top my sophomore year," he says. "Gain and maintain. I just want to win. I'm doing all I can. I'm not leaving until I give it all I got."