Two weeks after upsetting Auburn
,
LSU
hosted
Tulane
in their annual finale. Beating the
Green Wave
for the first time in three years would clinch a winning record for the 5-4
Tigers
.
Red Daw­son
's
Greenies
, also 5-4, wanted to finish a mediocre season with a positive won-loss ledger.
LSU
's offense was led by junior TB
Leo Bird
, who had returned to action against
Auburn
after a head injury that doctors feared might end his football career.
Bird
did all the kicking, all the passing, and most of the running for the
Tigers
.
The highly favored Greenies boasted newly crowned All-SEC FB Jimmie Thibaut, a 195lb battering ram who had plagued tacklers all season long.
Moore used the open week before the Tulane game to conduct secret practices inside Tiger Stadium instead of on the practice field. "Every portal entrance was boarded up, every gate guarded, and every alien eye barred from seeing what transpired within." (Dan Hardesty)
The headline in The New Orleans Item above Fred Digby's column on the LSU-Tulane game blared: "Wave Forwards Heavier, Backs Bigger, Speedier."
Then he wrote: "When Team A has the advantage over Team B in weight, speed, experience and reserve strength, only a dyed-in-the-wool alumnus of Team B can hold much hope for a victory over Team A.
"Tulane is Team A of Saturday's gridirion battle at Baton Rouge. Team B is Louisiana State.
"It's likely to be a free scoring game for the reason that Tulane and Louisiana State are stronger offensively than they are defensively. ... Tulane and Louisiana State each allowed exactly 112 points in nine games. The Wave has scored 134, the Tiger 125. ...

"Everyone knows Leo Bird is the best passer, kicker and field general at LSU. In fact, he is better than any passer, kicker and field general at Tulane. The presence of Bird at the left half or tail back spot unquestionably makes the Tiger offense pretty potent."

35,000 watch as LSU kicks off to
Tulane
to start the game. (
LSU Gumbo Yearbook, Class of 1941
)
Tigers Strike First
At the end of the scoreless first quarter, Tulane sent in its second team as was common in that era. LSU, however, kept the starters on the field.
Bird took a Green Wave punt back 19y to the LSU 39. Senior HB Gerald Hightower gained four on a reverse with 15 more tacked on for unnecessary roughness. After throwing an incompletion, Bird connected with sophomore E Jack Fulkerson for 12y and a first down on the Tulane 29. Leo fired again, this time to E Dudley Pillow to the 15. Bird then kept over left tackle for 8y. Hightower drove to the two to make it first-and-goal. Sophomore FB Walter Gorinski smashed over center for the score. Another sophomore, T Walter "Piggy" Barnes, kicked the extra point to make it 7-0 LSU.
The game settled down again into an old-fashioned rock-em-sock-em Southern slugfest. Four straight Green Wave drives were stymied by penalties. Midway through the third quarter, Bird nailed a quick kick for 61y into Tulane's end zone. Then a few minutes later, he duplicated that feat from 2y further out.
Leo Bird gets his punt away as Albert Bodney (52) rushes. (
LSU Gumbo Yearbook, Class of 1941
)
Tiger Defense Bails Out Dodson
Early in the fourth quarter, with the Tigers clinging to a 7-0 lead, Tulane got a break when LSU sophomore HB Adrian Dodson from Columbus MS fumbled, and 235lb T Ernie Blandin recovered at the LSU 34. After a 5y penalty for an illegal shift, the Greenies gained back the yardage and more on a 12y pass from HB James Ely to E Emanuel DeFraites. Then Ely ran off tackle for 10y and a first down at the 17.
Two plays later on third and ten, Lou Thomas connected with HB Fred Cassibry for 8y to the nine. On 4th and two, Thomas tossed a swing pass to Thibaut, but C Bill Hogan tackled the big fullback on the 10 to turn over the ball on downs.
Dodson Puts the Green Wave Away
Intent on making up for his fumble, Dodson picked up 2y on first down. Then he carried around his right end and got a great block by QB Marvin Jenkins that took out both Blandin and Thibaut while Pillow cut down Thomas Glass. Dodson broke into the clear at the 25, outraced the Greenies who weren't blocked out into the clear, and sprinted down the sideline to pay dirt. The 88y scamper was the longest ever by anyone against Tulane. Walter "Piggy" Barnes booted the extra point to make it 14-0 LSU.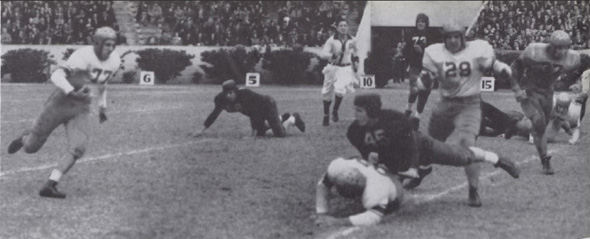 Dodson's 88y run from beginning to end. (
LSU Gumbo Yearbook, Class of 1941
)
The only question left was whether the Tigers would complete the shutout. Tulane fans rose to their feet when Thomas passed to QB Walter MacDonald for 53y to the 11 where sophomore Lyman Richardson made a touchdown-saving tackle. Two plays later, Pillow intercepted Thomas's pass and was thrown out of bounds at the 1' line.
Standing just inside the back line of the end zone, Bird kicked the Tigers out of danger again, the ball going out of bounds on the LSU 44.
Shortly afterward, Gorinski intercepted Thomas's long pass with less than a minute to play to seal the shutout.
References:
The Louisiana Tigers: LSU Football, Dan Hardesty (1975)