Colonel Lawrence "Biff" Jones became the LSU coach in 1932 with the blessing of Louisiana Governor Huey Long.
Jones
had spent four years in charge of football at his alma mater,
West Point
, during which he compiled a 30-8-2 record.
His 1932 Tiger team finished 6-3-1, including a spotless 4-0 against Southern Confer­ence foes to tie for first. His 1933 squad improved to 7-0-3, good for second place in the brand new Southeastern Conference.
With only four departures from the top 22 players, the
Tigers
looked forward to compe­ting for the conference crown in 1934.
LSU
tied its first two games against the two best teams in the Southwest Conference,
Rice
and
SMU
.
Read about the SMU game ...
Then the
Bengals
won six in a row, during which the defense allowed only nine points. The highlight was the 29-0 thumping of
Vanderbilt
for which now-Senator
Long
led a trainload of students and the band to Nashville and led a parade down mainstreet before the game. After the game,
Huey
was so excited by the play of star HB
Abe Mickal
that he lobbied the Louisiana legislature to make
Mickal
a state senator.
Long's antics disturbed Coach Jones, who complained to AD Skipper Heard, "Look I can't run a ball club like this. It's bad for morale." When Heard relayed Biff's opinion to Huey, the Senator replied, "Hell, Red, I'll make 'em all senators."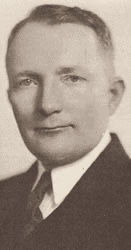 L-R: Huey Long and Biff Jones in happier times; Abe Mickal, Skipper Heard
Archrival Tulane came to Baton Rouge December 1 and upset the Tigers 13-12. It was Jones's first loss to an SEC school during his LSU tenure. Mickal spent half the game on the sideline because of a knee injury. Long was not pleased. "Biff Jones may not be the worst coach around," he proclaimed, "but he sure ain't the best."
The rift between coach and senator widened the next week when
Biff
played
Mickal
despite
Huey
's orders against
Tennessee
in Knoxville. The
Vols
won 19-13 on a fake pass off the Statue of Liberty play in the final two minutes.
LSU's season ended with a home game against Oregon. After the Webfoots jumped to a 13-0 lead in the first half against the listless Tigers, Long impetuously marched down to the LSU dressing room at halftime. Standing at the door, Huey motioned Jones to come over.
"Can I talk to the team?" asked the senator.

"No" was Jones's quick response.
"Who's going to stop me?" demanded Long.
Jones stood his ground. "Well, you're not going to talk."
"Well, I'm sick of losing and tying games," said Long. "You'd better win this one."
Flushed with anger, Jones replied, "Well, Senator, get this: win, lose, or draw, I quit."
"That's a bargain," said Long as Jones shut the door.
When he returned to his team, Jones asked his players to win the game for their coach. And that's what they did, dominating the second half to pull out the 14-13 victory.
With a day to cool off, both men had second thoughts. But after a detailed account of the confrontation hit the newspapers, neither wanted to back down publicly. Biff told Heard he regretted what he said. When his resignation became official, he and Heard visited Huey. According to Heard, the senator and ex-coach "had a friendly chat" that ended with the two men shaking hands.