Tiger Stadium opened in 1924 for the season finale against Tulane. Huey Long was elected governor of Louisiana in 1928.
The reason those two sentences appear in the same paragraph is that Long made ex­panding LSU into a first class university one of his main priorities. And an important part of his plan was making LSU athletics, especially football, top notch.
The same year Huey became governor, Thomas "Skipper" Heard was named the grad­uate manager of athletics by Russ Cohen, then LSU Athletic Director and Head Football Coach. Heard assumed a majority of the day-to-day operations within the athletic depart­ment and became highly involved with future planning efforts for athletics.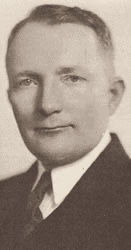 L-R: Huey Long, Thomas "Skipper" Heard, Coach Russ Cohen, Art Foley
In 1931, Heard learned that LSU President James M. Smith had received $250,000 to build student dormitories. Skipper sold Smith on the idea of building the dorms under the east and west sides of the stadium and extend the stands to the goal line. Larger capacity meant increased income to enhance LSU's ability to schedule games with more prominent opponents.

Another part of the plan was adding lights. LSU played many home games on the same Saturday afternoons as Tulane 90 miles down the road in New Orleans. Switching to night games would allow many fans to attend both games and also give workers at the refineries in Baton Rouge to come after getting off their Saturday shifts.
The lights cost $7,500 and were in place for the 1931 season.
LSU began on the road with a 3-0 loss at TCU.
Tiger Stadium for First Night Game, 1931
Spring Hill College from Mobile provided the opposition in the first night game in LSU history. A crowd of 5,000 braved a heavy drizzle throughout the contest. A new star back sparked LSU's 35-0 victory over the Badgers.
Governor Long was not just LSU football's #1 fan. He also did his part as a recruiter. Before the 1931 season, Long received a newspaper clipping extolling a halfback at a New Mexico junior college named Art Foley. Kingfish sent Heard to find Foley and bring him to LSU. Heard found Art vacationing with his family in Mineral Wells TX. Learning that Foley liked golf, Heard bought some clubs and played several times with him. He followed the Foleys back to their home in Eufaula OK, where he played some more. When Heard phoned Huey and told him Art loved golf, the governor sent him new clubs. (Recruiting rules were much laxer then, not that Huey worried about rules.)
Foley promised to report to LSU in September where he would be eligible immediately since he had attended a junior college. However, when fall practice began, no phenom. So Heard returned to Oklahoma and brought Foley back. Long made sure he had the best accommodations. On the Saturday after Labor Day, as Coach Russ Cohen's Tigers prepared for their first scrimmage, a limousine drove onto the field. Out stepped Huey who opened the rear door for Foley, whom he delivered to Cohen. Then Kingfish left with only a wave to reporters.
Foley did nothing but punt in the game at TCU. But the following week against Spring Hill, he captured the headlines. He electrified the crowd with three long touchdowns, in­cluding a 56y run from scrimmage and a 62y punt return.
Foley
played in the next game, a 19-12 victory over
South Carolina
. However,
Art
did not do nearly as well as in his debut. He carried the ball eight times but netted only 4y, gaining 20 and losing 16. Reporters attributed his lackluster performance to the fact that the Gamecocks of the Southern Conference presented a more formidable opposition than
Spring Hill
.
Foley didn't play in the 31-0 romp over Mississippi State. One article mentioned a "preseason illness" and "much pulling of bad teeth." With no explanation from LSU, re­porters assumed Art would return for the game at Arkansas. But on Wednesday, Cohen announced that Foley's season had ended. Diagnosing a lung ailment, a doctor advised the lad to give up football and live in a dry climate.
Kingfish gave Art a new Ford sports car to drive to New Mexico. Art died several years later.