Frank Broyles, Hog Wild: The Autobiography of Frank Broyles(1979)
Broyles became head coach at Arkansas in 1958.

Oh, but what a honeymoon, football-wise, we had that first spring and summer before reality set in. We recruited one of the greatest freshman teams in the school's history. I toured the state meeting the fans and overselling the winged-T. During my rounds of Ra­zorback Club fish-frys that year, I discovered Arkansas catfish. Back in Georgia (where Broyles grew up and played for Georgia Tech), muddy-water catfish were throwaways. As soon as I tasted the Arkansas variety, I ate more catfish steaks at one sitting than you could believe. I'd be back there sampling all the time they were cooking. I literally ate so much I'd make myself sick.
Elmer "B" Lindsey, a hot halfback from Forrest City, Jim's older brother, became the first athlete to "pledge" Arkansas for us, but a few weeks later, B signed a bonus baseball contract with the St. Louis Cardinals. About the time we knew we were losing Lindsey, we realized we might have a chance at Lance Alworth, an authentic national blue-chipper from Brookhaven, Mississippi. Lance signed early with Ole Miss (as most Mississippi blue-chippers did), but when he married his high school sweetheart he came up against Mis­sissippi's no-marriage policy for scholarship football players. With an athlete of Alworth's potential, the school was willing to try to work around the rule. Lance could go to school on a baseball scholarship and go out for football, but his pride was stung and he didn't want to do that.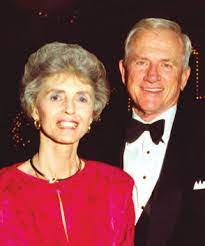 L-R: Barbara and Frank Broyles, Lance Alworth
I pulled out all the stops. I'd never involved Barbara in recruiting before–and would only one time in the future–but I took her to Mississippi with me for a week. She visited Betty Alworth and her parents while I played golf with Lance and his father. We went on to Memphis where Lance was a prominent player in the high school All-Star game they used to hold there each summer. One night we were going to dinner, and Mr. Alworth said, "How about some seafood, Frank? I know a great place."
"Terrific," I said.
"I love raw oysters, Frank. How about you?"
"Oh, sure. Absolutely." (I could never bring myself to try to eat one before, but you can bet I wolfed 'em down that evening.)
They came to Fayetteville for a visit, and we were on the golf course when I first allowed myself to think that Lance was coming with us. He asked if it could be worked out so they could stay an extra day. Trying to restrain myself from jumping 12 feet in the air and giving a war whoop, I said, "Why, yes, I think that can be arranged withouot any problem."
Well, I'm sure you know Lance played on our three straight championship teams, 1959-60-61, and made All-American, and followed up as one of the all-time pass-catching stars in pro football. He gave our image a great lift before he even played a game. He represented a real breakthrough for us; Arkansas wasn't accustomed to going into neighboring states and coming away with national blue-chippers.
By this time, the Razorbacks pretty well had an edge on the recruiting of almost any Arkansas prospect. The state had closed its ranks around the program. Out-of-state recruiting usually meant finding a few playes in the Memphis area, or in parts of Missouri, Oklahoma, and Kansas, that were close to Fayetteville. It would be another year or two before we made any headway in Texas.