The Hidden Game of Football, Bob Carroll, Pete Palmer, John Thorn (1988)

In 1876, when
Walter Camp
went out for "football" at
Yale
, he really intended to play an American hy­brid, part soccer and part rugby. They used a No. 6 rugby ball which looked like a basketball that had been jammed into a too-small tube for months, and the field was a third bigger than today's gridiron. At
Yale
, they'd settled on eleven players on a side a few years earlier when a touring soccer team from
Eton School
in England told them that was the best num­ber.
As in rugby, a player could run with the ball, and when he was about to be tackled, he could either kick it away, throw it away, or keep it and go down in a heap. If he chose to kick, he could either try for a goal or send the ball off to the other team. If he threw the ball away - hopefully to a teammate - the rules said he could not toss it forward, only backward or sideways. If he let himself be tackled - certainly the least preferred option - a "scrum" followed. A scrum was like a face-off in hockey. Everyone gath­ered around in a tight circle ..., and the referee skit­tered the ball in between the two "centers" for each team, who kicked at it until it bounced to a team­mate. Whoever got the ball took off like a scalded dog until he too was about to be tackled. At which point, he had the same three options of kick, throw, or be dumped. ...
As in soccer, all the scoring was done by kicking the ball. Even if a player ran the ball over the goal line, all he got was a free try to kick a goal. To count, just as with today's football kicks, the ball had to go over a crossbar set on matched posts placed on the goal line.
Young
Walter Camp
proved to be a wizard at this hybrid game; the best in the world, his friends said. Admittedly, it was a pretty small "world" in those days, what with only
Yale
and a couple of other northeastern college playing the game, but
Camp
's talents as well as his brains made him a leader every time a group got together to suggest new rules.
By 1880, he was fed up with the free-for-all, catch-as-catch-can jumble he'd been playing; he decided to develop a more regimented affair wherein a team could know it was going to have possession of the ball for a bit and give some thought to its next move. In other words, the brainy
Camp
wanted a game where his quick mind was as useful as his quick feet. Working with what he already had, he suggested changing the "scrum" to the "scrim­mage," in which only one team's center was allowed to kick the ball back to his teammates (it took a couple of years before they figured out they could hike the ball better by hand). For
Camp
's scrimmage to work at all, he also had to invent the "line of scrimmage," with the teams set up on opposite sides and the ball in the middle.
They tried
Camp
's brainchild in the 1880 season and the result was disastrous. Everybody but
Princeton
had forgotten that a weaker team could simply sit on the ball, run play after play and never kick, while playing for a tie. The
Tigers
showed this to
Camp
's strong
Yale
team and tied them, 0-0.
In 1881, after a session back at the drawing board,
Camp
came up with the "downs-and-yards-to-go" idea. The mix sounds a little strange to modern ears - five forward
or ten yards back
(!) in three downs to get a first down - but it worked. From here on, the game ceased to be poor-man's rugby and became American football. A couple of years later, they started awarding different numbers of points for different actions: so many for field goals, so many for touchdowns, etc. Like the size of the field and the downs-to-yards ratio, it took them a while to get everything right, but by 1912 they had six points for a touchdown, three points for a field goal, ten yards in four downs for a first down, and a hundred yard field. They also had a legal forward pass.
Saving the Game

The chain of events that eventually allowed the no-no pass to become a yes-yes began in 1887, when the rules makers decided to let defenders tackle ball carriers from the knees down, probably because players were doing it fairly often, by accident anyway. It didn't seem to be a big deal at the time, but ... the rulesmakers had unleashed a lot more than they ever intended.
After
Camp
's yards-and-downs idea in '81, teams had continued playing a wide-open game - more premeditated than before, but still with backs spread out wide to take long pitches from the QB. As soon as the low tackle was legal, defenders started charging across the scrimmage line, diving at a halfback's feet, and cutting him down while the quarterback's pitch sailed who-knew-where. To counteract that, attackers moved everyone in tight, sur­rounded the ball carrier, and everyone churned forward like a human tank. And
that's
why the famous flying wedge and other grind-'em-out plays constituted the dominant style of offense in the 1890s.
They might still run the wedge today except that in the '90s, more and more often a de­fense would suddenly realize that they only had ten men standing around waiting for the next onslaught. ...
Finally, fans grew tired of seeing football players treated like grapes at Luigi's Winery. Even President
Theodore Roosevelt
bullied his way into the act, calling for reforms. The rules makers made up a whole passel of new rules in 1906, all aimed at getting rid of the wedge and opening the game up again. About the least important new rule at the time allowed forward passing, but they put so many restrictions on the maneuver that at first almost no one thought it was worth a darn.
A Neglected Strategy

Even when a couple of
Notre Damers
named
Dorais
and
Rockne
used the pass to beat
Army
in 1913, most coaches okayed it only in desperation - a sort of play of last resort. Twenty years after passing became legal, you'd have to scour the country to find a college team that threw more than half a dozen times during a game. Fans could give you details of important forward passes years afterward because they were that rare. Coaches, conserva­tive old duffers that they were, had simply reinvented the flying wedge in the form of the single wing, a formation designed to get an abundance of blockers to a particular spot all at one time. Then, because college teams could practice-practice-practice, they'd run their off-tackle plunges and around-end sweeps over and over until their players could do them in their sleep.
If you quarterbacked the ideal college football team in the '20s, you slugged away on the ground. Most teams knew what to expect and could put eleven decent players against you, so you seldom gained more than a couple of yards a try. Meanwhile, your punter kept your opponent bottled up at the other end of the field. Until you got inside your foe's 30-yard line, you might punt on third down - the most popular third-down alignment was a short punt formation which allowed some options - because you were almost as likely to fumble as to break away for a first down. Eventually, something gave - usually in the fourth quarter - and you scored a touchdown to humiliate your rival 6-0.
It was football with the accent on "foot." Teams didn't so much win games as their oppo­nents lost them by making a mistake. Coaches loved running because mistakes were less common, or at least less disastrous, on well-practiced runs than on somewhat ad-libbed passes - "putting the ball up for grabs" it was called. When a team lost with pass goofs, it got buried 20- or 30-0. Scratch a typical college coach in the '20s and you'd find someone who'd rather be certain of losing 6-0 on the ground than take a chance of winning through the air.
1908 - 1947: The Great Interregnum
Auburn vs Alabama: Gridiron Grudge Since 1893, John Chandler Griffin (2001)

For nearly 100 years fans have wondered just what occurred in 1908 to cause a 41-year disruption in the
Alabama
-
Auburn
football series. And even today most of the facts are still somewhat confusing.
Back in 1907 it had been mutually agreed between
Alabama
and
Auburn
that visiting teams would be paid $2.00 per player for 17 players to cover both their hotel rooms and meals for two days. The total cost: $68.
But on January 23, 1908,
Alabama
coach
J.W. Pollard
received a proposed contract from
Auburn
football manager
Thomas Bragg
requesting $3.50 per man for 22 players. The total cost would be $154 for two days of lodging and meals.
Bragg
further request­ed that the game be played on November 14 at the Birmingham Fair Grounds.
After reviewing the contact, on February 24
Alabama
sent
Bragg
a compromise contract, proposing that
Auburn
be paid $3.00 per day for two days for 20 players, a total pay­ment of $120. But
Bragg
returned the proposal, stating that
Auburn
could not agree to a reduction in the per diem rate or the number of players outlined in his original propo­sal.
Bragg
also mentioned that
Auburn
was not happy with
Alabama
suggestions for se­lecting referees for their 1908 football game, and that
Auburn
demanded that the referees be Northerners. At any rate, he continued,
Auburn
would offer more definite suggestions by April 1.
By April 6, having received no further communications from
Auburn
,
Alabama
again con­tacted
Bragg
. But
Bragg
responded that questions concerning the officiating of the game could not be decided until after
Alabama
had signed and returned the contract
Bragg
had sent to them back on January 23. He stated once again that
Auburn
insisted on bringing 22 players to the game and that they be paid $3.50 per man per day.
Following receipt of this letter, on April 24,
Alabama
's Executive Committee on Athletics, ignoring the response they'd just received from
Bragg
, drew up a new contract. This one was identical to the one they'd sent
Bragg
back on February 24, offering $3.00 per diem for 20 players. They also insisted that Southern officials should referee the game.
L: Alabama coach J. W. Pollard, R:
Auburn
coach Mike Donahue
The Executive Committee also informed Coach
J.W.H. Pollard
that should
Bragg
refuse the contract,
Alabama
would immediately begin searching for another school to replace
Auburn
for the game scheduled for November 14.
The next day, April 25,
Auburn
coach
Mike Donahue
and
Bragg
met with
Alabama
offi­cials, a
Mr. Pritchard
and Coach
Pollard
, in the lobby of the McLester Hotel in Tusca­loosa. At that meeting Coach
Donahue
expressed his view that "there was not a man in the South of sufficient ability to act as umpire in intercollegiate contests."
Alabama
strongly disagreed and pointed out that it would cost a minimum of $250 to bring down a referee from north of the Mason-Dixie line, and that such an expenditure was unnecessary.
But
Auburn
refused to budge on the question of referees. They also repeated their de­mand that they be allowed to bring 22 players to the game and that they be paid $3.50 per player, as called for in the contract of January 23.
The
Tuscaloosa Times-Gazette
reported that "
Auburn
's refusal to entertain any of
Ala­bama
's suggestions made it evident that a compromise was impossible, so the discus­sion was closed."
By May 17 the
Montgomery Advertiser
, under the headline "
Auburn
Side Is Presented," reported that statements made recently by representatives of the
University of Ala­bama
in the
Birmingham Age-Herald
were "so inaccurate that they cannot be allowed to pass unanswered."
The
Advertiser
then quoted Manager
Bragg
as stating that, rather than create any con­troversy, he had accepted a contract from
Alabama
in 1907, the previous year, which granted only $2 per player. He pointed out to Coach
Pollard
that $2 per man really wouldn't meet
Auburn
's expenses, and that
Pollard
assured him that "we will make this up in our 1908 contract."
Bragg
went on to state that "the 1907 contract occasioned a loss of from $1.50 to $1.75 per man for two days, and while this was an absolutely necessary and legitimate expense, it had to be paid out of
Auburn
's share of the proceeds of the game."
Bragg
stated that he had informed
Pollard
, both verbally and by letter, that he would be willing to take $3.50 as the maximum rate, but if it turned out that the team's ex­penses amounted to less, then
Auburn
would charge only the amount actually incurred and would return any unused money to
Alabama
.
As for the referee question,
Bragg
was quoted as saying, "With regard to the commit­tee's assertion that Mr.
Donahue
and I stated that there was no man in the South capa­ble of umpiring an intercollegiate contest, I would emphatically deny that we made any such statement. We simply stated that we did not know of a satisfactory available man to officiate as umpire in the
Alabama
-
Auburn
game, and we asked Dr.
Pollard
to sug­gest some men for our consideration, though he failed to do so. Moreover, we did not ask that an Eastern man be selected as umpire until after we had failed to agree upon some available Southern men."
The resolutions sent to the
Auburn
management were in the nature of an ultimatum, dictating the only terms upon which the
Alabama
authorities would sign a contract for next season, and using as a threat the statement that negotiations were being opened with other colleges for a game on November 14, before the
Auburn
authorities had had the opportunity to finally pass upon the matter.
Two days later, on May 19, the
Birmingham Age-Herald
, in a fine example of slanted jour­nalism, reported the following: "
Auburn
's action in this matter is indicative of a desire to evade its annual game with
Alabama
. Alumni of both institutions in Birmingham think that the talk of an Eastern umpire is ridiculous. The people regret that
Alabama
and
Auburn
will not meet this year. They care very little for the reasons."
The series would not resume until 1948.
Game Changer: Red Grange
Football Nation: Four Hundred Years of America's Game from the Library of Congress,
Susan Reyburn (2013)

Football's strategic complexity makes it difficult for the fortunes of an entire team to hinge on the efforts of a single player. However, the success of an entire football league can be attributed to one man,
Harold "Red' Grange
. The ever-grateful
New York Giants
owner
Tim Mara
would never have built his football dynasty were it not for the ice deliveryman from Wheaton, Illinois. And
Grange
did not even play on his team.
Grange
took all of twelve minutes to become a football legend. On October 18, 1924, a
Michigan
team that had given up only four touchdowns during its 20-game unbeaten streak rolled into Champaign, Illinois, looking for number 21. They ran into or, rather, were outrun by, number 77. Students of football know the stats: In the first quarter alone, the flame-haired
Illinois
HB scored four TDs on runs of 95, 67, 56, and 45y; he later ran for another score and tossed a TD pass as the
Illini
won, 39-14. While that was his single greatest performance, as a three-time All-American he regularly produced eye-popping numbers that left reporters rummaging through their
Roget
's for words to describe him.
Grantland Rice
called him a "rubber bounding blasting soul," whatever that was, and
Paul Gallico
referred to him as a "touchdown factory." Dubbed "the distinguished ice peddler" and "pigskin purveyor," his lasting nickname was "
Galloping Ghost
" for his quickness and shifty moves.
Grange
made up for his unimposing size (5'11" tall, 175 pounds) on trailblazing end runs, dispatching would-be tacklers with a straight-arm sculpted from hauling around 75-pound blocks of ice.
Red Grange totes the pigskin for Illinois.
Grange
's immense talent, however, is not the fundamental reason for his hallowed place in football history, which, because he got there first, no one else can rival.
When
Grange
played his last college game in November 1925, the pro sport was on thin ice and losing money. Who better, then, than a man of
Grange
's stature to shore up the league before it melted away entirely? The thing was, few exceptional college players were in the National Football League; professional players were about as respectable as actors in Shakespeare's era and sometimes paid even less. There was a discomfiting sketchiness to the NFL.
Grange
, however, questioned that. "You coach for money," he told his college coach,
Robert Zuppke
. "Why isn't it okay for me to play for money?"
Zup
was not amused.
Grange
's decision to play in a
Chicago Bears
game five days after
Illinois
's season ended was shocking, yet it had exactly the effect the NFL hoped: It prompted a second look at what professional football could be. But the
Ghost
's decision did not go down well with those closest to him. "My coach,
Bob Zuppke
, didn't talk to me for four years. My father wasn't happy about it,"
Grange
said later. "All of my friends looked upon me as if I was a traitor or something, as if I had done something terrible."
At the time, good players might make $100 a game; most scraped by on less. His manager-agent, the enterprising but not always law-abiding
C.C. Pyle
, arranged for himself and
Chicago Bears
to split the gate fifty-fifty with
Chicago Bears
owner
George Halas
. It was an astonishing contract, matched only by the audacious and brutal schedule
Pyle
and
Halas
organized for the
Bears
. From late November 1925 to late January 1926, the
Bears
toured the country, playing 19 games, and
Grange
was in all but two. In his first outing, he filled Cubs Park (Wrigley Field), drawing six times the usual gate. When he showed up at the Polo Grounds, so did more than 70,000 spectators, one of whom was
Babe Ruth
, sitting at midfield. Eying the crush of news media that greeted
Grange
, the
Yankee
slugger quipped, "I'll have to sue that bum. They're my photographers."
Tim Mara
probably did not mind that his
Giants
lost that day. The team, which he had recently purchased for $500 and now wanted to sell, had already put him $45,000 in the hole. In a single afternoon, though,
Grange
single-handedly filled the stadium and sent
Mara
home $130,000 richer.
The
Bears
' blitz and
Grange
's presence gave professional football a sense of legitimacy among fans, and it demonstrated to potential club owners that, with the right personnel, the NFL could be a profitable venture.
Grange
's success inspired other college stars to join the NFL, which dramatically improved the quality of professional play. Without
Grange
pulling in huge crowds everywhere he went, the tottering NFL might have gone the route of every other short-lived pro leage that preceded it. Despite injuries that made much of his nine-year professional career painful,
Grange
carried on, earning a place in both the college and professional football halls of fame. No better than
George Halas
, the last surviving founder of the NFL, put
Grange
's impact on the league in perspective when he said that "
Grange
was to us then what television is to the modern era." At the time, he was the best thing the NFL had to sell itself.
Fatso: Football When Men Were Really Men, Arthur Donovan Jr. and Bob Drury (1987)
Art "Fatso" Donovan played DT for the Baltimore Colts from 1953-61.
Once, we were flying home from the West Coast after a win over the
Rams
in 1959. But first we had to wait four hours for the plane, and of course we all waited in the airport bar. The jet finally arrived, and since our famous coach,
Weeb Ewbank
, was too cheap to stock our flights with booze, we carried on our own. All of us had beer, except for
Big Daddy Lipscomb
, who was to wind up dead of an overdose a few years later.
Big Daddy
liked his VO, and he came strolling down the aisle of our plane with two fifths of whiskey.
We drank all the way back to Baltimore, and by the time we landed, the sun was up and everybody on the plane had a vicious hangover. Everybody piled off the plane in various states of drunken dishevelment except for our tight end,
Jim Mutscheller
, who halfway down the ramp decided he had to use the head on the jet because he couldn't make it the couple of hundred yards to the airport. The plane was refueling for the trip back to Los Angeles when
Mutsch
opened the door to the head, and who was sitting on the throne, passed out, but
Big Daddy
. He had his two fifths of VO, empty, cradled in his arms like babies. They would have flown back West with
Big Daddy
on that throne if
Mutsch
could have held his water another five min­utes.
L-R: Art Donovan, Weeb Ewbank, Big Daddy Lipscomb
One of the best flights we ever had was after a loss in Detroit. Nobody was too happy to begin with, because we should have beaten those guys, and by the time we boarded the flight, half the team had a major-league pack­age on. It didn't take long for the other half to catch up. And up at around twenty-five thousand feet a huge brawl broke out between the offense and the defense. They were gouging and biting and blaming each other for the loss. Well, I was one of the guys trying to break up the fight but having no luck at all. Meanwhile, the plane was pitching back and forth as these behe­moths were throwing each other all over the goddamn cabin.
Weeb
would­n't get out of his seat because he was afraid somebody was going to throw him out the window.
Finally, the pilot got on the intercom and announced that if we didn't stop, he was going to have to make an emergency landing and we were all going to jail for air piracy or something like that. That was the only way to stop them. They were crazy animals. And
Weeb
never said a word throughout the whole trip.
Through my first four years in the league, before
Weeb
took over the
Colts
in 1954, I played at six-two, three hundred pounds. I was a light eater. When it got light I started eating. I had a bit part in a movie
Two for the Money
and when the wardrobe people asked me my clothes sizes they told them to check with Omar the Tentmaker. They used to weigh me on a scale downtown at a grain store. But after
Weeb
came in, I always had a clause in my contract stating I had to play at 270. They weighed me in once a week, and what a show that would be. I'd step on the scale, it would reg­ister something like 275. I'd take off my sweat shirt and drop two pounds. My pants would be another pound and a half. And I'd get down to 270 and a half by dropping my underwear. Just when everyone thought I'd be fined for coming in a half pound overweight, I'd pull the
coup de grace
and take out my false teeth.
Everything went fine until 1959. Toward the end of the season, the
Colts
were on the West Coast to play
San Francisco
and
Los Angeles
. We had to win both games to take the division title. We beat the
49ers
and stayed in San Francisco to practice, and that was a big mistake. How can you not gain weight in San Francisco? My tonnage shot to 280.
Weeb
was so preoccupied with the
Rams
game that he didn't have a team weigh-in beforehand. He only weighed a guy named
George Preas
and my­self. ... I had a $2,000 bonus clause in my contract. I'd collect if I stayed at 270 all season. Here we were in the last game of the year, and I had blown it. After he weighed me, I went up to
Weeb
and asked him about a deal. "Suppose I have a good
Rams
game," I said. His answer: "I'll talk to you about it after the game."
Anyhow it was about 110 degrees in L.A. by game time.
Big Daddy
begged out with a bad ankle, although I honestly believe he just didn't feel like playing in that heat, and I had to play the whole game. I was dying. Late in the game, with about three or four minutes left, we were murdering them by about five touchdowns. The
Rams
finally put in their rookie quarterback, a guy by the name of
Frank Ryan
, who went on to become a star with the
Cleveland Browns
... I said to myself, "Thank God," because I was sure he had been sent in to run the clock.
But no. This guy
Ryan
got the ball and started running all over the field and throwing bombs. And I was chasing him and screaming at him and calling him all kinds of names. I yelled at him, "I'm gonna kill you when I get you!" But, truth be told, I couldn't have caught him if he was crawling on his hands and knees. So I finally figured the hell with this, and went over to the
Rams
huddle and said to this guy, "Listen, rook ... Give up the ghost. Run out the goddamn clock."
And he just calmly looked up at me and said, "Drop dead, you big, fat SOB." I was shocked. Stunned. I wanted to kill him. Suddenly I realized my team­mate
Ordell Braase
was yelling at me, "Hey,
Fatso
, you're in the wrong goddamn huddle!" And sure enough, the refs penalized us five yards for being offside. When the game ended I crawled off the field and went look­ing for
Weeb
. I wanted to ask him about my money.
"Hey,
Weeb
, ... I guess I'm going to get my two thousand dollars back now that we won the game and everything."
"Hell, no,
Donovan
," he said to me. "You don't get nothing 'cause you're out of shape."
I asked him what the hell he was talking about. After all, I had played the whole game in stifling heat. And that rat bastard told me that if I was in shape I would have caught
Ryan
and ended the game that much earlier. I never got the money, either.
Legend: Bo Jackson
SEC Football's Greatest Games, Alex Martin Smith (2018)

The greatest player in
Auburn
history grew up a huge
Alabama Crimson Tide
fan.
Who knows?
Bo Jackson
might have led the
Tide
to a national title in
Bear Bryant
's final season, but there was one major snag: the
Bear
didn't like playing freshmen. And not even a scary-good athlete such as
Jackson
was going to see the field early.
Aside from his career as a two-way gridiron destroyer and a non-hitter-tossing pitcher,
Jackson
was a two-time Alabama state champion in the decathlon at
McAdory High
in small-town McCalla. There was likely some skepticism about his ability to be a star running back in the SEC, but there were no doubts about his superior athleticism.
As
Bryant
's health slipped,
Pat Dye
's staff pounced: ...
Paul Finebaum
recalled
Auburn
assistants mailing copies of unflattering Bryant photos ("he just looked terribly old") to every
Tigers
recruit.
In person, they had a simple pitch for
Jackson
: If you're the best running back we have, you'll play.
Whatever the primary reason,
Jackson
spurned his childhood team and drove to Lee County to begin his college football career. Unlike
Georgia
's
Herschel Walker
, who mostly failed to meet expectations during his first
Georgia
camp,
Jackson
was electrifying from the outset.
"I turned around to hand him the ball, and he was already gone past me," QB
Randy Campbell
recalled. "I told the coaches, 'He's lining up too close.'" He wasn't. And he made a swift climb to the top of the depth chart.
Bo Jackson Auburn Tiger,
Oakland Raider
, Kansas City Royal
"The thing is, he was so much better than everybody,"
Campbell
said. "Nobody went back to their rooms saying, 'I can't believe they put that freshman ahead of me.' ..."
Jackson
helped
Auburn
reclaim Yellowhammer bragging rights afer a long period under the
Crimson Tide
's thumb. It seemed he save some of his wildest moments for the Iron Bowl;
Auburn
fans still smile upon hearing the phrase "
Bo
Over the Top," just as their faces get cloudy at mention of "Wrong Way
Bo
" (a critical missed blocking assignment in '83) or "the Kick" (a game-winning FG that nullified
Jackson
's two TDs on cracked ribs in '84).
There was also a Sugar Bowl win over
Michigan
and the 1985 Heisman Trophy. But football wasn't
Jackson
's only love at
Auburn
. He also starred on the baseball diamond, where he batted .401 as a junior and collected 28 career home runs.
"
Bo
was without question the most incredible specimen I have ever seen in virtually every measurable physical category - speed, strength, eye-hand coordination, leaping ability, arm strength," baseball coach
Hal Baird
said. "You name it,
Bo
was off the charts."
Following his time at
Auburn
, he was a two-sport professional star, becoming the first - and still only - athlete to be named both an MLB all-star and an NFL Pro Bowler. His freak athletic ability resulted in too many iconic moments to cover here. Among them: a lightspeed 91-yard TD run on
Monday Night Football
, a baseball bat snapping in half across his knee, and a Spider-Man-esque outfield wall climb after sprinting to make a catch. All of it took on mythical status.
He became
a pop-culture sensation. Nike ads insisted "BO KNOWS." Tecmo Bowl turned him into the Incredible Hulk, and he did his best real-life impression on Sundays.
Though his football career ended prematurely after a 1991 hip injury, his legend lives on across the world.
"I loved being better than the next guy," he said in 2017. "I enjoyed watching people's eyes jump out of their heads watching me do something that was normal to me."
Montana: The Biography of Football's Joe Cool, by Keith Dunnavant (2015)
Several of the athletes who played significant roles in one or both Super Bowls were entering the end of their careers ... but perhaps the most diffi­cult transition involved receiver
Freddie Solomon
, a popular and high-pro­file player who had been instrumental in
San Francisco
's rise to the top of professional football. Nag­ging injuries and the unyielding calendar had convinced [head coach
Bill
]
Walsh
that
Solomon
's best days were behind him, so as he approached the 1985 draft, finding another talented receiver for
Montana
loomed large in his plans.
The solution to this particular problem first presented itself in 1984, on a road trip to play the
Houston Oilers
. Relaxing in his hotel room on the night before the game,
Walsh
happened upon a local television sportscast featuring highlights from a small college game way off the football map. Narrating one long pass play after another, the anchor made no attempt to conceal his amazement.
Jerry Rice
was that good.
Somehow ignored by the nation's major colleges, the brickmason's son with the reserved bearing and the sort of perfectionist streak that so often drives great­ness, wound up at tiny
Mississippi Valley State
, a small, historically black school with an enrollment of less than three thousand. Because the competition he faced in the Division 1-AA Southwestern Athletic Conference was far below big-time col­lege football, NFL scouts and coaches looked upon his statistics with skepticism. But after catching an NCAA-record 112 passes for 1,845 yards and 27 touchdowns as a senior in 1984 - teaming with QB
Willie Totten
, who led a potent attack that averaged a stunning 59 points per game -
Rice
could not be easily ignored. Most teams projected him to last until at least the third round, but
Walsh
was not pre­pared to take such a chance. Despite significant opposition from his scouting ope­ration, he paid a high price - much higher than some thought prudent - to acquire
Rice
: trading three draft picks to procure the seventeenth overall selection in the first round, which he used to take the player who would become one of the cor­nerstones of the franchise. Then he started pushing
Solomon
toward the door.
L-R: Bill Walsh, Freddie Solomon, Jerry Rice
By this time, defenses were employing various tactics to try to counter
Walsh
's ball-control passing game. One of the most effective was the advent of man-to-man coverage on the short and intermediate routes, which made it imperative that the
49ers
feature a wide receiver who could stretch the defense vertically. Not only would this give
Montana
significant options downfield, the requirements of protecting against such a threat would leave the defense even more vulnerable to the
49ers
' pass-catching backs, especially
Roger Craig
. Watching him in action,
Walsh
believed
Rice
could prove to be such a transcendent force for his offense.
The transition proved bumpy. As
San Francisco
opened the 1985 season with a loss to
Minnesota
and a victory over division rival
Atlanta
,
Rice
stunned team­mates and coaches with his deceptive speed and a knack for getting open, but his hands suddenly betrayed him. Time after time, he dropped perfectly thrown pass­es. "[
Joe
] didn't say it, but you could tell that he was starting to have doubts,"
Rice
remembered. Trying to be patient,
Montana
could see "he was trying too hard. You try so hard and when you screw up, you think everybody's looking at you, thinking how you don't belong - even if they're not."
Montana
and other teammates tried to soften the blow, but many
San Francisco
fans were not so understanding, filling Candlestick with cascading boos when the man who once had been nicknamed "
World
" - because there was no pass in the world he couldn't catch - let another ball slip inexplicably through his fingertips. ...
In the lone loss during the stretch [of five victories over a six-week span], one aspect of the
Niners
' future began to emerge:
Jerry Rice
found his hands. After weeks of struggling to live up to the potential
Walsh
and the other coaches saw in him,
Rice
caught 10 of
Montana
's passes for 241y, including a 66-yarder. The breakout game marked the unofficial start of one of the greatest batteries in football history.
How the SEC Became Goliath, Ray Glier (2012)

There was a fringe benefit of playing for
LSU
coach
Nick Saban
, something valuable to a couple of his players in addition to winning games and getting trained for the NFL. The coach had a pond with fish and he seemed much too busy to snatch those fish out of the water himself. So
Mike Clayton
, an
LSU
wide receiver, and
Marcus Spears
, an
LSU
defensive end, would make their way around the back of
Saban
's big house on Highland Road in Baton Rouge and drop lines into the coach's pond and fish. ...
Clayton
was from south Baton Rouge and
Spears
was from the Bottom, a poorer area of Baton Rouge, and the idea of fishing at the manor of an
LSU
coach seemed so preposterous if you understood the history between south Baton Rouge, the Bottom, and
LSU
.
Clayton
and
Spears
would never have fished in the pond of an
LSU
football coach before 2000. Peed in it? Yes, they would have done that.
LSU
was mistrusted in some parts of town. The football coach represented a hierarchy at
LSU
that did not blend with south Baton Rouge,
Clayton
said. The coaches were not racist, but their hands seemed tied by politics. Was it accurate? Were there politics? It doesn't matter. That's the way the
Claytons
... saw it and that's what mattered.
When
LSU
coach
Gerry DiNardo
, who was regarded as a skilled recruiter, did not show any interest in recruiting
Mike Clayton
, a star WR from south Baton Rouge, the rift between the neighborhood and the
LSU
campus grew wider. The
Claytons
had issues with the politics at
LSU
, which is to say they thought a good-old-boy element still lurked there when
Mike
was met with a cold shoulder by
DiNardo
. If
Florida State
and
Bobby Bowden
could recruit him hard, why couldn't his hometown school? The
Claytons
thought the worst of
LSU
.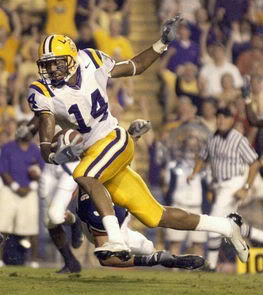 L-R: Michael Clayton, Marcus Spears, Nick Saban
When
DiNardo
was fired and
Saban
was hired in late November 1999,
LSU
began to recruit
Clayton
, but
Saban
started the chase from a hole. The hardest thing was not getting in the front door; it was getting through the barbed wire of emotions.
Clayton
lived in a nice neighborhood with manicured yards, modest but neatly kept homes. What the heck was so objectionable in this neighborhood that it took
LSU
so long to get in line and recruit a star?
Clayton
, who attended
Christian Life Academy
, already had his bag half packed for
Florida State
. The heck with
LSU
. The kids from the Bottom or south Baton Rouge never thought they got a fair shake at
LSU
, so they were always looking elsewhere first,
Clayton
said.
"I never got one letter until
Saban
and his staff got on campus,"
Clayton
said. "
Jimbo
[
Fisher
] would come watch me play basketball, and I would show off for him."
The
Claytons
let
Saban
in the front door. "The neighborhood was going, 'What are you doing talkin' to
LSU
? You know how things can go there,'"
Clayton
said. "A lot of guys just went to
Alcorn
, or one of the other HBCUs. We saw too many of our guys go to
LSU
and then transfer."
Saban
, who was in his first season as head coach at
LSU
, made his pitch to the
Claytons
. He was earnest, like a man selling Bibles out of the trunk of his car. He talked about college being a forty-year decision, not a four-year decision. He talked about life after football. You could go to your hometown school and come back after the NFL and own shares in a bank, own a clothing store, own real estate. There would be roots.
When the coach was finished vending
LSU
,
Milton Clayton
,
Mike
's father, tried to put his feelings in a gentlemanly sort of way to
Saban
: "There are politics at
LSU
, Coach. Things go on. Sometimes the best players don't play."
"There will be no politics,"
Saban
said. "Not as long as I'm here."
Well, how many coaches had said that before only to let politics creep into the locker room, into the meeting room, into the coach's ear? A kid from the
South Baton Rouge Rams
, among the elite of the Pop Warner football programs, was just asking to be trashed if he believed this blather.
"Don't be sorry,
Mike
," some of the neighbors told him. "Go to
Florida State
, go to
Miami
, go anyplace but
there.
" Years of mistrust were barking back at
Clayton
, and perceptions are hard to tear down.
LSU
had been one of the last SEC schools to embrace black players. The
Claytons
were not indicting the whole campus, but they were suspicious, as black folks have learned with justification to be suspicious.
Many
LSU
fans will likely scoff at
Clayton
's assertion that as late as 2000 racial prejudices affected the makeup of the
Tigers
' rosters.
Clayton
scoffs back a those who think sports is color-blind and that winning overrides all racism.
"Just the other day I'm on the golf course in Tampa, and this white guy rolls by in his cart and says to his friend, 'Hey, look at that nigger playing golf,'"
Clayton
said. "That's the day we still live in. Some people look at color. It's still not gone." ...
Clayton
scratched
Miami
off his recruiting list because on his visit there with
Spears
..., they found South Beach too raucous and too tempting. "All kinds of stuff was going on there,"
Clayton
said."
There was still time to decide before the February 8 signing date, but
Clayton
thought maybe he should give
Saban
a chance.
Clayton
liked
Saban
, the son of a gasoline-station operator from West Virginia.
Florida State
was still
Clayton
's top choice, but a window had opened for
LSU
, or was it a hole opening in a fence that had been built up between a neighborhood and a school?
On the night of December 29, 2000,
Clayton
and
Spears
... were sitting in a restaurant in Dallas before they were to play in a high school all-American game. On the restaurant's television,
LSU
was playing
Georgia Tech
in the Chick-fil-A Bowl in Atlanta.
A black QB, not a white QB, flashed across the screen and was making plays.
Rohan Davey
was taking snaps ahead of
Josh Booty
, the white QB, a Louisiana legend from
Evangel Christian
.
Davey
led the
Tigers
to a win with a strong second-half performance.
Clayton
and
Spears
looked at each other. "What just happened?" Maybe
Saban
could override the politics, after all. A black QB was allowed to be the star of the game they were watching on TV. It had happened before at
LSU
with
Herb Tyler
(1995-98), a black QB who shone, but
Clayton
saw a black QB in competition with a white QB. The black QB scooted ahead; he was allowed to scoot ahead.
In the Dallas restaurant, the Baton Rouge boys starteds doing something preposterous. They started recruiting for
LSU
. A south Baton Rouge kid and a kid from the Bottom, who would have stuck their fingers in a light socket before selling for
LSU
, became salesmen for the
Tigers
. Perhaps the place wasn't so bad at all. They worked on the high school players in Dallas at the all-star game who had still not made up their minds where to go to college. In all,
Clayton
said, six players in that game went to
LSU
.
"He meant what he said about there not being politics anymore,"
Clayton
said of
Saban
. "You could tell on the television that night. What
Rohan
did changed some people's minds."
Spears
flipped to
LSU
. ... "It was, who is your daddy? Who did your daddy play for? How much money did they give?" said
Spears
. "
Nick
got there and he could have cared less whose daddy played there." ...
In 2003,
LSU
(13-1) won a national championship. That 2001 class - headlined by
Clayton
and
Spears
, two Baton Rouge stars who had sworn they would not play for the
Tigers
- was the core of the first
LSU
team to win a title since 1958.
James Moran, Tiger Rag, November 4, 2014

Skip Bertman
knows how to keep a secret. In fall 2004,
Bertman
was asked to keep an atomic bomb of a secret quiet, and for a month the then-
LSU
athletic director was able to keep it tucked securely under his purple and gold hat.
Nick Saban
had received an offer from an NFL franchise during each of his first four sea­sons as the head coach of the
Fighting Tigers
. He always called his athletic director to inform him of each overture, per a stipulationin his contract, and
Bertman
never consid­ered them to be anything more than a bargaining chip.
Saban
had held a press conference to turn down a head coaching offer from the
Chica­go Bears
that January, and he had fended off advances from the
Jacksonville Jaguars
,
Pittsburgh Steelers
, and other franchises in the years before.
This time was different.
Owner
Wayne Huizenga
badly wanted
Saban
to run his
Miami Dolphins
, and with a multi-billion dollar bankroll at his disposal, he was willing to do whatever it took to get his man.
"
Nick
really didn't want to go,"
Bertman
recalled. "He and his wife
Terry
loved it here, and he had a great team coming back. My God, he had about 80 people coming back. But every time he went back and asked
Huizenga
for more to try to get out of the deal,
Huizenga
responded."
It wasn't just a matter of money - though he received plenty of that.
Saban
asked for complete control of the coaching staff, the training staff and even player personnel.
He asked for everything short of a minority stake in the franchise and the kitchen sink, and to it all
Huizenga
said yes.
On an unseasonably warm fall morning,
Saban
walked into
Bertman
's office and drop­ped the bomb that all
LSU
fans feared would one day come. The coach who had deli­vered the program its first national championship in nearly half a century was gone.
He had bigger fish to fry.
"He walked in and said to me, 'Can you keep this quiet, but I got to go because if I don't take this offer I'll never get another one,'"
Bertman
said. "He figured if it didn't work out he could always go back to coaching college football."
"In the back of his mind I think he always knew it would be a difficult place for him to coach. He knew guys like
Steve Spurrier
that weren't able to do it, but he wanted to give it a try. You can't blame him for that."
To this day
Saban
's contract and overall package remain the largest ever given to a college coach heading to the pros.
L-R: Skip Bertman, Wayne Huizenga, Nick Saban
The
Tigers
were finishing up a 9-2 regular season under
Saban
's direction, and
Bertman
agreed to keep the news under wraps for as long as he could.
Of course that was easier at a time before Twitter and camera phones, but aside from sporadic reports of
Huizenga
's personal jet being sighted in Baton Rouge,
Bertman
did just that. ...
Saban
asked that he be allowed to announce his own departure after the Capital One Bowl on New Year's Day.
Bertman
had already given his friend a month of silence - a moratorium that cost
LSU
a chance at going after
Spurrier
or
Urban Meyer
- and he couldn't wait any longer to go public.
It broke on Christmas day:
Saban
to
Miami
was a done deal. ...
Bertman
had the inside scoop to avoid surprise when news of
Saban
's departure got out. His players were not so lucky. The hundred-or-so young men that
Saban
had recruited and coached for the previous years were blindsided with just a week to gather their thoughts and emotions before taking the field against
Iowa
in Orlando FL. ...
But the hatred
LSU
fans now hold toward
Saban
isn't because he took
Huizenga
's money and ran or even because he left his players high and dry to do it. ...
Most
Tiger
fans genuinely wished him well as he rode off into the South Florida sunset.
That changed two years later, of course. After banging his head against the wall toiling in NFL mediocrity,
Saban
did exactly what he told
Bertman
he would do should the
Dolphins
move not work.
Saban
issued repeated denials, but on Jan. 3, 2007 ... he announced he'd be leaving the
Dolphins
to become the 27th head coach of the
Alabama Crimson Tide
. It was at that moment that
LSU
fans realized that their worst fear wasn't losing
Saban
, but rather his returning to the SEC.
He's been public enemy No. 1 in these here parts ever since.
New Orleans Saints Gameday, August 9, 2019
It would be fair to say that Taysom Hill is a "do-it-all" QB for the Saints. But that doesn't necessarily begin to cover one of the most interesting stories in the NFL.
Hill's story began in Pocatello, Idaho where he played QB for Highland High School and was the All-Idaho Player of the Year, Gatorade High School Player of the Year and first-team all-state selection in 2009.
Hill received offers from many schools in the West including Arizona, Boise State, Washington State, Stanford and BYU. He ended up committing to Stanford un­der then-coach Jim Harbaugh but never actually landed on campus. Instead, he decided to fulfill a two-year Mormon mission trip in Australia. ...
When Hill completed the trip, he decided to return home and jump back into his football career at BYU, where the football program was more familiar with athletes serving mission trips than most programs. ...
By his junior season at BYU, Hill was a Heisman Trophy candidate with the likes of Marcus Mariota and Jameis Winston - both are now starting NFL QBs. That sea­son, however, was cut short due to an injury. That was all too familiar for Hill, as four of his five seasons at BYU ended in injuries - a knee injury, a broken fibula, a foot fracture and an elbow strain. What got Hill through all those injuries? ... Hill would go back to advice he received from Harbaugh, who he stayed in contact with after the recruiting process.
"He shared with me an experience that he had when he was playing at Michigan where he had just broken his arm his junior year and wasn't able to play and com­pete," Hill said. Harbaugh told Hill that the best way to fill the void of not being able to play football was to compete in something else.
"I went and competed in the classroom," Hill said. "That filled the void mentally and emotionally of where I was feeling like I was still contributing to Taysom Hill the person, as well as rehabbing and getting back and ready for the next season, which was also contributing to Taysom Hill the football player. ..." Hill ended up gradua­ting from BYU with a degree in finance. ...
L-R: Taysom Hill with
BYU
and Saints and blocking punt against
Bucs
The Packers brought Hill to training camp in 2017 as an undrafted free agent. The coaches quickly liked what they saw and planned to sign him to their practice squad after preseason. Meanwhile, Sean Payton had been studying film on Green Bay WR Max McCaffery. He then noticed the person that was throwing the ball to McCaffe­ry. He was intrigued.
Not too long after that, the Saints picked up Hill off of waivers and he was in New Orleans. "There was no grace period," Hill said.
He found out that Saturday that the Saints had picked him up, he flew to New Or­leans on Sunday and was out practicing on Monday before the 2017 regular season opener against the Vikings.
His experience in New Orleans was culture shock compared to what he was used to in Idaho. But one thing stood out to him: "The city was unique, the people were unique and I felt the love for the Saints the second that I got to New Orleans," he said.
Hill was trying to learn as much as he could from QBs Drew Brees and Chase Dan­iel ... "I was just trying to do the best I could and trying to catch up and learn the system," Hill said. ... Hill's career took a fascinating turn late in the 2017 season when then-Special Teams Coach Mike Westhoff needed a player to cover kick re­turns. Hill was that guy.
In his career up to that point, Hill had done a lot of things. In high school he played WR, RB while also serving as the punter/kicker. Hill grew up a multi-sport athlete. He ran track, competing in the long jump and 200-meter run. But covering a kickoff in the NFL? That was a new one.
"When the special teams coaches came to me and they had this experiment of put­ting me on special teams, it was a whole other ballgame where I went through that experience all over again of trying to learn a new system and new positions that were so foreign to me," Hill said.
Hill worked with secondary coach Aaron Glenn on tackling drills, all while still wear­ing his red non-contact jersey, the week before he would take his first shot at playing special teams.
In his NFL regular season debut against the Panthers, Hill picked up two tackles and came close to blocking two punts. Payton gave Hill the special teams game ball following the win.
Payton continued to new ways to use Hill last season, which his stat line attests to: 3-for-7 passing with 64y, 37 rushing attempts for 196y, three receptions, 14 kick returns for 348y, six special teams stops and a blocked punt.
His first kick return was a 47-yarder against the Browns. The following week against the Falcons, he returned three kicks for 64y, made a tackle on special teams, was used as a TE to block and even ran the ball three times for 39y. Hill scored his first TD against the Redskins ...
Hill picked up the NFC Special Teams Player of the Week honor when he blocked a punt against the Buccaneers that led to the Saints comeback victory and clinched the division title. He was also a key part in the Saints NFC Divisional Playoff win against the Eagles. New Orleans was down by 14 points at the start of the second quarter when Payton called a fake punt on fourth down using the team's "secret weapon." Hill was able to get the first down, which ultimately sparked the comeback.
During this year's training camp, Hill could still be seen practicing with special teams covering kicks and working on his tackling drills, but Payton is seeing his progress as a QB. Payton raves about Hill's abilities as a leader and a teammate and says his grasp of the offense is continuing to increase.
For now, Hill will take any opportunity he can to get on the field. He might not have the starting QB position that he would like, but he's still been able to compete and throw himself in a role where he is successful. ...
"I had zero expectation that my career would go this way in the NFL," Hill said. ... I've always been a competitor. I've always loved being on the field and competing. I have had so much fun being able to get on the field, be in the huddle with Drew ... And it's been a really unique experience."
So, what exactly is Hill? You could call him a "do-it-all" player. Maybe even a swiss-army-knife type of guy. I would be fair to call him all those things. To Hill, he is and always will just be a QB.
"It's really been a fun experience for me," Hill said. "I couldn't ask for anything more."
David M. Hall and Alexander Wells, ESPN the Magazine, Sept. 2019
Jeremy and Amanda Lawrence had two boys. Chase was older, the artist. Trevor, the athlete, came five years later. By the time Trevor was 3, he spent Saturdays in his dad's lap, crowded into an armchair to watch SEC football. The family, from Tennessee, treated Volunteers football as appointment television. As Trevor got older, Jeremy toted him to Neyland Stadium to see the Vols in person, after which Trevor took to the backyard to toss footballs and imagine he was Peyton Manning.
By fifth grade, Lawrence dodged peewee tacklers with a gangly brilliance. His grandfather dubbed him "Crazy Legs" Lawrence. By eighth grade, the family hired a QB trainer, Ron Veal, to work with Trevor during the offseason. By ninth grade, Clemson recruiting coordinator Brandon Streeter became a fixture at Lawrence's games. By 10th grade, every school in the country wanted a piece of Trevor Lawrence.
In summer 2019, Lawrence finally met his childhood idol at the Manning Passing Academy. Duke coach David Cutcliffe, who mentored Manning in college at Tennessee, traded texts with his protege after the camp concluded. He wanted to know what Manning thought of the hotshot Clemson star, who beat Cutcliffe's Blue Devils 35-6 last season.
"Well," Manning texted back, "he stared at me a lot."
Miller Forristall should've been Cartersville High School's star QB, if not for this kid - this middle school kid - who showed up to spring ball in 2014 with eyes on the job. People were already buzzing about Lawrence, but Forristall wasn't buying the hype.
"The kid's in eighth grade," Forristall thought. "How good could he be?"
"I saw him throw one ball," Forristall says, "and I knew he was legit."
Forristall switched positions. He became one of Lawrence's favorite targets and closest friends and eventually landed a scholarship to Alabama - where he plays TE.
MaxPreps named Lawrence the nation's top freshman QB after the 2014 season, and his coach, Joey King, phoned Lawrence to deliver the news. The QB answered and King gushed.
"Hey, Coach," Lawrence interrupted. "I'm in the middle of a video game. Can I call you back?"
King was stunned.
About 10 minutes later, King's phone buzzed. He picked up and blurted out the news again.
"That's cool," Lawrence said. "So what are we doing in the weight room tomorrow?"
Lawrence had suitors from across the country, but the toughest day of his recruitment occurred one afternoon during his junior season. Alabama coach Nick Saban was on the line, and a Cartersville team meeting was about to start.
Michael Bail, Cartersville's QB coach, poked his head in on Lawrence and screamed at his QB to get off the phone. The team's own meeting had begun. What was Lawrence supposed to do here? "It's the only time I ever remember him being late for a meeting," Bail says.
What Lawrence didn't know? Bail knew full well that Saban was on the phone. "Now I had him in an uncomfortable position," Bail says.
Lawrence asked for another minute but still couldn't shake Saban, and when Bail returned for the second time, he acted like he wasn't interested in excuses. Lawrence was out of time.
"OK, Coach, I've gotta go," Lawrence said into the phone, hanging up on the legendary Crimson Tide coach.
L-R: 6'6" Trevor Lawrence in high school and at Clemson
Tony Dean was a senior receiver for Cartersville in 2016 and usually a reliable target. But during a regular-season game, he'd endured a brutal first half - a couple of drops, a fumble - in an otherwise forgettable game that Cartersville would eventually win easily. Dean was rattled.
Early in the third quarter, Lawrence had the offense humming. The Hurricanes drove into the red zone, and Lawrence took a shotgun snap, looking for a score. His first read was wide open in the back of the end zone. His second dragged across the middle, no defenders in sight. As pressure came up the middle, Lawrence rolled out to his right and sprinted toward the sideline. Just before stepping out of bounds, he unleashed a bullet past a couple of defenders and hit Dean, his third read, in the hands in the corner of the end zone for the touchdown.
Lawrence trotted to the sideline, where Coach Bail was livid. What the heck was Lawrence looking at?
"Coach," Lawrence said, "if we're making a playoff run, we need Tony. And Tony needed that catch today."
It was a stiflingly hot Saturday in late August 2017, and the air conditioning inside Cartersville's locker room had been turned off. Saturday games were rare, but this was a nationally televised showdown between Lawrence's Hurricanes and Bartram Trail, a football behemoth from Florida. Lightning had the entire production on hold. Coaches, ADs and officials huddled to assess the situation while the players baked at their lockers, still in full uniform. During their meeting, Lawrence knocked on the door to request some Gatorade for the team.
A few minutes later, it occurred to Bail that the coolers were still on the field, so he marched into the locker room. Inside, he found Lawrence hunched over a cooler, mixing up a vat of powdered energy drink.
"Then he goes out and throws four touchdowns," Bail says.
During one of Lawrence's first practices at Clemson in the spring of 2018 - he'd committed during his junior year at Cartersville - he rolled to his right and ran smack into a sack. In practice, QBs can be hit, but Christian Wilkins and Clelin Ferrell - the unquestioned team leaders, both ultimately first-round NFL draft picks - delivered the verbal equivalent, reminding the hotshot freshman that his hype didn't amount to squat here.
"Christian was in his ear," says RB Darien Rencher. "I don't mean figuratively. He was literally yelling into Trevor's ear."
Lawrence said nothing, just gathered the offense. On the next play, he rolled right again, but this time, before getting slapped by the rush, he unleashed a laser, across his body and 30 yards downfield - with no arc, Ferrell swears - finding the hands of his receiver.
"I'd never seen nothing like that," Ferrell says. "I knew he had something special."
Lawrence stared down his tormenters long enough to send a message, before celebrating the touchdown with the offense.
"We were trying to break him," Ferrell says. "But he always stayed even-keeled."