The Richest Rivalry
Fourth and Long: The Fight for the Soul of College Football, John U. Bacon (2013)

Michigan
and
Notre Dame
started going at it when they first met in 1887 - by accident. The
Michigan
football team was traveling to Evanston to play
Northwestern
when they learned the "
Purple
" were backing out. So they got off the train at South Bend instead and literally taught those
Notre Dame
boys how to play football.
After the
Wolverines
won that first contest, 8-0,
Notre Dame
treated their guests to a hearty banquet. The mood was so friendly that
Notre Dame
president
Thomas Walsh
felt compelled to give a toast, assuring the
Michigan
players that a "cordial reception would always await them at
Notre Dame
."
Promises, promises.
No self-respecting
Michigan
or
Notre Dame
fan cannot repeat the history that follows. This synopsis is for the rest of you.
In 1895, representatives from seven schools -
Michigan
,
Purdue
,
Illinois
,
Chicago
,
Northwestern
,
Wisconsin
, and
Minnesota
- met at the Palmer House in Chicago to create what we now call the Big Ten. Because
Notre Dame
was still an embryonic team at a small, struggling school, no one considered inviting them to join.
Notre Dame
's relationship with the Big Ten became more complicated after coach
Fielding Yost
arrived at
Michigan
, and a player named
Knute Rockne
enrolled at
Notre Dame
. In 1910,
Yost
accused
Notre Dame
of using ineligible players and cut the series off. On the various all-American teams that big-name coaches selected in 1913, only one coach left
Rockne
off his list - and that man was
Fielding Yost
.
L-R: Fielding Yost, Knute Rockne
Things got worse after
Rockne
became
Notre Dame
's coach in 1918, and then blew up beyond repair in 1923 - at a track meet. Yes, a track meet.
Rockne
got into a shouting match with
Yost
over the distance between the hurdles
Michigan
had set up.
Yost
vowed then and there that
Notre Dame
- which had desperately been trying to get into the Big Ten - would never be admitted.
The animosity between these two giants ran at a fever pitch the rest of their lives. When a Spalding salesman tried to get
Rockne
to order new equipment,
Rockne
kept repeating that he was already overstocked with everything he needed. Finally, just before turning to go, the clever salesman sighed and said that was a shame, because
Yost
liked Spalding's new footballs so much he'd ordered three dozen.
"He did?"
Rockne
snapped. "Then I'll take three dozen and a half."
The teams ended the embargo during World War II, when they split two games, before cutting off the rivalry again. Another tradition that goes back almost as far as the rivalry is the mistrust between the teams' leaders. Like all great traditions, this one has outlived its originators.
Michigan
's
Fritz Crisler
didn't trust
Notre Dame
's
Frank Leahy
any more than
Rockne
trusted
Yost
. Pressed to explain why,
Crisler
cited this example: Whenever someone asked
Leahy
if he wanted a cigarette, he'd say yes, then just play with the thing without ever lighting it. "Why,"
Crisler
asked, "doesn't he just say he doesn't smoke?" ...
L-R: Fritz Crisler, Frank Leahy
For the next 35 years, arguably the sport's two most legendary programs, situated just three hours apart, did not play a single game - but once again,
Notre Dame
seemed to fare pretty well without the
Wolverines
, winning six national titles during that span.
At a banquet in the late sixties,
Notre Dame
athletic director
Moose Krause
leaned over to his
Michigan
counterpart,
Don Canham
, and said, "
Don
,
Michigan
and
Notre Dame
should be playing football." They were the two winningest teams in the game's history, they both had earned reputations for doing it the right way, and they were only three hours apart.
Canham
couldn't argue with the logic of it.
After a few years of touchy negotiations, they relaunched the rivalry in 1978, and it was an immediate hit. The games were so good
Sports Illustrated
put the rivalry on the cover four times in a decade, plus four features - each time eclipsing the NFL's opening weekend, and tennis's U.S. Open.
Strange But True Football Stories, Zander Hollander (1967)
Even in his padded suit and helmet he didn't look very big, standing among the giants who surrounded him in the
Philadelphia Eagles
' huddle. But little
Davey O'Brien
, all 5 feet 7 inches of him, was a brilliant and resourceful field general, who knew that it took more than size to be a winner. Even more, he was a gifted and daring passer. On this day of December 1, 1940 he was playing his farewell game in professional football, and he wanted to leave something behind for people to talk about after he had gone. He did.
This was O'Brien's second year with the Eagles. It was also his final year and he was playing his farewell game in professional football. Before the game, he had announced that he was retiring to work for the FBI.
O'Brien was concluding a remarkable football career that had begun at Texas Christian University. There, he broke almost every Southwest Conference passing record and led the Horned Frogs to two national titles in a row. In his senior year he won both the Heisman and Maxwell awards as the outstanding collegiate football player of 1938.
Davey O'Brien,
TCU
But despite his feats, he didn't think he would succeed in pro football. He was too small, everybody said. Even Davey had to agree, and at first he was reluctant to sign a pro contract. But the Eagles managed to change his mind. In his rookie year, he was the NFL's second-leading passer, was named to the all-league team, and established three new passing marks, including 21 completions in one game.
As a result, O'Brien was well known to football fans when he came on the field to direct the hapless Eagles against the might of the Washington Redskins. The Eagles had won only one game all season and were mired in last place. The Red­skins were seeking the victory that would assure them of first place in the Eastern Division of the NFL. Many fans regarded the game as the mismatch of the year.
A capacity crowd of 25,833 jammed Washington's Griffith Stadium by kickoff time. Despite the uneven match, neither side could score in the first quarter. The
Eagle
line was outweighed and outrushed by the
Redskin
forwards, who threw back the
Eagle
runners for more yards than they could gain. So, early in the second period, little
Davey
took to the air. He began to fill the air with more passes than any pro-football crowd had ever seen before. Not even the dynamic
Redskins
seemed ca­pable of stopping him. The
Redskins
did manage to break through on the score­board, however, on a 27y reverse ... The
Redskins
missed the extra point and led, 6-0.
But O'Brien did not relax his passing attack. To elude the onrushing tacklers, he faded back as far as 15 and 20y behind the line of scrimmage, picked out his re­ceivers and completed his passes. And when he couldn't find anyone free, he ran with the ball. On two successive plays he gained 34 yards on runs, nearly twice as many as the rest of the team would make on the ground all day. He mounted a drive that carried the Eagles 64y in five plays, and seemed headed for the tying touchdown when the halftime gun went off. In all, Davey had completed 11 passes for 112 yards in the first half.
That was only a warmup for what was to come. He continued his assault in the second half. Despite the growing pressure being put on him by the Redskin linemen, Davey managed to connect on passes with ridiculous ease. He passed wide to the side and he passed deep; he threw from behind his own goal line and he threw on the dead run, riddling the Redskins defense with his slingshot passes.
He was the little David against the Goliaths of the league, a sprite standing up against the six-foot, 230-pounders who seemed to be trying to separate his head from his shoulders Often enough they got to him and smashed the little man to the ground. But each time he would pick himself off the turf and go back to work. Every now and then a Redskin lineman would help him to his feet, apologizing for having knocked him down.
Meanwhile, the Redskins, masterminded by Sammy Baugh, who had preceded O'Brien at TCU, scored on Dick Todd's plunge from the four-yard line. With Bob Masterson's kick the Redskins now led 13-0. Still, O'Brien would not quit. Playing all the way on offense and defense, he stimulated another Eagle drive. He engi­neered two drives in the third period, one of them for 68y in 12 plays, and another for 66y in five plays. But the Eagles still couldn't get the ball across the Redskin goal line.
The Eagles' predicament looked even gloomier in the fourth quarter when Baugh, an excellent punter, quick-kicked, and the ball traveled 85 yards before it was down­ed on the three-yard lien. But O'Brien charged up the Eagles once more. He began pumping passes immediately. His primary target was left end Don Looney, who was to catch a record 14 passes for 180 yards during the day. In 15 plays, he drove the Eagles all the way, finally scoring with a 13y pass to FB Frank Emmons. The try for the extra point was blocked, and the Eagles trailed, 13-6.
Time was running out now, but not O'Brien's courage. As soon as the Eagles got the ball again, O'Brien began one last drive that carried them down to the Red­skins' 33. He was still flinging passes into the end zone, trying for the trying score while being rushed by six or seven men at once. But with 17 seconds showing on the clock, and O'Brien's endurance waning, Coach Bert Bell took him out of the game. He had played for 59 minutes and 43 seconds of a grueling football game, and he had thrown an unprecedented total of 60 passes. And not one of them was inter­cepted! Overall, Davey completed 33 of his passes for 316y.
As Davey came to the sidelines, a dejected little figure in a mud-caked jersey with the numeral 8 on it, everyone in the ballpark stood up and cheered for his remarka­ble demonstration of courage and skill. Even the Redskin players openly applauded him as he walked off the football field for the last time. The Eagles were beaten, 13-6, but not vanquished.
Davey's performance that day remains an indelible memory, even though most of his marks have since been erased. But the one that still stands is his 60 passes.
[The record was finally broken by Joe Namath, who threw 62 for the Jets against the Baltimore Colts in 1970, three years after this story was written.]
O'Brien with his mates after his last NFL game
From South Bend to Bataan
Notre Dame's Tonelli faced horrors of Bataan, refused to die
Bill Jauss, "Notre Dame News," 8/19/02

On the afternoon of Nov. 27, 1937, in South Bend, Ind.,
Notre Dame
needs a miracle, the kind found in Hollywood screenplays, not football playbooks. It is late in the fourth quarter, and the
Fighting Irish
are tied 6-6 with
Southern California
. Suddenly,
Notre Dame
fullback
Mario "Motts" Tonelli
takes a hand-off deep in
Irish
territory, and the bleachers erupt as No. 58 races down the field. After 70 yards, the 5-11, 195-pound
Tonelli
is tackled, but he scores the game-winning touchdown seconds later.
Afterward in the
Notre Dame
locker room,
Tonelli
confesses, "I don't remember that run. I don't know just what I was thinking about, except just to run."
L-R: Mario Tonelli scores against
USC
in 1937
Fast forward five years, to April 9, 1942, on the Bataan Peninsula, Philippine Islands. Columns of gaunt, stubble-bearded American prisoners of war, flanked by Japanese troops brandishing bayonets, weave along a jungle road under a blistering sun. Through the dusty haze, Sgt.
Mario Tonelli
sees a macabre trophy, a mutilated human head bobbing on a spear, as Japanese cavalrymen gallop past.
'We're in trouble,'
Tonelli
whispers.
Instinctively,
Tonelli
buckles his steel helmet, ready for action. But there will be no fourth-quarter Hollywood heroics on the Bataan Death March.
Unlike thousands of other young soldiers,
Tonelli
's tale doesn't end in a shallow, unmarked jungle grave. Perhaps it's fate. Or destiny.
This year marks the 60th anniversary of, by any definition, one of World War II's most horrific tragedies and the incredible story of one football player's extraordinary will to survive.
Motts Tonelli
, 86, was a survivor long before the millennial trend of reality television popularized the term. The yellowed newspaper clippings in the laminated scrapbooks spread across the kitchen table in his suburban Chicago home are proof.
And for the former football star and war hero, it's been that way since the beginning. At 6, he suffered third-degree burns on 80% of his body when a trash incinerator toppled onto him.
Tonelli
's immigrant father,
Celi
, a former quarry laborer in northern Italy, stonewalled a doctor's notion that his son might never walk again. He fastened four wheels to a door and taught his first U.S.-born offspring how to move about using his arms. Within months
Tonelli
was back on his feet, and by 1935 he was the pride of Chicago's prestigious
DePaul Academy
, a prep standout in football, basketball and track.
Dozens of colleges courted him. After a whirlwind recruiting trip, he was sold on
Southern California
. But his mother,
Lavinea
, after a visit from
Notre Dame
coach
Elmer Layden
and a priest fluent in Italian, decided otherwise.
'You're going to
Notre Dame
," she said. 'It's a Catholic school, and you won't be far from home." 'And that was it,'
Tonelli
says, laughing.
Tonelli
spent three years with the
Fighting Irish
varsity, leading
Notre Dame
to the brink of a national championship in 1938. Following the College All-Star Game in 1939, he received his gold class ring, on the underside of which he had his initials and graduation date
M.G.T.
'39 engraved. He wore the ring proudly during a stint as an assistant coach at
Providence College
in 1939 and one season of pro football with the
Chicago Cardinals
in 1940.
In early 1941
Motts
joined the Army and was assigned to the 200th Coast Artillery Regiment in Manila. Although the "Pearl of the Orient' was a prewar paradise of sun-drenched tropical beauty and cold San Miguel beers,
Tonelli
hoped to fulfill his one-year commitment and return to his new wife,
Mary
, and the
Cardinals
by the 1942 season.
Those plans were irrevocably altered in the early morning hours of Dec. 8, 1941, when
Tonelli
was roused from his bunk near Clark Field by an air-raid siren. At 0230 hours, a frantic trans-Pacific message had crackled over the airwaves: "Air raid on Pearl Harbor. This is no drill!'
After the initial lightning thrusts of the Japanese crippled the Philippines-based U.S. Far East Air Force and Asiatic Fleet, Gen.
Douglas MacArthur
ordered about 15,000 American military personnel and 90,000 Filipino troops to retreat into Bataan, a steamy jungle realm of rice paddies, nipa (Asiatic palm tree) huts and colossal volcanoes, to fight a delaying action and wait for reinforcements.
But with the War Department's mandate from the White House to defeat
Adolf Hitler
first, these ill-prepared, inexperienced troops, captured with little food and obsolete weapons, would be sacrificed to buy time for their countrymen. As a result, historians nicknamed the gallant stand on Bataan the "Alamo of the Pacific."
With an empty canteen,
Tonelli
began the 65-mile march near Mariveles, a port on Bataan's southern tip. Through dust clouds, he spotted artesian wells bubbling with cold spring water, but he dared not stop: The Japanese savagely executed all who strayed from the march. At dusk, the parched prisoners improvised by spreading their shirts on the ground to collect the dew.
"When morning came, we'd wring them out for something to drink,"
Tonelli
recalls.
At dawn, cracks of rifle fire echoed throughout the hills. Some guards pumped bullets into those unable to continue; others delivered death with samurai swords. Sympathetic Filipino civilians caught throwing food or flashing the "V for victory" sign in the direction of the haggard Americans were rewarded likewise. Japanese tanks often swerved in deliberate attempts to run over wounded GIs lying on litters.
Tonelli
was reflecting on his relative mortality when approached by a guard plundering the possessions of the weary, sunburned prisoners. He demanded
Tonelli
's
Notre Dame
ring, and
Tonelli
refused. The guard reached for his sword.
Give it to him," yelled a nearby prisoner. "It's not worth dying for."'
Reluctantly,
Tonelli
surrendered the ring. A few minutes later, a Japanese officer appeared.
Did one of my men take something from you?" he asked in perfect English.
"Yes,"
Tonelli
replied. "My school ring."
"Here," said the officer, pressing the ring into
Tonelli
's callused, grimy hand. "Hide it somewhere. You may not get it back next time."
The act left
Tonelli
speechless. "I was educated in America," the officer explained. "At the
University of Southern California
. I know a little about the famous
Notre Dame
football team. In fact, I watched you beat 
USC
 in 1937. I know how much this ring means to you, so I wanted to get it back to you."
The surreal encounter ended, and the gridiron and battlefield rivals headed their separate ways.
"I always thought that someday he'd try to look me up,"
Tonelli
says. "I guess he probably didn't make it through the war."
Nearly 700 Americans and 10,000 Filipinos died on the Bataan Death March, but for those who survived, the nightmare was only beginning.
Tonelli
absorbed numerous beatings in three squalid prison camps over the next 2 1/2 years, but each night he would reach for the silver soap dish where he concealed his
Irish
ring. Each glimpse of the ring reminded him of better days and provided hope for the future.
Following a hellish, 60-day journey on a filthy, cramped merchant vessel in late 1944,
Tonelli
was sent to slave labor camps on mainland Japan. When he arrived at Nagoya No. 7, a prison camp near the village of Toyama, in the summer of 1945,
Tonelli
was a 100-pound skeleton, a mere shell of the bullish fullback that once roamed
Notre Dame
Stadium, Soldier Field and Comiskey Park.
"I felt that (Toyama) would be my last stop,' he says. "I was going to die there or be liberated."
His body ravaged by malaria and an intestinal parasite,
Tonelli
wobbled to a table where a Japanese officer assigned prison garb and identification numbers.
Tonelli
glanced at his new prison number. It couldn't be.
Tonelli
fought to hold back the jubilant tears. Scribbled on a piece of paper was the number 58, the same number he wore throughout his football career.
"From that point on," he says, "I knew I was going to make it."
The atomic bomb ended the war, and
Tonelli
was home by October, weighing 183 pounds thanks to "a miracle of American roast beef, butter and milk," commented
Chicago Daily News
sportswriter
Francis J. Powers
.
L-R: RB Mario Tonelli, prisoner Mario Tonelli, Tonelli being interviewed
Cardinals
owner
Charlie Bidwill
signed
Tonelli
to a contract, and Sunday, Oct. 28, two months after being liberated,
Tonelli
suited up in a football uniform for the first time in five years.
Tonelli
played sparingly in the
Cardinals
' 33-14 loss to the
Green Bay Packers
and decided it was time to look for new challenges.
It didn't take him long.
Tonelli
was sworn in as the youngest commissioner in Cook County history in 1946, and after a distinguished 42-year career in politics and public service, he retired in 1988.
One of the estimated 1,000 remaining Bataan Death March survivors, he speaks about his wartime experiences at local schools.
"Well, that's the end of the story,"
Tonelli
says to the visitor sitting in his kitchen. "Any other questions?"
"The ring. Do you still have it?" asks the visitor. "You want to see it? C'mon."
He places a small, golden object in the visitor's left hand. Although worn by the effects of time, both the university seal and the inscription on the inner band remain legible.
'It's kind of worn down, isn't it?"
Tonelli
flashes his trademark smile.
"It's over 60 years old," he explains. "Imagine what it's been through, where it's been. The history it's seen. It's been through a hell of a lot, kid, but it's still here."
Just like its owner.
Postscript:
Mario
died at age 86 about a year after the above article appeared.
Lombardi and Landry, by Ernie Palladineo (2011)
Tom Landry retired as a player to devote himself full-time to coaching the New York Giants' defense for the 1955 season while Vince Lombardi ran the offense for head coach Jim Lee Howell.
As if pre-ordered by mail,
Landry
's defense arrived at the same time [as
Lombard
i's offense]. More accurately, the missing link showed up.
The 4-3 couldn't really work without a middle linebacker who not only went straight ahead into the hole, but who had the speed to pursue ball-carriers sideline to sideline, too.
Ray Beck
had done an acceptable job switching between middle guard and middle linebacker, but he got hurt in an exhibition game.
Luckily,
Landry
had noticed this baby-faced, third-round draft pick sitting over on the offensive line.
Robert Lee "Sam" Huff
had been a two-way lineman for
West Virginia
, and a pretty good one at that. Though he always was more comfortable on the defensive front, the
Giants
were trying to make the 235-pounders into an undersized guard, with only limited success.
"That was okay. I could play it,"
Huff
said. "But they could run over you. I had to do everything I could to get the job done - clutch, hit a guy in the chinstrap, scratch."
Landry
liked the kid's mobility and his mind. A coal miner's son trying to avoid life underground,
Huff
was physically and mentally tough, qualities that became apparent during a senior year matchup with
Syracuse
, when one
Jim Brown
ran over the defensive tackle and knocked him out.
Huff
woke up moments later to a broken nose and four shattered teeth, but that didn't stop him from re-entering the game.
L-R: Jim Lee Howell, Tom Landry, Vince Lombardi, Sam Huff
Huff
's mean streak also attracted
Landry
, but not as much as his excellence in following directions.
So they talked.
"
Sam
, have you ever thought about playing linebacker?"
Landry
asked.
"I could play wherever you want me."
"I'd like to see what you can do at linebacker."
"Fine. I'm a rookie. I'm trying to stay alive."
With that exchange, a sort of evolutionary moment happened that would change the
Giants
' defensive look forever.
Huff
crossed scrimmage and, like Cro-Magnon Man morphing into Homo Erectus, rose from his three-point stance and stood up behind the defensive line. The whole world opened before him.
Cue the heavenly chorus.
"So now, I can see everything,"
Huff
remembered years later. "I have terrific peripheral vision, even to this day. So now I can see everything, and boy, I made tackle upon tackle. It was the best move for me in my life. This was so much easier because I was standing up and could see everything. I could see the whole field and react to it."
In an odd way,
Lombardi
could claim as much a part of
Huff
's defensive success as
Landry
, for it was the offensive assistant who kept
Huff
in camp in the first place. Frustrated by his difficulties with the pro game at guard and tired of the daily verbal goings-over
Howell
inflicted on him,
Huff
, along with fifth-round punter
Don Chandler
, had had enough two weeks into camp. One account indicated that
Huff
had overheard line coach
Ed Kolman
telling another assistant that
Huff
was "a step too slow for offensive guard" and, at 235 pounds, "too light to play defense." Part angry, part defeated, and part homesick,
Huff
and
Chandler
went to
Howell
's room one night, playbooks in hand.
Howell
was out, but his roommate,
Lombardi
, was there. The ensuing discussion did not go well for either player.
"He called us every name in the book,"
Huff
said. Hearing the commotion,
Kolman
came into the room and promised
Huff
he'd get
Howell
off his back, a promise he wound up keeping. But even that wasn't convincing enough. The two players eventually decided to head for the airport, only to have
Lombardi
head them off.
"Now hold on!"
Lombardi
screamed. "You may not make this club,
Chandler
, but you're sure as hell not quitting on me now! And neither are you,
Huff
, in case you've got any ideas of running out. We've got two weeks invested in you. Now get the hell back to
St. Michael
's and be at practice tomorrow morning!"
Lombardi
did them both a favor.
Chandler
went on to play a decade and became
Lombardi
's star placekicker and punter with
Green Bay
's championship teams. And
Huff
? The move across the line would start him on a Hall of Fame career and cement his name among the most violent of middle linebackers ever to play the game.
"I purposely flunked the entrance exam."
It's Only a Game, Terry Bradshaw with David Fisher (2001)
At
Woodlawn
(High School in Shreveport LA) the QB playing in front of me was a high school All-American named
Trey Prather
. But rather than being discouraged because I wasn't the varsity QB, and pouting, I practiced as hard as I could, believed in my ability, and waited for my chance. Coach (
Lee
)
Hedges
was always supportive. ...
I was our starting QB my senior year. I didn't have a lot of experience, but I had raw talent and a rocket arm, so I attracted the attention of college scouts.
More than 200 colleges offered me track scholarships [
Terry
broke the national high school record for the javelin throw.] - I even got track scholarship offers from a school in Europe - but as it seemed pretty certain no one was about to start a professional javelin-throwing league, I knew that if I was going to have a career in sports it was going to be in football. Among the few major colleges to offer me a football scholarship was
Baylor University
.
Baylor
is a fine Baptist university in Waco, Texas, whose motto is
Pro Ecclesia, Pro Texana
, which roughly translates, "
Terry
can't even understand the motto, so no way is he going to go there." But I did go there for a visit, and it was an impressive place. ... During my campus visit I spent time with a player I knew from high school - and I was shocked at what I saw: Shocked! We were in his room, and from beneath his bed he pulled out a six-pack of beer and offered me a drink! I had never had an alcoholic drink in my life, and I wasn't about to attend a Christian college where football players kept alcohol under their beds. ...
L-R: Trey Prather, Terry Bradshaw @
Woodlawn
, Terry Bradshaw @
Louisiana Tech
I was also offered a scholarship to
Louisiana State University
.
LSU
had a great football tradition, and there was a lot of pressure on me to accept that offer. I was ambivalent, even before I knew what that meant. While it was an honor to have been offered the scholarship, I wasn't sure I could compete in big-time college football. I had played only one year of high school football. I had no real confidence in myself. And a year earlier
LSU
had recruited the very same player I sat behind in high school. He was one year ahead of me - and he was sitting on the bench. Now, if the QB who had put me on the bench in high school was sitting on the bench his own self in college, what were the chances that I was going to play ahead of him? ...
Just about everybody I knew - as well as a lot of people I didn't know - wanted me to go to
LSU
. I didn't know how to tell them that I didn't feel comfortable in Baton Rouge, so I purposely flunked the entrance exam. I have never much liked people who make excuses for their failures. I am not claiming that I could have passed that exam easily if I had wanted to go to
LSU
. I'll never know if I could have passed it; I know I didn't study for it, I didn't care about it, and I definitely didn't want to go to
LSU
. And I also didn't pass the test. ...
To qualify for a scholarship you had to get 16 - when I took the test a second time I got 15. Instead of being upset about it, I was relieved. All it meant to me was that I couldn't go to
LSU
. Of course, I absolutely could not imagine how failing that test would affect my life. If I had known how it would damage my reputation, how it would cost me a fortune in endorsements, how embarrassing it would be, I would have put some real effort into studying, and I could have failed that test with style!
Instead I attended
Louisiana Tech University
in Ruston, LA. My high school preparation began paying big dividends as I sat on the bench for two years. ... yet I continued to believe without any doubt that I was on my way to a career in professional football. ...
At the end of my sophomore year I began to see my dream slipping away from me. I don't quite remember how it happened - my father might have made the phone calls - but we got in touch with a coach at
Florida State University
who invited me to transfer. My older brother,
Gary
, and I got in the car and started driving to Tallahassee to meet the coaching staff. But before we could get there, the coaches at
Tech
found out we were on our way and threatened to inform the NCAA that
FSU
was tampering. By the time we got to Tallahassee, no one on that coaching staff would even meet with us.
Freshman QB at Oklahoma
Down & Dirty: The Life and Crimes of Oklahoma Football
,
Charles Thompson
&
Allan Sonnenschein
(1990)
Charles Thompson came to Oklahoma in 1986 ready to redshirt for a year before replacing Jamelle Holieway as QB of Barry Switzer's powerful wishbone offense.
The wishbone is a distinct, high-scoring offense that requires quality athletes to run the ball. ... A wishbone QB takes a lot of pounding because he is moving or running with the ball on every play. He must possess speed and quickness, not a great passing arm. ... It seems that most great wishbone QBs and RBs are black, and at
OU
the coaches said, "If he's not black, don't bother recruiting him." ...
As a redshirt ... I demonstrated my commitment on the practice field, in scrimmage against the varsity defense. I wanted to show what I had against the number one college defense in America. All I was to them was "freshman meat." There was a rule that they were to take it easy and not hurt the QB, but those animals never obeyed it. In my first scrimmage, I had optioned down the line, looking to cut inside when I saw an opening. Boom, the hole closed as fast as it had opened and I got hit with what felt like a Mack truck. I probably weighed 155 and all of it went flying back five yards, my helmet covering my face and my eyes rolled up into my head. When my senses returned to this world I looked up into the eyes of the modern day road warrior,
Brian Bosworth
, "
The Boz
." He stood over me with a grin on his face that said: "Welcome to college football." ...
Off the field and away from the cameras and crowds,
Brian
was a different person - very private, avoiding intimate conversations, protective of his friends. He helped me adjust to college football life. ...
L-R: Charles Thompson, Brian Bosworth, Keith Jackson
For the first month or so, the freshmen players pretty much stayed among themselves. The varsity players weren't aloof, but I think we were still intimidated by them.
Keith jackson
was the first varsity player I got close to; he wasn't simply an All-American football player (TE) but a great human being. ...
Keith
taught me all I needed to know about "freaking" - dealing with boosters and alumni when you attain a certain level of popularity and stature and they want to court you. ... Freaking with boosters and alumni meant they showered you with gifts and money, and sometimes drugs. Former
OU
RB
Stanley Wilson
claimed that his cocaine habit was fed by
OU
boosters. ... I watched
Keith
do favors for boosters and receive nothing in return. An example of this occurred when he introduced me to
Jackie Cooper
...
Cooper
owned several automobile dealerships in the Oklahoma City-Norman area. ...
Keith
and I were pretty wasted by the time we got to
Jackie Cooper
's place. We had stopped off on our way at a place called "F.O.P.," where we had drinks with a detective and several other Oklahoma City police officers. When I walked into
Cooper
's I saw
Barry Switzer
and tried to sober up. I think
Switzer
was wasted by that time and didn't notice my condition; at least he didn't say anything.
After the show
Jackie Cooper
invited
Keith
and me to dinner at Juniors, a fancy restaurant in the city. ... I was getting shitfaced and thought about seeing
Switzer
earlier in the evening. I told
Keith
that I wanted to leave and got up and went to the bathroom.
Cooper
joined me in the men's room and asked me if I had a car. When I said I didn't he said, "Well, why don't you get my phone number from
Keith
and give me a call? You come down to my lot and pick something out. And don't worry, we'll work something out."
I wasn't sure about what he meant by working it out, but I figured that I had nothing to lose by calling, so in a few days, I did, and made arrangements to visit the lot.
Cooper
seemed happy to see me and we discussed how I would pay for a car. I knew it would be expensive because he had classy cars on the lot - BMWs, Mercedes, Jaguars. The car had to be bought in someone else's name, usually a family member. ... Once that was arranged the bank would approve a loan, but he would have someone take care of the payments. ...
As the year went by S
w
itzer saw and appreciated how much I was developing as a QB ... the first Christmas I was at
OU
, when I wanted to visit my mother in Dallas, he paid for the airline ticket. He paid for several pairs of Nike shoes I wanted, and when I needed a few extra dollars he was generous. I don't know if the money was his or the university's, but whether it was 50, a 100, 250 dollars, he came up with it. He knew everybody, or so it seemed, and when a concert was sold out in Oklahoma City he was always able to get tickets. ...
In 1986 the NCAA went all out in their crackdown on steroids.
Boz
and a reserve guard ... were tested before the Orange Bowl and found guilty of using steroids. As far as the Bowl game went this didn't hurt
OU
, especially considering the great game played by
Dante Jones
at
Bosworth
's position. What made it a big issue was how the
Boz
reacted. He took a f***-you attitude toward the NCAA. He thought the NCAA was hypocritical and challenged the accuracy of the steroid test. ...
Relegated to watching the Orange Bowl on the sidelines,
Bosworth
wore his own NCAA T-shirt, which read: NATIONAL COMMUNISTS AGAINST COLLEGE ATHLETES.
Switzer
and
Donnie Duncan
,
OU
's AD, were furious and ordered him to get rid of the shirt or leave. This was on national television and
Barry Switzer
was not going to let
Brian Bosworth
steal his thunder. It was the final cut that severed their relationship. Although
Boz
had another year of eligibility, he chose to go to the NFL.
Brian
wasn't the only
OU
player to use steroids. I knew first-hand of five players and was told by others that there were about a dozen. It's interesting that the players I knew who were using steroids were all white.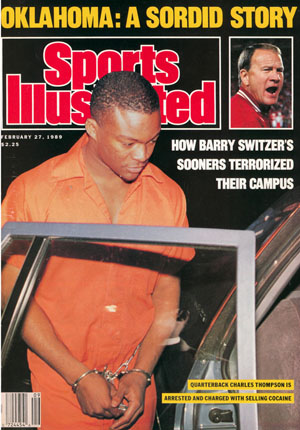 It's All Over
Boys Will Be Boys: The Glory Days and Party Nights of the Dallas Cowboys Dynasty,
Jeff Pearlman (2008)
Michael Irvin
knew he was screwed. There, dangling in his right hand, was a pair of silver scissors, bits of shredded brown skin coating the tips. There, clutching his own throat, was
Everett McIver
, a 6-foot, 5-inch, 318-pound hulk of a man, blood oozing from the 2-inch gash in his neck. There, standing to the side, were teammates
Erik Williams
,
Leon Lett
, and
Kevin Smith,
slack-jawed at what they had just seen.
It was finally over. Everything was over. The Super Bowls. The Pro Bowls. The endorsements. The adulation. The dynasty. Damn -
the dynasty.
L: Michael Irvin; R: Everett McIver
The greatest wide receiver in the history of the
Dallas Cowboys
- a man who had won three Super Bowls; who had appeared in five Pro Bowls; whose dazzling play and sparkling personality had earned him a devoted legion of followers - knew he would be going to prison for a long time. Two years if he was lucky. Twenty years, maximum.
Was this the first time
Irvin
had exercised mind-numbing judgment? Hardly. Throughout his life, the man known as The Playmaker had made a hobby of breaking the rules. As a freshman at the
University of Miami
fourteen years earlier,
Irvin
had popped a senior lineman in the head after he had stepped in front of him in a cafeteria line. In 1991,
Irvin
allegedly shattered the dental plate and split the lower lip of a referee whose call he disagreed with in a
charity
basketball game. Twice, in 1990 and '95,
Irvin
had been sued by women who insisted he had fathered their children out of wedlock. In May 1993,
Irvin
was confronted by police after launching into a tirade when a convenience store clerk refused to sell his eight-year-old brother,
Derrick
, a bottle of wine. ...
Most famously, there was the incident in a Dallas hotel room on March 4, 1996 - one day before
Irvin
's thirtieth birthday - when police found the Plamaker and former teammate
Alfredo Roberts
with two strippers, 10.3 grams of cocaine, more than an ounce of marijuana, and assorted drug paraphernalia and sex toys.
Irvin
- who greeted one of the on-scene officers with, "Hey, can I tell you who I am?" - later pleaded no contest to a felony drug charge and received a five-game suspension, eight hundred hours of community service, and four years' probation.
But stabbing
McIver
in the neck, well, this was different. ...
Was he loyal to his football team? Undeniably.
Throughout the
Cowboy
reign of the 1990s, which started with a laughable 1-15 season in 1989 and resulted in three Super Bowl victories in four years, no one served as a better teammate - as a better
role model
- than
Michael Irvin
. He was first to the practice field in the morning, the last to leave at night. He wore weighted pads atop his shoulders to build muscle and refused to depart the complex before catching fifty straight passes without a drop. Twleve years after the fact, an undrafted free agent QB named
Scott Semptimphelter
still recalls
Irvin
begging him to throw slants following practice on a 100-degree day in 1995. "In the middle of the workout
Mike
literally threw up on himself as he ran a route," says
Semptimphelter
. "Most guys would put their hands on their knees, say screw this, and call it a day. Not
Michael
. He got back to the spot, ran
another
route, and caught the ball." ...
And yet, there
Michael Irvin
stood on July 29, 1998, staring down at a new low. The scissors. The skin. The blood. The gagging teammate. That morning a Dallas-based barber named
Vinny
had made the two-and-a-half-hour drive to ... Wichita Falls, Texas, where the team held its training camp. He set up a chair inside a first-floor room in the
Cowboys
's dormitory, broke out the scissors and buzzers, and chopped away, one refrigerator-sized head after another.
After a defense back named
Charlie Williams
finished receiving his cut,
McIver
jumped into the chair. It was his turn. ...
In 1993 the
San Diego Chargers
signed
McIver
as a rookie free agent. He was cut several months later, signed by
Dallas
, and placed on the practice squad. From August through December,
McIver
was a
Cowboy
rookie scrub, forced to sing his fight song and pick up sandwiches from the local deli and call teammates "sir" and "mister ...
Yet after a rough start,
McIver
's career picked up. He joined the
New York Jets
in 1994 and later spent two productive years in Miami ... With the
Cowboys
struggling behind an aging, oft-injured offensive line, team owner
Jerry Jones
tossed a five-year, $9.5 million contract
McIver
's way. The lineman had left
Dallas
as a joke and five years later was now returning as a potential cornerstone. ...
Jones
said ... "We're thrilled to have him here."
Michael Irvin
, however, wasn't thrilled. As far as he was concerned
Everett McIver
was simply the same nobody from earlier days. ...
In 1997 the once-mighty
Cowboys
had experienced one of their worst seasons, finishing 6-10 and missing the playoffs for the first time in seven years. ... the
Cowboys
... had spiraled out of control off of it. Drinking. Drugs. Strippers. Prostitutes. Orgies. ...
For a hypercompetitor like
Irvin
, the losing was too much. The man who was all about devotion to the game had turned bitter. He was well aware that
these
Cowboys
were not
his
Cowboys
. So when
Irvin
walked into that room and saw
McIver
in the barber's chair, something inside snapped.
"Seniority!"
Irvin
barked.
McIver
didn't budge.
"Seniority!"
Irvin
screamed again. "Seniority! Seniority! Punk, get the fuck out of my chair!"
"Man," said
McIver
, "I'm almost done. Just gimme another few minutes."
Was
Everett McIver
talking to
Irvin
? Was he
really
talking to
Irvin
? Like ...
that?
"
Vinny
, get this motherfucker out of the chair,"
Irvin
ordered the barber. "Tell his sorry ass to wait his fuckin' turn. Either I get a cut right now, or nobody does."
Standing nearby was
Erik Williams
,
McIver
's fellow lineman. "Yo,
E
," he said to
McIver
, "don't you dare get our of that chair. You're no fuckin' rookie! He can't tell you what to do!"
Sensing trouble, the barber backed away from
McIver
's head.
McIver
stood and shoved
Irvin
in the chest.
Irvin
shoved back.
McIver
shoved even harder, then grabbed
Irvin
and tossed him toward a wall. ...
Lett
, the enormous defensive lineman, tried separating the combatants. It was no use. ...
In a final blow to harmony,
McIver
cocked his right fist and popped Irvin in the mouth. "I just lost it," said
Irvin
. "I mean, my head, I lost it."
Irvin
grabbed a pair of scissors, whipped back his right arm, and slashed
McIver
across the neck. ...
McIver
let loose a horrified scream.
"Blood immediately shoots all over the room," says
Smith
. "And we're all thinking the same thing - 'Oh, shit.'"
For a moment - as brief as a sneeze - there was silence. Had
Michael Irvin
... stabbed a man ... in the neck? ...
Then - mayhem. The
Cowboys
' medical staffers stormed the room, past a dumbstruck
Irvin
, and immediately attended to
McIver
. As their bloodied teammate was whisked away, none of the lingering
Cowboys
knew the extent of the damage. Was
McIver
in critical condition? Would he live?
Either way, every single man in the room had to have understood that this was more than
just
a fight. The storied
Dallas Cowboys
of the 1990s - the organization of pride and honor and success; the organization whose players would never dare hurt one another; the organization that dominated professional football - was dead and buried.
How in the world had it come to this?
The Black and Blue Division
Black & Blue: A Smash-Mouth History of the NFL's Roughest Division, Bob Berghaus (2007)
The NFC Central was created on November 30, 1966, when the NFL split into four divisions for the first time ... The division had the two most recognizable coaches in
George Halas
and
Vince Lombardi
.
Halas
had been around since the inception of the
Bears
as an owner, player and coach. To many it seemed as if no major decisions in the NFL were made without the approval of the
Papa Bear
.
"We were playing the
Bears
at Wrigley Field and there was snow all over the field and everyplace," recalled former
Lions
MLB and Hall of Famer
Joe Schmidt
.
"We lost the game 3-0. We're skating around there and (
Chicago
halfback)
Willie Galimore
is running all over the place. So I tackle him one time and I just happened to look at his shoes and he had his cleats off; he just had the iron pegs. So I jumped up and called timeout and called the official over and told him this is illegal, that he can't have this. So he got up and ran off the field. I said, 'I want to show you this and he's standing behind
Halas
.'
"The official says,
'George
, we want to see
Galimore
's shoes, and
George
says his shoes are OK. I said bullshit he's got his cleats off and he's running all over the place. I said dammit these shoes are illegal and
George
says, 'I want to tell you guys his shoes are OK and both of you guys better get the hell out there and get the game going out there.'
"The official says, 'Come on, kid, let's go. I'm not going to argue with him.'"
Schmidt
chuckled as he told the story. "
George
carried so much weight that he practically could convince everybody what to do and how to do it."
L-R: George Halas, Joe Schmidt, Willie Galimore
Dave Robinson
, the former
Packer
, recalled hearing stories that
Halas
owned an apartment building that overlooked Wrigley and he would be up on the top floor on a Saturday before the game spying on the workout of the next day's opponents. "There was always that rumor that
George
would be up there with binoculars, watching us," said
Robinson
with a chuckle. "
Vince
would put his trick plays in Saturday practice just for
George
. Football was fun in those days. The word was that at one time
George
offered one thousand dollars for one
Green Bay Packers
play and
Vince
said, 'Hell, for a thousand dollars I'd send him one.' Stuff like that went on all the time."
What also went on was a style of football loved by purists and played by people who gave every ounce of blood and sweat they had. The only thing that could get
Nitschke
and
Butkus
off the field was a stretcher.
Bill Brown
and
Dave Osborn
, the running back tandem for the
Vikings
, would rather run through people than around them.
Joe Kapp
, the QB on the
Vikings
' first Super Bowl team, was the same way. It was the mindset of that team, of the entire division.
"We had a guy by the name of
Bobby Bryant
who was our corner," said
Wally Hilgenberg
, who started in all four Super Bowls for
Minnesota
. "
Bobby
was about six-foot one and 167 pounds and I can tell you that on two different occasions after he made a tackle he came over to me and said,
'Wally
, my shoulder's out, put it back in.' And his shoulder was literally dislocated and I would jerk on it, pull down and it would pop back in. He would never leave the field. Today these guys get a little ding and they don't want to play for two weeks." ...
Hilgenberg
... was an All-American LB. "My brother was an assistant coach at the
University of Iowa
when I was playing for the
Hawkeyes
," said
Hilgenberg
. "The summer of my rookie year I went to the college all-star football game. The night before the game my brother and I were talking on the telephone, talking about the all-stars, the 1964 All-Stars playing the 1963 World Champion
Chicago Bears
."
During the conversation
Hilgenberg
was told by his brother to make sure that he opened up the game with a good lick on the player lined up opposite him.
"I'm playing LLB and we lose the toss and we kick off and the ball is on about the 30-yard line,"
Hilgenberg
recalled. "The
Bears
come out of the huddle strong on my side and number 89 (
Mike Ditka
) walks to the line of scrimmage. I'm this rookie LB and just before the snap, I kind of drop my shoulder a little bit and as soon as the ball was snapped I threw a forearm, hit him on the chin. I knocked his head right straight back, really hit him hard.
"He just stood there after I hit him and grabbed me and pulled me in and looked straight at me and said, 'You want to play rough, huh, rookie?' And I said to myself, 'Oh, no, I just made him mad.' He kicked my butt the whole game. It had been the biggest battle ever in my life up until that time, and it was funny. I knew after the game I had got my butt kicked. After the game he came up and said, 'You did a good job, kid. I'll see you around. You'll make it in this league.'
"Well, it was just a real encouragement to me. I knew he didn't have to tell me that."
L-R: Bobby Bryant, Wally Hilgenberg, Mike Ditka