Fists Flew When the 49ers Faced the Eagles
Joe Hession, Coffin Corner: The Official Magazine of the Professional Football Researchers Association (Volume 42 Number 5 2020)
Kezar Stadium, the San Francisco 49ers' original home field, was known for its notori­ously rowdy football fans. They were out in full force for the 1953 season opener when a bench-clearing brawl erupted on the playing field.
Bill Mulligan, a veteran San Francisco Examiner scribe of the era, described the action in grandiose prose. "In 30 years of sports reporting and several youthful years as a specta­tor before that, this chronicler has never seen a Donnybrook in any sports arena to equal today's bigger and better brawl."

Bad blood had been stewing between head coach Buck Shaw's 49ers and Jim Trim­ble's Philadelphia Eagles since the opening kickoff. San Francisco LB Hardy "The Hat­chet" Brown, known as the meanest man in football, lit the flame early by flatterning Eagles RB Toy Ledbetter with one of his infamous shoulder tackles. Ledbetter was help­ed to the sideline, then left the game with a broken cheekbone.
On the field, San Francisco built a hardy 24-7 lead behind QB Y.A. Tittle's superb offensive display. He fired an 18-yard scoring strike to speedy RB Joe Arenas in the first period, added a 1y touchdown plunge in the second quarter, and found receiver Billy Wil­son in the end zone with a 38y pass in the third stanza.
L: 49ers (dark jerseys) vs
Eagles
1953; R: Y. A. Tittle
Late in the fourth quarter, tempers again flared on the field. This time Eagles receiver Bobby Walston exchanged shoves then punches with 49ers DE Charlie Powell. Walston picked the wrong man to tangle with. Powell was a highly acclaimed amateur fighter who spent his offseasons in the boxing ring taking lessons from light-heavyweight champion Archie Moore.
While Powell mauled Walston in the end zone, Hugh McElhenny, the NFL's 1952 Rookie of the Year, was attacked by a pair of helmet-swinging Eagles led by Pete Pihos. The sight of the 49ers Pro Bowl running back being blindsided by a pack of Philadelphia players was more than the Kezar Stadium crowd could handle. Already fired up by a steady flow of liquid refreshments, they swarmed the field in an effort to assist their hometown heroes.
In the 10-minute melee that ensued, 49ers players and fans battled together against the overmatched Eagles. Fists, bottles, helmets and cleats flew through the air. Hardy Brown tangled with Eagles RB Al Pollard. Philadelphia's All-Pro C Ken Farragut went after LB Clay Matthews. At least three separate skirmishes took place on different areas of the gridiron.
Game officials attempted to restore order and were unceremoniously trounced. Back judge Norm Duncan courageously waded into the thickest part of the fighting crowd. Seconds later he was seen crawling out of the pack, then being helped to the sideline.
Finally, Joe McTigue and the 49ers band tried placating the crowd with a rendition of the National Anthem. Unfortunately, several band members had used their clarinets and trombones as weapons and they were now useless as musical instruments. San Francisco police officers from Park Station, located adjacent to Kezar Stadium, were quickly sum­moned. They employed harsher tactices to bring the unruly mob under control.
In the aftermath of the brawl, Powell and Walston were ejected from the game. At least three 49ers - G Bruno Banducci, T Leo Nomellini and C Bill Johnson - sported black eyes. And the 49ers walked away with a 31-21 victory.
In retrospect the Eagles were foolish to pick a fight with the 49ers, who were well stocked with men itching to grapple. Besides Powell, the San Francisco roster included WWA wrestling champion Leo "The Lion" Nomellini, a World War II Marine combat veteran who wrestled in the off season as a "hobby." "Leo was strong as three bulls," Perry once said. "He'd slap you on the back and knock you 20'."
Even more dangerous was Hardy Brown. In the pre-facemask era, Brown routinely sent opposing players to the hospital with broken jaws, missing teeth and concussions. He was selected in an NFL poll as one of the "Ten Meanest Defensive Players" in league history. Gordy Soltau, a teammate of Brown for four years in San Francisco, recalled, "People shivered when you mentioned Hardy Brown. Nobody hit like him."
Delsohn, Steve. Da Bears! Crown (2010)
Aggression was a weapon which Mike Ditka believed in. During the 1960s, he had been a relentless tight end for the Chicago Bears. Now, at age 45, he was in his third year as their combative head coach. Thus he viewed the next football game as more than a game. It was a litmus test to see just how ferocious his 1984 Bears were.
"If you want to defeat your opponent, you got to out-hit him," says
Ditka
. "People say, 'Well, you need to out-think him.' No! You gotta out-hit him. That's what football players understand. It's like a boxer. You hit him in the nose enough times he's gonna respect you. The
Raiders
were always a physical football team, and that's what we talked about before the game. I said, 'We're going toe to toe with these guys. It's gonna be a heavyweight match, and we're gonna slug with them.' "
On November 6, 1984, the
Bears
mauled the
Raiders
17–6. This being Chicago, it was windy and cold on that Sunday afternoon at Soldier Field. This being the 1984
Bears
, the offense did just enough, led by its beloved warrior
Walter Payton
, who gained 111 yards and scored both of his team's two touchdowns. On defense, the
Bears
made the
Raiders
look weak and confused, forcing 3 interceptions and 2 fumbles and sacking the
Raider
quarterbacks 9 times. Read that again—9 times—because it doesn't happen too often. The single-game NFL record is 12, which is held by five different teams, including the '84
Bears
, who did it later that season against the
Lions
.
L-R: Mike Ditka, Walter Payton, Marc Wilson, David Humm
Against the
Raiders
, it seemed as if the
Bears
competed against each other to see who could beat the snot out of the quarterback first. First they fractured
Marc Wilson
's arm and knocked him out of the game. Then they knocked out his replacement,
David Humm
, with a knee injury.
Wilson
was forced to reenter the game and found himself getting knocked out a second time.
Curry Kirkpatrick
, writing for
Sports Illustrated
during his heyday, was deeply impressed. "So brutal was the
Bear
onslaught that
Al Davis
was seen covering his face with his hands. Just breathe, baby."
The NFL's closest observers were also starting to see that the Bear offensive line had become increasingly nasty in its own right. Kurt Becker started that game at right guard for Chicago. A six-foot-five, 280-pound Michigan graduate with a maniacal streak, he frequently tangled that Sunday with future Hall of Fame lineman Howie Long, who later told Sports Illustrated he finally screamed at Becker, "I'm going to get you in the parking lot after the game and beat you up in front of your family!"
Becker says Long tried to follow through on his threat. "Howie was out of his mind by the end of the game," he recalls. "He tried to come into our locker room and confront me. Then he wouldn't get on their team bus. He was looking for me in the parking lot."
Years later,
Emery Moorehead
,
Chicago
's multitalented tight end, ran into the great
Raider
running back
Marcus Allen
, and they began reminiscing about the day the '84
Bears
made the '84
Raiders
look soft.
"Marcus said, after we knocked out both of their quarterbacks, they wanted to put in Ray Guy, their punter, because he was supposed to be their emergency quarterback," says Moorehead. "But Guy refused to go in. Then all of them were arguing at halftime about who was going back in—was it gonna be David Humm or Marc Wilson? Nobody wanted to go back in. That's how intimidating our defense was then. You can't even hit guys today the way our defense hit them. You'd be suspended."
Ditka
, who doesn't joke about this kind of thing, says the 1984 win against the
Raiders
"was the most brutal football game I've ever watched. Did you see how many guys they were carrying off the field for both teams?"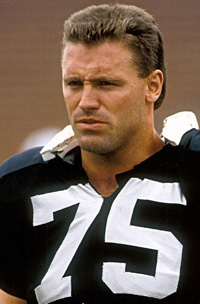 L-R: Kurt Becker, Howie Long, Ray Guy, Jim McMahon
In the second quarter, the
Bears
lost their own starting quarterback,
Jim McMahon
, when he scrambled away from the pressure and ran for a first down before getting pinned between two
Raiders
. On the CBS telecast it looked fairly benign, but in reality one of the
Raiders
had struck
McMahon
in his side with a helmet. His offensive teammates told him to leave the game. He refused and remained for three more plays, but at halftime he had trouble breathing.
McMahon
tried to play again in the third quarter, and this time his offensive linemen ordered him to the sideline.
"Jim got hit in the kidney, and it came over the bone in his rib cage and his kidney got lacerated," says McMahon's longtime agent Steve Zucker. "I was in the stands, and I met him in the locker room. He was pissing blood, I mean pure blood, and he was in intense pain. He was in agony."
Adds McMahon, "They wanted to remove it, but I knew my career would be over. The bottom part of it was gone, and it was cut in about five places. It was bleeding for two days. The doctor told me, 'Look, you're gonna die if we don't cut it out.' I said, 'You can't cut this out, you cut it out and I'm finished. Just keep giving me the morphine and leave me alone.'
McMahon
spent the next ten days in the hospital. Right after the
Raiders
game,
Bears
trainer
Fred Cato
told reporters, "At this point, I will say he will play again this season. But he will miss four weeks. There was no rib damage, no other organs were injured, but there was a lot of pain, and he did urinate blood. On the positive side, he didn't rupture the kid­ney, which could have ended his career."
Cato
turned out to be wrong about
McMahon
re­turning after a month. For
McMahon
, the '84 season had just ended. And just that abruptly the
Bears
lost their momentum. They were 7–3, but now it seemed less likely that they would keep winning enough to make the playoffs. If they did qualify for the postseason, their quarterbacks would be
Steve Fuller
and
Rusty Lisch.