SEC Legend: Don Hutson
SEC Football's Greatest Games: The Legendary Players, Last-Minute Prayers, and Championship Moments
,
Alex Martin Smith
(2018)
Even as he worked his way toward All-America honors as the nation's best pass catcher,
Don Hutson
kept his sights on Major League Baseball. The NFL just wasn't sexy enough.
"They didn't even write about it in the newspapers," he said.
His high school basketball coach had forced him to play football as a senior. When he showed promise, a pool-hall owner in
Hutson
's hometown of Pine Bluff, Arkansas, helped him land a spot on
Frank Thomas
's football team at
Alabama
.
Two bum seasons in the
Cincinnati Reds
baseball organization - and a two-touchdown showing in
Alabama
's 1935 Rose Bowl victory - helped steer
Hutson
toward the gridiron career he kept trying to avoid.
The "Alabama Antelope" agreed to sign with the
Green Bay Packers
, and it was not long before he was the league's best player.
"He had all the moves," fellow
Packers
legend
Tony Canadeo
said. "He invented the moves."
The era's passing game was so undeveloped that simple changes - for example, turning
Hutson
into a "split end" by lining him up near the sideline - were extremely progressive in the 1930s.
Hutson
essentially created modern route-running, and coach
Curly Lambeau
aided his ascension by moving him from the defensive line to safety, thereby helping him avoid big hits on defense.
He had too many legendary moments to publish in this space, but here are a couple of the best:
In one game against the
Detroit Lions
, he caught four touchdown passes and kicked 5 extra points ... in one quarter. His record of 29 points in a single period still stands more than seven decades later.
In another game against the
Cleveland Rams
,
Hutson
was running a crossing route in the back of the end zone when he decided to change directions. Instead of simply stopping and cutting, he grabbed the right goalpost and swung himself around it - both feet off the ground - before making a one-handed touchdown catch.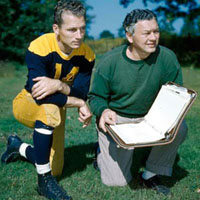 L: Bear Bryant and Don Hutson, Alabama; R: Don Hutson and Curly Lambeau
Green Bay
Hutson
did not rewrite the record books; he wrote them.
His 488 career receptions were 298 ahead of the nearest challenger at the time of his retirement. His single-season record of 17 touchdown receptions stood for 42 years. His 99 career touchdown catches stood for 44.
Hutson
led the NFL in receptions eight times, including five consecutive seasons. He led the league in receiving yards seven times, including four consecutive seasons. He led the league in touchdown receptions nine times, including five consecutive seasons. Those are all still NFL records. (He also intercepted 30 passes in his career.)
"He would glide downfield, leaning forward as if to steady himself close to the ground,"
Lambeau
said. "Then, as suddenly as you gulp or blink an eye, he would feint one way and go the other, reach up like a dancer, gracefully squeeze the ball and leave the scene of the accident - the accident being the defensive backs who tangled their feet up and fell trying to cover him."
Of course, his time at
Alabama
was scintillating, too. Teammate
Paul "Bear" Bryant
knew he was watching an all-time great in Tuscaloosa.
"In all my life, I have never seen a better pass receiver,"
Bryant
said. "He had great hands, great timing, and deceptive speed. He'd come off the line looking like he was running wide open, and just be cruising. Then, he'd really open up. He looked like he was gliding, and he'd reach for the ball at the exact moment it got there, like it was an apple from a tree."
Alabama
coach
Frank Thomas
remembered a player who exhibited plenty of toughness to complement his graceful athleticism. There was an eerie calm about him, too.
"
Hutson
never tightened up,"
Thomas
said. "He was as relaxed in the Rose Bowl as he was in practice."
Put simply by former
Chicago Bears
rival
Clyde "Bulldog" Turner
upon
Hutson
's death in 1997: "He was the best I've ever seen. I don't like to compare plaeyrs then with players now. But he was head and shoulders above the ones in that era."
Bill Connelly, The 50 Best College Football Teams of All Time(2016)

Missouri
head coach
Don Faurot
created his own version of the T formation to compen­sate for the loss of star QB
Paul Christman
.
In 1939-40,
Pitchin' Paul
finished in the top five of the Heisman voting twice and led
Mizzouri
to the 1939 Big 6 title and the
Tigers
' first ever bowl bid, a trip to the 1940 Orange Bowl. They averaged nearly 24 points per game in 1940, with
Christman
leading the way, and the St. Louis native was selected by the
Chicago Cardinals
in the second round of the 1941 NFL Draft.
Christman
's presence drove the
Missouri
offense, and in his absence,
Faurot
thought he might need to get creative to keep moving the ball. In his 1950 book,
Secrets of the "Split T" Formation
, he explained: "
Christman
fit nicely into our single wing and short punt for&shymations. ... There was no suitable replacement in sight among returning lettermen. How­ever, our veteran backs had considerable speed, and the squad as a whole was versatile. The time seemed ripe for innovating the basic plays of the "Split T."
Mizzou
was in the process of upgrading its out-of-conference scheduling. To help pay for athletic department expenses,
Faurot
, with his athletic director hat on, took a series of payout games. Between 1940 and 1949, the
Tigers
would play at
Ohio State
an incredible eight times, at
Minnesota
three times, and at
SMU
twice; they would also visit to
Pitt
,
Wisconsin
,
Fordham
,
Texas
, and
Navy
. In
Secrets
,
Faurot
noted that the deception of the Split T he was tinkering with was attractive because it might allow his guys to compete with bigger, stronger teams. "We needed the deception of the 'Split T' together with its promise of more offensive punch to offset the superior manpower mustered by our oppo­nents. If we couldn't beat them down to size, then we might bewilder them! It was worth a try."
Deception was long a part of football offenses, but
options
weren't. The premise of the Split T was to begin with your run-of-the-mill T formation and spread out the line further, giving them wider splits. Once the defense was spread out, you could find more gaps to exploit with speedy ball-carriers. But
Faurot
, once a basketball letterman at
Mizzou
, also saw a way to basically create miniature, 2-on-1 fast breaks. The QB could run the ball to the edge of the defense, and if a defender committed to tackling him, he could pitch the ball to a trailing halfback.
Faurot
may have been the first college football coach to commit to option football. With film study still at a minimum,
Missouri
was able to constantly fluster unprepared oppo­nents with it. He unveiled the offense in the second half of the 1941 opener against
Ohio State
, and while it was too late to help the
Tigers
against the
Buckeyes
in a 12-7 loss, the
Tigers
would proceed to go 16-4-1 over the next two seasons, 9-0-1 in Big 5 Play. They reached the Sugar Bowl in 1941 and went 8-3-1 in 1942 ... They finished the 1942 season with one of the most impressive wins of the
Faurot
era: a 7-0 win over the
Iowa Pre-Flight Seahawks
in a Kansas City snowstorm.
Don Faurot, Paul Christman, Bud Wilkinson, Jim Tatum
With war efforts well underway, college-age males - including football players - were enlist&shying in the armed services. Millions of Americans enlisted in 1942, and to say the least, the effects were noticeable when it came to football rosters of able-bodied, athletic 18- to 22-year olds.
Football already had a grip on the country's consciousness, and many believed that it could be a useful tool within the armed forces - it helped to toughen men up, taught teamwork and discipline, etc. Beginning in 1942, teams from various Army camps and Navy bases began to play full sche&shydules against not only each other, but also local college teams, many of which consisted of freshmen (who were previously ineligible to play) and/or players who were denied entry into the service for one reason or another.
These military teams frequently used recent college football players and sometimes even included a smattering of pros. Quite a few of these teams existed, and a few played schedules against mostly top-division schools. ...
In 1943, for instance, teams like
Nebraska
,
Pittsburgh
,
TCU
,
Yale
,
Wisconsin
, and
Georgia
were all varying degrees of awful, while
Iowa Pre-Flight
,
Great Lakes Navy
,
Delmonte Pre-Flight
, and
March Field
finished ranked in the AP poll at the end of the season. Meanwhile, non-powers
Tulsa
,
Dartmouth
,
Colorado College
, and
Amos Alonzo Stagg
's
Pacific
also finished ranked. ...
These service teams were coached by real, well-known college football coaches.
Minnesota
's
Bernie Bierman
, for instance, led the
Iowa Pre-Flight
team in 1942. When he was assigned elsewhere, another new enlistee took the reins in Iowa City: the 41-year-old
Faurot
.
Mizzou
's head man spent a year with
Iowa Pre-Flight
, then took over
Jack&shysonville N.A.S.
in 1944.
You could legitimately say that
Faurot
's lone season with
Iowa Pre-Flight
changed college football. It's not because the
Seahawks
were good - though they certainly were - but be&shycause of the proliferation of the Split T. Among
Faurot
's assistants on the 1943
Seahawks
:
Bud Wilkinson
and
Jim Tatum
. ...
Faurot
was not a secret keeper. He could have leaned on his single wing and "short punt" formations while at
Iowa
... Instead he shared with his young assistants the ins and outs of his new baby, the Split T.
For football itself, this was great. This became a staple of many a college offense over the next couple of decades, and not necessarily because of
Faurot
. In 1946, after the war,
Oklahoma
hired
Tatum
as its new head coach, and
Tatum
brought
Wilkinson
along as an assistant. After one 8-3 campaign and Gator Bowl title,
Tatum
was pulled away by
Maryland
, and
OU
promoted
Wilkinson
.
Tatum
would win 73 games in 10 seasons at
Maryland
, finishing third of better in the AP poll three times and winning the 1953 national title.
Wilkinson
, meanwhile, coached for 17 years in Norman, won 145 games, finished in the AP top five 10 times in 11 years, and claimed shares of three national titles (1950, 1955, 1956).
Both
Tatum
and
Wilkinson
were better recruiters and perhaps better overall head coaches than
Faurot
; the tactical boost they got in Iowa City pushed both of their respective ca&shyreers into the stratosphere, and they left their one-time mentor behind
Faurot
.
Faurot
would go on to reach two more bowls after the war, but he went an incredible 0-17 against
Tatum
and
Wilkinson
. The final loss of his career, in fact, was a 67-14 shellacking in Norman.
The NFL's Space Ship Division
Richard Bak, The Coffin Corner (May/June 2020)

Foortball coaches are always looking for an edge, and new technology often provides it. In the early stages of the 1956 season, several teams, led by rivals
Cleveland
and
Detroit
, rolled out an innovative messaging system that was a glimpse of the National Football League's future. For the first time, selected players were "wired for sound" - outfitted with miniature radios that allowed them to receive signals from the bench or the press box.
Unsurprisingly, the pioneer was
Paul Brown
. The
Cleveland
coach had been fooling around for years with the idea of using radio signals to more efficiently send plays to his quarterback, instead of relying on his usual system of messenger guards and backs. According to a source, at one point
Brown
"actually got a radio in
Otto Graham
's hel­met. Then he experimented at League Park and Cleveland Stadium.
Brown
broadcast from the bench while
Graham
ran to all corners of the field, wig-wagging the results."
It wasn't until September 15, 1956, in the second of back-to-back preseason games with the
Lions
, that
Brown
field-tested the system against a real opponent. The helmets of quarterbacks
George Ratterman
and
Vito "Babe" Parilli
were each outfitted with a receiver about the size of a pocket watch.
Brown
, who had to obtain a shortwave li­cense to operate the radio, used a four-watt transmitter and microphone to send plays from the bench. There was no difference in the outcome. A week earlier the defending champs had lost to
Detroit
, 17–0, without
Brown
's gizmo, and on this occasion they were whipped by the same seventeen-point margin, 31–14, with it. "There is some spec­ulation that quarterbacks
Ratterman
and
Parilli
might have picked up some short-wave police calls, some dance music, or an SOS from a stricken fishing boat off the coast of New Zealand," wrote a bemused
Lyall Smith
in the
Detroit Free Press
. Actually,
Ratterman
spent much of the stormy evening in Akron fearing for his life. In addition to the head-hunting
Lions
targeting the contraption in his helmet, there were the occa­sional flashes of lightning that he admitted "scared the hell" out of him by threatening to fry his electronic ears.
L-R: Paul Brown, Otto Graham, George Ratterman, Babe Parilli
Lions
head coach
Raymond "Buddy" Parker
was more concerned than amused. Other teams, such as
Los Angeles
, the defending division champs, also were experimenting.
Parker
wasn't about to be left behind, even as the
Lions
opened the 1956 campaign with road wins in Green Bay and Baltimore. With the first home stand of the season coming up against the
Rams
and
49ers
, he had general manager
Nick Kerbawy
ex­plore the cost of putting in a system at Briggs Stadium. The retail price came to $1,161.50. However,
Kerbawy
was able to strike a deal with electronics expert
Len Kieban
for about $500. The grounds crew installed 2,200 feet of wiring under the sod, criss-crossing nearly the entire playing area. The network allowed a wired helmet to pick up signals extending 30 feet beyond each sideline. Of course,
Parker
's star quarterback,
Bobby Layne
, wouldn't countenance any play-calling from the sidelines, electronic or otherwise. But
Joe Schmidt
, in his first year as middle linebacker in the
Lions
' recon­stituted 4-3 defense, was receptive—-literally. A button-sized receiver and an amplifier shaped like a cigarette lighter were fitted into
Schmidt
's helmet. The unit weighed a combined four ounces and cost $79.50. "I'm for it solidly,"
Schmidt
said. "We can al­ways use a 12th man."
L-R: Bobby Layne and Buddy Parker, Joe Schmidt, Bert Bell
The
Lions
had three additional helmets outfitted, "in case
Parker
should elect to in­crease his Space Ship membership for future home games," wrote the
Detroit News
's pseudonymous
Buck Roger
s. The
Lions
' so-called Space Ship Division made its debut at the home opener on October 14, 1956. With assistants
Aldo Forte
and
Red Cochran
making observations from their vantage point in the press box, defensive coordinator
Buster Ramsey
relayed coded defensive formations from the bench to No. 56 on the field. "Couldn't help feeling a little funny every time
Ramsey
's voice came into my hel­met,"
Schmidt
said afterwards. "Caught myself looking around a couple of times to see what he was doing out on the field."
Ramsey
was happy that, for once, he wasn't hoarse for two days from spending the entire game screaming out instructions. The
Lions
narrowly won, 24–21, stockpiling a 17-point lead and then holding off a fourth-quarter
Rams
rally. After the game,
Los Angeles
officials complained about not being able to utilize their own gadgetry. According to commissioner
Bert Bell
, "The
Rams
said they were told certain equipment was denied them, that they weren't cut into the wire. If the
Lions
wire the field, I think everyone is entitled to the use of that wire." Electronic skulduggery was the order of the day. In New York, the
Giants
bragged that they had used a receiver tuned to the same frequency as
Cleveland
's to intercept signals and score an upset win. The short-wave revolution was short-lived. Four days later, with the unanimous backing of owners,
Bell
issued a directive. "All electronic devices, including walkie-talkies, hearing aids of any description used to receive messages, radio equipped helmets or any device of this nature must be eliminated," he ordered. Although the ban was intended only for the balance of the 1956 season, it stayed in place until 1994, when owners officially approved the league-wide use of helmet headsets.
Bell
's embar­go caused the
Lions
to cancel plans for expanding and improving their system. Mean­while,
Schmidt
went back to calling signals and pretending not to hear any shouted instructions from the sidelines that he didn't agree with.
Notre Dame Shatters Oklahoma's
47-Game Winning Streak
Fred Eisenhammer and Eric Sondheimer, College Football's Most Memorable Games (1992)
November 16, 1957

It was vindication for
Notre Dame
Coach
Terry Brennan
.
With their fourth-year coach under fire, the
Fighting Irish
turned in a rousing effort to shat­ter heavily favored
Oklahoma
's 47-game winning streak - college football's all-time record - with a stunning 7-0 victory before 63,170 fans in Norman, Oklahoma.
HB
Dick Lynch
's 3y touchdown run on fourth down late in the fourth quarter broke a score­less tie and allowed
Notre Dame
to break a two-game losing streak.
For
Brennan
, it was a sweet victory.
Brennan
's
Fighting Irish
had lost to
Oklahoma
40-0 in South Bend the previous year - a season in which they registered their first losing record in 24 years with a 2-8 mark. Furthermore, the
Fighting Irish
had just dropped back-to-back games to
Navy
and
Michigan State
in one-sided fashion before heading to Norman and almost certain defeat against the nation's second-ranked
Sooners
, who had won their first seven games of the season.
But
Notre Dame
(5-2) pulled out of its tailspin behind a rock-ribbed defense that stopped the two-time defending national champion
Sooners
' run-oriented offense cold and an offense that mustered an 80y touchdown drive in the closing minutes.
L-R: Carl Dodd runs for
OU
; ND QB Bob Williams passes; Bud Wilkinson dejected on the sideline.
Nick Pietrosante, a powerful 250-lb full­back, was the workhorse on Notre Dame's winning drive, smashing consistently up the middle for sizable gains as the Fighting Irish rolled to a first and goal at Oklaho­ma's eight. From there, Pietrosante chew­ed up 4y up the mid­dle to bring the ball to the four. On second down, Lynch was stop­ped for no gain. QB Bob Williams then carried up the middle for 1y, leaving the Irish facing fourth and three with 3:50 remaining. "
Disdaining the field goal, Notre Dame scored the game's only touchdown as Lynch carried 3y around RE, dashing into the end zone stand­ing up.
Brennan said in 1991 that he bypassed a field-goal attempt on fourth down for seve­ral reasons. He said he feared kicker Monty Stickles might be hampered by a bad angle with the ball so close to the goal line. And Brennan also expressed confidence that his fourth-down call would work.
"We just wanted to do the sure thing," Bren­nan said.
And the sure thing in this case was for Wil­liams to fake inside to Pietrosante before pitching the ball to Lynch around RE.
"When you're down at the goal line, and every one of the defenders is in the gaps," said Brennan, "where do you go? Outside."
"They were in tight, real tight, just waiting for me to give the ball to Pietrosante," Williams said. "Well, I just faked to him and tossed out to Lynch and it worked like a charm."

Lynch touchdown run.
Oklahoma
, an 18-point favorite, had shown a propensity during its winning streak for scoring the decisive touchdown in the fourth quarter and this late-game magic became a trademark of
Oklahoma
Coach
Bud Wilkinson
's teams. But this time,
Oklahoma
's desperate attempt to ctach up was blunted by an interception. The crowd then rose and saluted the gutty
Notre Dame
team with a thunderous ovation.

Oklahoma
, which had been averaging 300y a game, was held to 98y on the ground and 47 in the air.
Clendon Thomas
was
Oklahoma
's leading ballcarrier with 36y in 10 tries.
"
Oklahoma
was a fine football team,"
Brennan
said. "And
Bud Wilkinson
was a fine football coach. But he was predictable and we felt if we could stop their four or five basic plays, we had a chance to win. And we did."
One of
Oklahoma
's biggest weapons was the punting by
Thomas
and
David Baker
, who kept
Notre Dame
bottled up near its end zone in the third quarter. But the
Sooners
could not capita­lize.
"I was willing to settle for a scoreless tie in the third quarter," said
Wilkinson
afterward. "I felt at the start of the second half we had a good chance. But after we couldn't get going, even with our tremendous punting to their goal, I was ready to settle for a scoreless tie."
Oklahoma
's best scoring threat came in the first quarter when the
Sooners
drove to
Notre Dame
's 13 before they were held on downs. "They were just better than we were today,"
Wilkinson
said. "They deserved to win."
Notre Dame
not only stopped
Oklahoma
's winning streak, but the
Irish
broke the
Sooners
' national record of scoring in 123 consecutive games. Interestingly,
Notre Dame
was the last team to defeat
Oklahoma
, defeating the
Sooners
28-21 at the start of the 1953 season.
Oklahoma
was tied, 7-7, by
Pittsburgh
in its next game before beginning its amazing streak.
Brennan
, a former three-year starting running back at
Notre Dame
, often called the streak-stopping victory over
Oklahoma
"the greatest thrill of my athletic career."
Brennan
coached the
Fighting Irish
for five seasons, compiling a 32-18 record.
Pietrosante
distinguished himself as a stellar running back for the
Detroit Lions
.
L-R: Nick Pietrosante; Coach Brennan carried off.
Doug Atkins: One-Man Pass Rush
1968 Saints @ Lions Game Program
At 38, an age when defensive linemen are supposed to be so far over the hill you couldn't find them with a telescope, the
Saints
'
Doug Atkins
is having one of his best seasons ever.
Atkins
, in his 16th National Football League season, is having a grand time hitting his licks. The mountainous man from Tennessee is so important to the second-year
Saints
that their defensive unit has been named
Atkins
' Army. He's the supreme figure. Any defender in the ranks who is caught loafing knows he must answers to the 6-foot-8, 275-pound
Atkins
, an amazing athlete who has pushed himself far past normal expectations.
The younger
Saints
have a great deal of respect for
Atkins
. Defensive tackles
Dave Rowe
and
Mike Tilleman
are in their second and third pro seasons, respectively. One day they appeared at practice with private's stripes on their jerseys, marched briskly before
Atkins
and saluted. They should have. He was playing in the NFL when they were in grade school.
Atkins
is a large reason that the
Saints
have won three games this season - most ever for a second-year expansion team. Also, he's an important reason that the
Saints
are leading the NFL in pass defense.
Saints
coach
Tom Fears
is impressed. "I don't know what it is that keeps him going," says
Fears
, "but there's no telling how long he'll go on. When we traded for
Atkins
we figured to get one season out of him. But now, I just don't know. He just keeps going on and on."
Saints
defensive back
Dave Whitsell
, an 11-year veteran, predicts
Atkins
will play next season, too. "This man is unbelievable," says
Whitsell
. "He's got another year or two left."
Atkins
isn't talking much about the future. "I'm just playing it game by game now," says
Atkins
. "I consider myself lucky to play as long as I have and I just hope all my injuries are history by now."
"Retirement is something you never really think about, but you know it's got to come someday."
Cleveland
drafted
Atkins
No. 1 when he finished at
Tennessee
in 1953, and he spent two seasons with them before being traded to
Chicago
, where he made All-NFL six times, but was unhappy doing it.
George Halas
' frugality frustrated him.
Finally the opportunity to escape came the past year, when the
Saints
traded for him. This might have seemed too late for an aging lineman who would have to carry an extra-heavy load with an expansion team, but
Atkins
responded with the vigor of a rookie. He left his mark wherever he played.
L-R: Doug Atkins with Bears, Doug Atkins with Saints
Richie Petitbon
, a former
Bear
teammate, says, "
Atkins
is a one-man pass rush by himself. When he makes up his mind, there's no one in the game who can keep him off the quarterback."
Perhaps the change of scenery had made
Atkins
feel younger than his years.
"Coming to the
Saints
has helped my attitude," he says. "I've had ideal working conditions in New Orleans. The management, the coaches, everyone down the line has treated me just great. STOP?
"I had asked
Halas
for years to trade me. It got to the point where I had just about given up hope when the
Saints
' deal came along.
"I wish I could have hooked up with a club like this 15 years ago. With
Halas
, I had to fight and argue for a $1,000 raise. With
John Mecom Jr.
, it's entirely different.
"One year it cost me $900 for nine days of arguing. I had signed a two-year contract, but after the kind of year I had, I thought some adjustment should be made. I found you either played for what they offered you or forget it. Football is tough enough without having to deal with people who won't meet you halfway."
STOP?
Happy now with his treatment by
Mecom
, the wealthy young owner of the
Saints
,
Atkins
plays a fierce game in which he meets no one halfway, particularly the quarterbacks.
"I think quarterbacks are well paid to take the beatings they do," judges
Atkins
. "Defensive linemen take their bumps and bruises and nobody worries about us."
STOP?
The big man has known his share of pain, all right.
Atkins
has had two knee operations, broken his collar bone, suffered numerous cracked ribs, ripped groin muscles, broken both hands, sprained both ankles and torn a bicep that required surgery to repair.
"When you consider
Doug
's career," says
Fears
. "It's incredible he's still around."
All of these miseries have not made such a great impression on
Atkins
, however.
"The toughest part of the game is not the physical punishment you receive from the actual contact," he says. "Rather it's the constant fatigue you must fight, draining yourself every play. Pushing and pushing. Your body is conditioned to absorb knocks, but no matter what shape you're in, there are so many factors which tend to tire you out.
"Look at it this way: If someone hits me a good lick chances are I won't even feel it until the next day. But do you realize how much it takes out of a man every time he tries to hand wrestle or pick up a 250-pound lineman?"
Whatever it takes, the one-time all-state and semi-pro basketball player has more than enough to keep going. He played a grand game in the season's opener against
Cleveland
, making 13 unassisted tackles. The
Saints
lost, but
Atkins
was so tough he was named NFL Defensive Player of the Week by the Associated Press. But maybe he had a grudge against
Cleveland
. After all, that's the club that traded him to
Chicago
13 years ago.
Woody the Perfectionist
War As They knew It: Woody Hayes, Bo Schembechler, and America in a Time of Unrest,
Michael Rosenberg (2008)

With the exception of his military service, Woody Hayes lived his entire life in the state of Ohio. He grew up in little Newcomerstown, on the east side of the state; attended Denison University, 32 miles outside Columbus; and only coached in the state. Hayes was proud of that. he felt that Ohio represented all that was great and pure about America ...
The Ohio State Buckeyes were more than just a local team. They were the prism through which Columbus viewed itself. The passion was so great that it had consumed the three men who coached before Hayes; Paul Bixler, Carroll Widdoes, and Wes Fesler had all resigned at least partly because of the intense pressure, earning Ohio State its tag as the "graveyard of coaches."
Hayes had survived for 18 years in Columbus. By 1969, coming off one national championship with another one surely on the way, he had raised his profile. He was not just the head coach at Ohio State. To many, he was Ohio State.
Hayes understood instinctively that the key to longevity in Columbus was beating Michigan. In 1934, Ohio State coach Francis Schmidt had spoken for his whole school when he said the Michigan players "put their pants on one leg at a time, the same as we do!" Since Schmidt's declaration, any Buckeye who beat Michigan received a miniature pair of gold pants.
While other coaches fled from that pressure, Hayes elevated the rivalry's importance. He made it clear that the Ohio State-Michigan rivalry was not just between schools but between states. He said the rivalry started in 1836 when President Andrew Jackson forced Michigan to cede Toledo to Ohio in order to gain statehood. (133 years later, Toledo was still split territory: Michigan fans were as prominent in the city as Ohio State fans.)
Hayes was famous among fans and reporters for never saying "Michigan" - he always called it That School Up North. This was not just a show for the public. Hayes's players and assistant coaches never heard him say the word "Michigan." It was always - always - That School Up North.
Some figured this was just a motivational ploy. Others believed that Hayes had a certain disdain for Michigan, which thought of itself as a "public Ivy," academically superior to other Big Ten schools. (By 1969, Ann Arbor's radical bent surely didn't endear the town to him.)
Whatever Hayes's true feelings, his public comments clearly made him more popular in Columbus. ...
L-R: Woody Hayes, Francis Schmidt, "Gold Pants" Award, Paul Warfield
In 1961, Ohio State had no more than a dozen offensive plays - that's all the Buckeyes ran for the entire season. That meant that in a given game, every play would be called a few times, and his favorite plays (basic off-tackle runs) were called so often, everybody in the stadium could recognize them. The team had Paul Warfield, who would go on to make the Pro Football Hall of Fame as a wide receiver - but Hayes put him at running back and defensive back, and Warfield barely caught any passes.
When he wanted to pass that season, Hayes would often remove his normal running quarterback for a superior passer, telegraphing his play preference to the other team. Ohio State used a single snap count the whole year - when the quarterback shouted "Go!" the center would snap the ball. Naturally, opposing defenders figured this out rather quickly. "They're snapping it on 'Go!'" they told each other excitedly, as though they had just cracked some top-secret code.
The Buckeyes would just laugh. They had reason to. That year, with a dozen offensive plays, gross misuse of one of the best receivers in football history, and the most obvious snap count imaginable, they won the national championship.
And they won it largely because of coaching. Hayes demanded that his players repeat a technique one thousand times, until every muscle and joint moved in precisely the right way. Then he would make them do it again. He wanted to take the entropy out of the game; he loathed fumbles, penalties, and any other mental errors, and his teams seldom made mistakes. If every man executed his individual assignment better than the opponent, then Hayes's eleven would outplay the other coach's eleven on that play - and if that happened repeatedly, his troops would march down the field efficiently.
Patton said wars were fought with weapons but won by men. Woody Hayes let others invent new weapons. He made sure he had the best men.
His players quickly discovered that it was enough to perform the same technique again and again; Hayes wanted maximum effort on each attempt. To that end, he used extreme motivational techniques. If a player made a mistake in practice, Hayes often hit himself in the head - not just the occasional slap to the forehead, but all-out punches to the face.
At other times, he would take off his glasses and step on them (he went through a dozen pairs a year) or take off his watch and break it. Players suspected that some of it was an act - there were whispers that Ohio State trainers cut Hayes's hats before practice, to make them easier to test later - but they knew it wasn't all an act, and part of Hayes's genius was the mystery. Players could never quite tell when he was acting and when he had lost his mind. It was not the sort of question one asked.
Gang Green, Gerald Eskenazi (1998)
The
Jets
' game in Oakland during that 1968 season saw such bizarre, nutty, funny circumstances that it became a permanent part of sports lore. The
Jets
-
Raiders
affair came to be known simply as the "Heidi" game. ...
The
Jets
and
Raiders
met in Oakland for an unofficial playoff preview, the
Jets
with their four-game winning streak, the
Raiders
with three in a row.
Before the game, one of the game officials asked
Dr. Nicholas
[the
Jets
' team doctor] to take a look at his bad back. This
Nicholas
did, and then promised to return when the game was over to check it out again.
The game turned into a brutal, penalty-laced affair, with players pounding one another and points lighting up the scoreboard. The
Jets
went ahead by 32-29 on [
Jim
]
Turner
's field goal with 65 seconds remaining. But it was also close to 7 P.M. in the crowded, TV-saturated East. And at seven o'clock eastern time, a made-for-television movie,
Heidi
, the story of the little girl in the Swiss Alps, was scheduled to appear on NBC. ...
What harm, thought NBC officials, could there be in leaving the game after a commercial? The
Jets
were about to win. Someone in the control room calculated that 10 seconds would be sliced from the clock on the kickoff. There wasn't enough time in 55 seconds to make a difference. So the network cut away from Oakland and shifted to
Heidi
.
From his home,
Allan B.
(
Scotty
)
Connal
, the head of NBC Sports, immediately sensed this was not a good idea. He tried to persuade the technicians on duty not to switch from those last seconds of the late-running game. But he couldn't get through to anyone who mattered, and
Heidi
it was.
When the 11 o'clock news went on that night, fans heard for the first time the unbelievable final score:
Oakland
43
Jets
32. While they weren't watching, the
Raiders
had scored 14 points.
Raiders
QB
Daryle Lamonica
connected twice with RB
Charlie Smith
, who outfoxed rookie SS
Mike D'Amato
. First,
Smith
gained 20y, with a
D'Amato
penalty tacked on. The next play,
Smith
took a swing pass and scampered 43y for a TD.
L-R: Dr. James Nicholas, Walt Michaels, Weeb Ewbank
Was [
Jets
coach]
Weeb
[
Ewbank
] nuts playing the rookie against
Smith
?
Weeb
had no choice: the veteran
Jim Hudson
had been ejected for complaining about a penalty called against him.
D'Amato
was the only safety available.
Now, with 42 seconds remaining, the
Raiders
led by 36-32. Only a touchdown would win it for the
Jets
. Then again, with [QB
Joe
]
Namath
and [receivers
Don
]
Maynard
and [
George
]
Sauer
, it didn't seem impossible. But
Earl Christy
fumbled the kickoff, chased it back to the 10, lost it again, and watched it slither to the two. From there, a fellow named
Preston Ridlehuber
, who was never to play another season for the
Raiders
, scooped it up and ran in for the TD. Two scores, nine seconds apart.
No one back in New York knew this, though.
An hour after the game,
Weeb
telephoned his wife,
Lucy
, back in New York.
"Congratulations," she told him.
"For what?" said
Weeb
.
"On winning," she replied.
"We lost the game," said
Ewbank
.
Of course,
Weeb
was hardly alone in not realizing how New Yorkers were reacting to what happened. The
Jets
did not return home after the game because they had a game in San Diego the following week; as was the custom then, with consecutive West Coast games, the
Jets
simply spent the whole week in California.
So after the game, they flew to Long Beach. When the players turned on the late news, they learned that the NBC switchboard in New York had been knocked out of commission by thousands of callers. Some of the outraged fans had actually telelphoned the police to find out what had happened.
If fans were irate over not knowing what had happened, imagine how teed off the
Jets
were, who did. When the game ended, [defensive coordinator]
Walt Michaels
was still seething over
Hudson
's ejection. He believed it cost the
Jets
the game. So did
Dr. Nicholas
.
They headed for the officials' room. The door was locked.
Walt
started to bang on it, abetted by the doctor.
"
Walt
was yelling his head off," recalls
Nicholas
. "I went along with him. I thought I'd see the official I had examined and give him a piece of my mind and take a look at his back."
Nicholas
complained while examining his patient. The next day, the league sent a letter to the
Jets
telling them that
Nicholas
was fined $2,500 and
Michaels
$5,000. The official, who got a free diagnosis, had turned in the good doctor.
"I'm the only team doctor in history ever fined for banging on the door,"
Nicholas
likes to relate to this day. ...
The next day, the network's program director,
Julian Goodman
, issued a public apology for "a forgiveable error committed by humans who were concerned with the children."
A noble sentiment, indeed. But nobility gave way to practicality as NBC and the NFL altered their policy. Now, whenever a game is shown in either team's home market, it stays on to the end, regardless of the score. Even if the children will miss a kiddies' movie.
Tales from the Gator Swamp: A Collection of the Greatest Gator Stories Ever Told, Jack Hairston
Perhaps the most famous play in
Gator
history was the
Gator
Flop against
Miami
in 1971. I never saw anything like what happened in the final minutes of the
Gators
' 45-16 triumph over the
Miami Hurricanes
in Orange Bowl Stadium.
This was the situation: The
Gators
had sloughed through a 3-7 season up to the
Miami
game.
John Reaves
,
Carlos Alvarez
,
Tommy Durrance
and other members of the sophomore class in the spectacular 1969 season (9-1-1, including a Gator Bowl victory over SEC champion Tennessee) weren't happy seniors in '71. The beatings had been severe, and several players were still disgruntled that
Tennessee
Coach
Doug Dicke
y had succeeded
Ray Graves
as
Gator
coach after the '69 Gator Bowl meeting.
Miami
was a slight favorite going into the '71 game in its first season under former
Miami
QB
Fran Curci
, an avowed
Gator
hater.
Reaves
, going into the final game of his college career, was within 344y of the national career passing record held by
Jim Plunkett
of
Stanford
(7,545y). That seemed to be a nearly impossible reach for
Reaves
, who had averaged 290 passing yards per game in '69, 232 yards in '70 and was averaging 176y going into the
Miami
game. ...
The two leading characters in this drama were to be
Curci
and
Reaves
, who didn't like each other. The year before when he was head coach at the
University of Tampa
,
Curci
had described the
Reaves
-led
Gators
as crybabies.
Reaves
had expressed his displeasure about
Curci
. Now they were opponents as
Reaves
took aim at one of the game's top records.
L-R: John Reaves, Doug Dickey, Fran Curci
Reaves
was hotter against
Miami
than he'd been in any game in two years. Late in the fourth quarter the
Gators
, amazingly, had a 39-9 lead, and
Reaves
, also amazingly, had thrown for 331y and was within 13y of the record.
Curci
's
Miami
team appeared to be running out the clock with a tedious series of running plays. The
Gators
got
Miami
stopped and forced a punt, but
Gator
CB
Harvin Clark
ran the punt back for a touchdown, and
Miami
got the ball again. More running plays.
Clark
apologized to
Reaves
for his touchdown, for depriving him of a chance at the record. Twice
Clark
called timeout and asked
Dickey
to allow
Miami
to score, because it was going to be the only chance
Reaves
would get one last shot at the record. Twice
Dickey
refused. With 1:20 left in the game and
Miami
at the
Gator
7y line, third coming up, the
Gators
used their final timeout. People in the press box and in the
UM
radio booth predicted the
Gators
would intentionally let
Miami
score.
Clark
begged
Dickey
a third time, and this time
Dickey
said, "OK, but don't make it look bad."
Clark
ran to the defensive huddle. I asked
John Clifford
, the
Gators
' junior free safety, to finish the story of what happened.
Clifford
was from Coral Gables, home of the
University of Miami
... I have heard several stories that
Clifford
was the only
Gator
that night who declined to flop.
"
Harvin
came into the huddle,"
Clifford
said, "and told us, 'Coach says to let 'em score! We're all going to lie down!' I didn't flop, but I've been told that I stood up on the play, and that isn't so. I went down to one knee and didn't make a move to make the tackle.
"I've looked at some pictures of the play, and one of our players WAS standing up, but it wasn't me. I don't know who it was. I've been told I tried to make the tackle, but I didn't do that either. What I remember best is the look on (
Miami
QB)
John Hornibrook
's face when he rolled out and saw all those people on the ground. He hesitated a moment, and maybe his instincts took over, and he kind of walked across the goal. I've often wondered how weird it would have gotten if he had declined to score the TD and had run back up the field with the ball. That play might have gone on a long time.
The Gator Flop
"After the touchdown, we got the ball back, and
John
hit
Carlos
for 15y to break the record." The coaches had
Reaves
throw one more pass in case the addition wasn't right, and he hit
Hollis Boardma
n for 2y.
"The coaches turned
John
loose a little more than usual in that game,"
Clifford
said. "Let him throw more. But I'll always believe we could have done it better on the laydown play ... done it without embarrassing anyone. But I never considered myself any better than anybody else because I didn't flop. There was a lot of frustration on that team. We'd had a lousy season, and we weren't going to a bowl game. The frustration of the whole season came out that night. Also, I remember a lot of enthusiasm among the players before the game about
John
having a shot at the record.
"When the game was over, I don't know who started it, but we all ran down behind the end zone where the pool was for the
Miami Dolphins
' mascot, Flipper. We all jumped in the water and just splashed around, whooping it up." ...
Curci
has devoted a lot of his life since that night to criticizing the
Gator
Flop. He had much to say about it from that night on. For years I thought
Curci
just saw an opportunity to get the spotlight off him and his team's poor performance.
Miami
was favored in the game and lost by a 45-16 score, and
Curci
installed a new offense the week of the game (the wishbone) and moved
Miami
's great RB,
Chuck Foreman
, later a longtime NFL star with the
Minnesota Vikings
, to flanker, where he didn't carry the ball a single time.
My thought was
Curci
was standing on the sideline with about a minute to play, thinking how he was going to be criticized, when the laydown play presented itself ... and presented
Curci
with a substitute scapegoat for everyone to focus on. People who have coached with
Curci
tell me, "No, he was really bitter about the laydown play, and many years later he was still cussing
Dickey
and blaming him for it."
"Have you ever seen anything like that in your life?"
Don Shula: A Biography of the Winningest Coach in NFL History, Carlo DeVito (2018)

The 1983 NFL Draft was arguably the richest singular draft in the history of the NFL. Everyone knew it would be special, but it would take the league a generation to see how much so. ...
Quarterback
John Elway
of
Stanford
was the big prize. Other candidates were fellow signal-callers
Jim Kelly
,
Tony Eason
,
Todd Blackledge
, and
Dan Marino
.
Marino
had been the absolute undoubtable star of the 1981 season, his junior year at
Pitt
, but his senior year was a flop in 1982, and his stock had fallen.
The problem was simple for the
Dolphins
. Who would be available with the 27th pick? They had gone to the Super Bowl and lost, and now they would get to pick second-to-last in the draft.
Shula
felt for sure no quality quarterback would be left at the end of the first round. As the draft drew near, he focused on
Mike Charles
, a defensive lineman from
Syracuse
.
The story how
Marino
fell so badly is still legendary. In 1982 and 1983, there had been rumors that he was using drugs. Were they true?
"It was certainly out there that there were 'issues' with
Marino
," said
Ray Didinger
of the
Philadelphia Daily News
.
Chuck Noll
, a decade after the draft, admitted the
Steelers
had passed on
Marino
because of those rumors. "It started off with just the idea that he was partying. Then it grew more sinister from that,"
Didinger
recalled.
"I never took any tests,"
Marino
said later. "One time somebody wrote that, but that's something I can't control. If I worried about everything that was written about me, I wouldn't have a good time."
Foge Fazio
,
Marino
's head coach his senior season, later admitted to the press that he felt vindictive gamblers started the rumors. "A lot of it was disappointment we didn't beat the point spread,"
Fazio
said. "That's where the viciousness came out."
As expected,
Elway
went No. 1. ...
Todd Blackledge
of
Penn State
was the next quarterback picked at the No. 6 spot by the
Kansas City Chiefs
.
Jim Kelly
of
Miami
went to the
Buffalo Bills
at No. 14, and
Tony Eason
of
Illinois
went next at No. 15 to the
New England Patriots
.
"It's a weird day, really,"
Marino
remembered. "You're sitting there ... I know it's football, you're going to play in the NFL, but every other kid that graduates college and has a chance to get a job, they kind of know where they're going or what their profession is going to be or what they're going to do, and you can sit there and not know if you're going to be in Seattle or Miami or Arizona. That part is tough, I think." Added
Marino
later, "I just remember it being a long day."
"People started finding reasons to not like
Marino
, and I think that the drug rumors were just another thing that they threw on the pile," agent
Marvin Demoff
said.
L-R: Dan Marino, Don Shula, Foge Fazio
To be fair, the entire media had started to play
Marino
down.
Gordon Forbes
of
USA Today
wrote of
Marino
, "Stands tall in the pocket and has a good view of the field. Sets up quickly and gets good, deep pass drops but lacks a classic delivery. Scouts say he often forces the ball into a crowd and is frequently intercepted." In the
Miami Herald
,
Larry Dorman
wrote, "After
Marino
's inexplicably poor senior season, he's lucky to still be considered a first-rounder. Still, as a prospect, he's worth taking a chance on."
Also in the
Miami Herald
,
Edwin Pope
wrote, "The word from
Marino
's hometown is that the
Panthers
' all-time passing leader declined last year as a twin result of a) inflated ego, and b) pressing to impress the pros after he finished fourth in Heisman Trophy voting as a junior. He developed the idea that he was God's gift to football.
Dan
was a down-home Pittsburgher who started thinking he was
Joe Namath
. It hurt the team, along with some other things, like losing some top receivers and also that head-coaching switch-over from
Jackie Sherrill
to
Foge Fazio
."
"This happens in a lot of drafts,"
Didinger
said. "Once a guy starts falling, everybody runs the other way. Everyone assumes everyone else knows something, and they back away."
"People were scared that they couldn't handle him," said one NFL scout later. "Why waste a No. 1 on a problem?"
At No. 24 in the first round, the
Jets
were on the clock. Days before,
Fazio
, a good friend of
Jets
head coach
Joe Walton
, who had just replaced
Walt Michaels
, called to vouch for
Marino
. As the tension mounted,
Jets
fans in the balcony of the New York Sheraton hotel, where the draft was conducted, could be heard chanting loudly, "
Dan Marino
!
Dan Marino
!" Commissioner
Pete Rozelle
announced, "With the 24th pick, the
New York Jets
select quarterback ..."
There was a pause. "I don't think
Rozelle
did it on purpose. But for dramatic effect, he couldn't have done it better," remembered
Didinger
.
"
Ken O'Brien
,
University of California-Davis
,"
Rozelle
finished.
"The cheers turned to screams of anguish - and then boos, in just a second,"
Didinger
said.
The
Bengals
and
Raiders
also passed on
Marino
, and then came the
Dolphins
at 27. (
Miami
D-coordinator)
Bill Arnsparger
pushed
Shula
hard to take
Charles
. "The pressure was on me to take the defensive lineman,"
Shula
recalled. Future Hall of Fame defensive back
Darrell Green
was also on their list of available players.
"Everybody's trying to figure out now why he was drafted so late," said
Shula
. The
Dolphins
head coach was thrilled to find
Marino
available. "We had a strong commitment to
Marino
that others did not. We heard rumors, different kinds of rumors. We checked them out and did not hear anything that changed our minds. I called
Foge Fazio
, and he gave me his strongest recommendation. We knew all we needed to know." ...
With our situation and our evaluation of
Dan Marino
, we felt he was a good pick," said
Shula
. "Certainly good credentials. Didn't have the best senior year, but when you look at him and evaluate him throughout his career, you have to be pretty impressed."
"What
Shula
saw was a franchise player who could carry a team for a decade or more. He saw an already polished drop-back passer who had spent four college seasons in a pass-oriented offense. He saw the MVP of both the Senior Bowl and Hula Bowl who had thrown for 8,416 yards and 79 touchdowns at
Pitt
," wrote
Paul Attner
in the
Washington Post
.
"I was happy the
Dolphins
got me," said
Marino
. "This is all I've wanted to do, to get a chance to play in the pros, and
Miami
is giving me this chance. Everything else is behind me, and I let it go at that."
"You probably got the best guy in the draft," said
Chuck Noll
to
Shula
by phone after the
Dolphins
picked
Marino
.
There was a story that was oft repeated in Miami sports circles in the subsequent years.
Shula
was quiet as he watched
Marino
work out for the first time that spring of 1983.
Shula
was sure he'd gotten a "steal" in the draft, though how much of a steal he wasn't sure.
"
Shula
stood behind
Marino
, watching him effortlessly flick pass after pass, using not much more than his wrist. He looked like a man fly-casting with a fishing rod, but the ball would zing downfield 40 to 50 yards. Then
Shula
did something he almost never does. He walked to the sideline to chat with a friend,
Edwin Pope
, sports editor of the
Miami News
," remembered sportswriter
Larry Felse
r.
"Have you ever seen anything like that in your life?"
Shula
asked
Pope
quietly.
Guts and Genius, Bob Glauber (2018)
Bill Parcells was completing his first season as head coach of the New York Giants in 1983.
The consensus was unanimous:
Bill Parcells
had to go.
The
Giants
were staggering to a 3-12-1 finish in
Parcells
's first year as the
Giants
' head coach, and memories of the darkest years of the franchise were haunting the
Mara
family. Team president
Wellington Mara
had presided over the lost years of 1964–1978, when the
Giants
had gone from a consistent championship-contending team to a franchise besmirched by failure. Rock bottom had come on November 19, 1978, when the
Giants
were seemingly headed toward victory over the
Eagles
at Giants Stadium and simply had to run out the clock in the final seconds against an
Eagles
team with no time-outs remaining.
But rather than having quarterback
Joe Pisarcik
do the sensible thing and take a knee, of­fensive coordinator
Bob Gibson
inexplicably called for a handoff to
Larry Csonka
. The ball caromed off
Csonka
's right hip and was scooped up by
Eagles
defensive back
Herman Ed­wards
, who returned it for a 26-yard touchdown to give
Philadelphia
a 19–17 win.
Gibson
was fired the next day, and during the
Giants
' next home game, a small plane flew over the Meadowlands carrying a banner: 15 YEARS OF LOUSY FOOTBALL— WE'VE HAD ENOUGH.
Watch the fumble play ...
The fallout from a play referred to by
Giants
fans simply as "The Fumble" eventually led to the hiring in 1979 of
George Young
as general manager, a compromise choice that was ac­ceptable to
Wellington
and his nephew
Tim
. The two were not on speaking terms but had agreed to Commissioner
Pete Rozelle
's recommendation of
Young
, then a personnel assis­tant with the
Miami Dolphins
.
Ray Perkins
was
Young
's choice to become head coach in 1979, but when
Perkins
left in 1982 to coach at the
University of Alabama
,
Young
ap­pointed
Parcells
, a promising defensive coordinator under
Perkins
.
But by December of
Parcells
's first year on the job, it became clear to all three of the
Giants
' decision makers that a change had to be made.
"
Parcells
gets hired in 1983, and really the only basis upon which he was hired was that he had some head coaching experience, which wasn't a heck of a lot," said
John Mara
,
Well­ington
's oldest son and now the team's president and co-owner. "We come to the end of that season, and the jury is very much out on
Bill
at that point."
It was an excruciating season in every possible way, and not simply because of the final record.
Parcells
had misjudged his quarterback situation, anointing
Scott Brunner
over former first-round pick
Phil Simms
. More than two dozen players wound up on injured reserve. After getting off to a 2-2 start, the
Giants
lost ten of their next twelve games.
Parcells
's personal loss that season was incalculable. His mother,
Ida
, had died in December. His father,
Charles
, had died two months later. His running backs coach,
Bob Ledbetter
, suffered a stroke in late September and died less than three weeks later.
"Both my parents died. My backfield coach died. Hey, it was tough, but that's still no excuse,"
Parcells
said, looking back on the most difficult year of his life. "Listen, they'd seen enough. Everyone was on board with it."
The decision had been made: The
Giants
would look for a new coach.
Howard Schnellenberger
was their man.
Parcells
was as good as gone. ...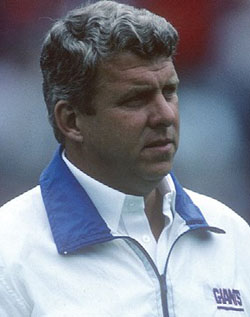 L-R: Bill Parcells, George Young,Howard Schnellenberger
Schnellenberger
was the hottest coaching prospect out there, and the
Giants
were in dis­array. Rock bottom came on December 4, when the
Giants
lost to the lowly
Cardinals
, 10– 6. Only 25,156 fans showed up at Giants Stadium, meaning there were more than 50,000 no-shows. But when
Young
reached out to
Schnellenberger
, the coach told him the timing wasn't right and that he wouldn't take the job. ... "I can't get him this year,"
Young
told the
Maras
, "but I may be able to get him next year." The
Giants
decided to give
Parcells
one more year to turn things around, and if the team continued to flounder,
Young
would try
Schnellenberger
again. ...
Parcells
's first major move was hiring a strength and conditioning coach, and he settled on a noted college trainer named
Johnny Parker
.
Parker
was on the cutting edge of training techniques at
LSU
and
Ole Miss
, even traveling to Russia to study what had then been con­sidered the world's most advanced weightlifting program.
Parcells
was desperate to improve his team's collective health after a hellish run of injuries the year before, and
Parker
told him he could help. ...
Parker
took the job, and thereby gained insight into how
Parcells
was going to handle his team moving forward. "Last year, I tried to be the head coach of the
Giants
, and that didn't work,"
Parcells
told
Parker
. "This year, I'm going to be
Bill Parcells
. If the players get me, they get me. They're going to get me doing it my way." ...
Parcells
knew he could win only if he had players who were completely committed to win­ning and to making the sacrifices— both physically and personally— to turn the team around.
Young
had drafted linebackers
Carl Banks
, a first-round pick out of
Michigan State
, and
Gary Reasons
, a fourth rounder out of
Northwestern State
of Louisiana, to replace
Kelley
and
Van Pelt
. And with nearly two dozen other players dropped from the team, the coach was starting to feel like he had enough of the "my guys"– type players to at least have a chance of winning. And
Parcells
drove them hard. "Those 1984 players, they're the ones that went through a torture chamber, because I had a whole new attitude, a resolve,"
Par­cells
said. "I was close to being over the edge in terms of pressuring these guys, practicing hard, contact, training camp. No fuckin' around."
L-R: Carl Banks, Gary Reasons, Phil Simms
Simms
could tell the difference in
Parcells
's demeanor as soon as he interacted with the coach after the 1983 season. "
Bill
changed from '83 to '84,"
Simms
said. "He became
Bill Parcells
, this tough, acid-mouthed guy, and whatever came out of his mouth was the truth. He did it with sarcasm and humor, but it still drove the point home. It just changed us. Right from the start, we were a changed team. You could see it."
Once training camp began,
Parcells
was unrelenting. He had his players practice in pads six days a week, twice a day— which was actually standard operating procedure for most teams, but with
Parcells
, he was particularly brutal. If
Parcells
was going down— and there was that very real possibility, especially if he got off to a poor start— he would do so on his own terms.
Postscript: The '84 Giants started 3-3, then won three of their next four on their way to a 9-7 record and a playoff berth. They beat the

Rams

in the first round before losing to the 49ers, who would win the Super Bowl.
Parcells coached the Giants eight years, winning the Super Bowl in 1986 and 1990.