The National Forgotten League, Dan Daly (2012)
The kickoff of the 1937 title game between the
Bears
and
Redskins
at Wrigley Field was moved up from 2:00 p.m. to 1:15 - and for good reason, too. The week before, the
Bears
' regular-sea­son finale against the [Chica­go]
Cardinals
at Comis­key Park had ended in total darkness ... and near-total chaos.
What kind of chaos? Well, in the fourth quarter the
Bears
scored a safety when a snap went whiz­zing past the
Cardinals
' punter and out of the end zone. He never saw the ball. The
Cards
then answered with a 97y shovel pass to
Gus Tinsley
[
LSU
] that caught the
Bears
completely una­wares. (It's kind of the football equivalent of
Gabby Hartnett
's Homer in the Gloamin' for the
Cubs
in '38. In fact, at the time, it was the longest touchdown pass in NFL history.)
Tinsley
"ran up the sidelines,"
George Strickler
wrote in the
Chicago Tri­bune
, "and was at mid­field before the
Bears
realized anyone was loose. Even then they had their doubts, for all that was visible of the runner in the darkness was a pair of silver pants. Some
Bear
hero, whose iden­tity was hidden by the night, then realized pants seldom go running around without a sponsor and gave futile chase."
As Tinsley sprinted toward the goal line, the crowd swarmed the field, forcing the officials to call the game with the Bears on top 42-28. The Cardinals didn't even kick the last PAT. It was just awarded to them.
At some point in the final quarter - the newspapers are hazy about when - a brawl broke out be­tween the teams. Among the combatants were the two coaches, George Halas and Milan Creighton, who traded blows until they were sent to neutral corners. "To add to the general con­fusion," the Chicago Herald and Examiner re­ported:
the game was played under brutal conditions. The field was glazed with a sheet of ice, and the temperature was only 18 de­grees above zero. The ice was sprinkled with sand, and players affected tennis shoes to improve their traction. But even at that, the footing was treacherous ... Bonfires blazed in the stands through the darkness as the half-frozen spectators ... tried to acquire some heat. Indeed, it was all very goofy.
L-R: Gaynell Tinsley, George Halas, Milan Creighton
More on the 1937
Bears
-
Cardinals
game from
The Chicago Bears
,
Howard Roberts
(1947)
... there remained the annual closing clash with the
Cardinals
, a game for which the script must have been written by the
Marx
brothers. It contain­ed everything from laughs to a fist fight in which, as usual, the peacema­ker was the only one to get punched. It wound up in total darkness and with bonfires blazing here and there in the stands as congealed specta­tors strove in vain to keep warm. Only a chorus was lacking to spoil the musical-comedy aspect of the affair.
The
Bears
won, 42 to 28, the combined totals establishing a record for points scored in a single game. Other marks were set, too, 64 passes being thrown and 30 completed for 501y, but these were merely incidental happenings of a completely daffy day.
It was bitter cold; the field was frozen and covered with a solid coating of ice on the south end from the goal line out beyond the thirty. Both teams wore tennis shoes, but to no avail. Not even a mountain goat could have maintained his footing on such a surface. Hands and faces were slashed as if by razor blades from contact with the ice.
While the score was still close,
Halas
and
Milan Creighton
, the
Cardinal
coach, became em­broiled in a violent dispute that wound up in a flurry of punches. Neither coach was so much as bruised, but an errant wild pitch thrown by one of them caught referee
Bobie Cahn
flush on the jaw. Little
Bobie
had absorbed lots of bumps in his years of officiating among the professional giants and took such happenings in good-humored stride. He simply chased the rival coaches back to the bench and ordered play re­sumed.
Creighton
wasn't so lucky in an earlier brush with another official,
Jim Durfee
. The young
Car­dinals
coach had stormed onto the field to protest a
Durfee
decision, and
Jim
had retaliated by stepping off a 10y penalty against him.
"What's that for?" demanded the indignant and apopletic
Creighton
.
"That's for running out here on the field,"
Durfee
answered.
"That's not a 10y penalty,"
Creighton
protested. "It should be 15y."
"Yeah, I know," grinned the imperturbable
Durfee
, "but you're not worth that many!"
..., darkness began to fall, blanketing the field so rapidly and completely that soon the only thing visible from the stands was the white pants of the
Cardinal
players. Suddenly, from near one goal line, a pair of those white pants streaked off madly toward the opposite goal. A moment later, from the flickering light of grandstand bonfires, the players could be seen troop­ing from the field. Puzzled sports writers, in the dark in more ways than one, discovered what had happened only by visiting the dressing room.
The pants racing the length of the field belonged to
Gaynell Tinsley
. The
Cardinal
end had sprinted 95y on an end-around for a TD as the
Bears
wondered what in the world had become of the ball. When
Tinsley
cross­ed the
Bear
goal line the officials decided to award the
Cardinals
the ex­tra point without going through the formality of kicking it, and then called the whole thing off. Exactly two minutes and fifty-one seconds of that game were never played.
Ole Miss Football, Lawrence Wells (1980)
En route to a 9-2 season, … Ole Miss met Arkansas in Memphis on Nov. 16, 1938. [Coach Harry] Mehre's Notre Dame Shift proved too much for the Razorbacks, who fell, 20-14, in a game marked by savage hitting.
In a play that
Ole Miss
(and
Arkansas
) fans still talk about,
"Wild Bill" Schneller
, junior QB from Illinois, intercepted an
Arkansas
pass and raced up the sidelines untouched for a score. As he approached the 20y line,
Schneller
turned in mid-stride, placed his thumb on his nose, and wriggled his fingers at the nearest
Arkansas
pursuers in an unmistakable gesture. He thumbed his nose again as he crossed the goal line. The
Arkansas
crowd was furious. In the bitter scrim­maging that followed,
Winky Autrey
, the
Ole Miss
C, tackled
Zack Smith
so hard that the
Arkansas
back had to be taken to the hospital.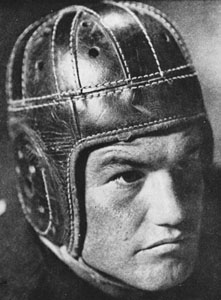 L: "Wild Bill" Schneller; R: Schneller after intercepting against
Arkansas
"When the gun sounded," Tad Smith recalls, "the fans poured out on the field to fight. It was wild. People were fighting everywhere. I got behind the bench, out of the way, looked down, and there was Winky Autrey, hiding under the bench!"
The last game of the season was also played in Memphis, against
Tennessee
, which was Orange-Bowl-bound with one of its most powerful teams. …
Tennessee
had a pretty easy time with us and rolled up a 38-0 score in the first half. By this time,
Tennessee
was emptying their bench. …
Mehre
was playing everybody he could to stop them.
Bonnie Graham
, an end who had a bad knee and hadn't practiced much, saw
Mehre
looking down the bench.
Bonnie
slid behind the man next to him, but
Mehre
spotted him and said, "
Graham
, get in there!" On the first play, the third-string
Ten­nessee
tackle floored
Bonnie
. On the second play, he did it again. The third time as
Bonnie
was getting up, he said, 'Look, fellow, y'all have us 38-0, how about taking it easy?' The tackle said, 'I can't do that – if I look good today, maybe they'll give me a letter.'
Bonnie
replied, 'If you ease up, maybe
both
of us will get one!'"
Nothing Comes Easy: My Life in Football
,
Y. A. Tittle
with
Kristine Setting Clark
(2009)
The Baltimore Colts met the Buffalo Bills in a playoff for the Eastern Di­vision championship of the All-America Football Conference in Baltimore on December 12, 1948, Y. A. Tittle's rookie season as quarterback of the Colts.
Y. A. Tittle with the Colts
Five days before our game with Buffalo, I was summoned to a players' meeting after practice. I sensed something was wrong, and it was. The veterans ... felt that the team should get their share of the gate receipts since there was no provision in their contract to cover the possibility of a playoff. Tempers flared, and finally Ernie Blandin and Dick Barwegan were employed to con­vey the team's demands to Colts president Jake Embry ...
After listening to Blandin and Barwegan, Embry explained the position of the front office. "We feel a divisional playoff is part of a player's regular contract. Also, we are having a difficult time staying in the black. This ex­tra game could put us on solid ground. We would appreciate the play­ers' understanding in this matter." Blandin explained that if the players didn't get a portion of the gate receipts, there would be a possibility of a strike on Sunday, but his proclamation fell on deaf ears. Both Blandin and Bar­wegan reiterated the requests of the front office to the players, who at this point insisted on a strike if their demands weren't met.
Word got back to Embry ... who told the team, "If you don't want to play the game, we will an­nounce to the public that the title has been forfeited to Buffalo. We will consider the season over, and we will all go home." A second players' meeting was called to vote on whether to play or not. The decision to play was announced. There was much resentment within the team after that day. ...
The
Colts
drew first blood with a field goal by [
Rex
]
Gross­man
, but then
Buffalo
scored on a pass from [
George
]
Rat­terman
to [
Bill
]
O'Connor
. The score re­mained 7-3 through­out the first half.
Baltimore
dominated the third quarter. After marching 71y downfield,
Bus Mertes
scored on a 9y run.
Grossman
kicked the conversion and we were up 10-7. Next we marched 87y, and again
Mertes
scored, this time on a 1y run with
Gross­man
con­tributing the extra point. The score was 17-7.
In the fourth quarter
Ratterman
and
Bill Gompers
connect­ed on a 66y scoring pass to cut our lead by three. The
Bills
regained possession late in the fourth quarter. It was a race against the clock.
After
Ratterman
had picked up two first downs ... he lobbed the ball to
Chet Mu­tryn
, who took three steps and then drop­ped the ball when he was slammed by
Sam Vacanti
and
Barwe­gen
. One of our tackles,
John Mellus
, recovered the ball as it boun­ced down the field, scooped it up, and head­ed for the
Buffa­lo
end zone. He stop­ped after hearing the frantic whistle of head linesman
Tommy Whe­lan
. It was ruled that
Mutryn
never had possession of the ball, making it an incomplete pass instead of a fumble, therefore returning the ball to
Buf­falo
. Six plays later the
Bills
scored the win­ning touchdown on a pass from
Ratterman
to
Baldwin
. ...
When the final gun sounded, the irate
Colts
fans stormed the field. Their target was head linesman
Tommy Whelan
. They were furious about the call he had made earlier in the quarter. Extra police were brought on to the field to protect
Whelan
from the crowd. Both
Buffalo
and
Colts
players escorted the head lines­man to the dressing room through the hostile, bottle-throwing crowd. When he finally got inside, I noticed that he had a swollen eye and his mouth had been cut. The mob had even torn the back of his shirt. I know he was scared half to death, and I didn't blame him one bit.
Even though the police tried to calm down the angry mob, they continued yelling for
Whelan
: "Let's get
Whelan
! Let's get
Whelan
!" It was the wildest, not to mention scariest, professional football game that I had ever encountered. Fistfights arose throughout the stadium as did fires in the stands. People were being knocked down. They protested outside the Stadium Administration Building and refused to move until
Whelan
came out.
Whelan and the Bills team were huddled inside the building trying to come up with a way to elude the frenzied mob outside. They were finally able to smuggle out the head linesman among the Buffalo players. They all made it safely to their chartered bus right under the noses of those insane fans.
Golden Boy, Paul Hornung (2005)
Despite the graduation of end Howard Schnellenberger – yes, the same guy who went on to a phenomenal coaching career in both college and pro football – our senior team at Flaget [High in Louisville] went 9-1-1 …
During the season, I got to know Paul "Bear" Bryant, the charismatic young coach who had taken Kentucky to the Orange, Sugar, and Cotton bowls in successive years. ...
Looking back, I'd have to say Bryant is one of the five most impressive people I've ever met. He was as handsome as a movie star and had that deep, growly voice. He had been the "other end," opposite Don Hutson, on Alabama's great teams of the 1930s, so he also was bigger than most coaches.
Bryant visited Mom and me in our little apartment at least six times, and usually he was accompanied by Lawrence Wetherby, the Democratic governor of the state. Mom liked Wetherby. Of course, she was as de­vout a Democrat as she was a Catholic. If you were Catholic, you got her vote. Whenever Bryant and Weatherby would visit, they would always pull up in front of our apartment in the governor's official limousine. ...
Schnellenberger
already was at
Kentucky
, and two of our best linemen,
J. T. Frankenberger
and
John Noon
, were ready to join him. But the players
Bryant
wanted most were
Sherrill
[
Paul
's good friend
Sherrill Snipes
] and me. He wanted me to be his split-T QB, replacing All-Ameri­can
Vito "Babe" Parilli
, who was more of a pure passer than an option QB. He promised me I could try out for
Adolph Rupp
's basketball team, that I would start games as a freshman, and that he'd give scholarships to all nineteen of the seniors on our team.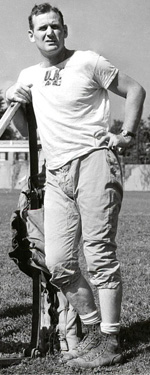 L: Bear Bryant at
Kentucky
; R: Paul Hornung at Notre Dame
While it would have been fun to have my high school buddies around me, I also knew that
Bryant
probably would run most of them off. He ran a preseason boot camp in Millersburg, Kentucky, which was the model for the one he later rate in Junction, Texas, for
Texas A&M
. Every year, he'd come back with about only half the players he took up there.
Heck, he also said he'd get a scholarship for Janie, my first heartthrob. She was a couple of years younger than me, but she could have come to all my games in Lexington. She and I dated off and on through my years at Notre Dame and even after I joined the Packers.
The Bear never offered me anything illegal, mainly because he had plenty of boosters to do that for him. Paul Karem, who owned the meat compa­ny where I worked a couple of summers, said that if Sherrill and I came to Kentucky, we would both be driving Cadillacs "because I'd buy them for you." There also wouldn't be any trouble landing cushy summer jobs. For a poor kid from Portland, it was all very tempting, especially since I knew how cold it got in South Bend, Indiana, during the winter.
Although I also was being recruited by coaching giants such as Notre Dame's Frank Leahy, Oklahoma's Bud Wilkinson, Maryland's Jim Ta­tum and Michigan State's Clarence "Biggie" Munn, Bryant was the hottest thing in college football. I really gave him an eyeful on the night of November 14, 1952, when we won the mythical state championship …
I had this old ball that I practiced kicking with. It was slick and I'd deflate it to the point that, if I hit it just right, I could placekick it seventy yards. I used it to try to intimidate opponents in warm-ups before the game. In those days, kickers had no hard-toed kicking shoes – I didn't get those until I was a senior at Notre Dame – so it was quite a feat to kick a ball that far.
By the last quarter against Lafayette, the game balls were gone because every time I'd kick an extra point, kids waiting behind the end-zone stands would grab the ball and take off with it. All that was left was my old practice ball, so the officials had no choice but to use it. On the kickoff, I had a little wind with me and I hit it perfectly. The ball was still rising when it went through the goal posts about ten or fifteen feet above the crossbar. It cleared the end-zone bleachers and sailed out of the stadi­um. It had to have gone ninety yards. Bryant was so shocked he almost fell out of the press box. I know because whenever I'd see him years later, he would always talk about that kick. I never had the heart to tell him the truth about my old ball. …
As what he hoped was a deal closer, Bryant sent Parilli, my football hero, to talk to me. That worried Mom, because she knew how much I admired the Babe (who, by the way, was later a teammate at Green Bay in 1957 and '58). …
Leahy offered us scholarships without ever having scouted us or seen us play. …. "Paul," he said, "not only will you get a good college education here, but I think I can make you the greatest football player in the coun­try." That did it. Sherrill said, "Where do we sign?" And Leahy said, "We don't sign, we shake hands." And so we did.
It was hard to say no to Bryant. Still, when it was time to make the big­gest decision of my life to that point, I told Mom that she finally could stop praying on her rosary beads every night. … In the final analysis, I did it for Mom. She had sacrificed so much for me that I felt I owed her at least this much. She was the kind of Catholic mom who could imagine no bigger honor than having a son who graduated from Notre Dame. To her, a football scholarship to South Bend was a blessing, almost a gift from God. If I hadn't picked Notre Dame, I think it would have broken her heart. …
Whenever
Bryant
returned to Kentucky for a speaking engagement, he would tell his audience that he left
Kentucky
because he couldn't sign me. Once, when I heard him say that, I collared him and said, "Yeah, you didn't get me, but those two oil wells they gave you at
Texas A&M
didn't hurt, either, did they?" We both had a good laugh over that.
"Anger Spurs Eagle Center to Action," George Esper (AP article Oct. 23, 1960)
Chuck Bednarik
said today inspiration and anger toward
Cleveland
Coach
Paul Brown
for laughing at him drove him to the unusual feat of playing 58 minutew and a key role in the
Philadelphia Eagles
31-29 victory over the
Browns
Sunday.
The former
Penn
All-America center said
Brown
laughed at him "real loud" when someone blocked him hard near the
Browns
' bench in the second quarter.
L: Chuck Bednarik; R: Paul Brown
"He laughed real smirkishly,"
Bednarik
said, "as if to say, 'You dumb jerk. Why don't you quit before you get hurt.'"
"I hollered back something at him that is unprintable, but in the heat of battle you're liable to say anything. Anyhow, his laughing annoyed me. "We wanted to win badly from the start for the previous humiliating loss but when he laughed that only made me want to win worse. The weather helped go the 58 minutes, too. It was a cool day, about in the high 40s.
"And then there's the mental thing, no matter what we do in life. If you tell yourself you can do something, you can. I kept talking to myself saying, "You're not tired," and I wasn't."
Bednarik
, who played most of the game with a pulled leg muscle, said he worried more about
Cleveland
's
Jimmy Brown
and
Bobby Mitchell
"be­cause no other team has a combination like them ... corner LBs have to help by coming back into the center of the line to stop
Brown
... you have to contain
Mitchell
because once he skirts a corner he can fake so well he doesn't need blocking."
The 35-year-old
Bednarik
played what he felt was the best game of his 16 years in college and professional football.
His offensive blocking was outstanding and his hard tackling helped stop HB
Mitchell
, allowing him only 35y in 14 carries, as the
Eagles
handed the
Browns
their first NFL loss this year and pushed them into third place in the Eastern Conference.
The
Eagles
moved into second place, avenging a previous 41-24 loss in Philadelphia Sept. 24 when
Mitchell
gained 156y in 14 carries and scored two touchdowns on runs of 30 and 31y. QB
Norm Van Brocklin
, who passed for 292y and three TDs, said he felt it was his best performance of the year and the victory "puts us in a real good position" for the title.
L: Norm Van Brocklin; C: Jim Brown; R: Bobby Mitchell
Van Brocklin
said
Bednarik
played "tremendous" and made a "remarkable personal sacrifice" in taking over the LB slot for the injured
Bob Pellegrini
.
Van Brocklin
, shunning praise for himself, said "the biggest thing was our ability to run up the middle." He said
Bednarik
helped to open many of the holes.
Postscript: The Eagles won the NFL championship that year, hand­ing Vince Lombardi his only title game loss in his years at Green Bay.
In the Arena, Pat Dye with John Logue (1992)
Pat began his coaching career in 1965 as an assistant to Bear Bryant.
September came around. And the first game I went into in my life as a football coach was against Georgia, my old school. In Athens. And they beat us with the flea-flicker pass.
Kirby Moore of Dothan, Alabama, passed the ball to Pat Hodgson, who, with both knees on the ground, lateralled it to Bob Taylor of Headland, Alabama, who ran the rest of the 72 yards for a touchdown. Then Moore hit Hodgson for a two-point pass to put Georgia ahead, 18-17, with two minutes to play. ...
We got whipped, and Coach
Bryant
stood in the dressing room after the game. He said, "Men, it's kinda obvious that we don't have a very good football team. But if you are the kinda people I think you are, we'll have a good football team before the year's over. Get on the bus and let's go back home. And be ready to go to work Monday."
Monday, all hell broke loose. I mean, you talk about young coaches, old coaches, and Coach Bryant working - we started, and we built a foot­ball team.
Of course, we went on to win the National Championship. But not with­out a struggle. I think there were eight or nine guys who started against Georgia who never started another game the whole time they were at Alabama.
On Monday - oh, Lord - it was just an all-out war. Scrimmaging. Pickin' 'em up and makin' 'em go when they were exhausted. We had to know who wanted to play for Alabama. ...
The next week we played Tulane. And killed 'em. Ole Miss was coming up. ... We had a bad practice. Coach Bryant got involved in the kicking game. Nothing was going the way he wanted it to go. He ran every­body off the field, players and coaches. In the dressing room, he talked to the players first. Then he talked to us coaches. He said, "We're going to practice in the morning at 5:30. I'm telling y'all like I told the players. Anybody who doesn't want to make it, just pack your damn bags, and I'll mail your damn check."
Dude Hennessey slept in the coliseum he was so scared he'd go home and not wake up in time.
The next morning I got over to the coliseum early. Our C, Billy Johnson, met me. He was about in tears. He said, "Coach, Wayne Cook ain't coming." Wayne was our starting TE. I said, "The hell he ain't." I jump­ed in my car and went over to the dorm. Wayne was laying up there in the bed. I said, "Get up. Let's go." He said, "I'm not going, coach." I said, "You're going. Or I'm gonna whip your ass, or you're gonna whip mine. Right here." Then I said, "Wayne, if you are gonna quit, don't lie up here in the bed and quit like a coward. Go on to practice. Don't let the man intimidate you and make you say it's too tough for you. If you want to quit after practice, walk in his office and quit like a man. This ain't the way to do it." He got up, and we went to practice. And, of course, he never did quit.
The players dressed out. Coach Bryant himself loosened them up. He did all the coaching. The rest of us just stood back out of the way. He took the first offense and put 'em against the second defense on the goal line. Ran six or eight plays. He put the second offense against the first defense and ran six or eight plays. He lined up the punting team and protected and covered punts three or four times. We weren't out there over 15 minutes. But damn, they were wild-eyed, flying-through-the-air, bodies-and-snot-flying minutes.
When it was over, Coach Bryant said, "I ain't got you out here this morning to punish you. I could think of a thousand ways to punish you." He said, "I want you to know something. As long as I am the football coach at Alabama, and I let you get by with less than the best you've got, then I'm doing you an injustice." He said, "Now y'all go on in there and get a shower and go to class. Don't go back to the dorm and lay up in the bed. I'll see you at four o'clock." We came back at four. And we worked. ...
Bear Bryant and Pat Dye coaching at Alabama
At the end of the season we were ranked No. 5. I believe Michigan State and Nebraska and Arkansas were all undefeated. They all lost in the bowls. We played Nebraska in the Orange Bowl at night. We knew if we beat Nebraska we would be No. 1.
A lot of strategy went into our game. Nebraska was good, but slow. It was before they recruited the great speed. Our plan was throw as much as we could and wear them out on defense from rushing the passer. Coach Bryant had a lot to do with that strategy. We built up a 24 to 7 lead in the first half, with [Steve] Sloan passing. And we ran it on them real well the second half, with Les Kelley and Steve Bowman carrying the ball. We won, 39-28. We'd come a heck of a long way since losing to Georgia on the flea-flicker. It was the greatest coaching job done at Alabama in the years I was there.
The Whole Ten Yards, Frank Gifford with Harry Waters (1993)
A guy in ABC's research department recently told me that I've appeared more hours on prime-time television than anyone in the medium's history. … Most of those appearances, of course, have been on a series that's earned its own niche in TV history. Don Meredith called it Mother Love's Traveling Freak Show. … I feel sorry for anyone who has never been in­volved in something like Monday Night Football. …
L-R: Don Meredith, Howard Cosell, Frank Gifford
At times we could have used less excitement. First of all, football fans go­ing to 9:00 P.M. games in the Eastern Time Zone tend to make lubrication stops after work. Four hours later, they're often more a mob than a crowd. We needed guards to keep them from knocking down the door to our booth and police escorts to get out of the stadium. … A few of those people wanted Howard dead. Seriously dead. Like on that weird Monday night in Buffalo in 1973.
It started on the plane when I noticed two somber-looking guys getting aboard with Howard. "Giffer," he informed me, "these gentlemen are FBI agents here to protect me. There's been a threat on my life."
Naturally, Don and I laughed like hell. "Don't worry, old pal," we assured him. "We'll look after you." Then, on the way to the hotel, Howard filled us in a bit more. The crazy who had threatened him – via a postcard postmarked Buffalo – had promised to blow up the ABC booth at halftime. Since Don and I would also occupy that booth, we no longer saw quite so much humor in Howard's predicament. As a matter of fact, we were sud­denly seriously concerned about his well-being.
That was the longest two quarters I ever broadcast. And when halftime finally arrived, an odd thing happened. First Don stood up, stretched his legs, and announced, "I'm a-goin' to the head." Then Howard arose, pat­ted me on the shoulder, and said, "Giffer, I've got to do a couple of radio spots. I'll be right back." For the next twenty minutes, I felt like Gary Cooper in High Noon.
Though we didn't explode, Buffalo wasn't finished with us. Toward the end of the game, a well-oiled fan climbed up on a cable that ran across the stadium at the back of the end zone. The cable help up a screen that prevented extra points from going into the crowd.
As he inched along his death-defying route, I'm trying to do the play-by-play. Meanwhile, Howard is off on another of his fan-bashing acts: "Gif­fer, it is beyond my perspicacity why spectators of this once-splendifer­ous sport behave the way they do. How can the NFL allow this execrable rowdiness to continue?" Don, on the other hand, had concluded that the Houdini act was better than the game. Echoing the crowd, he started chanting, "Go, sucker, GO!" Mercifully, the police eventually talked the guy down and, I presume, took him away in a net.
Leaving the game ourselves, we felt so drained that we decided we needed nutrition. All of a sudden, everyone wanted a cheeseburger. Since our hotel didn't have room service, we instructed our limo driver to find us a McDonald's. He did – in the toughest part of town. When we pulled into the parking lot, a half-dozen of the meanest-looking dudes I've ever seen were lounging against some cars.
Howard took one peek out the window and quickly said, "Giffer, perhaps we better move on."
"Hell, no," I replied. "I'm hungry."
So Don and I got out and headed for the entrance, Don in his cowboy hat and walking like Marshall Dillon.
"It's Dandy Don, it's Dandy Don!" one of the loungers started screaming. "Where's Howard, Dandy? Where's that son of a bitch?"
Don strolled back to the car and told Howard, who by then was scrunch­ed into a corner: "Hahrd, they want you. It's your constituency. You know, the poor, the downtrodden. You're always talking about them. Shit, Hahrd, here they are!"
Howard
finally did get out, and of course they loved him. They even sprang for his cheeseburger. Nevertheless, none of us were sorry to end that particular visit to Buffalo.