CONTENTS
Even Hall of Famers Couldn't Get Them into the NCAA Tournament
Basketball Did You Know? – III
These are some of the changes instituted in the high school rules for 1939-40.
Backboards must be 4' from the end lines (except where gyms don't have enough room, but must be 2' minimum in any case).
In a tie game, an additional timeout is allowed each team for each OT period.
Officials can recognize a timeout call from any player, not just the captain.
After a FT from a technical foul, the ball is awarded to the team which shot the FT, and play is resumed by a throw-in from out of bounds at midcourt.
If a player in the act of shooting is fouled from behind or is roughly handled from any direction, two FTs shall be awarded whether the FG is made or not.
When a personal foul is called, the offended team has the option of trying a FT or putting the ball in play from out of bounds. If two FTs awarded, this rule applies to the last FT. It does not apply in the case of a double foul. Officials will assume the second FT will be shot unless the captain expresses the desire to waive it.
A 1939 Basketball Team
In 1956, the Harvard basketball team scheduled a Christmas holidays tour to play four opponents in the South.
Quantico Marines
North Carolina
Georgia Tech
Loyola of New Orleans
A guard on that Harvard team, Dick Hurley, recalls:
It was pretty exciting. For us back then, heading south meant Philadelphia.
However, the Crimson athletic department cancelled all the games in early October as a result of regulations in force in two of the states on the scheduled trip.
The Georgia Board of Regents, controlling body of the state's university system, adopted an athletic policy in December 1955 banning games in Georgia against teams using Negroes or before unsegregated spectators.
The Louisiana legislature, reacting to federal mandates to integrate its schools and other institutions, banned interracial athletic competition as well. Even a private institution like Loyola was covered by the prohibition, which would be invalidated by a Federal court two years later.
Harvard's AD, Tom Bolles, stated the school's policy.
Acting in its belief that Harvard alone must decide on the eligibility of its students to compete, the Harvard Faculty Committee on Athletics has withdrawn its approval of the trip which had included two games in locations where, under present conditions, this control of eligibility would not be possible.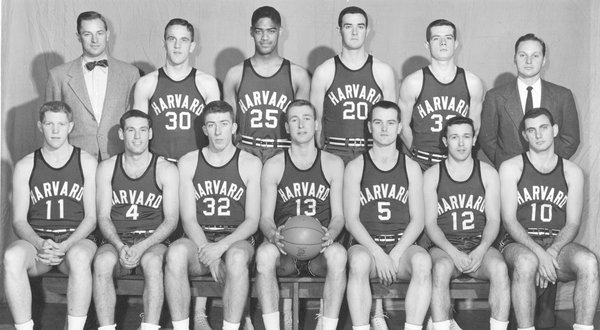 Harvard's 1955-6 Basketball Team
The Crimson's 1955-6 hoops squad had included one Negro, C Bob Bowman. However, the 1956-7 team was entirely white.
Still, civil rights debates began on the Cambridge MA campus shortly after school began in the Fall of 1956.
In early October, the Harvard team was told about the Louisiana and Georgia situations. Philip Haughey, a senior of that team, recalled:
It was presented to us. And our reaction was, "So Bob wouldn't have been able to come?" There was no debate after that. We weren't going. Yes, we were now an all-white team, but if that was their attitude, then no one was going.
Bowman himself, who was in medical school at the time of the decision and is now retired in California after 40 years as an orthopedic surgeon, praised the '56-7 team.
You have to remember the tenor of those times in America and that these were 19- and 20-year-old college student-athletes. In that context, it becomes more and more ethically courageous. They should be very proud, and I am very proud, that they took a stance that said, "If African-Americans can't play, then none of us will play."
Even though the state of North Carolina didn't have segregation laws like those in Georgia and Louisiana, the Harvard athletics committee decided that the trip wasn't worth making just for two games and cancelled the entire tour.
Harvard became the third team to cancel games at Loyola that year. The ywo other schools, both with Negroes on their squads, were Marquette and

American University

.
Harvard finally played basketball games in New Orleans in 1996 in the Christmas Classic tournament.
"In 1956, a Racial Law Repelled Harvard's Team", Bill Pennington, The New York Times, 03/14/12
Back to Top

Elmer Ripley


Mike Krzyzewski and Bob Knight

As this is written, the 2011-12 season has ended, and five schools have preserved their perfect record of never participating in the NCAA tournament. (A number of other colleges have zero appearances in the Big Dance but they didn't join Division I until many years after the tournament began in 1939.)

Northwestern - the only school in this Forgotten Five from a BCS conference
U. S. Military Academy

St. Francis

(NY)
William and Mary
The Citadel

This article focuses on West Point because of the fact that, since 1939, the Cadets have been coached by three men enshrined in the Basketball Hall of Fame.

Elmer Ripley - 1952-3
Bob Knight - 1965-71
Mike Krzyzewski - 1975-80

Let's look at the tenure of each of them at the Academy.

Ripley went 19-17 in his two seasons. He made the HOF because of his success at Georgetown in the early 1940s and the clinics he conducted all over the world.
Knight won 102 and lost 50 in his six years at the helm. A young cadet named Mike Krzyzewski played for Bobby from 1966-9, serving as captain his senior year. Knight went 6-0 against Navy and steered the Cadets into the National Invitational Tournament each season from 1967-8 through 1969-70. The highlight of his stint was the 22-6 record in 1969-70, which ended in an NIT third-place victory over LSU and Pete Maravich. Bobby's success at West Point, where coaches face stringent recruiting restrictions, earned him the job at Indiana where he became a legend.
After fulfilling his military requirement, Coach K served one year as Knight's assistant with the Hoosiers. Then he took the top job at his alma mater, where he compiled a 73-59 mark. Army returned to the NIT in 1978 under K's tutelage. Finishing 14 games over .500 at West Point caught the attention of Duke, which made the 33-year-old its head man. Like his mentor, Mike became a legend.

The NIT berth under Kryzyzewski was Army's eighth and, so far, its last.


Al Attles


Purvis Short

The 1979-80

Golden State Warriors

went 0-8 in OT games.

The team wasn't very good, finishing 24-58.
Their woeful play got Al Attles fired after 61 games, with Johnny Bach taking over for the final 21 (winning only six of them).
The OT futility started in the second game of the season, a 102-96 loss to the

Bulls

in Chicago.
The only repeat victor in the eight OT games were the

Atlanta Hawks

who won at home 111-107 January 31 despite 36 points by Purvis Short and again at the Oakland-Alameda County Coliseum eleven days later 98-96.
None of the eight games lasted more than one OT.
The 1952-3

Baltimore Bullets

and 2000-01

Los Angeles Clippers

share the record of most OT losses in a season with 10. But the 1979-80

Warriors

hold the mark for most OT losses in a season without a win.

By contrast, the Detroit Pistons won all eight of their OT contests in2002-3.


Rick Carlisle's squad posted a 50-32 record, good enough to win the Central Division.
The first two OT wins came on consecutive games against the

Cleveland Cavaliers

: 111-106 in Cleveland December 18 and 109-107 at the Palace of Auburn Hills two days later.
The

Pistons

' next two OTs also came in consecutive games but with different road opponents:

Philadelphia 76ers

103-94 January 8 and 101-99 over

New Orleans

two nights later.

Detroit

's final added time game went two OTs April 13 before the

Memphis Grizzlies

fell 110-107.

Sacramento

holds the record for most OT wins in a season with nine in 2000-01. But the

Pistons

hold the record for most OT wins without a loss.

Another NBA record involving the number eight has stood since November 15, 1952.

Eight

Syracuse Nationals

went to the bench with six fouls in an OT game at Baltimore.
With five

Bullets

also being ousted, the game likewise set the record for most combined disqualifications.
An incredible 107 fouls were assessed. The teams made 92 FTs and missed 44 for a total of 136 charity tosses!
But none of those figures set a record because of a 5 OT game between

Syracuse

and the

Anderson (IN) Packers

November 24, 1949.

Syracuse

and

Anderson

combined for 122 personals and shot 160 FTs.
The original American Basketball Association was formed in 1967 and lasted ten seasons prior to the merging four of its teams into the NBA.

The ABA never got a national TV or radio contract.
It featured the red, white, and blue ball, the three-point shot, and a wide open style of play.
The ABA boasted numerous players who could have made NBA rosters as evidenced by the fact that 50% of the NBA All Star teams in the first year of the merger came from the ABA.
Among the ABA stars were Julius Erving, Rick Barry, Moses Malone, George Gervin, Spencer Haywood, Connie Hawkins, Dan Issel, and David Thompson.

Dick Tinkham was one of the attorneys for the ABA in its lawsuit against the NBA that led to the merger agreement.

In 1999, Tinkham and Joe Newman decided to bring back the ABA.
They chose a business model akin to that of minor league baseball, one that makes it more affordable to own a team by reducing the operating costs, including the cost of travel, and forming stronger bonds with the local communities.
For the 2014-15 season, the ABA sported 70 teams spread across 10 divisions covering all parts of the U.S. and even has franchises in Canada.
Teams Listed in Order of Finish for 2014-15

Division
Teams
Southern California
Arizona Scorpions
Orange County Novastars
Inland Empire Invaders
Oceanside A-Team
San Diego Surf
South East
Jacksonville Giants
Miami Midnites
Atlanta WildCats
South Florida Gold
Georgia Gwizzlies
Southcoast Fire
Southwest Warriors
South West
Sugar Land Legends
AM-EX Swarm
Texas FUEL
West Texas Whirlwinds
Austin Boom
Baytown Bandits
Texarkana Panthers
Pacific North West
Seattle Mountaineers
Lakewood Panthers
Calgary Crush
Vancouver Balloholics
Kitsap Admirals
Northern California
San Francisco Rumble
Central Valley Titans
Bay Area Matrix

Division
Teams
North East
Steel City Yellow Jackets
Providence Sky Chiefs
Philadelphia Spirit
New Jersey Express
Staten Island Vipers
Bronx Holy Flames
Brooklyn SkyRockets
North Central
Chicago Steam
West Michigan Lake Hawks
Team NetWork
Motor City Firebirds
Indy Naptown All Stars
Chicago Fury
Libertyville Vipers
Oakland County Cowboys
Southern Illinois Monarchs
Mid-Atlantic
Baltimore Hawks
Richmond Elite
NC Coyotes
Charleston City Lions
Fayetteville Flight
Gulf Coast
Shreveport Booster Mavericks
Bowling Green Bandits
Mobile Bay Tornados
Birmingham Blitz
Memphis Lions
Jackson Showboats
Columbus Blackhawks
At-Large
Missouri Rhythm
Colorado Kings
You notice in the list above eleven teams that play in NBA cities: At­lanta, Brooklyn and Bronx, Chicago (2), Detroit (Motor City), Memphis, Miami, Philadelphia, Phoenix, and San Francisco (2). Others play in former NBA/ABA cities like Baltimore, San Diego, Seattle, and Vancouver.

Some teams played as many as 29 games and others, just three or four.

The top four teams in the league met April 7-13, 2015, in Shreveport, the home of the defending champion Shreveport-Bossier Mavericks. The event was scheduled like the College World Series except with fewer teams. A double-elimination tournament was held to eliminate two teams. The remaining two played a best-of-three for the title. All the games could be viewed online on ESPN3.

The finalists were Shreveport-Bossier (28-0), Jacksonville Giants (25-4), Chicago Steam (19-3), and Miami Midnites (17-3). The Mavericks defended their title, besting Miami two straight. Shreveport ended the season with 92 consecutive victories dating back to 2010. The title was their fourth ABA crown.
2015 ABA Finals Action
The Mavericks' roster gives examples of an idea of the types of players participating in the ABA.
6'7" PF-C Alex Sanders, from Houston, entered

Louisville

in 1994 but never met NCAA academic requirements due to a learning disability. He subsequently played four seasons with the

Harlem Globetrotters

and with teams in the Continental Basketball Association and United States Basketball League. He also played in Mexico and Venezuela.
5'11" PG Anthony Jackson, out of Holy Trinity High School in Chicago, played two seasons at Middle Georgia JC and at Columbus State University before moving to the ABA in 2010-11.
6'7" PF-C Brandon Davis, from Birmingham, played three seasons at South Alabama, where he was All-Sun Belt 2nd team in 2009. He then played a year in Lithuania and one with the Mobile Bay Hurricanes of the ABA before joining the Mavericks.
6'10" C Kenneth Cooper graduated from Richwood High School in Monroe LA. He played at three different colleges:

Oklahoma State

(two years) and Louisiana Tech and UAB (one year each). He played professionally in Europe, Brazil, and Venezuela before joining Shreveport-Bossier in January 2014.
I couldn't find any former NBA players in the ABA, probably because the pay just isn't enough to entice them. They can make much more abroad or in the CBA or USBL.

Robert Parish


Walt Bellamy


Tom Stith


Abe Saperstein

In February 2012, Centenary College in Shreveport LA completed its 50-year run in Division-1 with no NCAA tournament appearances. (The school joined the Division 3 Southern College Athletic Conference.)

The most famous player in Centenary history is, without question, Robert Parish, who played there from 1972 to 1976 after an outstanding career at Woodlawn High in Shreveport.
If you're wondering how Centenary never made the NCAA tournament despite having future Hall-of-Famer Parish in its lineup for four years, it's because the Gents were on probation all four seasons he played for the school.
And Centenary was on probation thanks to the recruitment of … Robert Parish.
Three other NBA or ABA players took the court for Centenary, none of whom played more than 89 games in either league:

Robert Kerwin (1967-68 Pittsburgh Pipers)
Connie Rea (1953-54

Baltimore Bullets

)
Larry Robinson (1990-94, 1997-98, 2000-02 for various teams)

---

1961: The NBA granted its Chicago expansion team the No. 1 overall pick.

That allowed the Packers to leapfrog the lowly

Knicks

(with the worst record in the league in 1960-61 at 21-58) and pick prized C Walt Bellamy.

New York

settled for

St. Bonaventure

F Tom Stith, who came down with tuberculosis and played only one season - 25 games.
By the next season, the Packers had become the Chicago Zephyrs. After an another unsuccessful year, the franchise moved to Baltimore and became the

Bullets

.

---

The American Basketball League played one full season, 1961-62, and part of 1962-63 before folding.

Abe Saperstein, the owner of the

Harlem Globetrotters

, formed the new league when he failed to get the Los Angeles franchise in the NBA that he felt he had been promised.
The owner of the Cleveland Pipers was none other than 31-year-old George Steinbrenner, future owner of the New York Yankees.
The ABL had "first-half playoffs" in which the best teams in each conference played three-game series at the halfway point of the season for a spot in the 1962 finals. The

Kansas City Steers

beat Cleveland, then disappeared for two weeks during the playoffs as Cleveland played two other series.
Prominent ABL players included Dick Barnett, Gene Conley (who also pitched for the Milwaukee Braves), Connie Dierking, Bevo Francis, Connie Hawkins, Larry Siegfried, Bill Spivey, and George Yardley.

George Steinbrenner, Larry Siegfried, and John McLendon, the first

African-American coach of any major pro sport in the U.S.