Future Hall of Famer Shuns McGraw
The New York Giants: An Informal History of a Great Baseball Club, Frank Graham (1952)
The defending World Champion Giants assembled at San Antonio in late February of 1922 for spring training.
It has been said that, in Dick Kinsella, Giants manager John McGraw had a one-man scouting staff and it is true that Dick was the only one who was engaged on a professional basis. But through the country there were friends of the manager who, when they saw a promising young ball player, immediately thought of him in terms of his possible usefulness to the Giants. Now, on the way north this spring, McGraw heard for the first time, from two of his friends, of two young men who would have a great influence on the course of the Giants in years to come. It happened in Memphis where the Giants were accustomed to stopping for at least a weekend and sometimes for four or five days.
First to all on him in his room at the New Peabody was
Norman Elberfeld
, the "Tobasco Kid" of the early vintage
Yankees
and, at the time, manager of the
Little Rock
club of the Southern Association. He had a young fellow in his club, he said, that he was sure
McGraw
would like. A kid named
Travis Jackson
.
"He didn't hit much last year," the Kid said, "but he'll hit better as he goes along. And he can hound the ball around shortstop and you never saw a better arm. Have him watched. If you like him, you can have him at the end of the season."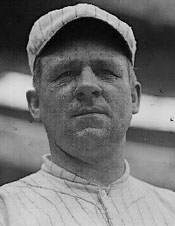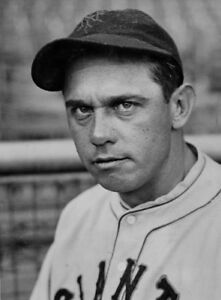 L-R: John McGraw, Travis Jackson, Bill Terry
Then there was Tom Watkins, owner of the Memphis club.
"There's a fellow named Bill Terry in this town," Watkins said, "that you should get. He's a big, left-handed pitcher, an all-around ball-player, and a good hitter. He used to pitch for Shreve­port and he was one of the best pitchers in the league when he quit."
When McGraw asked why Terry had quit, Watkins explained, Bill had married young and was raising a family. He didn't like to be away from home, he wasn't happy as a minor league ball player, and, seeking better pay and greater security, he had gone to work on a year-round basis with the Standard Oil Company.
"But he pitches or plays first base for the Polarines, which is the plant team," Watkins said. "He's the best hitter on the team. If you'd like to talk to him, I'll send him up tomorrow."
The first meeting between McGraw and the man who was to succeed him ten years later was at least mildly unpleasant. That the first impression each got of the other was lasting seems certain. As manager and player they never were friendly.
McGraw immediately was taken by Terry's appearance but not completely his his attitude. After they had talked for a few minutes, McGraw asked, "How would you like to come to New York with me?"
"What for?"
"To play with the Giants, maybe."
"For how much?" Terry asked.
The question started a low burn in McGraw.
"Do you understand what I am offering you?" he asked. "I'm offering you a chance to play with the Giants–if you're good enough."
"Excuse me if I don't fall all over myself," Terry said. "But the Giants don't mean anything to me unless you can make it worth my while."
"If that's the way you feel about it ..."
"This is how I feel about it, Mr. McGraw," Terry said. "I'm doing all right here. I quit the Southern League because I got tired of tramping around the country with a minor league ball club. I was married and had a baby and I wanted to settle down. I liked Memphis and I came here and got a job. I have a nice home and I'm in no hurry to leave it, or the job. If I can make much more money going to New York, I'll go. You can't get me excited just by talking to me about the Giants. And remember this, I didn't come up here to ask you for anything. I came because Tom Watkins said you wanted to see me."
"All right," McGraw said, probably because he couldn't think of anything else to say to this busher who talked to him as no other busher ever had. "There's no hurry. I'll think it over."
"It's nice to have met you," Terry said. "You can reach me in care of Standard Oil."
Three weeks later, McGraw wired his offer to Terry: $5,000 a year, plus a guarantee that if he needed further minor league seasoning, he would be sent out only as the property of the Giants, and would be recalled when he had demonstrated he was ready for the majors.
Terry accepted. McGraw looked him over on the Polo Grounds and sent him to Toledo as a first baseman. The fact that he was rejected as a pitcher after so short a trial hurt him. He held that against McGraw always, although he earned fame and fortune (perhaps $200,000) as a hard-hitting first baseman.
Jackson, meanwhile, was placed under surveillance by Kinsella. All reports from Dick being highly favorable, he was bought that summer for delivery in the spring of 1923.
Bill Terry is in the Hall of Fame. Travis Jackson played 1,656 games for the Giants, appearing in four World Series.