Within days of my comments being published, with talk of a Budweiser beer boycott in the air in the black community, I got a visit in St. Petersburg from my old minor league manager Eddie Stanky, who was working in the Cardinals' front office. When he walked into the clubhouse, everybody wondered what Eddie was doing there, but I knew immediately.
Eddie invited me to go fishing, and that afternoon on a little outboard motorboat on Tampa Bay, Eddie got down to business.
"I know you have some concerns about this housing issue, Bill," he said. "But this is bringing a lot of heat on the company [Anheuser-Busch] and the team. We really need you to back off. Can't you just concentrate on baseball for now, and leave politics out of it?"
I had always liked Eddie and still did. But I wasn't going to back down.
"You know I have a lot of respect for you," I told him. "But no, I'm not going to back off, not on this issue. What's going on in St. Petersburg is wrong, and as long as black players in spring training are made to feel inferior, I'm going to speak up."
I think Eddie understood. And though he couldn't say so publicly, I think he actually respected what I was doing.
I also got a visit from a guy named Roscoe McCrary, a reporter for The St. Louis Argus, a black newspaper in which Anheuser-Busch advertised heavily. Roscoe said he wanted to do a story on me, but I could tell from the softball tone of his questions that he wanted me to downplay complaints about conditions for black ballplayers in St. Petersburg.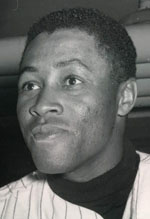 L-R: Al Fleishman, Elston Howard, Dr. Ralph Wimbish, Bill White as NL President
"Listen, Roscoe," I said, "this is not a good place for us to have spring training. If you try to soften up what's going on down here just to help a big advertiser, you'll be doing all of us a disservice. If you do that, I won't be happy–and believe me, I'll let people in St. Louis know that you're trying to sugarcoat this."
Roscoe got the message. His subsequent story wasn't as hard hitting as I would have liked, but he didn't sugarcoat what I said.
And finally I got a visit from one of the big guns, Al Fleishman, head of the Fleishman-Hillard public relations agency, which represented the brewing company. But as it turned out, Al's message wasn't exactly the one the company wanted.
"They wanted me to tell you to cool down," Al told me. "But the hell with that. The last thing you want to do now that you've got their attention is to cool down. You need to keep pressure on their ass."
Al was a good guy, and like a lot of Jewish Americans, he had no patience with racial and ethnic bigotry. It probably didn't help Al's mood that many hotels in St. Petersburg excluded not only blacks but also Jews.
Meanwhile, fearful of losing the millions of dollars that spring training brought into the local economy, the St. Petersburg Chamber of Commerce backed down. Insisting that it had all been an unfortunate mistake, they invited me and another black player,
Elston Howard
of the
Yankees
, to the Salute to Baseball breakfast at the yacht club.
The
Yankees
ordered
Elston
to attend, and
Dr. Wimbish
(president of the St. Petersburg NAACP) and others urged me to go as well. But I knew the chamber and the yacht club weren't advocating full integration. The club still wouldn't let NAACP member
Dr. Swain
dock his boat there. I wanted to let them known that I had a choice–and my choice was not to go.
I hadn't wanted to eat with those bigots anyway. All I had really wanted, what all the black players wanted, was simply the opportunity to say no.
The end result of all this was that while Cardinals management initially tried to downplay the race issue, eventually the public pressure was too great, not only on the Cardinals but on all the teams. The Cardinals finally demanded that the Vinoy Park Hotel open itself to black players.
The hotel refused, so in order to help keep spring training in St. Petersburg, a local businessman bought a beachfront motel called the Outrigger and made it available to all Cardinals players and their families, black and white. As a show of solidarity, players who usually stayed in private beachfront homes, like Stan Musial and Ken Boyer, also moved into the Outrigger.
So by the start of spring training in 1962, all the Cardinals were living under the same roof and eating at the same on-site restaurant. For the first time, black players felt comfortable bringing their families to spring training. Our kids went to integrated events organized by the players' wives. Black players and white players and their families were even swimming in the same pool. All this integration was so un­heard of in Florida that people would drive by the motel all day just to gawk and stare.
The whole controversy helped black players realize that they had power–or at least some public leverage. When Southern cities like Houston and Atlanta were trying to get major league teams,
Mil­waukee Braves
CF
Billy Bruton
and I got the Major League Baseball Players Association to vote unanimously not to play in any city that required black and white players to use separate living facilities.
Of course, ending separate living arrangements for baseball players in Florida didn't end segregation altogether. Over the next few years, and especially after passage of the 1964 federal Civil Rights Act that banned discrimination in public facilities, Dr. Wimbish would often recruit me and other black players while we were in St. Petersburg for spring training to help break the now illegal, but still very real, color barrier in local restaurants.
Dr. Wimbish would stop by the Outrigger and pick up Bob Gibson and me and say, "Tonight we're going to integrate this restaurant," or "Tonight we're going to this 'whites-only' club." We'd walk in and order a drink or some food, and while we got a lot of looks, no one ever gave us any trouble. We always dressed nicely, spoke in quiet tones, and in general acted respectably. Later Bob said it was like having dinner with a new girlfriend's parents night after night; you always had to be on your best behavior.
I've always been proud of what I did back then, that I had spoken up. Once again, no one person ever single-handedly defeats widespread social injustice; that takes millions of hands. Still, the spring training controversy focused a lot of attention on me.
And of all the messages of support I received, there is one that stands out. It came in the form of a letter from a man I had never gotten to know very well, but one whom I deeply admired, a man who had suffered greatly in the cause of equality. Today the letter remains one of my most cherished posses­sions.
"Dear Bill," the letter said. "I just wanted you to know that I appreciate everything that you've done for black baseball players. Keep up the fight."
The letter was signed, "Jackie Robinson."
Postscript: In 1989, in a unanimous vote, Bill White was elected to replace new Baseball Commis­sioner Bart Giamatti as National League president.