July 9, 1915 - Comedy of Errors
SABR Games Project, sabr.org, Warren Corbett

The 1915
Cleveland Indians
, in their first year with that nickname after
Napoleon Lajo­ie
retired, were a woeful team with a near-bankrupt owner. They were in last place on July 19 when they made unwanted history as they lost their fifth straight to the
Washington Sen­ators
, 11-4.
Washington
ran away with eight stolen bases in the first inning, still the major-league record — though it is a tainted one.
The
Senators
, who were on the fringe of the pennant race tied for fourth place, started their nonpareil,
Walter Johnson
at League Park in Cleveland, against a right-hander deco­rated with the name
Zerah Zequiel Hagerman
, who preferred to be called "
Rip
" for obvi­ous reasons.
Hagerman
was a lanky Kansas farm boy like
Johnson
, but the resem­blance ended there.
Hagerman
opened the top of the first by walking
Washington
leadoff man
Danny Moel­ler
. After
Eddie Foster
flied out,
Moeller
took second on a balk. By the rules of the time, he was credited with a stolen base; it is not a steal today. (The scoring rule was changed in 1955.)
Clyde Milan
walked, and he and
Moeller
executed a double steal. When
Cleveland
catcher
Steve O'Neill
threw to second,
Milan
got into a rundown while
Moeller
kept going around third to score, credited with two steals on the play.
Milan
escaped the pickle to com­plete a successful theft of second.
Hagerman
doled out his third walk, to
Howie Shanks
. Then the pitcher, asleep or shell-shocked, held the ball while
Milan
swiped third.
Chick Gandil
delivered
Washington
's first hit, a triple to left-center that brought home
Milan
and
Shanks
.
Cleveland
LF
Jack Gra­ney
's poor throw allowed
Gandil
to score as well. At this point manager
Lee Fohl
merciful­ly relieved
Hagerman
, who had been ripped for four runs on one hit, three walks, an error, and five stolen bases.
L-R: Rip Hagerman, Walter Johnson, Steve O'Neill, George McBride
The new pitcher, lefty
Sam Jones
, got
Tom Connolly
to fly to left for the second out. But
Eddie Ainsmith
singled to center, then stole second and went to third on catcher
O'Neill
's wild throw.
Jones
walked
George McBride
to keep the line moving. When
Jones
tried to pick
McBride
off first, the runner fled toward second and first baseman
Jay Kirke
's throw hit him in the back.
Ainsmith
raced home on the play, and
Kirke
's error allowed
McBride
to keep running. Center fielder
Billy Southworth
retrieved the ball, but his throw to third was wild, and
McBride
scored.
The official scorer ruled the Little League play a double steal,
Washington
's seventh and eighth thefts of the inning, with the
Indians
' third and fourth errors charged to
Indians
and
Indians
.
Indians
, the
Senators
' ninth batter, flied out to end the farce.
Johnson
walked to the mound with a 6-0 lead. The "King of Pitchers" had roiled the base­ball world in the offseason when he signed with
Chicago
of the outlaw Federal League, then turned around and re-signed with
Washington
.
White Sox
owner
Charles Comiskey
had kicked in $6,000 to sweeten the
Senators
' offer and keep
Johnson
from joining the rival
Chicago
club.
Pitching just 18 days after the birth of his first child,
Walter Jr.
,
Johnson
knew what to do with a big lead: He coasted. "
Johnson
didn't exert himself in the least — he just shoved the ball over the pan and let the
Indians
hit it," the
Cleveland Leader
's
Charles W. Swan
wrote.
Cleveland
managed only two singles in six innings while the
Senators
built their lead to 8-0. Assured of his 15th win,
Johnson
retired to rest his arm. Indicative of his effort, he did not strike out a single batter for the only time in any of his starts that season
What's Old Is New Again
Sports Illustrated Spring 2020, Jack Dickey


Thomas Marshall
,
Woodrow Wilson
's vice president, threw out the first pitch at the
Washington Senators
' home opener against
Boston
; the
Indians
, behind CF
Tris Speaker
, got off to a 33-16 start. Yet it inaugurated a decade that remains one of the game's most memorable and dynamic. Small ball gave way to slugging. Total attendance, which had cleared 7 million just twice before, exceeded 9 million in seven of 10 seasons.
Lou Gehrig
,
Paul Waner
and
Lefty Grove
started their careers;
Speaker
,
Ty Cobb
and
Walter Johnson
ended theirs. And the lowly
Yankees
, stirred to life by their purchase of
Babe Ruth
just five days into the decade, opened Yankee Stadium and won six pennants and three World Series, en route to becoming the sport's signature franchise.
Any history-minded baseball nut (which is to say, any baseball nut) would likely recall the 1920s here in 2020, round numbers being what they are. But the resonance between those '20s and our '20s doubled with MLB's substantiation, in mid-January, of the extensive sign-stealing operation the
Astros
used during their '17 title run. The reason there is a commissioner of baseball to investigate and sanction
Houston
dates to the revelation, in 1920, that the 1919 World Series had been fixed for gamblers' benefit.
As with the
Astros
, a year's worth of whispers preceded a formal probe. (After his heavily favored team lost the best-of-nine World Series 5-3 to the
Reds
,
White Sox
owner
Charlie Comiskey
offered a $20,000 bounty, nearly $300,000 in today's money, to anyone with evidence of malfeasance.) Conducting the inquiry was a grand jury in Cook County, Ill., which had been convened to investigate game-fixing in baseball and then spent the final stretch of the 1920 pennant race hauling various stars before it.
Billy Maharg
, a gambler and onetime replacement player for the
Tigers
and
Phillies
, served as the scandal's
Mike Fiers
, telling all to the Philadelphia
North American
, and days later
Sox
righty
Eddie Cicotte
spilled to the grand jury. Though none of
Chicago
's so-called Eight Men Out was ever convicted of a crime, new commissioner
Kenesaw Mountain Landis
banned them all for life in August '21.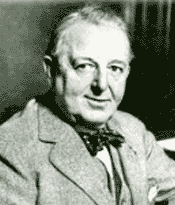 L-R: Charlie Comiskey, Eddie Cicotte, Kenesaw Mountain Landis
There are at least two salient lessons here, one for
Rob Manfred
and another for anyone with a stake in baseball's well-being.
The first - obvious, one would think, though it has eluded the commissioner - goes to the merits of decisive action against cheaters.
Manfred
slapped the
Astros
with a $5 million fine, stripped them of four draft picks and suspended G.M.
Jeff Luhnow
and manager
A.J. Hinch
. But his choice to release only a sliver of the evidence and offer
Houston
's players blanket immunity in exchange for their testimony nurtures suspicion and damns the cheaters, who, unpunished, are unable to pay their debt to baseball.
The second, and, again, Q.E.D.: Give the people who play and coach and think about this game the space to do what they do best and they can lift baseball from the mire of scandal to exciting new heights.
Michael Lynch, Baseball's Untold History: The World Series (2016)
Hall of Fame hurler Rube Marquard was run out of Brooklyn after a run-in with the law during the 1920 World Series.
Although his best years were behind him, 33-year-old 13-year veteran lefty
Rube Mar­quard
helped the
Brooklyn Robins
win the National League pennant in 1920 when he went 10-7 with a 3.23 ERA in 28 games. He started the first game of the World Series against the
Cleveland Indians
and lost 3-1, allowing all three runs in only six innings of work. Then he tossed three scoreless innings in relief in Game Four, a 5-1
Brooklyn
loss. They would prove to be the last frames
Marquard
would throw in the postseason.
Prior to Game Four the southpaw was arrested in the lobby of the Hotel Winton in Cleveland when he was caught trying to scalp tickets, a set of box seats with a face value of $52.80 for which
Marquard
paid $275 and was asking $350.
Marquard
was released on his own recognizance and ordered to appear in court the following Monday.
"The police say that they would have held him in custody if it had not been for the fact that they did not want to be accused of trying to cripple the
Brooklyn
club while it is playing in the world's series here," reported the
New York Times
.
L-R: Rube Marquard, Wilbert Robinson, Charles Ebbets
When
Robins
manager
Wilbert Robinson
learned of
Marquard
's arrest "he is alleged to have said that he would not give 5 cents to get him out of hock." But when
Leon Cadore
and
Al Mamaux
allowed four runs in the first two innings,
Marquard
was summoned into the game in the third inning and pitched through the fifth. After Game Six on October 11, a 1-0
Cleveland
win, National League president
John Heydler
announced that
Marquard
's World Series share would be withheld until his case was settled. When asked what kind of penalty
Marquard
would incur from the league if he was found guilty, Heydler insisted it would be "plenty stiff enough to make
Mr. Marquard
wish he'd never seen a World's Series ticket."
The
Indians
wrapped up the best-of-eight Series with a 3-0 win in Game Seven on October 12, and
Marquard
was found guilty of ticket scalping and incurred a $1 fine and costs, making his total fine $3.80. The judge was lenient because he felt the negative press
Marquard
received was punishment enough. But
Marquard
was persona non grata as far as
Brooklyn
owner
Charles Ebbets
was concerned.
"I'm through with him absolutely,"
Ebbets
spat. "He hasn't been released, however, and if anyone else wants him he can have him. But
Marquard
will never again put on a
Brooklyn
uniform." Neither
Heydler
nor the National Commission took further action, although it was speculated that
Marquard
would be "railroaded" out of the National League.
To add insult to injury,
Marquard
's wife, Vaudeville star
Blossom Seeley
, asked for a divorce on October 15 on the grounds that
Marquard
had deserted her in 1918. Once the smoke cleared and the dust settled,
Marquard
was traded to the
Cincinnati Reds
on December 15, 1920 for pitcher
Dutch Ruether
. He spent only a year with the
Reds
, then pitched for the
Boston Braves
from 1922-1925 before calling it a career.
He went 201-177 with a 3.08 ERA in 18 seasons and was inducted into the Hall of Fame by the Veteran's Committee in 1971.
Editor's note
: What
Lynch
fails to mention is that baseball had just gone through the
Black Sox
Scandal, which exploded onto the nation's front pages with the Chicago Grand Jury's investigation into charges that the
White Sox
threw the 1919 Fall Classic. So
Marquard
couldn't have picked a worse time to make money off of scalping World Series tickets.
John Rosengren
,
Memories and Dreams: The Official Magazine of the Hall of Fame
(Opening Day 2020)
In 1925 in Wichita, Kansas, an African-American team defeated a team sponsored
by the Ku Klux Klan.
Members of the Ku Klux Klan possessed undeniable power throughout the early years of the 20th century - their anonymity secured by hoods and their actions backed by local law enforcement.
But on a Sunday afternoon n the first day of summer in 1925, the Klan suffered defeat at the hands of a group of African Americans armed with baseball bats. And gloves.
The loss occurred on a baseball diamond, Island Park to be specific, in Wichita, Kan., on June 21, 1925, when the all-black
Wichita Moravians
- a barnstorming team - played a game against the KKK nine of Lodge No. 6.
The
Monrovians
, who had played two previous seasons independently as the
Black Wonders
, joined eight other teams from Nebraska, Missouri, and Kansas in 1922 to form the Colored Western League. The
Monrovians
took their name from the capital of Liberia, founded in part by former slaves who had known the Klan's terror. ...
The
Monrovians
won the pennant in the Colored Western League's debut season, but that would be its only season. The league, troubled by financial challenges and infighting among team leaders, folded after one year.
But the
Monrovians
survived. The team was owned and operated by the Monrovian Corporation, whose capital stock was valued at $10,000. Run by a collection of African-American businessmen, it was a healthy enterprise.
The
Monrovians
owned their ballpark in the heart of Wichita's African-American neigh­borhood, which put them in charge of their schedule and in receipt of the gate - unheard of for ballclubs like theirs. The team and its success - in 1923, they were 52-8 - became a rallying point and diversion for Wichita's 6,500 African Americans, a fifth of whom lived in poverty and all of whom lived under Jim Crow conditions.
Although Kansas had entered the Union 64 years earlier as a free state, in 1925 racial segregation still ruled. African Americans in Wichita could not order a sandwich at the Dockum Drug Store ... Visiting black players could only stay in hotels designated for "coloreds." And at the movie theater, designated black sections reserved the best seats for white patrons. ...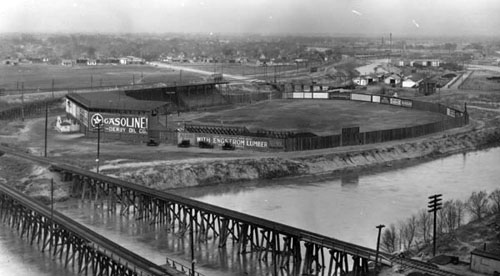 Island Park Stadium, Wichita KS
In those times, the Monrovian ballpark ... offered a sanctuary from the daily whips and scorns of discrimination. It was there "black Wichitans [found] a place to socialize and be comfortable among other blacks without feeling the stinging pain of racism," wrote scholar
Jason Pendleton
...
The Ku Klux Klan contributed to the persecution. Since its revival in 1915, the organiza­tion had grown in a decade to four million members nationwide, with an estimated 40,000 of those in Kansas and 6,000 in Wichita - almost one Klan member for every African American. Knights of the KKK were embedded in nearly every institution, from city governments to banks. Membership was so widespread that even
Tom Baird
, co-owner of the
Kansas City Monarchs
, joined the Klan. ...
William Allen White
, editor of the
Emporia Gazette
, ran for governor in 1924 on an anti-Klan platform, calling out the secret society's campaign of terror and branding its members a "body of moral idiots."
White
lost his bid, but sentiment against the Klan had taken root.
The Kansas Supreme Court ruled in January 1925 that the Klan was a sales organization - not a charitable entity - and barred it from doing business without a charter. The state turned down the Klan's application for a charter on June 3, 1925.
The Klan, which had tried to promote itself as good for society by donating money to the local hospital and giving away food baskets to needy families, faced extinction in the state. Desperate to preserve itself, it may very well have agreed to play the all-black
Monrovian
team as a public relations ploy.
"On some level, it was a matter of proving superiority," said
Donna Rae Pearso
n, a Topekan librarian who researched the game for the Kansas State Historical Society. "The Klan figured, 'We're going to beat you because we're superior beings.'"
The
Monrovians
certainly had their pride at stake, but their motivation was probably mostly financial. Their games against white teams always drew well, but a matchup against the Klan promise a large gate. They solicited their fans to attend the game to be played at the white ballpark on the point of Ackerman Island in the Arkansas River.
"There was racial pride on the line, but also money to be made,"
Dixon
said.
The
Wichita Beacon
announced: "Strangle holds, razors, horsewhips and other violent implements of argument will be barred at the baseball game" - perhaps tongue in cheek, but, even still, such a comment hinted at the possibility of violence in the charged atmo­sphere between opponents of such extremities. To keep the game under control, the teams agreed to an impartial pair of umpires:
"Irish" Garret
y and
Dan Dwyer
, both white and Roman Catholic.
Members of the Wichita Monrovians
They must have done their job because there were no reports of violence in the stands or on the field during or after the game.
A heat wave driven by scalding winds and a temperature topping 100 degrees could not keep away the large number of fans of all races who filled Island Park - far more than attended the other three baseball games played elsewhere that day in Wichita. The tension throughout the first half of the game soared as high as the mercury, with the score tied, 1-1, through five innings.
Perhaps the heat wilted the pitchers, because the game soon turned into an explosion of runs, the lead going back and forth - the fate of the two teams and their fans hanging in the balance - until the
Monrovians
won, 10-8.
The
Monrovians
' victory did not eradicate prejudice or eliminate segregation, but for one day at the ballpark, the black community could exalt in finishing on top. And, in the days that followed, the
Monrovians
could take pride in the fact that they had done their own part in ushering the Klan out of Kansas and cleansing the state of the organization's unbridled bigotry.
Vexatious Veecks - I
Bill Veeck: Baseball's Greatest Maverick, Paul Dickson (2012)
Shortly after persuading recalcitrant NL and AL owners to support the playing of the first All-Star Game in 1933, Bill Veeck Sr., General Manager of the Chicago Cubs, proposed another radical idea.


Veeck
senior was in New York City on August 22 (1933) for the
Cubs
-
Giants
game, but it was rained out. Gotham scribes were "looking for a rainy day story," which
Veeck
gave them. With an eye to
Cubs
attendance, which had shrunk by about 400,000 dur­ing the season, he proposed a series of mid-season games between American and National league teams as a means of stimulating interest in the game. He maintained that the game was in "critical condition" and that aggressive action had to be taken to revive interest before the 1934 season. "There is no use kid­ding ourselves any longer,"
Veeck
told
Alan Gould
of the Associated Press. "Only one big league club of 16 made money last year." He pointed out that anyone who looked at the attendance figures from July 5 until the middle of August saw that the game was in the doldrums.
Calling these weeks the game's "dog days,"
Veeck
urged their monotony be broken with interleague games that counted in the standings.
Veeck
's plan was quite specific: thirty-two interleague games for each club, with four against each team of other league - two home and two away.
Gould
's story appeared in every major city. The reaction to what the
Chicago Daily News
called a "radical prescription" was immediate.
Cleveland Indians
president
Alva Bradley
and
Brooklyn Dodgers
president
Stephen W. McKeever
had declared themselves definitely in favor of the idea, and the
Cardinals
'
Sam Brea­don
and the
Pirates
'
William Benswanger
felt it was worth considering.
Soon though, the "
Veeck
Plan," as it was known, was attracting serious American League opposition. Opined
Clark Griffith
, the gray-haired president of the
Wash­ington Senators
, "Nobody thinks of that sort of stuff unless he's deaf, dumb, and blind."
Col. Jacob Ruppert
, the owner of the
Yankees
, dismissed the notion, saying he had not given it "a single thought." The American League believed itself the superior circuit and did not want to share the box office draw of
Ruth
,
Gehrig
, and others.
The day after
Veeck
's interview with
Alan Gould
was published, a letter dated August 23, 1933, was sent to
Veeck
's office from
Syd Pollock
, owner of the
Cuban Stars
, a semipro team playing in the Negro leagues. Addressing
Veeck
's statement that only one major-league club was profitable,
Pollock
urged that the ban on Negro teams be lifted, which would boost gate reve­nue throughout baseball. He proposed "pla­cing an en­tire Colored club to represent a city like Cincinnati in the National League and Boston in the American League." ...
Pollock
based his argument on having sent his
Cu­ban Stars
to play in thirty-two states during the previous season, in the process beating every white minor-league team they faced. He wrote about one of his stars,
Tetelo Vargas
, who he predicted would steal more bases during the season than any two cur­rent major-league players combined.
Vargas
had also hit seven consecutive home runs in two days against top semipro competition in 1931, but this feat was entirely ignored by the white press. "With a colored club in either or both circuits, these feats, common among colored ballplayers, would not go unnoticed and bring greater interest in baseball, with the necessary publicity to go with it."
To bolster his argument,
Pollock
quoted
Babe Ruth
's comment that "the colorful­ness of Negroes in baseball and their sparkling brilliancy on the field would have a tendency to increase attendance at games," [and]
Pirates
coach
Honus Wagner
's assertion that "the good colored clubs played just as good as seen anywhere" ...
The letter ended with the assurance that
Pollock
was in a position to assemble such a team or teams for the 1934 season. ...
Pollock
sent a copy of the letter to the local
North Tarrytown Daily News
, which published it the day after it was mailed to Veeck. In due course, it was picked up by the
Chicago Defender
,
Pittsburgh Courier
,
Amsterdam News
, and other Negro newspapers.
Whether
Veeck
had any thoughts of acting on the idea of a black team or teams in the majors is unknown. No surviving record exists of a response by
Veeck
to
Pollock
, which is most likely explained by the fact that
Veeck
was suffering the early stages of the illness [leukemia] that would take his life.
Bill Veeck: Baseball's Greatest Maverick, Paul Dickson (2012)
The Great Depression had a devastating effect on Major League Baseball just as it had on all of American society. That effect caused some to offer unheard proposals.


By 1932 the full force of the Great Depression had af­fected Major League Baseball ... Americans were more likely to be in a breadline than a bleacher seat: overall attendance at major-league games had dropped from more than 10 million in 1930 to just under 7 million in 1932. In anticipation of even worse turnstile numbers, salaries were cut widely for the 1933 season, with
Commissioner Landis
taking a 40 percent pay cut, from $65,000 to $39,000.
Ruth
took a $23,000 sala­ry cut;
Gehrig
, who was paid a lot less, lost $5,000; and some managers took 50 percent cuts. ...
On February 5, 1933, ... the grand ballroom of New York City's Commodore Hotel hosted more than 600 of the game's leaders ... and all the National League offi­cials in town for their annual meeting - at the tenth annual New York Baseball Writers' Association of Ame­rica dinner. It was a night of fun, frolic, and frivolity. Sportswriters took turns spoofing everyone from the guest of honor, retired
New York Giants
manager
John McGraw
, to the
New York Yankees
, who had won the World Series in October. In addition, the scribes performed their annual blackface minstrel show in front of the predominantly white crowd.
New York Times
sportswriter
John Drebinger
in his column the next day called the minstrel show the most entertaining part of the evening but never mentioned its most dramatic moment.
Heywood Broun
, a talented and outspoken Scripps-Howard columnist who was a syndicated in dozens of newspapers and admired by his fellow writers, offered a full-blown proposal for racially integrating baseball, arguing that the game's falling gate receipts could be reversed by dropping its invisible "color line." Branding baseball's segregation as "silly,"
Broun
asked rhetorically: "Why, in the name of fair play and gate receipts, should professional baseball be so exclusive?"
Invoking the name of a man who was one of the leading actors, singers, and activists of his time,
Broun
continued: "If
Paul Robeson
is good enough to play football for
Rutgers
and win a place on the mythical All-America eleven, I can't be convinced that no Negro is fit to be a utility outfielder for the
Boston Red Sox
. There were a number of superb Negro athletes on the American Olympic track team. indeed,
Eddie Tolan
, the sprint champion, was almost a team in himself. ... If Negroes are called upon to bear the brunt of competition when America meets the world in an international meet, it seems a little silly to say that they cannot participate in a game between the
Chicago White Sox
and the
St. Louis Browns
."
Broun
addressed head-on the concern that some players would object to racial integration, but then dismissed it by pointing out that ballplayers objected to many things that still took place with a high degree of regularity, such as fines, suspensions, and the widespread salary cuts being imposed for the upcoming season.
Bill Gibson
, a writer for the
Baltimore Afro-American
and one of a handful of writers from the Negro press at the dinner, found a number of people who ex­pressed an open mind on the subject, including
Branch Rickey
of the
St. Lou­is Cardinals
,
Yankees
slugger
Lou Gehrig
, and
John Heydler
, president of the National League.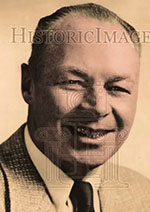 Jimmy Powers
, a reporter for the New York
Daily News
, was amazed at the sentiment in favor of
Broun
's proposal. In a column two days later entitled "Colored B. B. Players - OK," he argued the point even more forcefully than
Broun
, pointing out that blacks were well integrated into college sports, including football, basketball, boxing at all levels, and track and field. "There are only three popu­lar sports today in which the dark skinned athletes are snubbed - tennis, golf, and baseball."
Powers
became, in the words of
Lester Rodney
of the Communist
Daily Worker
, "the most articulate and consistent supporter of the Negro stars since the campaign to end Jim Crow base­ball began to catch hold."
A few weeks later, the popular
Dan Parker
, sports editor of the New York
Daily Mirror
, wrote a letter to the
Pittsburgh Courier
fully endorsing an end of the color bar, insisting that club owners who welcomed the patronage of black fans had no right to bar black athletes. "In my career as a sports writer,"
Parker
added, "I've never encountered a colored athlete who didn't conduct himself in a gentlemanly manner and who didn't have a better idea of sportsmanship than many of his white brethren. By all means, let the colored ballplayer start playing organized baseball."
Major League Baseball would not be integrated until Branch Rickey called up Jackie Robinson to the

Brooklyn Dodgers

in 1947, 13 years after the incident cited above.
The Greatest Cardinal of Them All
"Player of the 1940s Decade: Stan Musial," St. Louis Cardinals 2017 Yearbook
The episodes that mark
Stan Musial
's performance in the 1940s have filled many pages in many books. He wasn't just the player of the decade for the
Cardinals
, he was the player of the decade in the National League, and arguably in all of baseball.
How he got to be that player was somewhat remarkable.
Musial
was a hard-throwing lefthanded pitcher growing up in Donora, Pa., so gifted that at 14, he was recruited to play for the semipro
Donora Zincs
. Standing all of 5-foot-4 and 140 pounds,
Musial
struck out 13 adult batters in his six-inning debut.
No question,
Musial
could throw hard. He just couldn't be certain where the ball was going.
Michael Duda
, who coached
Musial
in his only season of high school baseball at
Donora High
, recalled the quandary.
"The problem with him as a schoolboy pitcher was we couldn't find anyone who could catch him,"
Duda
said. "He might strike out 18 men, but half of them would get to first on dropped third strikes."
The good news:
Musial
had a knack for hitting, too. During that same season at
Donora High
, he batted. 455 and led the school to the Mon Valley High School championship. Passing up a possible scholarship to play basketball at the
University of Pittsburgh
,
Musial
signed a Class D contract with the
Cardinals
before the 1938 season.
In his organizational report on
Musial
, scout
Andrew French
wrote: "ARM? ... Good. FIELDING? ... Good. SPEED? ... Fast. Good curve ball. Green Kid. PROSPECT NOW? ... No. PROSPECT LATER? ... Yes."
But
Musial
's transition from suspect to prospect - to Hall of Fame - would include a dramatic change of direction, a shift that blossomed in the 1940s, and began by fate.
L-R: Young Stan Musial at Rochester; Stan and Lillian with their son Dick;
One of the most iconic stances in baseball history.
Musial
was still considered a pitcher by trade in 1940, and seemed to be progressing in Class D
Daytona Beach
. Manager
Dickie Kerr
was employing
Musial
as an outfielder on days he wasn't pitching, an approach that was working well as
Musial
won 18 games and batted over .300. But in August,
Musial
was playing in the outfield and hurt his left shoulder diving for a ball.
It was a bad break, probably the best bad break in the history of the franchise. His career as a pitcher would soon be over, and he was not disappointed. "More and more, I wanted to be a hitter,"
Musial
said years later.
The die, which would be underlined by 3,630 career hits, was cast. During the same season in which
Joe DiMaggio
hit safely in 56 consecutive games and
Ted Williams
batted .406,
Stan Musial
the hitter was born. In 1941, a 20-year-old
Musial
batted .379 at Class C
Springfield
, .326 at Class AA
Rochester
, and finally .426 in 12 late-season games in St. Louis.
During that September promotion, the
Cardinals
played a doubleheader with the
Chicago Cubs
in which
Musial
played left field in the first game and right field in the nightcap. In the first game, he made two diving catches, threw out a runner at the plate and collected four hits. In the nightcap, he stroked two more hits and made two more notable catches. Afterward,
Chicago
manager
Jimmie Wilson
offered, "Nobody can be that good.
Nobody
."
But
Musial
was just getting started.
Over the rest of the decade,
Musial
became the first player in baseball history to win three MVP awards and assumed his place as the National League's dominant gene. He won three batting titles and led the
Cardinals
to four World Series appearances (1942, '43, '44 and '46) in five years. In fact, the only year the club missed a pennant during that stretch - second-place in 1945 -
Musial
missed the season serving in the Navy.
From 1942 through '49, baseball's "perfect warrior" batted .346 with a .427 on-base percentage and .578 slugging average. He averaged 21 homers, 43 doubles, 100 RBIs and led the league in triples four times, and in doubles and hits five times.
"You could scout
Musial
by the sound of the ball hitting the bat," former teammate
Joe Garagiola
said. "You didn't even have to watch him."
You didn't have to watch him, no. But you couldn't help but watch him. While
DiMaggio
dated Hollywood starlets and
Williams
fought battles with the press,
Musial
was to baseball what
Andy
was to Mayberry. He married his high school sweetheart, signed countless autographs and represented wholesome values of his Midwestern surroundings.
"I remember one spring training I caught him entering the hotel lobby at 7 a.m.," recalled
Kerr
. "I thought he'd been out all night roaming the town. When I asked him about it, he said, 'No, sir. I'm coming back from morning Mass.'"
Bouts with appendicitis and tonsillitis pulled
Musial
down in 1947, as he "slumped" to a .312 average. He was determined to bounce back in 1948 and changed his batting approach to hit for more power. The result was one of the greatest seasons ever registered by a big-league player.
His .376 average won the batting title by 43 points. His .702 slugging average topped the category by 138 points. His 131 RBIs led the league, too, while his home run total (39) fell on shy of
Ralph Kiner
's and
Johnny Mize
's 40, denying
Musial
the Triple Crown. It was the only meaningful offensive category in which
Musial
did not rank first.
Perhaps one game in '48 best underscores the zone in which
Musial
was operating. The
Cardinals
were clinging to their pennant hopes when they faced the first-place
Boston Braves
on Sept. 22 and
Stan
was dealing with two swollen wrists. Carefully picking his spots, he took only five swings that game. And he went 5-for-5 with a home run, double and two RBIs. It was his fourth five-hit game of the season, tying a record set by
Ty Cobb
26 years earlier.
The
Cardinals
didn't catch the
Braves
that season (not for lack of effort by
Musial
, who hit .443 against them in 22 games), and they finished one game behind the
Brooklyn Dodgers
in 1949. A remarkable decade in
Cardinals
baseball had come to an end, but the legend of "
Stan the Man
" was just beginning.
In his book Rob Neyer's Big Book of Baseball Legends: The Truth, the Lies, and Everything Else (2008), Rob researched numerous baseball tales to see if he could verify each story from newspaper accounts. Here's two that he concluded were basically true.
Tommy Lasorda told this story that occurred when he was pitching for AAA Mon­treal in the Dodgers organization.
The following Friday I pitched against Buffalo. Because of the problems with (manager) Bryant I desperately wanted to win this game. Late in the game Buffalo loaded the bases with no outs. Bryant was on the top step of the dugout, ready to pull me. In my entire career, I had never prayed on the pitcher's mound, but this time, I turned my back to the hitter, looked up, and thought, Lord, I've never asked you to help me win a game. All I've ever asked was the strength to do the best I could at all times. Lord, I'm in a jam here, and any help you can give me would be greatly appreciated.
Suddenly, I heard my name being called. "Lasorda? Lasorda?" It was incredible. I turned around.
It was the umpire, Billy Williams. "Come on, Lasorda," he said. "You gotta throw it sometime."
"Wait a minute," I told him. "I'm talking to God."
"Who?"
"God."
"Oh," Billy said, as if he understood, then turned around and walked back to home plate. He probably figured I was crazy, but on the one chance I had a direct line...
My first pitch was an inside fastball, neither inside enough nor fast enough. The batter jerked it down the left-field line. Our third baseman, George Risley, leaped as high as he could and deflected the ball. It bounced off his glove toward the outfield grass. A base hit, I thought as I ran to back up third base, two runs'll score at least. But our shortstop, Jerry Snyder, dived and backhanded the ball on the fly. Lying on his back, he flipped to second base for the second out, and the second baseman fired to first to complete the triple play. I'd played thirteen summers and eleven winters of professional baseball and had never before been involved in a triple play. As I walked nonchalantly off the field, I looked at Billy Williams, who was staring at me with his mouth open. Then I looked into the sky and said, "Thank you, Lord, but was it really necessary to scare me like that?"
That turned out to be the last game I ever pitched...
L-R: Tommy Lasorda, Mel Ott, Ed Brandt
Bob Addie
wrote the following story in the
Washington Times-Herald
in 1950.
Mel Ott
, now a front office executive for the
New York Giants
, tells an amusing story of the 1933 World Series between the
Washington Senators
and the
Giants
. It seems that
Senator
pitchers went over to scout the
Giants
one day before the Series began.
"I was facing a pitcher named
Ed Brandt
,"
Mel
recalls, "and he could have gotten me out by throwing basketballs up there. I never could hit him. Well, on this day, the
Washington
pitchers saw
Brandt
strike me out twice on inside curves - each time on three pitches, too. Then I popped up twice and grounded out another time. I never did get that ball out of the infield. So the first game of the World Series comes and
Walter Stewart
, a left-hander, was pitching for
Washington
. I told myself: 'I'll bet
Washington
thinks I can't hit an inside curve. I'll take one to see.' Sure enough, the first pitch was an immediate curve for a strike. On the next one, I slammed the ball into the seats for a homer. Nobody threw me an inside curve after that."
Baseball Digest, February 1946
Jackie Robinson and Branch Rickey
Tom Verducci, Sports Illustrated (October 21-28, 2019)
Because of the granite reliability of his pitching and his steady persona in a turbulent time, [
Tom
]
Seaver
is the touchstone to that 1969 [
Mets
] magic. The numbers speak to the passage of time. He was 25-7 with a 2.21 ERA. As the young
Mets
ran down the more seasoned
Cubs
in the National League East,
Seaver
went 10-0 with a 1.34 ERA in his last 11 starts. He was nearly perfect in six September turns: no home runs, no stolen bases allowed, no losses and no relievers.
Astoundingly,
Seaver
was 12-5 that year when
New York
scored just three runs or fewer (.706), the highest winning percentage in such low-scoring games in the live ball era (minimum 14 games since 1920). No better testament to his will exists than this:
Seaver
pitched the ninth inning 18 times and never surrendered a run or even an extra base hit.
Seaver
and
Virgil Trucks
('49) are the only starting pitchers to do that. ...
Seaver
was the happiest accident that ever happened to the
Mets
. Growing up in Fresno [CA],
Seaver
didn't make his high school baseball team until his senior year. He went to
Fresno City College
, where he was a good pitcher but nothing special, then transferred to
USC
, where he blossomed. In 1966 the
Braves
gave him a $51,000 contract, but commissioner
William Eckert
nullified the deal on a technicality: College players weren't eligible to sign once their seasons had started. (The
Trojans
had played two exhibition games.)
Eckert
announced a lottery for
Seaver
. Any team willing to meet the $51,500 bonus price could enter. Only three other teams did: the
Phillies
,
Indians
, and
Mets
.
On April 3, 1966,
Eckert
pulled the
Mets
' name out of a hat. Losers of no fewer than 109 games in each of their four years of existence, the
Mets
finally won something. They literally hit the lottery.
A year later
Seaver
was in the big leagues. He won 16 games and the Rookie of the Year award, then another 16 in 1968, when ninth-place
New York
had a very modest 73-89 record - the best in club history.
That offseason
Seaver
went back to
USC
to complete his degree in public relations.
Mets
GM
Johnny Murphy
signed him for $40,000, making him the highest-paid player on the team, and told other clubs that
Seaver
and lefthander [
Jerry
]
Koosman
were "the untouchables."
On March 18, 1969,
Seaver
told reporters, "I might be a supreme optimist, but I think we have a good chance to be in the World Series." By mid-June the
Mets
actually had a winning record (29-25) but trailed manager
Leo Durocher
's
Cubs
by 8 1/2 games. "We've got the best pitching in the majors,"
Seaver
said the day before a start at Dodger Stadium. "I think our pitching will hold up better than
Durocher
's. And it gets hot in Chicago in the daytime in July and August."
Seaver
beat
Don Sutton
the next night 3-1. The
Mets
would go 71-37 from that game on. They won in such improbable ways, they embarrassed magicians. They took both ends of a doubleheader 1-0, with each run driven in by a pitcher. They struck out 19 times and made four errors and won. They won when [Manager
Gil
]
Hodges
put the hit-and-run on with the bases loaded; the runner at third,
Cleon Jones
, sprinted so hard that the batter,
Jerry Grote
, had to check his swing for fear of maiming his teammate. He hit a bloop over the head of a first baseman for a three-run double. Of course.
Three years earlier
Time
asked in a famous cover headline, IS GOD DEAD? By October,
Seaver
had an answer. "God is a
Met
," he said. ...
L-R: Tom Seaver, Gil Hodges, Jerry Koosman
Hodges had become the Mets manager in 1968.
"It's time, I think, we did something about that clown image of the
Mets
,"
Hodges
said when he was hired. He banned poker playing, instituted a curfew, put controls on drinking and fined players $25 a pop for mental mistakes on the field. ...
Hodges
brought with him as his pitching coach an old
Brooklyn Dodgers
teammate, [
Rube
]
Walker
... To protect
Seaver
and
Koosman
, as well as up-and-comers
Nolan Ryan
and
Gary Gentry
,
Hodges
and
Walker
used their young starters in a groundbreaking five-man rotation in '68 and again for most of '69. ...
Down the stretch in 1969,
Hodges
and
Walker
took the reins off.
Seaver
and
Koosman
, sometimes pitching on short rest, started 24 of
New York
's final 56 games. The
Mets
went 20-4. They blew past a wheezing
Cubs
team to win the division. ...
The Mets defeated the

Atlanta Braves

in the NLCS to win the NL pennant and face the

Baltimore Orioles

in the World Series.
"That guy believes in elves."
Orioles
3B
Brooks Robinson
, before Game 1, laughing at a writer who picked the
Mets
to beat
Baltimore
in the World Series.
Seaver
would run every day between starts to keep those hydraulic pistons that were his legs pumping strong. But after he beat the
Braves
9-5 in Game 1 ...
Seaver
strained a leg muscle shagging flies and had to take off three days from running before Game 1 of the World Series. He lost 4-1 in Baltimore, allowing three runs in the fourth inning. "I just ran out of gas," he said. ...
Seaver
took the ball again in Game 4, on short rest, with the
Mets
up 2-1. ...
Tom
held a 1-0 lead in the ninth when
Baltimore
put runners on first and third with one out.
Hodges
walked to the mound ... "If the ball is hit back to you, go to the plate if you can,"
Hodges
told
Seaver
. "We want to stop that run from scoring. How do you feel?"
"I'm running out of gas,"
Seaver
said, "but I still have a few pitches left." There was no way
Hodges
was taking him out of the game.
Robinson
, the All-Star who didn't believe in elves, smashed a line drive to RF. [
Ron
]
Swoboda
broke toward it. Each day
Swoboda
would work on his defense with coach
Eddie Yost
. He never took fly balls. He always took line drives and ground balls from 150 feet away - the hard stuff. Teammates and coaches always kidded
Swoboda
about his goofy ways. Bullpen coach
Joe Pignatano
used to tell him, "Don't think,
Swoboda
. You'll only hurt the team." But with these drills, "I figured out how to be a better outfielder,"
Swoboda
says.
He dived for the ball, a choice
Orioles
slugger
Frank Robinson
later called dumb because it risked having both runners score. But
Swoboda
snagged it for the second out. One run, not two, scored.
Seaver
went back out for the 10th. Again, two runners reached with one out. This time
Walker
ambled to the mound. "I'm getting tired, but I can continue,"
Seaver
vowed. He induced a fly ball and then, with his 150th pitch on short rest, and working his 296th inning of the year, he struck out
Paul Blair
.
Mets
magic finally showed up in the bottom of the 10th with another one of those Scotch-tape-and-bailing-wire rallies: a pop fly lost in the sun for a double, followed by a bunt, which the pitcher threw off the wrist of the runner at first for a game-ending error. Of course.
Seaver
covered 10 innings without allowing an extra-base hit. Only two pitchers ever had won a World Series game that way:
Christy Mathewson
in 1913 and
Carl Hubbell
in '33. Nobody has done it since
Seaver
.
Seaver
and
Koosman
started six of the
Mets
' eight postseason games ... A couple of hours after the clincher, a 5-3 win at Shea,
Seaver
and
Gentry
left the champagne-soaked clubhouse and headed out toward the field. They felt a pull to go back to the pitching mound ... and give thanks.
"We just wanted to see it or walk on it once more,"
Seaver
said then. ...
Seaver
climbed the dugout steps to the field. His shirt was open and wet ... When he and
Gentry
made it to the mound, they were not prepared for what they saw. "By the time we got there, it was too late,"
Seaver
said.
Thousands of fans had stormed the field after the last out, and as if to require physical evidence that the
Mets
really did win the World Series, they grabbed fistfuls of grass and dirt. Most of the mound where
Tom Seaver
did some of the best work in the annals of pitching was gone.
A few hundred fans still milled about, not wanting the moment to end. When they saw
Seaver
they let up one last, loud cheer.
Seaver
smiled.
"You deserve some congratulations too," he told them. "You people are amazing too."
Seaver and Gentry visit the mound after the World Series clincher
The Strike-Shortened 1981 Season
Tom Verducci, "Show Stoppers," Sports Illustrated (June 2020)
After a two-month strike in 1981 anger was up, crowds were down and chaos (not to men­tion Pete Rose) reigned.
Baseball had suffered work stoppages in 1972, '73, '76 and '80 - three of them confined to spring training - but they were brushfires doused in eight to 17 days. An inferno broke out in 1981.
Owners wanted to reclaim ground they had lost with the advent of free agency in 1975. Players thought owners were trying to break their union. The headline on the June 22 cover of SPORTS ILLUSTRATED agreed: STRIKE! THE WALKOUT THE OWNERS PROVOKED.
Fan reaction was split. Respondents to a
New York Times
-CBS News poll in July were evenly divided on whether the owners or players were right, though even greater numbers had no opinion or didn't care.
The owners settled with the players in the early morning of July 31, just as their strike insurance ran out. Yet trust was lacking even upon agreement. The lead negotiators,
Ray Grebey
for the owners and
Marvin Miller
for the players, refused to pose together at the news conference in New York City.
In a last-minute deal, the owners granted players service time for the days they were on stroke. In return players agreed to extend the collective bargaining agreement by one year. So eager were the two sides to salvage what was left of the season that they agreed to play the All-Star Game in just nine days, with the regular-season schedule resuming the next night.
Angels
manager
Gene Mauch
and
Orioles
general manager
Hank Peters
were among the old baseball souls who argued for expanded rosters to ward against arm injuries from pitchers throwing in games so soon. No such accommodations were made, other than allowing a 30-man roster and a reentry rule - permitting players taken out of games to return later - only for each team's two exhibition games. The season would restart with the usual 25-man rosters and substitution rules.
L-R: Ron Grebey and Marvin Miller, Gene Mauch, Marty Bystrom
Pitchers came back to work in various states of arm health. Some continued to throw during the strike, some didn't.
Phillies
right hander
Marty Bystrom
, a second-year player with a new house, a new car and no income, took a job as a car salesman during the strike. He said it left no time for physical conditioning. He did no throwing.
When
Bystrom
showed up at the Vet out of shape,
Philadelphia
shipped him to Double A. ... In Cleveland, after watching
Bert Blyleven
throw for 20 minutes,
Indians
manager
Dave Garcia
said, "
Blyleven
's been working out several days a week, and I wouldn't be surprised to see him go nine innings his first time out." (
Blyleven
, 30, threw nine innings in his first start after the strike, facing 35 batters and giving up nine hits.)
The "training camps" were typically morning workouts and afternoon simulated games. Some teams had to find other fields because their home ballparks had been booked for events to help owners recover lost income. The
Mariners
relocated to the
University of Washington
, the
Angels
to
Fullerton Junior College
and the
Reds
, who had rented Riverfront Stadium to a jazz festival, to the
University of Michigan
.
Most clubs played home-and-home exhibition games. The
Cubs
and
White Sox
went nine innings without either team scoring, convincing
Sox
manager
Tony La Russa
that he was right when after one day of workouts he decided the pitchers would be ahead of hitters. ...
A's
manager
Billy Martin
let righty
Steve McCatty
throw a 10-inning complete game in his first start in two months; he delivered 148 pitches. "
McCatty
,"
Martin
said, "was the guy who showed me after the layoff he worked harder, pitched more often than the other guys." ...
L-R: Bert Blyleven, Dave Garcia, Tony La Russa, Billy Martin
On his lineup card for the NL All-Stars,
Phillies
manager
Dallas Green
had
Dodgers
2B
Davey Lopes
batting leadoff with
Rose
behind him.
Rose
saw that and made a beeline for
Green
. "Who would the fans rather see as the first batter after a seven-week strike? A guy hitting in the .100s or a guy who will break
Stan Musial
's record with his next hit?"
So
Green
wrote a new lineup with
Rose
atop it. He would be the first batter in the first game of the second coming. ...
When the strike ended,
Kuhn
proposed a split-second format rather than simply play out the season as one. Teams in first place at the time of the strike were declared "first half" champions, with more playoff spots up for grabs in the second half.
Dick Young
of the
New York Daily News
sagely predicted what would happen in 14 years: "It is a version of the NFL wild card and could hasten the day that baseball adopts the wild card system."
Kuhn
's plan allowed teams that otherwise would be out of the race to compete anew for a playoff spot (and sell tickets). The split season also created another layer of playoff games, the division series, which offered a chance for MLB to recoup some of the financial losses from the strike.
Under
Kuhn
's plan, if the same team finished first in both halves, the club with the second-best overall record would be allowed into the postseason. The reaction was scathing. People hated it. Never before in baseball could a second-place team get the chance to win the World Series.
L-R: Dallas Green, Davey Lopes, Pete Rose, Whitey Herzog
"The entire concept is so stupid I can't believe we're going to ask the American public to buy it," said
Cardinals
manager
Whitey Herzog
.
Cardinals
executive assistant
Joe McDonald
called it "the most unjust, irrational concept ever perpetrated in baseball. To go into a season with one thought - to win your division - then change mid-season is unthinkable."
The
Reds
lost the first half to the
Dodgers
retroactively by a half-game. They played one fewer game than
Los Angeles
. ...
Sharp thinkers such as
La Russa
and
Herzog
quickly figured out that
Kuhn
's plan could create a finish in which a team lost games on purpose to allow the first-half winner to win the second half, opening a back door to the postseason for the club with second-best record combined between the first and second halves. Both managers said they would do that if it meant qualifying for the playoffs. "I'll activate myself,"
Herzog
said. "I'd be the catcher and I'd have players throw with the other hand."
The owners called for a meeting on Aug. 4 to ratify
Kuhn
's split-season plan, but it had to be postponed. The air traffic controllers were on strike.
On Aug. 20 the players association approved the plan with one change to the original proposal. If the same team won both halves, it would play the second place team of the second half, closing he loophole to incentivize losing.
Cincinnati
and
St. Louis
finished with the two best overall records in the NL. Neither made the playoffs.
CONTENTS
July 9, 1915 - Comedy of Errors
The Greatest Cardinal of Them All
The Strike-Shortened 1981 Season