Ed Doheny: The Paranoid Pirate
Michael Lynch, Baseball's Untold History: The World Series (2016)
This photo of the 1903 NL champion
Pittsburgh Pirates
is more notable for who isn't in it than who is. The note at the bottom says "
Doheny
was sick...when this picture was taken."
Doheny
is
Ed Doheny
, a southpaw who went 37-69 from 1895 to 1901 for the
New York Giants
before being released. The
Pirates
picked
Doheny
off the scrap heap and he rewarded them with a 38-14 mark over 2 1/2 seasons from 1901-1903.
In 1903 he was the third wheel of an excellent trio of hurlers that included
Sam Leever
(25-7, 2.06),
Dea­con Phillippe
(25-9, 2.43) and
Doheny
(16-8, 3.19), but wasn't able to face
Boston
in the first modern day World Series because he was no longer with the team.
After starting the season 12-6 that year, he began ex­hibiting odd behavior and believed he was being follow­ed by detectives, prompting him to leave the team and head home to Massachu­setts to rest, and causing news­papers to call him "deranged." Friends and family as­sumed he was just tired and nervous about pitching in the big leagues, so they paid no attention to his behavior.
He rejoined the team after a few weeks and continued to win, but made his last start on September 7 before going home for more rest.
Pirates
manager
Fred Clarke
had been in contact with
Doheny
's physician, who told him
Doheny
"couldn't be depended upon" for the World Series. "Of course we sometime ago gave up all expectation of
Doheny
's helping us in the present series,"
Clarke
told reporters, "but I had hoped he would be all right for next season."
Despite being under the daily care of Dr.
E.C. Conroy
,
Doheny
's condition worsened until he finally snapped.
Conroy
checked in on
Doheny
on October 10, but was told his services were no longer needed.
Conroy
tried to coax
Doheny
into continuing his treatment, but the pitcher ordered the doctor to leave his house. When
Conroy
failed to comply,
Doheny
hit him in the face and escorted him to the sidewalk.
Police were called but it was decided that he just needed rest, so another doctor and nurse were called in to help him calm down, which they did. The next morning
Doheny
became violent. While his nurse,
Oberlin Howarth
, had his back turned
Doheny
struck him on the head repeatedly with a cast-iron stove leg he'd concealed in his bed. The blows opened a large gash on
Howarth
's head and knocked him unconscious.
Neighbors rushed to
Howarth
's aid only to find
Doheny
at his front door wielding the bloody stove leg and threatening anyone who came near him. After a one-hour stand-off with neighbors and police,
Doheny
was taken into custody and committed to the Danvers Lunatic Asylum.
Sadly, the hurler deteriorated to the point where he no longer recognized family and friends, including his own wife. He spent the last 13 years of his life in asylums before he died on December 29, 1916 at the Medfield State Asylum in Massachusetts. He's buried in his home state of Vermont.
Bill Francis
,
Memories and Dreams: Official Publication of the Baseball Hall of Fame
(Winter 2019)
100 years later,

Yankees

' purchase of Babe Ruth's contract is still being felt throughout the baseball world.
For fans of the
Boston Red Sox
, the unthinkable, unimaginable, unfathomable happen­ed 100 years ago with the sale of
Babe Ruth
to the
Yankees
.
Ruth
, all of 24 years old, had made the transition from str southpaw pitcher to the pre­mier slugger in the game by 1919. Now patrolling LF for
Boston
, and thanks to his powerful left-handed stroke, he clubbed 29 HRs that set a new single-season big league record. But then the news broke.
Ruth
would soon be playing 77 games each season at the Polo Grounds - his new home ballpark until Yankee Stadium opened in 1923 - with its short RF fence.
It was announced on Jan. 5, 1920 - though the transaction had been consummated a week earlier - that
Ruth
was now a member of a rival American League franchise.
Newspapers across the country shared the news with provocative headlines: "
Red Sox
Sell
Ruth
for $100,000 Cash" read
The Boston Globe
; "
Ruth
Bought by
New York Americans
for $125,000, Highest Price in Baseball Annals" blared
The New York Times
; "
New York Yankees
Buy
Babe Ruth
from
Boston Red Sox
" stated the
Chicago Tribune
.
"Like all things Ruthian, everything about
Ruth
's sale from the
Red Sox
to the
Yankees
was outsized," said
Tom Shieber
of the National Baseball Hall of Fame staff. "The price tag was unparalleled in sports history, the story was obsessively covered in the press and every last detail was voraciously consumed by baseball fans nationwide. With the possible exception of the Louisiana Purchase, what other acquisition has reached the same level of long-term recognition in the American public's conscience?"
So how did it come to this, that
Ruth
, a legend in his own time, was shipped out of Boston just as his offensive prowess was emerging? Coming off a 1919 season in which he led the Junior Circuit not only in homers but also with his 113 RBI and 103 runs scored, the
Colossus of Clout
wanted a new contract that would pay him $20,000 per season. Prior to the 1919 season,
Ruth
had signed a three-year deal with the
Red Sox
that would pay him $10,000 annually.
"You can say for me," said
Ruth
to
The Boston Globe
on Oct. 24, 1919 ... "that I will not play with the
Red Sox
unless I get $20,000. You may think that sounds like a pipe­dream, but it is the truth. I feel that I made a bad move last year when I signed a three-year contract to play for $30,000. The
Boston
club realized much on my value, and I think that I am entitled to twice as much as my contract calls for."
L-R: Babe Ruth, Harry Frazee, Jacob Ruppert, Miller Huggins
By December 1919, the war of words had escalated, and
Red Sox
president and owner
Harry Frazee
hinted he might sell
Ruth
, stating: "I'm willing to trade any man on my team, excepting only
Harry Hooper
." Those Boston baseball fans whose ears were close to the ground were thus prepared to eventually hear
Ruth
had been sold to another club.
"The price was something enormous, but I do not care to name the figures. It was an amount the club could not afford to refuse," said
Frazee
... I should have preferred to have taken players in exchange for
Ruth
, but no club could have given me the equiva­lent in men without wrecking itself, and so the deal had to be made on a cash basis. No other club could afford to give the amount the
Yankees
have paid for him, and I do not mind saying I think they are taking a gamble. With the money, the
Boston
club can now go into the market and buy other players and have a stronger and better team in all respects than we would have had if
Ruth
had remained with us.
"I do not wish to detract one iota from
Ruth
's ability as a ballplayer nor from his value as an attraction, but there is no getting away from the fact that despite his 29 HRs, the
Red Sox
finished sixth in the race last season,"
Frazee
added. ...
"I am not at liberty to tell the price we paid," smiled
Yankees
co-owner
Jacob Ruppert
... "I can say positively, however, that it is by far the biggest price ever paid for a ball­player.
Ruth
was considered a champion of all champions, and, as such, deserving of an opportunity to shine before the sport lovers of the greatest metropolis in the world."
Then, in a bit of foreshadowing,
Ruppert
added, "It is not only our intention, but a strong life purpose, moreover, to give the loyal American League fans of greater New York an opportunity to root for our team in a world's series. We are going to give them a pennant winner, no matter what the cost. ... Yet the fans can rest assured we by no means intend to stop there. Eventually we are going to have the bes team that has ever been seen anywhere."
Ruth
, contacted in Los Angeles - where
Yankees
manager
Miller Huggins
helped secure a contract that would pay the HR king $20,000 per season in 1920 and '21 - claimed not to be surprised by his sale to
New York
, noting: "When I made my demand on the
Red Sox
for $20,000 a year, I had an idea they would choose to sell me rather than pay the increase, and I knew the
Yankees
were the most probable purchasers in that event." ...
While the official sale price of
Ruth
was not made public at the time of the transaction, numbers were speculated about. According to modern research compiled by
Michael Haupert
, professor of economics at the
University of Wisconsin-La Crosse
, the actual purchase price was $100,000, payable in four annual installments of $25,000 at 6% interest, with
New York
making the first payment on Dec. 19, 1919. ...
When Casey Ran the Bases
Great Moments in Baseball: From the World Series of 1903 to the Modern Records of Nolan Ryan.
Tom Seaver with Marty Appel (1992)

The first time
Mickey Mantle
ever played in Ebbets Field - it was during the 1952 World Series - his manager,
Casey Stengel
, walked him to the outfield and showed him how the ball might carom off the walls.
Mantle
looked at him as if he were crazy. He viewed
Stengel
as a very old man who might be capable of making up a lineup but who would never in a million years know how to play balls bouncing off outfield walls.
Stengel
later told people that he said to
Mantle
, "You think I was born this old?" And he proceeded to take a few minutes to explain to his young prodigy that he had, in fact, played those walls in that very park a few hundred years earlier. He had been a
Dodger
outfielder, right there in Ebbets Field, from 1912 to 1917, and had played in the 1916 World Series there. ...
The funny thing about
Mantle
's reaction in 1952 to the 62- or 64-year-old
Stengel
(no one was sure how old he really was) is that
Casey
was considered an "old man" as far back as the first World Series ever played in Yankee Stadium, in 1923.
This was so in part because, at 33 (or 35),
Casey
was among the oldest
Giants
... in part because, well, he looked older than he was. He had this wrinkled face and these bowlegs. And, although he was not a coach, he was sort of a pal to
John McGraw
, the manager, looked older than
McGraw
(who was fifty), and was a platoon player, which was still unusual in those days. (Only
Casey Stengel
could be responsible for a story that has both
John McGraw
and
Tug McGraw
in it.)
Stengel
later made platoon baseball, the tailoring of a lineup to respond to whether the opposing pitcher was a lefty or a righty, a part of the modern game. One can plainly see where he learned it. In 1922 and 1923, his only two full years under
McGraw
, he played in 150 games and batted .355, with 12 homers, 87 runs batted in, and 10 stolen bases. They were the most productive two years of his fourteen-year playing career, and he got into the World Series both times. It's easy to understand how he would react when future players complained about platooning.
The 1923 World Series offered the third consecutive matchup between the
Yankees
and the
Giants
, with the
Giants
seeking to become the first team to win three straight world championships. The year 1923 was different because the
Yankees
would play their home games not at the Polo Grounds, where they had been tenants since 1913, but in the new Yankee Stadium. It had been hastily constructed prior to the season just across the Harlem River from the Polo Grounds on an old Bronx lumberyard turned park. ...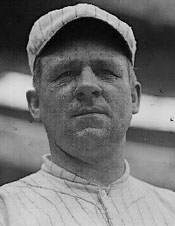 L-R: Casey Stengel and Mickey Mantle 1952, Casey Stengel as a Giant, John McGraw
McGraw
still looked down on the American League. In 1904, you will recall, he had refused to participate in a World Series. By 1923, he wasn't putting up such roadblocks, but he did have his players dress in the Polo Grounds and take taxis to Yankee Stadium, rather than use the new visiting-clubhouse facilities.
The first game, on October 10, drew an attendance of 55,307 at Yankee Stadium, almost 20,000 fewer than had attended the team's opener in April.
Miller Huggins
, the
Yankees
manager, had a former
Giant
right-hander on the mound,
Waite Hoyt
, so
McGraw
had
Stengel
, a left-handed hitter, in CF, batting sixth. The
Yankee
fans no doubt expected
Ruth
to hit the first World Series home run in the new stadium, just as he had hit the first one in the regular season.
The
Yanks
jumped off to a 3-0 lead after two innings, driving
Giant
starter
Mule Watson
out of the game. The big hit for the
Yanks
was a two-run single in the second by CF
Whitey Witt
, the team's leadoff hitter. But then the
Giants
knocked out
Hoyt
in the third as they scored four times, the big hit a two-run triple by
Heinie Groh
with his odd-shaped "bottle bat."
Bullet Joe Bush
, one of the many ex-
Red Sox
players who had been sold to
New York
, came in for the
Yanks
.
The game continued 4-3
Giants
until the
Yanks
tied it in the seventh on a single by
Bush
and triple to right by
Joe Dugan
.
Ruth
, the next batter, grounded to first, where
George Kelly
made a terrific play and fired home to nail
Dugan
and keep the score 4-4. Neither team scored in the eighth.
In the ninth the
Giants
had
Ross Youngs
,
Irish Meusel
, and
Stengel
due to hit against
Bush
.
Youngs
lined out to
Witt
in center for the first out.
Meusel
grounded to
Dugan
at third for the second out. Up came
Stengel
, who had flied deep to
Ruth
in right, walked, and singled, the single being the only hit off
Bush
since he'd come on in the third.
Bush
delivered, and
Casey
smacked it on a line into LCF.
Witt
from center and
Bob Meusel
(
Irish
's brother) from left raced for the ball, but it was soon beyond them, heading for a fence that was 460' away.
Pushing his old body as hard as he could.
Casey
proceeded around the bases. It looked as though he had almost run out of gas near third but, in fact, one of his shoes had come loose and was only half on his foot. Witt picked up the ball and fired it to
Meusel
. Now it was the relay home as
Casey
gave it everything he had.
Wally Schang
, the
Yankee
C, waited for the throw, which was just a moment late as
Casey
slid for the plate in a cloud of dust. He got up slowly, dusted himself off, smiled, and walked to the
Giants
' dugout, to the cheers and laughter of his teammates.
The man who would go on to earn Hall of Fame honors by leading his
Yankees
to ten pennants in twelve years as manager had hit the first World Series home run ever in Yankee Stadium. It was an inside-the-park homer and it gave the
Giants
a 5-4 win.
Stengel slides for inside-the-park HR in 1923 World Series
You know who hit the second World Series home run in Yankee Stadium history? And the first to clear the fence?
It was Game Three, two days later, a scoreless tie in the seventh inning.
Sad Sam Jones
was on the mound for the
Yankees
with one out in the seventh when
Casey Stengel
blasted one into the RF bleachers. The
Giants
hung on to win that game 1-0, giving
Stengel
his second game-winning hit of the Series and the
Giants
a 2-1 lead in games. But the
Yankees
went on to win their first World Championship, no thanks to the .417 hitting and two game-winning homers by their future manager. Had they given sports cars to series MVPs back then,
Casey
might have driven off with a handsome roadster.
Those who only know of the wrinkled old face, so full of character, that belonged to
Casey Stengel
, Manager, will find his exploits as a playe rsimply "amazin'," one of the favorite words of "the
Ol' Perfessor
."
Tim Wiles, 2004 World Series Program
Luke Sewell
and
Billy Southworth
had a problem on their hands. The managers of the
St. Louis Browns
and
Cardinals
, respectively, had agreed to share an apartment during the 1944 season, never dreaming that the hapless
Browns
would rebound from their sixth-place finish in 1943 to capture the AL pennant by a game on the last day of the sea­son. With the
Cardinals
making their third straight World Series appearance that season, as well, the two managers were left wondering who would get to stay in the Lindell Blvd. apartment for the series.
Although both clubs shared Sportsman's Park during the regular season, the teams' sche­dule dictated that they would never be home at the same time. Ditto with the apartment. When
Sewell
's
Browns
were headed out on the road, his wife,
Edna
took the train back home to Akron, OH, along with their two teenage daughters,
Suzanne
and
Lois
.
When the road trip ended, the
Browns
returned home to find Sportsman's Park vacated, and the
Sewells
returned home to a clean and empty apartment, as
Mabel Southworth
and 9-year-old daughter
Carol
were on their way back to the farm in Columbus, Ohio.
The system worked well for both families, who were trying to economize during wartime and also do their part to ease the resulting housing shortage. The men of the house had a space crunch of their own, sharing the flat as they did with two wives and three daughters.
Luke
and
Billy
got one closet to split between them, with
Sewell
's clothes on one end and
Southworth
's on the other.
L-R: Luke Sewell, Billy Southworth
The novel living arrangement had received a brief mention in the local papers as the
Browns
made their rush toward the pennant, winning 11 of their last 12 games. "
Mrs. Sewell
would like to meet
Mrs. Southworth
some day but never has," explained a local paper, "as they are never in town at the same time." What will happen at home, asked the society columnist, if the
Browns
pull it out and win their first pennant?
Mrs. Sewell
found it a simple matter, declaring that she and
Luke
would stay put, and the
Southworths
would look for a new place.
The space crunch got worse when
Luke Sewell
, hoping for a
Browns
victory, had invited his mother from out of state to watch her first World Series. Eight people sharing one apartment just wouldn't do, and the idea of opposing managers trying to share the same living room while plotting out the next day's lineup just seemed more laughable than anything else.
Once the pennant was clinched, the two gentlemen decided to settle the matter like grown men: They flipped a coin.
Sewell
won the toss, thus making
Edna
's confi­dent prediction come true. The
Southworths
were on their own. Thankfully for the
Cardinals
manager, though, another resident of the building stepped forth and offered his apartment to the
Southworths
, as he would be away on business during the World Series.
Once the Series began,
Sewell
's upstart
Browns
shocked the
Cardinals
, who had just posted their third consecutive 100-win season, with a Game 1 win. The
Cardi­nals
rebounded for the second game, winning 3-2 in dramatic fashion on an 11th-inning pinch-hit single. But the
Browns
refused to succumb to their underdog status, cruising to a victory in Game 3, striking out 10
Cardinal
batters on the way.
Faced with a 2-games-to-1 deficit, the
Cardinals
returned to form, winning the next three games convincingly to claim their second championship in three years, ending the
Browns
' title hopes and sending both the
Sewells
and the
Southworths
back to their more private homes in Ohio.
Larry Tye, Stachell: The Life and Times of an American Legend (2009)
Satchell
(
Paige
) was barnstorming in California when he got the news he had been anticipating for two decades.
Brooklyn Dodgers
president
Branch Rickey
had just signed a Negro to a big-league contract. The
first
Negro in modern times. Word was tearing through America's clubhouses and grandstands that October afternoon in 1945. A black man was going to be in the minors, then the Major Leagues.
Jackie Robinson
would topple baseball's color bar. And
Satchel Paige
would not.
Earthshaking - almost the emancipation of the slaves, integration supporters proclaimed. It was fitting "that the end of baseball's Jim Crow law should follow the conclusion of a great war to preserve liberty, equality, and decency," wrote
Lee Dunbar
of
The Oakland Tribune
. A desecration of the natural order, segregationists shot back. "We live happier with segregation in athletics as well as all other activities," argued
Bud Seifert
of South Carolina's
Spartanburg Journal
.
Bob Feller
, the flamethrower with a golden arm and tin ear, told reporters that if
Jackie
"were a white man, I doubt if they would consider him as big league material."
The public listened to the cacophony of voices, but the one it wanted to hear most was
Satchel
's. What did America's best-loved black ballplayer - the man everyone had assumed would be first - make of the
Dodgers
' historic move? "They didn't make a mistake by signing
Robinson
,"
Satchel
said. "They couldn't have picked a better man." The words ate at him even as he uttered them. Not only was he being bumped by his teammate in Kansas City, an untested rookie who could not hit a curve, gun a throw to first, or land the job as the
Monarchs
' second baseman until an injury forced out the incumbent.
Satchel
had little use for
Jackie
and he was not alone.
Other seasoned Negro leaguers were resentful that the young slugger had never served his time in the sandlots and barnyards, eating dust and fending off slurs. He had not proven himself against the best of white baseball the way
Satchel
would do again that next night in San Diego against
Feller
's All-Stars. Rather than show deference to the old hands who had,
Jackie
showed disdain. He complained about the seedy hotels. He objected to puny paychecks and uneven umpiring. It was like spitting on
Satchel
's baby.
L-R: Satchel Paige, Jackie Robinson and Branch Rickey
Satchel
tried to be philosophical. He understood that he was aging and old-school, while the 26-year-old
Robinson
was a college boy and army veteran who
Rickey
felt could bear the ruthless scrutiny of being first.
Jackie
did not balk at
Rickey'
s plan to start him in the minors, in faraway Montreal.
Satchel
never could have abided the affront.
Jackie
had the table manners whites liked,
Satchel
was rough-hewn and ungovernable.
Satchel
realized he was a specter from the past rather than the harbinger the
Dodgers
wanted of a more racially tolerant future.
Still, it hurt. It was
Satchel
who had proved that white fans as well as black would come to see great black ballplayers, and that proof was what pushed
Rickey
to rip down baseball's racial barricades.
Satchel
was so dominating, especially when his teams were beating the best of the white big leaguers, that even good ol' boys like
Dizzy Dean
could not help but be impressed. ... It was
Satchel
who brought a limelight to the Negro Leagues, the amazing
Kansas City Monarchs
, and their first-year second baseman
Jackie Robinson
.
Satchel Paige
had led blackball to the promised land of big-time baseball. But like Moses,
Satchel
was not allowed to enter, not at first.
He was savvy enough to know that Americans have room for just one hero at a time. If
Jackie
became the knight who slew Jim Crow, the roles of the real pioneers would be lost.
Satchel
felt sorry for
Fleetwood Walker
,
Rube Foster
, and
Josh Gibson
- and sorrier still for himself. He worried that he would be remembered as a Stepin Fetchit, or worse, an Uncle Tom.
Satchel
had not gone to war over every racial slight, but he had stood up. He refused to play in a town unless it supplied lodging and food to him and his teammates ... Only a player of his stature and grace could manage that without getting his skull cracked open. It was painful, after all those years of hearing "if only you were white," to be told now "if only you were younger."
"I'd been the guy who'd started all that big talk about letting us in the big time,"
Satchel
wrote in his memoir. "I'd been the one who everybody'd said should be in the majors." To be denied that chance hurt as badly as "when somebody you loves dies or something dies inside you."
Claire Smith, Memories and Dreams: The Official Magazine of the Hall of Fame, Winter 1019
Alfred Surratt
would never tell where, along the way, he was dubbed "
Slick
." It was a
Kansas City Monarchs
thing, a Negro Leagues thing, a baseball thing. Brothers to the core, the men of the
Monarchs
kept one another's confidences, watched one another's backs, mourned team­mates' losses and failed dreams, and cheered on their brothers' achievements.
Never were the cheers louder, said
Slick Surratt
, than on April 11, 1947, the day
Branch Rickey
and the
Brooklyn Dodgers
signed
Jackie Robinson
, a one-time
Monarch
, to a major league contract. ...
The joy within the black baseball community was palpable. The destruction of segregation within Major League Baseball was at hand. Four days later, on April 15, 1947,
Robinson
would debut with the
Dodgers
, his first step onto Ebbets Field in Brooklyn tromping out the National Past­time's odious color barrier forever.
As we all now know, it wasn't just singing on to be a baseball player. Those opposed to integra­tion would push back, virulently, viciously, unrelentingly.
Robinson
, a former Army officer and one of the greatest ahtletes to come out of
UCLA
, was about to meet his great opponent: Jim Crow. And he would be asked to do so pretty much on his own. One black man against a nation in which large swaths were steeped in segregationist policies.
Raised in California,
Robinson
and his bride would be asked to step into hostile territory where racism ws not only codified by gentlemen's agreements, but mandated by law. The ugly cultural divide they were about to experience was not only enforced by men wearing badges, but also by nightriders hidden beneath hoods and wearing sheets.
The
Dodgers
and
Robinson
, daring to change in 1947 what legislatures, Congress and presi­dents had failed to do ..., knew both the risks and the responsibilities. Yet the man who carried the hopes of so many
Slick Surratts
,
Hank Aarons
, and
Willie Mayses
, never shirked. Incredibly,
Robinson
not only authored one of the most impressive inaugural seasons the game had ever seen, he also gave lessons in heroism each and every day he stepped onto a major league field.
For the record, the first time
Robinson
stepped on such a field was on that April 15 in 1947; the 28-year-old debuted against the
Boston Braves
before more than 25,000 fans at Ebbets Field. He played first base and went 0-for-3 at the plate. 155 games later,
Robinson
had authored the first chapter of what was destined to be a Hall of Fame career.
Likely no other player ever traveled quite so treacherous a path to the Hall as did
Robinson
. In an article printed in
The New York Times
on May 10, 1947, it was revealed that
Robinson
had received "threatening letters of anonymous origin" from the day he'd broken into the big leagues that spring. ... "This disclosure followed on the heels of a report that a strike of opposing players against the Negro players had been spiked."
"Harassment of
Robinson
... by unidentified persons was confirmed in Philadelphia last night by
Branch Rickey
, president of the
Brooklyn
Baseball Club. 'At least two letters of a nature that I felt called for investigation were received by
Robinson
,'
Rickey
said.
"
Robinson
himself admitted receiving several such letters. ... A high police official here disclosed that a letter warning
Robinson
to 'get out of baseball' had been turned over to the police department by the baseball club for investigation."
L-R: Branch Rickey, Jackie Robinson and Ben Chapman
The article went on to describe a short-lived attempt by
St. Louis Cardinals
players to engineer a strike in protest against
Robinson
's playing that was put down by team president
Sam Breadon
.
The indignities heaped on
Robinson
by others in baseball uniforms included spikes-high slides and head-high knockdown pitches. Racist epithets were the rule of the day. What historians came to understand was that
Robinson
would not, could not, lash out, because he, too, had made a gentleman's agreement with
Rickey
.
In his words, ...
Robinson
said, "I remember
Mr. Rickey
saying to me that I couldn't fight back, and I wondered whether or not I was going to be able to do this."
Nowhere was his resolve to honor his agreement with
Rickey
tested more than in
Robinson
's first games played against the
Phillies
in late April at Ebbets Field. The
Phillies
, led by manager
Ben Chapman
, infamously rained an unending torrent of racist slurs on
Robinson
, taunting the infielder about his physical features, telling him to go back to the cotton fields and calling him the "N" word. The onslaught was so relentless and debilitating that
Robinson
later said it pushed him closer to breaking than any other humiliation suffered that season.
"For one wild and rage-crazed minute, I thought, 'To hell with
Mr. Rickey
's noble experiment,'"
Robinson
once recalled.
He was physically and verbally abused, particularly when he was on the road, in certain cities," said
Rachel Robinson
,
Jackie
's wife, in ... 1998. "The taunts angered him, sometimes frightened him, but he turned away from them."
Said
Robinson
's teammate, CF
Duke Snider
: "He knew he had to do well. He knew that the future of blacks in baseball depended on it. The pressure was enormous, overwhelming and unbearable at times. I don't know how he held up. I know I never could have."
Author
Jonathan Eig
wrote of
Robinson
's brutal season in his book
Opening Day
. In a 2016 interview ...,
Eig
said the incidents with
Chapman
brought into focus what
Robinson
was being made to endure.
"It was so offensive that, for a lot of Americans, it was a wake-up call," said
Eig
. "It made people, white people in particular, realize for the first time just what burden
Robinson
was shouldering." As sportswriter
Jimmy Cannon
wrote: "
Jackie Robinson
is the loneliest man I have ever seen in sports."
Chapman
would later try to explain away his actions by saying that he was bench-jockeying, and, in an effort to say he wasn't being racist, described how he also hurled ethnic slurs at Italian-American players such as
Joe DiMaggio
and Jewish players like
Hank Greenberg
.
Chapman
told writer
Allen Barra
he was doing no less with
Robinson
, looking for a way to rattle a rookie. ...
What
Chapman
could not envision was that his action eventually won
Robinson
sympathetic - and vocal - allies. As
Eig
wrote in
Opening Day
, in the second game of the initial
Phillies
-
Dodgers
series, the
Dodgers
'
Eddie Stanky
, a veteran infielder and native Philadelphian, called out
Chapman
and the
Phillies
, deeming them cowards for railing against a man who could not fight back.
"It was the first time a lot of white people and white reporters in particular noticed the abuse
Robinson
was taking,"
Eig
said, adding, "I interviewed a fan who had been a teenager who went to one of those games, heard the heckling, and was shocked."
By the time the
Dodgers
visited Philadelphia in May,
Chapman
, prodded by baseball, asked to have his picture taken with
Robinson
. The
Dodgers
rookie would not shake his hand, so the two men grasped opposite ends of a baseball bat as photographers snapped away.
Off the field, many municipalities remained stubbornly unwelcoming. Even after
Chapman
's attempted truce, the
Dodgers
were not allowed to register at their chosen hotel in Philadelphis until other accommodations were made for
Robinson
. Sadly, this was nothing
Robinson
and the
Dodgers
had not experienced before.
Save for the Spring Trainings spent with the
Dodgers
in the Caribbean rather than segregated Florida and a minor league season spent in a welcoming Montreal,
Robinson
felt the hot breath of hate at every step even as he broke color barriers one ballpark, one town, one city at a time - with "Colored Only/White only" signs on water fountains and public bathrooms throughout the south and meals delivered through restaurants' back doors and eaten in solitude on the back of buses.
"He faced it in Spring Training, in every town in Florida that he visited. He faced it in Pittsburgh and St. Louis and Cincinnati,"
Eig
said. "I doubt that he would've singled out Philadelphia as the worst place in the world."
Larry Doby
, who became the second black major leaguer in the modern era when he joined the
Cleveland Indians
midseason in 1947, was often asked by youngsters of later generations why
Robinson
, he and others didn't just refuse to leave balking hotels, movie theaters and restaurants.
"Because we didn't want to die,"
Doby
told one such inquisitor ...
Dr. Martin Luther King Jr.
told
Don Newcombe
,
Robinson
's
Dodgers
teammate ... "You'll never know how easy you and
Jackie
and
Doby
and
Campy
(
Roy Campanella
) made it for me to do my job by what you did on the baseball field."
Thus, 72 years after 1947, we still marvel at a rookie who - by any measure - refused to fail.
Robinson
, buffeted by societal ills, but steeled by the challenge to change a nation, hit .297 in 151 games that season. He stole 29 bases, more than anyone else in the National League, scored 125 runs and ... helped
Brooklyn
win a National League pennant for only the second time since 1920. It would be the first of six league championships won by a
Brooklyn
team that featured a player
Dr. King
called "one of the truly great men of our nation."
For his efforts, as well as for the example he set,
Robinson
received the first-ever Rookie of the Year Award by the Baseball Writers' Association of America, an award that now bears his name. In the words of
Yogi Berra
, some might say that
Jackie Robinson
made that award necessary.
"Where Are They Now? Tony Cloninger," by Thom Henninger
Baseball Digest July/August 2016

Tony Cloninger
, who spent 12 seasons in the major leagues, lives barely a stone's throw from his North Carolina high school, just north of Charlotte, where six decades earlier his baseball career took shape. He was a catcher then, but his ability to throw a mid-to-high-90s fastball landed him on the mound.
The 6-foot right-hander went on to win 24 games for
Milwaukee Braves
in 1965, but after all these years, he's remembered most for being one of 13 major leaguers to hit two grand slams in a single game.
Cloninger
, the only
pitcher
to slug two slams in a game, enjoyed his milestone moment 50 years ago in 1966, during the
Braves
' first year in Atlanta. By then he had spent five seasons with the franchise, with a locker located between future Hall of Famers
Hank Aaron
and
Eddie Mathews
in the
Braves
clubhouse.
"That always puts a smile on my face and tears in my eyes when I think about how good those guys were to me when I got to the big leagues,"
Cloninger
recalls ... "Talking to me, and listening to them talking about how they approached different pitchers. And they would comment on how I had pitched and helped me along the way." ...
On July 3, 1966,
Cloninger
took the hill as the 35-45
Braves
closed out a weekend set at Candlestick Park against the first-place
San Francisco Giants
. Before
Clon­inger
faced the likes of
Willie Mays
,
Willie McCovey
and
Jim Ray Hart
, the
Braves
chased
Giants
starter
Joe Gibbon
by rallying for seven first-inning runs.
After
Atlanta
jumped in front on
Joe Torre
's three-run blast over the 410-foot sign in center field,
Cloninger
came to the plate to face reliever
Bob Priddy
with the bases loaded and two outs. He worked a full count before pounding a
Priddy
fastball to nearly the same spot as
Torre
's homer.
"I was just trying to hit the ball hard up the middle and I hit a line drive out to straightaway center field," says
Cloninger
, who used a heavy, 35-inch bat made for his friend and roommate,
Braves
infielder
Denis Menke
. "I just put my number on it,"
Cloninger
chuckles. "He always gave me a certain number of bats."
L-R: Tony Cloninger, Joe Torre, Denis Menke
With the
Braves
up 9-0 in the fourth,
Cloninger
took the same bat to the plate, once again after
Menke
had drawn a two-out walk to load the bases. This time
Cloninger
faced lefty
Ray Sadecki
, the former 20-game winner who had come to the
Giants
in a recent trade ... The right-handed-hitting
Cloninger
went the other way, driving a
Sadecki
fastball into the right-field seats.
Cloninger
became the first N.L.
player
to ever stroke two slams in a game, and his eight RBI established a new single-game mark for a pitcher. In the eighth, he singled off
Sadecki
to drive in his ninth run, which remains the single-game record. Today
Menke
's bat is part of the Hall of Fame collection.
The North Carolina native says he flirted with a 10th RBI in the 17-3 victory. In his sixth-inning at-bat against
Sadecki
,
Cloninger
turned on a pitch and hit it to left as hard as his two homers.
"The wind was blowing in from left field real heavy,"
Cloninger
says. "The others were line drives. I got under this one some, and it was up there a ways.
Len Gabrielson
went up to the left-field fence and pulled it in."
Sadecki
gained a bit of revenge with a home run of his own off
Cloninger
, a fifth-inning solo shot that became a source of ribbing by teammates. "We got a lot of kidding about that,"
Cloninger
says and laughs. "They said, 'He let you hit one and you let him hit one.' I said, 'No, he's always been a good hitter.' ..."
Cloninger
hadn't done much as a hitter until 1966. He had batted .174 with a lone home run during his first five seasons with the
Braves
, but showed signs of a budding power surge on June 16, 1966, roughly two weeks prior to his two-slam game. He popped two home runs in a 17-1 win over the
Mets
, turning on a pitch for a three-run homer off
Dave Eilers
and going the other way for a two-run shot off
Larry Bearnarth
.
Beginning that day, through the end of the 1966 season,
Cloninger
batted .282 and slugged .526, with five homers and 23 RBI in just 82 plate appearances. His hitting spurred more at-bats. "It was hard to believe, but for the rest of my career, I pinch-hit some," says
Cloninger
.
"I was a fastball hitter, but if a guy made a mistake with a breaking ball, I could hit that," he adds, "because sitting beside those two guys, I learned a little about hitting. It wasn't just how hard you could swing, but to hit the ball out front."
Those two guys, of course, were
Aaron
and
Mathews
.
"What a gentleman and dear friend. I would have cherished him if he
couldn't hit a baseball
,"
Cloninger
says of
Aaron
. ...
George: The Poor Little Rich Boy Who Built the Yankee Empire, Pete Golenbock (2009)
The year 1971 was a bizarre one, even for
George Steinbrenner
. It began with the Case of the Red Lips, and it ended with
Steinbrenner
's imaginary KO of two men in an elevator in Los Angeles and an apology to the city of New York and to
Yankee
fans everywhere. In between he threatened to sue
Billy Martin
if he didn't take out several allegation in his book,
Number 1
, screwed around with the roster in order to take publicity away from the crosstown
Mets
, and tortured manager
Gene Michael
before firing him and bringing back
Bob Lemon
. He also humiliated
Reggie Jackson
for having the audacity to be in a batting slump. This was the year the reporters began referring to
George
as "Mr. L. Toons" (the L, of course, stood for Looney). It was also a year to remember, in part because the strike-shortened season allowed the
Yankees
to sneak into the World Series.
The Case of the Red Lips jeopardized the job of public relations head
Larry Wahl
. The theme of the yearbook was the Big Apple, and on each player page the designer placed a red apple with the player's number inside. The printer wanted to make sure the red color was the same throughout the book, and he focused on the apples, not the other pictures.
George
had chosen a black-and-white photo of himself that had been colorized, and when the yearbook was printed, his lips were a tad more red than normal. At first,
George
was satisfied with the way it came out until a secretary said to him, "Oh, it looks like you have lipstick on." Said an employee who was there, "That's how it usually goes with
George
. Someone will push a button and send him over the edge."
When
George
heard the criticism, he freaked. He bellowed that the photo made him look like he was wearing lipstick, and he ordered all ten thousand copies destroyed. When ESPN reporter
Keith Olbermann
took the story national,
George
blew up at
Wahl
again. The genial
Wahl
, who was newly married, resigned in June and took a better-paying job at ABC.
After
Billy Martin
punched out the marshmallow salesman and was fired, he had time to sit down and work with me on his autobiography, which was titled
Number 1
. I would travel to his home two or three times a week, or we would go to a restaurant or a bar, where he would drink club soda and lime. After losing his job, I guess he figured it was a good idea to stop drinking, and he abstained the whole eight months we worked together. Before the book came out, it was excerpted in the
Daily News
, which bulleted the five things their editors found most interesting/outrageous. Right around publication in the spring,
Billy
and I both got letters from
Steinbrenner
insisting that the five bulleted items be taken out of the book. Among those items were the tugboat incident and
Billy
's charge that
George
had his phones in the stadium tapped.
Billy
insisted that what he had said was true and initially refused to back down.
Once the book was published, it quickly hit the
New York Times
best-seller list, racing to number five. It was on the
Times
list for fifteen weeks.
George
then put pressure on
Billy
to take out those bulleted items, knowing that if
Billy
did his credibility would be questioned and book sales would drop precipitously. Which is exactly what happened. We sold 110,000 copies before it was announced in the
Daily News
that
Billy
was taking out the bulleted items in the next edition of the book. ...
L-R: Reggie Jackson and George Steinbrenner, Billy Martin, Gene Michael
During spring training of 1981,
George
and
New York Mets
general manager
Frank Cashen
had a contretemps.
Cashen
made a joke about the area around Yankee Stadium being so dangerous that it was like Fort Apache the Bronx. A reporter put it in the paper and it made back-page headlines in the
Daily News
.
Steinbrenner
wanted
Cashen
fined or at the least made to give an apology.
Cashen
refused.
The
Mets
beat the
Yankees
that day on two long home runs. Rookie pitcher
Mike Griffin
gave up five runs to lose it.
Steinbrenner
's anger was monumental. Reporters couldn't wait to hear what he had to say. He didn't disappoint. He blasted catcher
Rick Cerone
for striking out with the bases loaded, making a throwing error, and calling the two pitches the
Mets
hit for homers. He blasted other
Yankee
players as well. He finished by saying, "The team was embarrassing. Now's the time to screw down the hatches. I want to see some improvement." Then he said, "And
Mike Griffin
won't be pitching for us any longer,." It was not an idle boast.
Griffin
was sent to
Columbus
and traded to the
Chicago Cubs
a few weeks later.
Oh, did
Steinbrenner
resent the
Mets
, who had a rookie making headlines by the name of
Tim Leary
. What caught the eye of the newspapermen was the skill of this kid, who had pitched only in Class A ball the year before.
Steinbrenner
became insanely jealous when the
Mets
stole headlines from him, and so to compete with the
Mets
for the back-page headline, he picked a twenty-year-old pitcher by the name of
Gene Nelson
, with a 20-3 record in Class A
Fort Lauderdale
the year before, to be the
Yankees
' answer to
Tim Leary
. When
George
put
Nelson
on the roster, another pitcher had to go, and so he sent down 22-year-old
Dave Righetti
, a young player who had pitched well enough to make the team and deserved to be there.
Steinbrenner
got his headlines. He talked about how
Nelson
was a real-life Frank Merriwell story. "People will come and see him pitch," he said. "He'll put fans in the stands."
But this was just wishful thinking on
Steinbrenner
's part.
Nelson
wasn't ready, and while
Righetti
was wasting away at
Columbus
, he compiled a 5-0 record. When he returned, he won his first three starts, helping the
Yankees
to the lead when the players went on a seven-week strike that began on June 12, 1981.
The players set the strike deadline for June 1, and in response
Steinbrenner
said that the owners were never more "unified and prepared for a strike." He predicted that players' union head
Marvin Miller
would meet his Waterloo. The owners contributed $15 million to a strike fund, and they took out insurance. The issue was free agency. Some owners wanted to be compensated with a player if they lost a free agent. The players dug in their heels. By July 12, 392 games had been lost and the All-Star Game canceled. The strike dragged on. Even Secretary of Labor
Robert Donovan
couldn't resolve it.
A private meeting between
Miller
and American League president
Lee MacPhail
finally brought the fifty-day strike to an end. More than a third of the season was lost. The status stayed pretty much quo. Both sides lost a lot of money. Fortunately, the fans didn't become bitter, and baseball had record attendance in 1982.
One of the biggest beneficiaries of the strike was the
Yankees
, because when the players returned, it was decided that the season would be split in half and the teams in first place at the time of the strike would automatically make the playoffs. Under manager
Michael
, the
Yankees
had finished the first half with a 34-22 record, finishing two games ahead of the
Orioles
. For the second half, the
Yankees
played only .500 ball, and
George
was fuming. He blamed
Reggie Jackson
, who was in a slump, and he blamed
Gene Michael
. ...
The low point of
George
's behavior came in August 1981. With
Reggie
slumping,
George
ordered
Michael
to bench him one night, and another night he ordered
Michael
to pinch-hit the light-hitting
Aurelio Rodriguez
for him.
George
then publicly ordered
Jackson
to undergo not only an eye exam but a complete psychological test as well.
Reggie
felt humiliated and angry.
The
Yankees
were in Detroit when
Reggie
returned from having taken the tests. It was early in the afternoon, and he asked
Jeff Torborg
to grab a couple of buckets of balls and throw batting practice.
Reggie
asked pitcher
George Frazier
if he'd shag.
Frazier
said yeah.
"Then so sit in the upper deck,"
Reggie
said.
Torborg
threw a couple dozen balls, all but a couple of which
Reggie
hit out of the park, most into the upper deck. When he was done, he said to
Frazier
, "Go tell the man what you think of my eyesight."
Continued below ...
George: The Poor Little Rich Boy Who Built the Yankee Empire, Pete Golenbock (2009)

Steinbrenner
's treatment of
Michael
bordered on abuse. He kept bringing him in for meetings, ... and he threatened to fire him often, sometimes publicly. On the day
Reggie
returned from his tests,
Michael
had a surprise for the reporters. He ... said he was tired of
George
's phone calls after games and being told it was his fault when they lost. "I don't want to manage under these circumstances. Fire me and get it over with or stop threatening me. I can't manage this way. I've had enough."
Over the next eight days,
Steinbrenner
kept him hanging. ... He ordered
Yankee
front office members not to talk to
Michael
while
Steinbrenner
called
Bob Lemon
, living in California, to come back and manage.
After
Michael
was fired,
George
said he regarded him as "a son" and asked him to resume his duties as general manager.
Michael
told
George
he was a good manager. "Sure you are," said
Steinbrenner
. "But why would you want to stay manager and be second-guessed by me when you can come up into the front office and be one of the second-guessers?"
George
's bizarre logic made sense to
Michael
, who took the job.
Under
Bob Lemon
, the team continued to play .500 ball. The
Yankees
finished the second half of the 1981 season with a 25-26 record. Turns out,
Gene Michael
didn't do so bad a job after all.
The
Yankees
met the
Milwaukee Brewers
in the playoffs. After winning the first two games, the
Yankees
lost the next two. After the fourth game
Steinbrenner
stormed into the clubhouse ... and began chastising the team.
Rick Cerone
had made a baserunning mistake in the 2-1 loss and
George
said something about it.
Cerone
had been a whipping boy all year. It started when the catcher, whom
George
got in a trade from a terrible
Toronto Blue Jays
team, became dissatisfied with
George
's contract offer and took the
Yankees
to arbitration. ...
George
... offered $350,000.
Cerone
felt he was worth $440,000 ... When the arbitrator ruled that
Cerone
deserved the $440,000,
George
became furious, charging the catcher with disloyalty to the
Yankees
, their players, their fans, and to
George
himself. ...
Cerone
blew up ... "I'm sick and tired and I'm not gonna take it anymore," he said. "Fuck you, you fat son of a bitch. You never played the game. You don't know what you're talking about."
"And you won't be playing the game as a
Yankee
next year,"
Steinbrenner
replied. Then he said, "And we'll find out what you're made of tomorrow." And he stalked out. Teammates congratulated
Cerone
for saying what many of them had been thinking but didn't dare verbalize.
Steinbrenner
's reaction could not have been anticipated.
Cerone
had embarrassed him in front of all the players, a cardinal sin ... The next day
George
left a card in
Cerone
's locker saying the incident should be forgotten. He warned him not to screw up on the base paths again.
The
Yankees
won the pivotal game against the
Brewers
and went on to defeat
Billy Martin
's
Oakland A's
to win the American League pennant. Their opponent would be the
Los Angeles Dodgers
.
L-R: Bob Lemon, Rick Cerone, Bobby Murcer, Jerry Mumphrey
The
Yankees
won the first two games, then lost four in a row.
Reporters and fans were particularly critical of
Lemon
's managerial moves in game three.
George
had ordered
Lemon
to bench
Reggie Jackson
... because they were facing the
Dodgers
' left-hander
Fernando Valenzuela
. The
Dodger
ace was leading by a run in the eighth inning when the first two
Yankees
singled, and
Lemon
pinch-hit
Bobby Murcer
for pitcher
Rudy May
and had
Murcer
bunt, something critics were sure
May
could have done.
Murcer
ended up bunting into a double play.
Immediately after the game,
Steinbrenner
... pushed his way into the
Yankees
' clubhouse. Five minutes later, when the reporters were allowed to enter,
Steinbrenner
told them, "I didn't say anything."
But when reporters started asking questions, they learned that
George
had said plenty, criticizing "foolish mistakes." The most foolish mistake was
Lemon
's ordering
Murcer
to bunt.
George
had also ripped into players
Jerry Mumphrey
and
Dave Winfield
.
Said
George
, "There'll be changes tomorrow." ... In game four,
Mumphrey
was benched, and
Reggie
returned. Despite a batting slump,
Winfield
remained the number three hitter. It has been suggested that
Steinbrenner
ordered
Mumphrey
benched not because he was 2-10 in the series, but because he was scheduled to be a free agent, and his agent had taken a hard line in the bargaining.
The
Yankees
lost the game 8-7. ... As
Mumphrey
stewed on the bench, in the seventh inning he watched his replacement,
Bobby Brown
... misplay a routine line drive into a double. The runner ultimately scored from second with the winning run for the
Dodgers
. ...
After the game,
Lemon
tried to cover up the fact that
George
had ordered him to bench
Mumphrey
. He said he had been "saving" him, though he didn't say what he was saving him for.
After the 2-1 loss in game five,
Steinbrenner
left the press box and headed for
Lemon
's office in the clubhouse. He wasn't seen again until 11:30 that night, when he called a press conference at the LA Wilshire Hotel.
George
's left hand was in a bandage - he said he had broken a knuckle - and he had a bruise on his forehead. He began telling reporters how in the hotel elevator he had fought with two men who had been bad-mouthing the
Yankees
and the city of New York.
Almost no one believed him. ...
Steinbrenner
said he cursed at the guy, and there was a brawl. "He hit me in the side of the head with a bottle, and I reacted. I clocked him with my left hand. He fell ... and the other guy hit me in the mouth. I slugged him too. The elevator door opened, and I got off ... and went to dinner." When his left hand began to throb, he called the team doctor, who wrapped it. ...
A
Yankees
employee who was in LA at the time ... insists there had been a fight in the elevator, though what happened wasn't anything like what
George
said ... The employee ... was listening to a local Los Angeles radio station when the two
Dodgers
fans who were involved gave a recitation of what happened ...
Said the employee, "...
George
was going down in the elevator, and ... one guy was at the elevator and the other guy was in his room when the door opened. The guy at the elevator stuck his foot in the door to hold the elevator for his buddy, and
George
, being
George
, said to him, 'Either get in or get out.'
"The guy turned to look who said that, and he recognized
George
. He called down to his buddy, 'Look who's here.' Once again
George
barked, 'In or out," and the guy turned around and clocked him.
"My guess is that after
George
was hit, he pushed the guy out of the elevator. The door closed, and
George
went down in the elevator." The suspicion was that
George
hurt his hand when he punched the door of the elevator in anger ...
There was one more great
George
moment in 1981. After the
Yankees
lost to the
Dodgers
in the World Series,
George
publicly apologized to the citizens of New York. ... Among the
Yankee
players,
Jackson
reacted most strongly. "We don't need to apologize," he said. "We lost in the World Series. We have nothing to be ashamed of. ..."
Baseball fans everywhere reacted contemptuously. [Reporter]
Joe Flaherty
... was one of them. "We've come to a juncture where we apologize for winning a pennant. That's the insanity of the times. ...
Steinbrenner
is a vulgar rich man from a small burg, and he has the Big Apple to play in. It's really for the enshrinement of
Steinbrenner
, not for baseball. ..."
Kirk Gibson's Bad Opening Day
Bruce Nash, Baseball Hall of Shame (2012)
In the most humiliating game of his storied career,
Kirk Gibson
got bonked on the head twice with fly balls. And it happened on, of all days, the first Opening Day that he played in front of the hometown crowd.
Gibson
, who made his Major League debut at the end of the 1979 season, had experienced his first Opening Day in 1980, but that had been on the road. Not until 1981 did he play a season opener at home.
"I was really looking forward to Opening Day,"
Gibson
recalled. "It's like a holiday in Detroit. Everybody takes off work and goes to the game. You can't get another person in the stadium, and everybody there expects the Tigers to win."
Throughout spring training, the 23-year-old outfielder had been working out in left and center field in preparation for the coming season.
"I walked into the clubhouse, knowing I was going to start in my first Opening Day game [in Detroit]," he recalled. "I figured I would be playing either left or center field. When I looked at the lineup card, I couldn't believe it. There was a nine beside my name. I had to play right field.
"'Oh, God,' I thought. 'It's an afternoon game, there's not a cloud in the sky, and Tiger Stadium is one of the worst places in the early spring to play right field in the day.' I went to [manager]
Sparky Anderson
and said, 'I think you've made a mistake in the lineup.' And
Sparky
said, 'No, I didn't. I know you can play right field.' Having the big ego that I do, I said, 'Sure I can.'"
But it just wasn't
Gibson
's day in the sun.
The first ball hit to him came in the second inning on a deep fly swatted by the
Toronto Blue Jays
'
Willie Upshaw
.
Gibson
misplayed it off his head for what the official scorer charitably ruled a standup triple.
L-R: Kirk Gibson, Sparky Anderson, Willie Upshaw
"I kept going back, back, back until I was against the wall,"
Gibson
recalled. "I lost it in the sun, and the ball whacked right off the side of my head and bounced back toward the infield. I was so embarrassed. I began to hear some boos."
In the next inning, with
Toronto
's
Lloyd Moseby
on third and one out,
John Mayberry
hit a soft shallow line drive to right.
Gibson
broke late, then charged the ball and caught it off his shoe tops.
Moseby
tagged up and sprinted for home.
Gibson
would have had a play at the plate, but as he got in position to throw, he dropped the ball.
"They really started to boo me—even when I came to bat," recalled
Gibson
, who grounded into a force-out at second base during his next at-bat. "When I returned to the outfield, I kept thinking, 'Oh, man, don't hit another one out here to me.'"
No ball came near him in the fourth. But leading off the top of the fifth,
Ernie Whitt
hit a high fly to right.
Gibson
didn't drift over toward the ball; he staggered. Squeamish fans turned their heads away, not wanting to see how he'd butcher the play.
"The ball was right dead in the middle of the sun, and I wasn't real good at using my glasses at the time," said
Gibson
. "But I had my glasses down and I saw it, and then I thought I saw it, and then I didn't." The next thing he knew the ball bounced off his right ear, and
Whitt
ended up on third for a three-base error on
Gibson
. "I got booed unmercifully by 51,000 people, and I felt so humiliated," he said. "I'd never been booed like that in my whole life." A sacrifice fly drove Whitt home for an unearned run, giving the
Blue Jays
a 2–1 lead.
In the top of the sixth,
Toronto
's
Barry Bonnell
lofted a fly to right. While fans held their breath,
Gibson
caught the ball to the mocking cheers of the unforgiving
Detroit
faithful.
After the game, which the
Tigers
won 6–2,
Gibson
told reporters: "I had some tough times, but we won anyway. I'll learn from my mistakes. I'll improve. I fielded that last ball hit to me without any trouble. See? I'm getting better already."
CONTENTS