Charles Fountain, The Betrayal: The 1919 World Series and the Birth of Modern Baseball (2016)
The Civil War had been over but five months when baseball had its first game-fixing scandal. In September of 1865, one
William Wansley
, catcher for the
New York Mutuals
, was paid $100 by a gambler named
Kane McLaughlin
to make sure that the
Mutuals
lost their game that week to the
Brooklyn Eckfords
.
Wansley
obliged, sharing the money with two teammates he had recruited to help. He more than did his part in losing the game, going hitless in five at-bats and allowing six passed balls in fewer than five innings behind the plate, as the
Eckfords
prevailed 23–11. Fans in the crowd of 3,500 at Hoboken's Elysian Fields cried fix; the
Mutuals
players met following the game and charged
Wansley
with "willful and designed inattention." He confessed to his complicity and gave up his accomplices, and all three were banned from the National Association Association of Base Ball Players ... The punishment was short-lived; all three banished players were playing again for other teams within a year, and formally reinstated within three.
During its short existence, the National Association, which officially became the National Association of Professional Base Ball players in 1871, was a cesspool of gambling and game fixing. Few Americans alive today have ever encountered the word "hippodroming"—an arcane and archaic term that most modern dictionaries have dropped. But it was a familiar word to nineteenth-century baseball fans. They would have seen it in the newspaper several times a season, and known that it meant "conducting or engaging in a contest, the results of which have been prearranged." And readers would have known that the word's appearance in a newspaper story meant the writer either knew or suspected—and newspaper reporters in the 1870s often made no distinction between suspicion and evidence—that yet another baseball game had been crooked. The
New York Mutuals
, the team that apparently inaugurated game fixing, was controlled by Tammany Hall kingpin
William Marcy "Boss" Tweed
and implicated in so many early game-fixing allegations that when shortstop
Tom Carey
had a particularly frightful defensive day in a
New York
win over
Boston
, the newspapers suspected the worst. "
Carey
could not apparently throw the game all by himself," reported one journalist.
These early fixes were hardly subtle affairs; the wanton ineptitude of the fixers on the field hardly escaped the notice of fans, writers, and teammates. Player after player was thrown off his team, only to be invariably picked up by another club, in violation of the agreement that banishment from one National Association club for gambling or game fixing meant banishment from all. The fixers even began to acquire a certain celebrity. In 1875 the
Brooklyn Eagle
named a "rogue all star" team, a position-by-position rundown of those most skillful and incorrigible of the suspected hippodromers. Early sports journalist
Henry Chadwick
, a strident crusader against gambling and game fixing, whose contributions to baseball would earn him a spot in Cooperstown, warned that the game would collapse under the weight of these relentless scandals. "It cannot be denied that hippodroming has prevailed," he wrote in 1872, "or that rum drinking as well as pool selling and gambling has prevailed on some prominent ball grounds of the country during the past two years."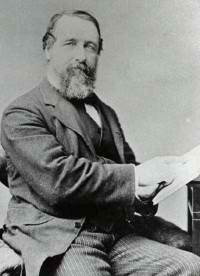 L-R: William "Boss" Tweed, Henry Chadwick, George Hall
The game did not collapse, as
Chadwick
predicted, but the National Association did, in 1875, under the weight of the hippodroming and the National Association's impotence against it. At the start of 1876, it was replaced by the beginnings of the modern National League, in the hopes of turning baseball into "a respectable, honorable and profitable business." Nonetheless the new organization welcomed into its ranks of players most of the hippodromers from the National Association, and it took just a year before it too was rocked by a game-fixing scandal. The difference between the new National League and the old National Association came in the National League's treatment of the guilty.
The scandal involved the
Louisville Grays
, which had led the league for most of the 1877 season before a late-season swoon left them in second place behind perennial champion
Boston
. The
Grays
had also suffered a late-season swoon in the business office. The debt-ridden team had not paid its players since the month of August; fans had taken to passing the hat to help the players pay their rent. It was a newspaper reporter who first sniffed something foul.
John Haldeman
of the
Louisville Courier-Journal
, who had traveled all season with the team (he had even played second base one day when the team was shorthanded), was a particularly privileged and well-connected reporter. ...
Haldeman
began noticing a lot of late-season miscues, and further noticed that the men committing those miscues suddenly began sporting diamond stickpins and flashy rings. He also noticed that a substitute by the name of
Al Nichols
was receiving an inordinate number of telegrams, sometimes several a day.
Haldeman
went to
Grays
team president
Charles Chase
, who had been receiving some telegrams himself, most of them warning him to watch his team.
Chase
confronted
Nichols
, demanding so see the telegrams he had been getting.
Nichols
refused;
Chase
told him that a refusal was tantamount to an admission of guilt.
Haldeman
printed the story.
Nichols
ultimately confessed to being the go-between between a New York gambler and three of the
Grays
regulars—
Jim Devlin
, who had pitched every inning of every one of the team's sixty-one games that season; left fielder
George Hall
, a lifetime .345 hitter; and shortstop
Bill Craver
, a member of that
Brooklyn Eagle
"all-rogue team," whose National Association career included a dismissal from the
Chicago White Stockings
in 1870 for fixing games and suspicion in game-fixing incidents during his time with the
Troy Haymakers
and the
New York Mutuals
.
Devlin
and
Hall
also confessed to their part in a scheme to throw seven games during the season, including two nonleague exhibitions, which was where the fixing started.
Craver
maintained his innocence. Nonetheless he was expelled from the club together with the others. Conveniently, the expulsions also gave the bankrupt team cause to announce that the back pay they owed the four players was "hereby declared forfeited." For the first time in the dozen-odd years that the game had been combating the crookedness, the expulsions stood. In December of 1877, the National League reviewed the actions taken by the
Louisville
club and made the expulsions leaguewide, "for conduct in contravention of the objects of this League." And the players swiftly discovered that, contrary to baseball history to that point, the league meant what it said. The players could not find work. In the immediate aftermath of their suspensions from
Louisville
,
Devlin
and
Hall
signed with
St. Louis
for the 1878 season, but never got to play there.
St. Louis
, together with the
Louisville
franchise, went out business shortly thereafter; but the contracts would have been voided anyway by the league action in December.
Devlin
and
Hall
next tried to find work in the minor leagues, signing contracts with
Utica
for the 1878 season, but they found the reach of the National League now extended throughout all of baseball. Pressure from the National League, and newspaper pressure from the influential
Henry Chadwick
, caused
Utica
to rescind their offers to the erstwhile
Louisville
fixers. The banishment was complete.
Mark Halfon, Tales from the Deadball Era (2014)
Public disclosure of the
Black Sox
Scandal stunned and enraged the nation. Base­ball fans vilified players that they had revered; sportswriters denounced the conspirators as traitors to game and country; team owners demanded their ex­pulsion from the sport; and government officials called for criminal investigations. How could anyone trust a baseball player? Why would anyone attend a baseball game? America's pastime staggered in the face of daily revelations and needed rescue from the sinister forces infecting its ranks. Fortunately
Babe Ruth
's majes­tic home runs and
Judge Kenesaw Mountain Landis
's steely determination saved baseball from imminent self-destruction. At least that is how the story goes. An examination of events at the time tells a different story.
Ruth
did not save baseball.
Landis
did not save baseball. They had nothing to save. ...
The 1920 fall classic [between the
Brooklyn Robins
and the
Cleveland Indians
] would go on as planned, but who would show up? ...
Fans answered in the clearest terms as sales of World Series tickets exceeded all expecta­tions. It was as if the public was oblivious to what had transpired in the preceding days. One
New York Times
caption read, "Fans as Eager to Buy Tickets as Though
White Sox
Scandal Had Never Happened." ...Fans purchased tickets in record numbers, but how would they greet players that they had idolized before the scandal?
Ominous signs appeared early in Game One at Brooklyn's Ebbets Field, despite a capacity crowd of more than twenty-three thousand who had paid $1–6 for their tickets.
Robins
support­ers ordinarily packed the ballpark hours before the first pitch, but on this day empty seats re­mained at game time. Although the park eventually filled, those in attendance showed little enthusiasm. Shivering fans in overcoats and furs sat quietly through a cold and windy after­noon watching the
Indians
defeat the
Robins
3–1 behind the pitching of spitballer
Stan Cove­leski
and defensive gems by
Tris Speaker
,
Joe Sewell
, and
Joe Wood
. The scandal had coattails.
Another unenthusiastic crowd dribbled through the turnstiles for Game Two on a calm autumn afternoon. Ebbets Field barely filled by game time, and the bleach­ers, which
Brooklyn
loyalists usually engulfed after the gates opened, remained half empty at the start of the contest. Hometown fans, however, had something to raise their spirits as
Robins
right-hander
Burleigh Grimes
, baseball's last legal spitballer, tossed a 3–0 shutout to even the series. It perked up the audi­ence, just a bit. ...
Wildly exuberant fans arrived early for Game Three, making abundant use of their rattlers, whistles, horns, and cowbells. "The aura of the throng, in short, which had been for two after­noons a dull gray shot with streaks of putty, shifted entirely overnight into a riotous aurora borealis flare of purple, orange and scar­let," the
New York Times
reported. The hometown crowd cheered throughout the day as the
Robins
edged the
Indians
2–1 behind the pitching of vete­ran left-hander
Sherry Smith
. One headline read "Crowd Is Not Only Present, but There." Brooklynites had returned to their normal frenzy.
The World Series shifted to Cleveland's Dunn Field, where
Indians
fans showed they needed no time adjusting to life after the scandal. Game Four drew a rec­ord-breaking crowd of more than twenty-five thousand fans inside the recently renovated ballpark and tens of thousands more circling the perimeter. "It was the greatest gathering which has ever witnessed a ball game here. The new bleachers and field boxes were crowded and the stands were filled. Outside the park the fans were draped dangerously around telephone poles and trees, and the housetops were crowded."
Coveleski
sent the locals home happy for his second victory in a 5–1 trouncing of the
Robins
that evened the Series at two wins apiece.
L-R: Jim Bagby, Elmer Smith, Bill Wambsganss
Game Five drew a second consecutive record-breaking crowd in what turned out to be a mem­orable contest. In addition to
Indians
right-hander
Jim Bagby
's de­feating the
Robins
8–1, fans witnessed three historical events. After three con­secutive singles to start the game,
Indians
right fielder
Elmer Smith
slugged the first grand slam home run in a World Series;
Bagby
became the first pitcher to homer in a World Series, a three-run blast in the fourth inning; and after
Pete Kilduff
and
Otto Miller
singled to put runners on first and second with no one out in the top of the fifth,
Clarence Mitchell
smacked a hard line drive toward right-center that second baseman
Bill Wambsganss
grabbed in his bare hand. "
Wamby
" stepped on second to force
Kilduff
, who was well on his way to third, and tagged
Miller
, who was pulling into second, for the third out. It was the first and only unassisted triple play in a fall classic. Baseball's gods smiled down on the faithful.
It became more and more apparent that baseball had managed a quick recovery from the scandal. After the game, the
New York Times
wrote, "The world's series of 1920 has passed the halfway stage without the least sign that there is on the part of the fans any lack of confi­dence, or any lack of interest because of the re­cent disclosures regarding the series of a year ago. The fans still believe in the honesty of the sport and the integrity of their favorite players. [That] a few traitors could be found in the ranks proves nothing about the game in general as the baseball lovers see it." The national pastime appeared as strong as ever.
It Took a Tragedy to Change the Rule
Tales from the Dead ball Era, Mark S. Halfon (2014)
As offensive production surged, yet another advantage went the way of batters but only after one of the sport's great tragedies. On August 16, 1920, a critical contest loomed at the Polo Grounds between
New York
and
Cleveland
, teams that were in a virtual three-way dead heat with
Chicago
atop the Ame­rican League standings. A steady rain hampered visibility and caused the ball to be mud-stained, omi­nous signs for batters who crouched over the plate facing pitchers who threw inside. Starting for the
Yankees
would be beanballer
Carl Mays
, whose willingness to throw at batters the
Indians
had ob­served themselves on May 20, 1918, when one of his pitches had caromed off player-manager
Tris Speaker'
s head with such force that the ball landed in the stands. Shortstop
Ray Chapman
, who batted ahead of him in the lineup, had witnessed it all.
It had been two years since that incident when
Chapman
, regarded as one of the best "number two" hitters in baseball, led off the top of the fifth inning with
Cleveland
ahead 3-0. Crowding the plate as always, he had worked the count to 1-1when
Mays
unleased his trademark underhand fastball, scra­ping his knuckles on the ground as he completed his follow-through. The ball sailed directly toward the head of
Chapman
, who remained motionless as the baseball cracked against his unpro­tected skull. A terrible thud, heard by
Babe Ruth
in RF, echoed throughout the park as the crowd gasped in horror.
Chapman
fell to the ground barely conscious, unable to speak, blood pouring from his left ear. After a few agonizing minutes, he struggled to his feet and headed toward the clubhouse as a prematurely relieved crowd applauded, but the injured ballplayer collapsed and needed help off the field. Team­mates rushed him to the hospital, where he passed away the next morning.
L-R: Carl Mays, Ray Chapman, Tris Speaker
Mays
met the following day with Assistant District Attorney
John F. Joyce
, who ruled the death an acci­dent and declined to press charges, but American Leaguers were less forgiving. They called for a boy­cott of games in which
Mays
pitched, while the
Red Sox
and
Tigers
drew up a petition calling for his banishment from baseball. Not everyone, however, thought the sumariner had aimed for
Chapman
's head. Eyewitnesses indicated that the pitch may have been in the strike zone and reported that
Chap­man
seemed "hypnotized" at the plate. Sportswriter
Fred Lieb
wondered, "Why didn't he react, duck, throw himself to the ground?"
Speaker
, who was standing on deck at the time, held
Mays
blameless for the death of his friend, and
Chapman
himself expressed no ill will toward the P. After briefly regain­ing consciousness, he said, "I'm all right. Tell
Mays
not to worry." He was not all right, and
Mays
did not worry.
Mays
claimed it was an accident and he had a clear conscience, Instead, he blamed umpire
Tom Connolly
for failing to remove the dirty baseball, but
Connolly
placed responsibility for the tragedy in the prodigious lap of
Ban Johnson
. After American League owners had complained about the excessive number of baseballs discarded,
Johnson
directed umpires to keep balls in play until they became "dangerous.'
Connolly
had been following orders. Whoever held responsibility, a darkened baseball had contributed to
Chapman
's death and forced a revision in policy. League officials now ordered um­pires to remove scuffed, soiled, or misshapen balls and substitute new white ones.
The new regulation ended a long-standing practice. Before when umpires threw in a new baseball, pitchers wiped it across the grass to rub off the gloss and tossed it around the diamond to teammates, who applied whatever substance they had at their disposal. No more. Also, given that thrifty owners expected umpires to keep baseballs in play as long as possible, occasionally one lasted a full nine innings. "We'd play a whole game with one ball, if it stayed in the park. Lopsided, and black, and full of tobacco juice and licorice stains,"
Crawford
recalled. No more. Advantage offense.
"What's the matter with me?"
Babe Ruth's Called Shot: The Myth and Mystery of Baseball's Greatest Home Run,
Ed Sherman (2014)
The 1929 season ended on a tragic note for the
Yankees
.
Miller Huggins
, the manager who had guided the
Yankees
to their three titles, was in poor shape throughout most of the season. On September 20 he was admitted to the hospital. He was diagnosed with erysipelas, a serious bacterial infection. He soon developed a high fever, and the situation deteriorated quickly. On September 25, 1929,
Huggins
died at the age of 50.
Huggins
's death rocked baseball. The American League canceled its games the following day, and the viewing of his body drew thousands of fans. The
Yankees
were shocked. "I'll miss him more than anyone,"
Gehrig
said. "Next to my father and mother, he was the best friend a boy could have. He taught me everything I know."
Ruth
also took
Huggins
's death hard. He joined the ranks of the player in the clubhouse sobbing when they learned the news. "You know what I thought of
Miller Huggins
, and you know what I owe to him." ...
The unexpected development left the
Yankees
reeling and looking for a manager for the firt time since 1918. General manager
Ed Barrow
wanted future Hall of Famer
Eddie Collins,
but
Collins
wasn't interested.
Art Fletcher
, a longtime coach for the
Yankees
, also declined an offer to run the team.
Ruth
, meanwhile, had the perfect candidate in mind: himself. Why not? After all, he had been playing in the big leagues since 1914. He knew the game as both hitter and pitcher. ...
Ed Barrow looks over Babe Ruth's shoulder as he
signs a Yankee contract next to Colonel Ruppert.
"Hey, what's the matter with me?" wrote
Ruth
in his autobiography. "I had been with the
Yankees
organization 10 years; had been in baseball for 16 years; knew baseball."
Ruth
also saw other big-name stars -
Ty Cobb
,
Eddie Collins
,
Rogers Hornsby
,
George Sisler
,
Tris Speaker
- taking advantage of opportunities to become player-managers. Who was the biggest star among them? It was
Ruth
by a mile, of course. "I felt I had a better knowledge of the game than almost all of them,"
Ruth
wrote.
Surely
Yankees
owner
Jacob "the Colonel" Ruppert
owed him this opportunity. Managing a big-league squad was the only thing he hadn't done in baseball. Not only was he qualified, but the position would serve as a payback for all that he had done for the franchise.
Ruth
pleaded his case. "I told him I knew how to handle young pitchers because I had been one myself. I knew how to handle hitters because I was one myself."
Ruppert
resisted the idea. All those years of flaunting the team rules when he was younger, requiring both owner and manager to discipline the slugger, were coming back to bite
Ruth
.
Ruppert
, with his German accent, always pronounced the
Babe
's last name "
Root
." In turning him down, the team owner uttered the famous line that dogged the slugger for the rest of his baseball career: "You can't manage yourself,
Root
. How do you expect to manage others?"
Ruth
had a comeback, though. He wasn't a kid anymore. He was about to turn 35. He had a new wife and was raising two daughters.
Ruth
tried to convince
Ruppert
that he had matured. His wild days lay behind him. Besides, he reasoned, who else better to know whether one of the players was getting out of line. "I know every temptation that can come by any kid, and I know how to spot it in advance," he said. "If I didn't know how to handle myself, I wouldn't be playing today."
Ruppert
said he would consider it, and
Ruth
walked out of the meeting thinking that he had a chance. It turns out that he had zero chance. Not only did
Ruppert
not select
Ruth
, but the owner further offended his star by not personally informing him.
Ruth
learned that
Bob Shawkey
had filled the position through the newspaper, which he promptly threw across the room. That wasn't the end of the matter, however.
Ruth
writes that he "exacted revenge" from
Ruppert
by demanding a big salary for 1930. Initially he asked for $100,000, eventually settling for a two-year deal at an unheard-of $160,000. He also informed
Ruppert
that he wouldn't be as available to play in exhibitions during the
Yankees
' off-days, another big revenue source for the team owner. ...
[
The Yankees hired former P Bob Shawkey, who lasted only one year.
]
Shawkey
's firing also proved to be another source of frustration and embarrassment for
Ruth
. Again, the slugger went to
Ruppert
, asking to be manager. He pleaded his case for a second time. "I don't think [they] realized that I had matured, was finally a grown man with family responsibilities and not the pipe-smoking playboy [
Ruppert
and
Barrow
] had pulled the covers off in that hotel room in 1919,"
Ruth
wrote in his autobiography.
Ruppert
, though, recalled those moments and used them once again to deny
Ruth
the job. "He recited a long list of my early mistakes - he had somebody look them up-and at the end he shrugged. 'Under those circumstances,
Root
, how can I turn my team over to you?'"
Ruth
believed that if [
Joe
]
McCarthy
hadn't become available, he might have had a decent shot at the position. ... Even so,
Ruth
wrote of yet another snub: "It still hurt," and that hurt lingered for the rest of his life. He desperately wanted to be a manager.
Ruth
wanted the authority. He wanted to show that he could be a leader of men.
But no one had faith in him to do so. In 1933 he fumed when the
Washington Senators
named
Joe Cronin
as a player-manager.
Cronin
was all of 26 years old. "It made me scratch my head and wonder if I'd ever be mature enough to become a manager,"
Ruth
snarked. He also wrote that
Detroit
owner
Frank Navin
had asked if he might be interested in managing the
Tigers
after the 1934 season.
Ruth
said yes and asked if he could talk after he returned from a barnstorming commitment in Hawaii.
Navin
was put off by
Ruth
's inclination to honor his commitments. Instead, after spending $100,000 to buy
Mickey Cochrane
from
Philadelphia
,
Navin
made the catcher the new manager. "In looking back, I can't help but wonder whether those pennants would have gone to me instead of
Mickey
if I had run out of the first part of my Hawaiian contract,"
Ruth
wrote.
Ruth
was so desperate, he even signed with the lowly
Boston Braves
in 1935 because of a promise that he would become manager. He soon realized though, that the
Braves
had no intention of letting him run their team. Jilted and with his skills totally gone,
Ruth
retired after player only 28 games.
Red Sox Memories
The Teammates: A Portrait of a Friendship, David Halberstam (2003)
Johnny Pesky, Dominic DiMaggio, and their friend Dick Flavin reminisced as they drove from Illinois to Florida to visit Ted Williams in 2001

Pesky
said
Spud Chandler
, the
Yankees
pitcher, was tough. "God, he was mean. He'd hit you in the ass, just for the sheer pleasure of it. It was like it made him feel good. I had shined his shoes when he had pitched out in the Coast League [when
Johnny
was a bat boy in Portland OR]. It was as if he had some personal thing against me, as if he was insulted by my being in the big leagues. He was the worst tipper in the Pacific Coast League, by the way. In 1942, which was my first year in Boston, we were playing the
Yankees
and he was pitching.
Ted
used to like to get
Bobby
[
Doerr
] and me, and sometimes
Dom
, and take us where we could watch the opposing pitcher warm up to see what he had - in those days they warmed up right in front of the dugout. So we were standing there, watching
Chandler
, who had a very tough sinkerball, and
Jack Malaney
of the old
Boston Post
came up to us. And he said, '
Pesky
, you don't have a hit off
Chandler
this season. You're 0 for 14 against him.' And
Ted
said, 'That's right,
Needle
[
Nose
]. You're always trying to pull the ball against him. He throws a heavy ball - you can't pull it.
Needle
, I can't pull him, and I'm a foot taller than you and about forty pounds heavier. You have to go with the pitch.' So we get to the bottom of the eighth inning and the score is 1-1, and our catcher gets to first, and
Dom
doubles, and we have men on second third, and first is open. So I come up.
Bill Dickey
is catching, and he goes out to the mound to talk to
Chandler
. And before I get to the plate
Ted
takes me aside and says, '
Needle
, that's
Spud Chandler
out there, and he throws a heavy ball. And he is not going to walk you to get to me. So you're going to get a pitch to hit. Don't try and pull it.' It's almost sixty years later and I can still hear him telling me that ... And I get up, and I take a couple of pitches, and I get a sinker and slap it to left, and two runs score. I'm on first and
Chandler
is going crazy, it's apparently very personal to him - just screaming at me. 'I'll stick one in your ear, you little shit. I'll get you.'
Ted
is standing at the plate, just grinning away.
Ted
steps in, and
Chandler
is still screaming at me,
'You little shit, I'll get you!
' And it's like he's forgotten
Ted
is the hitter. He finally pitches to
Ted
, and
Ted
hits a rocket to right field. Home run! And
Ted
comes in to the dugout, and he's saying where is our horn-nosed little shortstop - 'Didn't I tell you about
Chandler
? Didn't I tell you?
Chandler
was so mad at you, he forgot I was the next hitter.'"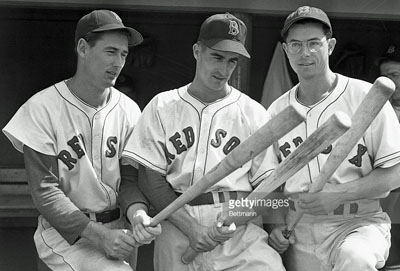 L-R: Ted Williams, Johnny Pesky, and Dominic DiMaggio; Spud Chandler
As they neared Philly,
Dominic
was saying that he was rather puzzled as to why he had been invited there. ... In an unusual feat for one of the younger players,
Dominic
had even managed to forge a genuine friendship with the great
Lefty Grove
, who had started his career ... in 1925 with the
Athletics
and had come to Boston in 1934 when
Athletics
owner and manager
Connie Mack
was selling off his best players due to financial difficulties.
Lefty
was a hard man, known as much for his misanthropy as for his brilliant pitching ...
Dominic
's relationship with
Grove
did not start well. When
Dom
joined the
Red Sox
in the spring of 1940,
Johnny Orlando
, the clubhouse boy, brought him around the locker room and introduced him to everyone. "The only two who weren't there were
Jimmie Foxx
and
Lefty Grove
," recalled
Dominic
, "but pretty soon
Foxx
shows up and sticks out his hand and says, 'Welcome aboard, kid." But then
Grove
comes by and walks right by me and doesn't say a thing. And I'd heard that he was quite temperamental and so for two weeks we didn't speak. Every day it seemed we were in the elevator together, but we didn't talk. Not a word was said. And I was thinking, I'm a rookie, and rookies don't speak unless they're spoken to. Especially to
Lefty Grove
. So then a friend of mine from Boston came down, and said, 'What's this, I hear you don't talk to
Lefty Grove
?' And I said, 'You've got it all wrong,
Grove
doesn't speak to me ...'" The next day when
Dominic
was returning to the team hotel, he had to pass two rocking chairs on the front porch.
Grove
was in one and
Orlando
in the other.
Dominic
got very nervous. This was going to be a great social test: "My heart is beating terribly, but I get my nerve up, and I say, 'Hello,
Lefty
,' and he bounds up, grabs me, hugs me, tells
Johnny Orlando
to sit somewhere else, tells me to sit in
Orlando
's chair, and we sat and talked for hours. We became fast friends after that. I caught the last ball hit on his three hundredth victory, the last game he pitched. And I think I was one of two players invited to the dinner to celebrate that win -
Jimmie Foxx
was the other one."
You Can't Hit the Ball with the Bat on Your Shoulder,
Bobby Bragan as told to Jeff Guinn (1992)
Bobby Bragan was the backup C on the 1947 Dodgers who appeared
in only 25 games and spent most of his time in the bullpen.
In 1947 we clinched the pennant in a road game at
Pittsburgh
. There was a big celebration in the clubhouse with champagne for every­body to pour over every­body else. I was truly excited about playing in a World Series. Having recognized my limitations as a player, I knew that this would un­doubtedly be the highlight of my active career. I called Birmingham and in­sisted that
George
and
Corinne
[his parents] fly to New York at my ex­pense to attend the Series with
Gwenn
and our children.
We had the toughest possible opponent. ... The
Yankees
had won 97 games ...
The Series got off to a rough start for
Brooklyn
. Playing at Yankee Stadium to open up we lost the first two games ...
We switched to Ebbets Field for the next three games. Needless to say, I hadn't seen any action yet beyond warming up relief pitchers in the bullpen. I wasn't unhappy, just glad to be part of a team playing in the World Se­ries.
George
and
Corinne
were enjoying themselves anyway. ...
If this World Series had ended in five games I'd never have been able to say I played in one. The
Dodgers
came back on our home field to win Game Three 9-8 and Game Four 3-2. ... But the
Yankees
won Game Five 2-1 ... and the Series returned to Yankee Stadium ... The
Yankee
march was in­terrupted in Game Six, though, and this remains my most priceless baseball memory.
L-R: Bobby Bragan, Joe Page, Burt Shotton
Things didn't look good as
Brooklyn
came to bat in the top of the sixth inn­ing.
Vic Lombardi
had been shelled by
Yankee
hitters, and though
Ralph Branca
had come on to hold
New York
,
Joe Page
took over on the mound for the
Yankees
in the fifth obviously able to protect a 5-4 lead into eter­nity.
In New Jersey, my father-in-law was watching the game on television. He was astonished in the top of the sixth when it was announced
Bobby Bra­gan
would be pinch-hitting for
Ralph Branca
. "I watched you run in from the bullpen, go to the dugout, select a bat, and walk to the plate," he told me later. "The closer you got to home plate, the tighter the muscles in your face became."
It was no optical illusion. We had two runners on against
Page
. The left­hander had handcuffed us throughout the Series, and it was obvious if we didn't get to him now he'd hold us off the rest of the way and the
Yankees
would be champions.
In my mind, the game is still being played. I can see the sky, smell the grass, hear the crowd. I can also feel my knees shaking. They were, hard. Major leaguers get nervous in the same way anyone else would. The dif­ference is we can perform anyway.
With a count of one ball and two strikes, I hit a line drive down the left field line. It might have been five feet fair, and I pulled into second base with a double. My RBI tied the score. Immediately,
Burt Shotton
sent in
Dan Bank­head
to run for me. I trotted off the field into our dugout, to be met there by teammates who pounded me on the back. It was wonderful. Euphoria. I learned later that
George
and
Corrine
, having long since given up ever seeing their son play in the World Series, were both in the restroom during my time at bat. Well, nothing is perfect, but this moment came close.
Pee Wee Reese
followed my double with another hit. The
Dodgers
took the lead and held it, making
Joe Page
the losing pitcher. I couldn't cele­brate much. After we were finally retired in the top of the sixth I got my catcher's mitt and ran back to the Yankee Stadium visiting bullpen.
Tommy Henrich
, the
Yankee
right fielder, told me later he'd always admired how I'd gotten to run in across the field to get to bat, got my double, and then got to run back to the bullpen amid the cheers of
Brooklyn
fans in the crowd. God, I felt 10 feet tall.
When I got home to Brooklyn after the game, eight kids ranging in age from six to fourteen who lived in the same apartment building were lined up on the sidewalk with cardboard signs saying, "Our Hero." It added to my joy.
The Mick's Sad Journey into Retirement
Marty Appel, Baseball Digest, September/October 2018
Bill Kane

, the 28-year-old statistician of the

Yankees

, enjoyed hunt­ing for stories behind the numbers, even before pocket calculators came along to make the lives of statisticians easier. This was 1968, and

Mickey Mantle

had begun the season at .302. He had had three straight years under .300, and a fourth was clearly looming, his once-great skills fading.

It was Friday, July 5, and

Kane

rose from his desk in what had once been

Mel Allen

's small office and approached the

Yankees

' public relations team of

Bob Fishel

and

Bill Guilfoile

. And me, a rookie hired just that season to answer

Mantle

's fan mail.

"This weekend,"

Kane

said, "

Mickey

's lifetime average is going to drop under .300."

Those were painful words to hear. It was the batting average that separated the elite hitters from the good ones - a 'Mendoza line' for the very good. To baseball people, including fans, the single point between .299 and .300 mattered.

"Can't he get back over it?" I asked.

Kane

shook his head. "Not going to happen, not the way things are going," he replied.

And, as feared, it happened - that very night - before 16,178 who could not have known. When

Mickey

went 0-for-4 against

Balti­more

's

Dave McNally

, his career batting average - exactly .300 when the game began - slipped to .299996. His lifetime average would stay under .300 for good.

It had been four years since

Mickey Mantle

was "

Mickey Mantle

." He was only 33 as the downhill portion of his career began in 1965, and only 36 as he concluded it. He could look around the

Yankees

clubhouse in 1968 and know few teammates. He was the last player from the

Casey Stengel

era remaining. He seldom took batting practice. He hurt all over.

His contemporaries -

Willie Mays

,

Hank Aaron

,

Frank Robinson

and

Ernie Banks

among them - would continue to play into their 40s. But

Mick

was done at 36, the "Year of the Pitcher" treating him unkindly, as he fell to .298 lifetime.

"That was my biggest regret," he said.

He didn't announce his retirement until spring training of 1969, giving the

Yankees

an opportunity to still promote him over the winter in their ticket brochures. And even though the team was prepared to pay him another $100,000 for 1969, he knew it was time to say goodbye.

So it was a sad journey to retirement, but his final season, while lacking a "farewell tour" as future players would enjoy, did have its moments.

There was, remarkably, a 5-for-5 performance against the

Wash­ington Senators

on Memorial Day - only the second of his career. His performance included two home runs, 12 total bases and five RBIs.

The New York Times

called it "his best day in the big leagues."

It was as improbable as

Babe Ruth

hitting three home runs for the

Boston Braves

in one game, in his final days as an aging player, after having done it only once before in the regular season.

But it was downhill from there.

Attention turned to

Mantle

's climb up the all-time home-run chart. He had begun the season in fifth place with 518.

Ruth

(714) and

Mays

(564 and counting) held the top two spots, but third on the list,

Jimmie Foxx

with 534, was reachable.

On April 26,

Mantle

tied

Ted Williams

with 521, and then passed him on May 6 to rank fourth. He tied

Foxx

on Aug. 22 with his 534th, but by then, there was little left in the tank. He went 25 games without homering, despite swinging like he was back in Wrigley Field, Los Angeles, playing "Home Run Derby," as he had done eight years before for a TV series. But nothing came and frustration mounted.

In Detroit's Tiger Stadium on Sept. 19,

Mantle

faced

Denny McLain

, who would win his 31st game of the season that day. In the eighth inning,

Detroit

led 6-1 and by all accounts,

McLain

"honored"

The Mick

by grooving one right to his sweet spot with no one on base. To

McLain

's satisfaction,

Mantle

hit it out and could take a sigh of relief as he rounded the bases. He had passed

Foxx

.

For good measure, as though to remove the asterisk that would, in people's minds, accompany the shot off

McLain

, he hit one more - the very next day back in Yankee Stadium, a solo homer in the third inning off

Boston

's

Jim Lonborg

for No. 536. The last home run for the

Commerce Comet

. (He hit 266 home runs at Yankee Stadium and 270 on the road.)

The

Yankees

finished their season in Boston with a weekend series, Sept. 27-29.

Mickey

went 0-for-3 with a walk on Friday night off

Dick Ellsworth

and

Lee Stange

. On Saturday afternoon, again facing

Lonborg

, he cracked his bat with a first-inning pop-up to SS

Rico Petrocelli

in short LF. It left him with an embarrassing .237 mark for the season.

Then, he took himself out of the game, packed his gear, and had the clubhouse man get him a taxi to Logan Airport.

Destination? Retirement. He didn't stay until the end of the game, and he wasn't there for the season finale on Sunday.

Perhaps some fans, sensing the end, bought tickets to see him one last time, even though he hadn't announced anything. Perhaps some fans drove up from New York for the finale. But there would be no "last game" fanfare. His season - and his career - had ended.



Dave McNally


Denny McLain


Mantle rounds bases after hitting #535


Jim Lonborg
"Oh, Charlie"
Dick Williams and Bill Plaschke, No More Mr. Nice Guy: A Life of Hardball (1990)
Manager Dick Williams' 1973 Oakland A's were attempting to defend their World Series championship.
We finally climbed about .500 in mid-May and were actually playing well when the
Kansas City Royals
came to town May 18. But once again we couldn't let a good thing alone. It was time for new guy [
Billy
]
North
, who fit in well here, to cause another scene. In the sixth inning against the
Royals
he singled to score the tying run, he stole second, and then he scored on a single to give us the lead. Everything was fine until
North
came to the plate in the eighth inning. The
Royals
pitcher was
Doug Bird
, just another reliever. Or so we thought.
On
Bird
's first pitch
North
swung and missed and released the bat, lofting it next to the pitcher's mound. Losing the bat is a common, natural occurrence when a batter is fooled by an off-speed pitch. What happened next is not so common. Walking to the mound, just before he reached his bat,
North
stopped, turned, and nailed
Bird
with a right to the jaw.
Bird
dropped, but
North
didn't stop - he jumped on him and pounded him. I was watching this like it wasn't really happening, like it was some scene staged as a joke. What in the hell is
Bill North
doing pounding a guy after the guy throws him a strike?
North
was thrown out of the game, which only made me spend the final couple of innings wondering. Did I have an insane man on my hands? I mean, more insance than the guys I already had? First thing I did when I got into the clubhouse afterward was call
North
to my office. Before I could even ask him what the hell had happened, he told me. Three years earlier
Bird
had plunked
North
in the head with a fastball in a minor league game. It was no ordinary plunk, it cracked his skull.
North
, needless to say, hadn't forgotten. He apoligized to me but claimed this was the first time he'd seen
Bird
since and he had no choice.
Now it was my turn to go crazy. "Since this was such a personal grudge, why didn't you just go to his hotel room, open the door, and pop him one?" I asked. "Or why didn't you at least tell us, and we would have gotten back at him some other way! Why the hell did you have to fight him by yourself, on your own, without any of us knowing?
Billy
, damn it, this is a team that doesn't just play together, it fights together!" Yes, I can't believe I made that last statement. That showed just what kind of team I believed I was managing.
L-R: Dick Williams, Billy North, Doug Bird
With
North
threatening to steal the show, soon it was
Reggie
's turn to get into the act. On July 4 in Oakland against
California
, he went three for four with one RBI, but his bad outfield defense - something he later became famous for in New York - allowed three runs, and we lost 3-1. While standing at the postgame buffet,
Reggie
was mouthing off about his offense like always, when [coach]
Irv Noren
said, "
Reggie
, if you played defense like you play offense, we would have won this game."
Reggie
blew up. "How can you say that about me!" he shouted. "A man can't play around here and be happy! Why can't you just let us alone - quit acting like all of us have to be
Babe Ruth
or something."
Right away the media rushed to me for comments on the explosion, which I could hear even in my office. After talking with
Noren
, I announced that I agreed with my coach. As if you thought I'd say anything else. Just as I hope my coaches will back me, I back them. I told the media, "
Reggie
doesn't need to be so sensitive. And furthermore,
Noren
was right. If
Reggie
did play defense like he swings the bat, we'd all be better off."
The next day
Reggie
saw my quotes, and suddenly he's madder than hell, not at
Noren
but me. That morning, as we were boarding our flight to Baltimore,
Reggie
stopped as he passed me on the plane and said, "Don't even talk to me again. Put my name in the lineup card and leave me alone." Before I had a chance to tell him that I wasn't even obligated to put his name in the lineup card, he was gone down the aisle. We blew across the country that night on a ride turbulent with tension.
Reggie
wanted to kick my ass, and increasingly I wanted to kick his. And - oh, yes - we were in first place.
[Owner
Charlie
]
Finley
loved this stuff. He loved people to be uneasy, uncertain, worried enough about their jobs and their egos to play their butts off. I preferred to treat them like men and hope they'd play their butts off because they wanted to win.
L-R: Reggie Jackson, Irv Noren, Charlie Finley
"The Hemorrhoids Guy"
"The Game I'll Never Forget," George Brett as told to Barry Rozner
Baseball Digest July/August 2016

When
George Brett
was elected to the Hall of Fame in 1999, he received 98.2 percent of the vote, the sixth-highest percentage of votes ever. ...
Brett
played in 13 All-Star games and ranks 18th all-time in total bases, 24th in MVP shares, and 36th in RBI. ...
While accumulating this extraordinary resume, there was a stretch in which a portion of his anatomy drew as much attention as his bat - the result of a well-publicized battle with hemorrhoids during the 1980 World Series.
"For three years after that World Series, everywhere I went I was that guy, the guy with a pain in his butt,"
Brett
says now with a laugh. "I was 'The Hemorrhoids Guy' in every stadium. ... you hear every joke you can imagine about me and my hemorrhoids. But that all changed on July 24, 1983."
The story really began about two weeks before that, when the Yankees were visiting the
Royals
and
New York
third baseman
Craig Nettles
noted something after a
Brett
at-bat, and said something to
Yankees
closer
Goose Gossage
.
"I didn't find this out until many years later,"
Brett
explained. "But I guess
Nettles
thought he saw the pine tar too far up my bat and he told
Goose
that if I got a big hit in that series, they were going to show the umpires the bat and try to get it overturned. It didn't become an issue then, so they let it go. Little did I know what they had planned for me when we got to New York a couple weeks later."
Yes, the
Yankees
had been watching for a while and plotting against
Brett
if the proper situation occurred, and manager
Billy Martin
was right in the middle of it all.
"Of course
Billy
was in on it,"
Brett
laughed. "He was always looking for an angle."
America got a lesson in pine tar that Sunday afternoon, and soon every baseball fan knew that pine tar is allowed from the bottom of the bat and could extend 18 inches toward the top.
There was no real reason for the rule, other than the fact that pine tar was ruining baseballs and too many were getting tossed out of play. ...
The
Yankees
were leading by a run on that July day at Yankee Stadium, with two outs in the top of the ninth and the tying run on first base.
Up stepped
Brett
, one of the best hitters of all time, to face
Goose Gossage
, one of the best closers of all time.
Gossage
tried to fire his trademark fastball high and unhittable, but
Brett
went up shoulder-high and hammered it deep into the right-field bleachers for a two-run homer and a
Royals
lead.
"Here's something you probably didn't know,"
Brett
said with a smile. "When a player hits a home run, the bat boy is supposed to get the bat and take it back to the bat rack, where it mixes in with all the other bats. If he had done that, they wouldn't have had the bat. I wasn't trying to hide anything.
"The bat was legal,"
Brett
explained, "but the kid was a
George Brett
fan in New York. I loved him. He was a good kid, but he wanted to shake my hand after I crossed the plate. So he's standing there holding the bat when I crossed home plate. Just standing there holding it, like a smoking gun.
"That's what gave
Billy
and those guys a chance to go get the bat and show the umpire. But they wanted the bat and they were going to get it no matter what, whether the kid stood there or not."
With
Martin
yelling from the dugout,
Yankees
catcher
Rick Cerone
grabbed the bat from the batboy and gave it to home-plate umpire
Tim McClelland
, who got together with his crew and discussed the bat. They examined it, but had no ruler, so
McClelland
- a rookie umpire - set the bat down on home plate, which is 17 inches across.
L-R: George Brett, Billy Martin, Frank White
Frank White
was sitting next to me on the bench and he said he didn't like what he was seeing out there, four umpires surrounded by
Billy Martin
and all the
Yankees
,"
Brett
said. "He said, 'This doesn't look good. They're gonna call you out.' I said, 'Call me out? For what? If they do, I'm going to go out there and raise hell.' And just as I finished saying it, the ump walked over and gave me the out sign."
The game was over, but the firestorm was just about to start. Everyone remembers most what happened next.
"I went nuts,"
Brett
said, laughing. "I was going to get my money's worth."
An enraged
Brett
came charging out of the dugout and tried to get at
McClelland
, waving his arms like a madman. He was held back by
McClelland
's three fellow umpires. ...
The
Yankees
celebrated and skipped off the field, while
Royals
manager
Dick Howser
protested the ruling and the result of the game.
During the melee, however, the
Royals
'
Gaylord Perry
grabbed the bat from the umpire and ran toward the dugout.
"
Gaylord
was big into memorabilia, so he must have thought it would be great to have that bat in his collection,"
Brett
said. "He tossed it to someone else, who tossed it to someone else ... the umpires chased them all up the tunnel and got the bat."
The umpires wanted the bat as evidence to turn over to American League president
Lee MacPhail
, which was the best thing that could have happened to
Brett
and the
Royals
. Four days after "the pine incident,"
MacPhail
ruled the pine tar didn't help
Brett
hit the homer and awarded the
Royals
the two runs. At a later date, the game would continue from that moment with the
Royals
leading 5-4.
A full 25 days later, both clubs were back at Yankee Stadium to finish the game. Minus
Brett
.
"I watched the last four outs of the game from an Italian restaurant in Newark because I had been thrown out of the game for charging the umpires - even though the game was over,"
Brett
said. "We had flown in from Detroit on an off day on the way to Baltimore. So we stopped and the guys went to the park. ...
Plus, a few others were missing.
Bert Campaneris
had started the game at second base for the
Yanks
, but he was hurt, and center fielder
Jerry Mumphrey
had been traded.
Billy Martin
was so mad about the
MacPhail
decision that he offered his own version of a protest.
For the final
Royals
out in the top of the ninth, he played pitcher
Ron Guidry
in center field and first baseman
Don Mattingly
, a left-hander, at second base. Neither saw the ball on the last out in the top of the ninth, and
Kansas City
closer
Dan Quisenberry
retired the
Yankees
in the bottom of the ninth to secure the 5-4
Royals
victory.
The bat is now in Cooperstown. Nine years later,
McClelland
was working the game when
Brett
recorded his 3,000th hit and congratulated him during the festivities. ...
"I went from 'The Hemorrhoids Guy' to 'The Pine Tar Guy,' which was much better for me. So I always said 'thank you' to
Billy Martin
because I went from something pretty embarrassing to being remembered for hitting a home run. It worked out very well for me."
Indian Summer
Memories and Dreams: The Official Magazine of the Baseball Hall of Fame and Museum,
Paul Hagen (2018)
With a month left in the 1997 season, the

Indians

' once comfortable lead in the American League Central had dwindled. A loss to the

Angels

left them just six games above .500 and two-and-a-half up on the second-place

Brewers

. They'd dropped four of their last six games. It was far from the dominance they had come to expect from themselves.

Their long West Coast road trip was set to conclude in Anaheim on Aug. 27. That also happened to be

Jim Thome

's 27th birthday. So somebody, probably designa­ted hitter

David Justice

, tossed out a casual suggestion. Why didn't all the players that night wear their socks high the way their slugging first baseman did?

Thome

ended up hitting 612 home runs in 22 seasons before he retired following the 2012 season. He was elected to the Hall of Fame in his first year of eligibility. So, yeah, there were plenty of notable accomplishments and goosebump moments along the way. Yet there was something about '97 that stands out in his memory.

While there were years he hit more homers, drove in more runs and had a higher OPS. 1997 was when he made his first All-Star team and hit 40 homers for the first time. That also was when he made the transition from third base to first, a move that would have important implications going forward in his career. ...

On the eve of his Cooperstown induction, the first thing

Thome

mentions about that pirvotal year was the way the

Indians

came together after an impromptu fashion deci­sion that was somehow silly and significant at the same time. He went straight to that evening, when he wasn't even in the lineup.

After just two innings, the

Tribe

was down by three runs. Then they exploded for 10 runs in the top of the fourth and cruised to an easy win. Baseball players are supersti­tious, so they decided to keep wearing their socks high when they opened the ensuing homestand. They won four of their next five games. They had a .559 winning per­centage down the stretch. They went to the World Series. And they all wore their socks high every step of the way.

"What it did, it brought everybody together from a stand­point of, 'Hey, we're doing this together. We're doing this as a club,'"

Thome

recalled. "It was a nice gesture and then we just ran with it. Looking back, it was very cool."

Understand this: While the

Indians

had ruled the division the previous two years, and even advanced to the World Series in 1995, this was a different club.

Albert Belle

had left as a free agent.

Eddie Murray

had been traded. A week before the regular season opened,

Kenny Lofton

was sent to the

Braves

for

Justice

and

Marquis Grissom

.

Matt Williams

had been acquired to play third base ear­lier in the offseason. The

Indians

were a team searching for their new identity.

"It's hard to replace

Albert Belle

. It's hard to replace

Ken­ny Lofton

. But [the front office] got good players in return. And they got good people. Good teammates who, from the standpoint of our clubhouse and camaraderie and chemistry, fit in really well,"

Thome

said.

"You look at every team. You can be good in April and May. But you want to be really good in August and September and October. Looking back, we peaked when you're supposed to."

Thome

came into his own that year, too. He launched 40 homers and had 102 RBI, a league-best 120 walks and a .386/.423/.579 slash line. He was on his way to becoming as synonymous with Cleveland as the Terminal Tower and the Rock & Roll Hall of Fame.

And it all happened while he adjusted to a new position. Even though he had spent countless hours with former Gold Glover

Buddy Bell

to improve his defense at the hot corner, he didn't hesitate when general manager

John Hart

said he had a chance to get

Williams

from the

Giants

.

"There was no doubt. To improve our team, it was a no-brainer,"

Thome

said. "Any time you can get an All-Star caliber third baseman and make your team better, to me it was like, 'Yeah. Let's go. Let's win.'"

Jim Thome


David Justice


Marquis Grissom


Matt Williams

John Hart