Russell Ford's New Pitch
Tales from the Deadball Era, by Mark S. Halfon (2014)
The offense got its first break when a cork-centered "lively" baseball replaced the old "dead" one. League officials secretly experimented with the new ball at the end of the 1910 season but officially introduced it in 1911 with immediate results. In the Ame­rican League alone batting averages jumped thirty points (the largest leap in a single season), and .300 hitters tripled. And then there were the .400 hitters. Rookie
Shoe­less Joe Jackson
batted .408, although it was not good enough to win the batting title.
Cobb
hit .420 and followed that with a .409 average in 1912. Baseball's hitting frenzy, though, did not last; pitchers had something up their sleeves.
A previously undetected freak delivery surfaced that helped end the latest batting surge, although serendipity rather than a response to the lively ball led to its dis­covery. As right-hander
Russell Ford
warmed up for a minor league game in 1907, he lost control of a pitch that bruised the baseball when it struck the grandstand. His next delivery dropped so sharply that it stunned catcher
Ed Sweeney
.
Ford
threw one more pitch, and again the ball broke erratically. The young hurler stumbled upon what would become a devastating weapon, but he chose not to use it at the time and wisely kept it a secret.

Ford
broke into the Major Leagues with the
Highlanders
in 1909 and pitched one game before
New York
demoted him to its
Jersey City
Minor League club, where the now twenty-six-year-old decided to take advantage of his earlier discovery. "I made a sci­entific study of the ball and its freak moves, and as I was the only pitcher who even knew that it existed, I had the field to myself, he said."
Ford
attached a piece of emery paper to his now "loaded" glove and smoothed a small surface of the baseball, which caused it to move in ways that made the spitball look tame by com­parison. Whereas the spitter had one downward break, what became the "emery ball" had four breaks—in, out, up (as much as a foot), and down (as much as two feet). The formerly unimpress­ive hurler gradually gained control of the pitch, making it break in whatever direction he wanted, depending on the location of the scuff and position of the grip. It earned him a trip back to the Majors.
Ford
put on a show in 1910 in one of baseball's most remarkable rookie seasons. He won his first eight games, including four shutouts, and appeared unhittable.
Ford
"has developed into the best pitcher in the big leagues," the
Atlanta Constitution
wrote.
Walter Johnson
,
Christy Mathewson
, and
Three Finger Brown
pitched that season.
Ford
's performance stunned observers, but only
Sweeney
and a hand­ful of trusted teammates knew the secret to his success. Everyone else thought that he had developed a new variety of the spitball, which one writer described as the "freakiest of all freak deliveries."
Ford
finished the year at 26-6 with eight shutouts.
Worried that others might learn about the pitch,
Ford
took special precautions to avoid detection. Instead of sewing a piece of emery paper into his glove as he had done be­fore, he made a leather ring with a small rubber disc to which he attached a piece of emery paper.
Ford
put the ring on his middle finger and slipped it into his glove until it came opposite a hole in the glove (a common affliction of the day). Ford also continued to place his fingers to his mouth to give the impression that he was throwing the spit­ball, which he rarely used anymore. Despite his best efforts, though, another pitcher soon learned the secret to his success.
Right-hander
Cy Falkenberg
went an unimpressive 76-83 for three teams in nine seasons and found himself languishing in the Minors in 1911, but good fortune smiled on the struggling "slow ball" pitcher when second baseman
Earle Gardner
, one of
Ford
's former teammates, informed him about how a piece of sandpaper could trans­form his career.
Falkenberg
listened intently, and after gaining control of the new pitch, he mowed down opponents and received a call back to the Majors in 1913. Astonishingly, he won his first ten games.
Senators
manager
Griffith
and
White Sox
coach
William "Kid" Gleason
suspected that
Falkenberg
had tampered with the baseball and examined it when he pitched but did not notice the almost invisible smoothed spot.
Falkenberg
won twenty-three games that year, second best in the league behind
Walter Johnson
.
L-R: Russell Ford, Cy Falkenberg, Ray Keating
Ford
and
Falkenberg
were the only pitchers using the emery ball, but that changed in 1914 after they jumped to the Federal League. Former teammates of the pair be­gan revealing their secret to friends, and the word spread. Soon virtually every team had at least one of their own with a supply of emery paper. League officials, however, had been unaware of the latest freak delivery until a couple of hurlers got sloppy near the end of the season.
Yankee
right-hander
Ray Keating
learned of the pitch from teammate
Sweeney
and began using it but found himself in an awkward posi­tion on September 12 after
Athletics
second baseman
Eddie Collins
, who seldom fanned, struck out badly in the first inning. In his second at bat,
Collins stood motionless. He never took his bat from his shoulder. He studied Keating's actions carefully and when Umpire Connolly de­clared him out on strikes for the second time, Collins insisted that the arbitrator make an examination of the ball. The umpire did so and dis­covered a large rough spot on the leather sphere, which Collins insisted made it possible for Keating to get the unusual break on the ball. He also requested that Connolly examine the glove used by Keating, as he insisted he was creating the rough spot by means of a substance concealed in the glove. Connolly did so and, much to his surprise, dis­covered a piece of emery paper concealed therein. . . . That was the public birth of the emery ball, wrote umpire and syndicated columnist Billy Evans.
One day after the
Keating
incident, umpire
Charles Rigler
caught
Cubs
right-hander
Jimmy Lavender
throwing the illegal pitch.
Lavender
cleverly, he thought, attached a piece of sandpaper to the inside of his uniform and after turning to center field reached down his pants whenever he wanted to scuff the baseball.
Phillies
manager
Red Dooin
grew suspicious and asked
Rigler
to search
Lavender
. As the umpire approached the mound,
Lavender
ran toward right field and handed the sandpaper to second baseman
Heinie Zimmerman
, but
Phillies
third baseman
Hans Lobert
had been in close pur­suit and retrieved the incriminating evidence.
Rigler
kept the baseball to turn over to authorities but allowed
Lavender
to stay in the game. Without his cheat sheet, he surrendered eight runs, including three homers (two by
Gavvy Cravath
) over the next four innings. Shortly thereafter, the three Major Leagues outlawed the emery ball.
L-R: Eddie Collins, Jimmy Lavender, Heinie Zimmerman
Was the '19 Series the First Rigged One?
The Original Curse: Did the Cubs Throw the 1918 World Series to Babe Ruth's

Red Sox

and Incite the

Black Sox

Scandal,
Sean Deveney
(2010)
There's virtually no chance that the Black Sox were the first team to play a crooked World Series. In the SI article, [Chick] Gandil discusses the World Series proposal Boston gambler Sport Sullivan made to him in 1919. "I said to Sullivan it wouldn't work," Gandil said. "He answered, 'Don't be silly. It's been pulled before and it can be again.'" But other than 1919, there's little hard evidence of fixed championship games. There is, however, a long list of World Series whose honesty remains dubious:
As far back as 1903, when the

Boston Americans

(later the

Red Sox

) played the

Pirates

in the first World Series, catcher Lu Criger claimed he was offered $12,000 by gamblers to call bad pitches. Criger turned them down and caught the entire series.
Ahead by a count of 3-1 (with one tie) over the

Giants

in the 1912 World Series,

Red Sox

manager Jack Stahl was ordered by owner Jimmy McAleer to start pitcher Buck O'Brien instead of ace Joe Wood, who had gone 34-5 and already had two wins in the series. Stahl and

Red Sox

players knew McAleer's motives - he wanted a seventh game, because it would take place at Fenway Park, allowing McAleer to collect more gate-receipt money. Stahl begrudgingly started O'Brien, and the

Red Sox

lost. In the next game, Wood and his teammates probably laid down. Wood had an impossibly bad outing, allowing seven hits and six runs in the first inning, and

Boston

lost, 11-4. In

Red Sox

Century, Glenn Stout and Richard A. Johnson write, "It is not inconceivable that the

Red Sox

, already upset with management, threw the game in order to recoup their losses by laying money on the

Giants

in game seven at favorable odds. In the days that followed, Boston newspapers intimated precisely that." The

Red Sox

did go on to win the series.

L-R: Chick Gandil, Jack Stahl, Jimmy McAleer, Joe Wood

When Sullivan told Gandil that the World Series had been fixed before, he may have been talking about the greatest upset in series history to date, the sweep of Connie Mack's mighty, 99-win

Athletics

by the 1914

"Miracle" Braves

. Rumors held that Sullivan had been involved in the fixing of that series. Songwriter George M. Cohan supposedly cleaned up on the

Braves

- and Sullivan was Cohan's betting broker. Mack never accused his team of throwing the series, but after the series he dumped half his regulars and half his starting pitchers. The

A's

sank to 44-108 the next season.
In the 1917 World Series, in which the

White Sox

beat the

Giants

,

New York

manager John McGraw suspected something was off about his second baseman, Buck Herzog. McGraw later told writer Fred Lieb that Herzog had played out of position throughout the series and that Herzog had "sold him out." Herzog would later be accused of fixing games with the 1919

Giants

- and the 1920 Cubs.
Before the 1920 World Series between

Brooklyn

and

Cleveland

- while the

Black Sox

investigation was barreling through baseball - Illinois State's Attorney Maclay Hoyne declared that he had evidence showing that the upcoming series was fixed too. "It appeared that the gamblers had met with such success that they were brazen in their plan to ruin the national sport," Hoyne said. "What will be the result? I will not say at this time, but I will venture the assertion that there is more and a bigger scandal coming in the baseball world." Hoyne's evidence, though, never materialized. The

Indians

won, 5-2.
During the 1921 World Series, [Fred] Lieb heard a story about

Yankees

pitcher Carl Mays pitching less than his best because he had been paid off by gamblers. Lieb reported the story to Landis, who took no acation against Mays. Years later, Lieb sat with

Yankees

owner T.L. Huston, who had been drinking. Lieb recalled the conversation: "I wanted to tell you that some of our pitchers threw the World Series games on us in both 1921 and 1922," he mumbled. 'You mean that Mays matter of the 1921 World Series?' I asked. He said, 'Yes, but there were others - other times, other pitchers.' By now he was almost in a stupor and stumbled off to bed." The

Yankees

lost both the '21 and '22 World Series. Mays lost three of the four games he started in the two series.
Standing the Gaff: The Life and Hard Times of a Minor League Umpire,
by "Steamboat" Johnson (1935)
A Southern Association umpire recalls bizarre incidents in games in the Crescent City.


New Orleans in the days of Jules Heinemann when baseball was at its height was a tough spot for umpires, and I have had my share of jams there.
One of the run-ins that I remember most clearly was when Bert Niehoff had the Mobile club going for a pennant.
Let me say right here that Niehoff is a smart ca­pable manager, and as long as an umpire was hustling and keeping right on top of the play he would never give any trouble. Let an umpire give Bert the idea that he was asleep at the switch, or loafing on the job, and Bert could cause more trouble in five minutes than some of them could in a whole season.
Along in the middle of the game - it was a hot July afternoon - Bert came up to me and said - speak­ing of the New Orleans pitcher - "Steamboat, that fellow Craft is using something on the ball. Watch him."
Next inning I saw
Craft
going back to his hip pocket with his right hand, so I called time and ran out to the pitcher's box.
Craft
was standing there looking at me with his hands down at his side to see what I was going to do. I went behind him, reached into his pocket and brought out a long piece of licorice, such as small boys chew.
I said to
Craft
: "You're out of the game," and turned and started for the plate. Just as I got to the plate,
Craft
had come up behind me. He grabbed me around the neck, and he was not trying to pet me, either. I was so surprised I could do nothing for a minute, but I finally managed to jerk loose.
I maneuvered until I was backed up against the backstop and was swinging my mask at his head, as he kept coming in and mixing it with me. By this time, four or five players crowded around and stopped the fight.
Larry Gilbert
put in another pitcher, and the game was finished.
A crowd milled around the dressing room after the game, but I was not harmed. They all thought
Craft
had tobacco in his pocket and was just reaching for a chew; but I knew better and, besides, had the licorice. I sent it into
President Martin
with my report.
Jules Heinemann and the stadium that was named for him
It was in Heinemann Park, August 27, 1927, that one of the longest nine inning games on record was played, and one of the worst fights occurred that I ever saw on any ball field. There were 15,411 people in the park. Some 2,000 broke down the gates after they had been closed by order of
President Martin
, who was there to see the game, and rushed in.
Along in the middle of the game,
Ray Gardner
,
New Orleans
shortstop, was at bat.
Hollis McLaughlin
, the
Birmingham
pitcher, threw one so close to
Gardner
's head that
Gardner
took it for a bean ball. In a flash
Gardner
lost his temper and sailed out after
McLaughlin
.
Pel Ballenger
, the
Birmingham
third baseman, rushed over to help
Mac
. They be­gan to mix it up on the mound, and
Joe Sonnenberg
, a police captain who was at the game in civilian clothes, came out of the grandstand on the run to stop the fight.
Max Rosenfeld
,
Birmingham
second baseman, thought
Sonnenberg
was a fan and met him with a solid lick to the jaw. It was a fast, furious battle while it lasted, but the bluecoats stopped it and took
Rosenfeld
off to jail.
Umpires
Brennan
and
Shannon
and I, who were handling the game, told
President Heinemann
that we would not allow the game to be resumed until he got
Rosenfeld
out of jail, since the player had hit the police captain through a mistake. It took two hours to get
Rosenfeld
back from jail, and then we resumed play where we had left off.
The final score was 25 to 16 in favor of
New Orleans
. Fifteen two-base hits were made in all. The elapsed time from start to finish was 4 hours and 10 minutes.
Late in the 1925 race Atlanta was playing in New Orleans. The game was close, and "Red" Torkel­son, usually an easy-going sort of player, was at bat. A good strike came over and I called it.
Red turned around and said: "Steamboat, that ball was not over the plate."
"It was," I said.
Red stepped out of the box and began calling me everything he could think of, and Red had an ac­tive mind.
"Out you go, Red," I said.
"You can't put me out," he said.
"But you already have been out for a long time," I said, and so out he walked.
Then Buddy Rezza came to bat, and he took up where Red left off, looking back and talking to me. I told him: "It will cost you less to look at the pitcher than at me."
Well, Buddy stepped out of the box and talked himself out of the game. That made two in all, and I knew I was in for it.
On my way to the dressing room I got a pop-bottle shower. The police rallied around and took the bottle shower, too, just to see that I got safely off the field. The crowd waited for me outside the park, so Superintendent of Police
Mooney
, since deceased, took me down to the police station in his car and several hours later took me to the Hotel Monteleone where the umpires were stopping.
1921: The

Yankees

, the

Giants

, & the Battle for Baseball Supremacy in New York
,
Lyle Spatz
and
Steve Steinberg
(2010)
New York
versus
Brooklyn
was baseball's most heated rivalry, one that did not need modern-day hype to express it. Long before shows of "hatred" for the other team were a way for fans to get their faces on televi­sion, the fans of each of these two clubs truly detested the fans and play­ers of the other and were quite willing to show their feelings. While relative position in the league standings was mostly irrelevant when the two teams played, the fact that they were two of the leading contenders for the [1921] pennant, as they had been the year before, only heightened the sense of drama. On two occasions in 1920, once at Ebbets Field and once at the Polo Grounds, police had to be called to end fights that had broken out in the stands.
The antagonism between the fans of the two National league clubs dated from well before the 1898 incorporation of the then independent city of Brooklyn into Greater New York. Losing their independent status likely in­flamed the sense of inferiority many Brooklynites harbored when comparing their city-turned-borough, large parts of which were still farmland, to Man­hattan, the "sophisticated" colossus across the East River. Similarly, those living in Manhattan had little or no interest in what went on in Brooklyn.
Joe Vila
, writing after the
Dodgers
' loss to
Cleveland
in the 1920 World Series, said this: "Dyed-in-the-wool New Yorkers didn't enthuse over the World's Series because the
Giants
and
Yankees
were not the participants. They were lukewarm in their sentiment for the
Brooklyns
for the reason that nothing on Long Island except the race tracks ever interests residents of Manhat­tan and the Bronx."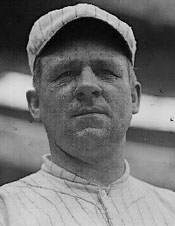 L-R: Bill Dahlen, John McGraw, Wilbert Robinson
Bill Dahlen
, the great turn-of-the-century shortstop, summed up the feel­ings of many, following his December 1903 trade from
Brooklyn
to the
Mc­Graw
-led
Giants
.
Dahlen
, who had played on some of
Brooklyn
's greatest teams, exacer­bated the borough's self-image of second-class citizenship by announcing, "It has always been my ambition to play in New York City.
Brooklyn
is all right, but if you're not with the
Giants
, you might as well be in Albany."
Adding fuel to the fire was the enmity between
John McGraw
and
Wilbert Rob­inson
, the two managers.
Robinson
had been yet another of
McGraw
's team­mates on the great
Orioles
teams of the 1890s. Despite the difference in their ages -
Robinson
was ten years older than
McGraw
- the two men developed a close friendship and later became business partners in a Balt­imore billiards parlor. In 1911
McGraw
added
Robinson
to his coaching staff, where he remained through 1913. Often at odds with each other during that last season, things came to a head after the last game of the World Series, which the
Giants
lost to the
Philadelphia Athletics
. At a re­union of some former
Orioles
at a New York saloon, a drunken
McGraw
criticized
Robinson
's coaching at third base in the afternoon's 3-1 loss.
Robinson
snapped back that
McGraw
's managing had been "pretty lousy" too. "This is my party. Get the hell out of here," snarled
McGraw
. Not to be outdone,
Robinson
showered him with a glass of beer on the way out. The feud would last for seventeen years before the two aging skippers would reconcile at the National League winter meetings in 1930.
"What's the matter with me?"
Babe Ruth's Called Shot: The Myth and Mystery of Baseball's Greatest Home Run,
Ed Sherman (2014)
The 1929 season ended on a tragic note for the
Yankees
.
Miller Huggins
, the manager who had guided the
Yankees
to their three titles, was in poor shape throughout most of the season. On September 20 he was admitted to the hospital. He was diagnosed with erysipelas, a serious bacterial infection. He soon developed a high fever, and the situation deteriorated quickly. On September 25, 1929,
Huggins
died at the age of 50.
Huggins
's death rocked baseball. The American League canceled its games the following day, and the viewing of his body drew thousands of fans. The
Yankees
were shocked. "I'll miss him more than anyone,"
Gehrig
said. "Next to my father and mother, he was the best friend a boy could have. He taught me everything I know."
Ruth
also took
Huggins
's death hard. He joined the ranks of the player in the clubhouse sobbing when they learned the news. "You know what I thought of
Miller Huggins
, and you know what I owe to him." ...
The unexpected development left the
Yankees
reeling and looking for a manager for the firt time since 1918. General manager
Ed Barrow
wanted future Hall of Famer
Eddie Collins,
but
Collins
wasn't interested.
Art Fletcher
, a longtime coach for the
Yankees
, also declined an offer to run the team.
Ruth
, meanwhile, had the perfect candidate in mind: himself. Why not? After all, he had been playing in the big leagues since 1914. He knew the game as both hitter and pitcher. ...
Ed Barrow looks over Babe Ruth's shoulder as he
signs a Yankee contract next to Colonel Ruppert.
"Hey, what's the matter with me?" wrote
Ruth
in his autobiography. "I had been with the
Yankees
organization 10 years; had been in baseball for 16 years; knew baseball."
Ruth
also saw other big-name stars -
Ty Cobb
,
Eddie Collins
,
Rogers Hornsby
,
George Sisler
,
Tris Speaker
- taking advantage of opportunities to become player-managers. Who was the biggest star among them? It was
Ruth
by a mile, of course. "I felt I had a better knowledge of the game than almost all of them,"
Ruth
wrote.
Surely
Yankees
owner
Jacob "the Colonel" Ruppert
owed him this opportunity. Managing a big-league squad was the only thing he hadn't done in baseball. Not only was he qualified, but the position would serve as a payback for all that he had done for the franchise.
Ruth
pleaded his case. "I told him I knew how to handle young pitchers because I had been one myself. I knew how to handle hitters because I was one myself."
Ruppert
resisted the idea. All those years of flaunting the team rules when he was younger, requiring both owner and manager to discipline the slugger, were coming back to bite
Ruth
.
Ruppert
, with his German accent, always pronounced the
Babe
's last name "
Root
." In turning him down, the team owner uttered the famous line that dogged the slugger for the rest of his baseball career: "You can't manage yourself,
Root
. How do you expect to manage others?"
Ruth
had a comeback, though. He wasn't a kid anymore. He was about to turn 35. He had a new wife and was raising two daughters.
Ruth
tried to convince
Ruppert
that he had matured. His wild days lay behind him. Besides, he reasoned, who else better to know whether one of the players was getting out of line. "I know every temptation that can come by any kid, and I know how to spot it in advance," he said. "If I didn't know how to handle myself, I wouldn't be playing today."
Ruppert
said he would consider it, and
Ruth
walked out of the meeting thinking that he had a chance. It turns out that he had zero chance. Not only did
Ruppert
not select
Ruth
, but the owner further offended his star by not personally informing him.
Ruth
learned that
Bob Shawkey
had filled the position through the newspaper, which he promptly threw across the room. That wasn't the end of the matter, however.
Ruth
writes that he "exacted revenge" from
Ruppert
by demanding a big salary for 1930. Initially he asked for $100,000, eventually settling for a two-year deal at an unheard-of $160,000. He also informed
Ruppert
that he wouldn't be as available to play in exhibitions during the
Yankees
' off-days, another big revenue source for the team owner. ...
[
The Yankees hired former P Bob Shawkey, who lasted only one year.
]
Shawkey
's firing also proved to be another source of frustration and embarrassment for
Ruth
. Again, the slugger went to
Ruppert
, asking to be manager. He pleaded his case for a second time. "I don't think [they] realized that I had matured, was finally a grown man with family responsibilities and not the pipe-smoking playboy [
Ruppert
and
Barrow
] had pulled the covers off in that hotel room in 1919,"
Ruth
wrote in his autobiography.
Ruppert
, though, recalled those moments and used them once again to deny
Ruth
the job. "He recited a long list of my early mistakes - he had somebody look them up-and at the end he shrugged. 'Under those circumstances,
Root
, how can I turn my team over to you?'"
Ruth
believed that if [
Joe
]
McCarthy
hadn't become available, he might have had a decent shot at the position. ... Even so,
Ruth
wrote of yet another snub: "It still hurt," and that hurt lingered for the rest of his life. He desperately wanted to be a manager.
Ruth
wanted the authority. He wanted to show that he could be a leader of men.
But no one had faith in him to do so. In 1933 he fumed when the
Washington Senators
named
Joe Cronin
as a player-manager.
Cronin
was all of 26 years old. "It made me scratch my head and wonder if I'd ever be mature enough to become a manager,"
Ruth
snarked. He also wrote that
Detroit
owner
Frank Navin
had asked if he might be interested in managing the
Tigers
after the 1934 season.
Ruth
said yes and asked if he could talk after he returned from a barnstorming commitment in Hawaii.
Navin
was put off by
Ruth
's inclination to honor his commitments. Instead, after spending $100,000 to buy
Mickey Cochrane
from
Philadelphia
,
Navin
made the catcher the new manager. "In looking back, I can't help but wonder whether those pennants would have gone to me instead of
Mickey
if I had run out of the first part of my Hawaiian contract,"
Ruth
wrote.
Ruth
was so desperate, he even signed with the lowly
Boston Braves
in 1935 because of a promise that he would become manager. He soon realized though, that the
Braves
had no intention of letting him run their team. Jilted and with his skills totally gone,
Ruth
retired after player only 28 games.
Yogi Berra: Eternal Yankee, by Allen Barra (2009)
Sometime in the summer of 1941, two of the great legends of baseball narrowly missed making a connection that would have radically altered baseball. ...
Lawrence Peter Berra
, a then somewhat stocky, ungainly looking sixteen-year-old Italian-American kid from the "Dago Hill" area of St. Louis, had attracted the attention of the best organization in the National League for a tryout in Sportsman's Park.
Jack Maguire
, a scout for the
St. Louis Cardinals
told his boss, general manager
Branch Rickey
, that
Berra
had a powerful left-handed swing, a great arm, and heaps of potential.
Rickey
wasn't sure; he was more interested in another kid from the Hill,
Joseph Henry Garagiola
, a year younger than
Berra
.
Garagiola
was thought by
Rickey
to be faster, smoother, and more polished.
Dee Walsh
, another
Cardinals
scout, talked
Rickey
into signing
Garagiola
with a $500 bonus, but
Rickey
was skeptical about offering anything at all to
Berra
.
Rickey
had been getting reports on both boys all summer, not just from his scouts but also from two of his outfielders,
Enos Slaughter
and
Terry Moore
, who occasionally showed up to give pointers at the WPA baseball school at Sherman's Park.
Rickey
's initial offer to young
Berra
was a contract - but no bonus. To a boy that age, a professional baseball contract, even without a bonus, was nothing to be scorned. But
Lawrence
, displaying the kind of stubborn integrity that would, in just a few years, stymie the most powerful organization in sports, balked. "In the first place," he would tell sportswriter
Ed Fitzgerald
nearly two decades later, "I knew it was going to be tough enough to convince Mom and Pop that they ought to let me go away. But if
Joey
was getting $500 for it and I wasn't getting anything, they would be sure to think it was a waste of time for me."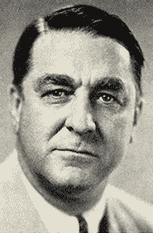 L: Branch Rickey; R: Yogi Berra and Joe Garagiola
Hedging,
Rickey
offered $250.
Branch Rickey
was the most influential executive in baseball - by the end of the decade. It was estimated that nearly 37 percent of all big league players had been developed in one of his farm systems - and
Larry
's brash reply took him aback: "No, I want the same as
Joey
's getting."
Rickey
did not mention to
Berra
how much a month he would be earning under the contract, and
Berra
never asked. "That didn't matter to me. I would have taken anything. All I was interested in was that if
Garagiola
was getting $500, I wanted $500, too,"
Yogi
would later take pains to emphasize that he wasn't jealous of his pal, but he was convinced, from years of sandlot and street games, that he was as good a ballplayer as
Joe
.
Garagiola
disagreed. "
Yogi
wasn't better than me," recalls
Joe
. "He was much better. There were a lot of good ballplayers on the Hill at that time, and '
Lawdy
' - as his friends called him, echoing his mother, who couldn't pronounce
'Larry
' - was the best. ..."
Jack Maguire
argued with his boss, but
Rickey
was intractable:
Berra
would never be more than a Triple-A player. He was too clumsy and too slow,
Rickey
said, to be a genuine big league prospect.
Maguire
never understood
Rickey
's decisions.
Berra
's coaches, and certainly his opponents, did not find him either slow or clumsy, though he often
appeared
to be both. ...
Rickey
had been a catcher himself and was capable of evaluating all body types. He understood that baseball was a game that benefited from all manner of physical tools. Yet,
Rickey
, against the advice of his own scout, would not put out the additional $250 to sign
Larry Berra
. It was the most colossally shortsighted blunder ever made by a baseball executive, surpassing even
Boston Red Sox
owner
Harry Frazee
's dealing
Babe Ruth
to the
Yankees
in 1920 ...
If, that is,
Rickey
's decision was a blunder. In later years, a counterstory would circulate that
Rickey
was actually being shrewd: he knew he wouldn't be with the
Cardinals
much longer, he was preparing to leave the
St. Louis
club for the
Brooklyn Dodgers
, and his real interest was to "hide"
Berra
and sign him for
Brooklyn
.
Joe Garagiola
points out that just a couple of months after the tryout, after
Rickey
had moved to the
Dodgers
, he contacted
Berra
to offer him a contract. "
Rickey
tried to sign
Yogi
after he went to work for the
Dodgers
," says
Joe
. "Why would he have kept a file on him if he hadn't intended to sign him for Brooklyn?"
In his 1961 ... autobiography ...,
Yogi
flat-out denied that
Rickey
had tried to "hide" him. "I've never believed that ... From everything I've heard about him, he's too big a man to do anything like that." ...
The New Bat Cured the Stomach
Baseball's Great Moments, Joseph Reichler (1974)
Willie McCovey
, not an easy fellow to intimidate, was scared half to death. A loud thud had awakened him in the middle of the night. He leaped out of bed, switched on the light, and found his roommate,
Willie Mays
, lying on the floor.
Willie
had fallen out of bed and blacked out.
McCovey
summoned the club trainer,
Doc Bowman
, who revived
Mays
, gave him some pills, and got him back into bed.
That was early in 1961. The
Giants
had arrived in Milwaukee for a three-game series with the
Braves
, and
Willie Mays
was in a batting slump. He went hitless in seven times at bat in the first two games. In one of those games,
Warren Spahn
threw a no-hitter at the
Giants
.
Spahn
remarked afterward that he had never seen
Mays
look so bad at the plate. "I could tell that something was bothering him,"
Spahn
remembers. "He looked like he was having trouble holding up his bat."
L-R: Willie Mays, Joe Amalfitano, Jim Davenport
Spahn
was right.
Willie
had had a persistent stomach ache. Nonetheless, the night before the final game of the series with
Milwaukee
, he and
McCovey
went for a midnight snack, and
Mays
, ignoring his stomach, decided on bar­becued spareribs. He should have known better. Afterward, he couldn't fall asleep. He began having sharp pains in his stomach. He became nauseous. That was the night
McCovey
found him unconscious on the floor.
Mays
felt a little better the next day, but he didn't hit the ball well in batting practice.
Joe Amalfitano
, a teammate, suggested he try his bat, which was a little heavier than
Willie
's.
Mays
felt a little more comfortable at the plate by the time the game started.
Lew Burdette
, always a tough pitcher for
Mays
, was on the moud for the
Braves
. He threw
Mays
a slider, and
Willie
hit it over the fence in left cen­ter, 420 feet away. So much for not feeling well. The same thing happened the next time
Mays
came to bat, in the third inning. This time the ball travel­ed about 400 feet. When
Mays
came up for the third time,
Seth Morehead
was pitching for the
Braves
. He threw
Willie
a sinker, and
Mays
really caught hold of it. The ball landed in dead center, over the fence, out of the park, and beyond the trees. Writers estimated that the ball traveled at least 450 feet.
Moe Drabowsky
, a right-hander, faced
Mays
the fourth time.
Willie
con­nected again but didn't get the ball high enough, and it went for a long line drive out to center field. In the eighth inning,
Don McMahon
, a flame-throwing righthander, was pitching for
Milwaukee
. He threw
Mays
a slider and
Willie
desposited it in almost the same spot that the third homer had landed.
It was his fourth home run of the game and tied the major league record. Only eight other players since the turn of the century had hit four home runs in a game, only four others in a nine-inning game.
Mays
drove in eight runs. One homer came with two on base, two with one on base, and one with none on. The last player to hit four homers in a game had been
Rocky Colavito
in 1959. No player has hit four homers in a game since
Mays
.
Mays
just missed a chance for five.
Jimmy Davenport
, who batted in front of him, was hitting in the ninth with two out and the crowd yelling for him to get on base. One might have thought they were playing in San Francisco instead of Milwaukee.
Davenport
bounced out to end the inning.
"In a way, I'm glad
Jimmy
didn't get on,"
Willie
says. "I'm not saying I wouldn't have liked a shot at a fifth home run, but I don't think I could have done it. I would have been pressing, knowing I could set a record that might never be equaled. I knew what I had done. I heard it over the loudspeakers.
"That was easily the greatest day of my life. I was already beginning to feel nervous waiting on deck. Funny thing, I wasn't nervous when I hit the fourth home run. That's because I never dreamed I'd hit it. I know I wasn't trying for it. I was just swinging. You're satisfied if you get two in a game, but when you get three, that's something you never expect. Four? That's like reaching for the moon."
Willie
's stomach ache had gone.
One Pitch Away: The Players' Stories of the 1986 LCS and World Series,
Mike Sowell (1996)
Gene Mauch managed the 1964 Phillies, who had a 6.5-game lead with 12 games to play and blew the pennant.
Mauch ... was the boy wonder of baseball managers. Thirty-eight years old, and he had the hottest ball club around. Five years on the job, and he had turned a bunch of losers into winners.
To appreciate the magnitude of what Mauch had achieved in Philadelphia, one had to go back to April 1960, when kindly old Eddie Sawyer abruptly quit as manager of the Phillies one game into the season.
"I'm forty-nine, and I'd like to see fifty," said the exasperated Sawyer, who had grown weary of his players' drinking and carousing.
That night, the phone rang in Mauch's hotel room in Pompano Beach, Florida, where his minor-league Minneapolis team was training. It was Philadelphia general manager John Quinn, who had first gotten to know Mauch ten years earlier when Quinn worked for the Boston Braves and Mauch was a sharp young infielder on the team.
"A friend of mine wants to know if you're interested in managing a major-league club," said Quinn.
"Who is it?" Mauch asked skeptically. "The Phillies?"
L-R: Eddie Sawyer; John Quinn, Gene Mauch
The Phillies — everyone in baseball knew about them. In the words of Phila­delphia columnist Sandy Grady, "The team's feature was the 'Dalton Gang,' boozy nightriders who set records for demolishing saloons."
The Phillies also were adept at losing games. Two last-place finishes in a row. Eight years since their last winning season.
Ten years earlier, when they won their last pennant, the youthful Phillies had been known as the "Whiz Kids." These aging and inept Phillies were the "Whiff Kids."
Mauch jumped at the offer.
It didn't take him long to start cleaning up the ball club. He weeded out the trouble­makers. He laid down his set of rules and enforced them with tough words and tough actions.
"Managing that team wasn't the hardest part," Mauch later told Grady. "First, you had to go into bars or bust down hotel doors to find them. It's a good thing I was a young man. An old one would never have survived."
But Mauch survived. And he taught his Phillies to play winning ball. Success did not come overnight, and in 1961 Philadelphia set a major-league record by losing twenty-three games in a row. But even in those losing years, the Phillies were coming together as a ball club.
Slowly, Mauch began to piece together the kind of team he wanted. It was a team of scrappers and hustlers and hard-nosed ballplayers. They moved up to seventh in 1962, fourth in 1963.
They would go on the field to warm up before a game, and with every throw by a Philadelphia outfielder, the bench players would shout at the opposition: "You ain't got no arms like those!" The Philadelphia hitters would take batting practice, and those waiting their turn at the plate would yell toward the enemy dugout: "You ain't got guys who can hit like they can!"
And Mauch, the team's ringleader, never missed a trick. In right field was a corrugated iron fence that balls bounced off at crazy angles. So, Mauch moved his bullpen from left field to right and had his spare pitchers use towels to signal the Philadelphia base coaches how balls were going to strike the fence. This enabled the Philadelphia base runners to know when to take an extra base and when to stay put.
Mauch shaved down the pitcher's mound to help his pitchers. He schemed and plotted from the dugout, once sending up seven pinch hitters in a row, another time putting three pitchers in his starting lineup. He changed pitchers while the same batter was at the plate to get the results he wanted.
No one knew the rules better than Mauch did. When an opposing catcher reached into the Philadelphia dugout to catch a pop foul, Mauch karate-chopped his arm to knock the ball loose. An argument ensued, but Mauch prevailed. The rule book stated that a player enters the other dugout at his own risk.
Mauch also used his fierce temper to motivate his players. In a celebrated incident in Houston late in the 1963 season, he reacted to a ninth-inning loss by knocking over the post­game buffet and throwing a pan of spare ribs across the locker room. What people overlooked was that after that outburst, the Phillies won five of their final six games to squeeze into fourth place, earning each player on the squad an additional seven hundred dollars.
The Bronx Zoo: The Astonighing Inside Story of the 1978 World Champion New York Yankees,Sparky Lyle with Peter Golenbock (1979)
I was on a team that won the pennant and the World Series, despite enough crap to last an entire career, and now that I've won the Cy Young Award everyone can say that
Sparky Lyle
was an important part of that team. ...
The best thing that happened to me was finishing the final two games of the play-offs against Kansas City and right after that winning the first game of the World Series against the Dodgers. The Royals were leading us in the play-offs, two games to one, and they needed only one more game to win. In the fourth game we were ahead 4-0 real quick, but in the fourth Reggie Jackson screwed up a couple of balls in the outfield, the Royals scored two runs, and with two outs and a runner on, Billy [Martin] brought me in. Ordinarily the fourth inning is much too early to bring me into a game. I'm a short relief pitcher. I pitch in the eighth and ninth when there's a lead that has to be protected. I'm the last resort, the guy who has to put his finger in the dike every night. But I guess Billy was desperate, so he brought me in in the fourth.
As I was warming up in the bullpen, Fred Stanley, our backup shortstop, was catching me, and when pitching coach Art Fowler called from the dugout and asked how I looked, Fred told him, "Sparky ain't got nothin', Art."
Billy
brought me in anyway, and when I got out to the mound and threw my warm-up pitches, my slider suddenly started to work right, and for the next five innings, it was the
Royals
who didn't have nothin'. I faced 16 batters and got 15 outs.
L-R: Sparky Lyle, Reggie Jackson and Billy Martin
I knew that the
Royals
weren't going to beat me. I had told [my wife]
Mary
, "I can't pitch in games when we're real far behind or ahead. I'm just not into the game." ... The best time for me to pitch is when we're ahead by a run or the score is tied. When the game is on the line. Against the
Royals
I was ahead by a run, and
Mary
was telling me that she was sitting in the stands watching me, and when everybody was hollering for the
Yankees
to score a few more runs, she was thinking, "No, I don't want them to score more runs." Later she told me, "I knew you weren't going to lose that game. You only had a one-run lead." And she was right.
After the game, the writers asked me, "Can you pitch again tomorrow?" I said, "Only four or five innings. After that, I might start getting tired." They laughed. They must have figured I was joking. We were losing 3-2 going into the top of the ninth of the final game. Paul Blair singled. Roy White walked, and Mickey Rivers singled up the middle to drive in a run to tie it. Willie Randolph drove in Roy with a long fly to put us ahead, and after we scored a fifth run, Billy brought me in to pitch the bottom of the ninth and end it.
I got the first guy out real quick, then the next guy up got a base hit. We were in Kansas City, and with Freddie Patek, their shortstop, up, everybody in the stands was ranting and raving and going crazy. Thurman [Munson] dropped the sign down, I threw Patek a slider, and he hit a nice one-hop­per to Graig Nettles at third, and that was it. A perfect double-play ball. Graig didn't even have to move. He caught it chest high, threw to Randolph at second, and bang, bang, it was over. All I remember is raising my arms high and jumping straight up in the air. Thurman started hugging me, and then there was a big pile of players around me. It was a great feeling, be­cause we had battled our asses off to win that pennant. ... All season long, we never gave up. ...
Also, what was important to me about our winning that game was that if we had lost, I am convinced that
George Steinbrenner
... would have fired
Billy
. There had been talk the last couple of weeks, yet despite the talk,
Billy
still benched
Reggie Jackson
in the final game, because the
Royals
were throwing a tough left-handed pitcher,
Paul Splittorff
, and
Reggie
doesn't hit the tough lefties.
Billy
knows that, too, and he decided to play
Blair
instead. Ordinarily it's no big deal when a manager does something like that, but last winter
George
had paid
Reggie
$2,930,000 to play for the
Yankees
, and
George
wasn't paying
Reggie
all that money to sit on the bench. When we heard
Reggie
wasn't going to start, we thought, "This guy" - meaning
Billy
- "has some balls." But then again,
Billy
and
George
had been fighting all year, usually after a fight between
Billy
and
Reggie
. And talk that
Billy
was going to get fired had popped up so often that after a while we stopped paying any attention to it. It was getting in the way of our playing. When
Billy
benched
Reggie
against
Splittorff
, my only reaction was "We'll be a stronger team with someone else playing right field and with someone else batting fourth against this guy." With him or without him, I knew the
Royals
weren't going to beat us.
Wacky Weather and Gnashing Gnats
"Elements of Style," David Moran, Memories and Dreams: Official Publication of the Baseball Hall of Fame (Summer 2016)
The weather, the world and the wacky have all played a part in baseball history.
Ray Caldwell

A bolt from the blue

According to the National Weather Service, the odds of be­ing stuck by lightning in an average person's lifetime are one in 12,000. On Aug. 24, 1919, in Cleveland, those odds caught up with

Indians

pitcher

Ray Caldwell

. He was one out shy of a complete game victory against the visiting

Philadelphia Athletics

as

A's

batter

"Jumpin' Joe" Dugan

dug in. Just then, however, lightning flashed and

Caldwell

was knocked off his feet, falling unconscious as the crowd quieted and players gathered around him.

After an agonizingly long five minutes,

Caldwell

suddenly jumped up and, according to legend, immediately said to his catcher, "Give me the ball!" What is indisputable is that he took the ball and proceeded to retire

Dugan

on a ground ball to finish off the victory. To this day,

Caldwell

's remarkable experience is the only known instance of a big league player being struck by lightning on the field of play.
Living world

In addition to being vulnerable to extreme wea­ther, the outdoor game sometimes involves en­counters with the animal kingdom. Birds are the most common intruders, sometimes colliding with balls in the air, and there was even an alligator found in the dugout of the Charlotte (Fla.) Stone Crabs ballpark in 2015.

However, one of the smallest members of the animal kingdom proved to be one of its most fe­rocious during a 2007 playoff game in Cleveland. The

Indians

' home park, then known as Jacobs Field, was the site of the "Attack of the Gnats" in Game 2 of an American League Division Series be­tween the

New York Yankees

and

Cleve­land

.

Joba Chamberlain vs the Gnats
As
Yankees
pitcher
Joba Chamberlain
came in to protect a 1-0
Yankees
lead in the eighth inning, a swarm of bugs surrounded his head and re­fused to leave. Team trainers sprayed
Chamberlain
between pitches to no avail. The relentless insects so unnerved him that he came unglued and blew the lead with two untimely wild pitches. The
Indians
won the game and eventually the series, thanks in part to the pesky behavior of an insect called midges.
Michael Sergio

Man-made mania
Sometimes the unusual and unexpected moments in outdoor baseball are not the result of natural phe­nomena, but rather man-made ones. In the first inning of ame 6 of the 1986 World Series, a

Mets

fan para­chuted into the infield grass trailing a banner that read "Let's Go

Mets

!" The flying fan, Michael Sergio, was a 37-year-old actor and a rabid

Mets

rooter. He was promptly escorted from the field and later fined $500 and sentenced to 100 hours of community service for the stunt. The

Mets

went on to win Game 6 and even­tually the world championship.

Our final tale of baseball and the great outdoors is the story of the only time a game was rained out at the Astrodome, the first domed stadium in baseball.
Opening in 1965, the arena was nicknamed "The Eighth Wonder of the World" as nothing like it had ever been seen before in sports. Its promise to eliminate the rain­out resulted in tickets being printed for the first time without the mandatory "rain check" affixed.
On June 15, 1976, the
Astros
were scheduled to play the visiting
Pitts­burgh Pirates
in an evening game. Shortly before noon, the skies opened up and a torrential downpour engulfed Houston. Downtown received 7.48 inches of rain by game time, and an unofficial reading near the Astrodome measured 10.47 inches. Streets all around the ballpark were flooded and by late afternoon it was impossible to get to the game.
Ironically, all players from both teams were in the house, having arrived early for pregame practice, and consideration was given to playing the game without fans. That idea was scratched when the umpires called and reported they had attempted to reach the stadium but their car stalled on flooded roads. The men in blue abandoned their vehicle and waded back to their hotel.
Houston flood of 1976
Can't-Miss Hall of Famer
Memories and Dreams: Official Magazine of the Hall of Fame, Mike DiGiovanna (Spring 2018)
Vladimir Guerrero's Prowess at the Plate Amazed Teammates and Opponents
The stories, as many as there are, simply don't do justice to the hitting skills of
Vladimir Guerrero
. Those who played with and against him still tell tales in amazed tones. "I was in CF, and the C put down four fingers for a pitchout," said All-Star CF
Torii Hunter
, who was playing against
Guerrero
in Double-A in 1996. "
Vladdy
reached out and hit a homer to right-center. We had a pretty tall wall, and as I'm running, I could not believe it went out of the park. I'm like, 'Who is this guy?'"
"The only time we got him out was when we threw a pitch down the middle," joked
Hunter
. "We'd pitch around him, and he'd be eight-for-nine in the series."
Guerrero
, elected to the Hall of Fame in January 2018 ..., spent a career regularly doing the impossible.
One of six brothers and sisters raised by a single mother,
Guerrero
grew up in Bani, a dusty provincial capital with a population of 72,500 near the Dominican Republic's southwestern coast. He lived in a shack with no electricity or running water, and after a hurricane blew its tin roof off, the family squeezed into a single room and shared two beds.
Guerrero
dropped out of school at age 13 to help support his family, selling fish, corralling cows and planting and picking tomatoes, onions, melons and beans on the family farm. He spent much of his free time playing la placa, a Dominican version of cricket in which the hitter kept his bat on the plate until the pitcher released the ball. "You have a broomstick for a bat and a rubber ball,"
Guerrero
said. "We played with folded license plates, and you tried to knock down the plate by you. That opened up my hitting zone and forced me to hit balls in the ground."
When his older brother,
Wilton
, received an invitation to a
Dodgers
training camp on the island, 16-year-old
Vladimir
tagged along, claiming he was a year older to secure a tryout. Though he was a gangly 6-foot-3 with a clumsy gait and an unorthodoz swing,
Guerrero
's raw skills and athleticism were obvious. He had a rocket for an arm, a gazelle-like stride and was long enough to hit outside pitches with authority.
But that legendary story that
Guerrero
wore mismatched shoes for that workout? Not true,
Guerrero
said with a chuckle. "Yeah, the shoes didn't fit well, and I looked like I was running on marbles, but the fact is, I wore those shoes for a long time," he explained. "I did not wear left shoes on both feet."
Guerrero
eventually signed with
Montreal
for $2,500 as an 18-year-old in 1993. He shot through the farm system and arrived in the big leagues in September 1996. In his third game, facing veteran
Atlanta
closer
Mark Wohlers
,
Guerrero
smacked a first-pitch low-and-away fastball over the RF wall for a homer.
It was the first of many.
Guerrero
played seven seasons in
Montreal
, batting .323 with a .978 OPS, 234 homers and 702 RBI. He then spent six seasons with the
Angels
, hitting .319 with a .927 OPS, 173 homers and 616 RBI before closing his career with a year in
Texas
(2010) and then
Baltimore
(2011).
Guerrero
, a career .318 hitter with 2,590 hits, led the
Angels
to five division titles. He won the AL MVP Award in 2004 in his first year with the
Angels
- after a torrid end of the season that saw him hit .363 with 11 homers, 25 RBI and 25 runs over the final 30 games.
Scouting reports on
Guerrero
were basically useless. Don't throw him a strike, most of them said. And don't throw him a ball. He hits those even harder.
"I remember
Todd Stottlemyre
bouncing a split-fingered pitch that
Vladdy
hit for a double," fellow Dominican Hall of Famer
Pedro Martinez
said. "I was like, 'Oh my God, did I see that? Did that ball bounce?' Yes it did, and he hit if off the wall the CF. Anything low, up, in or out, it didn't matter.
Vladdy
had no strike zone. He was one of the most difficult guys to face."
The years on
Montreal
's artificial turf took a toll on
Guerrero
's lower back and knees, and he spent most of his final four seasons at designated hitter. But in his prime,
Guerrero
was one of baseball's best right fielders, with the instincts and range to run down balls in the gap and the arm to gun down runners on the bases. He had 126 outfield assists. His rare two-way skills paved the way for him to become the first Dominican-born position player elected to the HOF. ...
The
Angels
, entering their 58th year of existence, did not have a player enshrined in Cooperstown with their cap until this year. In
Guerrero
, they have a worthy first. "Who better to go in and represent the
Angels
than
Vladdy
, a guy who was a great teammate, kept his nose clean and never messed up the
Angels
name,"
Hunter
said.
CONTENTS
Was the '19 Series the First Rigged One?
Wacky Weather and Gnashing Gnats