The Summer of Beer and Whiskey: How Brewers, Barkeeps, Rowdies, Immigrants, and a Wild Pennant Fight Made Baseball America's Game, Edward Achorn (2013)
It is late May, 1883, the second season of the American Baseball Association.
The Philadelphia Athletics are in need of a pitcher.
George Washington Bradley


O. P. Caylor


Frank Bancroft


Denny McKnight


Lou Simmons

Unfortunately, finding a good pitcher at this point wouldn't be easy at any price. An unprecedented num­ber of professional teams – thirty-two of them in the major and top-tier minor leagues – had already comb­ed through the nation's amateur and lower profes­sional ranks for talent.

Even so, one battered veteran turned up in May who was available to the highest bidder. George Washing­ton Bradley was a name pitcher and a "sharp, hard hitter," a fierce competitor who was not above using violence to win, and one of the greats of early profes­sional baseball. In 1876, pitching for the St. Louis Brown Stockings, he was nothing short of brilliant, winning forty-five games, posting the National League's lowest earned run average, throwing the first no-hitter in League history – and coming within one out of throwing the second. Granted, he may have reportedly met secretly with his catcher, and the two softened the game balls by slamming them with a bat against a stone slab, carefully covering them with a cloth so that they would not be stained. Such deaden­ed baseballs, of course, were harder to drive for dis­tance.

The Chicago Tribune wondered about the "putty ball" that Bradley's team used, remarking that "instead of responding with a click when hit, it simply gave a dull thud like a chunk of mud." When umpires finally caught on, and the League began requiring that game balls be taken only from sealed boxes, after being wrapped in foil, Bradley lost his edge and began spending more time at third base than in the pitcher's box. He earned the nickname "Grin" for the ugly, even fiendish, expres­sion that seemed frozen on his face. "No one before ever had such a tantalizing smirk," one reporter recall­ed in 1892, "and none of the modern detachment has given evidence that they can successfully imitate it." Given his fierce competitiveness, rampant cheating, and nasty bickering with umpires, some considered him little better than a thug. … O. P. Caylor complained that Bradley – "he of the ungodly grin" – was as "suc­cessful at making himself obnoxious to the crowd" as he was at pitching. "But he can grin and kick and spout billingsgate," added another reporter. "In those things his average is No. I."

By 1883, he was a thirty-year-old on the down slope of his career, working mostly as an infielder, but strug­gling to keep his job with the National League's Cleve­land club by showing off some new pitches during spring trainer. His manager, Frank Bancroft, was not impressed. Though the club was paying Bradley the not-inconsiderable salary of $175 per month, Bancroft dropped him from the regular team, condemning him to the reserve squad, and was prepared to grant him his release. Bradley began writing to other managers, let­ting them know he was available. … even though Bradley was not the hurler he once was, he didn't have to wait long for a response from talent-starved professional clubs.

Bradley quickly shook hands on a deal with the Asso­ciation's Pittsburgh Alleghenys, who had lost their number-one starter and desperately needed help. But before he could arrive, Pittsburgh fans were shocked to learn that Bradley had broken his word and jilted the Alleghenys for a better deal from the Philadelphia Athletics, who wished to use him at third base as well as in the pitcher's box. "Moral: Never count on a ball player until you have him signed and locked up past the possibility of escape," the Pittsburgh Dispatch ob­served bitterly. Philadelphia supporters, of course, were delighted. "Bradley's ascension to the Athletic club has greatly strengthened the nine in its weakest point," one reporter gloated. …

The

Alleghenys

, led by Association President

Denny McKnight

, were not inclined to forgive and forget. Furious to be facing

Bradley

in his first Association appearance, the club lodged a formal protest, charging that he was ineligible to play because he had first pledged himself to

Pittsburgh

. The harsh feelings be­tween the rivals threatened to fracture the Associa­tion. The owners convened an emergency meeting on June 5 in Cincinnati to try to resolve the dispute. Called to explain himself,

Lew Simmons

[owner-manager of the

Athletics

] glibly reminded his fellow moguls that, although he may have violated the league's rules in wrestling

Bradley

from the grasp of another club, "ev­ery other club in the association, with the exception of the

Cincinnatis

, was equally as guilty." The red-faced executives had to admit that

Simmons

had a point, and they went home without punishing anyone. Six weeks later, however, President

McKnight

was still barely speaking to

Simmons

, a man he now consider­ed a scoundrel.
Origin of the Term "Southpaw"
"The term 'Southpaw' dates back to the 1850s," Paul Dickson, Memories and Dreams: The Official Magazine of the Hall of Fame, Opening Day 2015

The dominant slang term for a baseball player who throws or pitches with the left hand has long been southpaw. It has been in use in baseball since at least 1858 when it made its debut in print in the New York Atlas of Sept. 12, 1858, referring to a left­handed batsman. "Hallock, a south paw, let fly a good ball into the right field."
Although the term existed before its use in baseball as a description for a left-hander (including boxers), it soon belonged to the National Pastime because it fit with the geography of the typical 19th century ballpark - laid out with home plate to the west, which meant that a left-handed pitcher faced the west and threw with his "southern" limb.
This westward orientation was intended to keep the glare of the afternoon sun ... out of the batters' eyes. It also kept the sun out of the eyes of the customers in the more expensive seats behind the plate. Conversely, it allowed the strong afternoon sun to beat down on the cheap seats, which were known as the "bleaching boards" and then the "bleachers."
The term "southpaw" was given its legs as a base­ball term in Chicago by either political humorist Fin­ley Peter Dunne of the Chicago News or Charles Seymour of the Chicago Herald, who both used the term extensively. According to Dunne's biographer, Elmer Ellis ("Mr. Dooley's America," 1942), Dunne invented the term for a left-handed pitcher in "about 1887" because the "Chicago ball park faced east and west, with home plate to the west, so that a left-handed pitcher threw from the south side." H.L. Mencken ("The American Language," Suppl. II, 1948) reported that Richad J. Finnigan, publisher of the Chicago Times, attributed the term to Seymour. As Finnigan put it in a 1945 letter to Mencken: "The pitchers in the old baseball park on the Chicago West Side faced the west and those who pitched left-handed did so with their southpaws."
The term got a literary boost in 1953 as the title of the first Henry Wiggen baseball novel by Mark Harris. "The Southpaw" was followed by the classic "Bang the Drum Slowly."
Slang synonyms for southpaw include portpaw and portsider (alluding to the left or port side of a ship), as well as forkhanders, hook armers, wrong armer and the Spanish zurdo. The term northpaw for a right-handed pitcher has been used on rare occasion, but has never gained popularity.
Rube's Crackers Have to Go
Rube Waddell: The Zany, Brilliant Life of a Strikeout Artist, Alan H. Levy (2001)

Before the 1903 season began, [Philadelphia A's manager Connie] Mack sat Rube down to go over some contractual matters. Rube signed the standard player contract but with an added provision especially for Rube that Mack insisted he accept. The provision stemmed from discussions with [catcher] Ossee Schrecongost a few days earlier. Schreck easily came to terms with Mack, but he made one little request – that Rube be forbidden from eating "animal crackers" in bed. In those days, roommates shared a bed when the team traveled. It was standard practice throughout baseball. Schreck was the only man who could live with Rube. But the one thing that got under his skin, literally, was Rube's munching animal crackers in bed. "The big bum has got to where he eats these little animal crackers every night. I didn't mind the flat crackers so much," Schreck complained. "But for a whole week last year I woke up with elephants' tusks and cowhorns stickin' 'tween my ribs."
The mere thought of having to assign another player to room with Waddell made Mack instantly agree to Schreck's odd little codicil. Rube made no fuss about it. He liked Schreck and didn't want to rile him. Not another word was said about the animal crackers, and Rube never ate animal crackers in bed again.
A few days after the cracker deal, Rube did exact a little revenge, not on Schreck but on Mack. The team was still in Florida, and late one night Rube knocked on Mack's door. Mack answered, "I am in bed, but come in if you'd like." Rube did, and proceeded to speak some inanity to Mack as he ate a sandwich. While eating, Rube made sure he dropped an appropriate amount of crumbs and other sandwich contents in Mack's bed. The sand­wich didn't contain animal crackers, just raw onion and limburger cheese.
L-R: Connie Mack, Rube Waddell, Ossee
Schrecongost
Robert P. Lockwood, Franciscan Newsletter, May 2015
Barney Drefuss


Bishop Regis Canevin

In an early August 1905 ballgame, a priest decked the owner of the

Pittsburgh Pirates

,

Barney Drey­fuss

. His bishop,

Regis Canevin

, was so upset that he banned all his priests from attending baseball games ever more.

The priest at the center of the story was Father Thomas P. Walsh, a local pastor who had recently been appointed. He came from the Old Country - County Mayo, Ireland - and was ordained for the Pittsburgh diocese in 1896.

Many priests were both "cranks" and "deadheads" in those days. Let me explain. "Cranks" was what they called baseball fans back then; and "dead­heads" was the owners' term for those who were given free tickets.

Priests made good "deadheads" because they gave a little bit of a public blessing to professional ball players and ball games that some still viewed as unsavory. Father Walsh was at a New York Giants-Pirates game in Pittsburgh on Aug. 4, 1905. He thought he had made a bet with a fellow in a nearby box on the outcome of an inning. He won the bet and went to the box to collect. It was the owner's box, and Mr. Dreyfuss denied he had made any such bet. Words were exchanged and Dreyfuss shoved the priest. The priest responded by socking him. When the authorities arrived, the priest gave his name as "Ward" and said he was a machinist from Minnesota. Nobody was buying that as he "didn't have the appearance of a laborer." He was dressed in clericals. He then said he was a semi­narian from Maryland.
Exposition Park, home of the
Pittsburgh Pirates
1890-1909
The next day at the Allegheny Police Station, Father Walsh showed up with a fellow priest. The priest spotted an old buddy who was a retired detec­tive. He asked the former detective how he could get his friend out of this mess. His answer: have him apoloize to Dreyfuss.
So Father Walsh, finally admitting his identity, stepped up to Dreyfuss and apoligized profusely for his actions the day before. "I accept your apology," Dreyfuss replied. "I bear no enmity and have no desire to prosecute you," Dreyfuss said, while still sporting a shiner.
The charges were dropped. But the story got added cachet with the report that Pittsburgh diocesan priests were banned from baseball games. As far away as San Francisco, newspapers reported that "the Right Rev. Mr. Kittel, acting in the absence of Bishop Canovin, who sailed for Rome, has ordered all priests to stay away from ballgames. In the past from 60 to 70 priests have attended every contest." I couldn't find any evidence that priests were actually banned from ballgames for any serious length of time. Perhaps Father Kitel issued such an edict to the priests in Bishop Cane­vin's name while he was away. But there was no such statute in diocesan files.
And what of Father Walsh? He was pulled from his church the day of the altercation. He was assigned after a two-month wait to a parish far away from the ballpark. His career as a deadhead was over. But his priestly vo­cation continued. Father Walsh would later serve as pastor in four parishes down through the years. He died a priest in good standing on July 21, 1923.
It's Not Smart to Irritate The Lip
The Lords of Baseball
,
Harold Parrott
(1976)
It is 1945. Branch Rickey has gone to the

Dodgers

from the Cardinals. Leo Durocher
is the

Brooklyn

manager, and Harold Parrott is the traveling secretary.
The fans in St. Louis felt that Branch Rickey had deserted them to build in Brooklyn a juggernaut that would one day crush their Cardinals ... Rickey carried an open grudge against Cardinal owner Sam Breadon. The Mahat­ma had made millions for Breadon, auctioning off to other sucker owners more than $2.8 million in castoffs while keeping the players needed to win five pennants and four world championships. Rickey felt his reward had been to have Breadon betray him when he needed support to fight Judge Landis's vendetta against the far-flung "chain-gang" farm system. ...
On the eventful September night in 1945 ... Durocher turned the entire National League pennant race around, because he felt his downtrodden Dodger team, hopelessly out of the race, had been humiliated and belittled by Breadon. For Breadon, his double-cross of Durocher just to pick up a few more bucks in an illegal doubleheader was one of the dumbest blun­ders any one in baseball's House of Lords [the owners] ever pulled off. ...
The moment Leo got wind of Sam Breadon's dirty trick, he began acting like a crazy man; and he never stopped for the next thirty-six hours.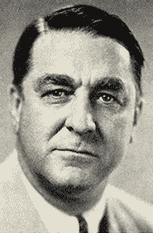 L-R: Sam Breadon, Branch Rickey, Leo Durocher
Until that night, the
Cardinals
had been coming fast; they had streaked from far back in the race to a point where they would be only a game and a half back of the league-leading
Cubs
if they could trample the
Dodgers
twice this night. That did not figure to be too tough, for
Durocher
and his team had been sauntering through September with a "who cares?" smirk.
The Lip
had originally intended to throw two "give-up" pitchers,
Clyde King
and
Les Webber
, against
St. Louis
in the last two games of this series. The
Cards
had chewed
Ralph Branca
to bits in the first game.
Leo was saving his two best, Vic Lombardi and Hal Gregg, to pitch against the Cubs in the next series in Chicago. The Cubs were staggering and had lost again that afternoon. That was Durocher's way: Save your best to knock off the guy on top. But Breadon changed all that.
It had rained on our second night in St. Louis. And now, instead of playing the postponed game on the afternoon of our final day there, as the rules required, the owner of the Cardinals was forcing us to play a twilight dou­bleheader. The old skinflint knew, because I had told him, that this night doubleheader - before the next day's afternoon game in Chicago - would cost us our Pullman sleepers on the regular night train and would force us into an all-night situp ride in a chair car at the end of a long freight. Leo knew it, too, and he had blown up when I told him what Breadon was planning.
All night long the two of us kept calling Ford Frick, the National League president ... But Frick wasn't answering his phone. He wanted no part of a hot potato like this, because Breadon was a powerful owner in league councils, and Ford needed his vote next time his contract came up. ...
It became clear on the sunny afternoon when we should have been playing that Breadon was gong to get away with his night doubleheader; and Du­rocher got madder and madder instead of shrugging it off. He got hold of Gregg and Lombardi ... and told them he was going to use them that night to "kill" Breadon and the Cardinals. He started to psych up his whole team in the lobby of the Chase Hotel before we left for the ballpark.
This wasn't easy. It was a joke of a Dodger team, a crazy quilt of has- beens ... and never-was ballplayers ... Once at the park, the Lip strutted like a Napoleon in a baseball suit in front of his troops as they warmed up. "Look at that plush-lined bum up there in his private box," he stormed, pointing to where Breadon sat. ...
A steady drizzle was falling now, to make things worse, if possible. "Fuckin' Ol' Moneybags is makin' you risk your arms and legs ... down here in this mud!" ... Nothing else mattered to Leo right now except knocking Breadon out of the pennant race. He had spent half an hour getting Lombardi keyed up to pitch this first game. ... Ken Burkhart was a sixteen-game winner, but Brooklyn hitters he could usually handle stomped all over him this night. Playing as if they were in the World Series, Durocher's men grabbed the first game, 7-3.
It was raining harder now, but that didn't cool Leo off. The Cardinals were stunned when they saw ... Gregg ... warm up for the second game; they knew the Lip had been saving him for the Cubs the next afternoon. In the dugout we could hear the manager screaming, "Breadon took away your Pullman sleepers tonight. He's treating us all like animals, making us ride in a cattle car!"
The Dodgers climbed all over Charley Barrett right from the first pitch. ... [He] never got out of the first inning. Gregg coasted to win it.
Breadon, instead of being on the Cubs' heels, was now three and a half back and fit to be tied. The few bucks he had tried to make at the Dodgers' expense were about to cost him a bundle. Although he didn't know it right then, the pennant race was over.
It was long past a wet, cold midnight when the ... Dodgers began to strag­gle onto the train platform. We usually went first class, with two sleeping cars ... But wartime travel restrictions, plus Breadon's dirty trick, had changed all that. ... Durocher stopped to chat with the engineer, who was already up in his cab, anxious to turn it loose. They were already more than an hour late ... Had Charley Tegtmeyer known, he'd have stretched out this little chat, instead of rushing it. It was to be his last night on earth. ...
"A dirty trick that was," Charley began. He lived in Chicago and was a dou­ble-dyed Cub fan ... "How could they force you to play two on a night like this when you gotta be on the field at noon today in Chicago?" "
"We got even," fired back Durocher. "We give it to 'em good!" ...
"I'll make up some time for you, Mr. Durocher ... I'll get you over to Chicago so's you can catch a few hours in real beds before noon." ...
The thin glow that was the edge of dawn was beginning to show up ahead of Old No. 70, and she seemed to be leaping like a hungry horse nearing the barn [forty miles outside Chicago]. Even Durocher ... was catching forty winks [after an all-night poker game] ...
When it happened, most of us thought it was the end of the world. Every window on both sides of the car lit up with that wild, dancing brightness you see in blast furnaces. Outside, an inferno was raging. The whole train, running full throttle a few moments before, was now bumping and swaying in a tortured way as the air brakes blew. ... Up front half a tanker-trailer rig was astride Charley Tegtmeyer's locomotive, and the 2,000 gallons of gas­oline it had spilled on the cab had cooked Charley to death before spraying aft to ignite the rest of the train. ...
As Durocher herded his charges like dazed children out the back door and down into the sharp morning air on the roadbed, they could look back at the death trap they'd all been carried through by sheer momentum ... All Durocher could do was to keep repeating, "Breadon ... that miserable bas­tard ... Breadon ... he should be here to see what he caused ..."
In three hours the fireman was dead, and just about that time the Dod­gers, not much better off, staggered out onto Wrigley Field. Les Webber, dead on his feet, did the best he could ... but the Cubs ate him up. Back in St. Louis, the Cardinals were also very, very dead. Run over, you might say, by Breadon's night freight.
Dynasty: The New York Yankees 1949-1964, Peter Golenbock (1975)


P Bob Turley helped Mickey Mantle immensely from the dugout.
Bob Turley

Mickey Mantle

Turley

, a quiet, serious man, was aloof from the practical jokes and the beer drinking, but he was respected by most of his teammates for his friendly nature and his passion for improving himself by reading books on finance, business, and real es­tate. For some of the hitters

Turley

became an in­tegral aid, because he was probably the premier student of opposing pitchers, and he could tell the hitters whether a fast ball or a curve was coming.

"I simply had the ability to pick up signs from oppo­sing pitchers," Turley said. "I picked up a tremen­dous amount of them and relayed them to Mickey, and I also picked up many of them where there was no relay. I would just tell Mickey, and Mickey would just see for himself what the pitcher was doing to give away what pitch he was going to throw. And very often, when he was up at the plate, he knew what pitch was coming. And he really loved to hit with signs. Usually there would be a tremendous amount of noise going on when Mickey came up to the plate, and it would be very difficult to hear voice commands, but I have a very shrill whistle that overcomes everything else, and I signalled Mickey that way. Everyone in the league knew what I was doing, but they didn't know the code Mickey and I had worked out. We had a sys­tem where we would start off where every pitch would be a curve ball unless I whistle. And then after my first whistle, he looks for all fast balls. The next time I whistle it's a curve ball and so on. They used to think they had us all confused. They'd say, 'He's whistling on the wrong pitches.' But we weren't confused. And any time Mickey would lose count, he would touch the top of his cap, and we would start all over again. There were a lot of pitchers in the league who tipped off their pitches. We had their signs all the years there. I called a tremendous amount of home runs for Mickey in the big leagues - just a tremendous amount.
"It got so that when I wasn't pitching and wasn't doing too well and wanted to go to the bullpen 'cause I wanted to get into the game, the hitters would go Stengel and say, 'Get him back here on the bench.' They wouldn't let me go to the bull­pen. In fact there was one time when I had an injury, and they put me on the disabled list, and I had to sit in the stands, and they had a special seat for me so I could be close to home plate to call the signs."
Death of a Dynasty
October 1964, David Halberstam (1994)

The Yankees are embroiled in a tight pennant race in 1964.
The old
Yankee
magic wasn't working. The other American League teams no longer rolled over and played dead for them. Indeed, the older
Yankee
players noticed something new: one of the key
Yankee
weapons - intimi­dation - no longer worked. Other teams, for instance, the up-and-coming
Baltimore Orioles
(managed by ex-
Yankee
Hank Bauer
), not only had talented young players such as
Boog Powell
and
Brooks Robinson
in their regular lineups, but their pitching staffs might well have been better than that of the
Yankees
. ... The ownership of other teams was getting better and more professional, their systems were better, with better scouting, while meanwhile the
Yankee
system was in decline. The old
Yankee
re­cruiting pitch - that if you signed with the
Yankees
you got less money in the short run and more in the long run as well as the chance to play with the best - had less and less appeal. Young men were signing with the team that offered the most money, and after the
Yankee
scouts made their pitch, rival scouts whispered that if you signed with the
Yankees
, you re­mained buried in their farm system.
George Weiss, the unpleasant but skillful creator of the great dynasty, had been aware by the late fifties that Dan Topping, the more involved of the Yankee owners, wanted to get rid of him, so Weiss had begun to cut back on his investment in the farm system and in signing young players. Whe­ther Weiss had cut back to improve his own numbers, for his bonus was based, in part, on the profits each year, or to show two increasingly disen­chanted owners who took the team's success for granted that he could still run a professional baseball team, no one was sure, but there was no doubt they had cut back.
Moreover, they were paying much more heavily for Weiss's racism than an­yone had realized at the time. That racism was an unfortunate reflection of both snobbery and ignorance: Weiss did not think that his white custo­mers, the upper-middle-class gentry from the suburbs, wanted to sit with black fans, and he did not think his white players wanted to play with blacks, and worst of all, he did not in his heart think that black players were as good as white ones. He did not think that they had as much courage or that they played as hard. That ... was his single biggest mistake. For in the past a key to the Yankee success was that in addition to signing such su­perstars as DiMaggio and Mantle, they had always been able to sign a prototype player who was at the core of winning baseball - a very tough kid, wildly aggressive, who played hard, and who often signed with the Yankees for less money than he had been offered elsewhere because the Yankees ... always won and these kids wanted to win. They were hungry, and they were driven for success; for them, being in the big leagues was not enough; they wanted to excel once they were there. These were play­ers, Henrich, Bauer, or Kubek, who maximized their ability, who played a­bove their level in pennant races and World Series games, and who helped give the Yankees their special advantage of playing well in tough games. ... Here, more than anywhere else, ... Weiss's racism had egregiously blinded him, for he did not see what was in front of him every day: that young black players coming into the big leagues exemplified the mental and spiritual toughness now that the Yankees once demanded. Their lives had been strewn with far more obstacles than the white players'; since owners moni­tored how many black players they carried, there were very few black bench warmers or backup players then. Either you were a starter or you did not make it. George Weiss did not understand the rage to succeed that drove so many of these young men, the passion to make up for so many years of racism and segregation and to avenge wrongs inflicted on those who had gone before them and who had been denied the chance. ...
The Yankees were not a team that would have signed a Bob Gibson, for Gibson would have been too threatening to many of the people in manage­ment. It was no surprise that when the Yankees had finally brought up a black player, it was Ellie Howard, a talented, immensely hard-working player without the speed that marked the new generation of black stars ... If Vic Power, the great black Puerto Rican player, who had shown a quick bat and a great defensive ability in the Yankee farm system, had been somewhat different in his temperament, he might have been the first black Yankee, but Power did not fit the Yankee mold. ...
L: Yankees principal owner Dan Topping and GM George Weiss; M: Elston Howard
Ellie Howard came up in 1955, two years after Power was traded. He was the perfect player to break the Yankee color line - he had a sweet disposi­tion, and he had the capacity to bury deep within himself the racial wounds inflicted by society. ... He was a man of the older generation, and his strength manifested itself not in rage at the injustices around him, as Bob Gibson's did, but in his ability not to show his rage. ...
They Call Me Sparky, Sparky Anderson with Dan Ewald (1998)

Sparky
made it to the major leagues as a coach under manager
Preston Gomez
for the
San Diego Padres
in 1969. When lifelong mentor and un­official spiritual guru
Lefty Phillips
was named
California
manager for the 1970 season,
Sparky
made the switch to the
Angels
.
He never got the chance to put that
Angel
halo on his head. In one of those magical moments of fate,
Sparky
's career took a U-turn that not only changed his life, but also baseball's record books. ... It happened suddenly and unexpectedly on a typical autumn California day in October, 1969.
Sparky and Phillips had returned from lunch to the office of California An­gels General Manager Dick Walsh. The three were discussing the possibil­ity of trading for outfielder Alex Johnson when Walsh received a phone call. After hanging up the phone, he looked directly at Sparky.
"Do you want to manage the Cincinnati Reds?" Walsh ask.
The Cincinnati job was open, but the Reds had not tipped their hand on the candidates they were considering.
"Dick, please don't joke about something like that," Sparky replied.
"I'm not kidding," Walsh said. "That was Bob Howsam (general manager of the Reds) on the phone. You're going to be their new manager. You better give him a call."
Sparky drove to Phillips' house to call Howsam. But one of Howsam's questions regarding a Cincinnati pitcher named Jim Maloney, Sparky felt for sure he would not get the job.
"What would you do if a star pitcher decided to leave the field and just walk into the clubhouse?" Howsam asked.
"Mr. Howsam," Sparky replied. "I would very much like to answer that question. But if I did, I'd be lying because I have no idea in the world how I would ever handle anything until I'm there. If I'm not there on the spot, I can't tell you how I'd do it. All I can say is that I can guarantee you, it will get done. And it will get done right."
There was a little hesitation from Howsam. Sparky thought he did not like his answer.
"Do we have a deal?" Howsam asked. "What do you want?"
Walsh had suggested that Sparky ask for $35,000, which was a high fig­ure for a first year manager in those days. Howsam countered with $28,500.
"Do we have a deal?" Howsam asked.
"We have a deal," Sparky replied.
"All right, you're the new manager of the Cincinnati Reds," Howsam said.
Sparky thought he had heard Howsam correctly. He just had trouble be­lieving what he had heard.
The Reds arranged for Sparky to fly to Cinci­nnati that evening for a press conference the next morning. The day after the press confer­ence, a headline in The Cincinnati Post read "SPARKY WHO?"
Certainly the headline was appropriate. The new manager of the promising Cincinnati Reds was a thirty-five-year-old lifelong minor lea­guer. Nobody knew who George An­derson was. And this Sparky sounded more like a cartoon.
Even Sparky had no idea when he was be­ing considered for the job. The Reds had not yet exploded into prominence. But they were next up on the launching pad. They were loaded with young talent and just a step away from erupting into nationwide notoriety.
"All I could figure is that when I played in Philadelphia, we won 60 games," Sparky said. "When I coached at San Diego, the Padres won 50 games. Bob must have figured I had only 110 wins on my side in the major leagues so I had to have a whole lot more hidden somewhere inside of me." ...
Howsam explained ... "A few years before, Sparky managed a Class A club at Rock Hill for me when I was general manager of the St. Louis Cardinals. Sparky had tremen­dous spirit and fight. He had great work habits. He loved baseball. I wouldn't say it was a gamble to hire him because I knew what he could do. I remember the 'Sparky Who?' headline. Everybody found out Sparky who."
So in spite of the shock of the baseball establishment, Sparky Anderson was off on a career at Cincinnati that didn't end until he set the franchise record of 863 victories. They went along with two World Championships and four National Legue pennants in a span of nine years.
Sports Illustrated, 7/7/2014


From an article on Hank Aaron's HR against the

Dodgers

on
April 8, 1974 that broke Babe Ruth's record for most career HRs.

Al Downing today


Henry Aaron hits #715.


Downing watches Aaron run out his record-breaking HR.


Milo Hamilton today

Cliff Courtenay and Britt Gaston congratulate Aaron as he rounds the bases.


Tom House gives Aaron the ball.


Dr. Cliff Courtenay holds ball autographed by him, Aaron, and Britt Gaston

The Pitcher

The pressure didn't faze Al Downing. The marching bands that crowded the bullpen before the game and prevented Downing from getting a normal warmup didn't, either. The intermittent rain and pregame ceremonies? No big deal. Downing had debuted in the majors with the Yankees in July 1961, so after living through 2 1/2 months of deli­rium surrounding Roger Maris's chase of Babe Ruth's single-season home run record, he was ready for this challenge too. (He has always sus­pected that Dodgers manager Walter Alston chose him to start Aaron's potential record-setting game for exactly that reason.)

So when Downing walked Aaron in the first inning, that wasn't nerves. And when he left a fastball a little up in the fourth, that was just baseball. "I was not overwhelmed at all," he says. "He was the greatest home run hitter of all time. You're more upset if it happened with a guy who was not a good hitter."

Aaron's 715th wasn't a defining moment for Down­ing, who was pulled from the game two batters la­ter. He didn't even stay until the end of the game, and he gave only one interview that night, to George Plimpton, who strolled into the clubhouse and shared a cab back to the hotel with the pitcher.

Downing has embraced his role in history, attend­ing dinners and other events honoring the moment. He's retired now, after nearly three decades as a broadcaster, mostly for the Dodgers.

Downing knows that for some, his 17-year All-Star career has been reduced to a trivia question. But he doesn't regret being the one who gave up num­ber 715, and he was dismayed to hear pitchers ex­press a desire to walk Barry Bonds rather than be linked with him forever when Bonds broke Aaron's record in 2007.

"If you don't want to give up home runs," Downing says, "don't pitch."

The Radio Announcer

Outside the den of Milo Hamilton's condo in Hous­ton is the highlight of the 86-year-old sportscast­er's collection: the Hank Aaron wall. Hamilton has both his scorecards, home and away, from the night of April 8, 1974; the framed article from that week's SPORTS ILLUSTRATED; a two-foot TV adver­tisement from the time featuring Aaron; and a pho­tograph of Hamilton throwing his fist in the air as Aaron circled the bases.

Hamilton had all winter to plan what he'd say, but he let himself be spontaneous - with one excep­tion: "I made a mental note not to say, 'Holy Tole­do,'" which was Hamilton's catchphrase. "It was his day, not mine."

As it turned out, Aaron's will-it-get-out line drive left no room for a canned call. "I was a lucky son of a gun to be there and be the announcer," Hamilton says.

The Reliever

Tom House vividly recalls feeling that Hank Aaron's record-breaking home run was going to drill him in the forehead if he didn't get his glove up. And he remembers presenting the ball to Aaron with a simple, "Here it is, Hammer." But the seconds in between, when he ran the ball from the bullpen to home plate? "I have no clue how I got there," he says. "The guys told me afterward that it was the fastest I'd ever run."

An average pitcher (29-23, 3.79 ERA) who appear­ed in 289 games over parts of eight seasons with the Braves, Red Sox and Mariners, House reached the apex of his career on April 8, 1974. Catching Aaron's hit got him onto a Trivial Pursuit card and, he recalls, into at least one third-grade reading handbook.

The Party Crasher

Cliff Courtenay gets bored easily. Always has. But it wasn't boredom so much as bravado that led him to charge the field as a 17-year-old high school senior. He and his best friend, Britt Gaston, were on a college visit to Georgia, and Gaston's family got them tickets to the game. The friends were aware that Aaron had a chance to break the record that night but not so eager to see it happen that they got there on time.

"I think they made some announcements [like], If there's any funny business, people are going to jail," Courtenay says. "We must have missed those." When Aaron made contact, they leaped over the tarp and onto the field even before they realized the ball was gone. "That would've been embarrassing if it'd hit the wall," he says.

They caught up with Aaron as he rounded second and then headed for the leftfield stands. Quickly apprehended, they were taken to a stadium hold­ing cell, charged with unlawfully interfering with the occupation of another and then transferred to an Atlanta jail. (Gaston and Courtenay were released the next morning with a warning to stay out of trouble for six months.)

Courtenay still seems bewildered by the attention he receives. Now an optometrist, he rarely volun­teers information about his role that day; his wife, Lynn, didn't learn of it until they'd been dating for months and Courtenay's mother, Ruth, let it slip at dinner one night. But his parents bring it up. He's introduced as "that kid" at dinner parties, and a line once formed around him at a charity golf event.
Bob Gibson Stories
Stranger to the Game: The Autobiography of Bob Gibson with Lonnie Wheeler (1994)

Jim Ray Hart
,
San Francisco Giants
:
It was my first day in the big leagues in 1963, and in the opener of the doubleheader I'd had a good game against the Cardinals' Bobby Shantz. Between games, Mays came over to me and said, "Now, in the second game, you're going up against Bob Gibson." I only half­listened to what he was saying, figuring it didn't make much difference. So I walked up to the plate the first time and started digging a little hole with my back foot to get a firm stance, as I usually did. No sooner did I start digging that hole than I hear Willie screaming from the dubout: "Noooooo!" Well, the first pitch came in inside. No harm done, though. So I dug in again. The next thing I knew, there was a loud crack and my left shoulder was broken. I should have listened to Willie.
Gibson on his struggles early in the 1964 season: I was extremely irritable during my tailspin, of course, and to his credit - although I didn't see it that way at the time - Gene Mauch, the Philadelphia manager, effectively took advantage of my temperament one May night in St. Louis. I was leading the Phillies 7-1 in the fourth inning when Mauch ordered his pitcher, Dennis Bennett, to knock down Javier. It seemed that the Phillies had been indis­criminately throwing at several of our players all night, and after Javier went down I was compelled to toss a couple of hard ones over Bennett's head. Mauch knew I would do this, and he also knew that I was at the boiling point. He had been agitating me all night from the bench, trying his best to get me angrier and angrier. The next time I came to bat, he called in Jack Baldschun from the bullpen. According to what I was told by Dick Allen, the Phillies slugger who later played a year with us in St. Louis, Mauch had called down to his bullpen coach, Cal McLish, and ordered McLish to warm up both Bald­schun and Ed Roebuck. Then, as Baldschun walked to the mound, Mauch called McLish back and told him to have Roebuck ready because Baldschun was about to get thrown out of the game. The way I heard it - and the way it appeared to me at the time - when he met Baldschun at the mound Mauch told him he had four chances to get me. The first three came close and the fourth one nailed me in the left thigh. Without thinking, I flung my bat in Bald­schun's direction and headed for the dugout looking for Mauch, who was long gone by that time. Naturaly, I was ejected, which is exactly what Mauch was counting on. We won the game anyway, 9-2, but I hadn't lasted the five inn­ings required to pick up the victory, which would haunt me later in the season when I was closing in on twenty.
L-R: Bob Gibson, Jim Ray Hart, Gene Mauch
From
Joe Morgan: A Life in Baseball
,
Joe Morgan
and
David Falkner
:
Gibson was a notoriously fast worker as well as a ferocious competitor. If you so much as fiddled with the bill of your cap during an at-bat you were in for it. A fellow rookie on our team
[the
Houston Astros
]
named Aaron Pointer once fouled a Gibson pitch off his foot. When Pointer stepped out, Gibson didn't make a mental note to relay word to him that in the future he better watch out. Even though the count then was 0-2, Gibson drilled him in the ribs with the next pitch.
Bob Aspromonte, another player on our team, broke Gibson's rhythm in one game by briefly stepping out on him. Gibson hit him in the back with the next pitch. It sounded like a cannon shot. Aspromonte was out for almost a month. Gibson games lasted less than two hours - and the main reason was that no one was ever willing to stand in against him one second longer than was absolutely necessary.