Baseball Short Stories - 13
Seventy-five years ago, Jackie Robinson took his first steps toward the big leagues in Montreal.
John Powers, National Baseball Hall of Fame and Museum 2021 Yearbook
The enduring photograph shows a smiling Jackie Robinson wearing a Montreal uniform and push­ing open a door that reads "DODGERS CLUB HOUSE KEEP OUT." This was just before the 1947 sea­son when Robinson became the first Black player to cross baseball's white threshold in what was called the Great Experiment.
"I have reason to think," Dodgers president Branch Rickey told Robinson at their first meeting in August 1945, "that you might be (the player to break the color barrier)."
While he'd been an exceptional athlete at
UCLA
- where he lettered in baseball, football, basketball and track -
Robinson
had played only one season with the
Kansas City Mon­archs
in the Negro Ameri­can League after completing his military service.
So he was startled when scout Clyde Sukeforth told him that Rickey was interested in signing him to a contract, which Robinson assumed was for the all-Black Brooklyn Brown Dodgers. "I was thrilled, scared, excited," Robinson said after learning the truth and inking a contract for $600 a month with a $3,500 signing bonus. "Most of all, I was speechless."
But before Robinson led the way for generations of Black players, he needed a year of seasoning with one of the Dodgers' Triple-A affiliates. Playing for St. Paul (Minn.) meant that Robinson would have to play in segregated Louisville and also in Indianapolis and Kansas City, where he was unlikely to be welcomed. So Rickey assigned him to Montreal as a 27-year-old rookie, reckoning that Robinson would encounter significantly less racial prejudice in a Canadian city with a team that had open-minded ownership. "Negroes fought alongside whites and shared the foxhole dangers," observed Royals presi­dent Hec­tor Racine. "And they should get a fair trial in baseball."
That trial began at Spring Training in Florida, where Jim Crow laws were rigorously en­forced. Although Robinson was born in Georgia, the son of a sharecropper and grandson of slaves, he grew up in California and hadn't lived with day-to-day discrimination.
Robinson and his wife, Rachel, got an unpleasant preview when they were bumped off two flights en route from New Orleans and then consigned to the back of the bus for the 12-hour ride from Pensacola to Daytona Beach, with the driver calling Robinson "boy."
Robinson was not allowed to live or dine with his white teammates. And when he and Rachel watched the Dodgers' exhibition games, they were required to sit in the right field bleachers with the rest of the "colored" spectators.
Montreal Royals players at 1946 spring training in Florida.
The Royals quickly found themselves to be undesirable opponents that spring. Jackson­ville padlocked its stadium. DeLand called off a day game, saying that the lights weren't working. In Sanford, Robinson was removed from the diamond by the police chief.
So the flight to Canada was a release for Robinson, who called it "my refuge from ra­cism." "We were bruised when we arrived in Montreal," said Rachel, who likened their arrival to "coming out of a night­mare." "We had been mistreated and subjected to every­thing that racism can do to a couple."
What they discovered in their new home was smiling acceptance. The Robinsons rented an apart­ment, and Rachel was "totally shocked" that the French landlady invited her in for tea "instead of slam­ming the door in my face." Neighborhood kids carried her groceries.
The question now became how her husband would be treated once he donned the uni­form of "les Royaux de Montreal." While he had two other Black teammates, pitchers John Wright and Roy Part­low, Robinson was an everyday player destined for the big club. He was the one in the spotlight.
John Wright and Jackie Robinson
His Opening Day debut at Jersey City before more than 52,000 fans at Roosevelt Stadium was considered a societal breakthrough. "This in a way is another Emancipation Day for the Negro race," Baz O'Meara wrote in the Montreal Star. "A day that Abraham Lincoln would like."
Robinson announced his presence emphatically with a three-run homer in his second at-bat. What was considered more newsworthy was that on-deck batter George Shuba shook Robinson's hand as he crossed the plate. "You could see he was just overwhelmed with joy," said Shuba, who played for seven seasons with Robinson on the Dodgers. "It was the exclamation point, that hit. I was the knock­out punch."
George Shuba shakes Jackie Robinson's hand as he crosses home plate after homering in Jersey City.
The homer was part of a 4-for-5 performance that displayed the full Robinson reper­toire in one inn­ing. After beating out a bunt, he stole second, advanced to third on a groundout and then was balked home after faking a steal. "We never saw that kind of baseball," said Jersey City Giants third baseman Larry Miggins. But to the Black community, the day's stats were secondary to the impact that Robinson made simply by suiting up. "To Blacks, 1946 was the breakthrough," Willie Mays said. "That was orga­nized ball. I mean, forget about the majors."
By the time the Royals returned to Montreal, Robinson already was a popular figure. "Up in the stands, no one dared insult Jackie," said teammate Jean-Pierre Roy. "He was Black, but in their eyes and hearts, the fans didn't see that."
Robinson
's rivals undoubtedly did.
Syracuse
players tossed a black cat onto the field and said it was
Robinson
's cousin. In Baltimore, where International League president
Frank Shaughnessy
had advised the
Royals
not to play
Robinson
, the
Orioles
had said that they wouldn't take the field if he was in the lineup. "They didn't want to play the game," said
Royals
C
Herman Franks
, who later man­aged the
Giants
and
Cubs
. "We said, 'Well, you don't have to play, but we're still going out there.'"
While Robinson more than held his own on the diamond, the unrelenting pressure to excel wore at him. "Overestimating my stamina and understanding the beating I was taking," he said.
Yet while he missed the better part of a month with an injured calf muscle, Robinson still won the league batting title with a .349 average, was the leader in runs scored (113), had 66 RBI and stole 40 bases. "You're a great ballplayer and a fine gentleman," said manager Clay Hopper, a Mississippi native who'd begged Rickey not to assign Robinson to the club. "It's been wonderful having you on the team."
The Royals, who set a record for home attendance, won their first pennant in five years with their best record ever (100-54). And after going 1-for-10 in the first three games of the Junior World Series at Louisville ("Everything he did, they booed him," observed Col­onels P Otey Clark), Robinson returned to heroic form for the final three contests. He knocked in the winning run in extra innings to even the series, went 3-for-5 with a double and a triple in Game 5, and had two hits in the game that won the title for the Royals. "Il a gagne ses epaulettes," ("He won his bars") chanted jubilant fans who carried Rob­inson around the infield.
The crowds outside the stadium were so overwhelming that Robinson had to sprint to avoid being engulfed by celebrants. "It was probably the only day in history that a Black man ran from a white mob with love instead of lynching on its mind," Sam Maltin wrote in the Pittsburgh Courier. The Great Ex­periment had survived its initial test.
"It started us thinking differently as a people," said
Buck O'Neil
,
Robinson
's
Mon­archs
teammate. "We were acclimated to segregation and the embarrassing things they would do to us. But
Jackie
was cut out of a different piece of cloth."
Robinson walked into a different clubhouse in 1947 and donned a different uniform, which he wore for a decade. He played in six World Series, was elected to the Hall of Fame in 1962 and had his num­ber 42 retired across the majors. All of it was enabled by one wondrous year in Montreal where he could "feel my natural self."
"I don't care if I ever get to the majors," Robinson told himself as his plane departed for the States. "This is the city for me. This is paradise."
Stengel, DiMaggio, and Mantle
The New York Yankees of the 1950s: Mantle, Stengel, Berra, and a Decade of Dominance,
David Fischer (2019)
19-year-old Mickey Mantle joined the Yankees for the 1951 season and immediately electrified the base­ball world. Manager Casey Stengel saw the Commerce Comet as the replacement for the aging Joe DiMaggio in center field.
Although the
Yankees
were winning, the mood in the locker room was not always harmonious. The rela­tionship between
DiMaggio
and
Stengel
continued to deteriorate to the point that they now ignored each other's existence. New York beat writers who traveled with the club had no difficulty picking up on the pal­pable tension between player and manager. When reporters approached
Stengel
to question him about the volatile situation, he replied: "So what if he doesn't talk to me? I'll get by and so will he." The absolute discord between the two would hit a sour note during the July 7 game at Boston's Fenway Park. It was the dog days of summer, and
Casey
's club was flagging. The
Yankees
were only one game behind the
Chi­cago White Sox
, but they had lost four of their previous five games. Their play was uninspired. The three-day All-Star break would begin at the conclusion of the next afternoon's game against the
Red Sox
, and
Stengel
admitted his team was fatigued. "Four or five of these players are dead tired," he explained.
Stengel's diagnosis of his team proved prophetic. In the first inning, Bobby Doerr hit an easy popup that DiMaggio misplayed, coming up short on the shallow flyball that dropped for a hit, allowing two runs to score. The next batter, Billy Goodman, hit a high flyball to right-center that DiMaggio couldn't chase down, loading the bases. From Stengel's point of view, those were two plays that a younger version of DiMaggio would have easily made. When Clyde Vollmer followed with a grand slam home run, the Yankees were deep in a six-run hole, which prompted the New York manager to make a fateful decision. He dispatched rookie Jackie Jensen out to center field. When Jensen reached center he informed Di­Maggio that Casey was pulling him from the game. With a large Fenway Park crowd looking on, DiMaggio trotted from the field with his head down.
L: Casey Stengel and Joe DiMaggio; R: DiMaggio and Mickey Mantle
Once again,
Stengel
had displayed a complete lack of regard for
DiMaggio
's public stature. At least, that was how
Joe
perceived events. The skipper's decision to make the move and replace the aging superstar in the middle of the game strained an already acrimonious relationship. Following the 10–4 loss to the
Red Sox
,
DiMaggio
boiled with rage in the clubhouse as teammates looked at one another in stony silence.
DiMaggio
's left leg was ailing,
Stengel
explained, that's why he removed him from the game. Nobody was buying what
Casey
was selling. The
Yankees
lost again the following afternoon, too. More than any other team, the
Yankees
needed the brief rest provided by the All-Star break. They had the look of a tired team and they had limped into the midsummer respite, both literally and figuratively, having lost five of their last six, including a three-game sweep in Boston at the hands of the
Red Sox
. The
Yankees
sank into third place behind the first-place
White Sox
and second-place
Red Sox
.
Mantle had fallen into a prolonged slump and was optioned to AAA Kansas City where he regained his confidence.

Toward the end of the summer of 1951, the
Yankees
and the resurgent
Cleveland Indians
—winners of 13 games in a row to start the month of August—played leapfrog with each other in the standings as the
White Sox
and
Red Sox
faded badly. Rookie
Gil McDougald
was the team's leading hitter, and with
DiMaggio
not up to snuff, catcher
Yogi Berra
supplied most of the punch with
Gene Woodling
and
Hank Bauer
chipping in admirably. To fortify the offense,
Mantle
returned to fuel
New York
down the stretch. The kid returned to the
Yankees
on August 20, never to spend another moment in the minors. Now wearing the more familiar jersey number 7,
Mantle
batted .284 with six homers and 20 RBIs in the team's remaining 27-game charge. ...
With the
Indians
leading the
Yanks
by only one game, on September 16 and 17
Cleveland
was scheduled for its final visit of the season to the Stadium. To face the right-handed aces of the
Cleveland
staff,
Bob Feller
and
Bob Lemon, Stengel
chose
Allie Reynolds
and
Eddie Lopat
. For the opener of the two-game set, 68,760 people, the largest crowd of the season, jammed into the Stadium to see if the defending champion
Yankees
could stay in the race.
Feller
, one of the great pitching stars in the history of the game, was 22-7 going into the game, and was one of three pitchers, along with
Early Wynn
and
Mike Garcia
, to win 20 or more games for the
Indians
.
Reynolds
was pitching the best baseball of his career, and on this afternoon he pitched brilliantly, allowing only five hits and one run. The
Yanks
were leading, 3–1, and in the bottom of the fifth
Mantle
, batting third in the lineup, doubled, and
Berra
, batting fourth, received an inten­tional walk as
Feller
preferred to pitch to
DiMaggio
.
DiMaggio
, burning inside because
Stengel
had dropped him to fifth in the order, lined a ball into the left-center field alleyway for a two-run triple and a 5–1
Yankees
lead, finishing
Feller
and the
Indians
for the day. After the game a pile of Western Union tele­grams were delivered to
DiMaggio
's locker, congratulating him on his clutch hit. "Now when I get a hit," said
DiMaggio
with contempt, "they send me telegrams."
New York
was back in first place by percentage points over
Cleveland
in their tug-o-war for the AL pennant flag. The second game of the series pitted
Lopat
, vying for his 20th win of the season, against
Indians
sinkerball pitcher
Bob Lemon
, who already had posted 17 wins on the year and always gave the
Yanks
difficulty. This was another pitchers' battle. The score was tied at one run apiece. It was the bottom of the ninth inning.
Phil Rizzuto
was at bat.
DiMaggio
was on third base.
Rizzuto
took
Lemon
's first pitch, a called strike, and argued the call with the umpire. That gave him time to grab his bat from both ends, the sign to
DiMaggio
that a squeeze play was on for the next pitch. But
DiMaggio
broke early, surprising
Rizzuto
.
Lemon
, seeing what was happening, threw high, to avoid a bunt, aiming behind
Rizzuto
. But with
Joltin' Joe
bearing down on him,
Rizzuto
got his bat up in time to lay down a bunt. "If I didn't bunt, the pitch would've hit me right in the head,"
Rizzuto
told the
New York Times
. "I bunted it with both feet off the ground, but I got it off toward first base."
DiMaggio
scored the winning run.
Stengel
called it "the greatest play I ever saw." As the winning run scored,
Lemon
angrily threw both the ball and his glove into the stands. With 12 games to go,
New Yor
k now led by one full game. ...
The Yankees claimed their third consecutive pennant, a 98-65 record lifting them five games ahead of the second-place Indians, but Joe DiMaggio, 36, his body aching, was no longer the Jolter—he slumped to .263 with only 12 home runs and 71 runs batted in. Yogi Berra was the Yankees' most dangerous hitter now, with 27 homers and 88 RBIs. Mantle, in his rookie season, batted .267 with 13 homers and 65 RBIs in 96 games. Another newcomer, third baseman Gil McDougald, the only New York regular to hit over .300, was the AL's Rookie of the Year, with a .306 batting average, 14 homers, and 63 RBIs. ...
The Yankees faced the

New York Giants

in the World Series.
The
Yankees
won the second game as southpaw
Eddie Lopat
throttled the
Giants
attack with his slow curves, scattering five hits through nine innings for a 3–1 victory, but
Mantle
wasn't around to help cele­brate. He started the game with a bunt single and ended in a room at nearby Lenox Hill Hospital in Man­hattan, with his father in the adjoining bed. In the fifth inning,
Willie Mays
led off with a flyball to right center.
Mantle
had been covering extra ground all season, covering for the aging
DiMaggio
, in the twilight of his career. According to several sources,
Stengel
had instructed
Mantle
earlier to "take everything you can get over in center. The
Dago
's heel is hurting pretty bad."
Mantle
ran hard for the ball.
DiMaggio
did, too. This was the World Series, and the entire country was watching. An instant before
Mantle
was to glove the high fly,
DiMaggio
called, "I got it." In reverence, the rookie right fielder pulled up at the last second, turned on the outfield grass to slow his momentum, and fell to the turf, crumpled in a heap. The 19-year-old speedster had stepped on a drainpipe and torn ligaments in his right knee.
DiMaggio
caught the ball, but
Mantle
was finished for the Series. He had to be carried off the field and rushed by cab to the hospital for surgery—the first of a series of leg injuries that robbed him of much of his speed and plagued him through­out the rest of his career. As teammate
Jerry Coleman
said, The
Mick
had "the body of a god. Only
Mantle
's legs were mortal."
L: DiMaggio catches fly as Mantle collapses; R: Mickey watching the Series from his hospital bed.
On the way out of the stadium, Mutt Mantle tried to help his son into the taxi that would take him to the hospital, but when Mickey placed his hand for support on his father's shoulder, Mutt collapsed from the weight, his spine already ravaged by Hodgkin's disease. The two watched the rest of the World Series from their adjacent hospital beds. Mickey had surgery and was sent home to heal. Mutt was given a grim prog­nosis and succumbed the following May. He was 39 years old. Mutt Mantle was denied watching most of his son's major-league career, but at least he saw Mickey switch-hit in a World Series, right-handed in the first game, left-handed in the second.
The

Giants

won Game 3 to take a 2-1 lead on the Yankees. Heavy rains delayed the Series for two days.
When play resumed, the Yankees were able to return to their Game 1 starter, Reynolds, on three days rest. He was sharper this time around, and atoned for his first-game defeat by going the distance in a 6–2 victory, striking out seven, as the Yankees evened the series. DiMaggio, held hitless in 11 at-bats in the first three games, found his groove and paced the Yankees' attack with a single and a two-run homer.
The Yankees won the Series in six games.
The 1951 World Series would end up being the finale for
Joe DiMaggi
o's baseball career. He finished the 1951 regular season with an average of .263, by far the lowest mark of his career. He hit .261 in the World Series, but contributed three extra-base hits and five RBIs. The double he lashed to right field off
New York Giants
20-game winner
Larry Jansen
in the sixth game was to be his last hit. The
Yankee Clipper
was nearing his 37th birthday when World Series play ended. Following 13 seasons with the
Yankees
, he had posted a career average of .325 and 361 home runs. However, he felt he wasn't able to play up to his own standards anymore. Still, he ended the season up to his standards in one way: with a ninth World Series title in 10 tries. Not long after the Series ended,
DiMaggio
arranged a meeting with team owners
Dan Topping
and
Del Webb
. He complained his body was aching and acknowledged his skills had deterio­rated. He told them that he didn't think he could play anymore, so he had decided to retire. "I'm finished," he admitted.
Topping
asked
Joe
to think it over during his barnstorming trip through Korea and Japan, hopeful that
DiMag
would reconsider.
Joe
agreed, but in his heart, he knew his decision had been made.
Webb
told
DiMaggio
not to worry about the money, and promised him the same $100,000 salary for next year. He offered to have the contract drawn up and sent over for his signature.
DiMaggio
demurred. It wasn't about the money, he promised. He didn't want to play baseball anymore. Several weeks later,
Life
magazine published a scouting report on the
Yankees
that included a sad perspective of
DiMaggio
's skills.
Andy High
, a
Dodgers
scout, who had followed the
Yankees
for the final month of the season, had com­piled most of the report. When the
Dodgers
didn't win the pennant, their front office presented the scouting report to the
Giants
in a show of National League unity. After the
Giants
won the Series opener, manager
Leo Durocher
raved about the scouting report, saying, "It's great. I never saw a report like it." The report couldn't win the Series for the
Giants
, but its disclosure embarrassed
DiMaggio
more than any other player. It read:
Fielding—he can't stop quickly and throw hard. You can take the extra base on him if he is in motion away from the line of throw. He won't throw on questionable plays and I would challenge him even though he threw a man or so out.
Speed—he can't run and he won't bunt.
Hitting vs. right-handed pitcher—his reflexes are very slow and he can't pull a good fastball at all. The fastball is better thrown high but that is not too important as long as it is fast. Throw him nothing but good fastballs and fast curveballs. Don't slow up on him.
Hitting vs. left-handed pitcher—will pull left-hand pitcher a little more than right-hand pitcher. Pitch him the same. Don't slow up on him. He will go for a bad pitch once in a while with two strikes.
DiMaggio's friends knew that his pride surely would not let him play now that the erosion of his skills had been publicly exposed. And early in December, shortly after his 37th birthday, he phoned Topping, saying that he wanted to come to New York to announce his retirement. But he agreed to Topping's request for another meeting. That's when Topping and Webb played their last card: Manager Casey Stengel's plan to use him on a part-time basis, with DiMaggio determining when he would play. Joe appreciated the offer, but could not agree to be a part-time player. His retirement was final except for the announcement. On the morning of December 12, at the club's Fifth Avenue office suite in the Squibb Tower, the newsmen were handed a statement announcing Joe DiMaggio's retirement. Joe was there, of course, with Topping, Webb, and Stengel alongside him. "I can no longer produce for my ball club, my manager, my teammates, and my fans the sort of baseball their loyalty to me deserves," said a tearful DiMaggio. "Until yesterday," Webb told DiMag, "we had still hoped you would stay. But, since you didn't change your mind, it's a sad day, not only for the Yankees, but for all baseball as well." When the questions began, one newspaperman naturally asked, "Joe, why are you quitting?" "I no longer have it," he replied.
Over in another corner of the Yankees offices other baseball writers had Casey Stengel surrounded. "Who's your center fielder now?" one wondered. "The kid," the manager said. "Mickey Mantle."
L-R at Joe DiMaggio's retirement: Yankees GM George Weiss, Casey Stengel, Joe, Del Webb, Dan Topping
A Paige Out of History - 1
Don Amore, Baseball Digest, January/February 2022
At age 59, Satchel Paige threw three scoreless innings in one of the most improbable achievements in baseball history.
The stories must have been apocryphal. Had to be, right? Hammering nails with a fastball? Heaving a ball 400 feet on the fly? Sending his fielders back to the dugout and then striking out the side on nine pitches?
Or were they?
When Leroy "Satchel" Paige joined the Kansas City Athletics in September of 1965 at the age of 59, he regaled his new, young teammates with stories, like the one about his legendary control. Throwing strikes over a matchbook? C'mon.
"Rene Lachemann used to love it," said A's outfielder Tommie Reynolds. "Lach was catching him, and he'd put down a gum wrapper and Satch would throw it over that gum wrapper. He'd throw a breaking ball over it. Wherever he put it, Satchel threw the ball right over it."
"He was something," Lachemann said. "I'd catch him on the side a lot. I'd fool around with him a lot and I'd say, 'I heard you threw strikes over a gum wrapper.' He said, 'Put one down," and sure as spit, he threw it right there to it."
No one was quite sure what to make of it when Charles O. Finley signed Paige, the legendary Negro leagues star, on September 10, 1965. Paige had last pitched in the majors in 1953–12 years earlier–and he was two months past his 59th birthday, though Satch liked to tell people a goat ate the Bible that had his birth certificate tucked in it.
It was a publicity stunt, to be sure. But it produced one of the most remarkable feats and magical nights in baseball history: September 25 1965, the night Sachel Paige nowed down major-league hitters for three innings.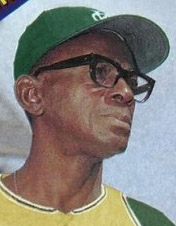 L-R: Satchel Paige with
Cleveland
; Charles O. Finley, Satchel with Kansas City
"I didn't give a damn if I made an out," said Jim Gosger, 79, who went 0-for-2 against Paige. "You were facing someone of this stature who'd been around so long and he was a gentleman. An absolute gentleman. It's something you just never forget."
As hard to believe as the tallest of Satch's tall tales, the ageless Paige pitched three scoreless innings in a major-league regular-season game, allowing only one hit.
"Unheard of," said
Lee Thomas
, who played first base for
Boston
. "That doesn't happen."
The 10th-place A's were on their way to losing 103 games, and dying at the turnstiles. Finley would try any gimmick he could dream up to draw a few fans. Manager Haywood Sullivan refused to comment on Paige's signing, other than to confirm Finley's directive that he was to start two weeks later on the 25th.
Not allowed by baseball's racial barrier to play in the major leagues during his prime,
Paige
finally made his big league debut for
Veeck
at age 42 in 1948, and he was no stunt. He went 6-1 for the American League champion
Cleveland Indians
and pitched in the World Series. Later, with
Veeck
's
St. Louis Browns
he was an All-Star at ages 45 and 46. Then he pitched a few more years in the minors.
In 1965,
Paige
needed money. He had not pitched long enough to qualify for the MLB pension and his wife,
LaHome
, was expecting their eighth child. They had written to 20 teams asking for a job in the game. Meanwhile,
Paige
signed with promoter
Abe Saperstein
, the
Harlem Globetrotters
owner who had been a Negro leagues investor, to make personal appearances. In June,
Paige
threw batting practice before a benefit exhibition game between the
St. Louis Cardinals
and
Detroit Tigers
at Busch Stadium. After one batter reached the wall,
Paige
stopped throwing BP fastballs and began using his assortment of offspeed pitches and offbeat deliveries, and none of the major-league hitters could get the ball out of the infield.
On September 8, Finley had his young shortstop, Bert Campaneris, play every position, and it drew 21,000 fans to Municipal Stadium, where the A's were barely drawing 1,000 fans for home games that late in such a lost season. Two days later, he signed Paige, who lived in Kansas City and agreed to pitch three innings for $3,500.
"I'll need three or four days to get really sharpened up," Paige told reporters.
"Mr. Finley signed him, gave him a rocking chair to sit in the bullpen long enough for him to qualify for the pension," said Billy Bryan, 82, who had the distinction of catching Paige's historic start. "He'd have old car shows and stuff at the ballpark to draw fans. Everybody on the team got to be friends with him because he was with us every day. We all thought it'd be good for the team, give us a little publicity, too."

Paige was long and skinny as a rail, just as he'd been in his prime, when Joe DiMaggio, Babe Ruth and Carl Yastrzemski's father faced him in exhibition games. The A's green and gold flannels draped loosely from his arms and legs.

Paige struck up a friendship with Lachemann, a 20-year-old rookie, who'd sit next to him on the bus and loved Paige's stories about Cool Papa Bell, Josh Gibson and all the others, not to mention his "blooper" or "eephus" pitch.

"He'd throw batting practice, and I said, 'Throw me the eephus pitch,' and I hit the eephus pitch out of the ballpark," said Lachemann, 76. "I said, 'Hey, Satch, throw me another one,' and he started to throw the eephus pitch and then threw a fastball and just blew my bat up, hit me right on the knuckles and broke the bat into pieces. He said, 'How 'bout that eephus pitch, Lach?' He was a real treat."


Satchel Paige in his rocking chair in bullpen.
The idea was for Paige to be a sort of coach and cheerleader for that month, and it would count toward the service time he needed to qualify for the $125-per-month pension. He'd joke with players about his age, repeat his famous 10 rules to live by, and other Satch-isms.
"Sure, I ejoyed it," Reynolds, 80, said. "I used to go out to the bullpen, which I didn't often do because I was a [position] player, but I didn't mind going to the bullpen when Satch was there. I heard a lot of stories, he kept it lively. He'd tell us, 'If you see a bear, don't help me, help the bear.' After the game, he wouldn't take a shower because, he said, 'water rusts iron.'
"Just being around Satch, it was like being with history."
To be continued ...
A Paige Out of History - 2
Don Amore, Baseball Digest, January/February 2022
On September 23 (1965), only 690 fans came out to see the
A's
play
Washington
. The next night, 2,390 came to see
Jim Hunter
, who
Finley
had signed out of high school, gave the name "
Catfish
" and rushed directly to the major leagues. He pitched a two-hit shutout to beat
Boston
; he was 40 years younger than the next night's starter.
On the 25th–billed as "Satchel Paige Appreciation Night"–9,289 fans turned out. A group of old Negro leagues stars, including Bell and Buck O'Neil, gathered to play a couple of innings as Paige, older than most of them, warmed up to pitch the main event.
"It was never brought up to us or our ballclub until we got to the ballpark that he was going to pitch," Gosger said. "And they had a hell of a crowd there."
Paige took his place in the bullpen down the right-field line, sitting in his big rocking chair, a nurse rubbing liniment into his right arm as Finley played the age thing to the hilt. But Paige told Lachemann that when he was on the mound, it would be all business. "That's where I earn my money," he said.
"The thing we were afraid of the night he went out to pitch," Reynolds recalled, "was somebody would hit one back over the middle, because he couldn't move out the way of it."
Pitching–at the highest level–requires acting, throwing one pitch while pretending to throw another, acting as if your arm doesn't hurt when it does, putting up a good front when your confidence is shaken. Page did some acting job that night. He acted like he was young and his fastball still popped.
"Oh, he was confident," Reynolds said.
Satchel leaves mound after pitching three scoreless innings.
"He had class," Gosger said. "The way he walked out to the mound, it was something to see."
Umpire Bill Valentine took his place behind the plate. Bryan crouched down; they had two signs, one finger for a fastball, one for a change. Sometimes Paige would nod yes to the fastball and throw a change anyway. And he had a lot of variations on both.
"We had no idea what they would look for," Bryan said, "whether they would look for something more than he had."
Gosger, a dead fastball hitter, stepped in to lead off the game. Paige threw strike one. Gosger hit the third pitch, popping out to first base. The next batter, Dalton Jones, reached on an error. He lit for second when a pitch got past Bryan and then tried for third, where Bryan threw him out. Paige fell behind Carl Yastrzemski, 3-0, then Yaz lined a high fastball, one of the few Paige threw that night, off the left-field wall for a double.
In 1950, Yaz had been the bat boy as his father, Carl Sr., faced Paige in a barnstorming event in Riverhead on New York's Long Island.
"He had the same nice, easy motion against my dad that he had when he pitched against me," Yaz told The Kansas City Star 50 years later. "Very easy, deliberate then boom."
Up next came Tony Conigliaro, 20, who was on his way to becoming the youngest player to lead the AL in homers. Paige unfurled the great weapon he had left–the hesitation pitch–and Tony C flied to right field.
"At that age, he didn't throw real hard," Bryan said, "but he could still get the ball from the mound to the plate, and be fairly accurate. He threw strikes. One of his main pitches was what he called his hesitation pitch. He'd come in with a lot of motion, then stop, then follow through with a changeup."
And it wreaked havoc with the timing of professional hitters seeing it for the first time.
"[The hitters] just didn't want to embarrass themselves," said
Thomas
, 85, who led off the second inning for
Boston
. "I knew he had a hesitation pitch, and everybody was talking about it. He threw it to me, second pitch, and I popped it up to short. The ball started coming and it was like a big changeup."
Paige was rolling now. He retired every batter after Yastrzemski, striking out his pitching counterpart, Bill Monbouquette.
How hard did he throw at 59? Gosger estimates 85 to 90 miles per hour, with nearly every pitch down at the knees.
"I couldn't imagine how hard he must have thrown when he was young," Gosger said. Thomas guessed 75 mph or so. Lachemann thinks mid-80s. Reynolds laughs at those estimates.
"They didn't measure the miles per hour," Reynolds said. "But Satchel had great control. He didn't throw all that hard, but he could put the ball where he wanted to. He could pinpoint it."
Bryan: "I don't remember anybody else hitting the ball very hard, other than the ball Yaz hit. They were all kind of anxious and out in front."
Lachemann
: "It wasn't like the
Red Sox
were giving in to him. They were a good hitting club, and this was a major-league game, and we were both fighting to stay out of the cellar. These guys today that throw 95 to 100 and have no command of anything, so they throw it over the plate and it gets hit out. If they could have watched him throw, inside, outside, wherever he wanted, up and down, he'd go ahead and hit that spot."
With two out in the third, Gosger stepped in a second time and again saw a fastball, grounding out to shortstop. Seven in a row.
"And as I was running back to get my glove, he grabbed my arm," Gosger said. "And I was thinking, 'Uh-oh, what's going on now? He looked at me and he said, 'Good luck, young man,' and that's something I'll never forget. One of the highlights of my career, to be the last man to face him."
Paige signed up for three innings and pitched three innings, using 28 pitches.He came to the mound for the fourth with a 1-0 lead, but before he threw a pitch, Sullivan came out to remove him and they walked back to dugout together. Paige doffed his hat and took a bow.
"Oh, man, it was great," Reynolds said. "Everybody stood up and gave him an ovation. He was very calm. He was a humble person, and it was outstanding to see that. He had his family around him, had about eight kids, and his wife, I think, was pregnant at the time."
After the game which the
Red Sox
rallied to win 5-2 behind homers from
Thomas
and
Conigliaro
,
Paige
came out for a curtain call. The lights were dimmed, matches and cigarette lighters were lit as the crowd sang, "The Old Gray Mare"–more
Finley'
s schmaltz.
Paige's performance was so good, it was pondered in the press whether Finley should go ahead and sign him for 1966. He still needed annother month or so to get his pension. In the St. Louis Post-Dispatch, columnist Bob Broeg floated an idea. "A three-inning starter," he wrote. "Why not let the regular starter take over in the fourth rather than wilt in the seventh anyway?"
Imagine, Satchel Paige might have become baseball's first "opener."
The excitement faded. Paige, under contract with Saperstein, did not pitch again and the A's released him in October.
"He could throw the ball, but he couldn't move around," Reynolds said. "If guys wanted to beat him, they could have embarrassed him by bunting or something like that. A ground ball to the right side of the infield, he couldn't get over to cover first base, anything like that."
In 1968, the
Braves
signed
Paige
and had him on the roster to help him get the pension, and when rules changed in 1969 he eventually began to collect $250 per month. In 1971 came
Paige
's long-overdue induction into the Hall of Fame, with "
Kansas City
(AL) 1965" among the teams listed on his plaque.
"Holding us to one hit, for God sakes," Gosger said. "We had a pretty good hitting club. Jeez, for his age to be able to do that, that's an accomplishment. It's not only a tribute to baseball but a tribute to Satchel Paige that at his age, he could still throw the ball that well."
Memories and Dreams: The Official Magazine of the National Baseball Hall of Fame and Museum
(Spring 2022), Phil Rogers
Minnie Minoso blazed a trail for generations of Latin American stars who followed.
His most valuable asset, however, may have been pure determination.
"Don't quit," fellow Cuban and All-Star pitcher Jose Contreras said he was told by Minoso during a big league career that, like Minoso's, began late. "Don't leave the field if you think you can still play."
Raised in the sugar cane country outside Havana, Saturnino Orestes Armas Minoso dearly loved his homeland - and learned tenacity during arduous work in the fields. His skill at baseball, however, put him on the path to a different life.
L: Minnie Minoso, R: Jose Contreras
Major leaguers are fond of saying they will play until someone tears the uniform off their back. But the charismatic
Minoso
almost lived that boast. He's known for having played in the major leagues over five decades, thanks to cameos with the
White Sox
in 1976 and 1980, but it was in the Mexican League where his love for baseball shown the brightest.
He was released by the
White Sox
at midseason in 1964 and headed to Mexico that winter. He sometimes served as a player-manager but was still active as a player in '73, when he turned in 120 games as a first baseman/outfielder. He was most likely in his 50s when that season ended, although listed officially at 47 with a birthdate of Nov. 29, 1925.
"I went (to Mexico) for one year and stayed for 10," Minoso said late in his life.
Among stops in the Negro leagues, minor leagues, American League, National League and the Mexican League, Minoso likely totaled more than 4,000 professional hits.
But Minoso was more than just numbers. He blazed a trail for players from Latin America in the same way Jackie Robinson opened the door for Black players. The first dark-skinned Latin player to appear in the AL or NL, he allowed young players in Cuba, the Dominican Republic and Puerto Rico to dream about playing on the best teams in the world.
"To me, Minnie is a legend," Contreras told The New York Times. "He was one of the reasons I started playing baseball when I was a kid. I wanted to be like him. He was one of our best representatives, our Jackie Robinson."
Minoso revered Cuban native Martin Dihigo, who was elected to the Hall of Fame in 1977. It was easier to follow Minoso's career in the 1940s and '50s than it had been Dihigo's in the '20s and '30s, which allowed him to set an example at a time more Latin Americans were finding their way to the big leagues.
L: Orlando Cepeda, R: Roberto Clemente
Orlando Cepeda, inducted into the Hall of Fame in 1999, remembers fellow Puerto Rican Roberto Clemente idolizing Minoso. "He was everybody's hero," Cepeda said. "I wanted to be Minoso. Clemente wanted to be Minoso."
A catcher as a teenager and mostly a third baseman for the Nego National League's
New York Cubans
,
Minoso
was in right field for his American League debut with the
Cleveland Indians
on April 19, 1949.
He was a complete player who finished his career with a .299 batting average, 195 home runs and 216 stolen bases, and built a .387 career on-base percentage by always being a tough out. In his 14 full-time seasons in the American League and National League, he drew 812 walks while striking out only 580 times.
On an afternoon at Yankee Stadium in May 1955, Minoso was hitting cleanup. With men on second and third with one out in the first inning, he dug his spikes into the dirt intent on bringing home two runs. The pitch from Bob Grim, a 20-game winner and Rookie of the Year in '54, slammed into the left side of Minoso's head, breaking his helmet.
He was diagnosed with a skull fracture the next day, but somehow returned to the lineup two weeks later. He suffered another skull fracture in 1962 after colliding with the brick outfield wall while playing for the
St. Louis Cardinals
. He also broke his right wrist that season. It was the beginning of the end for him as a highly productive player.
Minoso had made Chicago his full-time home by then and died happily in 2015, living near Lake Michigan with his wife, Sharon Rice, and their son, Charlie, whom Minoso fathered while in his 60s.
"He wanted to chase the American dream," Bob Kendrick, president of the Negro Leagues Bseball Museum, told The New York Times. "He laid down that foundation to so many others, because they knew they would have the opportunity to play this game."
Glenn Dickey, Champions: The Story of the First Two Oakland A's Dynasties–and the
Building of the Third (2002)
The Oakland Athletics, managed by Dick Williams, had won the World Series in 1972, upsetting the

Cincinnati Reds

despite the meddling of volatile owner Charles Finley.
The 1973 playoffs were vintage Oakland A's: great pitching, controversy swirling around owner Charlie Finley, a fight in the clubhouse, and, finally, a dramatic victory.
The team's win in the World Series the previous year hadn't convinced the skeptics about the
A's
; the
Baltimore Orioles
were 11-10 favorites in the American League Championship Series. There certainly were reasons to like the
Orioles
. Like the
A's
, they had great pitching
–
with
Jim Palmer
,
Mike Cuellar
and
Dave McNally
–
and they had the edge in postseason experience, having played in three World Series in the four previous years.
With Vida Blue, Catfish Hunter, and Ken Holtzman, the A's had three 20-game winners; but they had also lost CF Billy North because of a sprained ankle near the end of the season. From his spot at the top of the batting order North was often the catalyst for the A's offense.
Baltimore

won the first game of the ALCS 6-0 as Palmer outpitched Blue, but the A's bounced back with a 6-3 win over McNally.
The predictable Finley controversy came a couple of days later, with the series having switched to Oakland for what was scheduled as an afternoon game. Rain had started the day before and continued into Monday. After looking at a weather forecast that predicted still more rain, American League President Joe Cronin postponed the game for a day.
Finley cornered Cronin in the tunnel leading to the dressing room and started screaming at him. Cronin tried to tell him that that wasn't the place to "discuss" his decision, but Finley continued screaming as several members of the media, a few A's players, and Williams all watched, with emotions varying from amusement to embarrassment.
Finley was angry because the postponement would allow Palmer, who had won 22 games and led the league with an ERA of 2.40, to come back for the fourth game on three days rest, which was the norm for starters at the time. Cronin's decision stood, and the matter became academic when the rain continued well into the evening.
DIck Williams, Charles Finley, Vida Blue, Rollie Fingers
The A's won Game 3 2-1..
The next day, after knocking out Palmer in the second, the A's seemed to be on their way to clinching the ALCS as they took a 4-0 lead into the seventh behind Blue. But then Blue lost it, giving up four runs to tie the game and getting only one out before he was rellieved by Rollie Fingers. In the next inning Fingers had one of his few failures, giving up the game-winning homer to Bobby Grich.
That day,
Blue
was in the middle of a typical
A's
upheaval in the clubhouse.
Fingers
talked disgustedly of how the
A's
had the
Orioles
by the throat but let them get away.
Blue Moon Odom
thought he was putting the blame on
Blue
,
Odom
's friend, and he started yelling at
Fingers
. "If you don't give up the home run to
Grich
, we don't lose the game." Soon,
Fingers
and
Odom
were brawling, though other players quickly separated them.
The A's won ALCS Game 5 3-0 to advance to the World Series once again.
The 1973 World Series would be an exciting one, as dramatic in its own way as the 1972 Series, again extending to the full seven games. But as so often happened in the Finley years, the action on the field was overshadowed by the off-field antics of the A's bombastic owner.
The rules of professional baseball specify that only players on a major league roster on August 31 are eligible for postseason play. Because
Finley
had sold reserve C
Jose Morales
to the
Montreal Expos
on September 18, the
A's
had only 24 players who qualified. The number was reduced to 23 when
North
sprained his ankle. His injury would keep him out of the World Series, and he quickly became a non-person to
Finley
.
Said North, "I have a picture in my office of me sitting between Charlie Finley and Dick Williams as Finley told me I wouldn't even be able to sit on the bench for the Series. Teams do that all the time for injured players, and I'd had a pretty good season. I'd led the league in stolen bases and runs scored until I was hurt."
North would sit in the third deck at Shea Stadium for the third game, but no more. "I thought, 'I don't need this,' so I went home."
The
A's
had petitioned to add designated runner
Allen Lewis
and reserve infielder
Manny Trillo
to their roster for the ALCS games, and
Baltimore
had agreed, so the
A's
had a full 25-player team. The
Mets
, the National League champions, were not as agreeable as the
Orioles
had been. They OK'd the addition of
Lewis
to the roster (since nobody other than
Finley
ever thought he did the
A's
any good), but refused to allow
Trillo
to be added. The
A's
would play the Series with only 24 men.
Before the first game in Oakland,
Finley
ordered his public address announcer to tell the fans that the
Mets
had refused to allow
Trillo
to be added to the roster. The announcement was obviously intended to be a public embarrassment to the
Mets
, and commissioner
Bowie Kuhn
issued a statement reprimanding
Finley
.
The first game was a pitching duel between left-handers
Holtzman
and
Jon Matlack
, but it was
Holtzman
's hitting that was the big story. Designated hitters weren't used in any of the Series games, which seemed to be a disadvantage for the
A's
because their pitchers were not accustomed to batting. But in the third,
Holtzman
hit a two-out double down the left-field line. Then, when
Mets
2B
Felix Millan
allowed a
Campaneris
grounder to go through his legs,
Holtzman
scored.
Campaneris
stole second and scored on a single by
Joe Rudi
. That run was the difference in the eventual 2-1
A's
win.
The next game, which is still remembered while the other games from that Series have faded out of memory, came to be known as the Mike Andrews game. It started a classic Finley controversy.
The

Mets

led 6-4 going into the bottom of the 8th.
Williams
put in pinch-hitter
Andrews
for the good-fielding, poor-hitting
Ted Kubiak
;
Andrews
remained in the game at second base.
Andrews
, in the final year of his eight-year major league career, had been injured during most of the season and had started only 15 games at second, being used mostly as a designated hitter. He was not prepared to play in the field, but he was there when
Milner
grounded to second for what should have been the third out. The ball went through
Andrews
' legs, and two runs scored.
Jerry Grote
then grounded a ball to
Andrews
' right; this time, he handled the grounder but threw wide of first base, allowing the
Mets
to score the fourth run of the inning.
In his box along the third-base line, Finley called team physician Dr. Charles Hudson as the inning finally ended. When Andrews entered the dressing room, he was told to report to orthopedist Dr. Harry Walker, who had been summoned by Dr. Hudson after Finley's phone call. After the examination, Finley had a long talk with Andrews and then showed the press a statement from Dr. Walker that read: "Mike Andrews is unable to play his position because of a bicep groove tencosynotitis of the right shoulder. It is my opinion that he is disabled for the rest of the year." The doctor had signed the report and so had Andrews, under the words "I agree to the above."
Finley would later claim that Andrews had signed the statement in exchange for a guaranteed 1974 contract. Andrews told UPI that Finley "had threatened to destroy me in baseball" if he didn't sign the statement.
Andrews' version of events had much more credibility because Finley's motive was obvious: he wanted to be able to put Trillo on the roster. Even though they should have been accustomed to Finley's bizarre behavior, Andrews' teammates were shocked when they learned of his "suspension" just before boarding their flight to New York for the third game of the Series. At practice the next day, at (Captain Sal) Bando's suggestion, they wore black patches with the number 17, Andrews' number on their sleeves. (Reggie) Jackson hinted at stronger action, saying there might be a player boycott. Holtzman later recalled: "We had voted on the plane to boycott if Andrews was't reinstated. And you know that bunch, they would have done it."
Fortunately, the players didn't have to follow through on their threat. After meeting with Andrews, commissioner Kuhn reinstated him, ending Finley's attempt to activate Trillo. Said Kuhn: "The handling of this matter by the Oakland club [read: Finley] has had the unfortunate effect of unfairly embarrassing a player who has given many years of abale service to professional baseball."
Finley accused Kuhn of making his statement to the media before even sending a copy to the A's owner: "It is my ballclub, my money, and I don't appreciate anybody telling me how to spend my money to run my business. I don't think the commissioner treated us fairly in turning down our request. He's talking about embarrassing Andrews. We're not out to embarrass Andrews. But I sure as hell was embarrassed by what the commissioner did."
The Athletics won Game 3 2-1.
The fourth game was an easy 6-1
Mets
triumph, noteworthy primarily because
Williams
used
Andrews
as a pinch-hitter in the eighth. The
New York
fans showed their opinion about the controversy by giving
Andrews
a standing ovation.
Williams
had the satisfaction of embarrassing
Finley
, who had to stand with the crowd and weakly applauded.
The A's won the World Series in seven games.
Their victory was quickly forgotten after the game, however, when Williams announced on national television that he was quitting as the A's manaager. It was no surprise to his players; Williams had told them before the third game of the Series that he would be quitting.
Because of the timing, even his players assumed that the
Andrews
incident had led to
Williams
' decision; but in truth, his decision had been made earlier in the season. If there was one incident that precipitated it, it was probably one that involved
Jackson
. In September,
Jackson
had pulled a muscle and
Williams
wanted to use him as a designated hitter.
Finley
, probably trying to keep
Jackson
's statistics down for salary negotiation purposes, instead ordered
Williams
to put
Jackson
on the bench.
Williams
had secretly been talking to the
New York Yankees
who were about to make a managing change. "The
Andrews
case was the final straw," he said, "but I was ready to quit before then. I wanted to go to New York."
But
Williams
was still under contract, and
Finley
wouldn't release him unless the
Yankees
compensated the
A's
with either P
Scott McGregor
or OF
Otto Velez
.
New York
wouldn't part with their best minor league talent, so the
Yankees
made their managerial change–from
Ralph Houk
to
Bill Virdon
–and
Williams
went home to Florida.
Finley
finally released
Williams
from his contract so he could take over the
California Angels
in midseason, but the
Angels
, who went 36-48 under
Williams
that year, were not the
Yankees
. "I guess
Charlie
won, after all," said
Williams
.
Nolan Ryan's Strikeout Achievements Still Fill the Record Books
Scott Pitoniak, Memories and Dreams: The Official Magazine of the Hall of Fame (Winter 2021)
Mixing 100-mph heaters with knee-buckling curves,
Nolan Ryan
had struck out 17
De­troit Tigers
and was one out away from his second no-hitter in two months when a flum
­
moxed
Norm Cash
strode to the plate in the bottom of the ninth.
Had there been a white surrender flag in the
Detroit
bat rack during that July 15, 1973, game at Tiger Stadium,
Cash
surely would have grabbed it. Instead, he opted to wield a thick, wooden table leg he had retrieved from the clubhouse.
Home plate umpire
Ron Luciano
was not amused by the prank and told the slugger he couldn't use the unorthodox choice of lumber against the
California Angels
flamethrower.
"Why not?" Cash protested mildly. "I won't hit him anyway."
Forced to swing the personalized Louisville Slugger he had used while striking out twice in his first three at-bats,
Cash
scored a moral victory by making contact his fourth time around. But his infield pop­up did no damage. It merely put the finishing touches on anoth
­
er
Ryan
no-no.
L-R: Nolan Ryan, Norm Cash, Frank Robinson, Art Kusnyer
Hall of Fame RF
Frank Robinson
, who had joined the
Angels
before the season, was blown away by the mow down in Motown, telling reporters afterward: "I've never seen any
­
one throw harder, and that includes
Sandy Koufax
."
A few lockers way,
Angels
C
Art Kusnyer
proudly displayed a hand swollen and purple from the impact of so many explosive
Ryan
fastballs. "Bone bruise," he said, smiling. "Hazards of the job when you're catching
Nolan
's bullets."
Over in the
Tigers
clubhouse, teammate
Mickey Stanley
commiserated with
Cash
and marveled at
Ryan
's dominance, saying: "Those were some of the best pitches I ever heard."
Stanley's lament would be echoed by hundreds of major league batters who flailed futilely and fear­fully at Ryan fastballs through the years. It's hard to hit something you can't see and something that could do bodily harm.
For 27 big league seasons,
Ryan
bruised hitters' egos and catchers' palms, striking out 5,714 batters and tossing seven no-hitters, 12 one-hitters and 18 two-hitters while accum
­
ulating 324 victories and garnering entry into the Baseball Hall of Fame with 98.8 percent of the vote in 1999.
To put Ryan's all-time strikeout record into perspective, a pitcher debuting this year could fan 300 batters a season for 19 years and still be 14 strikeouts shy of the man known as The Ryan Express.
"I just loved that one-on-one competition between me and the batter," said Ryan, who also estab­lished the modern-day single-season mark with 383 strikeouts in 1973. "To me, that battle is still the best duel in all of sports. We both have weapons. I got a ball. You got a bat. Bring it on."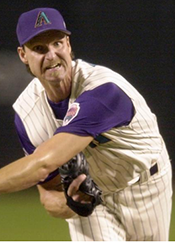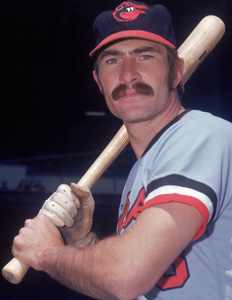 L-R: Mickey Stanley, Randy Johnson, Max Scherzer, Bobby Grich
As evidenced by his nearly 6,000 punch-outs and the miserly combined .204 batting average com­piled against him through the years, Ryan won the majority of those duels. And what made his career even more remarkable is the longevity. He was still bringing it in the high 90s right up to the end, when torn ligaments in the right-hander's pitching elbow finally forced him into retirement just four months shy of his 47th birthday near the end of the 1993 season.
His run spanned seven U.S. presidents - from
LBJ
to
Bill Clinton
- and it saw him strike out eight pairs of fathers and sons, 12 sets of brothers and 49 Hall of Famers.
Rickey Henderson
was among the victims enshrined in Cooperstown. He wound up being strike
­
out No. 5,000.
Ryan's final total probably will never be challenged. Randy Johnson gave it his best shot, but the Big Unit finished his Hall of Fame career in second place, a distant 839 K's behind. The closest active pitcher–36-year-old Max Scherzer–trails by more than 2,600 strikeouts. At hsi current pace, he would have to pitch 14 more seasons to break Ryan's mark.
"I can't see anyone coming close, even in this era when hitters are swinging for the fences on every pitch and strikeouts are at an all-time high," said Bobby Grich, a six-time All-Star infielder who played against and with Ryan. "Nolan was a freak of nature. God gave him a lightning bolt for an arm, and no athlete ever worked harder at his craft. Minutes after throwing a shutout, Nolan would be on a stationary bike pedaling away for a half-hour, 45 minutes. Toss in the fact he was as fierce a competitor as anyone who ever toed a rubber, and it's understandable to see why he was able to throw as hard as he did for as long as he did."
The funny thing is
Ryan
never envisioned having a long career. After being drafted out of high school in 1965 by the
New York Mets
in the 12th round - the 295th pick overall - his goal was to last long enough to earn a big league pension.
"I was shooting for at least four or five years, then I'd head back to my hometown (Alvin TX) and get serious about raising cattle," he said. "If you'd told me back then I'd wind up pitching 27 years in the big leagues, I would have recommended you go get your head examined."