Baseball Short Stories - 10
Student of the Game
Halfon, Mark S. Tales from the Deadball Era. Potomac Books, Inc. (2014)

Ty Cobb
spent untold hours pondering baseball's nuances in search of an edge, regardless of how slight it appeared to less discerning observers. Critics chas­tised him for swinging three bats while waiting on deck, but he knew that it made a single bat feel lighter and enabled him to swing more quickly; after reaching base, he kicked loosely placed bags forward to gain valuable inches; when sliding, he watched the eyes of fielders to determine the trajectory of the ball and aimed his toe at the tip of the bag farthest away from an outstretched glove; and sharpened spikes aimed high sent a clear and distinct message to anyone who dared stand in his way. ...
Cobb
's obsession with the fine points of the game earned him countless advan­tages and paid off handsomely in his confrontations with
Walter Johnson
. Their careers overlapped from 1907 to 1927, and
Johnson
initially dominated the head-to-head, especially in 1913 and 1914, when
Cobb
went a dismal 3-for-26 against the pitcher. But that was about to change. The turning point came on August 10, 1915, when a
Johnson
fastball struck the forehead of
Detroit
third baseman
Ossie Vitt
, who fell to the ground motionless before regaining consciousness. After a pinch runner replaced
Vitt
,
Johnson
surren­dered four runs.
Cobb
recalled, "I thought about it and realized that
Johnson
was so nice a guy that he never dusted off a batter. Gradually I began to crowd the plate . . . I was gambling that Johnson would be so afraid of hitting me that he'd work to the outside corner and that he did. The
Georgia Peach
averaged .437 against the
Big Train
over the next twelve years. Although
Cobb
im­proved dramatically, he may have embellished his account of events since it is doubtful that
Johnson
—baseball's career leader in hit batsmen—had a fear of hitting batters.
L-R: Ossie Vitt, Walter Johnson, Ty Cobb, Sam Crawford
Reason prevailed in most other aspects of
Cobb
's game, notably in his choice of an unorthodox batting grip, which increased the offensive weapons at his dispo­sal. He choked up with hands split four inches apart, preparing to drop a bunt, slap the ball between infielders, drive it into the gap, or switch strategy in a split second. As the pitch approached, his hands moved up and down the "stick" and could end up at the bottom, from where he would swing with all his might. "
Cobb
may look the 'bunter' all over when a bunt is expected to advance a base runner and may draw the third baseman in, confident that the ball will be laid down and then make him call on all his dodging ability to get out of the way of a terrific smash,"
Sporting News
editor
Albert H. Spink
wrote. Fielders beware.
Cobb
's base running further stamped him as a man possessed as he raced around the diamond without regard to score or circumstance. His dazzling speed, untamed aggression, and meticulous attention to detail drove him to get that extra base at the slightest of openings. Bad hops, momentary bobbles, damp fields, wet baseballs, and lethargic outfielders ignited him in a fraction of a second. "Daring to the point of dementia,"
Cobb
created opportunities where none appeared.6 Left-hander
Chester Hoff
recalled when
Cobb
attempted to score from third base on an infield fly: "He was out by a mile, but knocked the ball loose from catcher
Sam Agnew
."
Cobb
did extraordinary things on the bases but put on a show against the
Highlanders
on May 12, 1911, that touched on the magical.
New York
scored four runs in the top of the first inning, and
Detroit
got one run back in the bottom of the frame after
Cobb
walked and scored from first base on a
Sam Crawford
single to right field. He had been running on the pitch and right fielder
Charlie Hemphill
leisurely fielded the ball without a thought that anyone would attempt to score on the play. He should have known better. In the third inning,
Cobb
again reached on a base on balls and, in attempting to go from first to third on an infield out, spiked and forced from the game third baseman
Roy Hartzell
. In the sixth inning
Cobb
stunned the
Highlanders
once more after singling, taking second base on a walk to
Crawford
, and scoring on a wild pitch. Then there was the eighth inning. With the
Tigers
trailing 5–3,
Cobb
doubled in two runs, the second scored by
Donie Bush
, whom umpire
John Egan
ruled safe on a close play at home. The entire
Highlanders
infield rushed at
Egan
protesting the call, but no one requested time out. Under such circumstances it is the custom of a base runner to sit down on the sack and wait for something to turn up. But
Cobb
, observing that third base was unguarded, trotted amiably up there. No one saw him. So he tiptoed gingerly along toward the group at the plate. He did not come under the observation of the public until he was about ten feet from the goal all base runners seek, where for a few seconds he stood practically still, peering into the cluster of disputants before him, looking for an opening to slide through. He found one and skated across the plate for the winning run under the noses of almost the entire New York team. It was a theft of home like no other. The
Tigers
won 6–5.
If the Cubs threw the 1918 World Series,
it was a Cardinal that fixed it
The evidence is a little sketchy, but the "Original Curse" could have begun with a fix orchestrated by a

Cardinals

pitcher

Ben Godar
, vivaelbirdos.com (Apr. 20, 2016)
We all know the story of the 1919
Chicago Black Sox
, the pinnacle of an era when ballplayers colluding with gamblers and throwing games was not uncommon. But it is believed by many that the
Chicago Cubs
threw the 1918
World Series
against
Babe Ruth
and the
Boston Red Sox
. If they did, it was likely a
Cardinals
pitcher by the name of
Gene Packard
who orchestrated the fix, and created what author
Sean Devaney
dubbed "
the Original Curse
."
Gene Packard
was
the very definition of a journeyman
. A right-handed swingman (before that term was even in use), he played for five different teams in an eight-year career, and
actually accumulated more value
with his bat than with his arm.
Packard
joined the
Chicago Cubs
for the 1916 season, after playing for the
Kan­sas City Packers
of the Federal League during the only two years of their existence. In the
Cubs
first season in Wrigley Field,
Packard
joined a clubhouse that contained three other players who would ultimately be implicated for fixing games.
Released midway through the 1917 season,
Packard
caught on with the
Cardinals
and pitched in St. Louis for the remainder of that year and all of 1918. He was traded to the
Phillies
during the offseason, appeared in 21 games in 1919 and then was out of baseball.
Or perhaps I should say, he was out of
playing
baseball.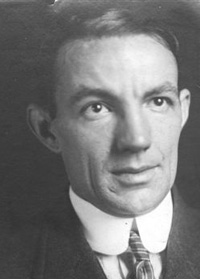 L-R: Gene Packard, Bill Veeck Sr., Ban Johnson, Max Flack
On Aug. 31, 1920,
Cubs
President
Bill Veeck, Sr.
received a rash of calls and tele­grams saying that the day's game against the
Phillies
was fixed.
Veeck
phoned the manager to change starting pitchers and reported the incident publicly, which ulti­mately led a Grand Jury to be convened.
That Grand Jury shifted its focus to fixing in baseball more broadly, and ultimately brought to light the 1919
Black Sox
Scandal. The
Cubs
/
Phillies
incident was largely forgotten, but during his testimony, American League President
Ban John­son
said a Kansas City Reporter had informed him one of the principals involved in fixing the
Cubs
/
Phillies
game was "
Eugene Packard
, a former major league baseball player."
According to
Johnson
's testimony, a notorious Kansas City gambler went through
Packard
to get his former
Cubs
teammate
Claude Hendrix
, the scheduled starting pitcher, to throw the game.
As the Grand Jury was shifting its focus to the 1919
White Sox
, their owner,
Charles Comiskey
, was already deep into his own investigation of his players and their actions. His right-hand man,
Harry Grabinar
, kept a detailed diary of the investigators findings. Among the names listed in that diary was the following entry:
"
Gene Packard
: 1918 series fixer"
In Grand Jury testimony
which only became public four years ago
, White Sox pitcher
Eddie Cicotte
said the players had heard the
Cubs
threw the 1918 series and were paid $10,000 for doing so.
In fact, it appears that
Ban Johnson was aware
during the 1918 season of a plot to fix the World Series by a St. Louis Gambler named
Henry "Kid" Becker
.
Johnson
even went to American League owners looking for money to hire investigators, but was rebuffed.
Many of those reports also suggest that
Becker
abandoned his plan because he also couldn't raise the money to fix the 1918 series.
Becker
and his associates were also alleged to be involved with
Arnold Rothstein
in the 1919 fix, though
Becker
him­self was murdered before that plot came to fruition.
Despite the original impetus for the Grand Jury involving the
Cubs
, and the allega­tions about the 1918 series, the Grand Jury would ultimately deliver indictments only related to players and gamblers involved in the 1919 series. Those eight players would be banned for life by newly-appointed Commissioner
Kenesaw Mountain Landis
, and both baseball and the courts turned a blind eye to the other allegations which had come to light.
Gene Packard
stayed away from baseball for the rest of his life, as you might expect from a man who narrowly escaped a Grand Jury indictment. He died in Riverside, California in 1959.
So, was the 1918 World Series fixed?
Unless some truly "smoking gun" document comes to light, we will probably never know. But the atmosphere was certainly ripe. Players salaries were slashed in 1918, and at the time of the series, it was widely believed that the 1919 season would be cancelled and most players drafted to fight in World War I.
Overall, the
Cubs
played well in the series -
but there were notable exceptions
. The shenanigans seemed to begin after Game 3, when the teams rode the train together from Chicago to Boston and reportedly discussed what they had just learned would be their paltry World Series shares.
Cubs
Right Fielder and Leadoff Hitter
Max Flack
was picked-off twice in Game 4. In the same game, with
Babe Ruth
coming to the plate and two men on,
Flack
posi­tioned himself very shallow in right field.
Cubs
Pitcher
Lefty Tyler
repeatedly waved
Flack
to play deeper, but
Flack
ignored him.
Ruth
drove a triple over
Flack
's head, driving in two runs.
Later that game,
Cubs
Reliever
Phil Douglas
fielded a sacrifice bunt and threw wildly into right field, allowing the winning run to score.
Douglas
would be banned from baseball a few years later after offering to retire in the midst of a playoff race if he were paid to do so.
Before Game 5, both teams refused to take the field in protest of their diminished Series shares, delaying the game by an hour. In Game 6,
Flack
dropped a routine fly ball which allowed two
Red Sox
to score. They won the game 2-1 and clinched the series.
The evidence is largely circumstantial, and some of the sources a bit sketchy.
Gra­binar
's diary, which pegs
Packard
as the "1918 series fixer", has been lost, so the only record of that account comes via
Bill Veeck Sr.
's autobiography (though other items from the diary as reported by
Veeck
have been verified).
But as circumstantial evidence goes... a lot of things line-up. Many league officials believed there was at least a plot to fix the 1918 series, whether or not it was exe­cuted. And if a St. Louis Gambler were to fix the series, it's easy to where
Gene Packard
would fit in: A
Cardinals
pitcher who had played for those same
Cubs
and knew which players might be open to such a proposition. Would
Packard
do such a thing? Well, he was implicated just two years later for doing exactly that in the
Cubs
/
Phillies
game.
Maybe it didn't happen. But maybe the
Cubs
did throw the 1918 World Series. And maybe - if you believe in such things - that shameful act put a curse on the team that continues to this day. And maybe a
Cardinal
player was the serpent that dangled the apple. And if that serpent was really the devil, and the curse is magic...
Fall from Grace: The Truth and Tragedy of "Shoeless Joe" Jackson, Tim Hornbaker (2016)
A single moment can make a hero.
Throughout the history of sports, legends have been born as a result of extraordinary performances by remarkable athletes. In more than a century of Major League Baseball, there are an untold number of time honored moments; occasions in which records were set, championships were won, and heroic feats were performed by individual players, forever establishing their immortality. These defining moments are rare, making them even more special, and the unexpected triumph of a player and team were cherished by fans for their exclusivity. For those at Comiskey Park on the South Side of Chicago on July 4, 1916, such a moment arose in the ninth inning of an emotional game against the
St. Louis Browns
.
Independence Day was always a big drawing event, and families from throughout the city traveled to the stadium to enjoy the national pastime. This year was no different. An estimated 25,000 people jammed the park, and the local crowd wanted to see the White Sox win the second game of a doubleheader after losing the morning affair, 2–1. Headed into the contest, no one could've predicted how remarkable this event was going to be. In fact, the game was going to be so overwhelmingly special that a superstar was about to become a legend right before their eyes.
Things were going well for the home team until the top of the ninth, when the
Browns
produced two runs, leaving the
Sox
in a hole headed into the bottom of the inning.
Eddie Collins
, the faithful second base­man, started a last ditch rally by singling his way on base. He was succeeded in the lineup by slugger
Joe Jackson
of South Carolina, then in his sixth full big-league season. Acknowledged for having one of the most distinctive nicknames of the Deadball Era—or any era for that matter —
"Shoeless Joe"
was an enigma in many respects. Naturally gifted, he didn't play the game with science but rather with an innate flair that differed from his contemporaries. He was known for denting outfield walls with his power­ful drives, and extra base hits were commonplace for
Jackson
.
Joe
was popular in Chicago, but since joining the
Sox
in August 1915, had yet to live up to the hype in the minds of some critics.
At bat against the
Browns
in the ninth,
Joe
readied himself in the batter's box and waited patiently. His opponent on the mound,
Bob Groom
, was a tall and imposing right-hander, but to
Jackson
every pitcher looked the same. He didn't care who was out there, nor did he anticipate any specific pitch.
Groom
's offering looked right, and
Joe
gave the fans what they were hoping for: a tre­mendous blast to deep right-center. The ball landed safely and
Jackson
rounded the bases with all of his immense might. He had one thought in mind: scoring. That meant he was going to ignore the halt sign given by manager
"Pants" Rowland
at third base. But
Rowland
could see what
Jackson
couldn't, and knew the ball was already back in the infield. He knew a play at the plate was going to be too close to let him go.
Jackson
didn't seem to care one way or another.
The
Browns
' catcher,
Hank Severeid
, was an experienced man and could certainly hold his own. He eyed the throw and planted himself for a collision while at the same time preparing to make the tag.
Jackson
was blinded by his determination. The fact that a 6-foot, 175-pound backstop was standing in front of the plate did not deter him for a second. Moments later the inevitable occurred, and
Jackson
made impact. Home plate umpire
Billy Evans
saw the ball beat the runner and called
Joe
out, but reversed his decision after seeing the ball fall free from
Severeid
's control. The latter had dropped it, and
Jackson
was safe. Since
Collins
had scored as well, the game was now tied and the holiday crowd erupted into an immense roar.
Notably,
Jackson
was unaware of his safe status when
Evans
made his call. The reason was because he smashed the back of his head on the ground during the forceful slide, and nearly knocked himself unconscious. Within seconds of realizing what was transpiring before them, spectators collectively hushed, acknowledging what apparently was a serious injury to
Jackson
. A handful of minutes passed—which probably seemed like an eternity—before he was helped to his feet. Again, the crowd responded audibly, grateful that
Joe
wasn't badly hurt. His teammates tried to allow him to walk on his own, but
Jackson
fell to the ground en route to the dugout and was quickly carried off the field. He received immediate treatment, including icepacks, and recovered enough to return to the outfield the next inning. It was an amazing display of courage which wasn't lost on the humongous throng of fans.
L-R: Joe Jackson, Eddie Collins, Pants Rowland, Hank Severeid
The
Sox
would go on to win the game, 7–6, in 13 innings. Sportswriters covering the action were all too ready to lionize
Jackson
, and relayed vivid accounts to readers the following day. "If it had been a hero play staged for the movies, it couldn't have been arranged better," declared
James Crusinberry
in the
Chicago Daily Tribune
. He added: "Never before [was there] a greater hero at Comiskey Park."
Irving Vaughan
explained in the Chicago Examiner that the luminary, who spearheaded a
Sox
victory, received "the greatest applause ever given a player on the South Side lot."
Vaughan
was sure the player's clutch hit would be "a long time remembered." However, nearly 100 years later, the significance of the game has been lost in the annals of baseball history. But for the man known as
"Shoeless Joe" Jackson
, it was a defining moment in a turbulent career.
Headed into the 1916 season, sportswriters and fans alike were concerned about
Jackson
's ability to meet expectations. His career statistics were in decline, and his days of challenging for the league batting championship were a thing of the past. To make matters worse,
Joe
failed to provide the spark needed for the Sox to win the 1915 pennant, and rumors circulated about a possible trade after the season. The questions about his ability, health, and overall attitude were discouraging to Jackson, but he knew deep down the need to come into his own while wearing a
Chicago
uniform. He had to demonstrate that he was all-in, and deeply committed to the franchise. Independence Day 1916 allowed him to do just that, and the fans decided that he was one of them. He was a big-hearted warrior on the diamond and his actions earned him a mountain of respect from an eternally loyal group of enthusiasts. And, in effect, his legend in Chicago was born.
Over the years
Joe Jackson
took on a mythical nature, and a number of mainstream factors played a role. Some of it was indeed legitimate, while other aspects were moderately fabricated to create a sella­ble product, whether it was a book or film. But
Jackson
didn't need any additional color to be an inte­resting story. His rise from a small mill community to the pinnacle of baseball was fascinating, and his accomplishments spoke for themselves. His .408 batting average as a rookie in 1911 is a record that remains to this day. Everything from his personal quirks to his sense of humor and the way he interacted with spectators made him a one-of-a-kind ballplayer. His popularity was genuine because of his natural charisma and the image he portrayed to the public. And for that reason, nothing needs to be manufac­tured to produce a true representation of Joe Jackson. He lived an incredible life.
In many ways, he was a typical American ballplayer, possessing the physical characteristics of a pro­fessional athlete. He was better than his size, with proportioned muscles and extraordinary strength. Gifted with long arms, which accentuated his abilities at the plate,
Joe
was able to make contact with pitches far outside the box. And if the ball looked good to him, he'd often reach out and give it a wallop. There was no specific discipline behind his efforts, just a natural gift. His piercing dark eyes saw the ball in all its clarity, and with tremendous hand-eye coordination he rarely had trouble meeting a pitch with perfect timing, speed, and strength. As a result, he exemplified the prototype of a baseball slugger.
Limited by personal weaknesses—particularly a lack of formal education—
Jackson
was strong-willed, but easily susceptible to the smooth talking of others. Throughout his life he was ensnared by crafty manipulators, and usually his wife
Katie
was the voice of reason. But there were times when
Katie
was not around, or when
Jackson
's own eccentricities took over. In the case of the 1919 World Series scan­dal,
Joe
found himself embroiled in a situation way over his head. Although he had options, he made the best decisions he could and, in the end, paid the price for what transpired. The entire story remains haunting to a certain degree, and the truth behind
Jackson
's exact involvement is shrouded by an overwhelming number of contradictory versions. These inconsistencies hurt
Jackson
in his attempts to clear his name during his lifetime and impeded advocates in much the same way since his death in 1951.
Of course, the situation damaged the reputation of
Jackson
and cast him from the good graces of base­ball, but
"Shoeless Joe"
still remains a clear-cut enigma of the game from any history perspective. The absence of his name on a plaque on the walls of Cooperstown at the National Baseball Hall of Fame is evidence of
Jackson
's cataclysmic fall from the plateaus of the national pastime. Regardless of what happened at the 1919 Series and in its aftermath,
Joe
was the true embodiment of a baseball idol prior to that horrendous episode. The vivid memories of his powerful drives, his never-ending chase of
Ty Cobb
and the batting championship, and the way he naturally smiled during the course of a ballgame made him an inspiration to the young and old. These facts made his eventual banishment hurt all the more.
Bill Francis
,
Memories and Dreams: Official Publication of the
Baseball Hall of Fame
(Winter 2019)
100 years later,

Yankees

' purchase of Babe Ruth's contract is still being felt
throughout the baseball world.
For fans of the
Boston Red Sox
, the unthinkable, unimaginable, unfathomable hap­pened 100 years ago with the sale of
Babe Ruth
to the
Yankees
.
Ruth
, all of 24 years old, had made the transition from strong southpaw pitcher to the premier slugger in the game by 1919. Now patrolling LF for
Boston
, and thanks to his powerful left-handed stroke, he clubbed 29 HRs that set a new single-season big league record. But then the news broke.
Ruth
would soon be playing 77 games each season at the Polo Grounds - his new home ballpark until Yankee Stadium opened in 1923 - with its short RF fence.
It was announced on Jan. 5, 1920 - though the transaction had been consummated a week earlier - that
Ruth
was now a member of a rival American League franchise.
Newspapers across the country shared the news with provocative headlines: "
Red Sox
Sell
Ruth
for $100,000 Cash" read
The Boston Globe
; "
Ruth
Bought by
New York Americans
for $125,000, Highest Price in Baseball Annals" blared
The New York Times
; "
New York Yankees
Buy
Babe Ruth
from
Boston Red Sox
" stated the
Chicago Tribune
.
"Like all things Ruthian, everything about
Ruth
's sale from the
Red Sox
to the
Yankees
was outsized," said Tom Shieber of the National Baseball Hall of Fame staff. "The price tag was unparalleled in sports history, the story was obsessively covered in the press and every last detail was voraciously consumed by baseball fans nation­wide. With the possible exception of the Louisiana Purchase, what other acquisition has reached the same level of long-term recognition in the American public's con­science?"
So how did it come to this, that
Ruth
, a legend in his own time, was shipped out of Boston just as his offensive prowess was emerging? Coming off a 1919 season in which he led the Junior Circuit not only in homers but also with his 113 RBI and 103 runs scored, the
Colossus of Clout
wanted a new contract that would pay him $20,000 per season. Prior to the 1919 season,
Ruth
had signed a three-year deal with the
Red Sox
that would pay him $10,000 annually.
"You can say for me," said
Ruth
to
The Boston Globe
on Oct. 24, 1919 ... "that I will not play with the
Red Sox
unless I get $20,000. You may think that sounds like a pipedream, but it is the truth. I feel that I made a bad move last year when I signed a three-year contract to play for $30,000. The
Boston
club realized much on my value, and I think that I am entitled to twice as much as my contract calls for."
L-R: Babe Ruth, Harry Frazee, Jacob Ruppert, Miller Huggins
By December 1919, the war of words had escalated, and
Red Sox
president and owner
Harry Frazee
hinted he might sell
Ruth
, stating: "I'm willing to trade any man on my team, excepting only
Harry Hooper
." Those Boston baseball fans whose ears were close to the ground were thus prepared to eventually hear
Ruth
had been sold to another club.
"The price was something enormous, but I do not care to name the figures. It was an amount the club could not afford to refuse," said
Frazee
... I should have preferred to have taken players in exchange for
Ruth
, but no club could have given me the equivalent in men without wrecking itself, and so the deal had to be made on a cash basis. No other club could afford to give the amount the
Yankees
have paid for him, and I do not mind saying I think they are taking a gamble. With the money, the
Boston
club can now go into the market and buy other players and have a stronger and better team in all respects than we would have had if
Ruth
had remained with us.
"I do not wish to detract one iota from
Ruth
's ability as a ballplayer nor from his value as an attraction, but there is no getting away from the fact that despite his 29 HRs, the
Red Sox
finished sixth in the race last season,"
Frazee
added. ...
"I am not at liberty to tell the price we paid," smiled
Yankees
co-owner
Jacob Ruppert
... "I can say positively, however, that it is by far the biggest price ever paid for a ballplayer.
Ruth
was considered a champion of all champions, and, as such, deserving of an opportunity to shine before the sport lovers of the greatest metropolis in the world."
Then, in a bit of foreshadowing,
Ruppert
added, "It is not only our intention, but a strong life purpose, moreover, to give the loyal American League fans of greater New York an opportunity to root for our team in a world's series. We are going to give them a pennant winner, no matter what the cost. ... Yet the fans can rest assured we by no means intend to stop there. Eventually we are going to have the bes team that has ever been seen anywhere."
Ruth
, contacted in Los Angeles - where
Yankees
manager
Miller Huggins
helped secure a contract that would pay the HR king $20,000 per season in 1920 and '21 - claimed not to be surprised by his sale to
New York
, noting: "When I made my demand on the
Red Sox
for $20,000 a year, I had an idea they would choose to sell me rather than pay the increase, and I knew the
Yankees
were the most probable purchasers in that event." ...
While the official sale price of
Ruth
was not made public at the time of the transaction, numbers were speculated about. According to modern research compiled by
Michael Haupert
, professor of economics at the
University of Wisconsin-La Crosse
, the actual purchase price was $100,000, payable in four annual installments of $25,000 at 6% interest, with
New York
making the first payment on Dec. 19, 1919. ...
The Baseball Hall of Shame: The Best of Blooperstown
,
Bruce Nash
and
Allan Zullo
(2012)
For the Most Inauspicious Major League Debuts of All Time, The Baseball Hall of Shame Inducts:
BILLY HERMAN
Second Baseman · Chicago, NL · August 29, 1931
Billy Herman
can't remember a whole lot about his big league debut, even though it was a memorable one. Thrilled at getting a chance to break into the starting
Chi­cago Cubs
lineup,
Herman
was determined to show he belonged. In his first at-bat in the Majors, he singled off
Cincinnati Reds
hurler
Si Johnson
, much to the de­light of the Wrigley Field crowd. In his next at-bat,
Herman
, his confidence growing, dug into the batter's box. On
Johnson
's first pitch, the rookie took a tremendous swing and fouled the ball straight down. It hit the ground in back of the plate and, with wicked reverse English, bounced straight up, smacking
Herman
in the back of the head. So a sterling career that spanned two decades highlighted by a .304 life­time batting average started out in the most forgettable—for him, at least—way pos­sible.
Billy Herman
was carried off the field on a stretcher—knocked out cold by his own foul ball.
L-R: Billy Herman, Doe Boyland, Doc Hamann
DOE BOYLAND
Pinch Hitter · Pittsburgh, NL · September 4, 1978
In his first Major League at-bat,
Pittsburgh Pirates
rookie
Doe Boyland
struck out—while sitting on the bench. In the seventh inning of a home game against the
New York Mets
,
Pittsburgh
manager
Chuck Tanner
sent
Boyland
in to pinch-hit for pitcher
Ed Whitson
. The count was 1-and-2 on
Boyland
when
Mets
right-handed pitcher
Skip Lockwood
had to leave the game because he hurt his arm.
New York
switched to southpaw
Kevin Kobe
l, so
Tanner
, going by the book, lifted the left-handed-swinging
Boyland
and put in right-handed batter
Rennie Stennett
to pinch-hit for the pinch hitter. While
Boyland
watched helplessly from the bench,
Stennett
struck out on
Kobel
's first pitch. Under the scoring rules, the strikeout was charged to
Boyland
for his inauspicious debut.
DOC HAMANN
Pitcher · Cleveland, AL · September 21, 1922
Cleveland Indians
rookie reliever
Doc Hamann
was so nervous when he was thrust into his first and only Major League game that he never got a single batter out. With the
Indians
trailing the visiting
Boston Red Sox
9–5,
Hamann
entered the game in the top of the ninth inning. Unfortunately, he couldn't find the strike zone with a road map. Shaking like a motherless pup, the 22-year-old hurler walked the first two batters he faced,
Johnny Mitchell
and
Ed Chaplin
. Then
Hamann
beaned the next batter, pitcher
Jack Quinn
, to load the bases.
Hamann
became more frazzled and walked
Mike Menosky
, forcing in a run. The young pitcher finally got the ball over the plate, only to watch
Elmer Miller
blast it for a bases-clearing triple. After giving up a run-scoring single to
George Burns
, the rattled rookie un­corked a wild pitch and then yielded another RBI single to
Del Pratt
, which made the score 15–5.
Cleveland
manager
Tris Speaker
had seen more than enough. He mercifully yanked
Hamann
, who never played in the Majors again. The stats for his entire pitching career: three hits, three walks, six runs, one wild pitch, and one hit batsman . . . and an ERA of infinity. Although he pitched in only one game,
Hamann
left a dubious mark in Major League history: the most batters faced in a career without getting anyone out.
Bill Francis, "Padgett Catches a Glimpse of History for 1939 Cardinals," Inside Pitch: The National Baseball Hall of Fame and Museum's Weekly e-Newsletter, August 26, 2019


The 1939 St. Louis Cardinals were an offen­sive jugger­naut, with a lineup led by future Hall of Famers like Joe Medwick, Johnny Mize and Enos Slaughter. But it was a little-known backup catcher, Don Padgett, who led the way and ultimately set a still-unbroken big league mark.
The 1939 Cards led the big leagues with a .294 average, far outdistancing the National League runner-up

Cincin­nati

's .278 batting mark. Despite this offensive might, St. Louis' 92-61 record was only good for second place, as the

Reds

took the pennant with 97 wins.
The Redbirds' Hall of Fame trio each finished in the Top 10 of the NL batting race that year, with Mize leading the loop with a .349 mark, Medwick the third-place finisher at .332 and Slaughter eighth at .320.

Don Padgett
But
Padgett
ended the '39 campaign with a remarkable .399 batting average, though it came in only 92 games –including 61 as a backstop. No other catcher in the modern era (post 1900) has hit at high as .370 in while appearing in at least 40 games behind the plate in any single season.
What made
Padgett
's 1939 season even more exceptional was the fact that that
Cardinals
were attempting to convert the former outfielder to catcher – though he had never caught prior to that time.
"I'd say," said
Cardinals
manager
Ray Blades
in July 1939, "that
Don
really has made progress. He has become a good receiver and he uses pretty good judgment in calling pitches. His worst drawback right now is that he doesn't get the ball away fast enough in throwing to the bases. The reason, of course, is that he isn't used to wearing the harness. His arm is strong enough and pretty accurate but the heavy pads are cumbersome and annoying to one who once was an outfielder."
L-R: Don Padgett, Joe Medwick, Johnny Mize, Enos Slaughter
A still-surprised
Padgett
would later explain to the
Sporting News
that two days after Christmas, on Dec. 27, 1937, a box arrived at his North Carolina home from
Cardinals
general manager
Branch Rickey
that included four catcher's mitts, a catcher's mask, a chest protector and shin guards.
The next day a bewildered
Padgett
received a letter from
Rickey
informing him he would be attempting to become a catcher the following spring.
"We've got more outfielders than we need … Unless you turn to catching, I'm afraid we'll have to send you back to
Columbus
. But you're going to be a catcher – a great catcher."
Despite his struggles adapting to the tools of ignorance,
Padgett
was always able to wield a potent bat from the left side of the plate. The husky redhead, known for being genial and affable, broke into the big leagues in 1937 with a .314 batting average, 10 home runs and 74 RBI, then followed it up by hitting .271 with eight homers and 65 runs knocked in.
With expectations that
Padgett
would be the starting catcher in 1939, as the
Cards
wanted more offense out of the catching position and
Slaughter
was coming up from the minors to play the outfield, a mid-March injury forestalled those plans for a while.
Padgett
suffered a dislocated left shoulder as he slipped and fell rounding second base in a Spring Training exhibition against the
Reds
and would be lost to his club for a month.
But when
Padgett
, 27, returned to the regular season lineup he made up for lost time. Despite losing the starting catcher job to
Mickey Owen
– infamous a few seasons later for his dropped third strike for the
Brooklyn Dodgers
in the 1941 World Series –
Padgett
's batting average crept over .400 in mid-June and remained there pretty much until the end of the season.
By early August, newspapers across the country were reporting National League managers' bewilderment as to why the
Cardinals
did not play
Padgett
– who was batting well over .400 in a part-time role behind the plate at the time – more often back in the outfield.
"
Padgett
is too much for us," said
New York Giants
manager
Bill Terry
. "We can handle
Joe Medwick
pretty well this year and
Johnny Mize
hurts us like he always did. But
Padgett
gives us the worst time of all. Early in the season I had my pitchers throwing fastballs to
Padgett
. We had to stop that before somebody was killed by the line drives he hit.
"During our last visit in St. Louis we talked it over and I finally said, 'Pitch him curveballs. Make him hit a curve.'
Padgett
came up to pinch hit with the bases full and we threw him curves. On about the second one he decided to swing. And although it was a good curve, he hit it clear over the right field pavilion. Now we'll throw him slow stuff. At least he'll have to use his own power to get distance."
Prior to the start of the 1939 World Series, pitcher and NL MVP
Bucky Walters
of the
Reds
, who led his team to the Senior Circuit pennant with a 27-11 record, said of
Padgett
: "He's one guy who made it hard for me. I was wrong most every time I pitched.
Padgett
made me more uncomfortable than did his teammates,
Johnny Mize
,
Joe Medwick
and
Enos Slaughter
."
With the season coming to an end,
Padgett
dipped below .400 for the first time in months when he went 1-for-4 on Sept. 28. On the penultimate day of the regular season,
Padgett
didn't play in either game of a doubleheader. Then, in the
Cardinals
' final game of the 1939 regular season on Oct. 1,
Padgett
, with a .399 batting average, walked in a pinch-hitting appearance, dashing any hopes of ending his noteworthy year with the coveted .400 milestone.
If
Padgett
had played in eight more games in 1939 he would have qualified for the batting crown, which was then based on participation in 100 or more contests.
Padgett
later went into the Navy in 1942 and missed four years of baseball while in the military. ...
"I spent 10 months at Brisbane, Australia, where the folks were real friendly, and they knew just a little about baseball. Where they were baseball daffy was in the Philippines. I had quite a stretch around Luzon. Altogether, my overseas service lasted 21 months."
Padgett
spent eight years in the big leagues (1937-41, 1946-48) spending time with the
Cardinals
,
Brooklyn Dodgers
,
Boston Braves
and
Philadelphia Phillies
, his career ending with a .288 batting average.
Padgett
died on Dec, 2, 1980 at the age of 68 in High Point, N.C.
Vexatious Veecks - II
Bill Veeck: Baseball's Greatest Maverick
,
Paul Dickson
(2012)
Bill Veeck Jr. worked for the

Cubs

after his father, the GM, died. He was involved in installing the ivy on the outfield walls plus contributing many other ideas to promote the club and increase attendance. In 1942, he purchased the AAA Milwaukee Brewers, a dying franchise with meager attendance.
| | |
| --- | --- |
| Fueled by his team's improved performance, atten­dance at Borchert Field had risen from 98,000 in 1941 to 280,000 in 1942. Veeck's clever promotions also played their part, among them a new tradition of giv­ing away odd prizes that became more bizarre as the season progressed. Veeck and Schaffer would haul a gate man's box out in front of the stands to draw tick­ets, inviting spectators holding the lucky stubs to re­port for their prizes. In one of the early lotteries, the first fan was pre­sented with a fifty-pound block of ice thrust into his arms by Veeck himself. The next re­ceived a keg of nails and the third a stepladder. The crowd squealed with delight as they watched hapless patrons return to their seats to deal with their gifts. | Bill Veeck Jr. |
Fruit and vegetable nights followed. A lady fan who won a basket of peaches returned several nights later with an oversized peach pie, which she presented to
Veeck
, who spoke about it for months to come. During livestock nights the prizes included turkeys, geese, rabbits, and pigs that often "escaped" onto the field, with the winners expected to chase them. The pigs, needless to say, were greased. One night, the fans were surprised to see an old, swaybacked draft horse on the field awaiting presen­tation to a lucky fan. The perplexed winner had no idea what to do with the animal, so he was advised to sell it back to the farm from which
Veeck
had purchased it, allowing the fan to pocket $15.
At one game
Veeck
awarded a man two pigeons. "I can see that poor guy yet,"
Veeck
recalled later, "sitting there during the game, a pigeon in each hand. He couldn't let go and nobody would help him. And you know pigeons!"
Other promotions - free lunches, vaudeville acts, swing bands - helped keep the turnstiles turning during the season. On June 2,
Veeck
assembled a band made up of players and
Milwaukee
front office personnel, which included
Veeck
playing a cheap whistle, [Manager
Charlie
]
Grimm
on banjo, and
Rudie Schaffer
[
Veeck
's assistant] playing a bass created from a three-gallon paint can, a broomstick, and a well-rosined cord. That an owner would be part of a serenade to his fans was big news: "Cafe de Veeck Wows 'Em in Milwaukee" was the headline in the
Chicago Tribune
.
Veeck
created even more publicity when he placed a chicken-wire screen above the right-field fence to turn opponents' home runs into singles. It was then rolled out of the way when the home team came up. The practice was imme­diately banned.
Decades later when
Veeck
was serving as a friendly witness in
Curt Flood
's 1970 lawsuit against major-league baseball, its lawyers used the moveable fence to question
Veeck
's character. "May I say about the fences, as a prelude, that at that time there were no rules forbidding the motion of fences because ... I have tried always not to break any rules, but to test highly their elasticity, and I did put into Milwaukee a moveable fence that was on top of our normal 25-foot right field fence. Since I had more right-hand hitters, I put it in right field, made out of chicken wire and connected to a cable that was operated by a steam winch, and I did pull it out between innings when the opposition was batting and on the next day they had a league meeting and they declared it illegal, immoral, and I stopped."
Veeck later applied his promotional ideas as owner of the

Cleveland Indians

,

St. Louis Browns

, and

Chicago White Sox

.
The Asterisk Record
"Maris and Ruth: Was the Season Games Differential the Primary Issue?"
Brian Marshall, Baseball Research Journal, Spring 2020

The 1961 season will always be remembered as the year that
Roger Maris
of the
New York Yankees
hit 61 home runs to set a new single-season home run record. It was a monumental achievement by
Maris
at the time ...
It was an expansion year in the American League. The
Washington Senators
moved to Minnesota to be­come the
Twins
, and new franchises were formed in Washington and Los Angeles to bring the league's team count to ten. To accommodate the additional squads, the schedule was increased to 162 games. ...
As the 1961 season progressed it became apparent that two
New York Yankees
,
Maris
and
Mickey Man­tle
, were going to go head to head for the home run title, not just for that season, but for all time. The
Maris
/
Mantle
home run battle and the nominal eight game differential stimulated MLB Commissioner
Ford C. Frick
to make the following ruling on July 17, 1961:
Any player who may hit more than sixty home runs during his club's first 154 games would be recog­nized as having established a new record. However if the player does not hit more than sixty until after the club has played 154 games, there would have to be some distinctive mark in the record books to show that Babe Ruth's record was set under a 154-game schedule and the total of more than sixty was compiled while a 162-game was in effect.
There were two problems, and one issue, with the
Frick
ruling that apparently were unbeknownst to him at the time of the ruling. The first major problem was that the wording "some distinctive mark" did not define what the distinctive mark would be ...
The second major problem was that
Frick
created a situation where the fans would be focused on the first 154 games with great anticipation and meaning and the remaining eight games would effec­tively be ren­dered less meaningful. ...
Then there was the issue that
Frick
considered himself a friend of
Ruth
's. As a sportswriter for the
New York American
newspapers,
Frick
had covered the
Yankees
beginning in 1922. He also had been a ghost writer for
Babe Ruth
's newspaper columns. ...
L-R: Babe Ruth 1927, Roger Maris and Mickey Mantle 1961, Ford Frick
Using the number of scheduled games as the standard to evaluate the legitimacy of
Maris
's home-run record may have been the perceived best approach at the time but was it? Although there is an eight-game differential in
Maris
's favor, the number of games do not necessarily equate to opportunity. Did
Maris
have 5% more opportunity than
Ruth
? To compare the
Maris
in 1961 and
Ruth
in 1927 performances on a more equivalent basis it becomes necessary to use a metric with a lower degree of variation: plate appearances (AB+BB+SH+SF+INT+HBP). The totals for
Ruth
in 1927 and
Maris
in 1961 were:
Babe Ruth
691 plate appearances,
Roger Maris
698. ...
Maris
's final three home runs were hit after the 154th game, but for each of home runs number 59 and 60,
Maris
hit them when he'd had fewer plate appearances than
Ruth
. ...
There were three games during the 1961 season when
Maris
did not record any plate appearances: May 22, July 29, and September 27.
Maris
was in the lineup for the May 22 game at Yankee Stadium and took his position in RF, but he came out due to an eye irritation. ...
Maris
was only in the game for a few minutes during the top of the first inning and never made a plate appearance in the game. For the game on July 29,
Maris
was never in the lineup because he was sidelined with a pulled muscle in his left leg. On September 27,
Maris
was given the day off. ...
When the final official AL batting statistics were released for publication by MLB on December 17, 1961, there was no asterisk nor any other mark/indication associated with
Maris
's statistics. Remember that at the time when
Maris
hit his 59th home run, the asterisk had seemed assured ...
Frick
maintained that he never stated there should be an asterisk, saying: "As for that star or asterisk business, I don't know how that cropped up or was attributed to me, because I never said it."
Frick
effectively was his own worst enemy in the asterisk matter. However, after all the dust had settled, the official AL statistics didn't include a mark beside
Maris
's feat. Down the road, any baseball historian or researcher would know and understand there was a different in the number of AL games in the 1927 and 1961 seasons because it is low-hanging fruit. Less obvious is the fact that
Maris
had fewer opportunities per game on average, and ultimately hit his record tying 60th home run in three fewer PAs than
Ruth
.
Craig Muder
, Card Corner Series, baseballhall.org (August 2020)
From his big league debut at the age of 19 to his later playing years as one of the game's deluxe pinch-hitters,
Rusty Staub
could put the bat on the ball. That skill kept
Staub
in the big leagues for 23 seasons and made him a fan-favorite throughout the game.
Staub
's 1984 Topps card came out on the heels of his age-39 season when he appeared in 104 games with the
Mets
– only 10 of which came in the field. But
Staub
's ability as a pinch-hitter more than made up for his lack of range at either first base or the corner outfield spots.
Born April 1, 1944, in New Orleans, La.,
Staub
was signed as an amateur free agent with
Houston
in 1961 after a high school career that featured
Ted Williams
calling
Staub
one of the best young hitters he ever saw. He signed for a reported bonus of $125,000 and was expected to be the corner­stone of the franchise, which would begin play in 1962.
Staub
made his big league debut with
Houston
eight days after his 19th birthday. He played in 150 games as a rookie in 1963 – setting a single-season games-played record for teenagers (including only games played before a player's 20th birthday).
Staub
was returned to the minor leagues for part of the 1964 season, but became a regular again in 1965 and gained national attention in 1966, hitting .280 with 13 homers and 81 RBI while finishing 22nd in the National League Most Valuable Player voting.
The next season,
Staub
cashed in on his enormous potential by hitting .333 with an NL-best 44 doubles, 10 homers and 74 RBI while earning his first All-Star Game selection. He hit .291 in 1968, the ninth-best average in the NL during the Year of the Pitcher.
But the
Astros
finished last in the 10-team NL in 1968, prompting general manager
Spec Richard­son
to trade
Staub
to the expansion
Montreal Expos
on Jan. 22, 1969, for
Jesus Alou
and
Donn Clendenon
, both of whom had been selected by the
Expos
in the Expansion Draft.
Clendenon
eventually refused to report to
Houston
, so the
Expos
later sent
Jack Billingham
,
Skip Guinn
and $100,000 to complete the trade. "It was the toughest decision I've ever made in baseball,"
Richardson
told
United Press International.
Rusty Staub made his big league debut with the

Houston Colt 45s

eight days after his 19th birthday in 1963.
Staub was acquired by the

Montreal Expos

on Jan. 22, 1969 in exchange for Jesus Alou and Donn Clendenon.
Staub was acquired by the Mets on April 5, 1972 for Tim Foli, Mike Jorgensen and Ken Singleton.
In Montreal,
Staub
became a folk hero in Canada as "
Le Grand Orange
" – the first baseball star north of the border. He was named to the All-Star team in each of his three seasons with
Montreal
, averaging 26 homers and 90 RBI with a .296 batting average in his three seasons with the
Expos
.
But
Montreal
averaged 96 losses a season in
Staub
's time there. Needing young players to build a franchise, the
Expos
traded
Staub
to the
Mets
on April 5, 1972, for highly touted prospects
Tim Foli
,
Mike Jorgensen
and
Ken Singleton
. The deal occurred on the same day the
Mets
named
Yogi Berra
to replace
Gil Hodges
– who had passed away three days earlier – as manager.
"I was totally shocked,"
Staub
told the
Montreal Gazette
following the trade. "I regret having to leave Montreal."
But
Staub
would quickly find a home in New York. After missing more than half of the 1972 season due to a right hand injury,
Staub
hit .279 with 76 RBI to lead the
Mets
to the 1973 NL pennant. In the World Series,
Staub
hit .423 with a homer and six RBI in the
Mets
' seven-game loss to the
A's
.
After slumping to a .258 batting average in 1974,
Staub
bounced back with a .282 mark in 1975, which included 19 home runs and 105 RBI – the first time he had cracked the century mark in his career.
Then at the Winter Meetings following the 1975 season, the
Mets
sent
Staub
and pitcher
Bill Lax­ton
to the
Tigers
in exchange for former World Series hero
Mickey Lolich
and outfielder
Billy Baldwin
.
Staub
spent most of the 1976 season as the
Tigers
' right fielder, hitting .299 with 15 homers and 96 RBI while earning his sixth-and-final All-Star Game selection. Then in 1977, the 33-year-old
Staub
became
Detroit
's designated hitter – a position where he would play 318 of his 320 games over the next two seasons. He averaged 23 home runs and 111 RBI per season over those two years, winning the Designated Hitter of the Year Award in 1978.
Traded back to the
Expos
on July 20, 1979, as
Montreal
chased a postseason berth,
Staub
hit .267 in 38 games before he was traded to the
Rangers
for
Chris Smith
and
LaRue Washington
11 days before the start of the 1980 season.
Staub
hit .300 in 109 games that season, then signed with the
Mets
for three years and $1 million as a free agent prior to the 1981 campaign.
He would play the final five seasons of his career in New York, primarily as a pinch-hitter. In 1983, he set big league records (since broken) with most pinch-hit at-bats (81) and walks (11). He also set a record with eight straight pinch-hits that season, tying the mark set by
Dave Philley
in 1958.
For his career,
Staub
had 100 career pinch-hits – good for a .280 average.
"Our pitchers don't like to face
Rusty
, and I don't know many who do," said future Hall of Fame manager
Whitey Herzog
during
Staub
's playing days. "He's there with the singles and doubles and hits the ball where it's pitched to."
Staub
retired after the 1985 season with a .279 average, 2,716 hits, 292 home runs and 1,466 RBI. He appeared in at least 150 games in 12 seasons, and his 2,951 big league games ranked in the Top 10 all-time at the time of his retirement.
Staub
passed away on March 29, 2018.
"He has his place in
Met
lore," former teammate
Keith Hernandez
told the
New York Daily News
on the day following
Staub
's passing, "and also this city."
Personal Note: My biggest claim to fame as a baseball player was that I got Rusty Staub out the one time I faced him. It was the 16-year-old summer league on the diamond at Marconi and Har­rison in City Park. Rusty was 13 but right at home with 16-year-olds. His team was clobber­ing us. So I was called in from third base to the mound in the late innings. With no fences, the play­ing field between two streets was like the old Polo Grounds - short in right and left fields but with nothing in center field except the backstop of the next diamond. Our centerfielder was play­ing in the next zipcode when Rusty drove my fastball high in the air to deep centerfield. The runner on third scored easily; so it didn't count as an official at-bat. But I got Rusty Staub out!
The Forgotten Strike: 1972
Jim Gilstrap
,
Cardinals Gameday Magazine
, (2020 Issue 2)
What shortened the season
: The first major league players strike shut down the sport April 1 - just four days before Opening Day - and led to the cancellation of games through April 14.
Players had walked out near the end of spring training, demanding that owners in­crease contributions to their pension fund and cover higher premiums on their medi­cal insurance. Owners argued that their contribution of $5.45 million annually (from World Series TV revenue) was more than generous, especially because they were paying players higher salaries.
"I wouldn't give 'em a damn cent more,"
Cardinals
president
Gussie Busch
declared before the strike. "They (the players) are going to ruin baseball, the way they're go­ing. I intend to stand up to them."
The standoff ended just short of two weeks. Players got less than they wanted for the pension ($500,000 instead of $800000) but negotiated more for their health care fund ($490,000 vs. an initial offer of zero).
The final questions: Would the games be made up and would the players be paid for them? The answers: no. The strike cost each club an estimated $200,000 in lost revenue and each player 4.9 percent of his annual salary.
L: August Busch; R: Marvin Miller and Joe Torre announce end of players strike.
How it affected the Cards
: "On Opening Day, I was introduced in St. Louis ... as the most valuable player of the National League (for 1971). They booed me," recalled
Joe Torre
... As one of the
Cardinals
' two players-union reps (with SS
Dal Maxvill
),
Torre
became a visible presence during negotiations - and a target for fans.
Luckily for
Torre
, a crowd of only 7,808 showed up that day at Busch - a statement in itself. Fearful that fans would be angry, the
Cardinals
scrapped their traditional Opening Day pregame ceremonies. By June 1, the club was 14 1/2 games out of first and dead last in the NL East - another sore point for fans. They recognized a veteran-heavy roster hadn't stayed together during the strike and worked out as a unit the way some clubs had.
The
Cardinals
did climb into third place in July, but after winning 90 games and finishing second in 1971, the '72 team's final ledger (75-81, fourth place) did little for ticket sales. An average attendance of 15,544 per game remains the club's second-lowest since moving downtown in 1966.
It could be argued the prospect of a strike along with players demanding bigger sal­aries, both sore subjects with Busch, derailed not only the 1972 season but the rest of the decade. As talk of a strike grew, Busch reacted to contract holdouts by 20-game winner
Steve Carlton
and promising lefty
Jerry Reuss
by ordering them traded.
Carlton
, dealt in February, would go on to win four Cy Young Awards, 329 games and land in the Hall of Fame.
Reuss
, traded on Opening Day, pitched in the majors for 22 seasons and won 220 games.
"At that game,
Gussie Busch
wasn't going to have anyone dictate policy to him," said Torre, who also was a holdout that spring. "Over a couple of months, he traded both '
Lefty
' and
Reuss
. That sort of neutered our pitching staff."
Bottom line for baseball:
Perhaps the
Boston Red Sox
suffered the cruelest fate. Because the schedule picked up April 15, not all teams played an equal number of games.
Boston
played one fewer than
Detroit
- and lost the AL East by a half game to the
Tigers
. The
Oakland A's
... would defeat the
Reds
to win their first of three straight World Series.
He said it:
"Once the strike came around, that really turned him off. We were the only club in which the players were able to room by ourselves, without it costing us anything. There were a lot of little things about playing for the
Cardinals
like that, things he was responsible for, that made it special. I think, as well as he treated the players, he felt he deserved more than that. And I didn't disagree with him."
Torre, on why he sensed Busch never felt the same about the players after the strike.
CONTENTS
If the Cubs threw the 1918 World Series,
it was a Cardinal that fixed it