Only a handful of people who saw
Pete Reiser
in his prime are still around today. Those who did cannot watch an athlete streak toward an outfield fence without feeling just a little sick to their stomachs.
Pete
was a 5-foot-10 1/2, sinewy-strong 185-pounder who gene­rated more speed, power, and pure energy than seemed physically possible from that modest frame. The only thing that could stop
Pete
was an unpadded stadium wall.
Harold Patrick Reiser was born in 1919 in St. Louis, Missouri. As a boy, his friends and family called him Pete, after the cowboy movie hero Two-Gun Pete. Eventually his nickname name became "Pistol Pete."
Reiser's father began flinging pitches to his son at an early age; and at an early age, Pete could hit them. Pete's older brother Mike often brought him along to play in his sandlot lot games. Thus, at least in modern parlance, Pete spent much of his youth "playing up."
Reiser was good at every sport he tried. As a 14-year-old, he impressed a local soccer scout enough to earn $50 a game-more than his dad made in a week. He was a terrific football player, bowler, and ice skater, too; and he was ambi­dextrous. Pete threw and batted right-handed as a boy, but he could

Pete Reiser
swing around and do almost as well left-handed. His sports fantasy, however, did not take place on the diamond. Raised in a Catholic family, he dreamed of becoming a football star for
Notre Dame
.

Reiser
was a high school shortstop. He was not big, but he was fast. He also had a pow­erful arm and a live bat, and he was unrelenting on defense. He believed there was no ball he could not get to. This was not a major issue in the infield, where players are encouraged to leap and dive and spin. In the outfield, where
Reiser
would ultimately play, his impru­dence would lead to his downfall.
At 15,
Reiser
sneaked into a
St. Louis Cardinals
tryout, where he out-threw and outran 800 other boys. He was disappointed when he returned home without a contract, but later a
Cardinals
scout,
Charlie Barrett
, visited the
Reiser
home and explained why they hadn't made a big deal about
Pete
at Sportsman's Park. The
Cardinals
didn't want word leaking out to the
Browns
, with whom they shared the ballpark, or anyone else. The scout also admitted they'd had their eye on him since grade school. The
Cardinals
knew
Pete
wasn't old enough to sign a contract, so they hired him as a "chauffeur."
Just as planned,
Reiser
was signed by the
Cardinals
in 1937, after high school. He played shortstop for two Class D teams-
New Iberia
(LA) of the Evangeline League and
Newport
of the Northeast Arkansas League. In 1938 Commissioner
Kenesaw Mountain Landis
ruled that the
Cardinals
' system tied up so many young players that it went against the interest of baseball.
Landis
broke up their Minor League monopoly by cutting loose dozens of players, who were then dispersed to other teams through a kind of Depression-era free agency. Of these players,
Pete Reiser
was arguably the best. More to the point, he was the one
Cardinals
GM
Branch Rickey
most wanted to keep.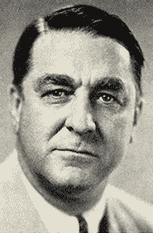 L-R: Commissioner Landis, Branch Rickey, Larry MacPhail, Leo Durocher
Rickey
contacted his one-time associate
Larry MacPhail
, who was now running the
Brooklyn Dodgers
. They worked out a gentlemen's agreement. The
Dodgers
would sign
Reiser
, hide him in the low Minors for a couple of years, and then trade him back to the
Cardinals
.
Rickey
called
Pete
and told him to sign with
Brooklyn
no matter what they offered. This kind of chicanery was contradictory to baseball rules, and had
Landis
learned of the arrangement, he would have stopped it.
Pete
followed orders, signed with the
Dodgers
for $100, and was sent to
Superior
(WI) of the Class D Northern League, where he hit .302 with 55 extra-base hits. He was still hitting right-handed at the time, but once he revealed that he was ambidextrous, coaches en­couraged him to swing around to the left side, to take better advantage of his speed. He would hit almost exclusively left-handed for the better part of the next ten years.
Reiser
first caught the eye of the
Dodgers
' new player-manager,
Leo Durocher
, at spring training in 1939. It was a hot day and
Durocher
did not feel like playing shortstop. He asked
Pete
to play the position. What happened next is part of baseball lore. Pitchers lit­erally could not get
Reiser
out. In eleven trips to the plate over three games, he collected three walks, four singles, and four home runs.
Durocher
, who had been pining for a left-handed power threat, had one dropped right in his lap-from Class D ball, no less!
Durocher
started telling the beat writers that
Reiser
would be his Opening Day shortstop. He was ready to take the rookie under his wing. When glowing articles started showing up in the New York papers,
MacPhail
received a phone call from an enraged
Rickey
accusing him of a double-cross.
MacPhail
sent
Durocher
a telegram instructing him to stop playing
Reiser
-phenom or not. He needed more instruction and was to be sent to the Minor League camp.
Durocher
, who hated to be second-guessed when it came to players, ignored these orders.
MacPhail
then boarded a flight south so he could deal with
Leo
face-to-face.
Durocher
was just as conniving as
Rickey
and
MacPhail
, but he also had a big mouth, so
MacPhail
was not about to tell him the real story behind
Pistol Pete
. An argument ensued during which
MacPhail
fired
Durocher
. The next day they settled their differences; nevertheless,
Durocher
could see
MacPhail
was serious about
Reiser
. He optioned
Pete
to the Minors as ordered.
That year
Reiser
suffered the first of many serious injuries he would endure during his professional al career. Playing the outfield in Class A, he felt a sharp pain while throwing a ball to the infield. He continued to play for two weeks until the pain became unbearable. X-rays showed that he had fractured his arm. He underwent went an operation to remove bone chips from his right elbow, and he played in only thirty-eight games in 1939. Toward the end of the season, he returned for a few games, throwing left-handed.
Reiser
was back in class A to start the 1940 season, but the
Dodgers
realized he had nothing left to prove there. He was batting .378 when they promoted him to their top farm team, Montreal, and from there he arrived in Brooklyn and appeared in his first game on July 23. After a 0-for-9 start, he batted .293 in 58 games.
Reiser
worked his way into the starting lineup early in 1941, playing CF.
Pete
started hot and stayed hot, torturing pitchers at the plate and on the base paths, while making remark­able catches and throws in the outfield.
Reiser
finished the year with a .343 average to win the batting crown. He led the National League with 39 doubles, 17 triples, 117 runs scored, and a .558 slugging percentage, and finished second to teammate
Dolph Camilli
in voting for the Most Valuable Player Award. The
Dodgers
edged the
Cardinals
by two and a half games for the National League pennant.
As good as
Reiser
had been in 1941, he was even better in 1942. Few who saw him in the season's first half questioned whether he would repeat as batting champ. Some -including Reiser himself - thought he could follow up
Ted Williams
's .406 campaign in 1941 with a .400 season of his own.
One of the many times Reiser was carried off the field on a stretcher.
In this instance, he was beaned in a 1941 game.
On July 19, 1942, the
Dodgers
played at
St. Louis
. In the eleventh inning of a 6-6 tie,
Enos Slaughter
belted a long drive off
Johnny Allen
.
Reiser
raced toward the CF wall, narrowly avoiding the flagpole that rose from the playing field, and caught
Slaughter
's hit in full stride-and then hit the concrete wall an instant later. The ball fell from his glove, and although dazed, he threw the ball to the cutoff man.
Slaughter
circled the bases to win the game. All attention turned to No. 27, who lay on the field motionless, facing the sky, his shoulder separated and blood trickling from his ears. When
Durocher
reached him, the manager started to cry.
Pete
was carried off on a stretcher and woke up the next morning in the hospital with a fractured skull and a brain injury. The
Cardinals
' team doctor exam­ined him and recommended he not return to the field that season. In the era before the effects of a concussion were fully understood,
Reiser
did what garners do - he returned to the diamond as soon as he could walk despite being dizzy, having a hard time focusing, and feeling weak. He would never be the same player again.
The
Dodgers
' lead evaporated down the stretch as
St. Louis
edged
Brooklyn
by two games.
Reiser
ended up batting .310, but still led the league with 20 steals. Before the injury, teammate
Billy Herman
- who had played with Hall of Famers
Chuck Klein
and
Hack Wilson
- said
Pete
was the greatest player he had ever seen.
After the season,
Reiser
attempted to enlist in the navy, but he flunked his physical. In January 1943 he tried again, this time at an army recruiting office. He was about to be rejected when an officer recognized him and waved him through.
If baseball was tough on
Reiser
's body, military life was even tougher. One day, after a long march in below-zero weather, he started feeling woozy and was diagnosed with pneumonia. Doctors were ready to issue a medical discharge when the base commander realized he had the great
Pete Reiser
in the infirmary. He kept him at Fort Riley so he could play for the camp team after he recuperated.
Pete
was excused from all duties, could leave the base virtually whenever he liked, and had his own private room.
Even on an army team,
Reiser
was incapable of letting up. Once, he was chasing a fly ball and burrowed right through the thick hedge that formed the outfield wall and down a ten-foot drainage ditch. He separated his shoulder and couldn't throw. So he simply threw with his left arm, as he had in 1939.
When the war ended, he was almost sent to Japan as part of a team that would play exhi­bitions to entertain the troops. Luckily for him, a base doctor looked at his medical records and was appalled. Clearly, he never should have been allowed into the army in the first place.
Pete
was discharged charged early in 1946, in time to catch up with the
Dodgers
in spring training.
The
Brooklyn
brass noticed right away that their former star no longer had a Major League arm. Previously, there had been discussions within the organization that he might be better off in the infield, if only from a self-preservation standpoint. But now that was out of the question.
Pete
's season ended early with a fractured fibula suffered during a stolen base attempt. Prior to that he had reinjured his shoulder and limped through a series of minor pulls, sprains, and strains. The shoulder got so bad that he was moved to left field, and he often threw the ball underhand. In an August game with the Cardinals, he ran into the left-field wall chasing a hit. While convalescing at home, he burned his hands lighting the oven for his wife. It just wasn't
Pete
's year.
Even so,
Reiser
could still run. He led the league in 1946 with 34 stolen bases-including seven steals of home. He batted .277 in 122 games and led the team with eleven home runs, three of which were inside-the-park. By the time he hurt his ankle, however, his swing had become hitched and choppy because of the aching shoulder. He was basically a slap hitter in the second half.
Augut 14, 1946: Reiser slides into home ahead of the tag by
Giants
C Walker Cooper on the front end of a
triple
steal. That gave Pete a new National League record with his sixth steal of home.
The 1947
Dodgers
had an entirely new look.
Jackie Robinson
was now the man who made them go. Chasing a ball,
Pete
snagged it on the dead run an instant before slamming into the fence. He held onto the ball for the out, but he fractured his skull. The injury was so bad that he was given the last rites, and he lay in a hospital bed for five days.
The ill effects of the head injury - plus a sore leg - were evident in the World Series against the
Yankees
.
Reiser
misplayed a couple of balls in the first two games. He started Game Three but injured his ankle on a steal attempt. Manager
Burt Shotton
replaced him, and
Pete
spent the remainder of the Series as a bench player.
Reiser
was never a regular player again. In 1948
Durocher
returned to the
Brooklyn
dugout from his one-year suspension and saw that
Pete
was no longer capable of playing the outfield.
Durocher
believed that he could at least keep the potent
Reiser
bat in the lineup. So
Pete
was a candidate for the first-base job-until
Leo
saw him in action and realized that he needed to look elsewhere.
Pistol Pete
had gained a few pounds and was sluggish around the bag.
Reiser
saw sporadic playing time at third base for a few games. Mostly he was used as a pinch hitter and fill-in outfielder. He spent much of the 1948 season on the injured list and finished with a .236 average in 64 games. After the season,
Pete
asked
Rickey
to trade him.
Rickey
obliged, engineering a swap with the
Boston Braves
. Though still no more than a bench player,
Reiser
enjoyed a minor renaissance in Boston in 1949. He saw action in the outfield and at third and collected 19 extra-base hits among his total of 60. He batted .271.
Pete
's 1950 campaign was a different story. His average sank to .205. The
Braves
released him after the season. Less than a week after leaving the
Braves
,
Rickey,
now running the
Pirates
, acquired
Reiser
for the third time. He proved to be a handy bench player, hitting .271 in 74 games.
Rickey
released him after the season but offered him a chance to manage the
Pirates
' farm club in New Orleans. But
Pete
felt he had some more good baseball in him. He was signed by the
Cleveland Indians
. He functioned primarily as a pinch hitter in 1952, playing just ten games in the outfield. He batted a paltry .136 with three homers in the first half and played his final game as a Major Leaguer on July 5. The injury that ended his career was a separated shoulder, suffered while sliding. When
Pete
told Manager
Al Lopez
that he was retiring,
Lopez
cried. Like everyone eryone who had seen
Pete
in his prime, he was saddened that a good guy and great player had suffered such relentlessly horrible luck.
Pete
worked for the
Dodgers
as a minor league hitting coach and also worked with
Maury Wills
on his base stealing to transform
Wills
into the league's top base stealer whose 104 steals in 1962 broke
Ty Cobb
's record.
Reiser
would later tutor
Sandy Alomar
on base steaing.
Pete
also managed in the minor leagues and coached for
Durocher
when
Leo
became skipper of the
Cubs
.