A Paige Out of History - 1
Don Amore, Baseball Digest, January/February 2022
At age 59, Satchel Paige threw three scoreless innings in one of the most improbable achievements in baseball history.
The stories must have been apocryphal. Had to be, right? Hammering nails with a fastball? Heaving a ball 400 feet on the fly? Sending his fielders back to the dugout and then striking out the side on nine pitches?
Or were they?
When Leroy "Satchel" Paige joined the Kansas City Athletics in September of 1965 at the age of 59, he regaled his new, young teammates with stories, like the one about his legendary control. Throwing strikes over a matchbook? C'mon.
"Rene Lachemann used to love it," said A's outfielder Tommie Reynolds. "Lach was catching him, and he'd put down a gum wrapper and Satch would throw it over that gum wrapper. He'd throw a breaking ball over it. Wherever he put it, Satchel threw the ball right over it."
"He was something," Lachemann said. "I'd catch him on the side a lot. I'd fool around with him a lot and I'd say, 'I heard you threw strikes over a gum wrapper.' He said, 'Put one down," and sure as spit, he threw it right there to it."
No one was quite sure what to make of it when Charles O. Finley signed Paige, the legendary Negro leagues star, on September 10, 1965. Paige had last pitched in the majors in 1953–12 years earlier–and he was two months past his 59th birthday, though Satch liked to tell people a goat ate the Bible that had his birth certificate tucked in it.
It was a publicity stunt, to be sure. But it produced one of the most remarkable feats and magical nights in baseball history: September 25 1965, the night Sachel Paige nowed down major-league hitters for three innings.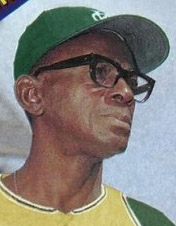 L-R: Satchel Paige with
Cleveland
; Charles O. Finley, Satchel with Kansas City
"I didn't give a damn if I made an out," said Jim Gosger, 79, who went 0-for-2 against Paige. "You were facing someone of this stature who'd been around so long and he was a gentleman. An absolute gentleman. It's something you just never forget."
As hard to believe as the tallest of Satch's tall tales, the ageless Paige pitched three scoreless innings in a major-league regular-season game, allowing only one hit.
"Unheard of," said
Lee Thomas
, who played first base for
Boston
. "That doesn't happen."
The 10th-place A's were on their way to losing 103 games, and dying at the turnstiles. Finley would try any gimmick he could dream up to draw a few fans. Manager Haywood Sullivan refused to comment on Paige's signing, other than to confirm Finley's directive that he was to start two weeks later on the 25th.
Not allowed by baseball's racial barrier to play in the major leagues during his prime,
Paige
finally made his big league debut for
Veeck
at age 42 in 1948, and he was no stunt. He went 6-1 for the American League champion
Cleveland Indians
and pitched in the World Series. Later, with
Veeck
's
St. Louis Browns
he was an All-Star at ages 45 and 46. Then he pitched a few more years in the minors.
In 1965,
Paige
needed money. He had not pitched long enough to qualify for the MLB pension and his wife,
LaHome
, was expecting their eighth child. They had written to 20 teams asking for a job in the game. Meanwhile,
Paige
signed with promoter
Abe Saperstein
, the
Harlem Globetrotters
owner who had been a Negro leagues investor, to make personal appearances. In June,
Paige
threw batting practice before a benefit exhibition game between the
St. Louis Cardinals
and
Detroit Tigers
at Busch Stadium. After one batter reached the wall,
Paige
stopped throwing BP fastballs and began using his assortment of offspeed pitches and offbeat deliveries, and none of the major-league hitters could get the ball out of the infield.
On September 8, Finley had his young shortstop, Bert Campaneris, play every position, and it drew 21,000 fans to Municipal Stadium, where the A's were barely drawing 1,000 fans for home games that late in such a lost season. Two days later, he signed Paige, who lived in Kansas City and agreed to pitch three innings for $3,500.
"I'll need three or four days to get really sharpened up," Paige told reporters.
"Mr. Finley signed him, gave him a rocking chair to sit in the bullpen long enough for him to qualify for the pension," said Billy Bryan, 82, who had the distinction of catching Paige's historic start. "He'd have old car shows and stuff at the ballpark to draw fans. Everybody on the team got to be friends with him because he was with us every day. We all thought it'd be good for the team, give us a little publicity, too."

Paige was long and skinny as a rail, just as he'd been in his prime, when Joe DiMaggio, Babe Ruth and Carl Yastrzemski's father faced him in exhibition games. The A's green and gold flannels draped loosely from his arms and legs.

Paige struck up a friendship with Lachemann, a 20-year-old rookie, who'd sit next to him on the bus and loved Paige's stories about Cool Papa Bell, Josh Gibson and all the others, not to mention his "blooper" or "eephus" pitch.

"He'd throw batting practice, and I said, 'Throw me the eephus pitch,' and I hit the eephus pitch out of the ballpark," said Lachemann, 76. "I said, 'Hey, Satch, throw me another one,' and he started to throw the eephus pitch and then threw a fastball and just blew my bat up, hit me right on the knuckles and broke the bat into pieces. He said, 'How 'bout that eephus pitch, Lach?' He was a real treat."


Satchel Paige in his rocking chair in bullpen.
The idea was for Paige to be a sort of coach and cheerleader for that month, and it would count toward the service time he needed to qualify for the $125-per-month pension. He'd joke with players about his age, repeat his famous 10 rules to live by, and other Satch-isms.
"Sure, I ejoyed it," Reynolds, 80, said. "I used to go out to the bullpen, which I didn't often do because I was a [position] player, but I didn't mind going to the bullpen when Satch was there. I heard a lot of stories, he kept it lively. He'd tell us, 'If you see a bear, don't help me, help the bear.' After the game, he wouldn't take a shower because, he said, 'water rusts iron.'
"Just being around Satch, it was like being with history."
To be continued ...