Quarter 3
The
Vikings
needed to come out of the locker room with a sense of urgency and take the kickoff and score. They got the spark they needed from
John Gilliam
, who took the kick at the 1 and returned it 65y. But their bad luck continued. The play was called back and
Minnesota
penalized half the distance to the goal for clipping.
Stu Voigt
was the culprit.
John Gilliam returns kickoff.
From the 11, the downtrodden
Vikes
got just what they didn't need - a three-and-out. After
Foreman
ran for 2, disaster almost struck.
Tarkenton
rolled right, then threw back to the middle for
Foreman
. With nothing but green artificial turf between him and the goal line, LB
Mike Kolen
let the ball go right through his hands to
Chuck
, whom
Mike
tackled for no gain. On 3rd-and-8,
Fernandez
shrugged off two blockers and sacked
Tarkenton
, fleeing to the right, for a loss of 6. So
Eischeid
boomed a 48y punt that
Scott
returned 12y to the
Viking
43.
Csonka plows ahead.
From there, the
Dolphins
removed all doubt as to who would win by driving to their third TD in eight plays. After runs by
Morris
for 1 and
Csonka
on a draw for 4,
Siemon
making both tackles,
Griese
converted the 3rd-and-5 with a 27y lob to
Warfield
, who made a diving catch behind
Bryant
just inside the left sideline at the 11.
Bryant: One play that stands out was the 27-yard pass that Paul Warfield got on me. That brought them into the red zone. We had heard for the whole week that Warfield had a pulled hamstring. They wanted us to believe that he couldn't run. He was running pretty well when the game came around and on that play he had me beat. Bob Griese threw the pass well. I was right behind Warfield and I was able to tackle him shortly after he caught it, but that put them down there. ... I don't think Warfield liked me. The first time we played one another, when he was with Cleveland in 1969, I intercepted three passes against him. And after he caught his first pass, in this Super Bowl - it was an out pattern for a six-yard gain - I pushed him out-of-bounds. He just said:: "That all you got, Bryant? Because if it is, I'm gonna wear you out all day."
Larry
rammed for 4 at RT. Then
Bob
tried to pass rolling right but, finding no one open in the EZ, ran for 2y. On 3rd down, the
Vikings
made a play that would at least hold
Miami
to a FG when
Morris
was cut down for a loss of 8 around LE. But once again their hopes were dashed when
Hilgenberg
was called for holding, giving
Miami
an automatic first down at the 8. Two
Csonka
runs took it in from there, first for 6 through a gaping hole at LT, then over the right side into the EZ.
Dolphins
24
Vikings
0 (8:44)
After the game, Griese said of the scoring play: I got to the line of scrimmage and started looking the defense over and forgot the count. I turned around and asked Csonka. Why I did that I don't know. He's always forgetting the count. Larry shouted, 'It's one - no wait - it's two. Well as it turned out it was one. Jim Langer snapped the ball in my hand, and I just handed it to Larry. We laughed about it coming off the field. Bob bobbled the snap slightly before handing the ball to Larry.
Siemon was asked years later if his D-coordinator, Neill Armstrong, should have moved a safety man up to the line to stop the run. They did have Paul Warfield and Marlin Briscoe, both of whom were fleet, outstanding receivers and had to be respected. I think it would have been a little dangerous to show them an eight-man front ... We were so basic in our philosophy.

Csonka scores Miami's third TD.
Gilliam
got another nice return, meandering 21y to the 26.
Tarkenton
now faced a defense that knew he had to pass. On first down, he faded back but, seeing no one in the middle of the field, ran for 5y. Then he threw a swing pass to
Foreman
for a 1st down at the 41.
Reed
advanced 6y on a draw play before taking a looping flare pass from
Tarkenton
for a loss of 1. On 3rd-and-5,
Tarkenton
apparently thought he could catch the defense off guard with a running play, but
Reed
gained only 1 up the middle.
Eischeid
's punt went off the side of his foot but got a good roll to the
Miami
11.
Csonka
roared through the huge opening up the middle to the 27. On the next snap,
Marshall
hit
Larry
as soon as he took the handoff for a loss of 2. Following
Csonka
's 5y gain,
Griese
chose not to pass on 3rd down, handing to his big FB who gained only 3. So
Seiple
came in for only the second time. His short kick traveled only to the
Minnesota
43.
Griese admitted he turned conservative after the third TD. Hell, I know how good our defense is. I stopped calling those tricky draw plays. I wasn't going to give them anything.
Csonka follows Morris.
Could the
Vikings
take advantage of good field position? The answer was yes, as
Tarkenton
& Company finally sustained a drive into the EZ.
Fran
began by throwing to
Foreman
for 8 up the middle. Then RB
Ed Marinaro
saw his first action, getting a 1st down with a 3y run. After
Tark
's pass to
Foreman
was broken up,
Fran
scrambled and threw to
Gilliam
for a gain of 2.
End of Q3:
Dolphins
24
Vikings
0
Quarter 4
Facing 3rd-and-8,
Tarkenton
threw down the middle to
Voigt
, who extended to grab the ball at the
Miami
29. Then
Gilliam
took in a pass just before stepping out at the right sideline at the 20. Next,
Fran
's down-and-out pass to the left flew over the head of
Lash
.
Reed
scampered around RE for a 1st down at the 13. Then
Lash
did a down and out, snagging the ball as he made his cut and going out of bounds just inside the 4. Then
Fran
called his own number, rolling right behind three blockers and lunging into the EZ.
Cox
booted the PAT.
Dolphins
24
Vikings
7
Siemon and Hilgenberg tackle Csonka.
Grant
decided he couldn't wait to start trying onside kicks.
Cox
ran up and raked the ball to the left.
Terry Brown
recovered in the scramble at midfield. But once again, a penalty cancelled a
Viking
play - offside. With
Miami
's good hands team now in the game,
Cox
squibbed the ball to the 18, where
Scott
gathered it in and returned 16y. For the first time, the
Vikings
forced a three-and-out. Two runs netted just 1y,
Csonka
for 3 and
Morris
thrown down by the shoulder pads by
Winston
for -2. Would
Griese
pass? He tried to but decided to run, reaching the 40.
Seiple
made up for his previous poor punt by launching one that traveled 57y and was downed by
Kolen
at the 3.
It's a good thing Larry got off a boomer because the Dolphins had only ten men on the field. Miami personnel director Bob Beathard was on the field helping with special teams. Shula could count faster than I could, and he comes running up to me and said, "Ten f***king men on the field." The guy missing was Ed Newman, a chemistry major from Duke. If I had a facemask, he would have grabbed it. When I was around Don Shula, I always had the impression people were on their toes - everybody in the organization - because there was a fear. You respected him, you liked him, but there was a fear. There was nothing guaranteed - and I think that's healthy.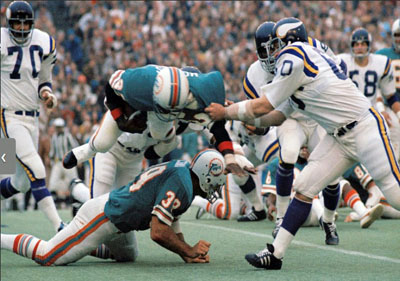 Winston pulls down Morris for 2y loss.
Tarkenton
gained breathing room by passing out of his EZ to
Marinaro
for 12y. After an incompletion to
Lash
,
Fran
called a draw for
Reed
that gained 9.
Grant
didn't have to make a decision to go for it on 4th down deep in his territory after
Reed
got 2 to move the chains. Following an errant pass to
Oscar
,
Fran
found RB
Bill Brown
under the zone coverage for 9.
Brown
then gained another 1st down off LT to the 37.
Tark
then threw to
Kingsriter
and got an interference call when
Foley
went through the receiver to knock the ball away. 1st and 10 at the 41.
Marinaro
made
Viking
fans wonder why he hadn't played more when he took a swing pass and rocketed through the defense for 27y before
Scott
swung him down by his shirt. It was
Tarkenton
's 18th compeltion to set a Super Bowl record. On 1st-and-10 at the
Dolphin
32, a pass to
Lash
in the left edge of the EZ sailed out of bounds. Another incompletion followed to
Voigt
down the middle.
Fran
then tried
Lash
again but overthrew the ball and
Curtis Johnson
took it on the run at the 2 and carried it out to the 10.
Dolphins defense swarms.
Miami
would now get the satisfaction of running out the remaining 6:24 on the clock against the proud
Minnesota
defense.
Csonka
and
Kiick
alternated carrying the ball.
Csonka
gained 7, then 5 more to not only get a 1st down but set a new record for yards rushing in a Super Bowl.
Kiick
and
Csonk
each gained 1. Then the
Vikings
appeared to stop
Miami
on 3rd down by downing
Larry
after a gain of just 2. But
Page
was flagged for a personal foul for hitting
Griese
late to move the ball to the 41.
Grant explained afterward: Alan thought Griese had the ball. The QB had his back to him.
The relentless machine churned out 4 for
Csonka
, 5 for
Kiick
with offsetting personal fouls called on
Kuchenberg
and
Page
for scuffling after the play. As a final ignominy,
Minnesota
was offside before the next snap to give
Miami
another 1st down. After three runs gained 9 (
Kiick
1,
Csonk
6 and 2), the teal-shirted offense stayed on the field for 4th-and-1 - perhaps as a reaction to
Grant
calling a timeout before the previous play.
Csonka
got 2 to record
Miami
's 21st first down. At that point,
Shula
sent
Don Nottingham
in for
Csonka
so that the fans could give the
Green Hulk
a rousing ovation. On the final play,
Kiick
added 5y to his total.
Kuechenberg: As the clock ticked down at the end of the game, Larry Csonka got called off the field to get a big hug and I did too. That was the only hug I got from Coach Shula in my career. That was his way of saying thank you.
FINAL SCORE: DOLPHINS 24 VIKINGS 7
Final statistics
Time of possession: Dolphins 33:45 Vikings 26:15
First downs: Dolphins 21 Vikings 14
Rushing: Dolphins 53-196 Vikings 24-72
Passing: Dolphins 7-6-0/63 Vikings 28-18-1/166
Return yardage: Dolphins 6-77 Vikings 4-69
Fumbles-Lost: Dolphins 1-0 Vikings 2-1
Penalties: Dolphins 1-4 Vikings 7-65
Punting average: Dolphins 3-39.7 Vikings 5-42.2
Attendance: 68,142
No one was surprised that the Most Valuable Player Award went to Larry Csonka.
Post Game
Dolphins
The blackboard in the Miami dressing room had two words written in chalk: Best Ever.
Coach Don Shula: Going 17-0 like we did last year is something I'll look back on when I'm old and be proud of. But I'm even prouder of this team because they had to overcome a lot. ... There's no question we're a better football team than a year ago. I think we've gone a step beyond last year even we were 17-0 then, a perfect season. I think going back-to-back in Super Bowls is more meaningful. It provevs this football team can get it done. ... It's not my job to say we're the best, although I feel that way.

Shula gave a game ball to D-coordinator and assistant head coach Bill Arnsparger, then confirmed the rumor that Bill would become head coach of the New York Giants.

FB Larry Csonka, who carried the ball a Super Bowl record 33 times: It doesn't do any good if you don't get through that hole. I had plenty of openings today. Our linemen are no longer knuckle-dragging, low IQ people. They have intelligence, and they mean something to the team's success. Asked about the gash on his forehead, Larry replied, A fellow on the Minnesota team - I won't mention his name - hit me with a cheap shot. He got a forearm right in my face. ... It's my greatest moment in football. ... I think now we can consider ourselves comparable to "The Pack." We had to reserve our opinion before the game but no more.
HB Mercury Morris: When Csonka is having a hell of a day, that's all you need. Oh man, he was devastating. He's a physical person. He runs into people, knocks them down. When you get down to the basics of blocking, tackling, and running, that's what he's all about.
QB Bob Griese: Late tonight when I'm sitting back and relaxing, I think all of this will sink in, and I will have a hard time believing it. We did just what we've been doing all year. We just ran over them. The fact we scored on the first possession was an indication we were ready to play. ... Too many times, teams come into a Super Bowl and start off conservatively. We were ready. We came out to win the game rather than waiting for them to lose it.

Griese said later, Our offensive linemen ... just dominated the line of scrimmage ... Before the game, everyone was talking about Minnesota's defensive line ... If you look at it, our line was probably the heart of our team. Our whole attack was structured around it. ... the score didn't really sum up how one-sided the game was.

C Jim Langer: If we're not the greatest football team that ever was, then there never was one. I don't give a damn what Green Bay did!

Years later, Langer recalled, We just hit the Vikings defense so hard and so fast that they didn't know what hit them. Alan Page later said he knew we would dominate them after only the first couple of plays.
Jim added: There were ... all kinds of guys who had everyone's respect on both sides of the ball. What it came down to was that nobody wanted to let anybody else down. ... We had nobody who thought he was better than the team. If we did, we'd go to the coach and say, "Get rid of this son of a bitch. He's a problem." We policed ourselves; the coaches didn't have to worry. ... We knew that if we played our game, there was nobody we couldn't beat. As we went into the playoffs we were, to use the old cliché, peaking at the right time. We were just like a steamroller.

G Bob Kuechenberg: I think this Miami team has been slow in being recognized partly because we're an AFC team and also because we're not in a big northern city where the publicity is. The old Packers never did what we did. I just don't think there has ever been a better team.
Marlin Briscoe: It's the first time this year we've been emotional. It has been a long year. ... We really let it go.
Nick Buoniconti: We're not real emotional. We try to hold back. That way you avoid the peaks and valleys. ... This wasn't a real physical game. We did some bending, but we played more on finesse. We knew if we could stop the run and keep Fran Tarkenton from rolling out right, we could stop them and we did it. It also helps when your offense scores the first time it has the ball. They did that in all three playoff games. Asked about the Dolphins' place in football history, Nick replied, I hope you guys write us up as a great football team because that's what we are.

Buoniconti

said years later:

This team was better than the 17-0 team and should have gone undefeated also. We killed

Cincinnati

and

Oakland

in the playoffs and then killed Minnesota in the Super Bowl. But I would never wear the ring for Super Bowl VIII, only the one from Super Bowl VII. The win in VIII was anticlimactic.

Manny Fernandez: They tried an unbalanced line, but we caught it fast. We really wanted to shut them out because they lost their poise and started playing dirty. Those Purple People Eaters didn't eat many people today, did they? ... We're a bunch of no-names because you writers are all fouled up. We're the best team in football. What do you think now?
TE Marv Fleming, who had just won his fourth Super Bowl, two with Green Bay and two with Miami, proclaimed: This is the greatest team ever.

During the week before the game, Marv had famously said, I get up for the money. Most of these guys will be playing with pride as the main incentive, but, with me, it's money.

Owner Joe Robbie: I'm perfectly satisfied with 32-2 (Miami's record for the 1972-73 seasons). ... This is the greatest team - ever. Dynasty? That's a word I'll never use except in retrospect. But I hope some day I can use it. We've only tied Green Bay's record of back-to-back Super Bowls. Next year we have to break it.
Vikings