The
Washington
fans in the crowd of 73,302 saw their
Redskins
suffer through a disastrous opening period on a beautiful San Diego day with temperature at 60° at kickoff.
Quarter 1
Rich Karlis
kicked off for
Denver
to
Ricky Sanders
, who returned 16y to the 17. Out came rookie RB
Timmy Smith
instead of
George Rogers
, who was still banged up from three injuries during the season.
Smith
went to work right away, carrying twice for 6y. Then QB
Doug Williams
dropped back to pass and, with blitzing LB
Rick Dennison
in his face, flipped to his safety valve, WR
Gary Clark
, who dropped the ball. The play was an omen for what was to come for the
Redskins
in the first 15 minutes of play. So
Steve Cox
punted to the
Denver
44.
Clark had developed a reputation for both huge plays and careless drops. "With Gary Clark," said Williams, "you just keep throwing the ball in his direction and hope that the next time he catches the ball."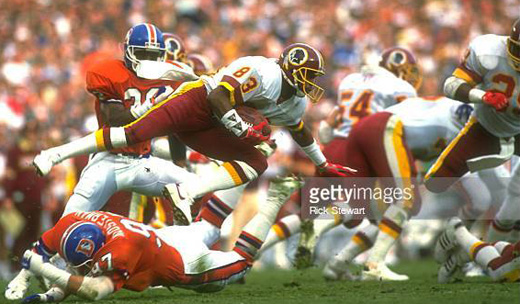 Ricky Sanders returns the opening kickoff.
Denver
started with a bang. From the shotgun, QB
John Elway
dropped deep, looked left to move the free safety, then threw long down the right sideline to streaking rookie WR
Ricky Nattiel
who caught the ball in stride behind CB
Barry Wilburn
for the earliest touchdown in any Super Bowl game.
Karlis
kicked the PAT.
Broncos
7
Redskins
0 (13:03)
Ricky Nattiel escapes Barry Wilburn's tackle for the game's first touchdown.
Elway said afterward that the first play "wasn't something that we had planned. Dan (Reeves) just told me two seconds before I went out, to run a 'go' route. I didn't know which way I was going to go."
Wilburn made no excuses for getting burned. "I gave them that touchdown. They caught me sleeping. We started with a zone, and I came out a little lax, and he blew by me." He would allow Nattiel only one more catch the rest of the game.

Sanders
could take the kickoff no further than the 15 this time.
Smith
touched the ball on three straight plays. Although he had only one reception for 2y during the season, he took a swing pass for 9y. Then he ran for a first down at the 30. After
Timmy
ran for four more, NT
Greg Kragen
knocked down
Williams
' pass. Then it was
Sanders
' turn to drop a pass, bringing on
Cox
, who punted 42y to
Kevin Clark
, who returned it 9y.
After an incompletion,
Elway
flipped off his back foot over the middle to WR
Mark Jackson
to the
Washington
37. Then
Denver
pulled the old flea flicker. Continuing to operate from the shotgun formation,
Elway
handed to RB
Steve Sewell
, who headed left, then turned and threw back to
Elway
all alone on the right side for the first pass reception by a quarterback in Super Bowl history.
John
sped for 24y to the 13.
Dan Reeves: "They made a heck of a play to stop that from being a touchdown."
Steve Sewell passes to Elway, who escapes Charles Mann after receiving the flea-flicker.
Redskins defensive coordinator Richie Petitbon's game plan was to do very little stunting and not as much blitzing as usual. He wanted his linemen to rush straight, keep in very strict lanes "so Elway won't be able to scramble like he can."
The beleaguered
Redskin
defense rose up and held
Denver
to a field goal. After a draw to RB
Sammy Winder
gained only one,
Elway
fired to
Sewell
in the right flat for six more. Then NT
Dave Butz
spoiled a quarterback draw by coming off a tackle-tackle stunt and dropping
Elway
for a loss of one. So
Karlis
knocked through a 24y field goal.
Broncos
10
Redskins
0 (9:09)
Washington's defensive coordinator Larry Peccatiello smelled out the quarterback draw that had been so successful for Elway. "They send out four wide receivers. Generally, we match up with four corners. I told Richie (Petitbon, who signaled the defenses from the sideline), 'They're going four, let's stay base. Quarterback draw.'"
No team in Super Bowl history had ever come back to even tie a game when trailing by seven points, much less 10.
Coach Dan Reeves later said, "If John had gotten the first down, and we could have gone on and scored the touchdown, maybe things would have been different. A 14-0 lead that early in a game sometimes can make a team get desperate."
Sanders
stood at the goal line awaiting the kickoff. "We need a big play," he thought to himself. "Make something happen." "Something almost did," he said later. "Something terrible." Disaster nearly struck the
Redskins
on the kickoff return.
Sanders
took the ball on the two and ran out to the 16 where he fumbled when hit by RB
Ken Bell
. A scramble ensued that took the officials several minutes to unpile. "It was probably the biggest pileup in Super Bowl history," said
Al Michaels
, announcing the game on ABC-TV. The
Broncos
kept signaling they recovered. The refs huddled and listened to the replay official, who finally ruled it was
Washington
's ball with LB
Ravin Caldwell
getting credit for the disputed recovery.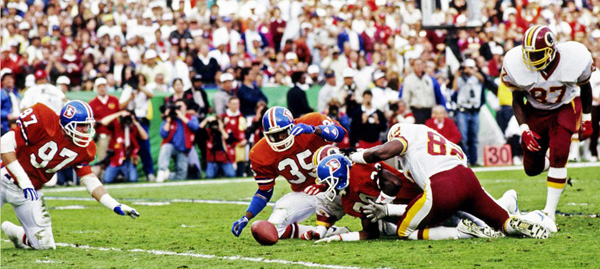 Bruce Klosterman (97), Ken Bell (35), Jeremiah Castille (28), Anthony Jones (82), and Terry Orr (87) go after the fumble, but somehow Ravin Caldwell, not even in the picture, recovered it for
Washington
.
Bell swears to this day that he recovered the ball for Denver but claims Ravin Caldwell and Terry Orr, two Washington reserves, wrestled it away from him.
Reeves: "We actually came out (of the pileup) with the ball, yet they replayed it and ended up giving them the ball. The official who came over couldn't tell me why they overturned it. ... It didn't make any sense."
Coach Peccatiello: "Up in the press box, it was obvious that Denver recovered. I was just s---ting. But a scrum evolved. The officials are picking guys off the ball. We took the ball away somehow. I think Ravin Caldwell went in there and stole the ball out of somebody's arms. If they get that play, I think we lose the game."
Coach Gibbs said later "I didn't know if we could have overcome 17-0. It was a crucial recovery for us."
LB
Karl Mecklenburg
nailed
Smith
for a loss of four. Then DE
Rulon Jones
tackled
Kelvin Bryant
for -2y. On 3rd-and-16,
Williams
fired to WR
Art Monk
wide open on the 30, and the eight-year veteran sped to midfield for a gain of 40.
Williams pointed to the completion to Monk as a turning point in the game. "It got us out of terrible field position and got our passing game going. Before that, our receivers had been nervous and were dropping the ball."
Gibbs was asked afterward if he considered lifting Williams in favor of Schroeder?
"No, my concern was with the dropped passes. My real concern was on defense, with Elway so hot. I was afraid he'd keep putting points up on us."
Sanders
took a reverse to the right and was looking to throw. With CB
Mark Haynes
blanketing
Clark
,
Sanders
salvaged a 4y gain out of the play. Two incompletions brought
Cox
out for his third punt of the quarter, a 35-yarder that
Clark
returned to the 28.
L: Williams passes. R: Art Monk catches a first quarter pass.
Gibbs was asked afterward if he considered lifting Williams in favor of Schroeder?
"No, my concern was with the dropped passes. My real concern was on defense, with Elway so hot. I was afraid he'd keep putting points up on us."
Denver
continued their momentum, making first downs on their first two snaps. Under center for a change,
Elway
handed to
Gene Lang
twice for gains of 11 and 13 to the
Washington
48. After overthrowing
Nattiel
,
John
flipped a shovel pass to
Sewell
that gained 18 to the 30. Following two more overthrows, the desperate
Redskins
defenders got a big play as S
Alvin Walton
ran across the formation from right to left and looped into the backfield to sack
Elway
for a loss of 18 to move the ball out of field goal range. So P
Mike Horan
came in for the first time and punted out of bounds on the 16.
L: Alvin Walton sacks Elway; R: Williams drops back.
Washington
's possession started promisingly with
Sanders
taking a quick pass for nine and
Smith
zipping through left tackle for 25y to midfield. But hold the phone. TE
Don Warren
was called for holding to put the ball back on the 15. Following another drop, this one by
Sanders
,
Williams
found
Bryant
over the middle for a first down at the 35. But that good play was followed by a bad one,
Jones
sacking
Williams
for a loss of 10. To compound the misery,
Doug
lost his footing as he went back to pass and fell awkwardly as
Jones
arrived.
Jay Schroeder
warmed up hurriedly on the sideline and came in on the next play when
Williams
limped off. "I didn't know if I would be able to play another down."
It was
Mecklenburg
's turn to get another sack for a loss of eight. On 3rd-and-28, the comedy of errors continued when
Bryant
caught the dropsy disease. So
Cox
used his weary right leg for the fourth time in the period.
Concerned about his inept offense, Gibbs walked over to the Hogs when they came off the field. "What's going on up front?" he asked.
The Redskins had prepared for Denver's relatively basic 3-4 defense they had employed all season. But they had installed a new 46-style defense with several stunts designed to flummox Washington's offense.
C Jeff Bostic grabbed a dry-erase board, sketched out Denver's new alignment against the Redskins' formation, and waited for Joe's response. Already renowned for his on-the-fly thinking and second-half adjustments, Joe pondered awhile and said, "Here's what we're going to do. When we get the ball back, we're going to run a hitch, get some momentum. Then we're going to run the 40/50 Gut ... after we finish running the Gut, we'll run the counter and ball 'em up inside."
Nearby, Williams talked with doctors, tried to put weight on his sore leg, then lightly jogged and jumped around. Assistant offensive coach Jerry Rhome called down from the press box to check on his quarterback. "Jerry, they'd have to cut off both legs for me not to go back out there," vowed Doug.
He had a personal reason for returning to the game."I wouldn't have cared who the backup was that day, I wanted to finish the game," Williams recalled. "But if I could not have finished the game, I certainly would have preferred (third-string QB Mark Rypien) going in if it had come down to that. Because the year before, we played the Giants for the NFC Championship Game, Schroeder had gotten hit hard, knocked woozy, barely getting off the ground. ... Schroeder waved me off. It was an embarrassing time for me ... and I never forgot it."

The
Redskins
managed to pack more misery for themselves into the final minute. From his 44 after the punt,
Elway
threw an incompletion, but LB
Neal Olkewicz
was called for roughing the passer.
Winder
ran up the middle for no gain as the quarter mercifully ended for the
Redskins
.
Broncos
10
Redskins
0
Washington
defense swarms Sammy Winder.
First quarter stats
First Downs: Broncos 7 Redskins 3
Rushing Yards: Broncos 24 Redskins 3
Passing Yards: Broncos 118 Redskins 60
Time of Possession: Broncos 5:29 Redskins 9:31
Washington T Joe Jacoby said, "I think we were pressing. We were too tight in the first quarter."
Quarter 2
The
Redskins
could do nothing right in the first quarter. In the second period, they could do nothing wrong.
Continuing to take a deep drop,
Elway
threw incomplete to
Nattiel
. Thus began the quarter with the biggest offensive explosion in Super Bowl history.
Mann
's sack of
Elway
on the next play was negated by an offside penalty.
John
then flipped a shovel pass to RB
Tony Boddie
, who dropped it. So
Horan
punted into the end zone.
Doug said after the game, "I felt if I could walk I could set up. No matter what the pain was."
Gibbs had no hesitation. "As soon as we got the ball back, Doug was going back in." According to Williams, Joe told his quarterback, "Just get in there. We're going to get this sucker running."
Denver LB Karl Mecklenburg: "We took a lot of pride in our defense that year. We were aggressive, closing to the ball quickly, gang tackling. We were really proud of our defense...and then the second quarter started and everyone got a little dizzy."

Look out,
Broncos
. The roof is about to fall on you.
Fortified by painkillers,
Williams
returned to action after his injury was diagnosed as a hyper-flexed left knee. Before
Doug
took the field, assistant head coach
Joe Bugel
, following
Gibbs
's new game plan, told
Doug
, "How about Charlie Hitch?" It was a conservative call, a 5y out pattern to
Sanders
. But as
Ricky
lined up, he noticed CB
Haynes
moving directly in front of him. "Here comes a bump,"
Sanders
figured. Seeing the press coverage that
Sanders
saw,
Williams
changed the play at the line of scrimmage. Instead of a short hitch, he would throw a deep fade to
Sanders
. So he yelled the audible "Charlie 10" and gave
Sanders
a subtle head-nod.
Williams
faded to pass, planted on his gimpy right knee, and threw effortlessly toward
Sanders
streaking down the right side past
Haynes
. "It hung there for me so pretty, just waiting to be plucked from the sky,"
Ricky
said. He took the ball in stride at midfield and ran untouched into the end zone. Just like that,
Washington
exceeded its total yardage in the entire first quarter by 20, and the 80y touchdown matched the longest completion in Super Bowl history.
Ali Haji-Sheikh
converted.
Broncos
10
Redskins
7 (14:07)
Ricky Sanders scores
Redskins
' first touchdown as CB Mark Haynes (36) and S Tony Lilly (22) lag behind.
Sanders said, "Haynes came up and hit me in the chest, but I slipped him."
Williams said afterward that the 80y touchdown pass to Sanders "was the turning point of the whole football game"
Gibbs agreed. "You could see us come alive on the sideline. It was like a fire starting."
Sanders revealed something after the game that partly explained Washington's second quarter resurgence. The new turf installed on the field for the Super Bowl was slippery, possibly from being watered too much or too recently. "I was slipping all over the place," said Sanders. "I just couldn't get my footing. I couldn't get upfield like I wanted to." So he switched to longer cleats, as did a number of other Redskins, some after pregame warm-ups and some during the game. Sanders caught zero passes before the cleat change and nine after it.
DE Charles Mann said he found more traction to pursue Elway with the longer cleats. "The field was young grass, and it was very low-cut. It was fine in the pregame, but I was slipping and sliding like crazy once the game began. You need traction when Elway's out there. He'd give a little head fake, and I'd slip and fall down."
Timmy Smith also changed shoes. "I went out to the field, and it seemed kind of loose. I had to go with taller cleats."
Williams wore molded shoes, which didn't have screw-on cleats. And the shoes may have kept him from injuring his knee even worse when he slipped in the first quarter since longer cleats would have stayed in the turf better, causing a worse wrenching of his knee and keeping him more upright when Rulon Jones smashed into him.
With RDE
Dexter Manley
dominating
Denver
LT
Dave Studdard
to put pressure on
Elway
,
Denver
went three-and-out. Starting from his 36 after the punt,
Williams
called two plays that featured TE
Don Warren
. First,
Warren
took a pass over the middle for 9y. Then the 240lb nine-year veteran lined up in the backfield like a fullback and helped open a hole for
Smith
up the middle for 19y to the
Denver
36. A 1y run by
Smith
that gave him more yards in the postseason than he had gained in the regular season and an 8y carry by
Bryant
made it 3rd-and-one on the 27. Let
Williams
tell what happened next. "They brought the linebacker, and I should have thrown to the tailback in the flat. But because they were blitzing, it was man-on-man with their backs on our receivers. I made another automatic adjustment, and
Gary Clark
beat his guy crossing to the left. I threw the ball into the (front) corner and he dove for it just over the goal line and it was six points."
Redskins
14
Broncos
10 (10:15)
L: Art Monk in motion before touchdown pass to Clark; R: Elway escapes Dexter Manley.
Sanders
, who had made his reputation catching passes from
Jim Kelly
in the USFL, started the game because veteran
Art Monk
was still recovering from an injury. "We have quite a few guys on this team from the USFL who have made a big contribution. This is the best feeling I've ever had."

Denver
LB
Jim Ryan
: "I think that more than anything, I'll remember their second touchdown. We had a delayed blitz on, and I was the guy blitzing. I was oming clean. Then as soon as I get my hands on
Williams
, he gets that pass off. I don't know how, but he gets it off. Now that rttled me. Made me think. Maybe this thing is not going to go my way."
Ryan
also recalled, "I think after their first touchdown, we were still confident. The momentum was still on our side, and we were still ahead. But maybe the second one ... you could feel the snowball effect starting to happen."
Redskins
CB
Barry Wilburn
said, "When
Ricky Sanders
got those seven points back, we knew we could come back and do it. That was probably the biggest play."
On media day the previous day,
Timmy Smith
had looked for someone to talk to. The rookie running back from
Texas Tech
didn't seem like much of a story. After all, he had gained just 126y in the regular season. "I spent most of the week just staring at people," recalled
Smith
. "I was proud just to be there, really. I couldn't blame media people for ignoring me. I hadn't done anything yet."
Needing to regain the momentum,
Elway
started with a shovel pass to
Winder
for 26y to the 46. After
Winder
gained another seven up the middle, NT
Dave Butz
deflected a pass.
Stoddard
was hurt on the play and helped to the sideline. Now backup
Keith Kartz
would have to deal with
Manley
on the left side, and the
Broncos
would have to keep a back in on pass plays to help block
Manley
. On 3rd-and-three,
Elway
escaped
Manley
's clutches and took off down the left side for 21y to the 26. But
Denver
hopes of regaining the lead died when
Winder
was stuffed at the line of scrimmage and two passes fell incomplete. To make matters worse,
Rich Karlis
hooked the 43y field goal try.
After
Williams
connected with
Clark
over the middle for 16y, lightning struck the
Broncos
again.
Smith
roared through the hole created by pulling LT
Joe Jacoby
and down the right sideline to pay dirt.
Redskins
21
Broncos
10 (6:27)
Smith breaks loose from LB Jim Ryan (50) and DE Rulon Jones (75).
The touchdown run came on the Redskins' bread-and-butter "Counter Gap" play. LT Joe Jacoby and LG Raleigh McKenzie pull to the right to lead the blocking. But there was hardly anyone to block because the Redskins caught the Denver defense slanting in the wrong direction. "We knew going into the game there was a possibility (of some long runs)," said Jacoby, "because of the way their defense slants. If you catch them in the right slant, there's going to be a hole there."
Washington offensive line coach Joe Bugel said afterward, "We put Timmy in there because we needed someone who was a couple of steps faster than George (Rogers). We told him (Smith) about the start right after the opening kickoff. We didn't want the kid to have time to think about it so much he'd vomit before he left the locker room." Rogers' recurring groin pull was also a factor in the decision to start Smith.
Head coach Joe Gibbs added, "I felt they'd be going to shut down our inside running game. I thought with Timmy we'd be able to get outside early. George was our starter all season, but I went to him and said, 'I think I want to run outside early so I'm going to start Timmy.' It's something you decide late in the week. We expected to go back to George. When I saw how he was running, I wasn't dumb enough to take him out."
When told he would start in the tunnel just before the team took the field, Smith broke into a cold sweat. He tried to mentally review his plays, but his mind was blank. Seeing his consternation, Williams told him, "Hey, Timmy. This is my first Super Bowl. If you fuck it up, I'm gonna kick your ass!"
"That's when my plays started coming back to me," recalled Smith.

But
Denver
's misery was far from over. When three plays gained just 9y,
Horan
punted only 29y to the
Washington
40.
After an incompletion,
Williams
found
Sanders
over the middle for 10y. Then
Ricky
went in motion to the left side and looped back into the wide-open middle. FS
Tony Lilly
was playing because the starter,
Mike Harden
, the team's best defensive back, broke his arm in a playoff game.
Lilly
came up because of the run fake, allowing
Sanders
to catch the pass behind him and speed untouched into the end zone.
Redskins
28
Broncos
10 (3:42)
To make matters worse for Lilly, he suffered a badly bruised hip in the second quarter and was seen on crutches leaving the locker room after the game.
All four Washington touchdowns in the second quarter came on audibles.
Williams recalled: "You could tell that Denver was deflated. You could look at the players on the field or you could look across the field at Dan Reeves and his coaches and players, and you knew something was going across their minds about how ... they couldn't stop us. But even after four quick touchdowns, I still didn't think that anything special was happening. I just hoped we could get a big enough lead to keep Elway from coming back."
In hurry-up mode,
Elway
handed to
Winder
who gained 13 around left end to the 33. Following another overthrow,
John
tried to hit
Nattiel
at the left sideline, but CB
Barry Wilburn
leaped in front of the receiver to snag the ball and just get his feet inbounds at the 21. Surely the
Redskins
would just run out the clock, right? Not on your life.
Smith
's 1y run took the game to the two-minute warning. When play resumed,
Timmy
burst up the middle on another Counter Gap play for 43y to the
Denver
35.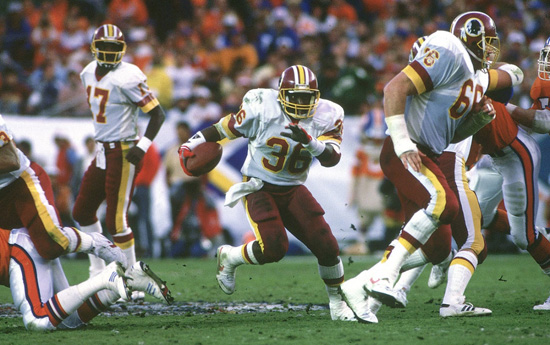 Smith breaks into the clear behind Joe Jacoby (66).
Following an incompletion,
Williams
connected with
Sanders
for 21y to the 14 and called
Washington
's first timeout. Then
Doug
went to
Sanders
again for seven. After
Bryant
lost a yard,
Williams
fired to TE
Clint Didier
in the end zone.
Redskins
35
Broncos
10 (1:04)
Clint Didier receives touchdown pass and celebrates with teammates.
Didier was covered by backup SS Tyrone Braxton because starting SS Dennis Smith had been injured on the previous play. Braxton recalled: "I jogged in with some swagger. I was all hyped-up, like, Here I am, a rookie playing in the Super Bowl! I looked at the Washington huddle and Doug Williams looked at me. The look in his eye was, 'Ah, good. A rookie is in.' I told myself, If they come after me, I'll be ready. Something happened with our coverage, and Clint Didier, their tight end, was open in the end zone. Oh shoot. I ran over to him, but it was too late. Touchdown. I was the closest one there, but Clint wasn't actually my guy. To this day, nobody believes me."
Trying to salvage at least a field goal from the disastrous quarter,
Elway
passed to
Lang
for seven and shoveled to
Sewell
for 10 more. After
Denver
's final timeout,
John
hit
Jackson
for 23y to the
Washington
36. But his next pass was intercepted, this time by CB
Brian Davis
.
Williams
took a knee to end the most productive quarter in post-season history.
End of first half:
Redskins
35
Broncos
10
A tale of two quarters for the Redskins:
First period: Four possessions, four punts
Second period: Five possessions covering just 5:47 in playing time, five touchdowns
"The bottom fell out," said Denver defensive coordinator Joe Collier. "We couldn't cover anybody. We couldn't stop the run."